OUT OF AN AFRICAN KITCHEN
Planning menus, sourcing ingredients, preparing delicious dishes and serving them in a dazzling choice of settings is what the Angama team loves to do best. It is a daunting challenge to prepare food in the middle of nowhere for guests who come from all four corners of the world, from different culinary cultures and who, quite rightly, expect the best of the best when it comes to choosing where to stay on their next holiday.
We believe that for our guests less is preferable to more. Certainly not less food, as we love feeding them as many times a day as they will allow us. Less fiddle, more authenticity. Less fancy imported ingredients, more locally grown. Less drizzles, gels and foams, more wholesome and generous. Less drama on the plate, more drama where we serve our food. Less ego in the kitchen, more a love of seeing our guests happy at what our chefs have prepared for them.
Our kitchen north star is simple: our food is good; our food is never fancy. And not a buffet in sight.
We draw inspiration from the finest ingredients Kenya has to offer: beautiful vegetables from the highlands, tropical fruits a-plenty from the coast, cheese from a renowned supplier just outside Nairobi, prawns from Malindi, freshwater fish from Lake Victoria and beef from the north. Kenyan cuisine is deeply influenced by Arab-inspired Swahili dishes from the coast and Indian food from the significant community that has called this country home for many generations.
We know that not one Michelin-starred chef in the world could prepare a picnic to compete with an Angama picnic served under a lone tree in the middle of the short grass plains of the Maasai Mara with only giraffe, elephant and buffalo as dining companions. Angama Mara has a beautiful one-acre kitchen garden, our Shamba, where guests pick their own vegetables and toss their own salads for lunch. In the evenings, our guests dine in a lantern-lit forest off a barbecue à la carte menu with the calls of hyena serenading them as they share stories of their day's adventures on safari. This is what our guests remember most about our food.
Nothing is ever too much trouble for the Angama kitchen team. Gluten free? Easy. Vegan? No problem. Low sodium, kosher, no garlic, Chinese, food allergies, Halaal and food preferences are all in a day's work. The children only like fish fingers. Done. Soymilk, almond milk? In the pantry. Our guests appreciate that our food is honest, fresh and, most of all, prepared and cooked with love. And served with love.
Drawing inspiration from that beautiful movie Out of Africa, the Angama team published a cookery book, Out of an African Kitchen. As so many guests request recipes it seemed much simpler just to publish a book which not only features Angama's best loved dishes but is also a quirky anthology of reminiscences, anecdotes and stories from a bush kitchen set high up on the edge of the Great Rift Valley.
WHAT THE CHEFS ARE PREPARING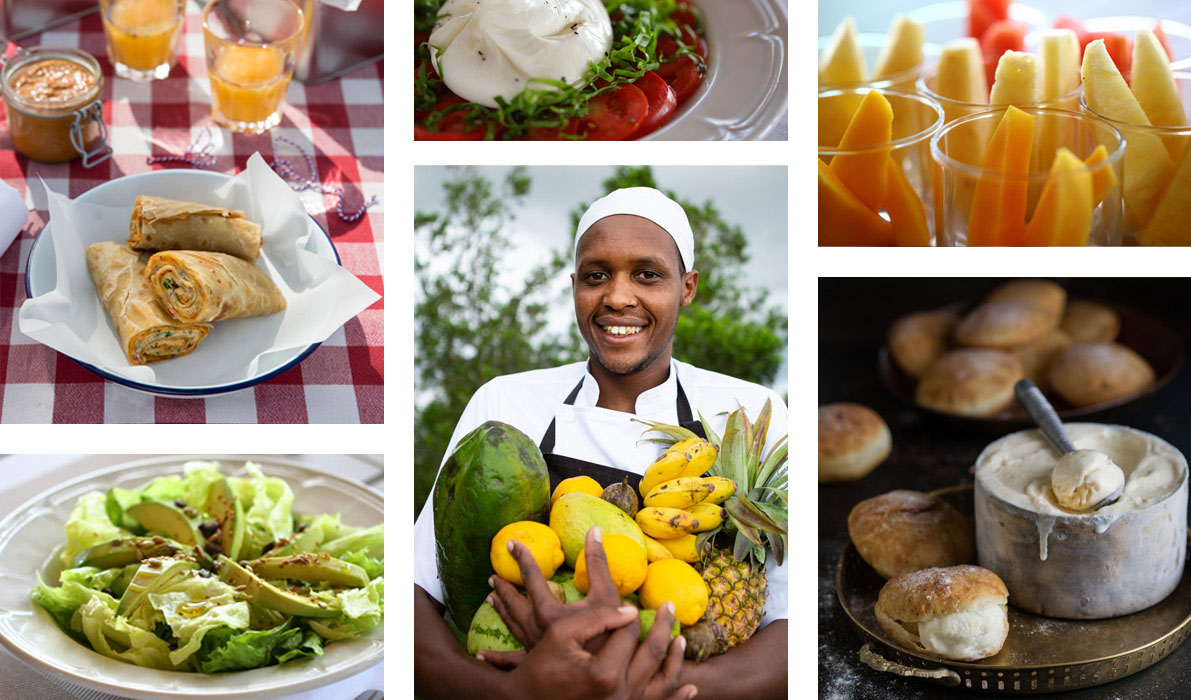 OUR GUESTS NEVER GO HUNGRY
To their immense delight, the chefs have worked out that guests could eat up to no less than twelve times a day. Not to say that guests have to eat that much, but just in case they might be peckish, there is always something delicious on hand.
On arrival at the lodge (after who knows what kind of journey) a little something is always welcome whilst unpacking
Lunch can be enjoyed on the tented suite's deck, at the lodge, by the pool or, best of all, a Mara picnic in the shade of a lone tree in the middle of nowhere
Toast the sunset with bitings (a lovely East African word for snacks) with a classic East African mojito, known as a dawa, in the Maasai boma
Where to have dinner tonight? Maybe an elegant candlelit dinner in the lodge or a romantic dinner for two on the tent deck?
Or perhaps Angama Mara's signature family-style barbeque where tall chefs in tall hats grill to perfection fat juicy steaks, prawns from the coast or Swahili-spiced kuku (chicken is Kenya's most-loved dish). All this in a lovely forest near the lodge, lit with lanterns and a nightly chorus of hyenas
After a restful night's sleep, a knock on the door and a butler discreetly leaves fresh orange juice, steaming coffee and a newly baked something in the lobby. A good start to another day in Africa
Breakfast, too, is a widely-flung affair – on the tent deck, at the lodge watching the hot-air balloons float by, or a picnic on the Mara plains amongst a herd of a thousand buffalo …