Nairobi Highlights
Discover Kenya's Capital City
Most visitors to Kenya must spend a night in Nairobi before venturing onwards, so whether you have half a day or choose to make it longer, there is so much to explore. Here are some of our bespoke Angama Safaris experiences.
Getting There
As the capital of Kenya and a gateway for East Africa, Nairobi is connected to all major international hubs through the national carrier Kenya Airways and other international carriers such as Emirates, Qatar Airways, AirFrance-KLM and British Airways.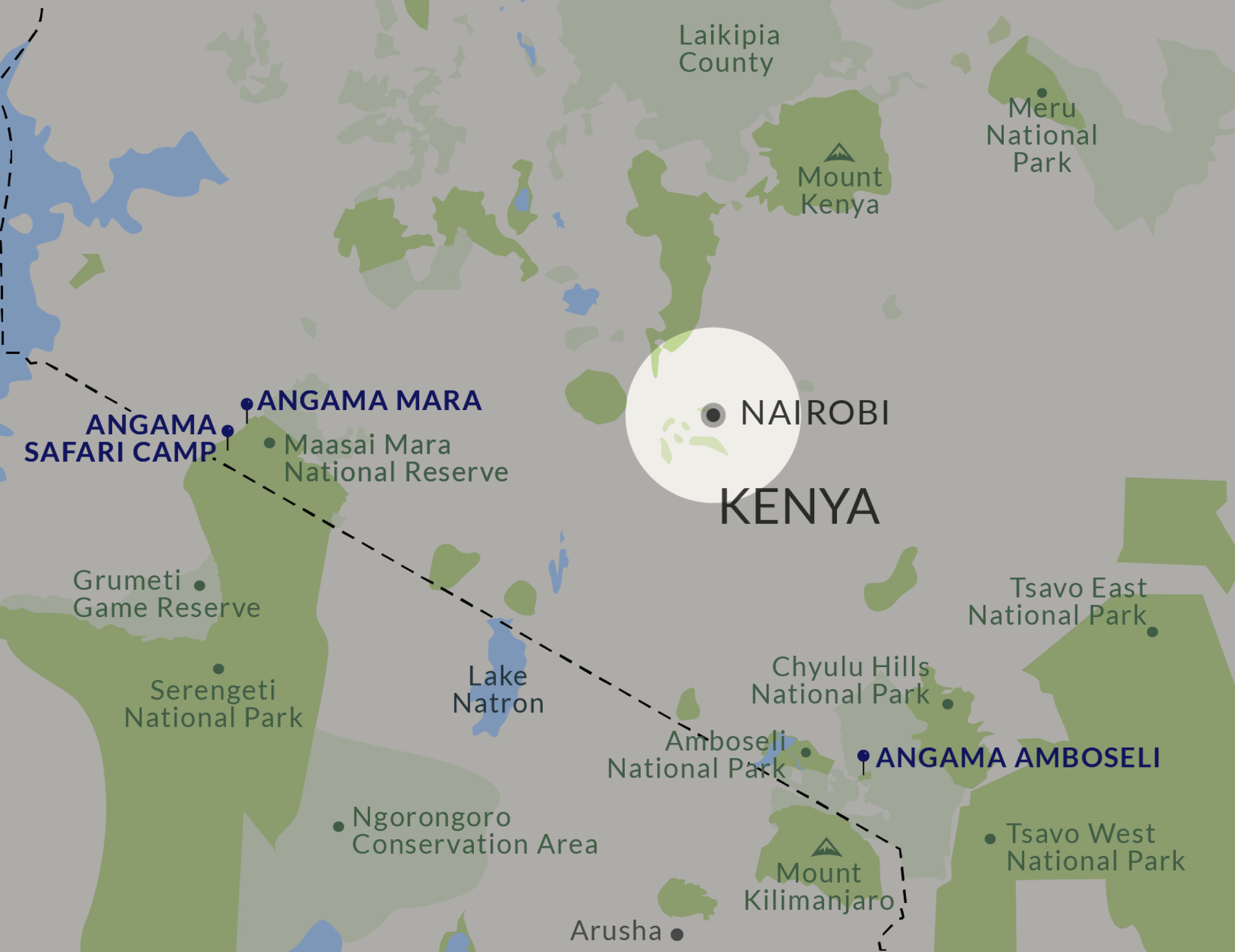 From Bean to Brew
Angama's coffee supplier is local roaster Spring Valley Coffee. Founded by our friend Ritesh Doshi in 2009, Spring Valley Coffee uses 100% Kenyan beans of the finest grade. Ritesh will host you at his new roastery in Spring Valley and, after seeing how the beans are prepared, enjoy a special tasting and, of course, take home a bag of your favourite.
Quick Facts
–
Duration: 1.5 – 3 hours; $75 per guest
–
Perfect for Coffee Lovers, Green Thumbs, Local Business Supporters
Fashion + Design + Art
As with all great cities, there's heaps to uncover in Nairobi if you know the right people. Local tastemakers, entertainer Patricia Kihoro and stylist Annabel Onyango, will accompany you for a half or full day centred around their passions — fashion and jewellery, art, or homeware — with studio visits to the local artists, designers and creators.
Quick Facts
–
Duration: 3 – 5 hours; $205 per guest
–
Perfect for Shopping Enthusiasts, Art Lovers, Trend Watchers
We Build Libraries
Book Bunk is a social enterprise dedicated to the restoration and revitalisation of some of Nairobi's most iconic public libraries. Book Bunk will guide you through the MacMillan Memorial Library, Nairobi's oldest library opened in 1931. Peruse the shelves of East African literature and periodicals from the early 20th century to present-day here and branches in Eastlands.
Quick Facts
–
Duration: 2- 2.5 hours for three libraries; $100 per guest
–
Perfect for History Lovers, Book Worms, Architecture Experts
Nairobi City Tour
Take in the sights as you explore this cosmopolitan city. Visit fascinating landmarks, markets and museums as your dedicated Angama Safaris city driver guide takes you on a half- or full-day journey, showing you the best of Nairobi in the comfort of an air-conditioned and WiFi enabled vehicle.
Quick Facts
–
Full Day: $275 per vehicle Half Day: $140 per vehicle
Sheldrick Wildlife Trust
Regarded by many as the world's foremost orphaned elephant rescue and rehabilitation centre, The Sheldrick Wildlife Trust is not to be missed on a visit to Nairobi. This is a heart-warming opportunity to witness the feeding and playtime of orphaned elephant calves.
Quick Facts
–
Public visits are priced at $7.50 per guest
–
Private visits can be arranged on request at $50 per guest
Giraffe Centre
The Giraffe Centre was established to provide a place of learning, educating both Kenyan and international visitors on the plight of the highly endangered Rothschild giraffe. Here, you are able to enjoy a close encounter with the world's tallest species – while finding out more about the Centre's successful reintroduction programme.
Quick Facts
–
Visits are priced at $15 per guest
Nairobi has two main commercial airports. Jomo Kenyatta International Airport (JKIA) is the main hub that major international airlines fly in and out of and is likely to be your first arrival port when entering Kenya. The smaller regional airlines, such as Air Kenya and Safarilink operate out of Nairobi's Wilson Airport, which is 17km away from JKIA. The newly constructed byway has made travelling between these two airports much quicker, but it is still important to factor in an adequate amount of time between connections, as the city's traffic situation varies significantly throughout the day.
Please note that all scheduled internal flights carry a luggage restriction of 15kg per person in soft bags, including carry-ons. The acceptance of excess baggage is at the sole discretion of the airline but some offer the option to purchase an additional freight seat for luggage weighing up to 75kg.
The local currency is the Kenyan Shilling (KES) and the current rate of exchange is approximately KES 100 = US$1. US dollars are widely accepted, though you may have some trouble with notes of larger denomination or those issued prior to the year 2000. At certain bank branches US$ are available over the counter, but are not available for withdrawal from ATMs. We recommend travelling with some US$ in cash, for any eventuality, and in multiple denominations. Many local restaurants will accept US$, though prices are shown in Kenyan Shillings and typically inclusive of all taxes and levies. All major credit cards are widely accepted: Visa, MasterCard, American Express & Diner's Club.
Based in Nairobi, Angama Safaris has a dedicated ground handling team ready to ensure your travels will be carefree, with the same high-touch approach to service that you have come to expect from Angama. With offices at Wilson Airport in Nairobi, we have two five-passenger WiFi-enabled, air-conditioned Hyundai vehicles and professional city driver guides. Nairobi has a reputation for high levels of traffic congestion but the completion of several byways throughout the city has resulted in a significant improvement in jams and delays. It is strongly recommended, however, that you have an adequate amount of time between flight connections, as traffic remains an ongoing issue and is somewhat unpredictable.
While theft is not terribly common, please take responsibility for your safety and that of your valuables by keeping them in a money belt or a safe, and take caution when in the urban areas, especially at night. All the properties Angama Safaris recommends have been vetted to ensure safety procedures are in place and are well-equipped to deal with any security concerns.
Angama Safaris offers a meet-and-greet service at Nairobi's Jomo Kenyatta International Airport. This service is on a par with a diplomatic meet-and-greet standards, is discreet and seamless. You will be met airside as you enter the terminal building and will be graciously escorted to the front of the queue at diplomatic immigration counter where formalities are finalised. The host will then accompany you to the luggage carousel, assisting with bags before escorting you through customs. The host is in constant contact with our city driver guide who will be waiting to collect you just outside the terminal building
In an effort to reduce the impact on the environment, Kenya has recently made the use and importation of all plastic bags illegal. The ban applies to carrier bags, flat bags, zip lock bags etc, with severe consequences if not complied with. Plastic bags (includes those from duty-free shopping) are known to be confiscated upon arrival in Nairobi.
Where to Stay
Partners We Love
All these partner properties have been handpicked by the Angama Safaris team because of the exceptional experiences and high standards they consistently deliver, making them the perfect stay, whether it's for a stop-over or a longer visit.
Giraffe Manor
One of Nairobi's most recognised hotels, Giraffe Manor is set within the leafy suburb of Karen, west of the bustling city centre, and characterised by the resident herd of endangered Rothschild giraffe which lives on the property.
Hemingways Nairobi
Overlooking the famed Ngong Hills, this 45-roomed plantation-styled hotel is well away from the hustle and bustle of central Nairobi and ideally positioned to explore the nearby attractions within the leafy suburb of Karen.
Villa Rosa Kempinski
Offering the perfect fusion of European luxury and Kenyan hospitality, Villa Rosa Kempinski is positioned between the city and countryside. The hotel is a unique destination where guests can spend time relaxing or enjoying the on-site dining options which includes Pan-Asian and Italian, along with a Levant-style lounge and restaurant.
Eden Nairobi
This artistic boutique hotel, owned by fashion designer Anna Trzebinski, is located in the peaceful suburb of Langata, bordering on the Giraffe Sanctuary. It is the ideal option for those seeking rest and relaxation in tranquil, leafy surroundings.
Ian Dommisse | 1 December 2023
Meet the Trees
It was late in the afternoon when we just about drove into a herd of three elephant bulls including Pascal, one of Amboseli's famous Super…
Continue reading