Lazy Ways To Spend Your Days
JUST DO NOTHING AT ALL
For those wanting to take things a little easier, a masseuse offers full-body massages on the tent's deck; or indulge in a rocking chair safari – each tent has two comfy bright red rocking chairs, from which you can enjoy the parade of wildlife in the Mara spread out below. In the guest areas, there is a lovely stand-alone library offering a carefully curated selection of Africana literature and film. Both the tented suites and the library, with its fireplace, leather sofa and refectory table are covered by a high-speed WiFi network.
WORK UP A SWEAT
For those wanting to expend some energy, Angama Mara has a beautiful swimming pool (12m x 6m) with rim-flow views of the Mara below and beyond. The pool was designed with families and sun-lovers in mind, and is court-yarded on three sides. Alongside the pool is the lodge's Fitness Room, once again with floor-to-ceiling glass stacking-doors to enjoy the view. Guests can choose from ellipticals, treadmills and bicycles, yoga, Pilates balls and a ballet bar for stretching.
BE OUR GUEST
There is also much to experience in and around the lodge: Angama Mara's Safari Shop offers guests the opportunity to browse through a curated selection of Kenyan and African jewellery, fashion, artefacts and literature. Leading off from the shop is a Maasai craft studio, where guests can try their hand at beading or even perhaps have Maasai ladies bead a bespoke item onto their clothing. This is the perfect place for children to pass a few hours.
Angama Mara's property spreads over 300 hectares and guests are welcome to stroll through the staff village, past the zebra and giraffe, to the lodge's community clinic, say hello to the doctor or pop into the community duka (shop) and buy a cold Tusker.
DON'T GO ANYWHERE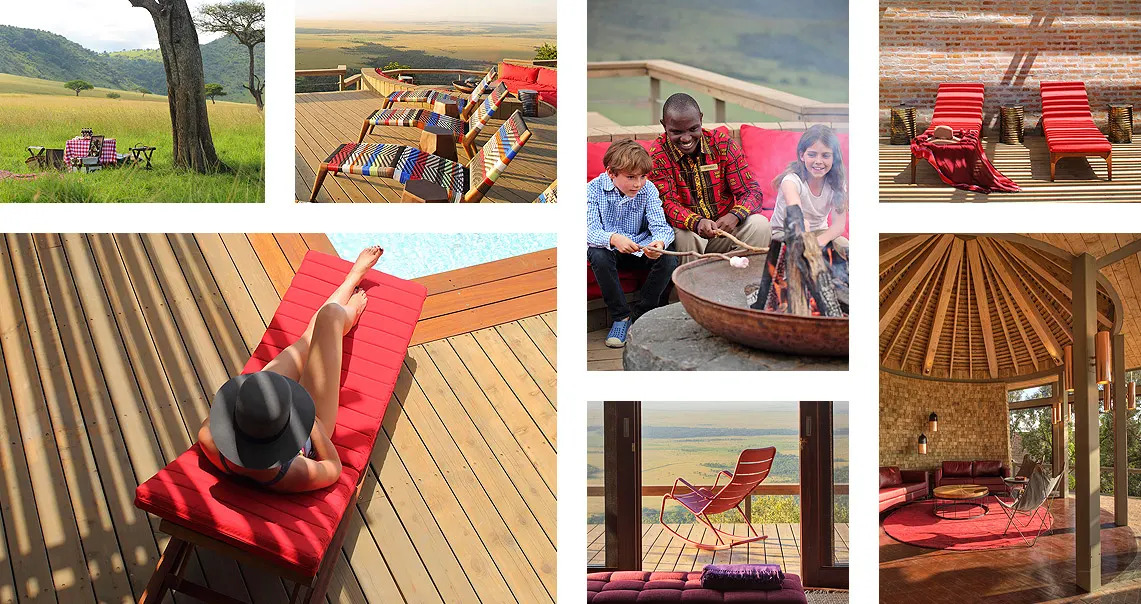 "The sky was rarely more than pale blue or violet, with a profusion of mighty, weightless, ever-changing clouds towering up and sailing on it"