AN EXPERIENCE NEVER TO BE FORGOTTEN
Enjoy one of the iconic experiences of Africa, floating gently over the Maasai Mara in a hot air balloon.
Wake before the dawn, with freshly brewed tea or coffee delivered right to your tent, and enjoy the fresh, early morning drive to one of the two launch sites within easy reach from the lodge. (Angama Mara supports both Governors Balloon Safaris and nearby SkyShip, both reputable operators with impeccable safety records.) If you're still waking up, enjoy another cup of coffee and watch as the balloon is slowly inflated. A quick and straight-forward pre-flight briefing, and before you know it, the balloon is airborne and you're floating effortlessly above the Mara.
The soft, early morning breeze takes the balloon southwards towards the Tanzanian border, with the typical flight path along the Mara River and its adjoining forest, and over the open plains beyond.
This is an unmatched safari – even the lions look up in surprise as one sails on by – and all the animals of the Mara are visible from the air. A flight normally lasts around one hour, and ends with a sometimes-bumpy landing amidst the termite mounds, all part of the adventure. Once you've settled back to earth, toast the morning's activities with a celebratory champagne breakfast – specially prepared under a tree in the middle of nowhere.
The perfect start to any day in the Mara, and for many, a once-in-a-lifetime experience.
THE VIEW FROM ABOVE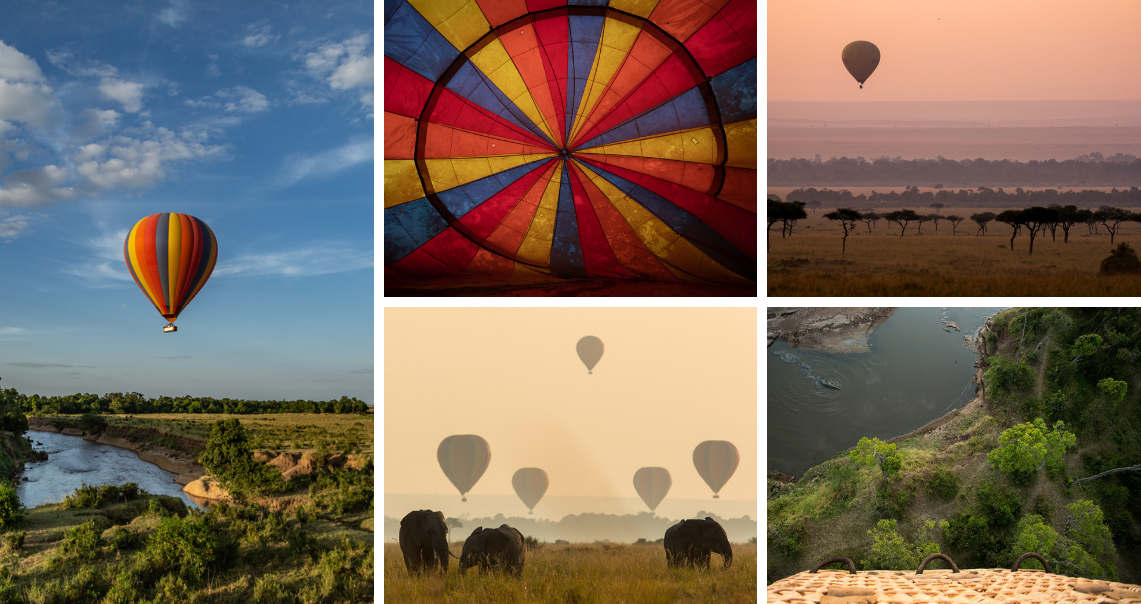 "The views were immensely wide. Everything that you saw made for greatness and freedom, and unequalled nobility"