The Recipe of Amanda's Kitchen
Over the past 4 years of working closely with Amanda Collins, Kate Fitzgerald Boyd has come to know that her kind, mild and gentle exterior is simply a façade for the energetic, detail-oriented fireball that lies beneath the surface of Angama's beloved chef-trainer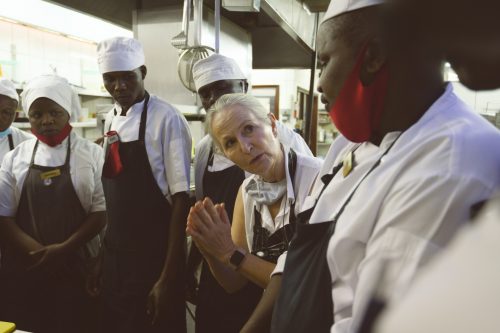 When I was asked to write the Day in the Life of Amanda Collins, I knew I was in for an eye-opening experience around what it takes to train the 560 recipes in our kitchen team's arsenal to utter perfection. For this reason, I chose not to give you a day in her life, but rather the recipe to her kitchen…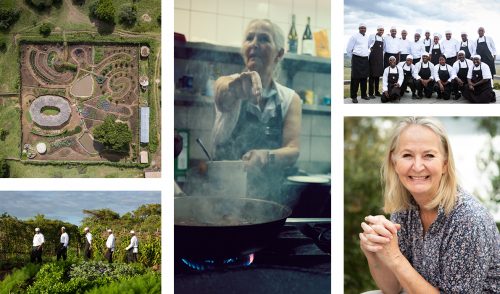 Ingredients:
• 17 warm, food-crazy, guest-loving Kenyan chefs
• 7 bush kitchens, perched on the edge of the Great Rift Valley
• 1 one-acre vegetable Shamba
• 641 pages of Nicky Says, the behind-the-scenes food bible of Angama's kitchens
Topping:
• 1 sweet-toothed, patient, bird-nerd chef trainer who has cooked for 4 decades, across 7 African countries and who still gets up each day loving what she does
• 3 hours (on average) of the adrenaline rush of service
• Fill to the top with as many heaps of fun as possible
Method:
Rise with the dawn, taking in the balloons floating by, and head to the kitchen for a coffee, a catch up, and check what's on the menu for today's Breakfast Special.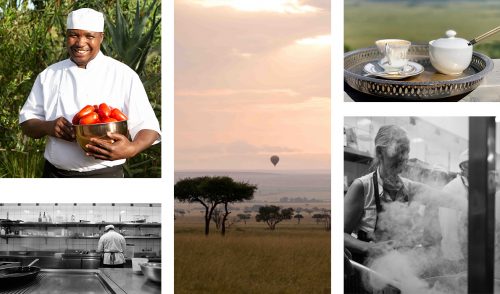 Having decided the work plan for the day the night before, wait until breakfast service is done and start the mise en place for the morning's training session. Start by showing the team how to interpret new dishes, pull out the recipe book, shake out old ones and improve on them, and then stand back for the team to take over and ask questions.
Always ensure that there is a test dish to share with the team for lunch – the rule in the Angama kitchen is taste, taste, taste. Assist with lunch service, hoping that one of the guests will order the test dish so that the team gets the chance to make it again.
After lunch, it's time to rest – take in a good book, grab your binoculars and scan the canopies of the surrounding forest, or pop into the Shamba to see what's bloomed since yesterday for tomorrow's menu. Now is a good time to also write up the recipes from the day and send to the support team to add to Nicky Says.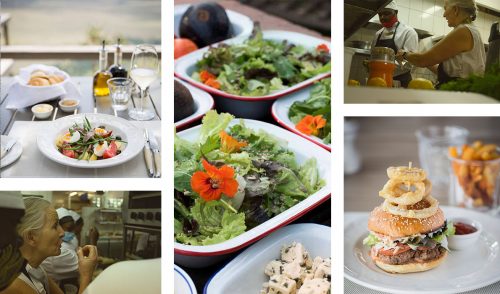 At 5:30pm it's back to the kitchen to ensure the evening's bitings are well on their way to being ready; then check in with the team for dinner service. Knowing, as usual, that the team has it under control, it's time to pick your own dish for supper, perhaps something more interesting on the menu: Persian Chicken Pilau, Lamb Pilaf or Ottolenghi's Pastilla?
Remember to leave space for your sweet tooth: Swahili Muhamri with Coconut Ice Cream, Choux Puffs with Praline and Passionfruit or your favourite, Baked Lemon Sponge …
If you follow this recipe step by step – perfectly created, edited and simplified by Amanda for her Angama team, you will not fail. And always remember to "taste, taste, taste…"
Subscribe for Weekly Stories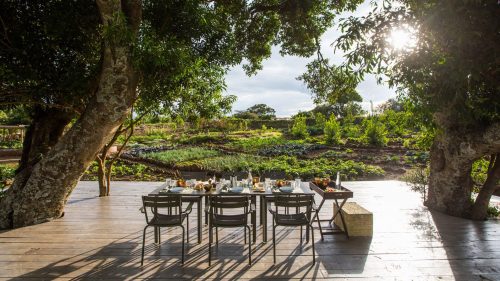 The Angama Shamba
A much-loved experience for Angama guests, the 1-acre kitchen garden is no ordinary vegetable patch and offers up private shamba-to-table lunches after guests spend time exploring this magical space picking and tasting as the go along.
Learn more about the Shamba