Cooking Up a Shamba Storm
Read about Chef Amanda's visit to Angama Mara and how she and the Angama chef team overhauled the menu, celebrated the beautiful fresh produce from the Shamba and cooked up an absolute storm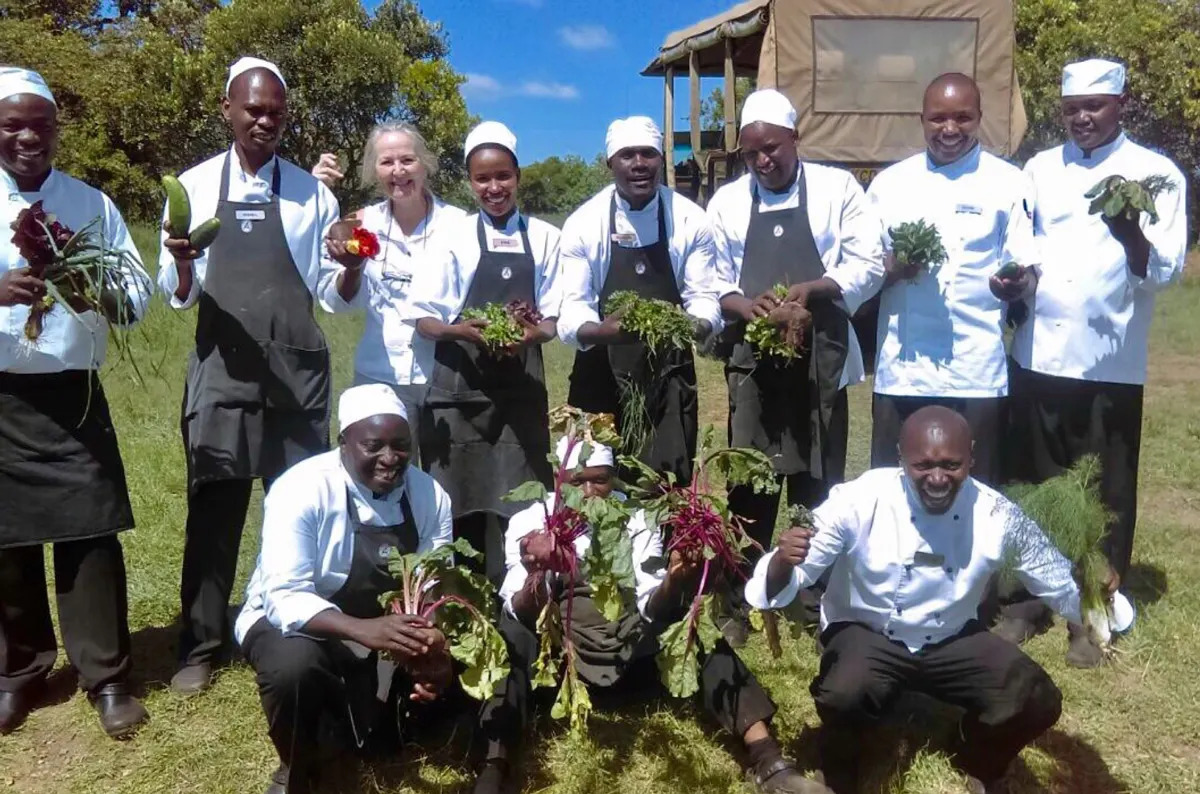 As readers of our little blog know by now, we have planted a beautiful (if somewhat massive) shamba high up on the edge of the Rift Valley. As the vegetables, herbs, fruits and edible flowers started to go forth and multiply we knew the time was ripe for a major menu overhaul. Under the loving guidance of our training Chef Amanda and competitive hand of Chef Collins, 98 new recipes were tested and implemented in just two weeks. These are their stories.
Chef's Story:
'We all went to welcome Amanda at our airfield – some chefs knew her from past training and from their stories I could tell she was a mama. I was not disappointed – she was real MAMA.
Day One we took easy, going through our plan (Food Project 2017). Then we tackled pastry and desserts, one section we all agreed needed attention and yes, we fixed it with help of Chef Mama Amanda. She taught us with love. I also noticed she was so easy and approachable whenever we had a problem and every chef felt comfortable asking her questions.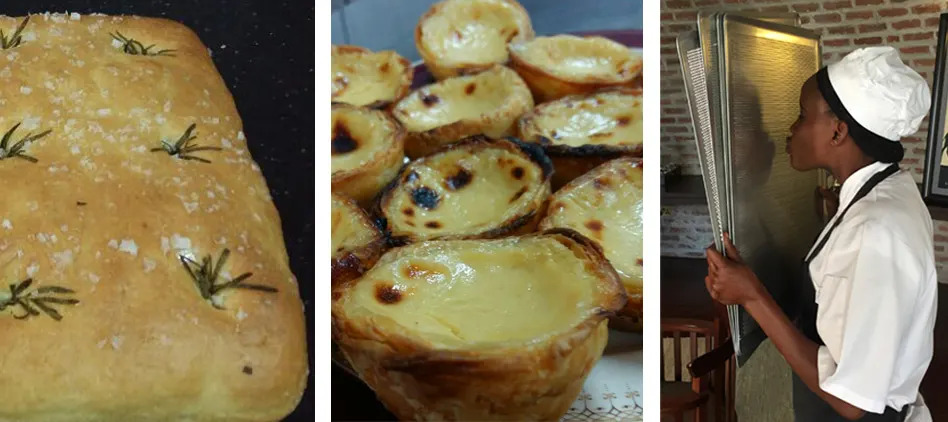 The shamba visit was very educational – we learned how to use our beautiful ingredients and now our presentation has gone high. It was fun walking with the team and Amanda spoke about every plant and how to cook with it. We discovered courgette flowers and our Deep Fried Courgette Flowers Stuffed with Ricotta starter was born just like that!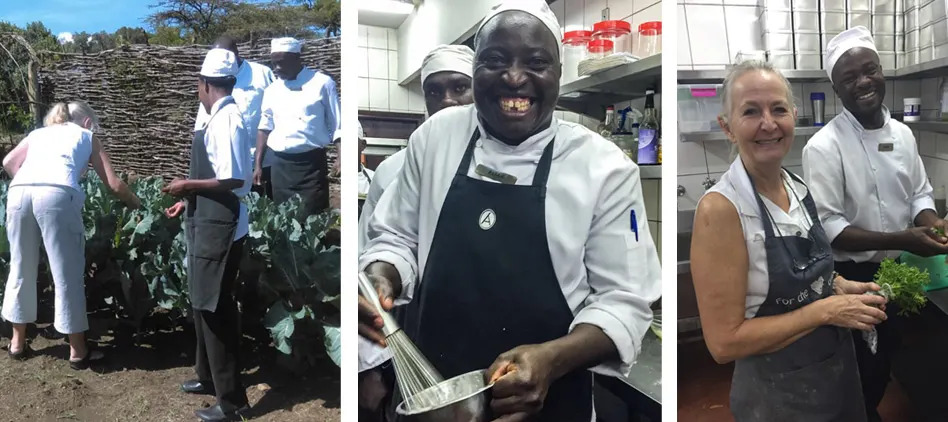 One evening I was in my office planning the next day's menu and Chef Amanda started counting one to ten as she was preparing beef fillet. Everyone in the kitchen joined her, then started to sing and soon we were all dancing to Amanda's music. We all had fun as we cooked. We cooked dishes from many different cuisines but the chefs agreed on our favourites: Steamed Bao Buns from China, Kenyan Chapatti Quesadillas, Chicken Parmigiana from Italy, Twice Baked French Cheese Soufflés, Pasteis de Nata from Portugal and Ugandan Rolex for our picnic breakfasts … just to mention a few.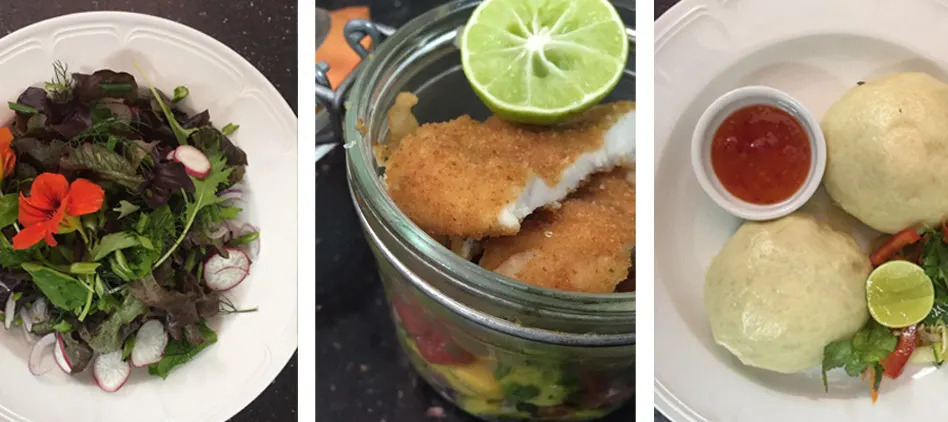 On Amanda's last day we cooked her our traditional Kenyan favourite: mbuzi with butternut leaves and ugali. She ate very comfortably with her hands – not like a mzungu. We really felt like she was one of us and we can't wait to welcome her back in November as she takes us to the next level. Karibu Tena Chef Mama Amanda'
Amanda's story:
'I've been training young lodge chefs in remote parts of Africa for over 10 years. I retired recently and waited patiently at home to be underwhelmed. Having no real job is great, but being offered the opportunity to work in Kenya again was not to be missed.
Nicky said "Come and work with my chefs at Angama Mara". I went with no hesitation … at a gallop.
A game viewer was waiting at Angama's airfield and the chefs in their immaculate whites were there, waiting to greet me and carry me off to proudly show me their domain.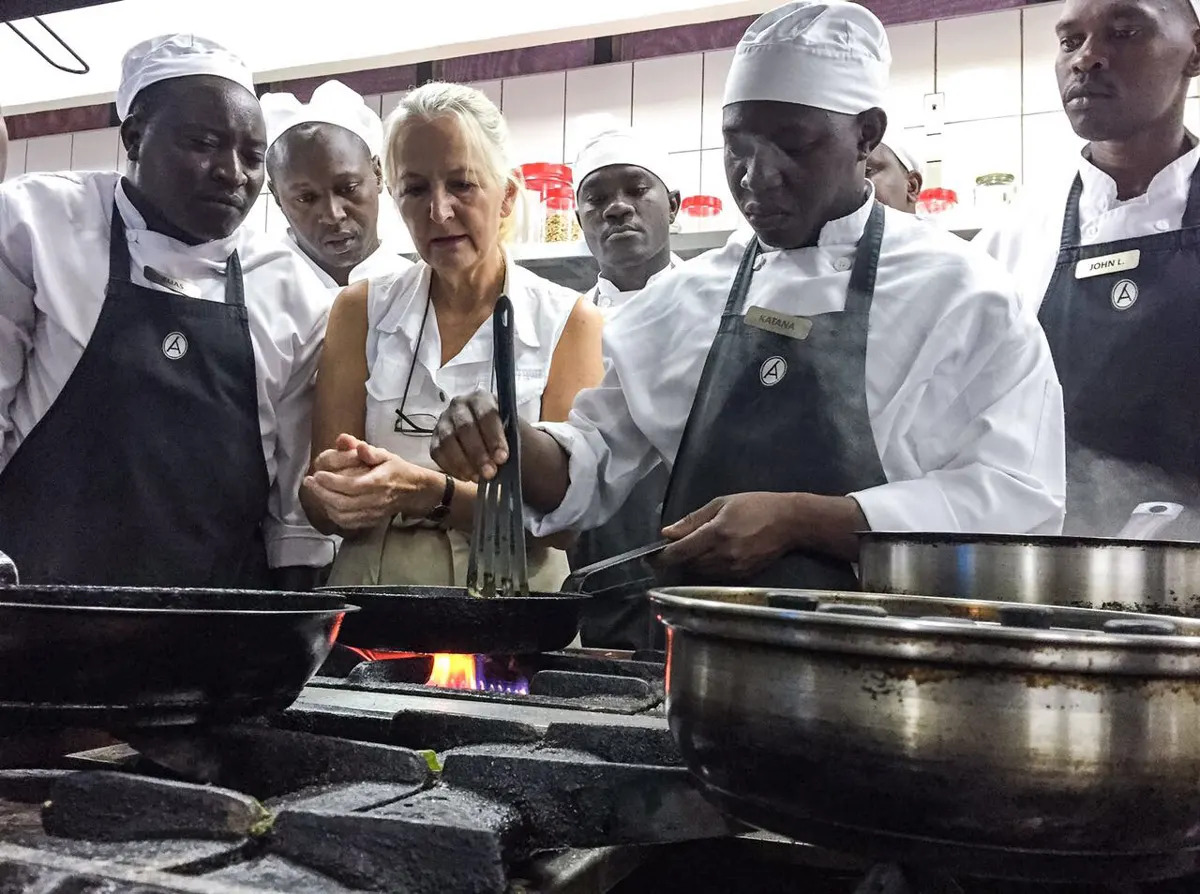 "Food Project 2017", was what Nicky called it. A host of brilliant new ideas she had put together for us. The wonderful shamba was burgeoning with beautiful fresh produce for us to pick and celebrate in the food.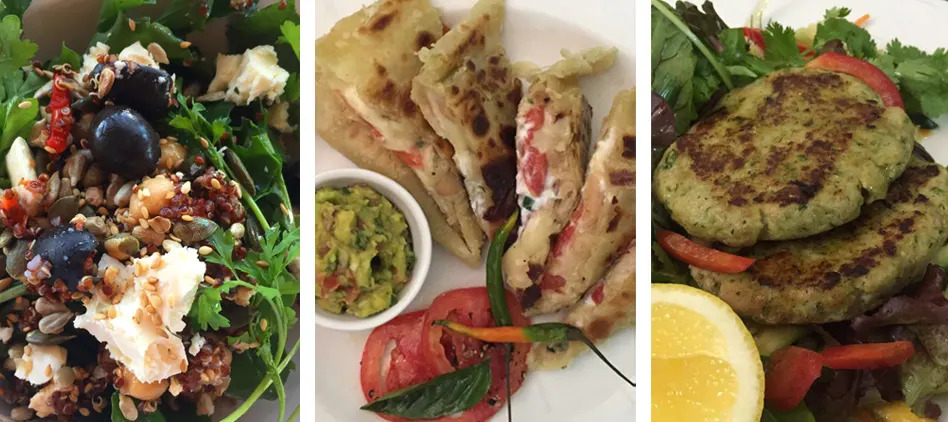 What fun, working with all the energy, skill and passion in that kitchen. We danced to the tunes of international chefs, using the rhythms of Kenya. The lovely chefs at Angama Mara, under the steady guidance of Head Chef Collins, bring a singular passion and commitment to work with them each morning. They rekindled my love of cooking.'