The Angama Team Digs Deep
Read about the colours of the Angama Team as thirteen of the senior staff took part in Insights Discovery training with Rob Pearse and learnt more about themselves, how to work better as a team and most importantly how to better take care of our guests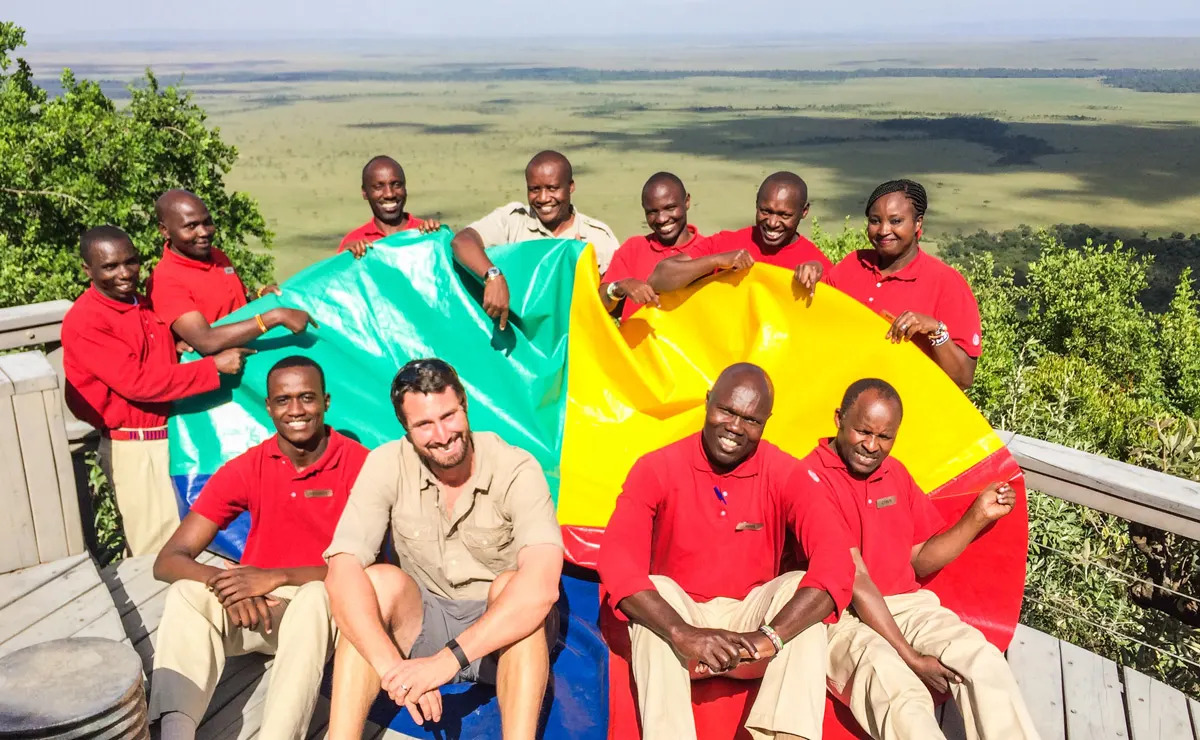 What do you do when a person reads you uncannily well, as if they have entered deep into your mind and studied you for a lifetime? When I was younger, we were all fascinated by the idea of palm reading, telling a person their future through tealeaves or how the bones fell. Well, all this was wishful thinking as we watched gypsy fortunetellers in the movies.
We had no idea on what to expect with the Insights training. As all 13 of the senior staff at Angama Mara trooped into the South Camp guest area, we were met by this four-colour wheel on the floor and invited to take a seat around it by Rob, our facilitator. We had, three weeks earlier, filled in an online 25-item questionnaire. After introductions, Rob outlined what to expect from the training and handed each of us a booklet containing our personal profiles, the results of our online answers.

As I read through mine, I got goose bumps! How do seemingly random questions give such an accurate description of me? I now can understand what those who had their fortunes read by the gypsies felt. As I watched others read theirs, I could see a myriad of emotions cross their faces – confused, wary, worried, intense, serious, total concentration, amusement, revelation!
The Angama Insights training was about discovering our colours (preferences), those of our colleagues, how the different colours react and interact, and growing us stronger as a team.

As we went through Day One's session, it was interesting to see light bulb moments as people understood their colours: fiery red, sunshine yellow, earth green, cool blue. Any free time we had and even as we broke off for the day was spent in trying to 'colour' each other. After six hours of training there was a new appreciation of how our teams see us. Another eye-opener was that our colour manifests in what we do: John Wayango, head of security was fiery red, of course.

Days Two and Three delved deeper into how, by recognizing others' colours/preferences, we can gauge how to react to them irrespective of our colour. As we did presentations, it was interesting to see what the presenter, in terms of their colour, focused on. It was a revelation to see how, when we broke out into smaller groups, the different colours had very different perceptions into getting the assignment done. As we understood more about each other's preferences, so we built on recognizing intuitive vs sensing, introverted vs extroverted team members. It was instructive to note that people are not just one colour but we are a blend of all four. One may be dominant but the three are still there. Do not be surprised that a certain situation may result in a cool blue reacting as a fiery red. Learning about the positive effects of stress, how to manage our energy levels, providing great guest service and understanding how to better communicate with each other, were just some of the great learnings we took out of our three-day course.
To all of our guests, we apologise in advance – we are now painting you on arrival. Welcome!
A Word from Rob Pearse – Head of Insights Discovery Direct Sales
It is said Kenyans have an innate ability to be service orientated – a truer word could not be spoken.
When I was asked to visit Angama Mara in April to provide leadership development training, I knew I was visiting an extraordinary safari lodge in a truly magical part of the world. However, having reflected on my visit, what stands out for me is how truly magnificent the people are that make this lodge what it is.
I've spent many years training corporate executives and leaders and many struggle with the ability to be perceptive and display decent levels self-awareness. They're also extremely resolute in their ways of being and functioning and often give off an impression of "holier than thou". No matter what you try, a shift in mindset becomes painfully difficult and taxing.
After spending just a couple hours with the lodge leadership at Angama Mara, it was clearly evident that the staff had an unbelievable desire to learn and enrich themselves in any way, shape or form. In addition to this, they have an infectious passion for their roles, the difference they make to their guests' lives and to enriching the local community. This mindset, attitude and passion can to some extent be taught, but in the Angama staff, this is part of their DNA.
It was a delight to be able to train the team on Insights and enable them to learn more about themselves, how they could function optimally as a team and how (if that's possible) they could improve the way they take care of their guests.
As the Kenyan proverb goes: 'a leader who does not take advice, is not a leader'. This team definitely embodies this in every possible way and it speaks to why the Angama lodge culture is in such a strong and sound state.
I hope I have the opportunity to visit the lodge again and experience the magic that this one of kind place provides.
Note from the Editor: April and May are dedicated training months and 2017 has been a bumper year: guide, chef, housekeeping, birding, butler and wine training to name but a few – but the Insights Discovery by Connemara topped the billing. Insights Discovery is a powerful, preference-based learning system which has impacted thousands of lives worldwide. With foundations in the work of Carl Jung, Discovery helps individuals better understand themselves and others, and enables more effective interactions and organisational growth. All the better to take care of our guests …