We are delighted to welcome our second guest author to This Week at Angama – thank you James Fitzgerald for these beautiful images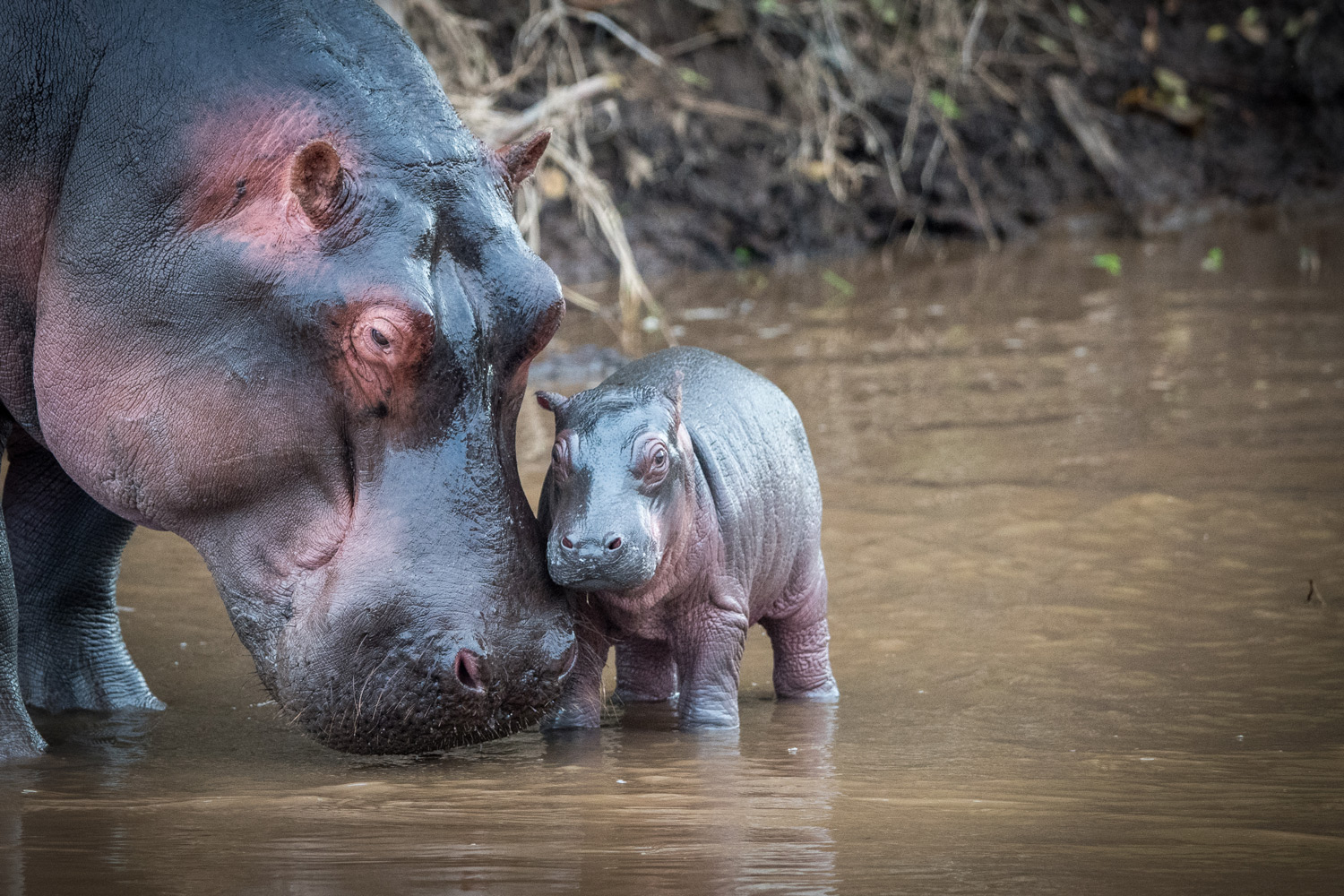 It is wonderful to see the Maasai Mara through the eyes of first timers. Better still those who are not accustomed to the sheer volume and diversity of game on offer here. We came to Angama expecting to see the Migration and the consequent crossings. The weather confused the herds resulting in no crossings, but our party were able to enjoy all that the Mara has to offer. These images represent a handful of the thousands taken.
I had never seen a black rhino out in the open before. We were lucky to see this rhino moving across an open plain and, by anticipating its likely path to nearby bushes, our guide positioned us for some great shots. [f6,3, 1/5000s, ISO 800, 600mm]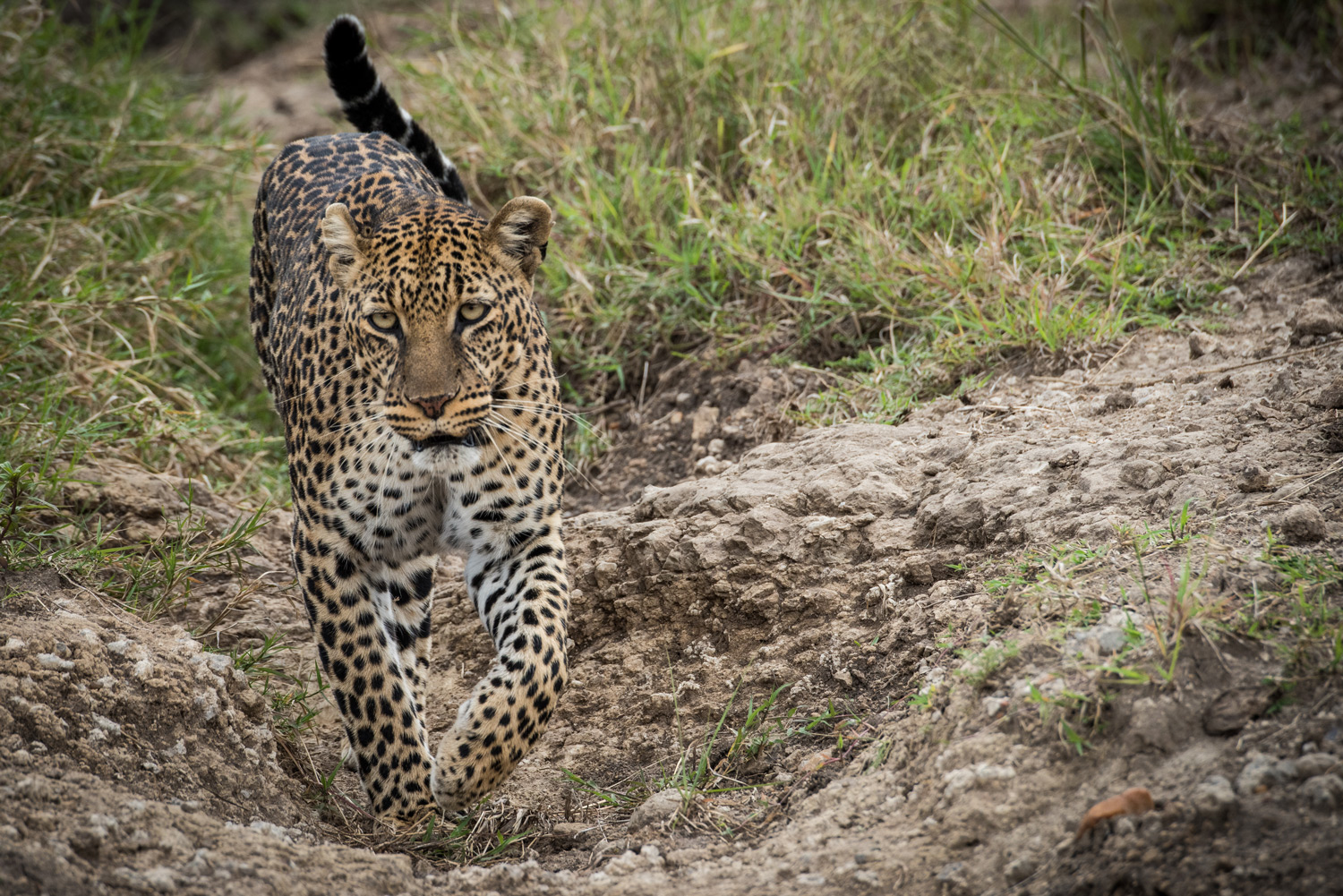 I know there is a renewed emphasis on the leopards of the Mara. Other than the odd ear or tail I have never had a good leopard sighting here. Imagine our excitement coming across this beauty making its way towards us. [f10, 1/400s, ISO 800, 400mm]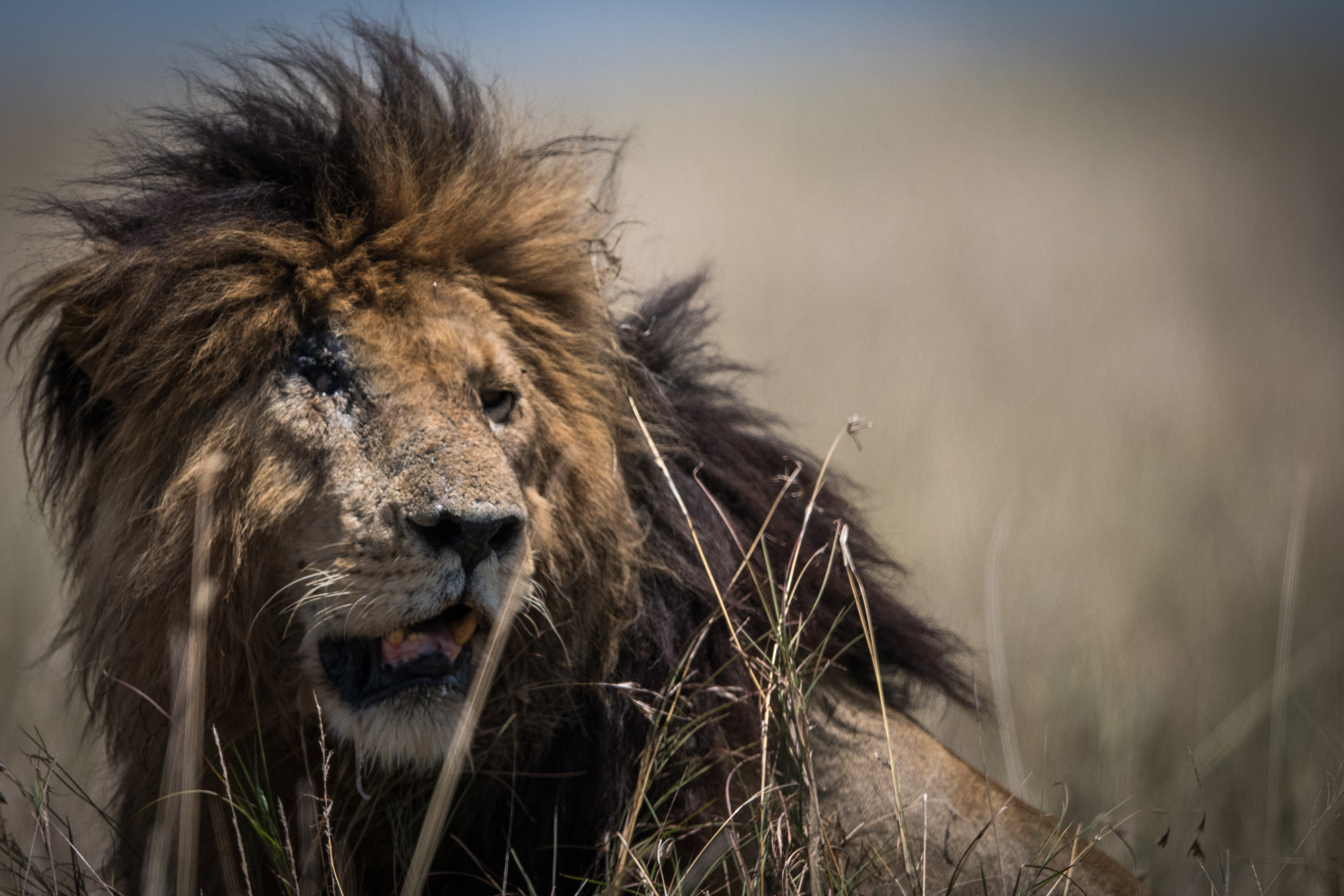 And this is Scarface. I am told that he is the most famous lion in the world. The previous day the safariLIVE team had filmed Scarface being chased by a buffalo that was positioning itself to inflict a fatal blow with its horn when it stumbled and the King lived to see another day. We were lucky enough to see him here alongside his own kill. [f4, 1/6400s, ISO 250, 600mm]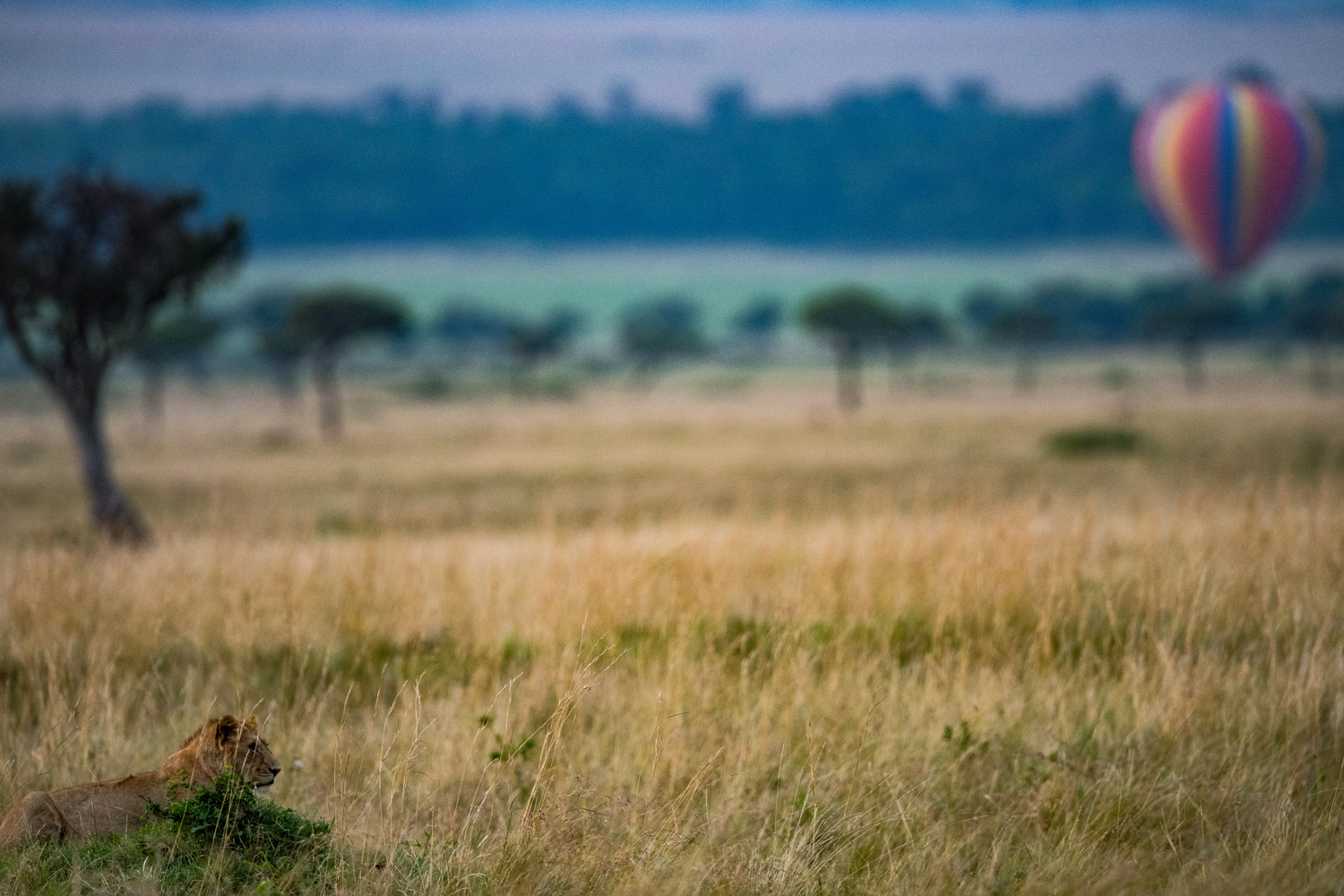 I particularly like the composition of this photograph. I had to move quickly because the balloon in the background was moving swiftly to the right while the lion in the foreground was going nowhere. [f4, 1/800s, ISO 1250, 600mm]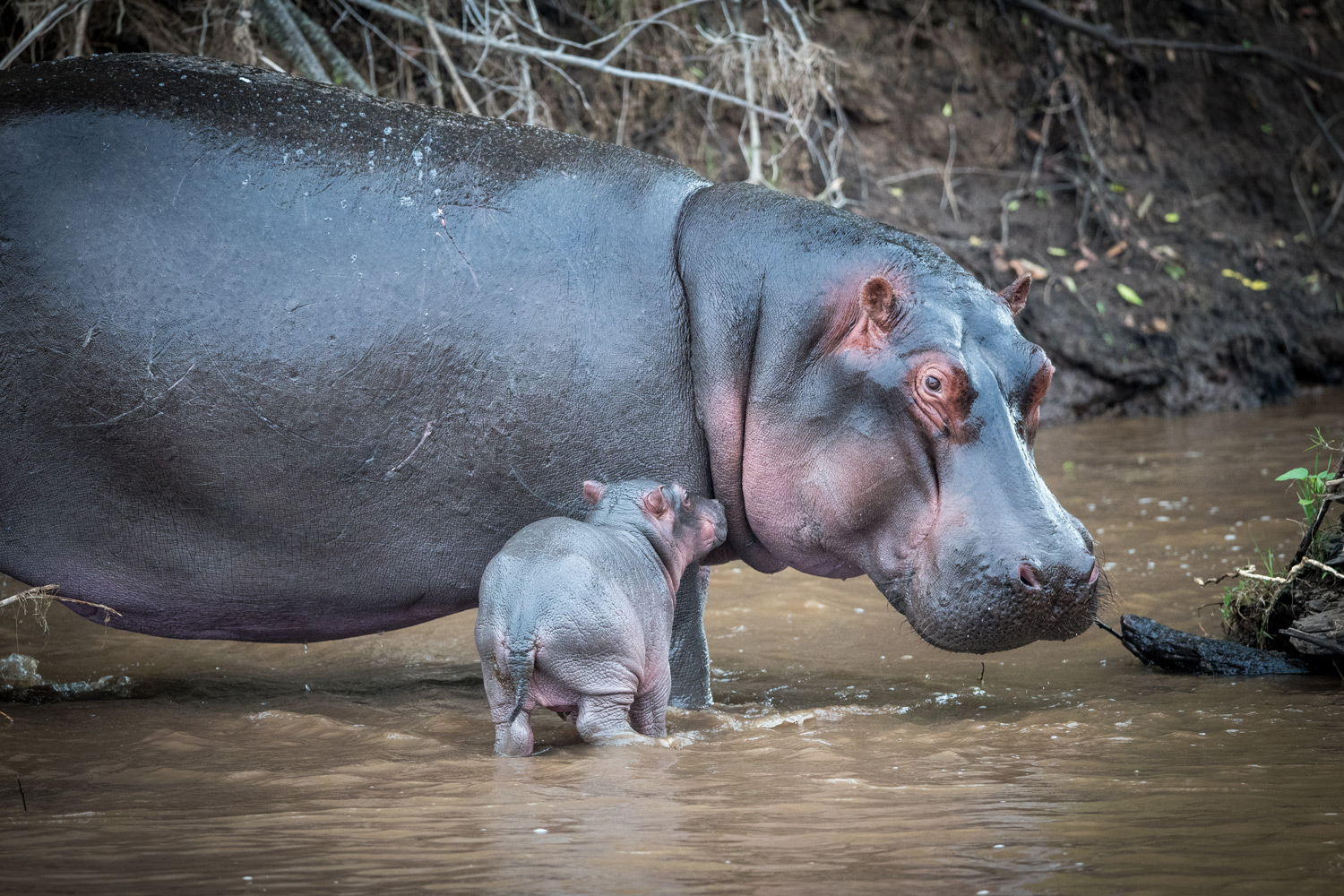 We found young animals everywhere. This was the ultimate opportunity. Sophie our guide thought that the hippo birth had happened minutes earlier. We were privileged to see the baby's first steps in inch-high water (a few spread-eagle collapses) after which mother and babe moved to slightly deeper water for its first swimming lesson. [f4, 1/800s, ISO 1250, 600mm]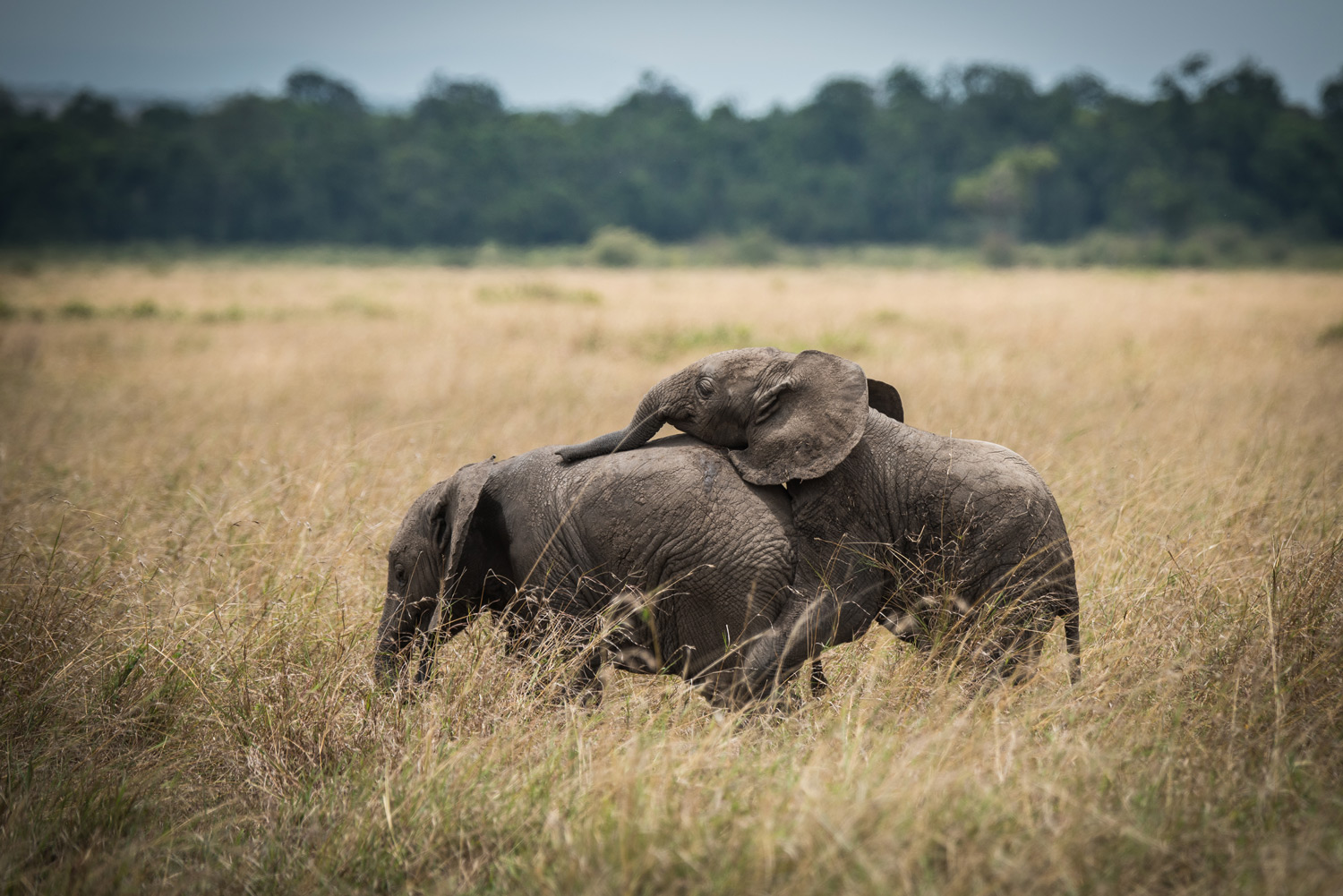 Boys will be boys! Once again something unusual to photograph with these two young elephants playing. [f5,6, 1/800s, ISO 200, 290mm]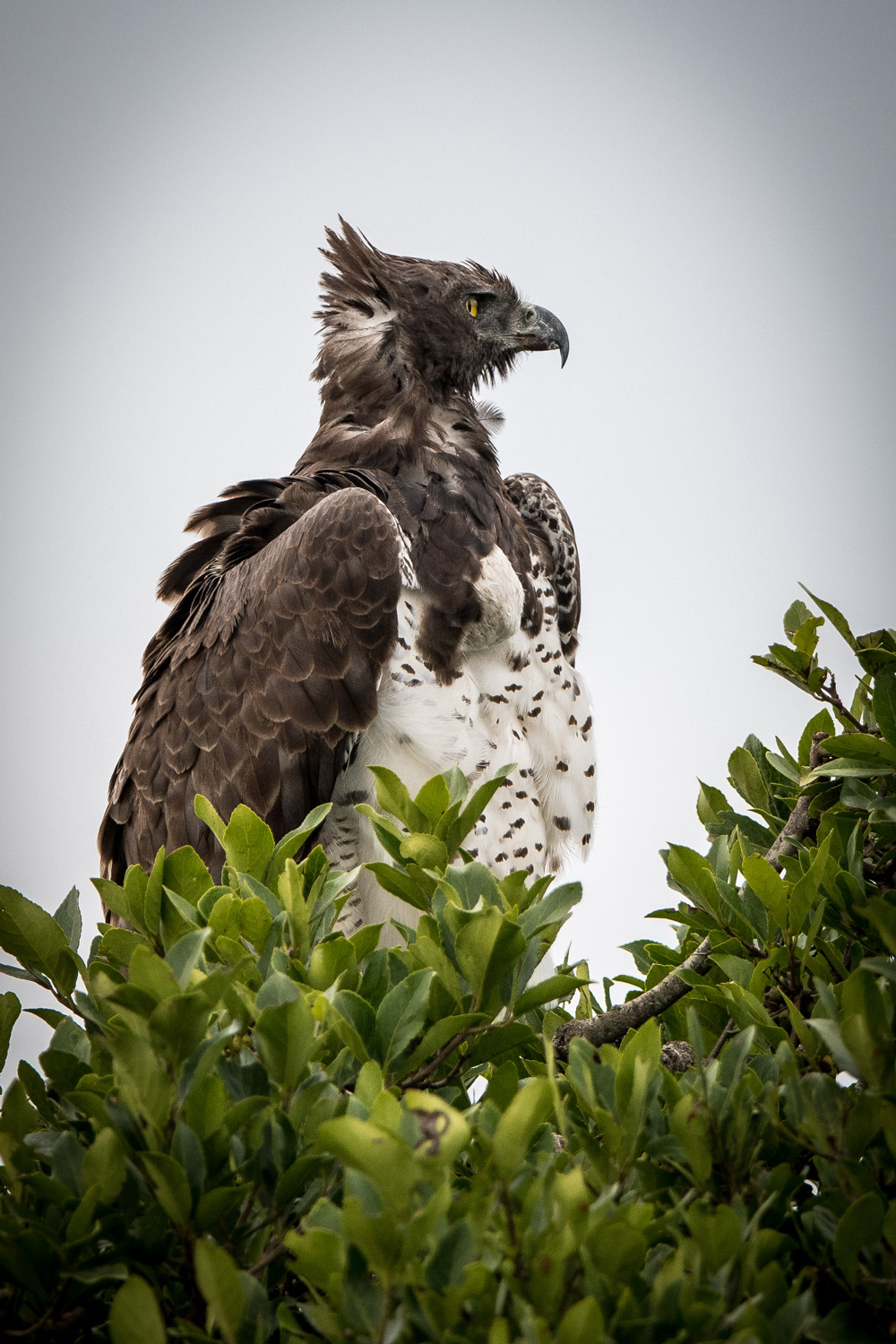 This magnificent martial eagle perched here for what seemed like hours. Hoping to catch him in flight we waited a long time before giving up and going on to view some nearby lions. On the way back, he was still there – and still looking imperious. [f4, 1/1250s, ISO 250, 600mm]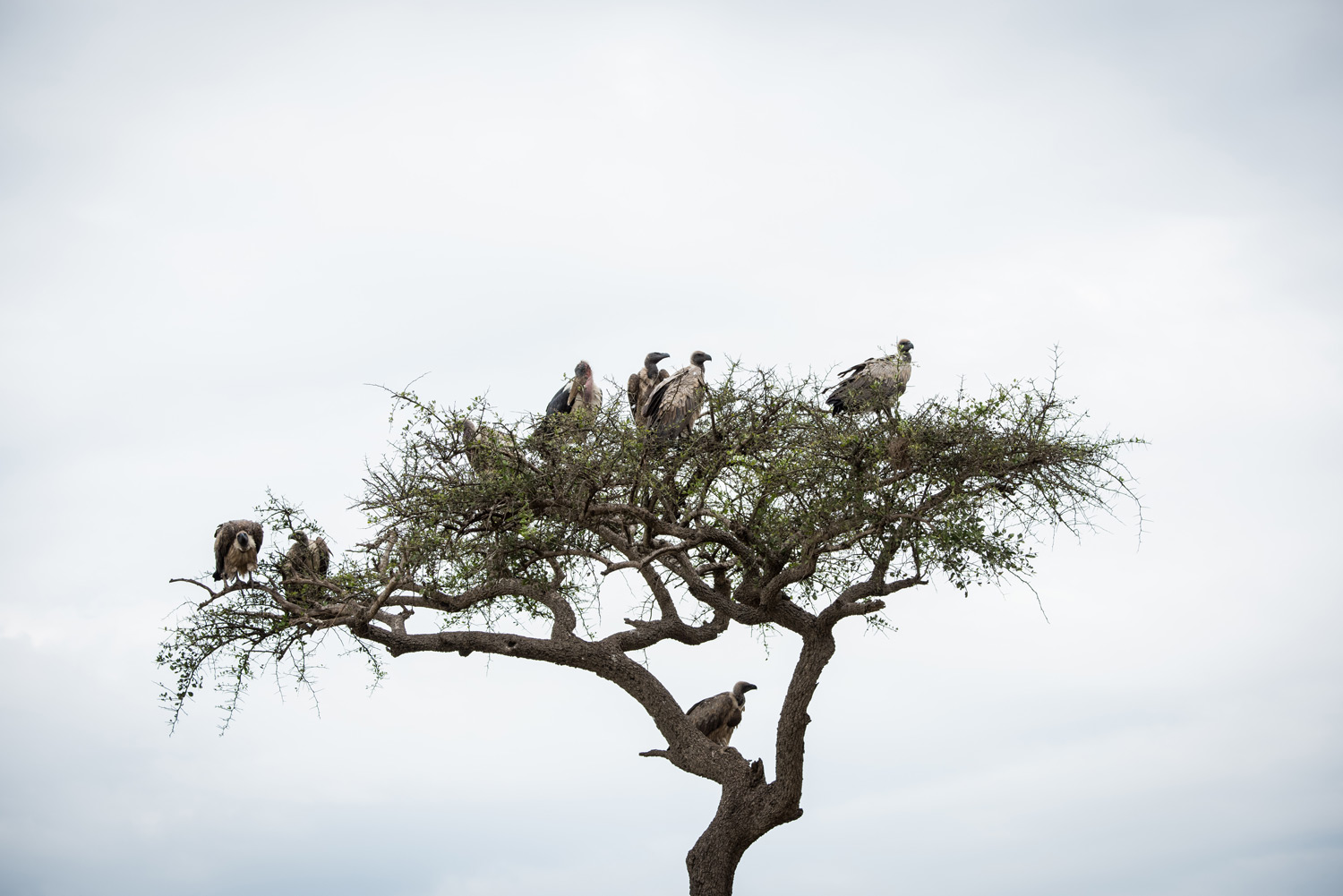 It was a grey day but that didn't stop the vultures from gathering in this tree while they waited for their next opportunity. Given the density of game, the opportunities for scavenging are endless. [f8, 1/640s, ISO 320, 135mm]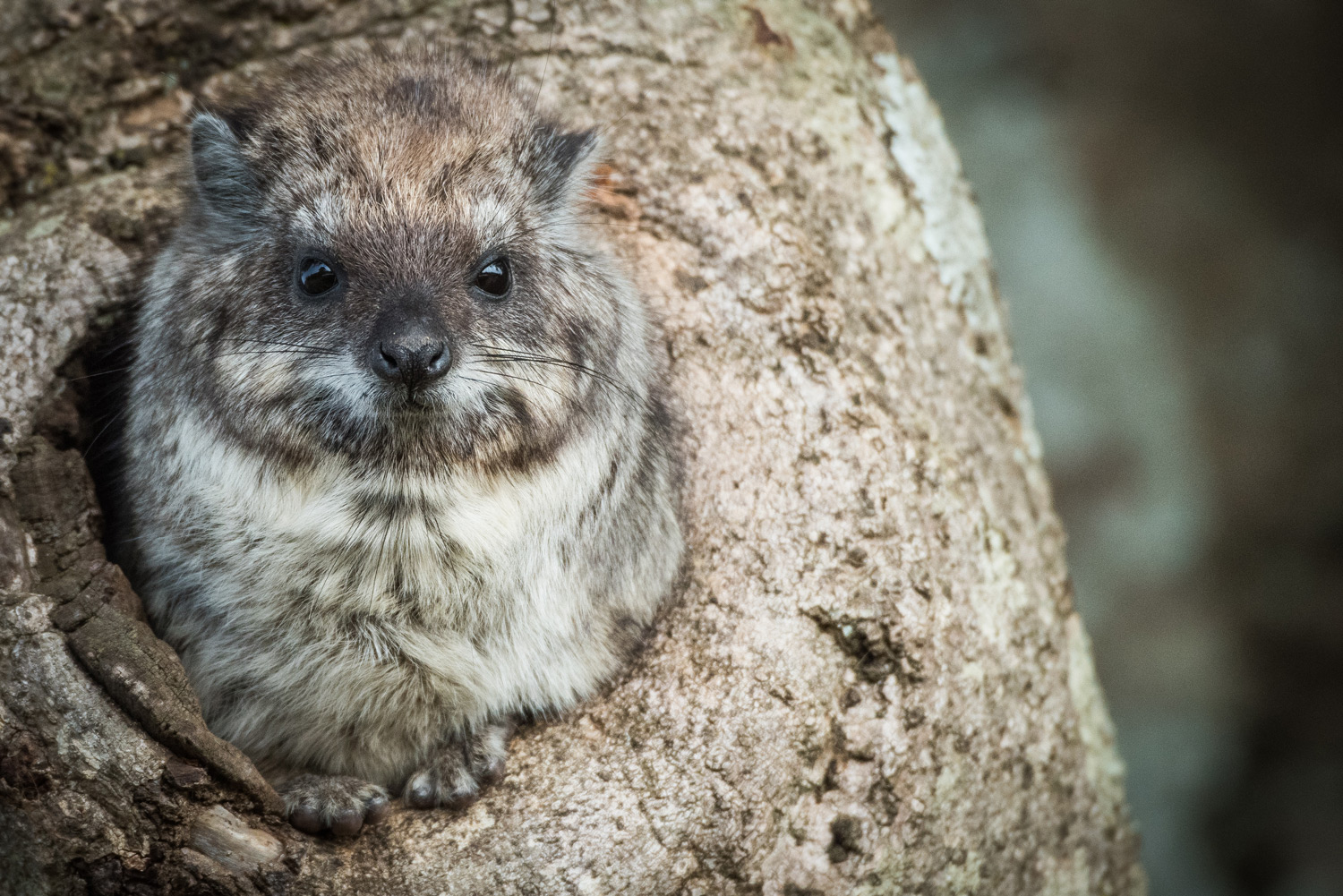 As we drove out of camp each morning, this endearing Tree Hyrax watched the passing parade from his hole in an overhead tree. [f5,6, 1/1250s, ISO 1600, 400mm]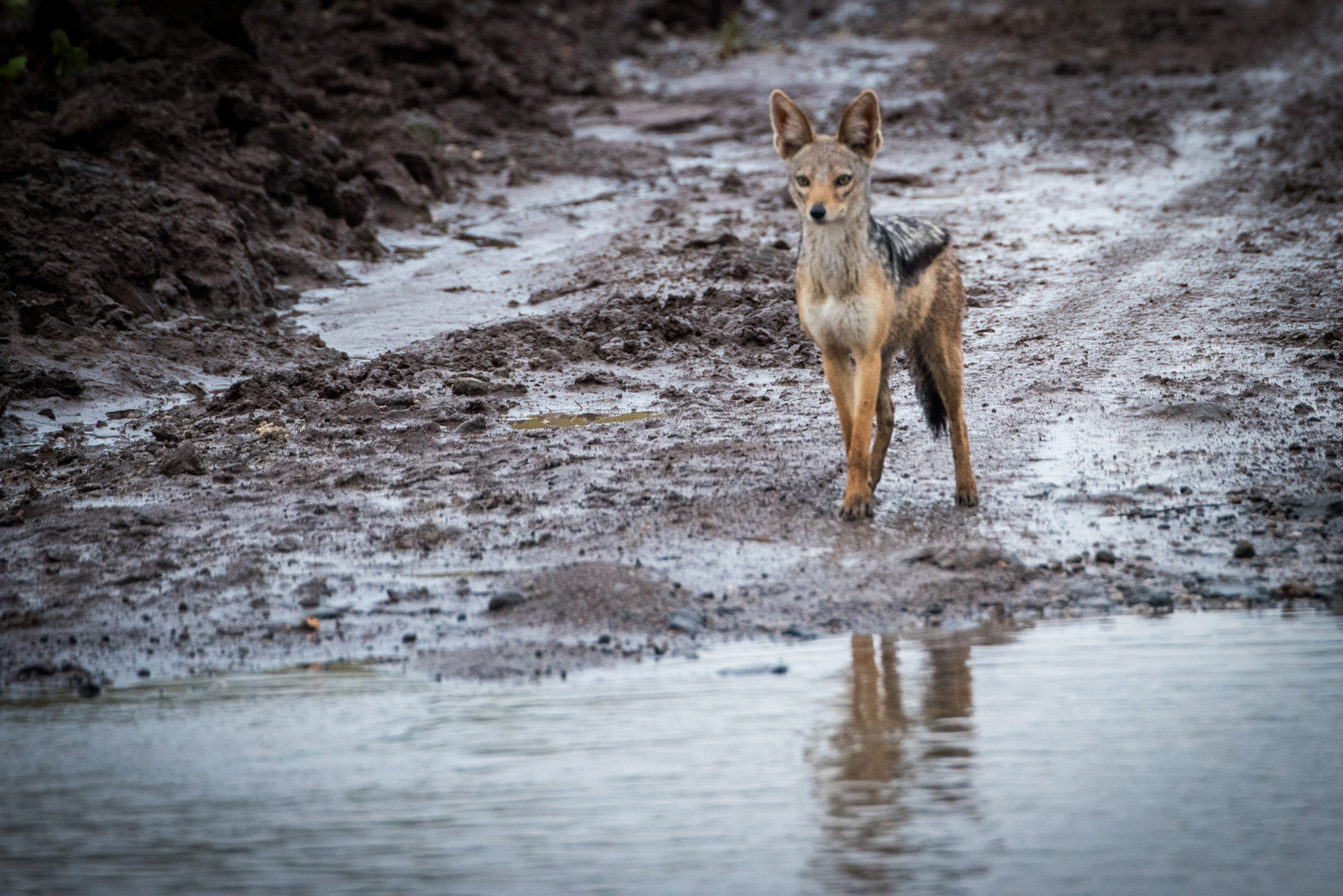 I liked the reflection of this jackal. It's not often that they stand still long enough to be photographed so this was for me an unusual opportunity. [f5,6, 1/400s, ISO 1250, 400mm]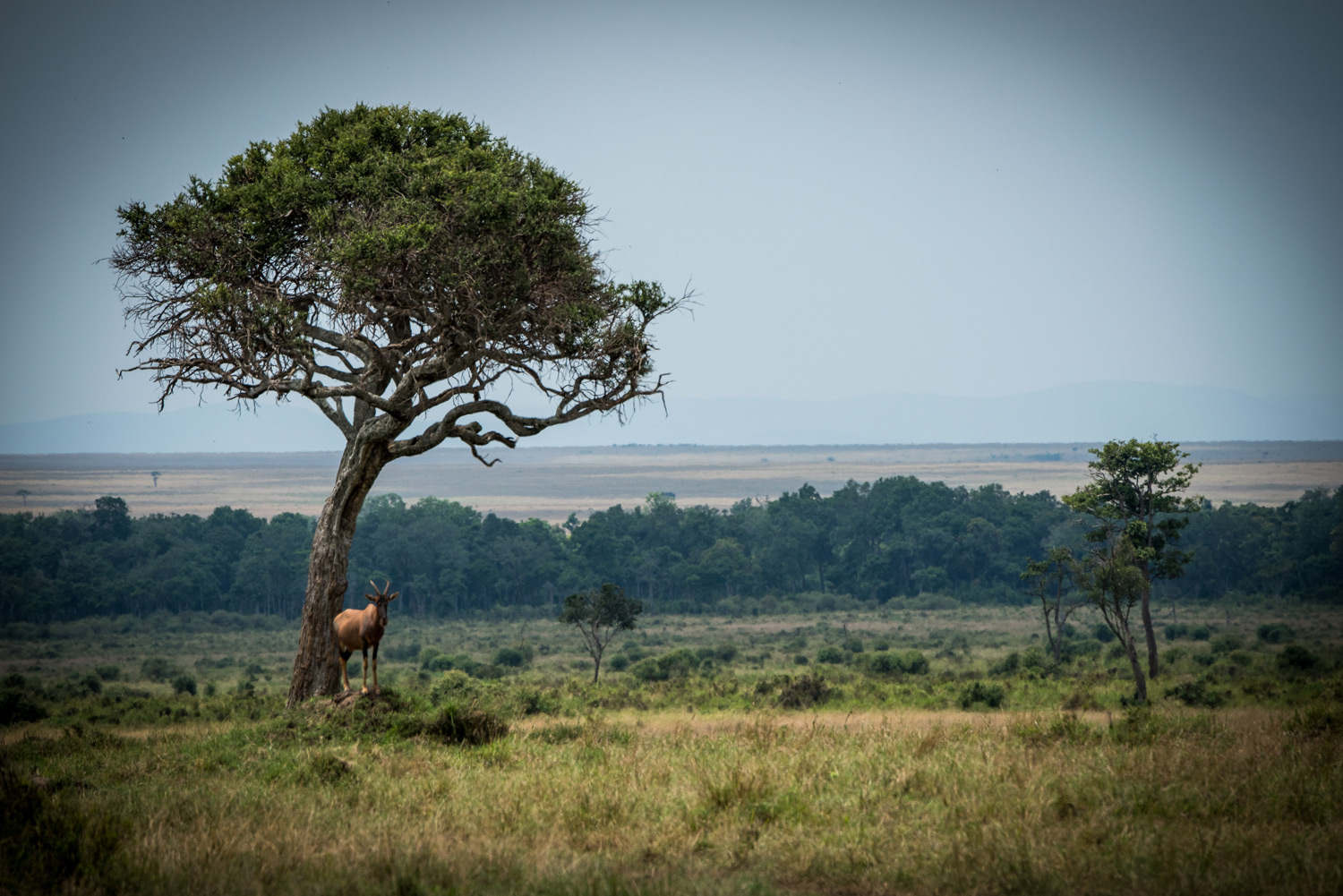 After many visits here, I recently discovered that I didn't have any pictures of the iconic trees of the Mara. This trip was dedicated to putting that right. I particularly like this one with a Topi standing on its customary mound. [f9, 1/1600s, ISO 200, 340mm]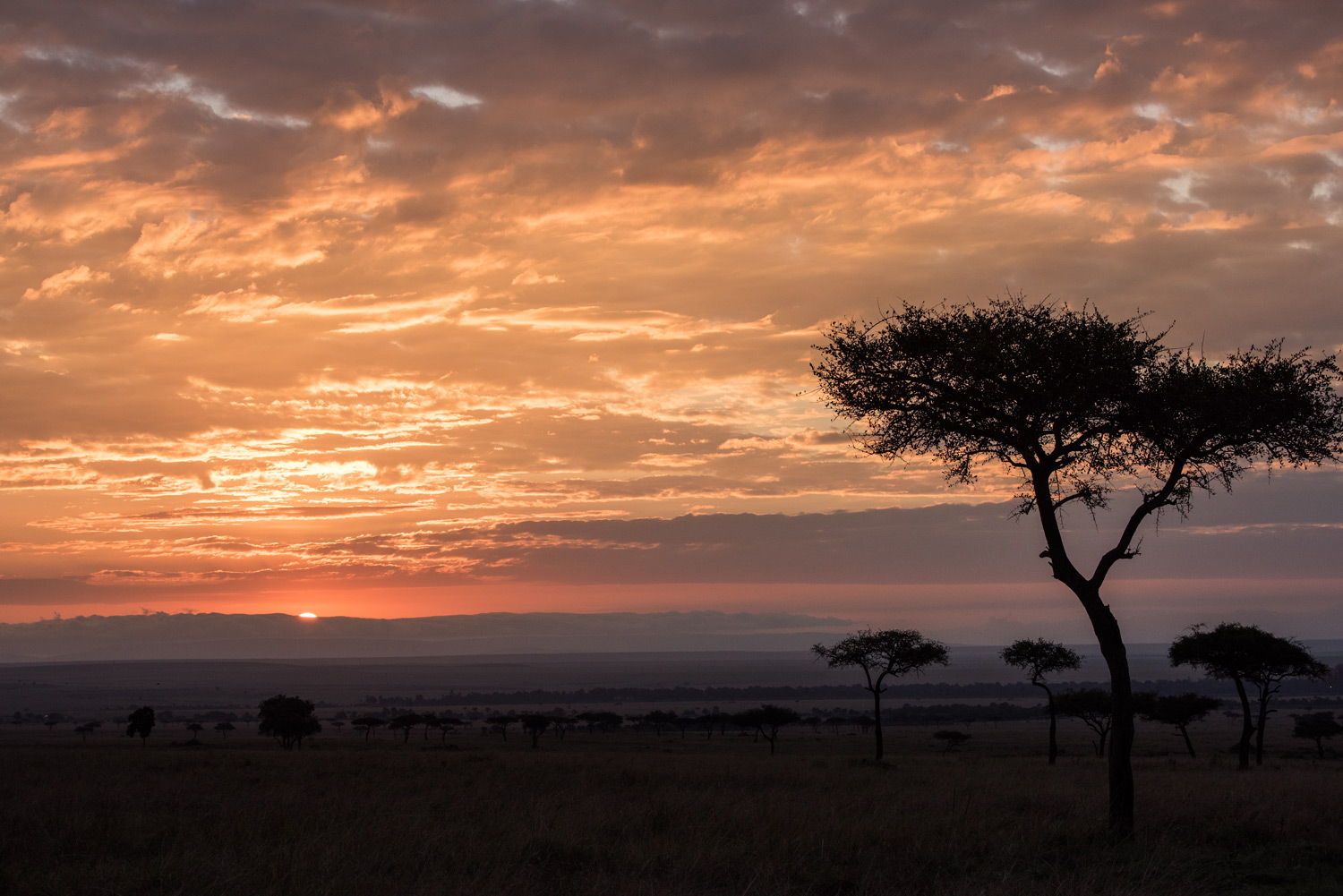 We managed to be in the Mara Triangle for sunrise – the clouds contributing to a spectacular scene. [f8, 1/400s, ISO 560, 80mm]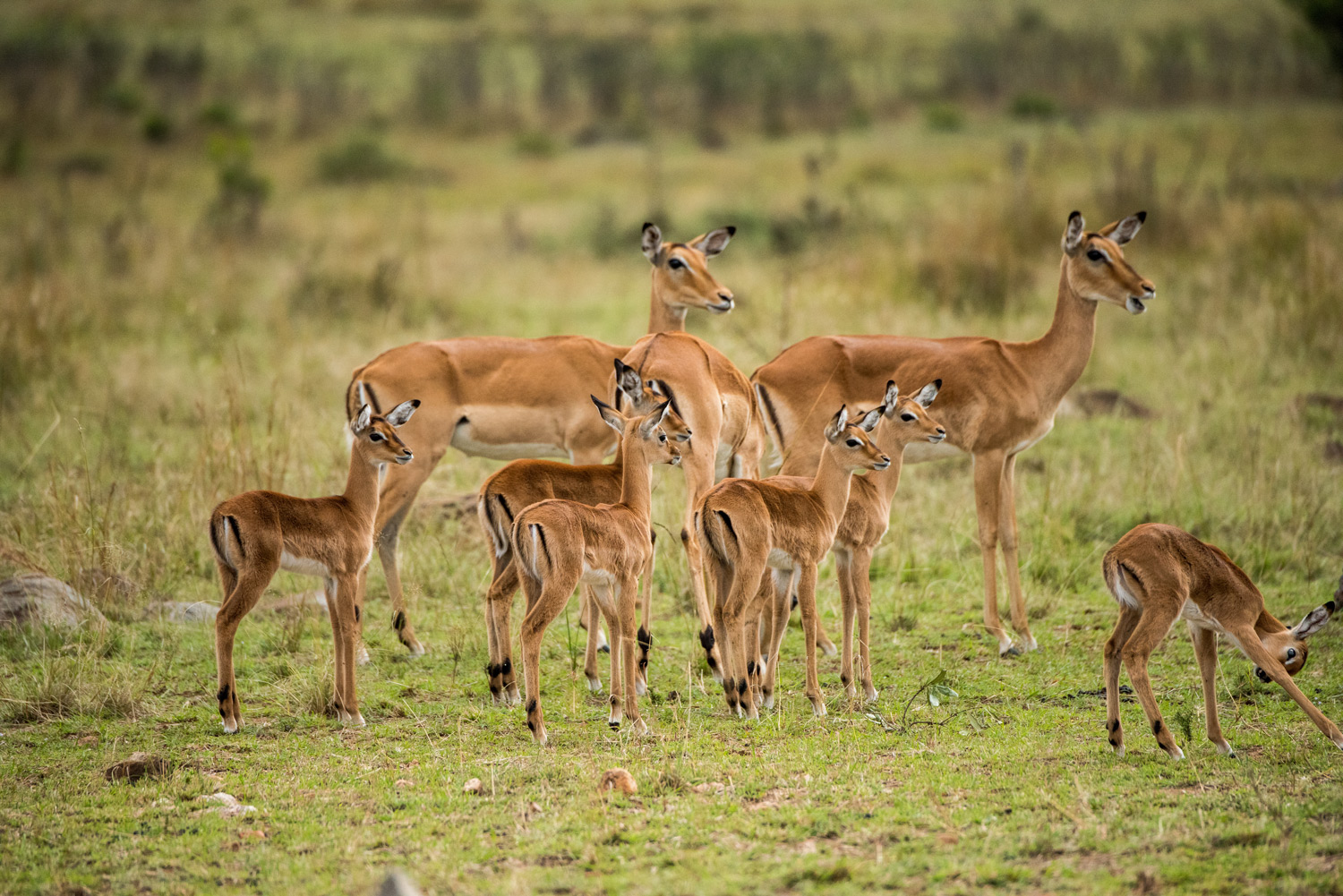 These baby impalas were only just past the tottering stage and as you can see are already very observant of their surroundings. [f5,6, 1/5000s, ISO 1250, 400mm]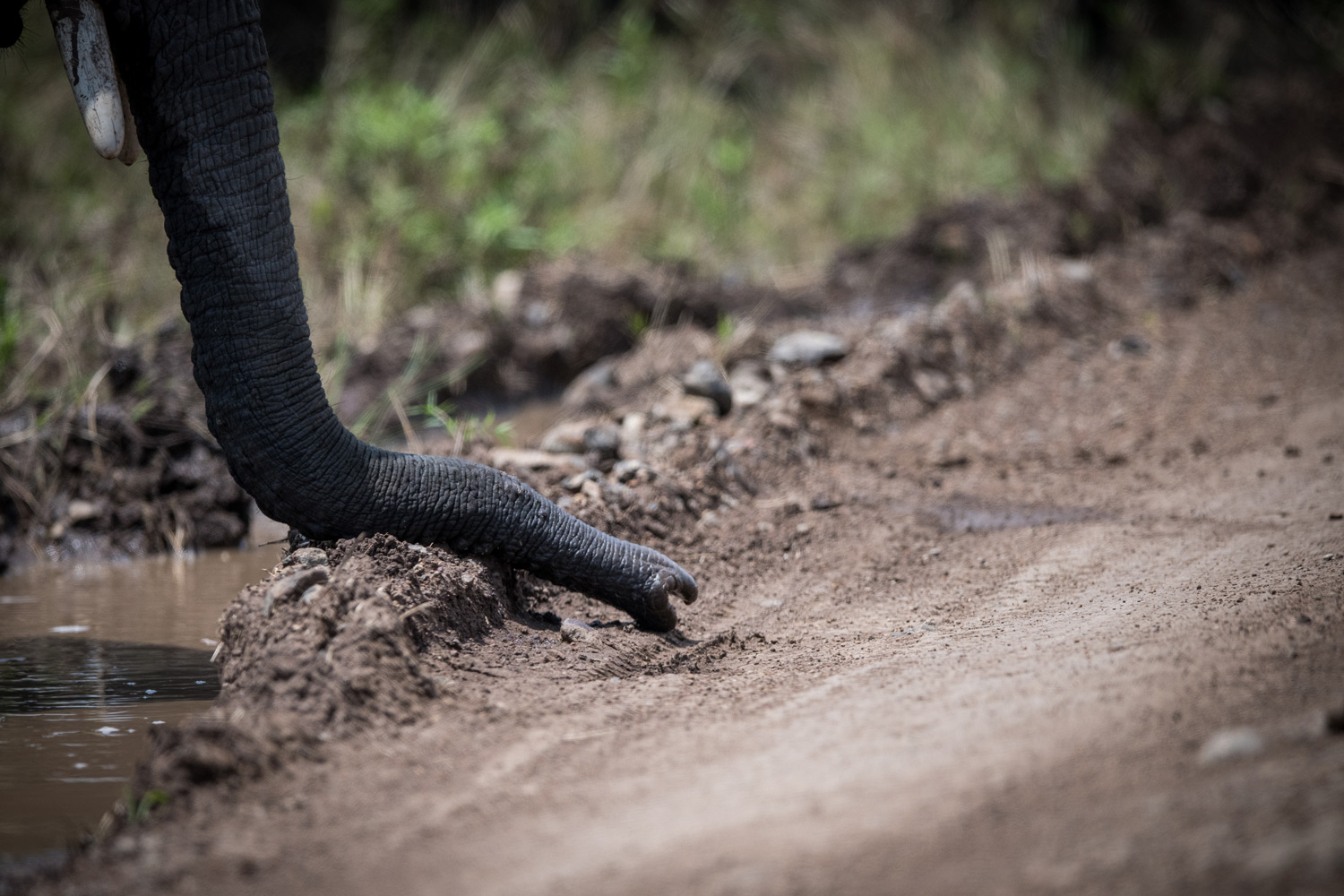 Such a fascinating animal – the elephant. I try to focus on unusual aspects simply because the opportunities in the Mara are endless. I found this very active trunk with its open "mouth" an interesting diversion. [f4, 1/6400s, ISO 500, 600mm]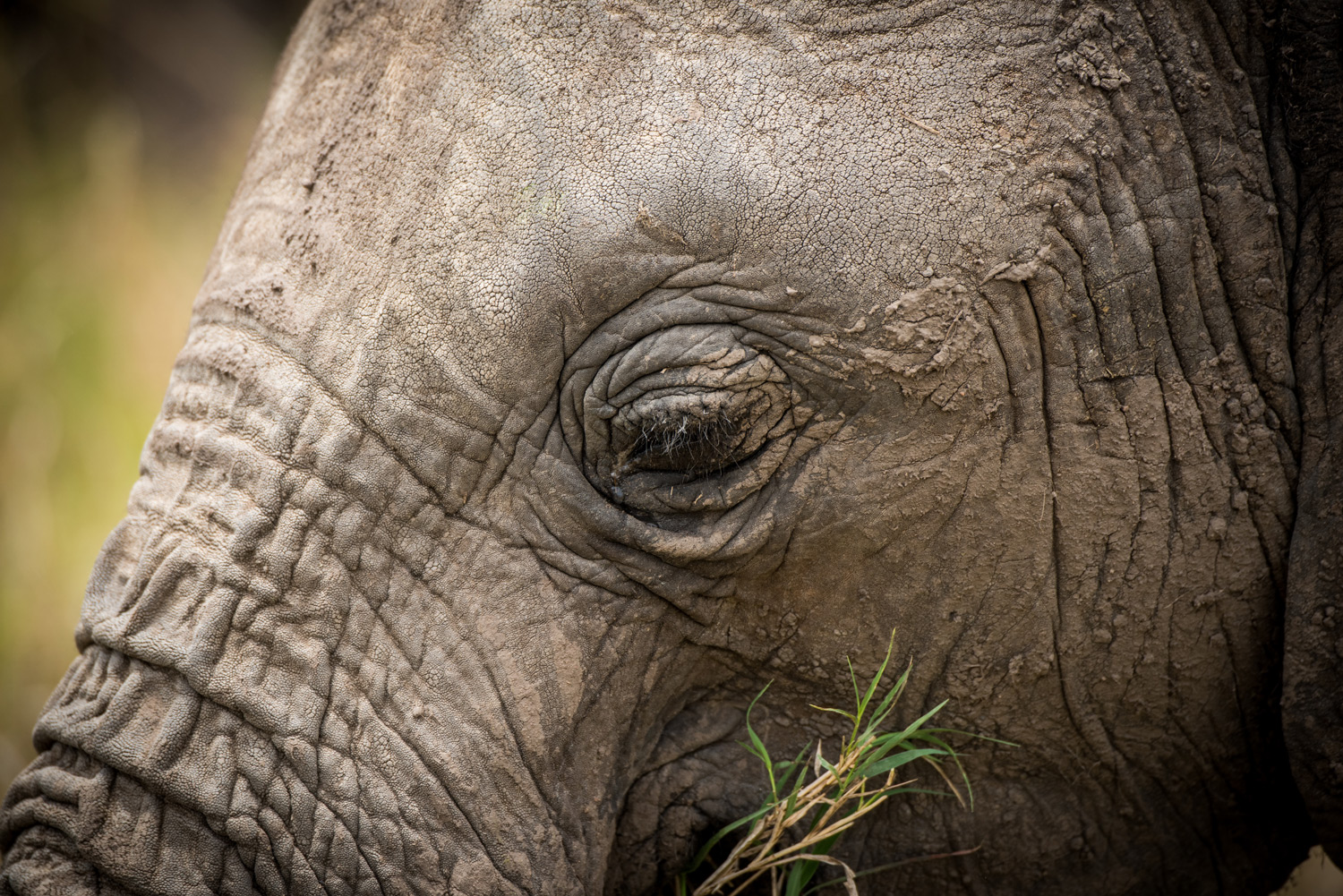 I like the detail around the eye of this elephant unconcernedly chewing on a mouthful of grass. [f6,3, 1/400s, ISO 360, 400mm]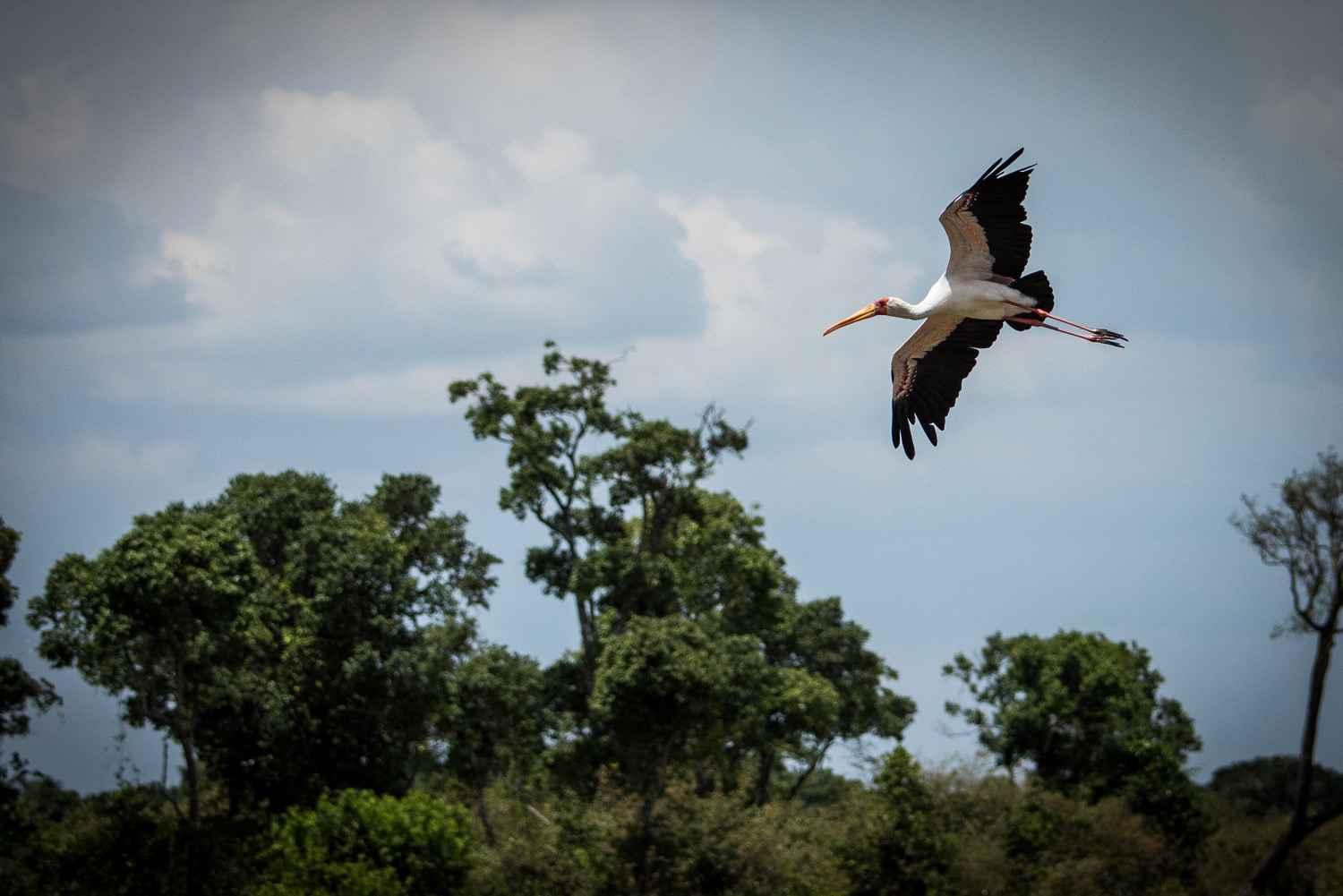 We were busy watching a large number of sacred ibis that were gathered near the hippo pool when this yellow-billed stork flew overhead before making a turn to join the other birds. [f5, 1/8000s, ISO 180, 135mm]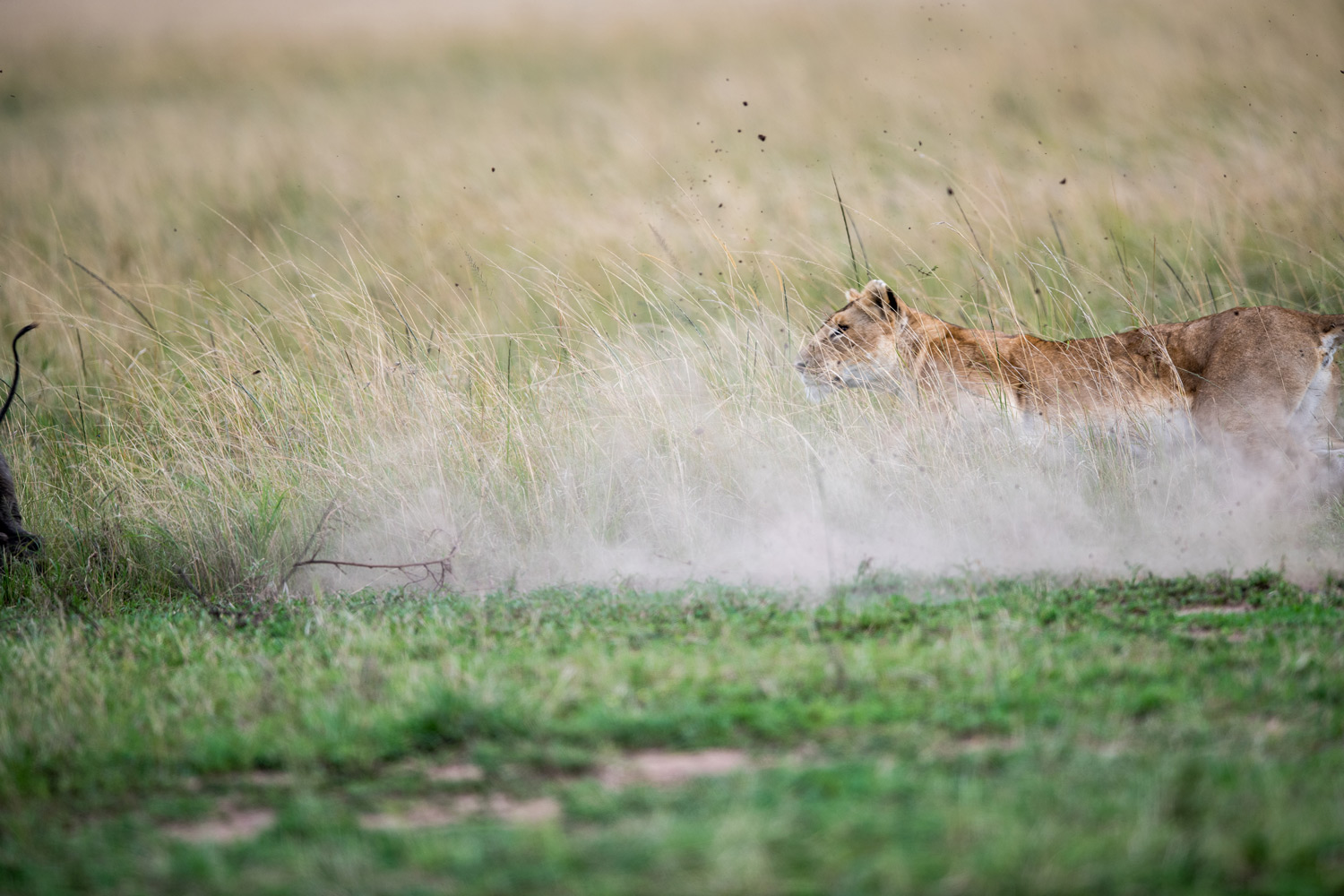 We saw four attempted lion kills on this safari. Prey 4 – Predators 0. This is as close as the lioness got to the warthog, whose tail is just visible on the left edge of the image. [f4, 1/800s, ISO 250, 600mm]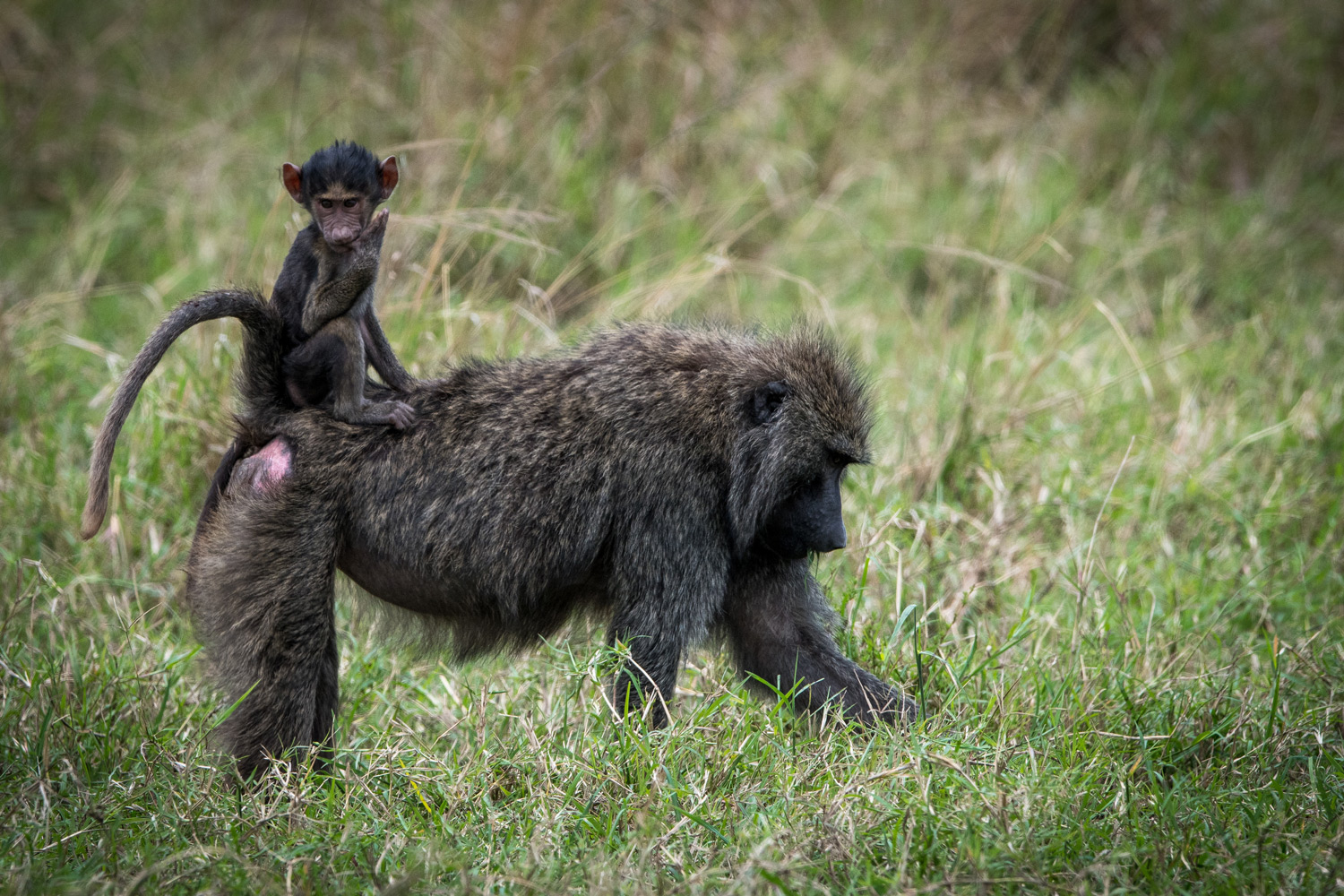 Yet another very young baby. This baboon had decided that it was going to ride on its mothers back come what may falling off regularly but then clambering back into position while the long-suffering mother continued to forage. [f8, 1/1000s, ISO 250, 600mm]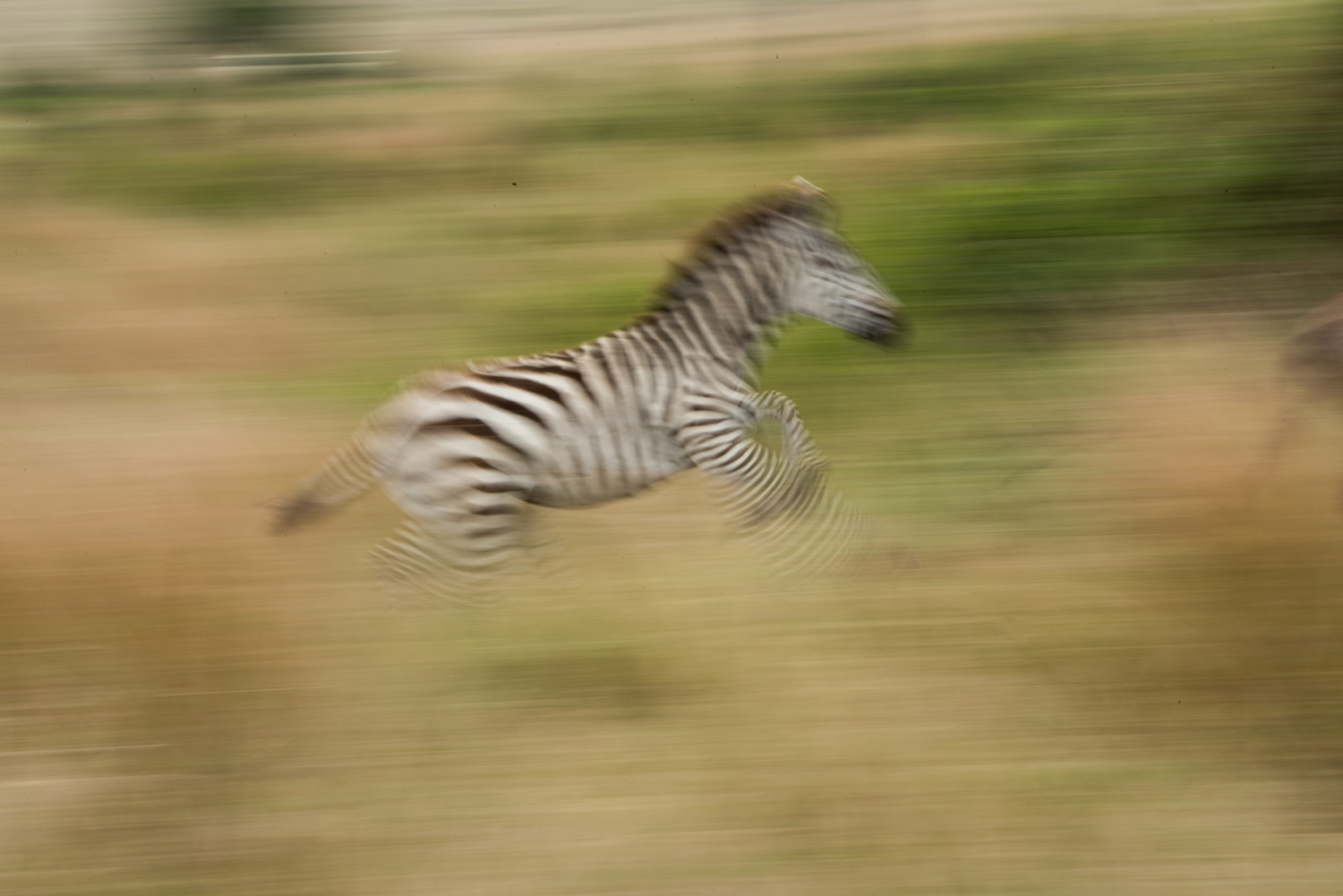 We didn't see any crossings, but as the weather improved the herds retuned to the Mara certainly suggesting a second wave of crossings to take place in the weeks ahead. There was a ravine that the herds needed to negotiate, and the herd mentality took over giving us the speed and chaos reminiscent of a crossing. I took the opportunity to deliberately blur this picture in a technique taught to me by my friend Jan van der Greef. [f40, 1/13s, ISO 250, 240mm]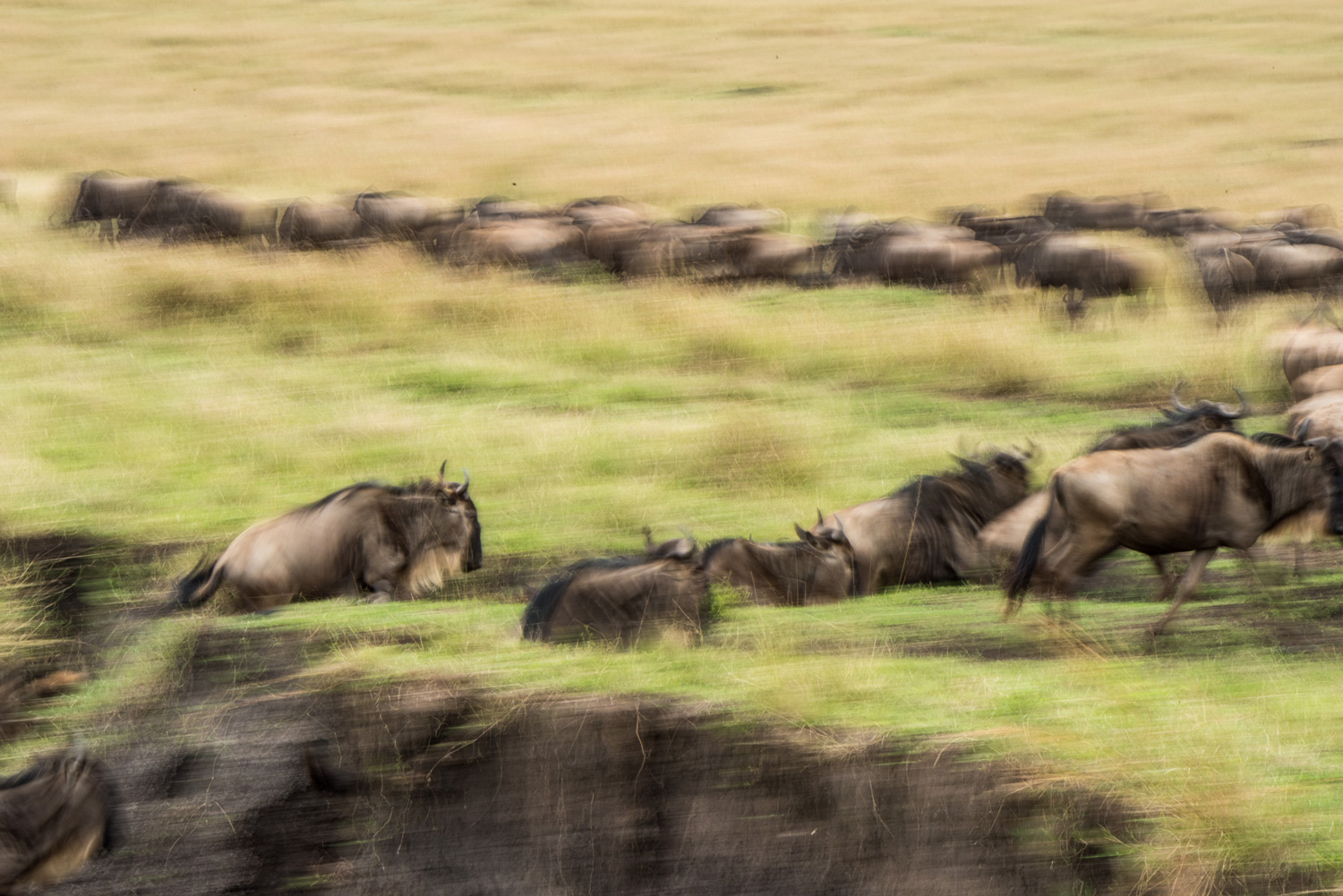 More deliberate blurring as the wildebeest negotiate the ravine at high speed. [f40, 1/13s, ISO 320, 240mm]
So, after a wonderful week, we left with well satisfied stomachs and camera bags full of great pictures and memories of the incredible diversity and density of game in the Mara. Our first-time guests were knocked out by Angama – the tents, décor, vistas, food and wine but most importantly the incredible Angama team – for whom nothing is ever too much trouble.
All photographs by James Fitzgerald.
FILED UNDER:
This Week at Angama
TAGGED WITH:
Wildlife
,
Birdlife
,
Photography
,
Maasai Mara
,
Travel
,
Safari
,
Angama Mara
,
Mara Triangle
,
Wildlife Photography
,
Big Cats
,
the great migration
,
Mara Plains