Maasai airborne, evening golden light, elephants returning en masse, lions kill and cubs cavorting - the Mara never fails to deliver.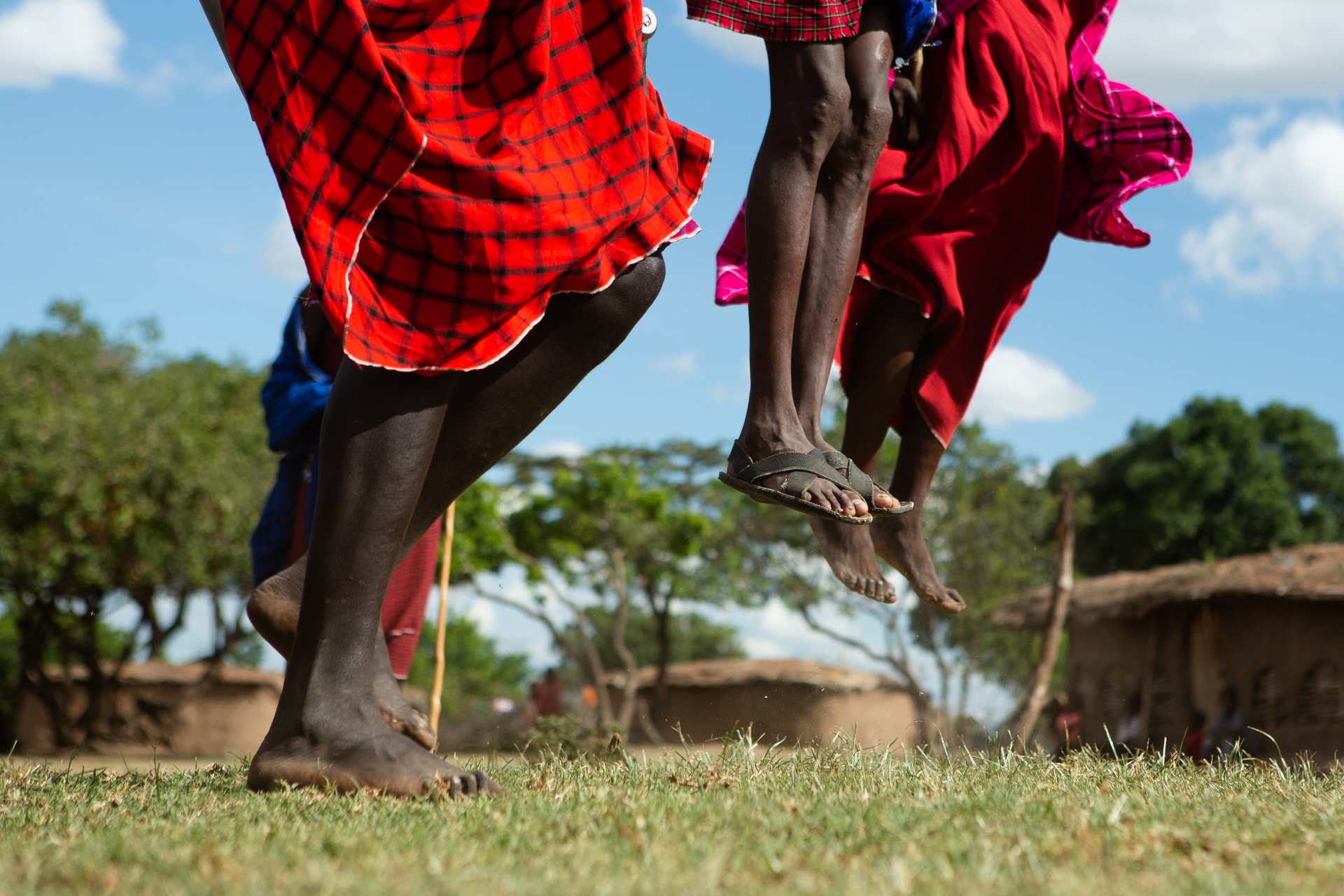 Time takes on a new dimension in the wilderness. Sometimes the pace is pole pole, as the Kenyans say, and sometimes the days simply evaporate. This week was one of the latter; a week of non-stop action. Enjoy a rather frenetic This Week At Angama. [f 4.0, 1/1250, ISO 320, -0.33]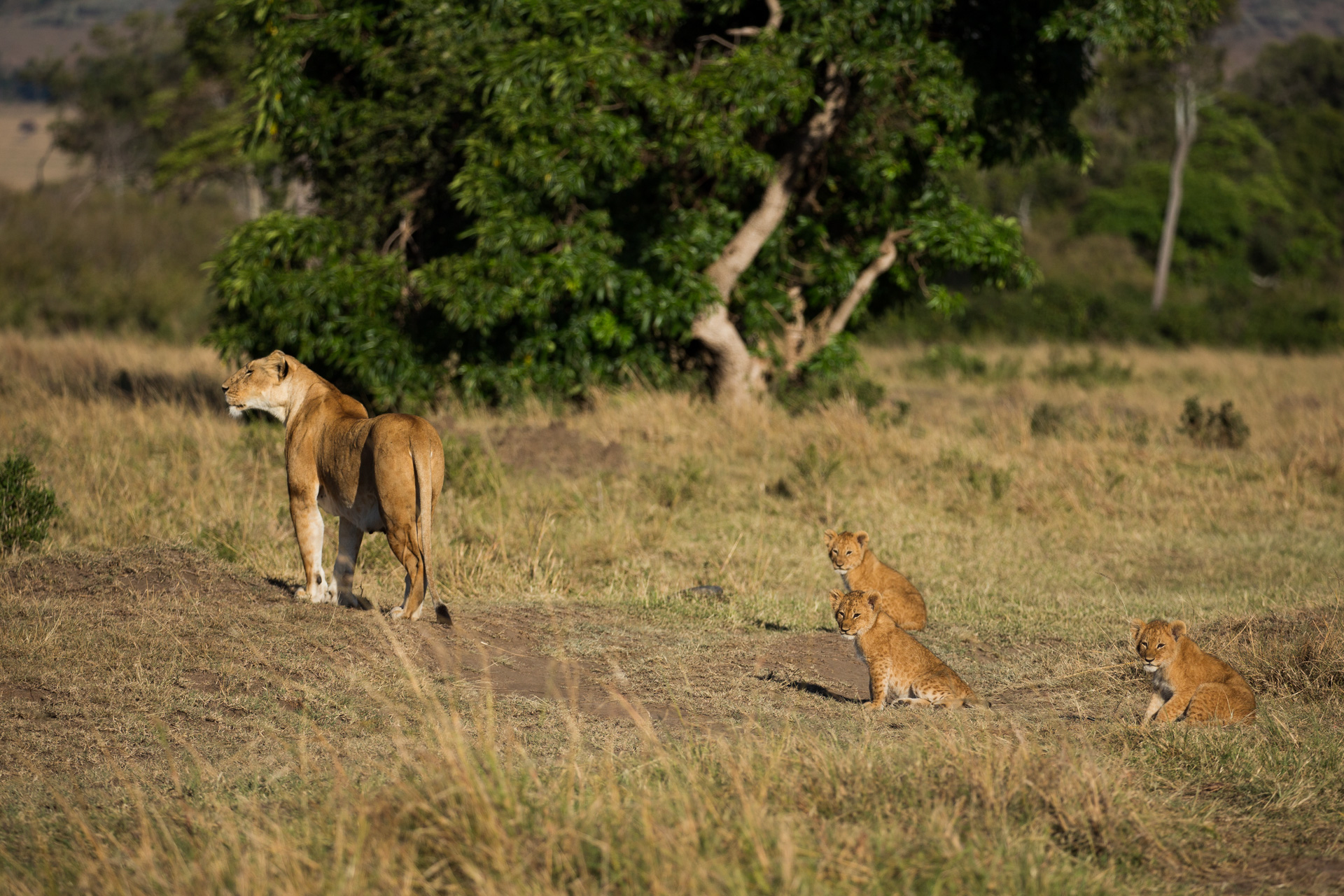 Good news – the lioness from the Marsh Breakaway Pride is doing well and her three cubs have thrived through another week. They are the current Mara Triangle rock stars and our guests can't get enough. [f 5.0, 1/2500, ISO 250, -0.33]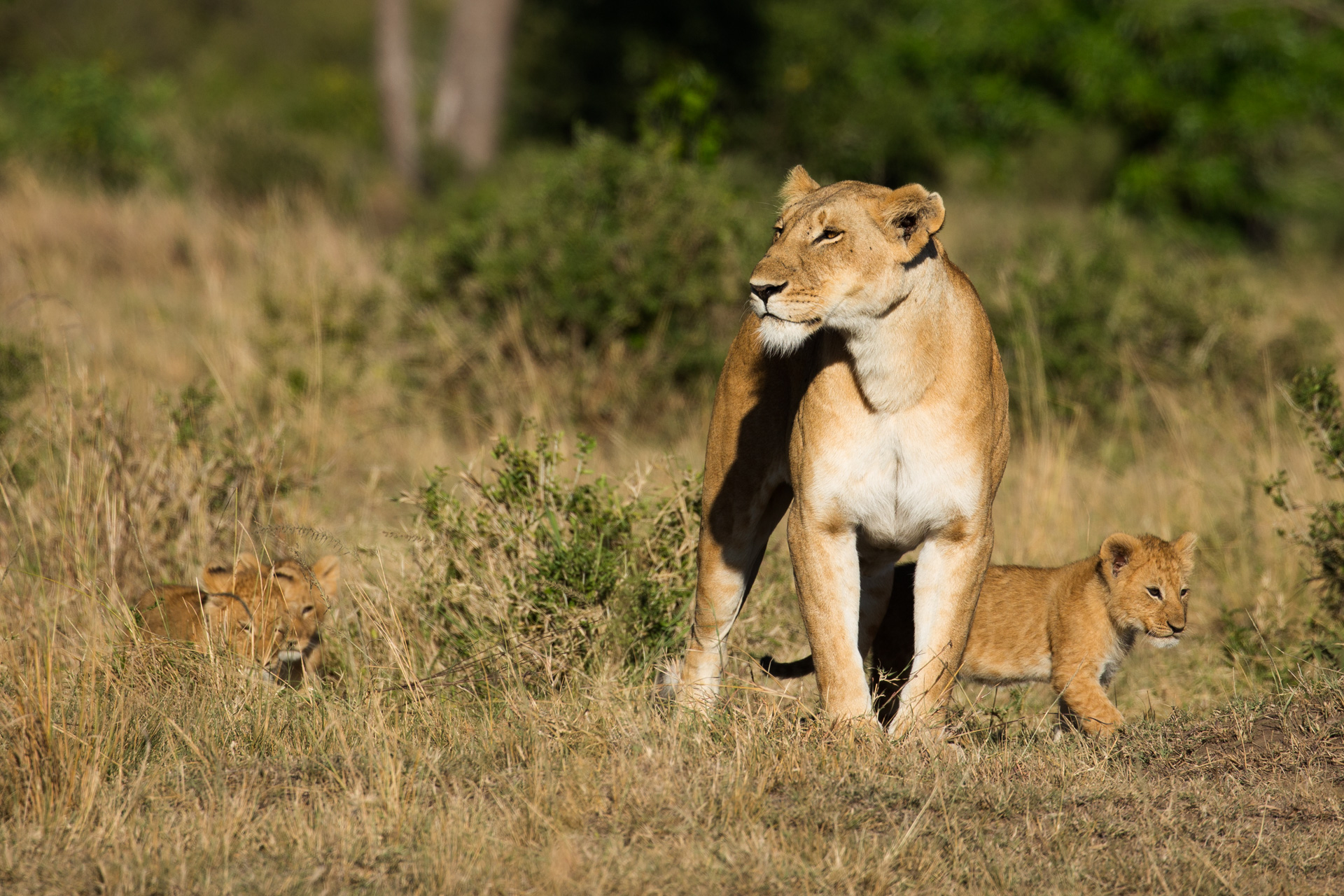 Never underestimate the challenge of keeping three cubs alive. This mother only has the support of her daughter from a previous litter, in addition to nursing and rearing the cubs, she must hunt, and have a watchful eye out for hyenas and lions that patrol her territory. [f 7.1, 1/800, ISO 250]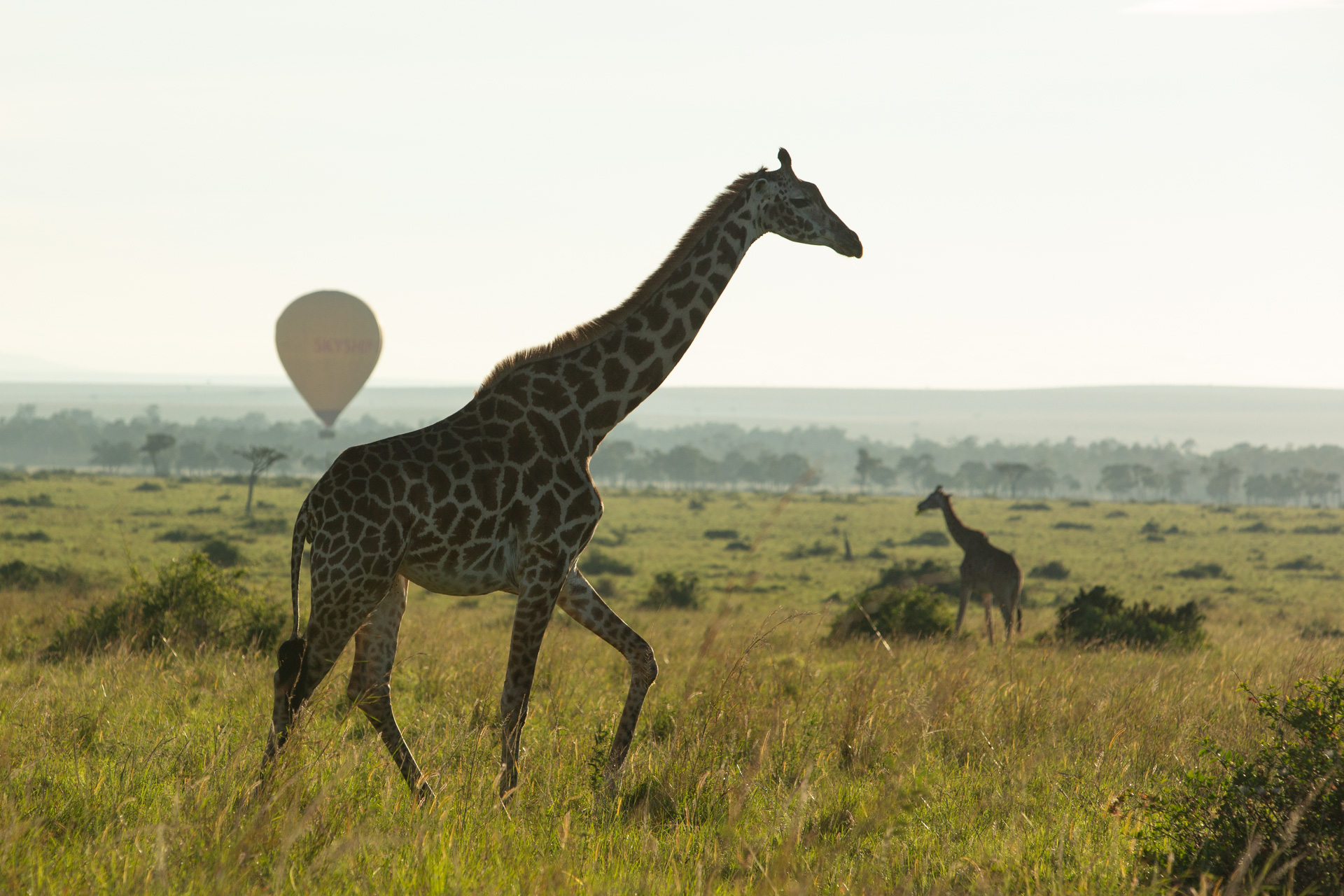 Offering photographers two perspectives: the Mara grasslands below, or out on drive in the Reserve with something unusual to include in their photographs. [f 6.3, 1/1250, ISO 250, -0.33]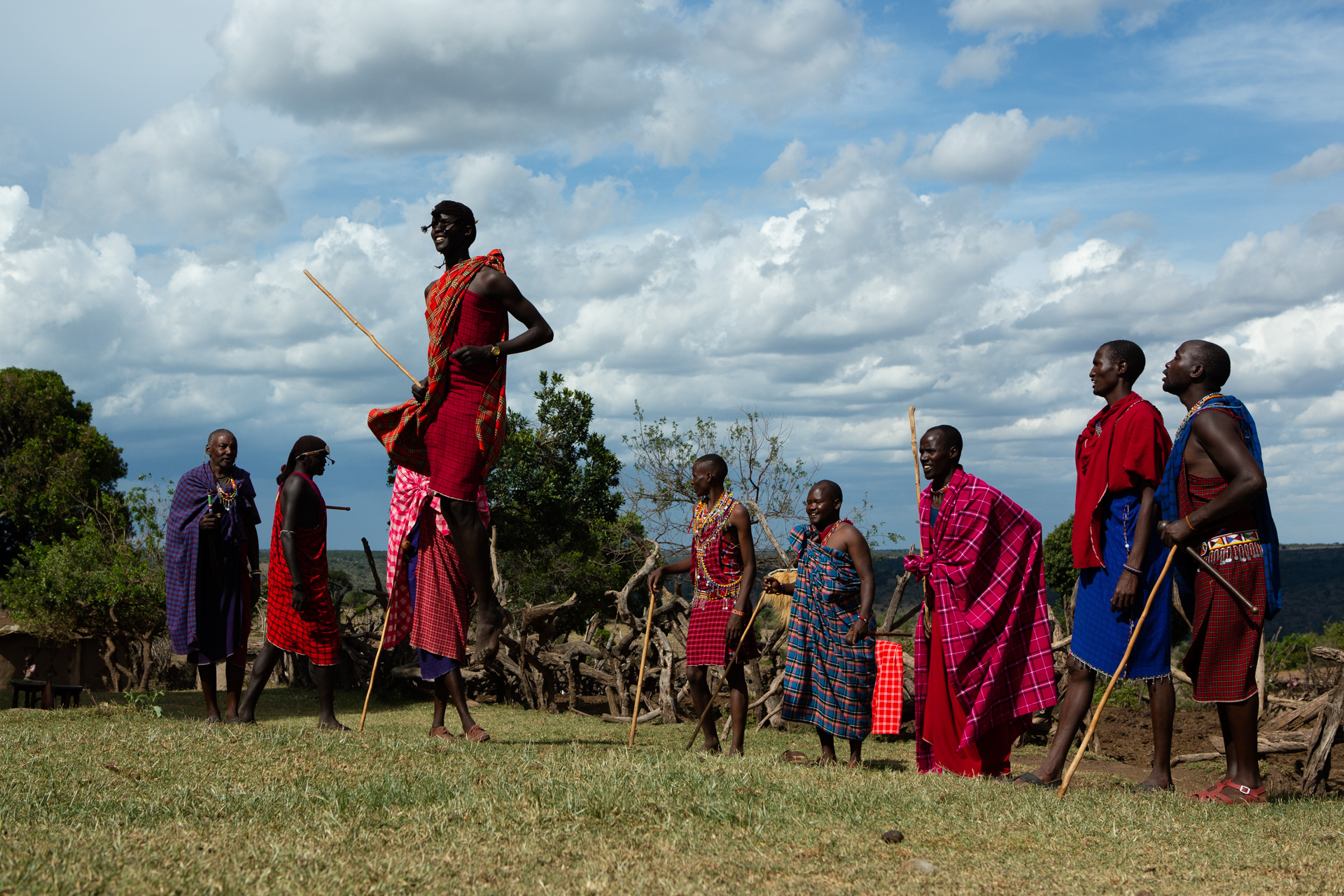 A visit to our neighbouring Maasai village this week offered the opportunity to capture the warriors airborne. With straight legs and straight arms how do they attain this height? [f 5.6, 1/3200, ISO 320, -0.33]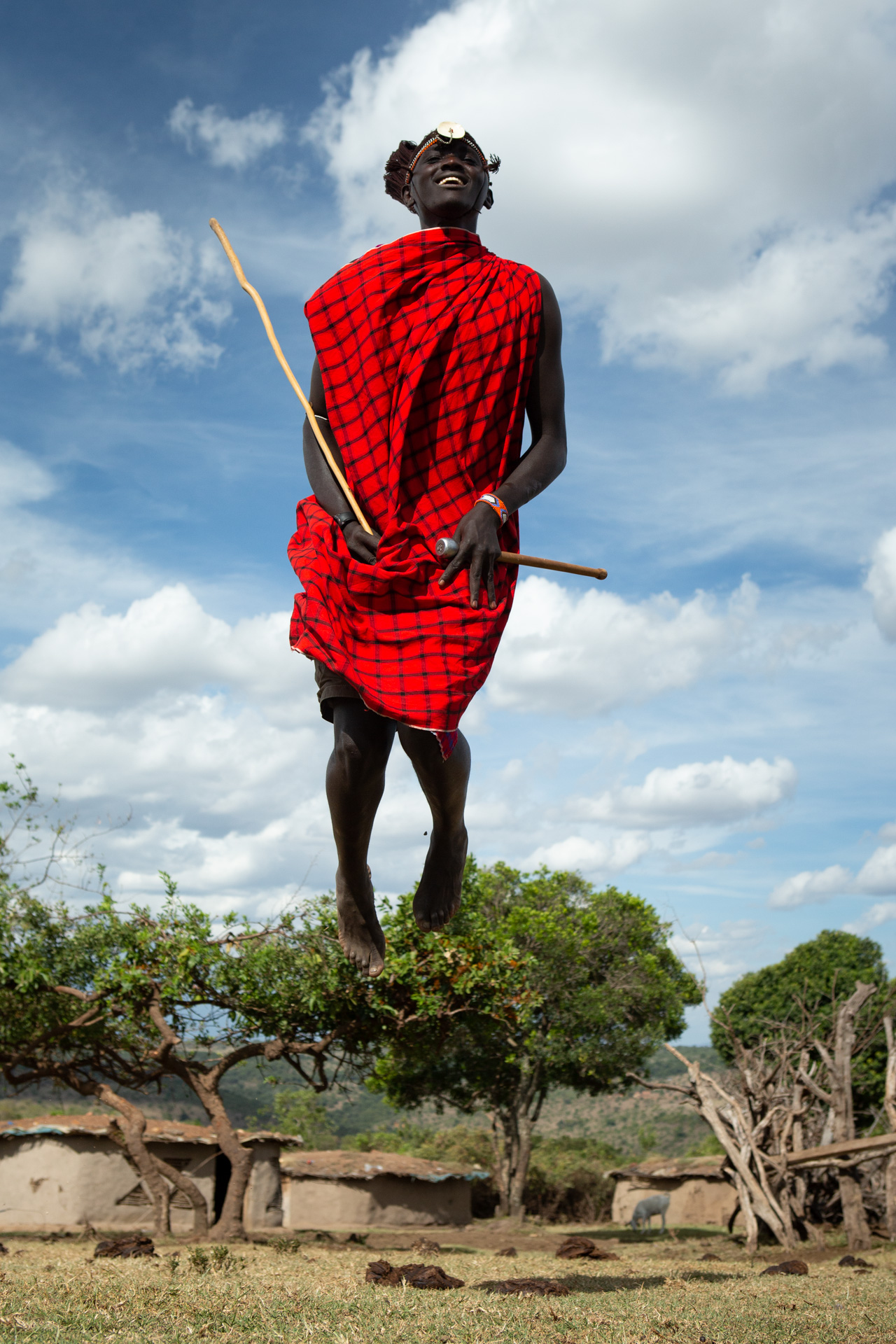 And always with joy [f 5.6, 1/1250, ISO 500]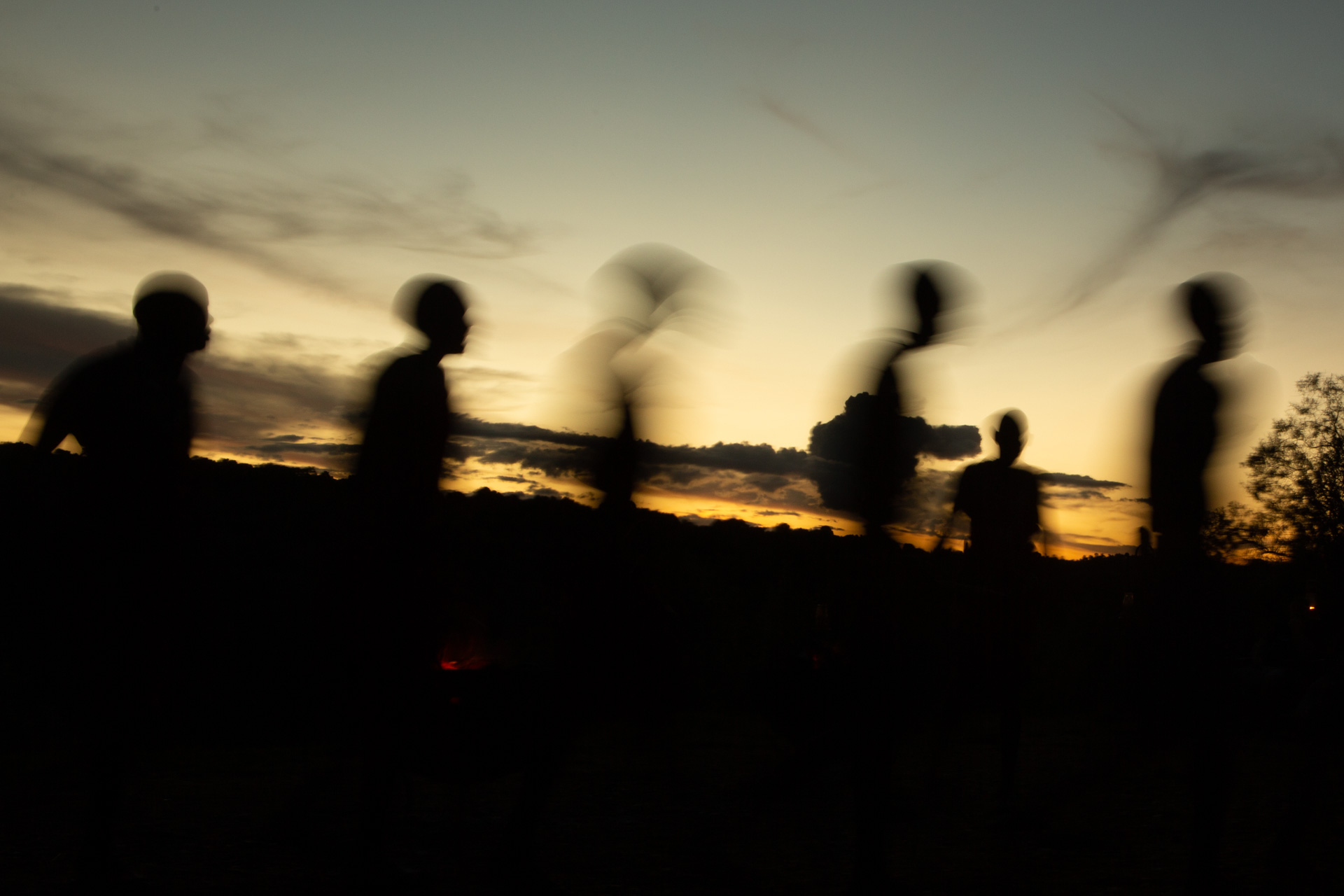 Sunset, dancing, singing, jumping and celebrating … [f 22.0, 1/0.4, ISO 200, -1.0]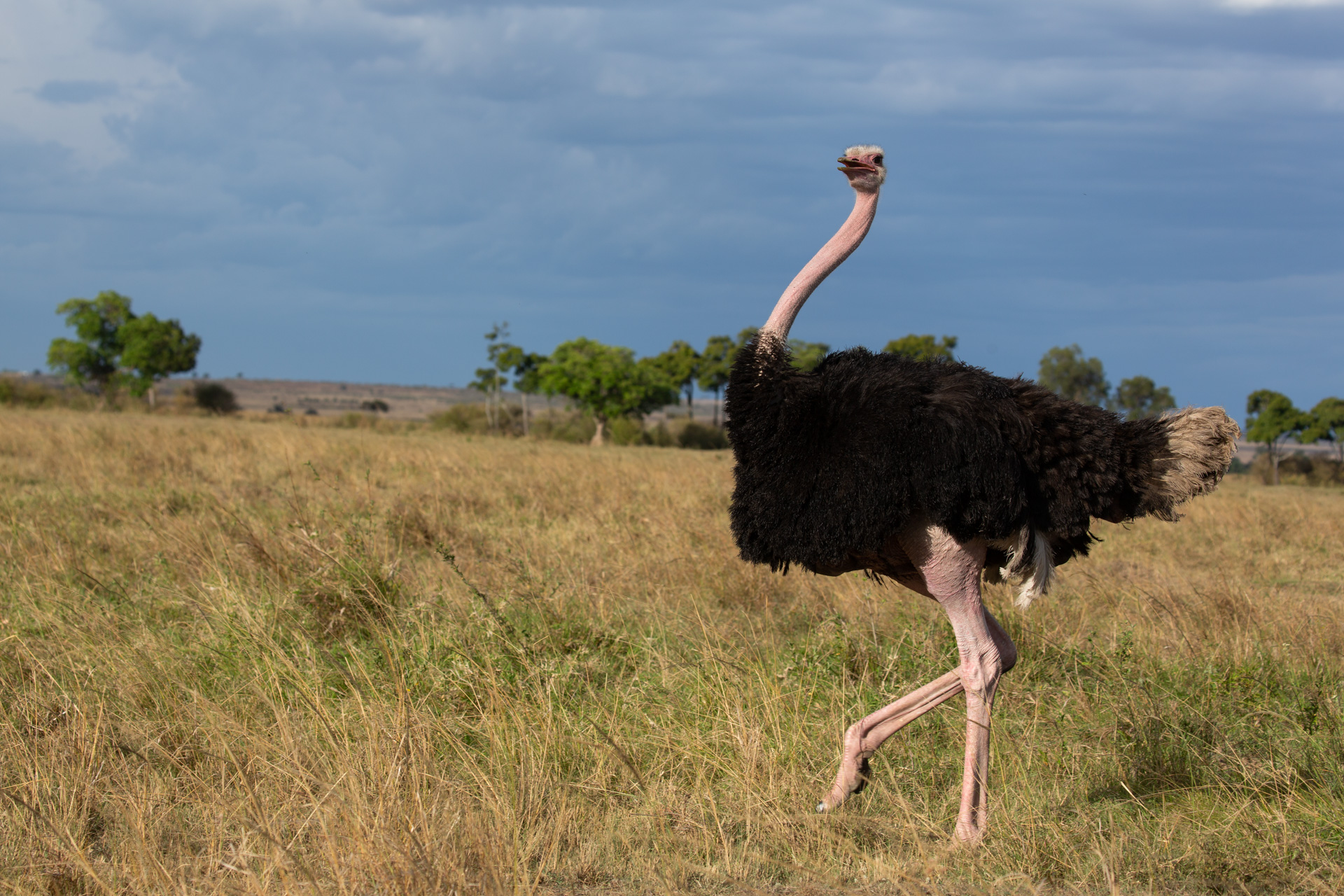 Male ostriches have been very frisky this week – it's breeding season in the Mara. Although this male has yet to turn the brilliant red, which shows his eagerness to mate, he was already strutting his stuff. [f 8.0, 1/400, ISO 100, -0.67]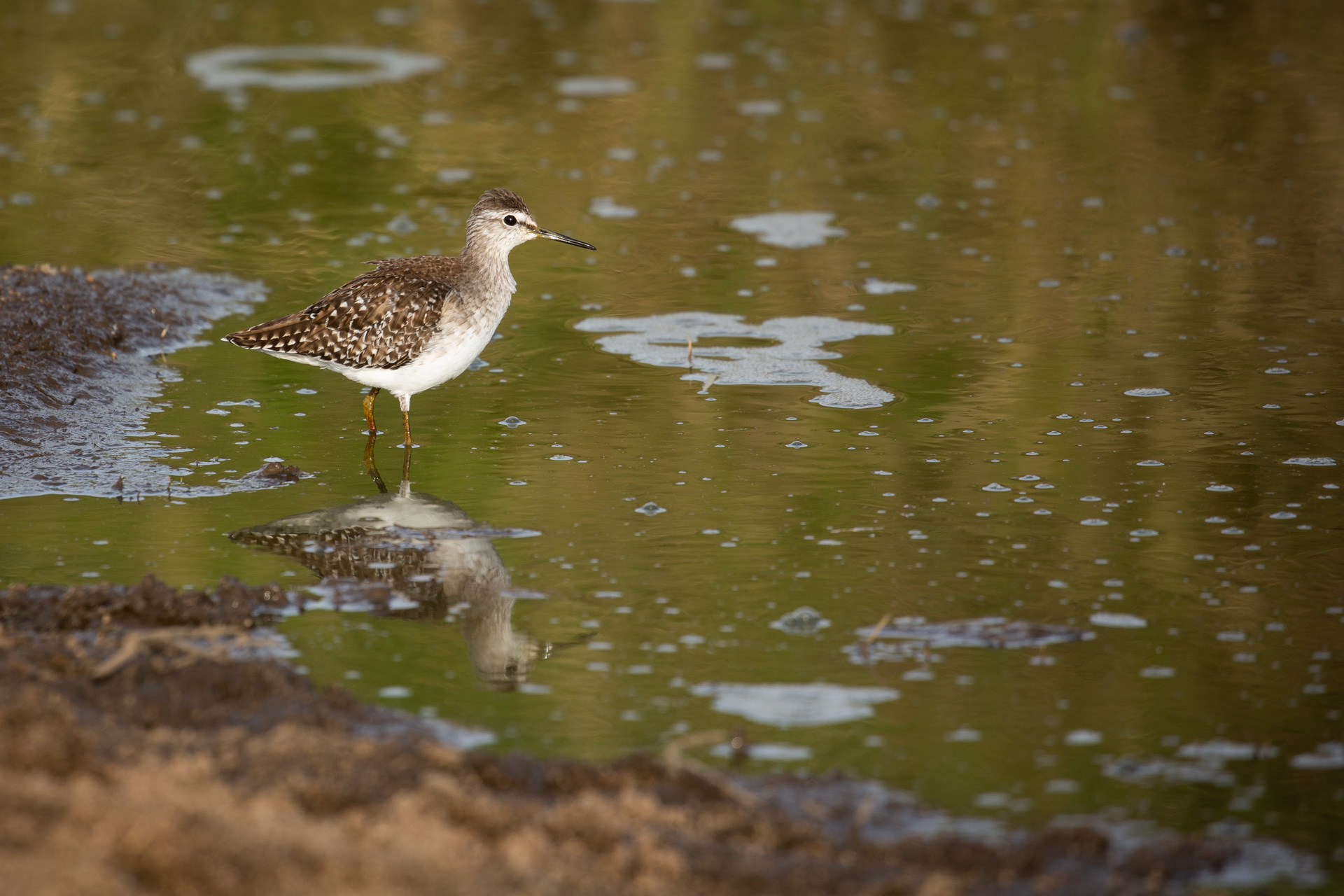 This wood sandpiper struck the perfect pose [f 5.6, 1/250, ISO 100]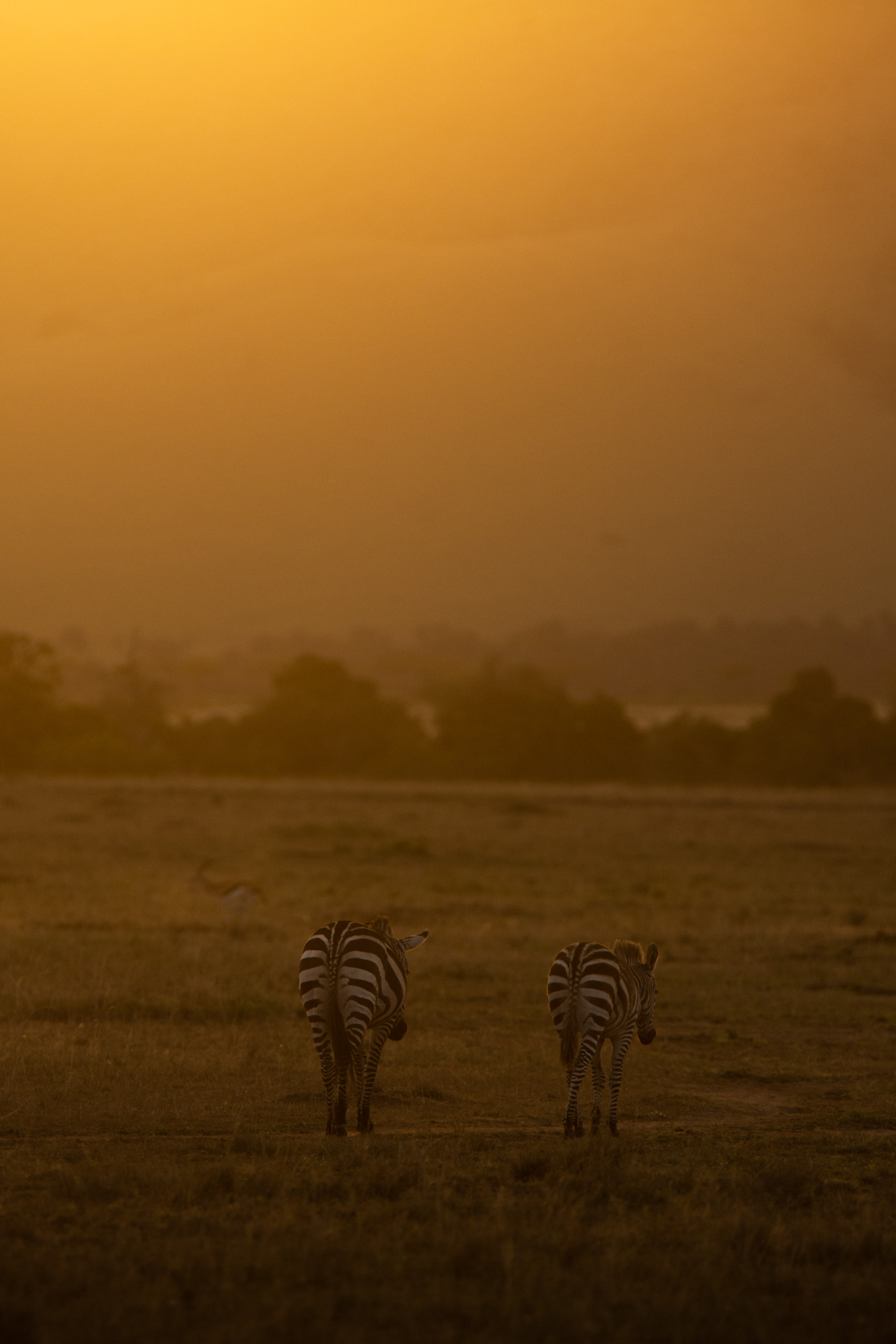 This week was a team effort and the following images were captured by Jeff. Evening golden light in the Mara [f 6.0, 1/500, ISO 400, -1]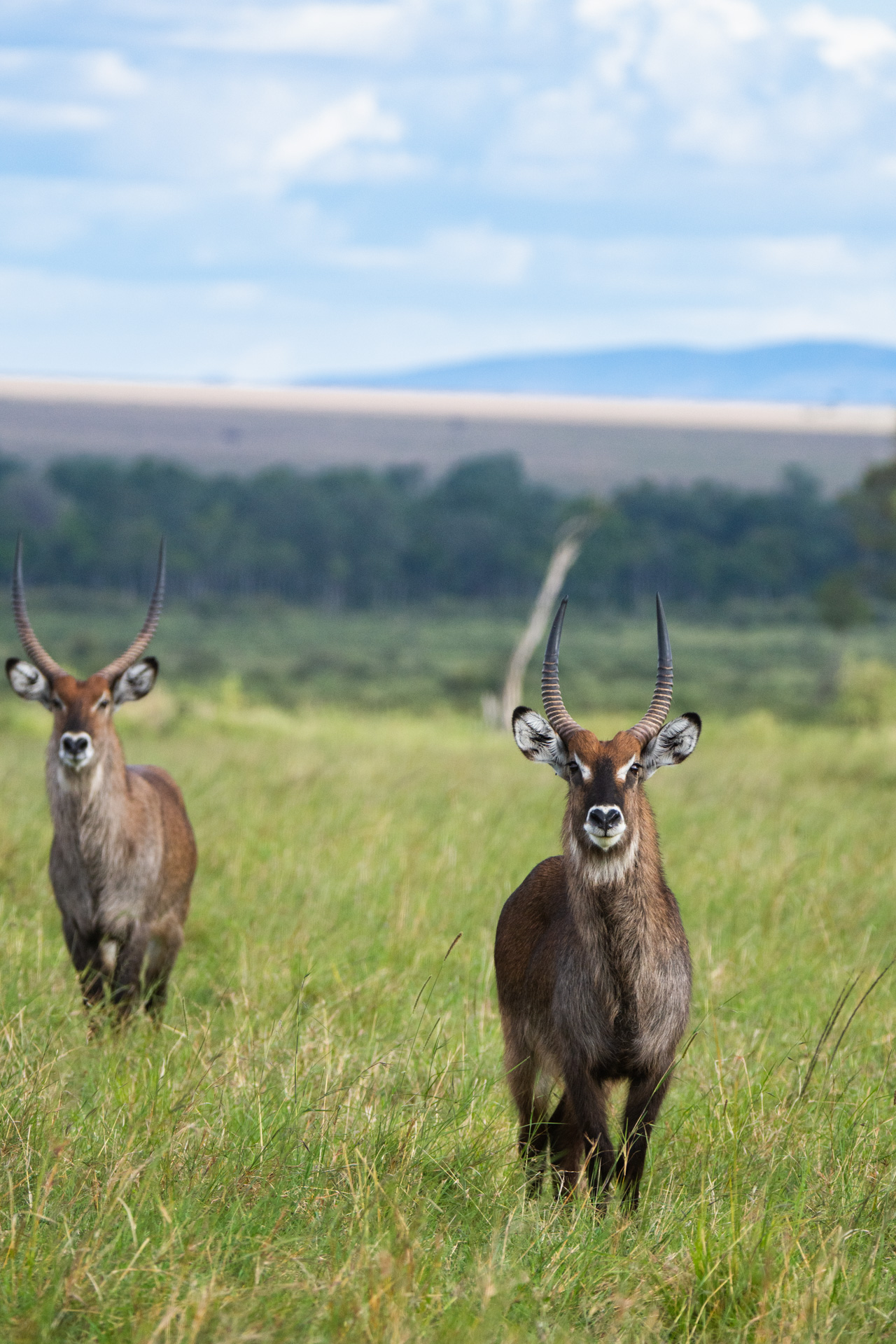 Slightly woollier and 'ringless' the defassa waterbuck get their unusual name from the Amharic term for 'antelope' [f 5.6, 1/1600, ISO 320, -0.33]
This was a rather unusual scene of two male lions dragging and feeding on an eland. Did they find this huge antelope already deceased? A closer look at this image shows the puncture holes on the underside of the throat – death by lion. [f 6.3, 1/640, ISO 320, -0.33]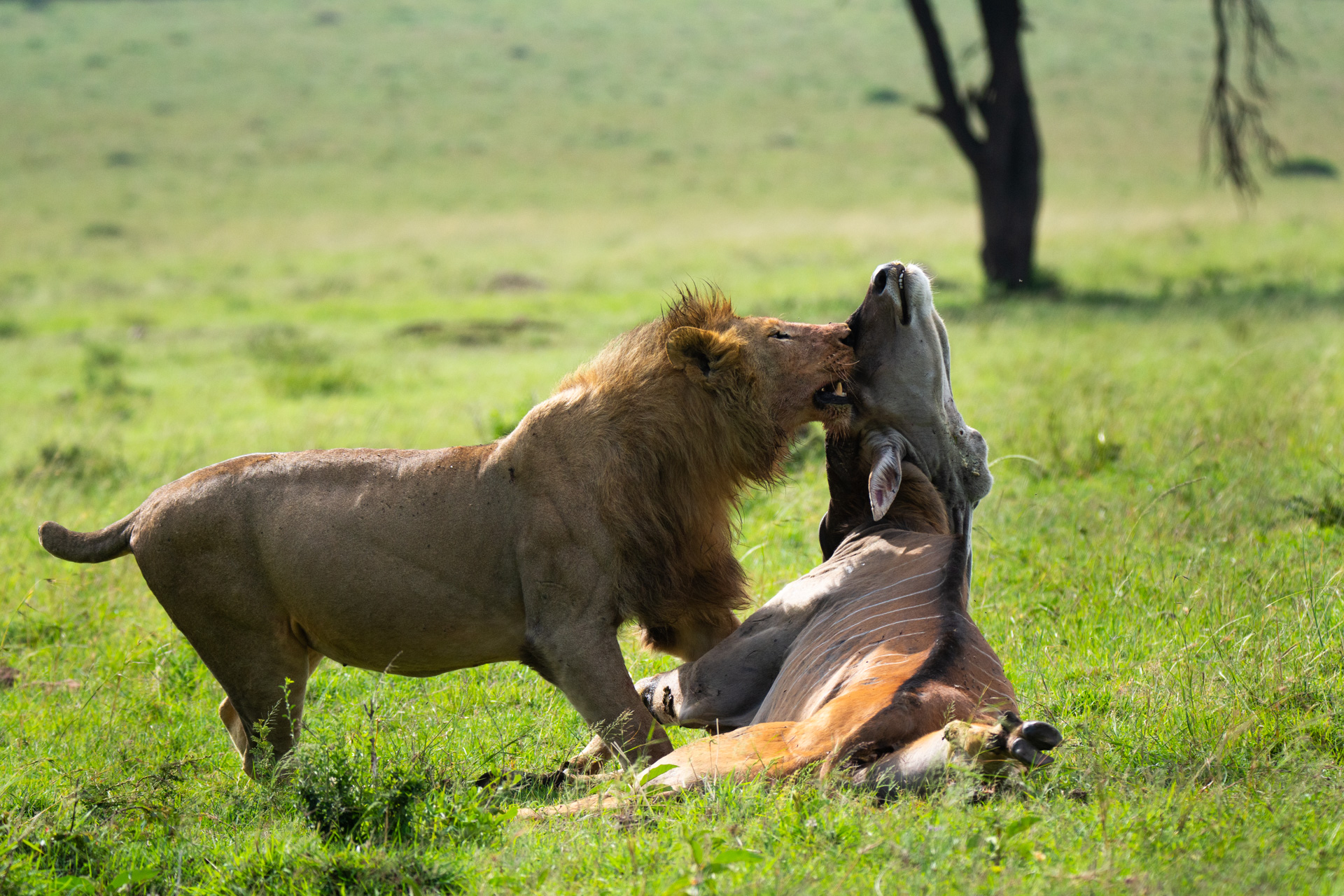 Zooming out a little further to show the complete scene confirmed the now-famous Prince Mkia, aka Half Tail. What an impressive lion he is becoming. [f 6.3, 1/1250, ISO 320, -0.33]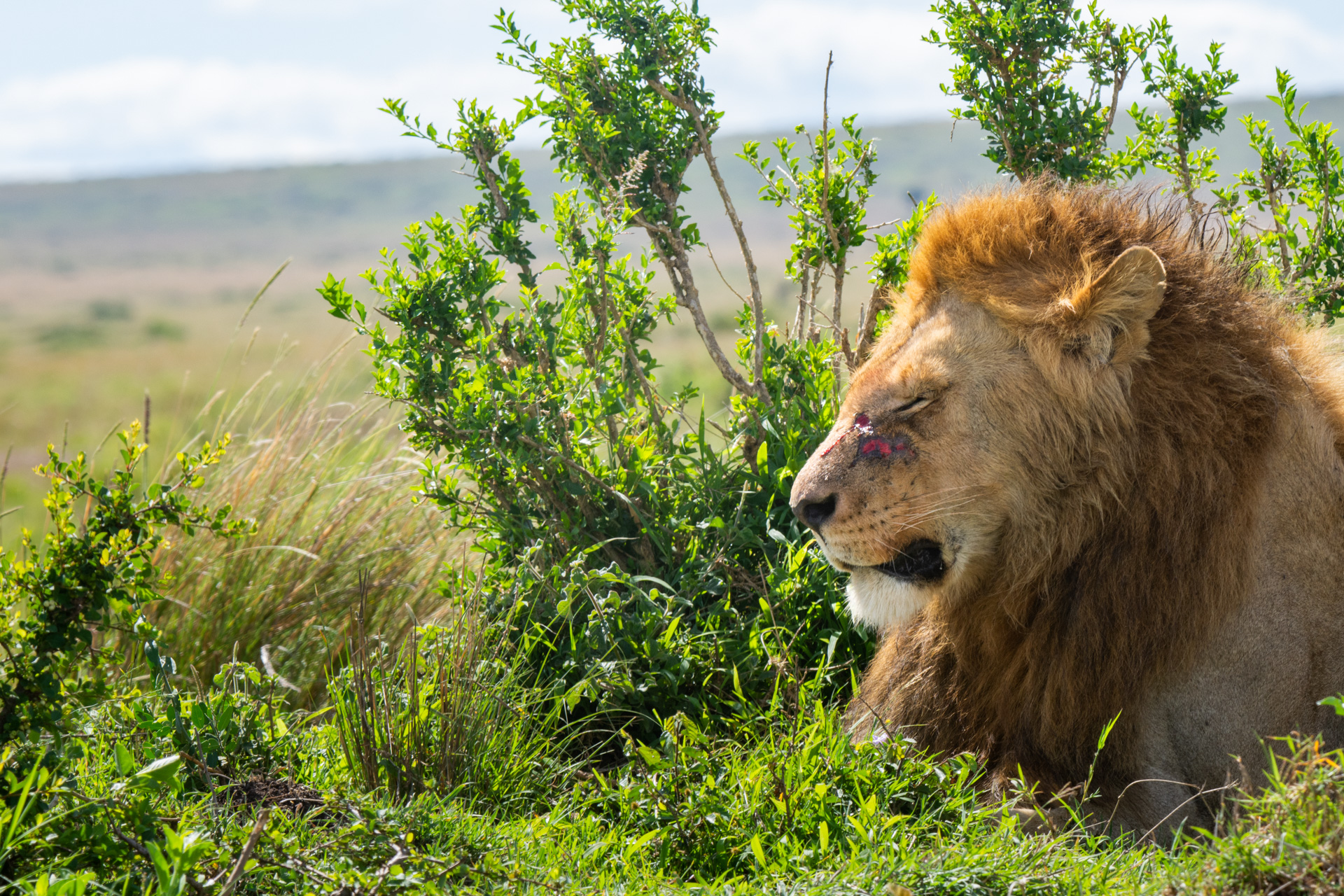 His brother, or coalition mate, looking a little worse for wear. The cut is superficial, but it keeps opening up. [f 14, 1/200, ISO 320, -0.67]
With the Migration having mowed the Mara, November's short grass allows for capturing hunts in action aplenty [f 6.3, 1/4000, ISO 500]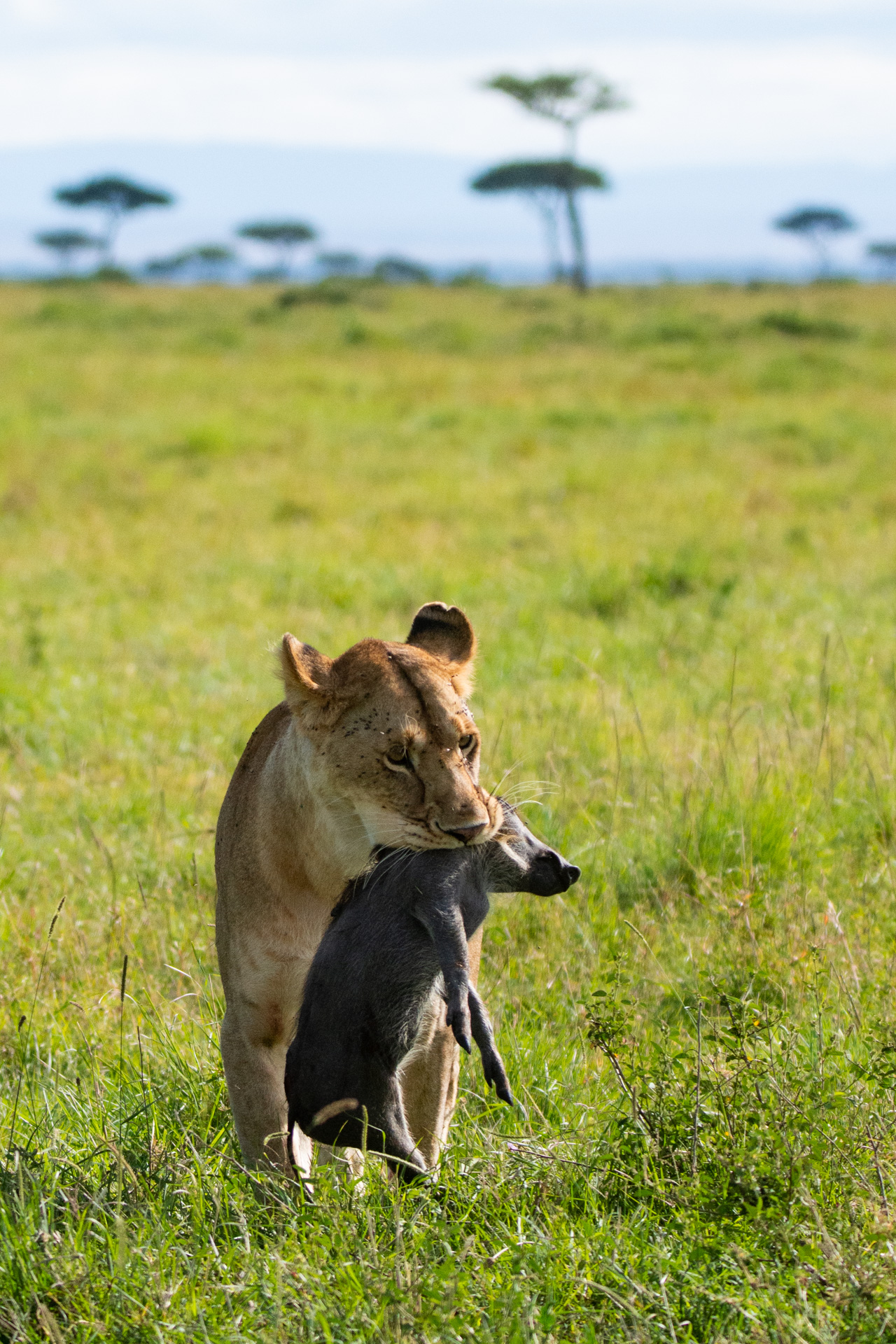 This Owino Pride female failed to bring down the adult warthog but half an hour later she tried again and succeeded with a somewhat reduced reward. [f 5.0, 1/4000, ISO 500 -0.33]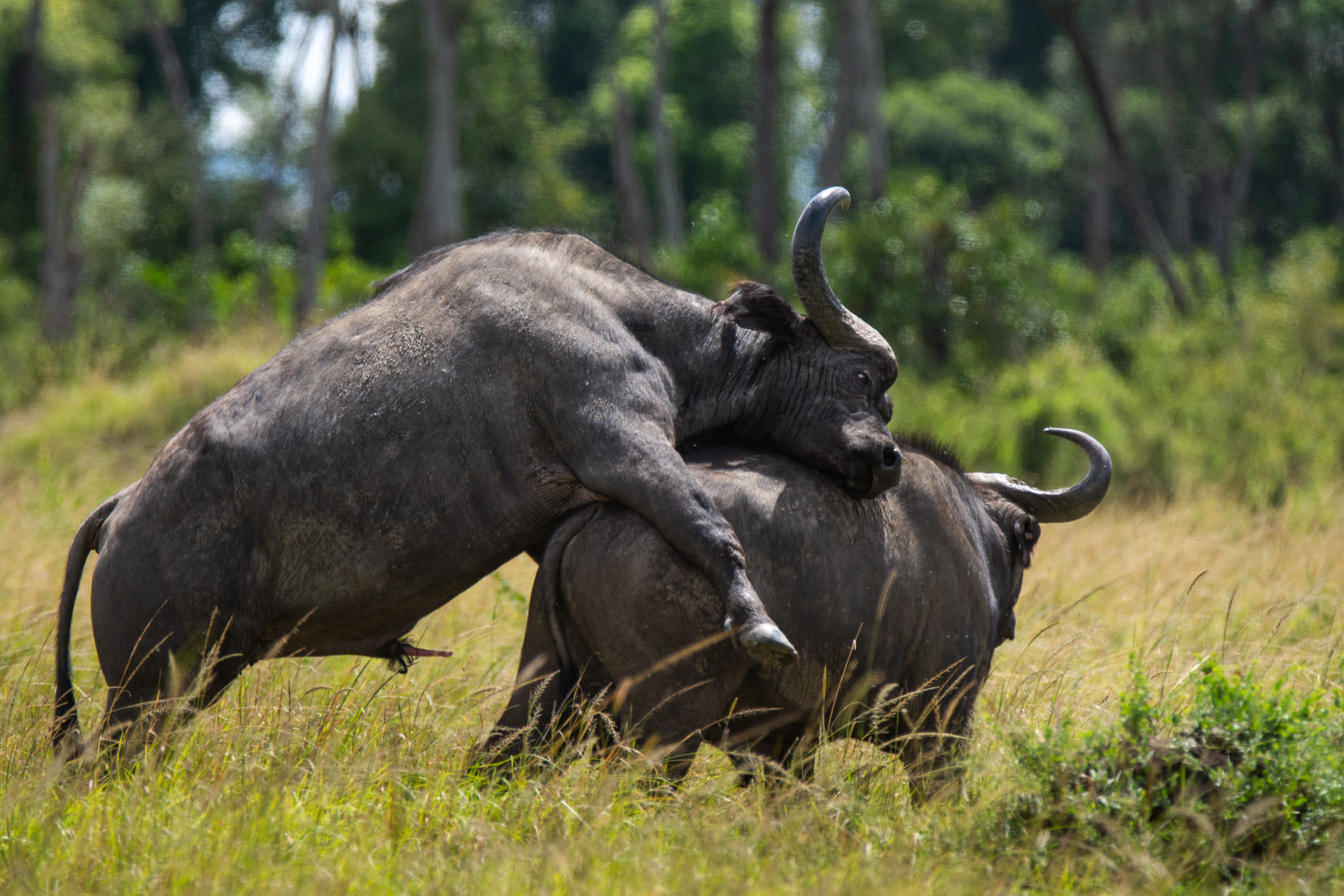 Our assistant head guide, Douglas Onsongo, presented his work and research on buffaloes this week – perhaps we can add another buffalo to his count in a few months time? [f 6.0, 1/1000, ISO 400, -0.33]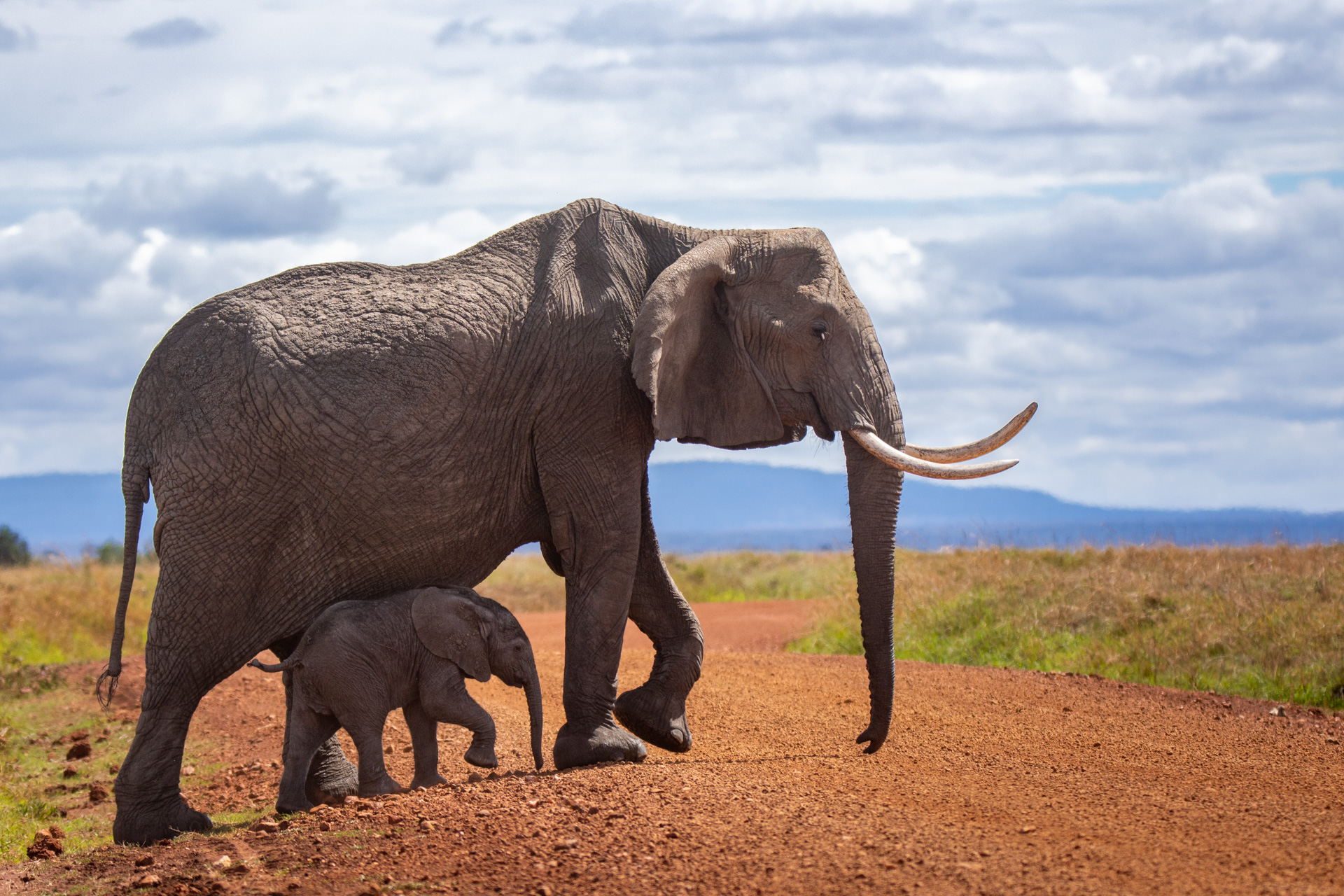 The elephant numbers in the Triangle are staggering at the moment – up to 250 in one swampy clearing, with many calves tucked close into their mothers. [f 5.0, 1/1600, ISO 320, -0.67]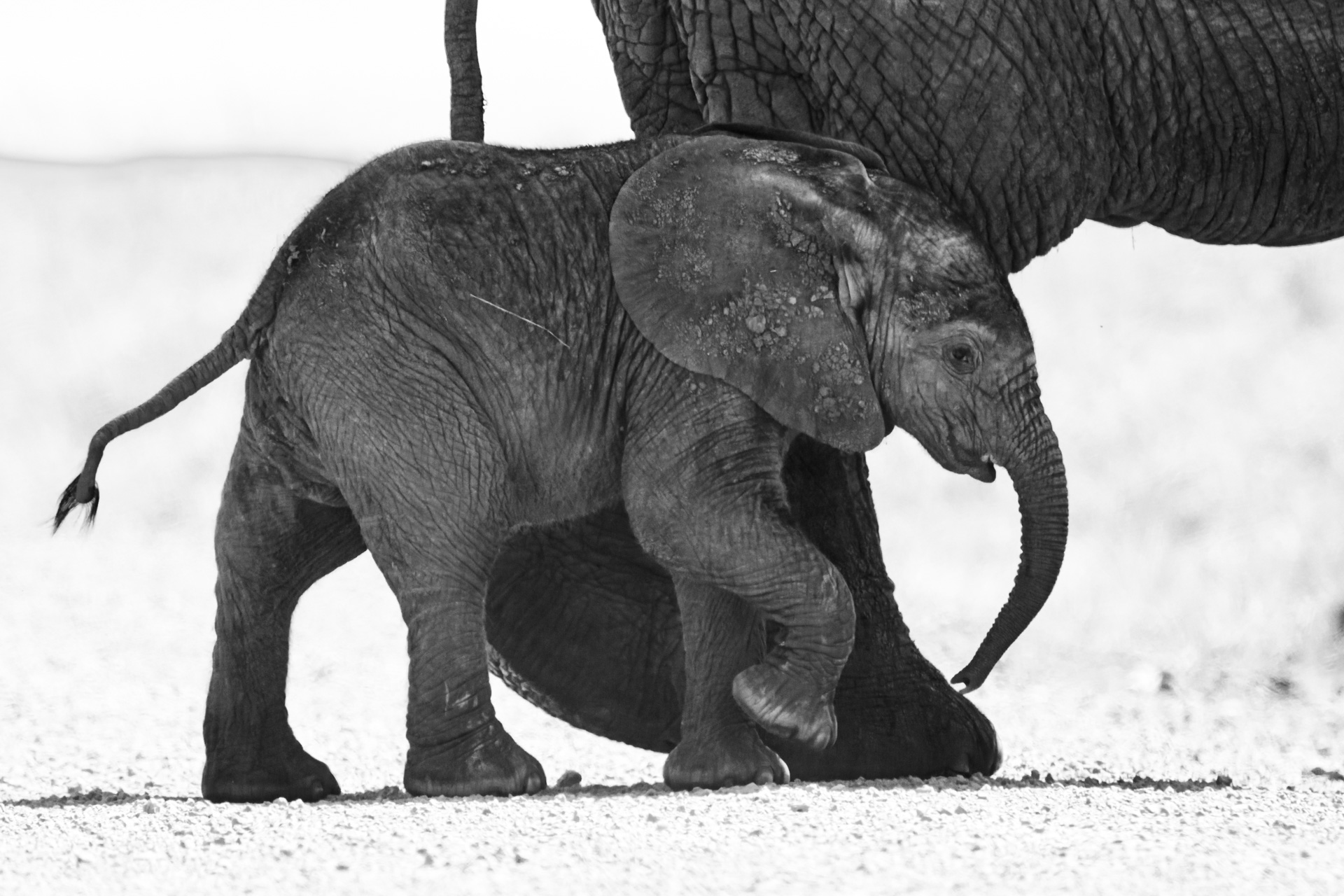 Cropped in to show scale and to illustrate just how small this baby is. [f 6.3, 1/1000, ISO 320, -0.67]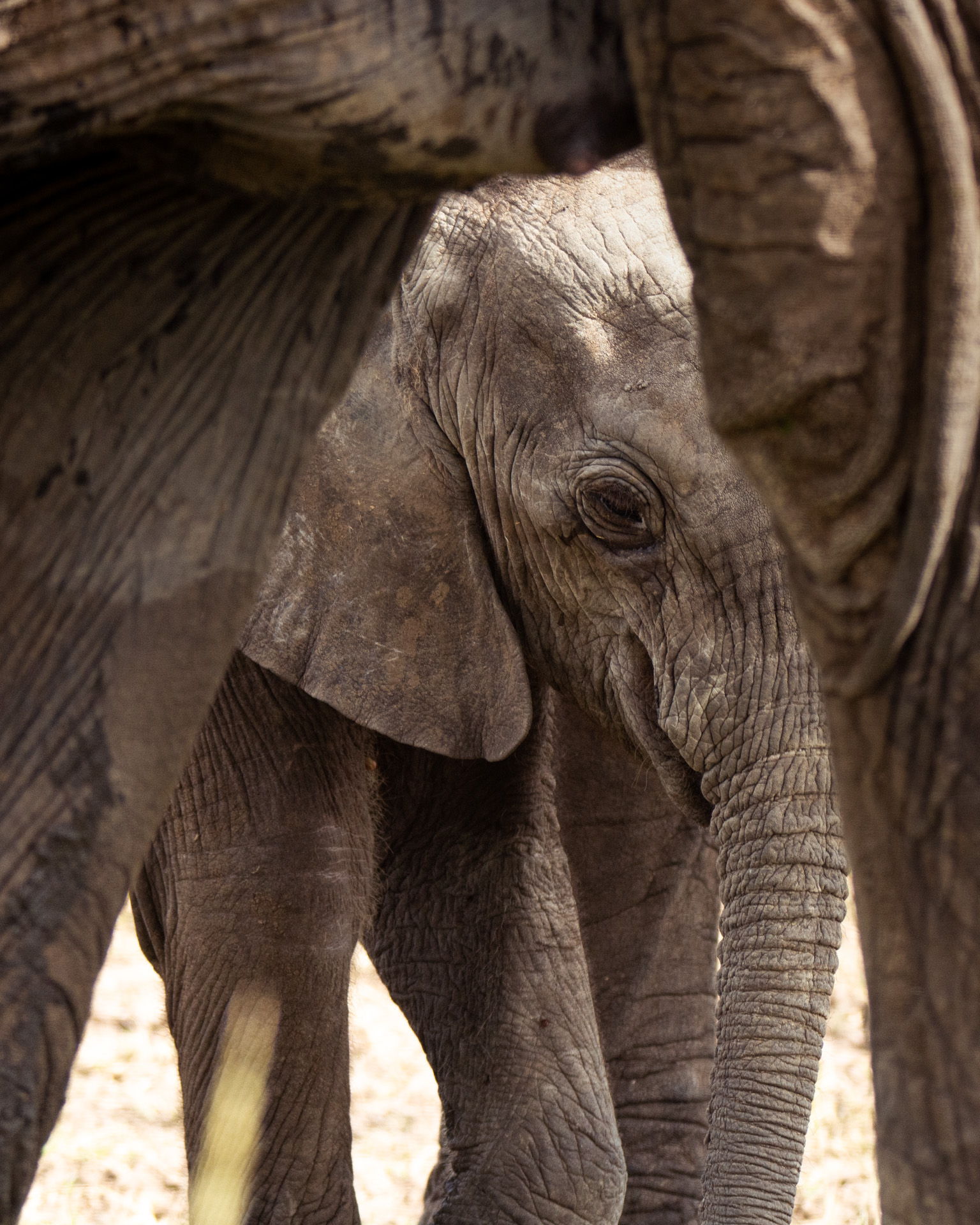 As a photographer you need to always be on the look out for natural frames. [f 5.6, 1/640, ISO 400, -0.33]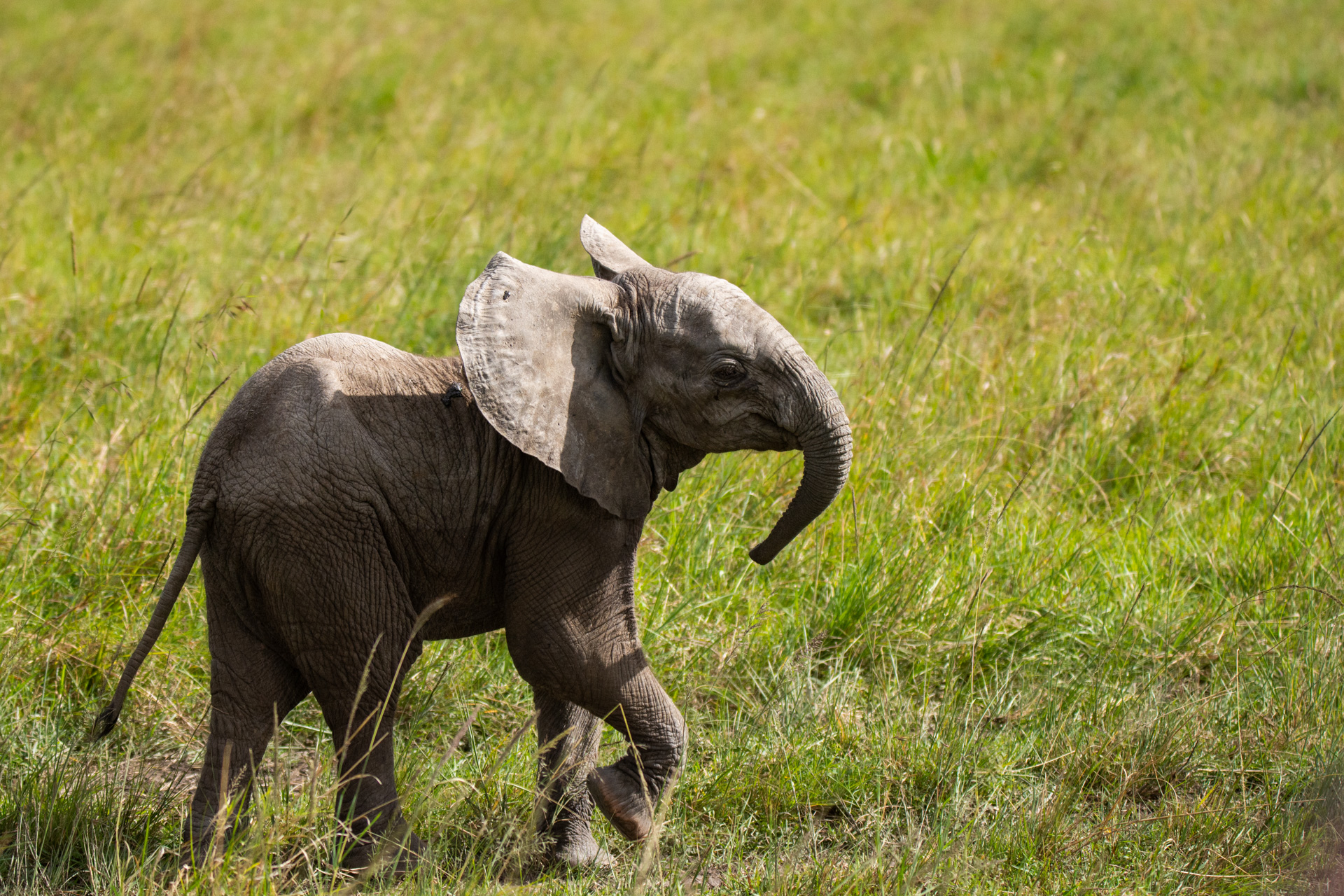 Another baby taking centre stage. [f 5.0, 1/3200, ISO 500, -0.67]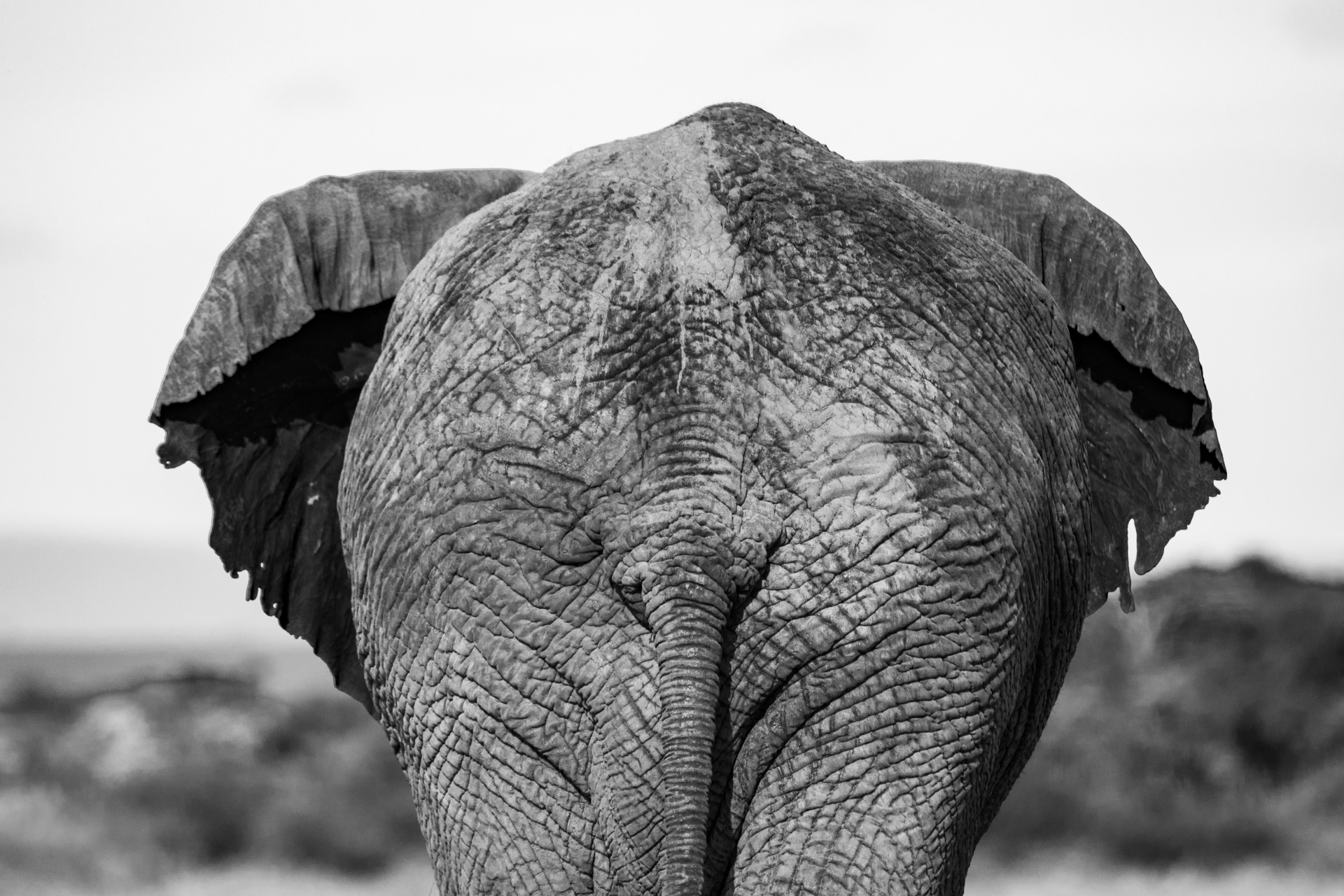 Whilst her mother walks away into the sunset. [f 6.0, 1/2000, ISO 400]
This Week a Year Ago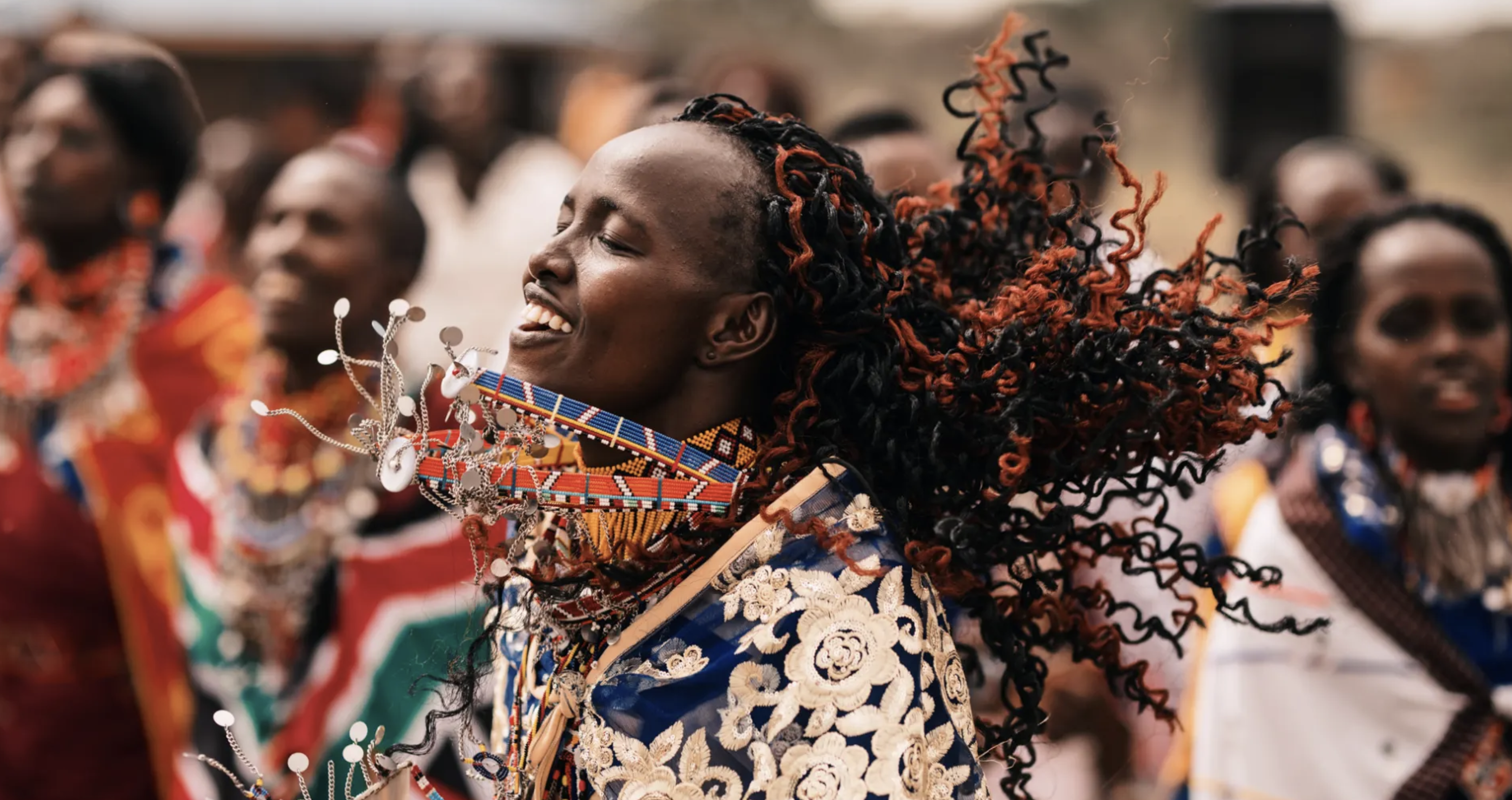 A year ago we were privileged to be invited to a large Maasai ceremony literally next door to our lodge. It was a visual spectacle and we posted a blog showcasing the vibrant colours and the energy of the event.