The Angama Way
Chef Collins Randiga is an integral member of the Angama Mara team and has been since its inception in 2015. It is through living according to the company's core values, he believes, that we achieve what is known as The Angama Way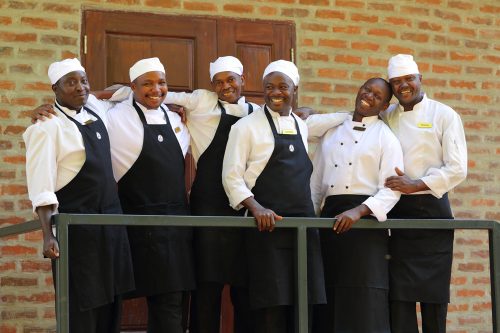 When I joined the Angama team in 2015, I admit there was a small part of me that wondered what I'd signed up for. I was one of the first lodge employees, along with the other Heads of Departments, and together we built up the strong team of 125 that we have at the lodge today. I can now confidently say I feel lucky to have been here from the beginning. We were very clear on our values from the start: Courage, Honesty, Respect, Ubuntu and Joy. These values have become so deeply rooted in our culture, that we've established the role of the Angama Way Officer which I have humbly taken on.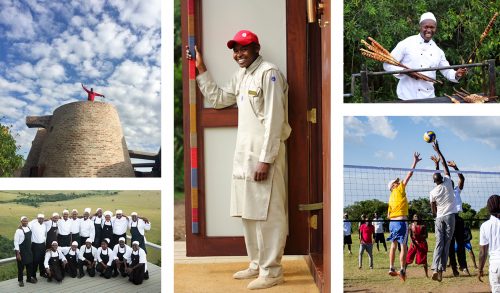 It took courage (and a leap of faith) to jump ship from my previous employer to come to a new lodge, but now we take courage every day. We celebrate mistakes, learn from them, and own up to them. It is part of growing as a team, and it is all done in the name of guest delight.
The Angama Way Officer position is all about our staff. Our staff is the biggest asset in our lodge which means we have to take care of them by investing in their skills and talents and also recognising them on a personal level. We do this in a number of ways from upskilling and cross training in departments, personal finance and career training, and always promoting from within if possible. We have wonderful stories of a tent steward promoted to a butler, and even on to a guide. Butlers who were then made senior butler and onto a camp manager and so forth. The growth in this family is wonderful to see. And not only growth internally – we have celebrated the additions of so many new babies over the last 5 years, I believe nearing 50. Many of our staff have become mamas and babas, some over again, and we call them the "Totos of Angama". Each year, we celebrate our babies by inviting them to the lodge for a party, game drives, educational lessons and we even have a small children's library.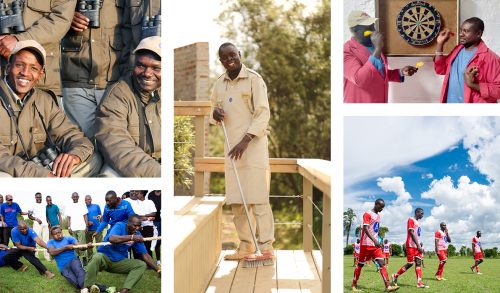 We value our staff, and they feel it in return. And when you feel valued, it is easy to always be honest and have mutual respect. Angama has sent many staff on various trips around East Africa and even further afield to gain more knowledge and gain a different viewpoint.
One of my favorite experiences was accompanying our shamba team to Nairobi. None of them had ever been outside of Narok county. We visited various farms, learning about organic farming, seeding methods, and soil components. They also experienced city life for the first time, and night life (but that is a story for another time!). It was fun and I can still see the joy in their work from all they learned.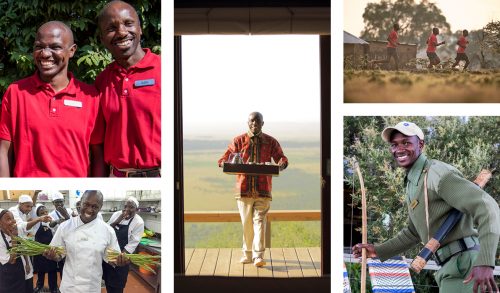 Joy is very apparent in our work at Angama but also in the hours we're not at work. From an extremely competitive Angama Olympics that takes place internally each year, to the Mara wide football tournament called the Mara Cup, there is such joy created by coming together and having fun. The Angama Football Club won the 2018 Mara Cup for Steve, who when he first met me, asked if I played football and appointed me coach. Every game, we play for him. Whether it is volleyball or running, we have many athletes on our team, and the staff gym gets a lot of use with ongoing Zumba and kickboxing classes. Movie nights, darts and pool tournaments, or watching a big Premier League game together – it is all in the spirit of having fun and feeling at home with each other.
Probably one of our biggest values that make us successful at Angama is the spirit of Ubuntu. We are stronger together for our similarities in interests but maybe even more so because of our differences. We celebrate these differences on our cultural nights. One night a month, we celebrate a different region of Kenya – from food to music, dancing and games, we learn about the cultures of Kenya, and celebrate.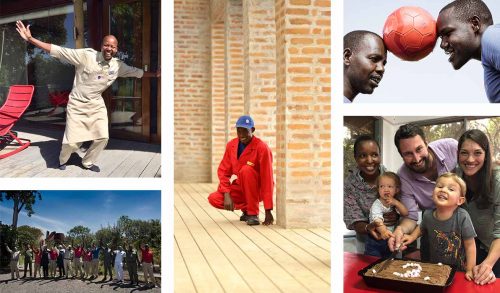 And every year, we say thank you to the staff that make Angama what it is by inviting them to be our guest at the lodge. With their spouse or friend, they stay as a guest and get to experience and appreciate the love that goes into their work and their colleagues.
It's great to be part of this team that I love. And I am honoured to be the Angama Way Officer, where our staff is my business.
Subscribe for Weekly Stories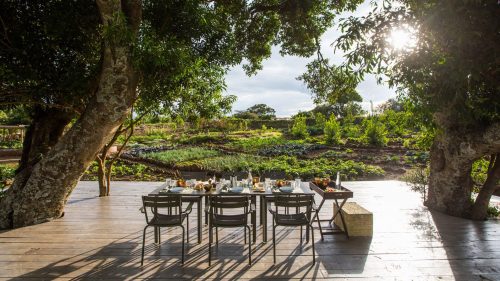 The Angama Shamba
A much-loved experience for Angama guests, the 1-acre kitchen garden is no ordinary vegetable patch and offers up private shamba-to-table lunches after guests spend time exploring this magical space picking and tasting as the go along.
Learn more about the Shamba