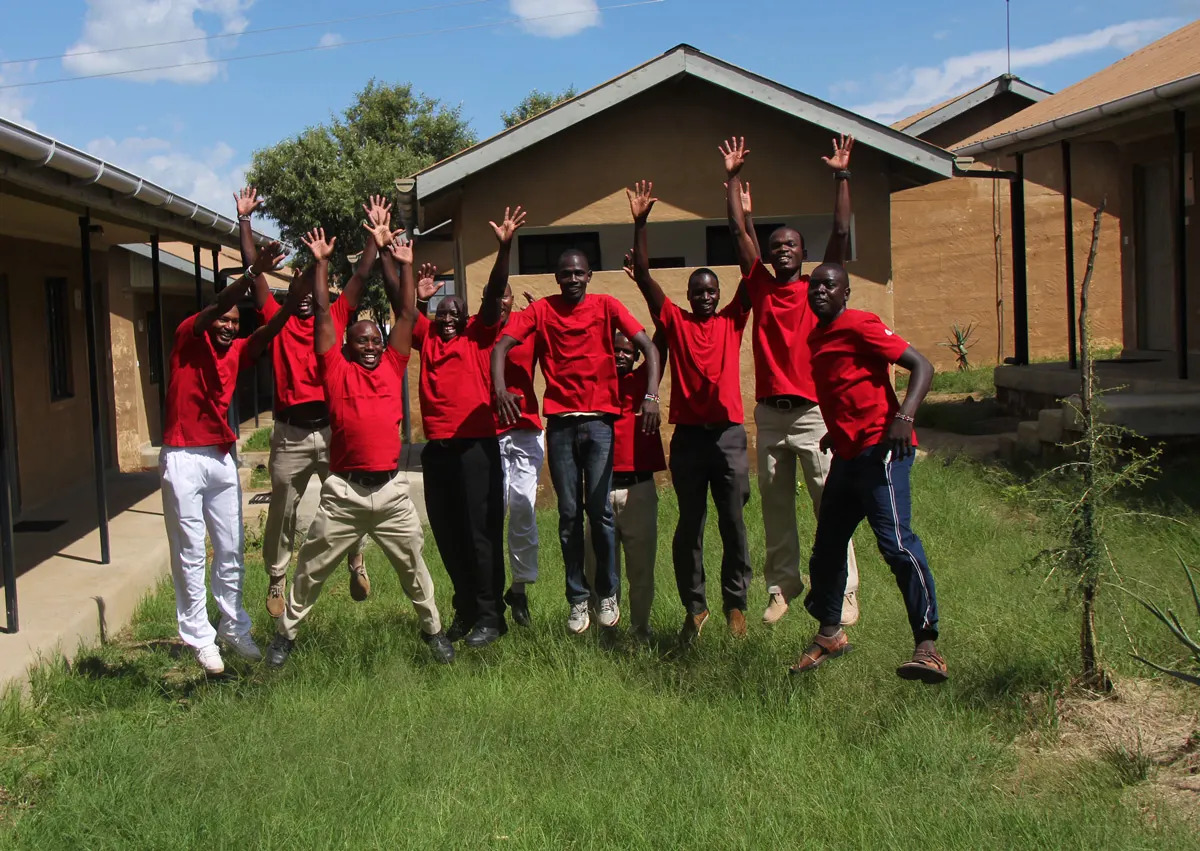 Seven months ago, when our staff first moved into their new village, they were greeted by a barren, muddy wasteland that quickly turned to dust once the endless rains finally ceased.
They weren't alone – the fact is that, after roughly ten months of construction and 450+ builders on site, followed by six straight weeks of a daily deluge, the entire property looked pretty much the same: battered, beaten, and mucky but more of that story another time …

Naturally, landscaping became a top priority in the weeks before opening – we wanted to return Angama Mara to its verdant natural state. This meant eradicating the non-native, invasive species, and re-planting native vegetation throughout. It was an arduous process, spearheaded by Jamie Christian in the early days and continued by our tireless team of gardeners, under direction of the inimitable Cyrus Kimongo.
Unfortunately, our team was too busy 'out front' to tackle the back of house, as there was simply a heap to do around the guest areas and tents. So sadly, the greening of our staff village remained at the bottom of the to-do list in those first crazy months.
The staff knew this was going to be a priority but how to kick-start it Angama-style? The solution was staring at us right in the eye: let's make it a competition. Four courtyards needed instant loving care by the four teams living in each block – all made up of A-type personalities, needless to say.
At the end of October, before Shan and I took a month's leave, we laid down the challenge. We would return in early December to judge the four blocks and the most transformed and well cared for would be deemed the winner, and hosted to the same Forest BBQ experience our guests enjoy. We have little idea of what transpired during the month of November, save for a few photos sent our way (possibly to remind us that the rest of the staff were still hard at work). What we do know is that the rains came to the party, and on our return, we were totally blown away by the results and the dedicated efforts of our team. Apparently the promise of a nyama choma is a strong motivator – anyone ever met a Kenyan who doesn't kill for BBQ'd meat?
Judging was not easy. Block 4, which once sported not a single blade of grass and had an ashy fire pit in the middle of their courtyard, now had a carpet of green, highlighted by a tomato plant – with several lush and ripening tomatoes (we are planning to launch a new global foodie trend: staff village to table).
Block 3, which had the advantage of two pre-existing healthy leleshwa bushes, had also managed to turn their bleak patch of dirt into a miniature meadow.
Block 1 (the Guides' Block), had not only the thickest grass, but the team had schlepped in rocks to create a pathway to a fire pit. Trust the guides …
But it was the tender loving care at Block 2 that ultimately took gold. The lush spread of grass, freshly trimmed to create a veritable lawn, hosted several young native bushes and trees, all of which were carefully supported by sticks until they have an opportunity to take firm root.
And so it was, at our staff Christmas party the jubilant members of Block 2 were awarded a handsome shield created by the Maasai Mamas from our beading studio – the beaming smile of Chef Elias says it all.
Block 2 may have won the first round, but here's the twist: the landscaping of our back of house is ongoing, and there are more competitions on the horizon. What's next we wonder? Two tomato plants, a putting green and the odd topiary, perhaps?