As the Migration edges ever closer the action is heating up in the Maasai Mara…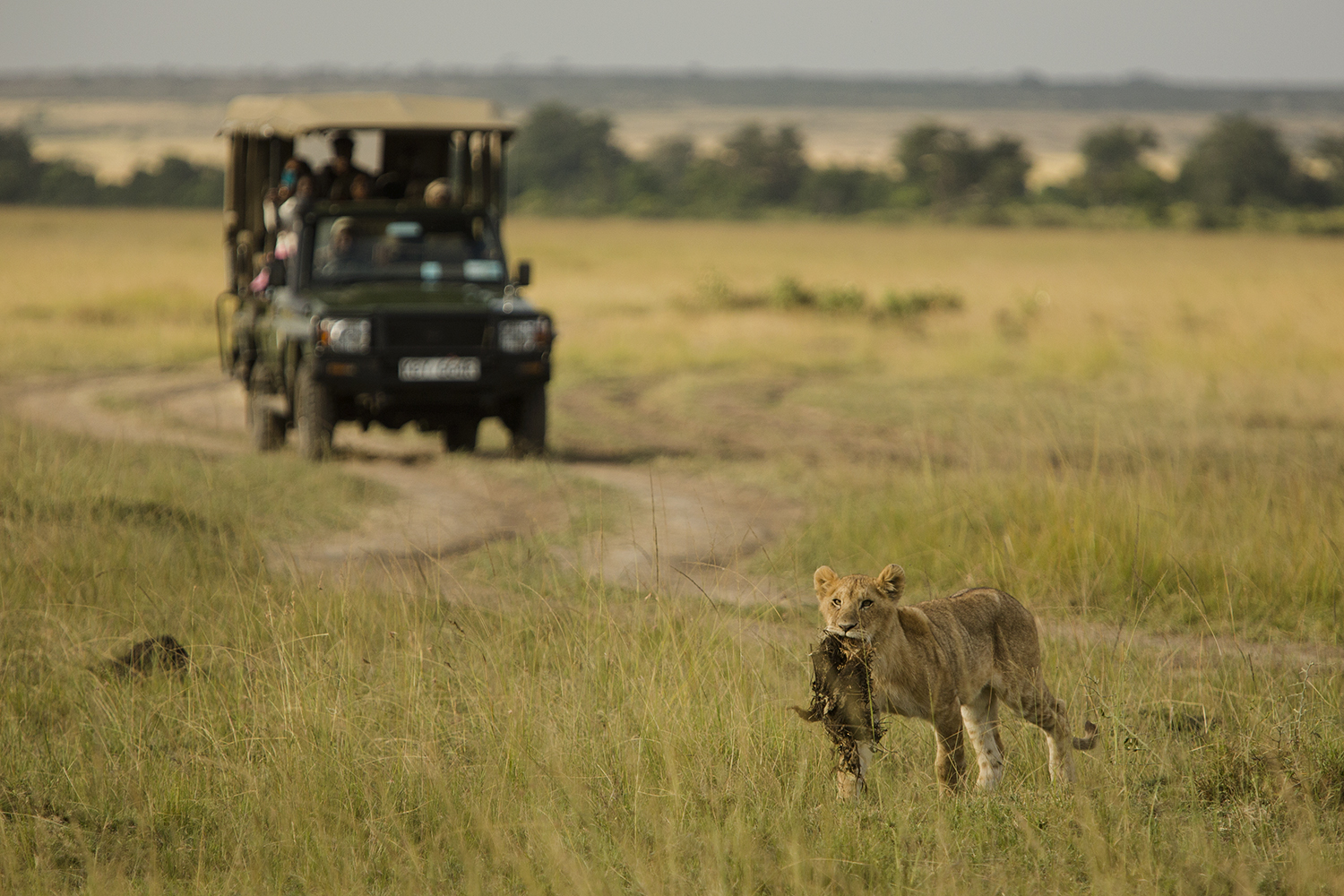 The extensive rains of April and May resulted in a lush carpet of grass across both the Serengeti and the Maasai Mara. The result: the migrating herds of wildebeest and zebra have a smorgasbord to enjoy and thus their progress has been slow. But as each day passes the greatest migration on earth moves steadily closer. In the interim we are being treated to some exceptional sightings. This is certainly no calm before the storm. Wildebeest aside, there truly is magic in the Mara. Enjoy This Week At Angama… [All photographs taken by Adam Bannister]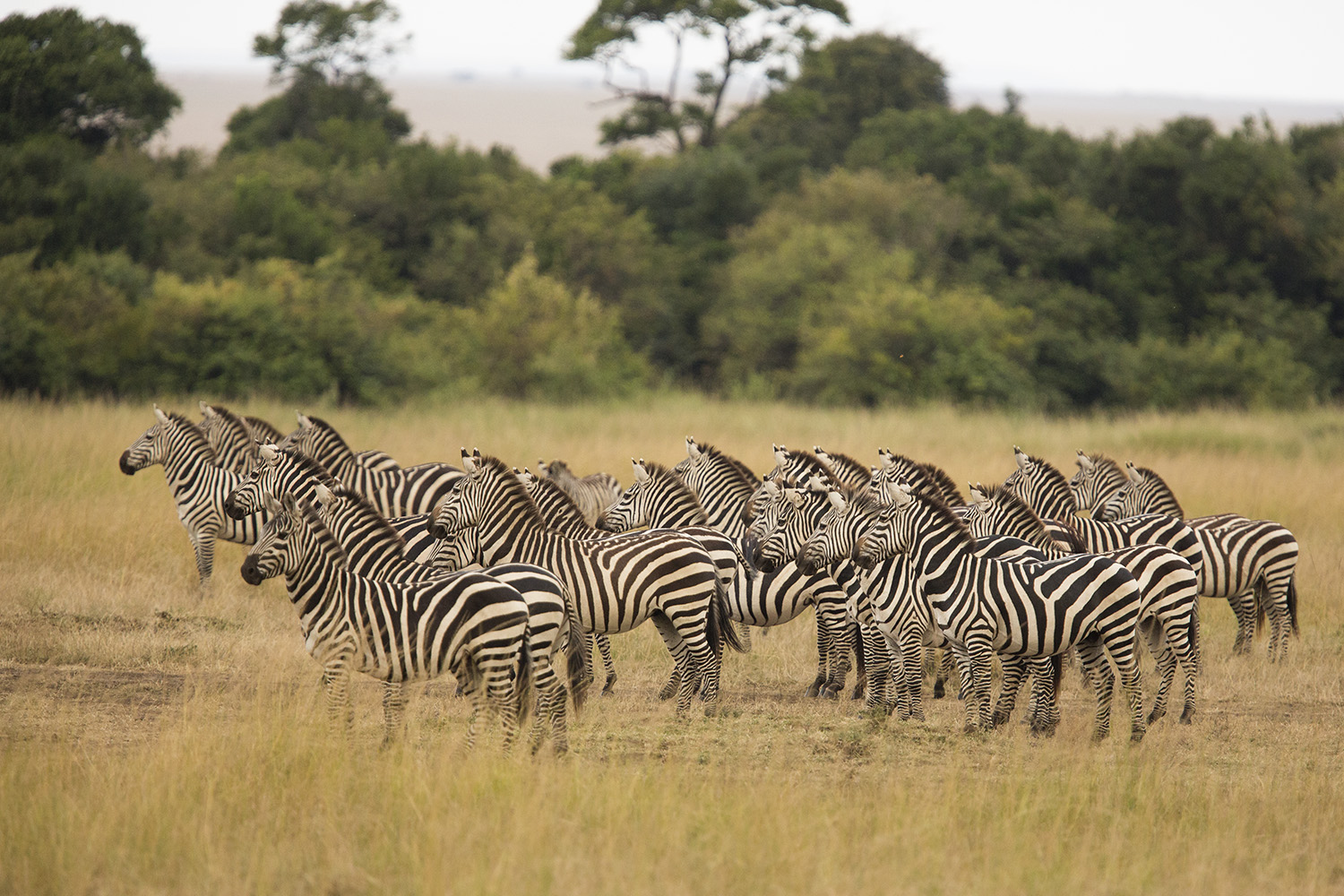 Although the big herds of wildebeest are yet to arrive in the Mara Triangle the zebra numbers are swelling. There have already been numerous zebra river crossings, but being in the right place at the right time takes patience, skill and a fair dose of luck. Here a dazzle of zebra stare intently at a pride of lions preventing their route to the river.
[f 4.0, 1/2000, ISO 2000, +0.33]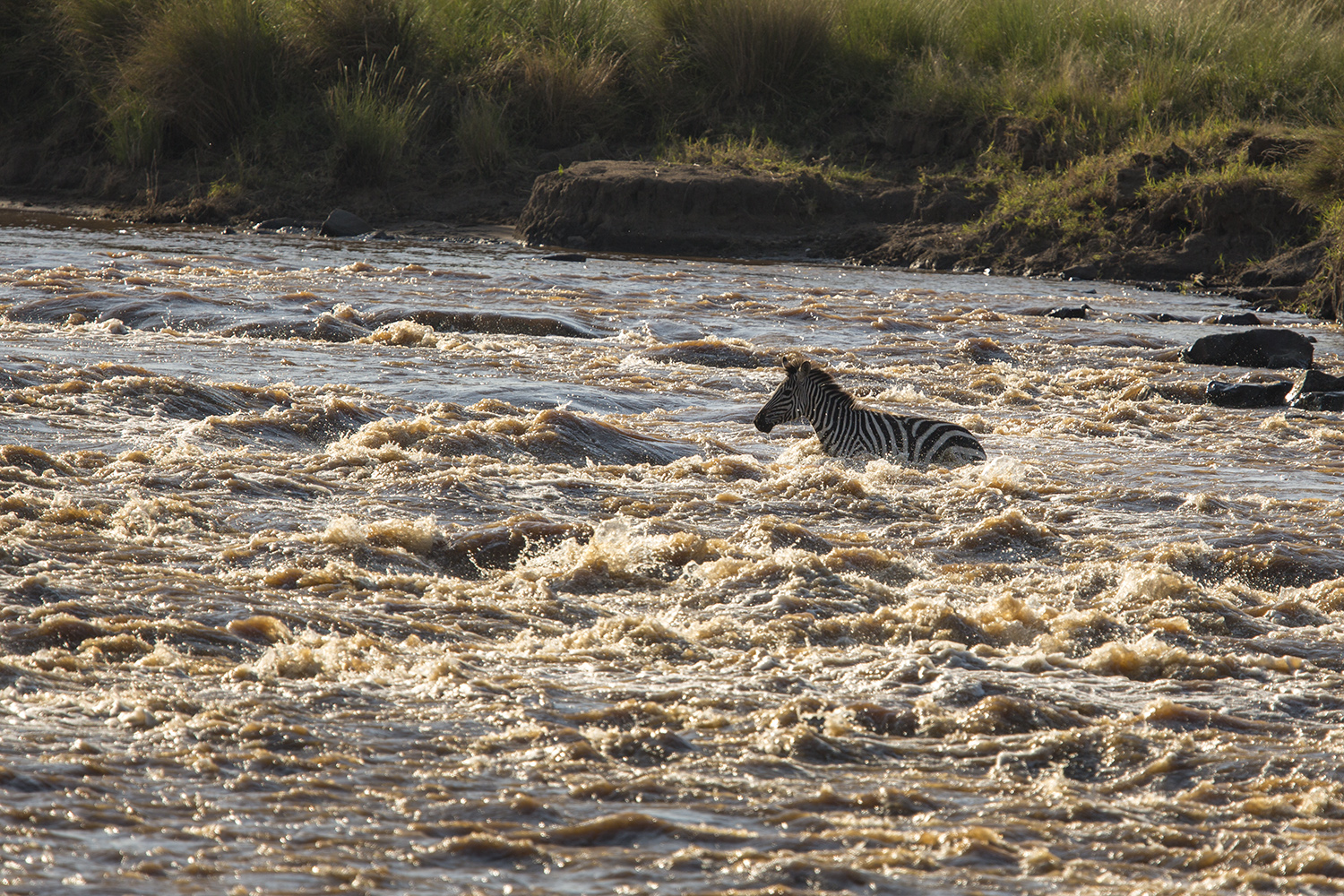 Technically not a fantastic photo by any means, but more of a record shot of the week the zebras started crossing. Great dangers lurk in those waters…
[f 4.5, 1/1000, ISO 100, +0.33]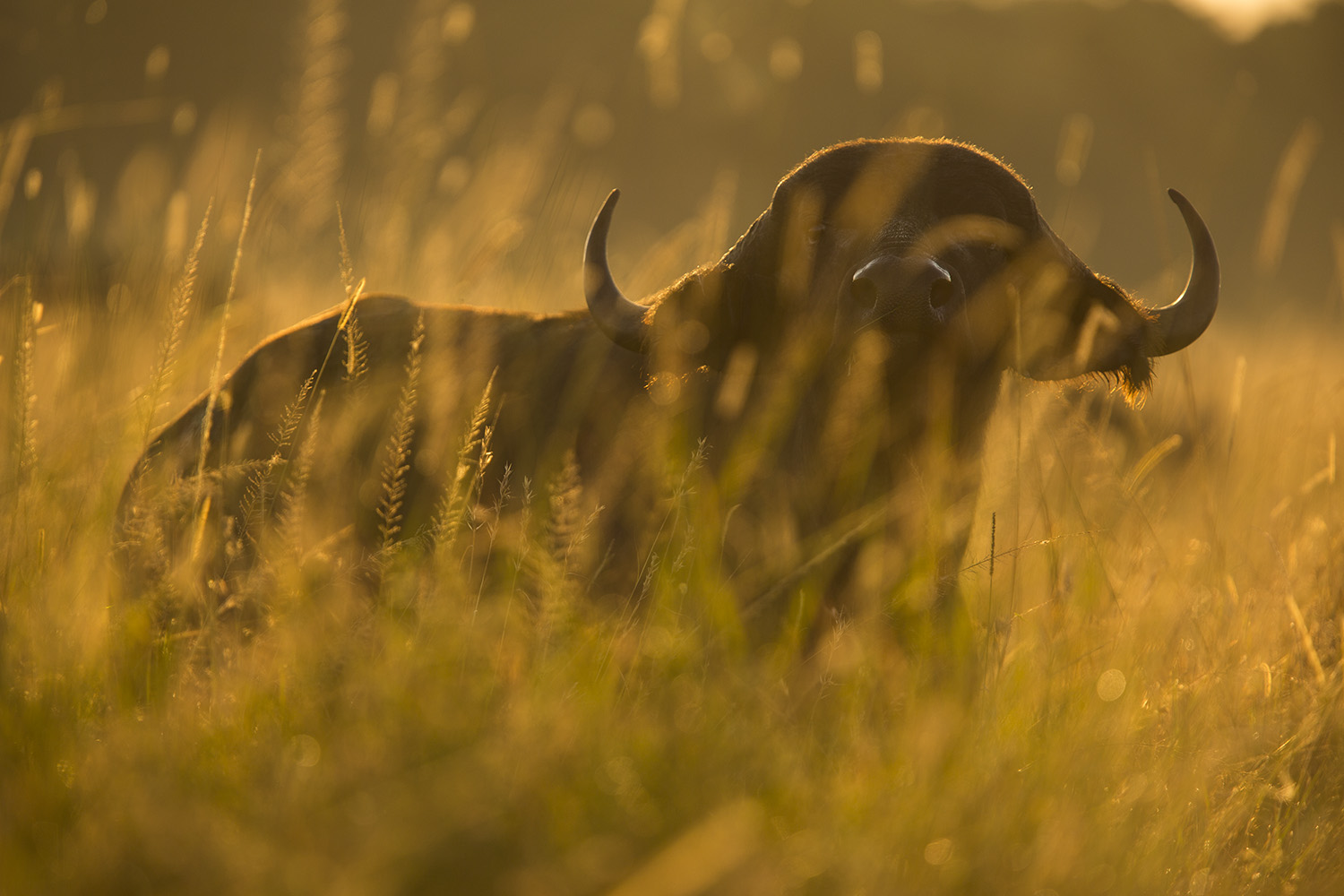 I have always said my favourite time to be in the Mara is at sunrise. It allows for soft and dramatic lighting.
[f 4.0, 1/640, ISO 250]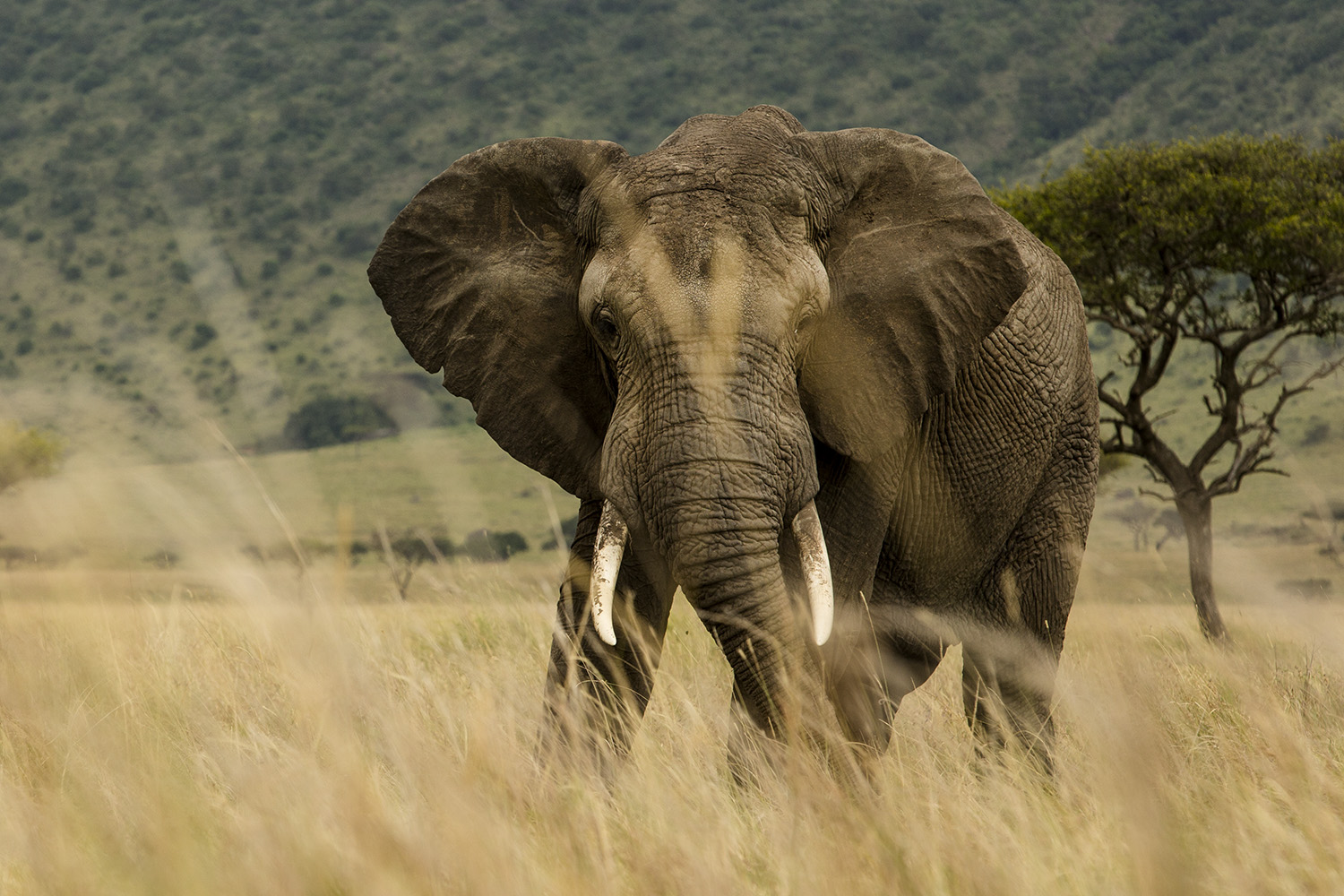 My plan with this shot was to try get an animal's perspective of an elephant. In other words, get so low that you have to peer between the grass. I'm not sure it completely works, but it makes for a different shot nonetheless.
[f 8.0, 1/800, ISO 400, -0.67]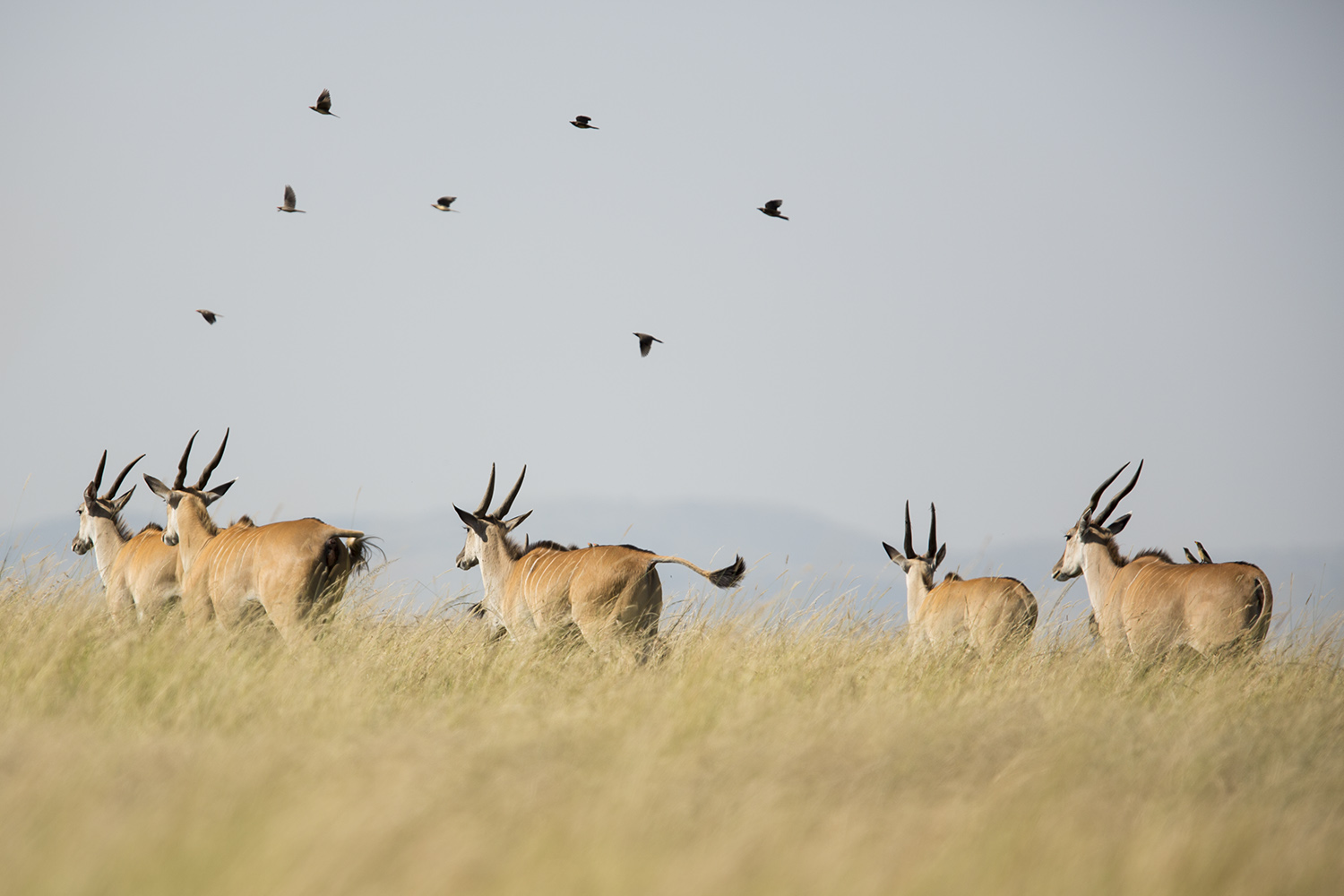 Eland are magnificent antelope, but nearly impossible to photograph as they are skittish by nature. What I like about this image are the gentle tones and the small flock of oxpeckers taking flight as the eland canter away.
[f 4.0, 1/1600, ISO 160, +1]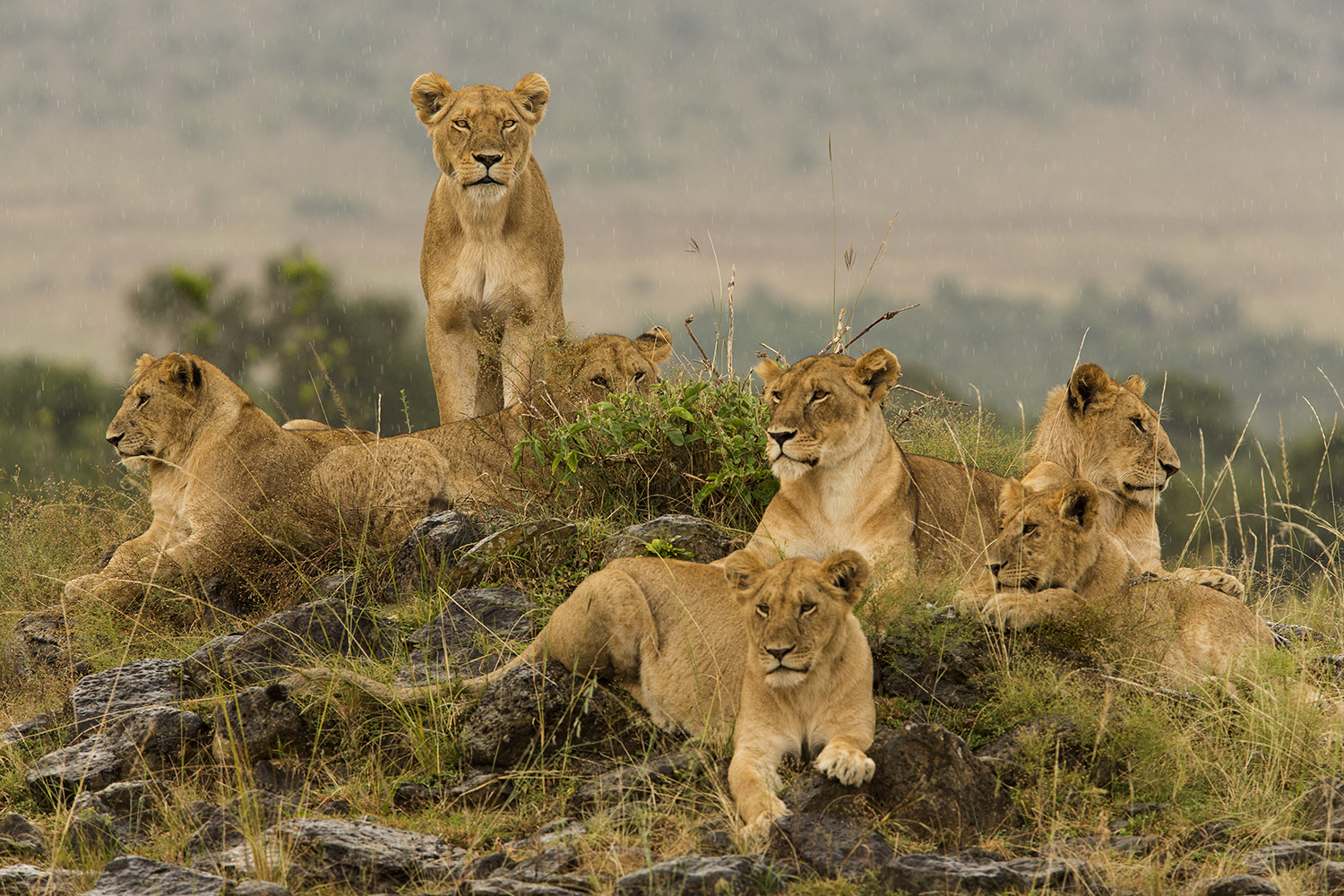 The Angama Pride is growing in confidence and physical prowess. You can only imagine what lies in store for these 16 individuals when the herds arrive. What I love about this photograph is the intense focus of the main female and the fact that I was able to capture this in the pouring rain.
[f 7.1, 1/400, ISO 800, +0.33]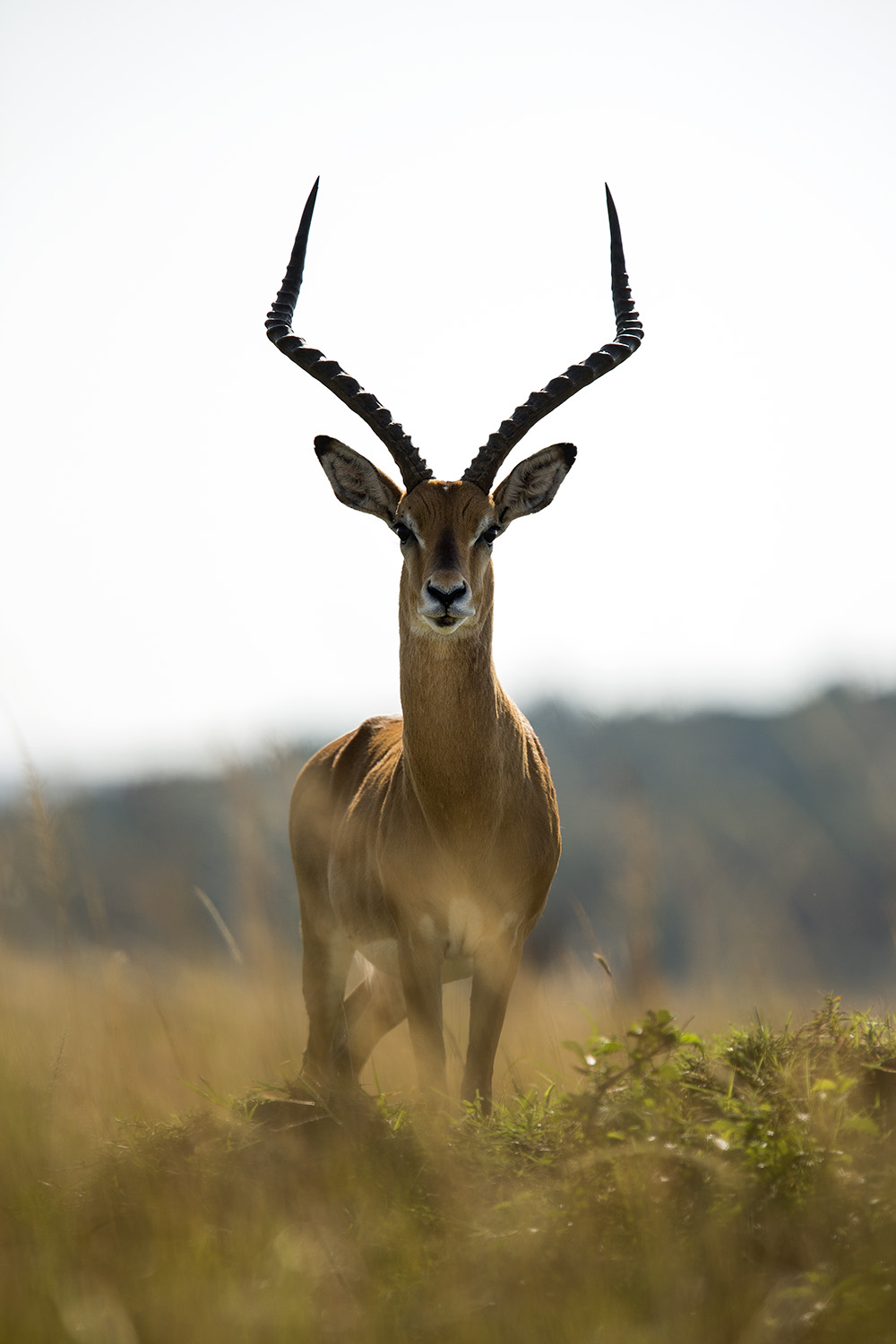 I believe that for every photograph of an impala on Instagram you will find 1000 leopard photos. Far too often photographers drive past impala with nothing less than a courtesy glance. Spend time with these animals, they are magnificent and ideal subjects to practice on.
[f 4.0, 1/2000, ISO 160, +1.33]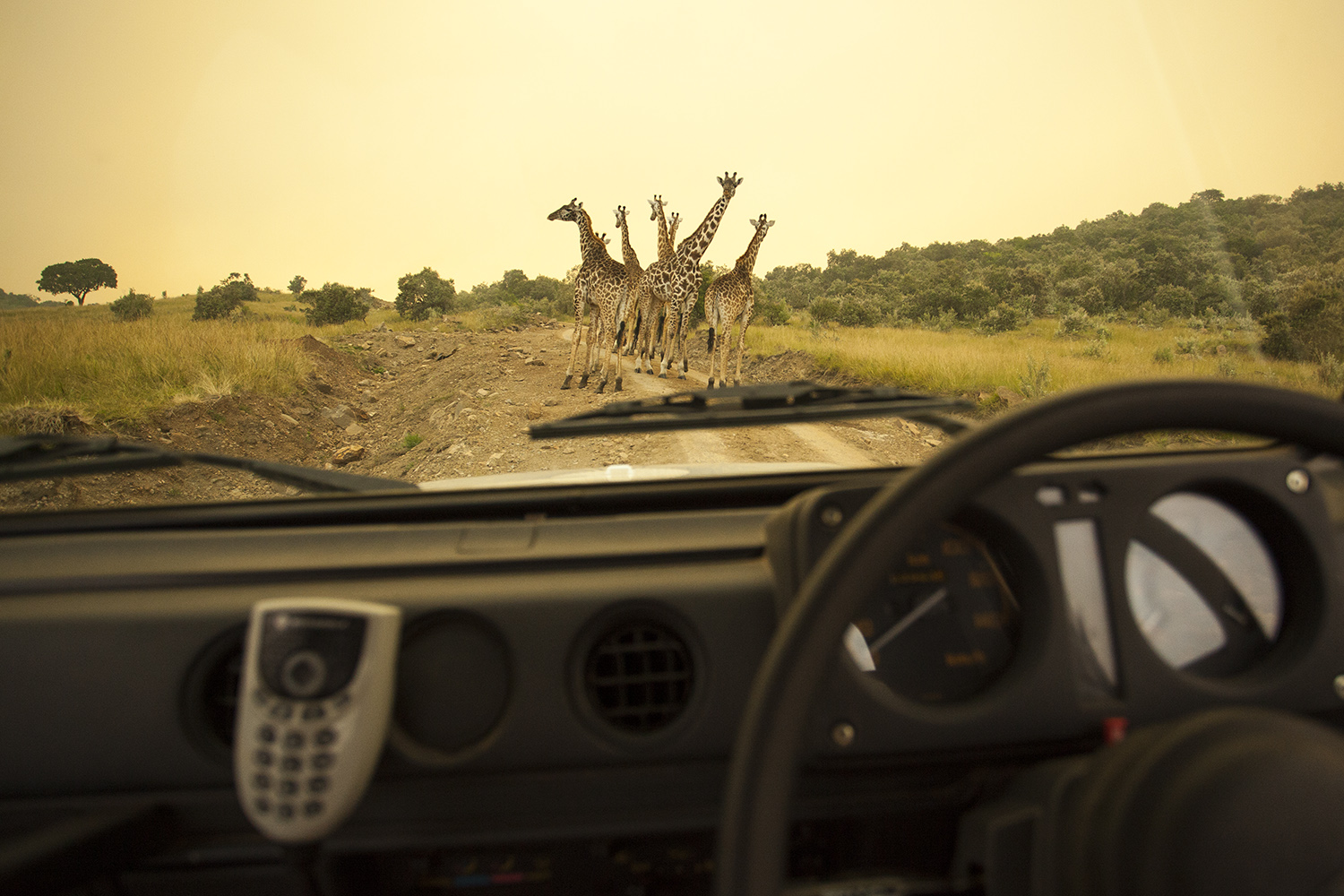 The best kind of roadblock.
[f 4.0, 1/320, ISO 1600]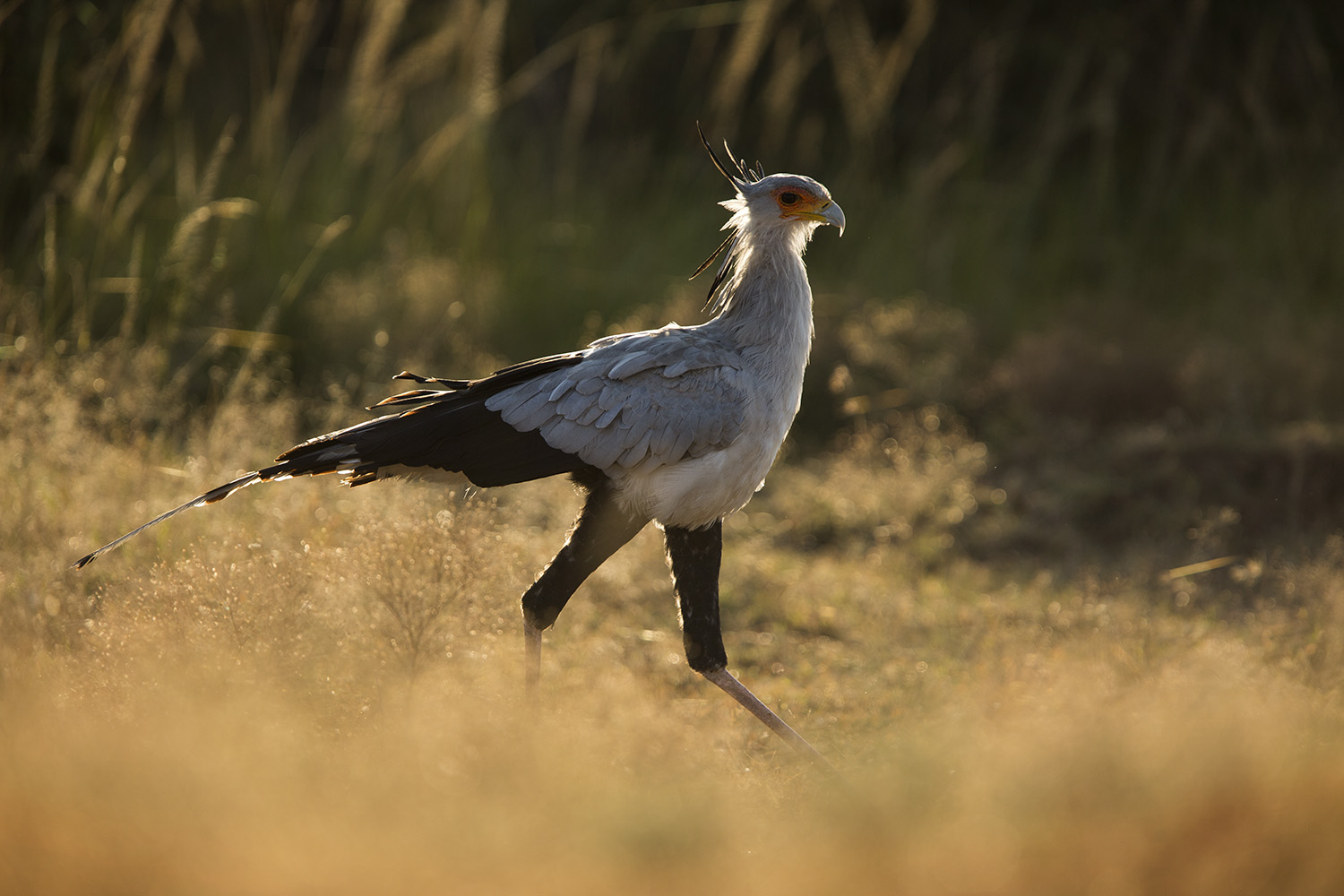 Without a doubt one of the most photogenic birds of the Maasai Mara: the Secretary bird
[f 4.0, 1/1000, ISO 250]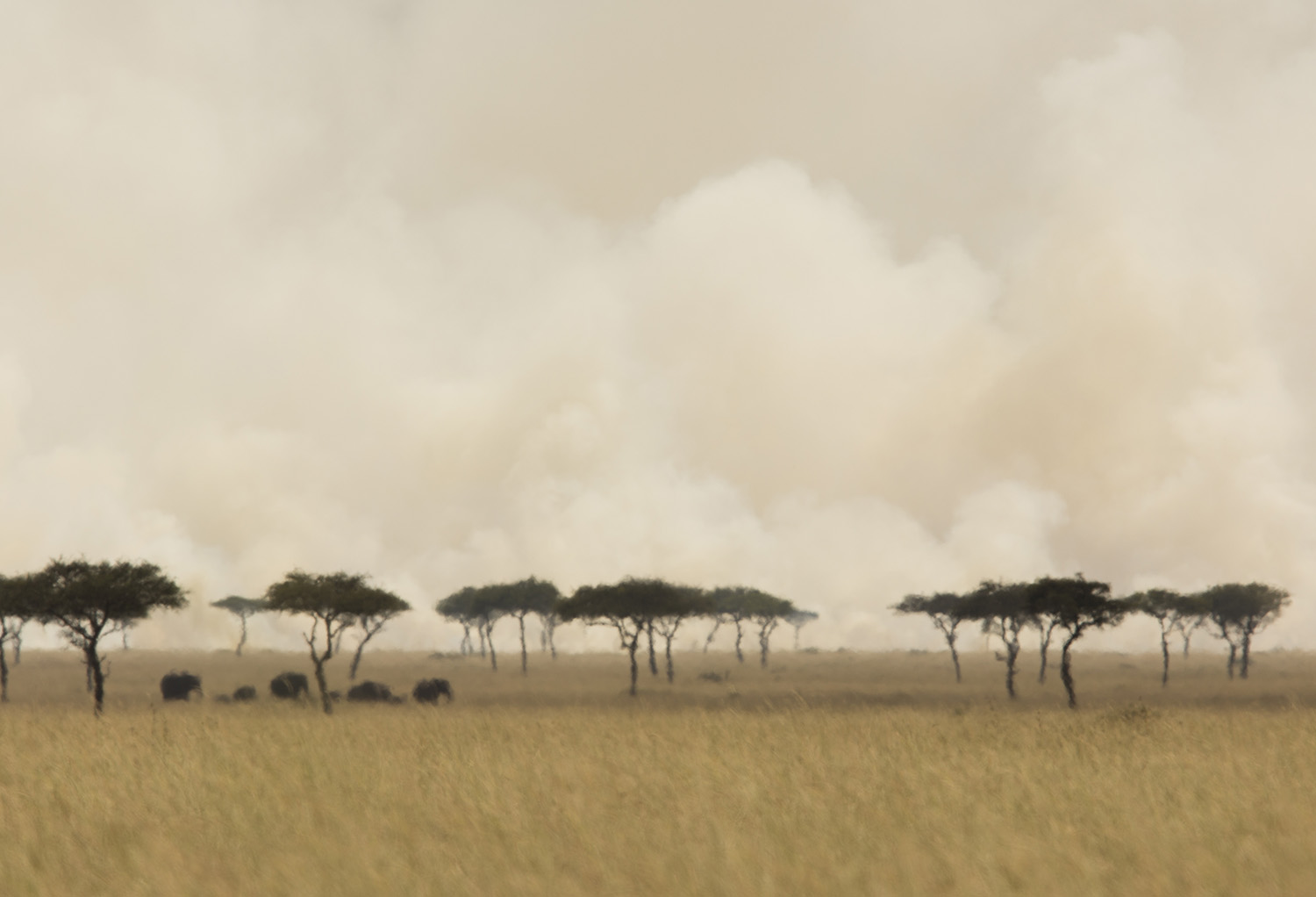 This week the land management team conducted a large scale-controlled burn within the Mara Triangle. Fires are hugely exciting events when it comes to wildlife photography. Upon seeing smoke, I raced to the scene and managed a number of dramatic shots, one of which was this one of a family of elephants running to safety. I enjoyed the effect of the shimmering heat.
[f 9.0, 1/500, ISO 160, +0.67]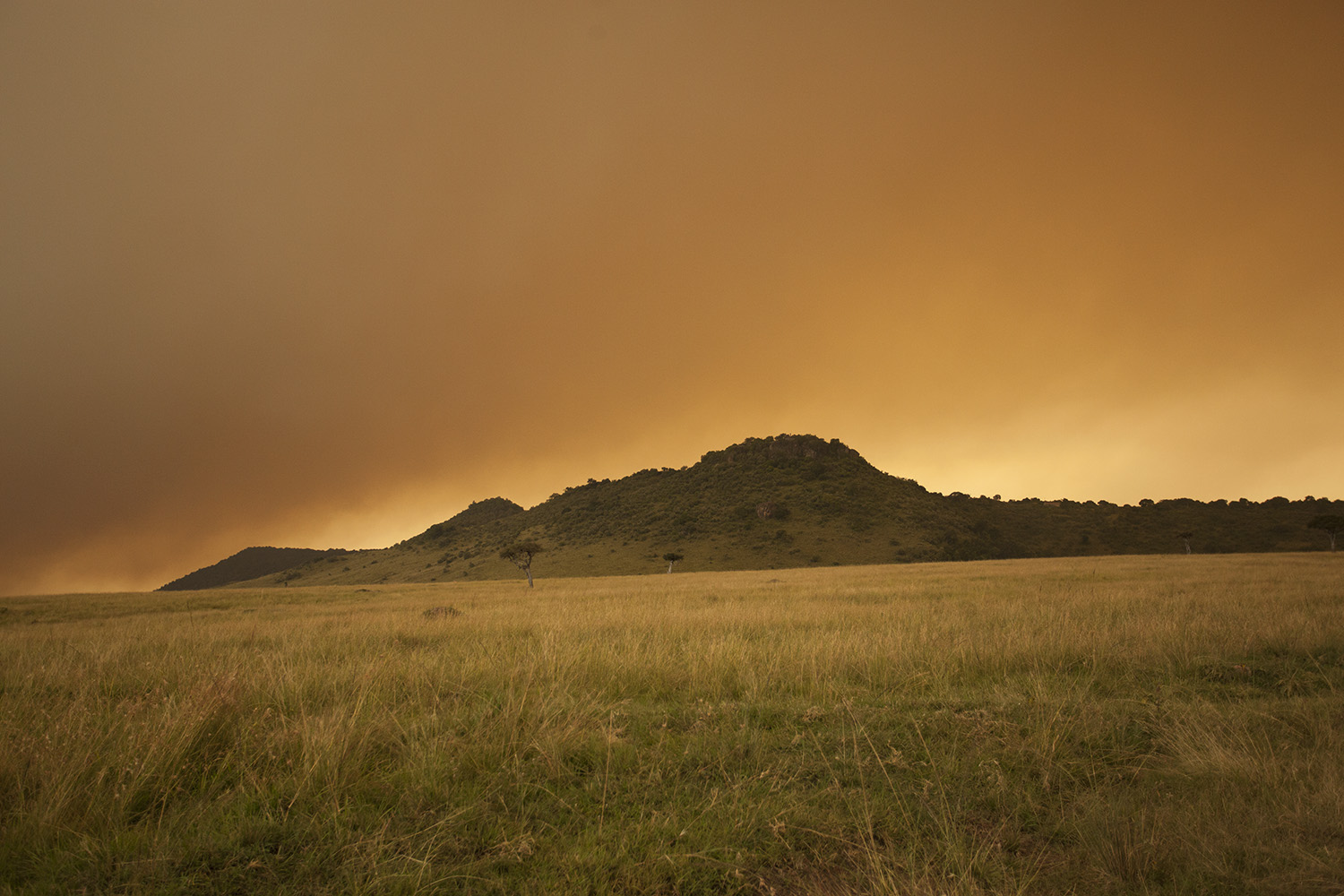 The fire created the most incredible ambience and lighting. Here you can see how the smoke completely transformed the landscape allowing for a dramatic and unusual view of Angama perched high up on the escarpment.
[f 4.0, 1/2000, ISO 800, -0.33]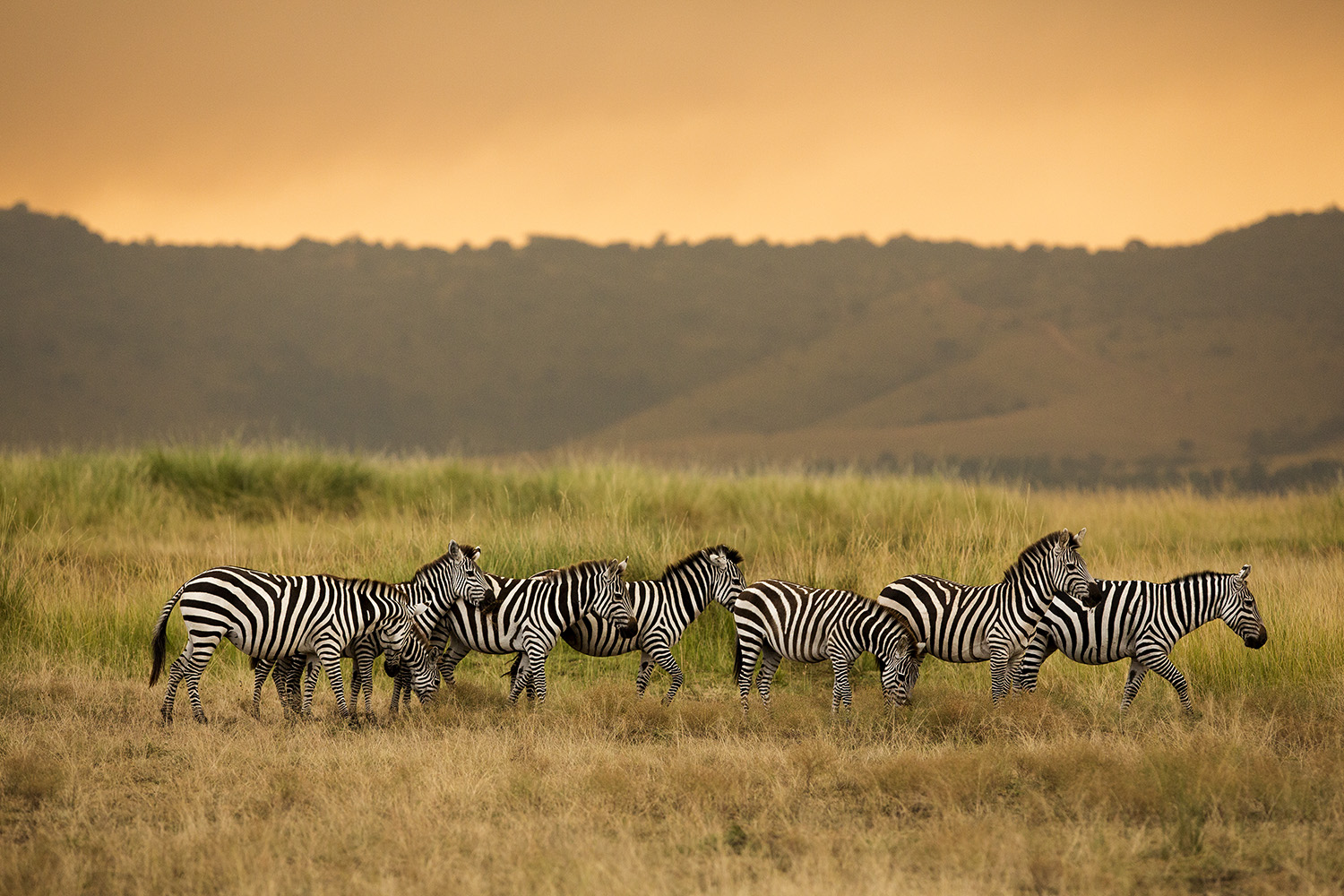 Another example of the dramatic late afternoon light brought on by the controlled fire.
[f 4.0, 1/2000, ISO 2000]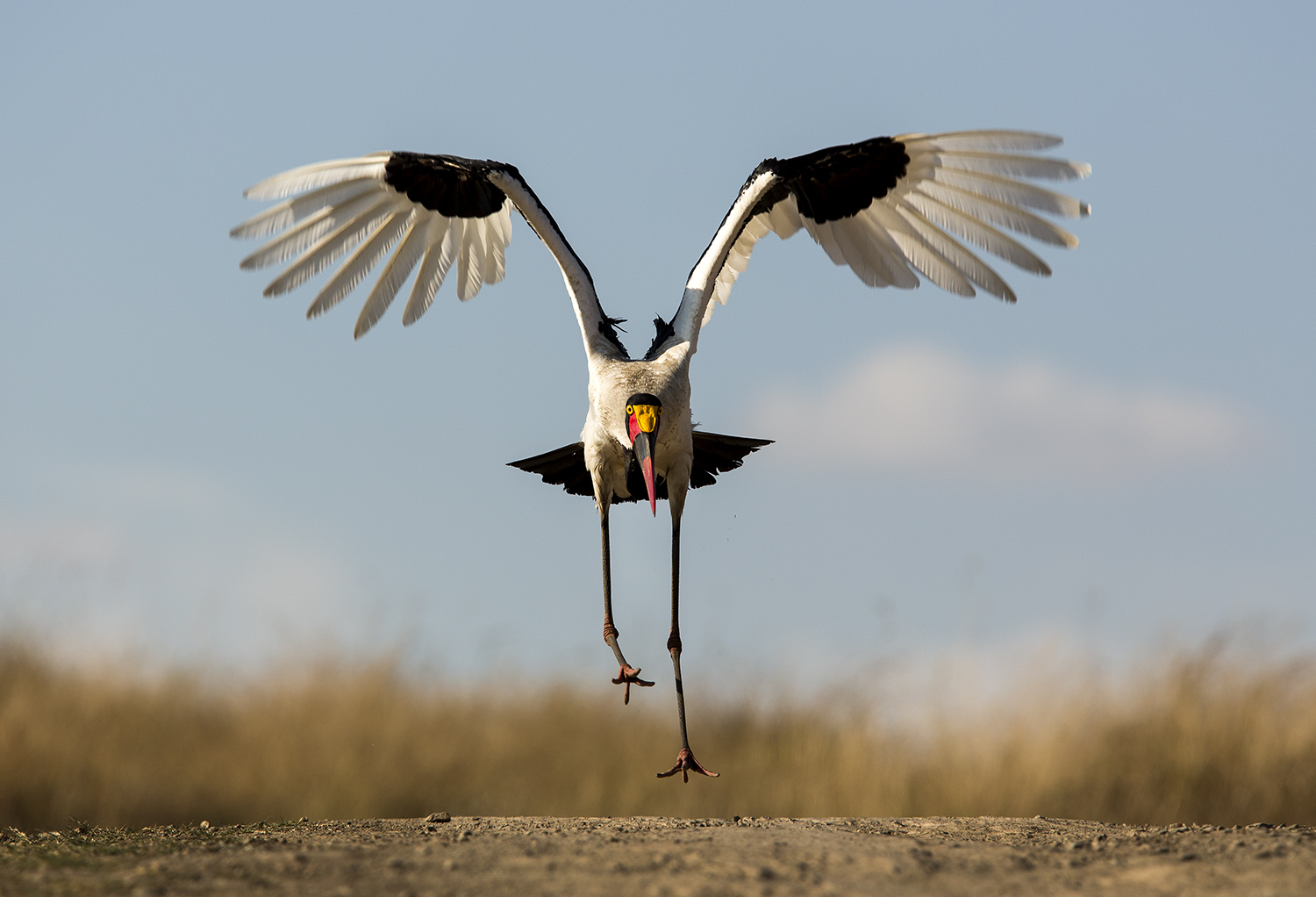 Of all the photos I have taken this week I am most proud of this one. The focus, the colour, the movement and the extremely low angle all contribute towards making this a wonderful image of a Saddle-billed stork taking flight.
[f 5.6, 1/1600, ISO 160]
Saving the best for last. This week I was fortunate enough to witness an extraordinary scene unfold. Two jackals hounding and eventually managing to kill a new born impala calf, but not without the mother impala putting up a noble fight. The jackals worked effectively as a team to take bites out of the baby, whilst the mother attempted to head butt them away. They circled around her and attacked at any opportunity, weakening the baby and tiring the mother.
I was unable to capture the most incredible part of the story through the lens. Upon realising that she was losing the battle, the mother impala sprinted away from the scene. I watched as in the distance, perhaps 800 meters away, she joined up with a large herd of impala. She ran directly up to the lone male impala in the group and within no time he came running. Like a knight in shining armour the male, together with the female, ran back to the new born impala to chase the jackals away. His lethally sharp horns forced the jackals to flee, but sadly it was too late and the baby's body lay lifeless on the ground. This is truly astounding behaviour as it showed that the female impala sought help from the male. I have witnessed this before with buffalo seeking assistance from the herd, but never with an antelope species. I have since chatted with numerous wildlife experts, filmmakers, guides and nature photographers and as of yet am to hear from anyone who has witnessed this behaviour before with impala. Nature continues to surprise us.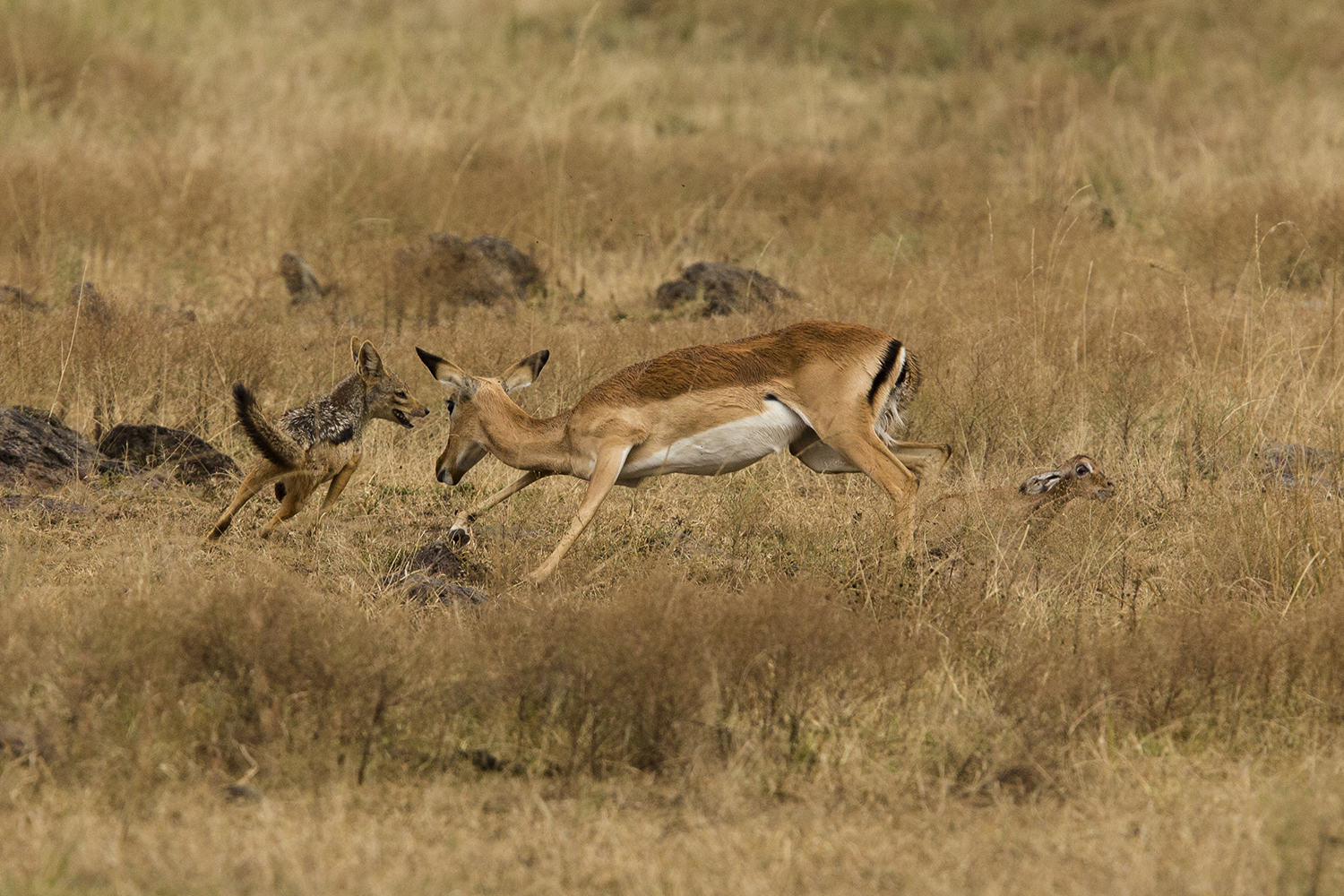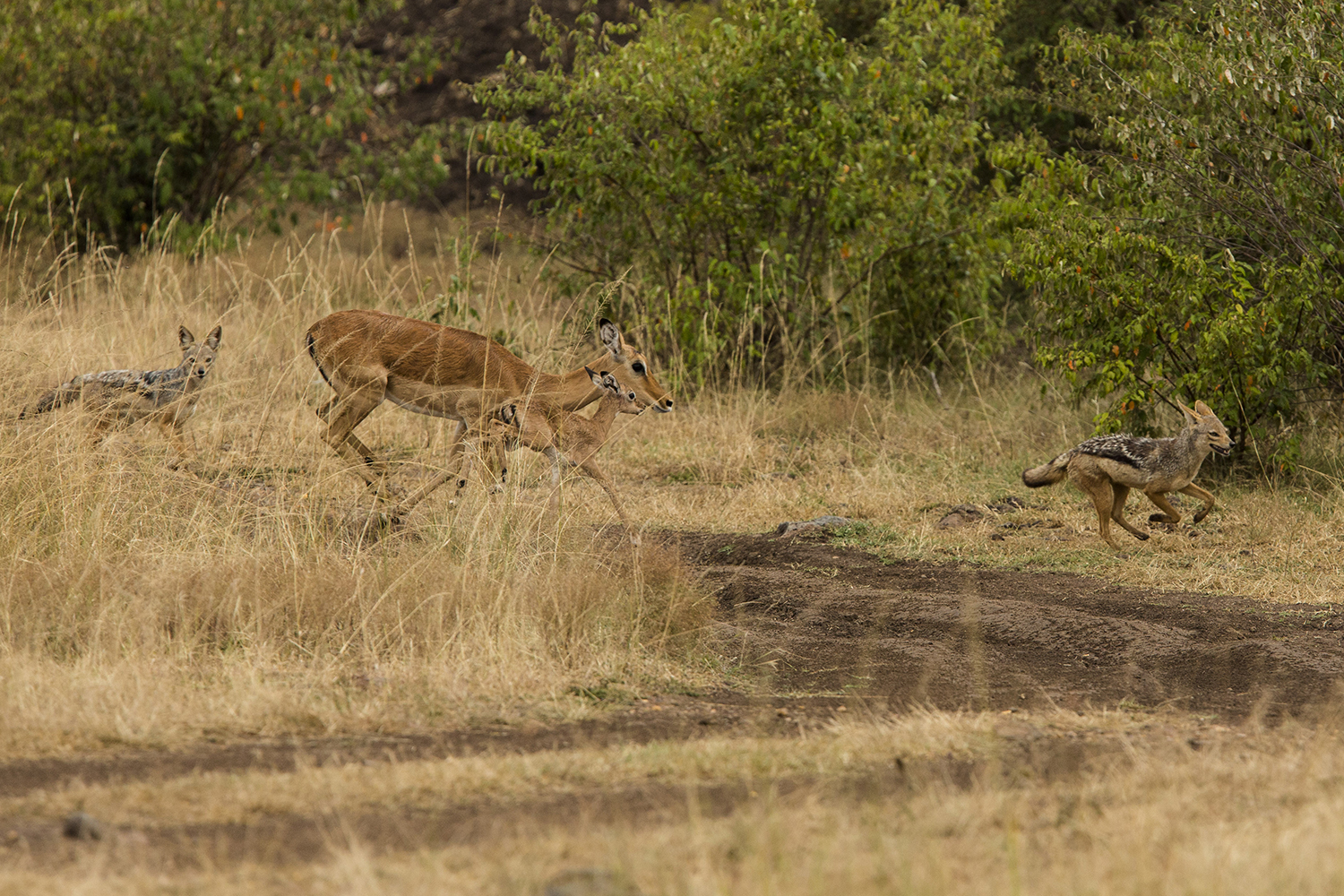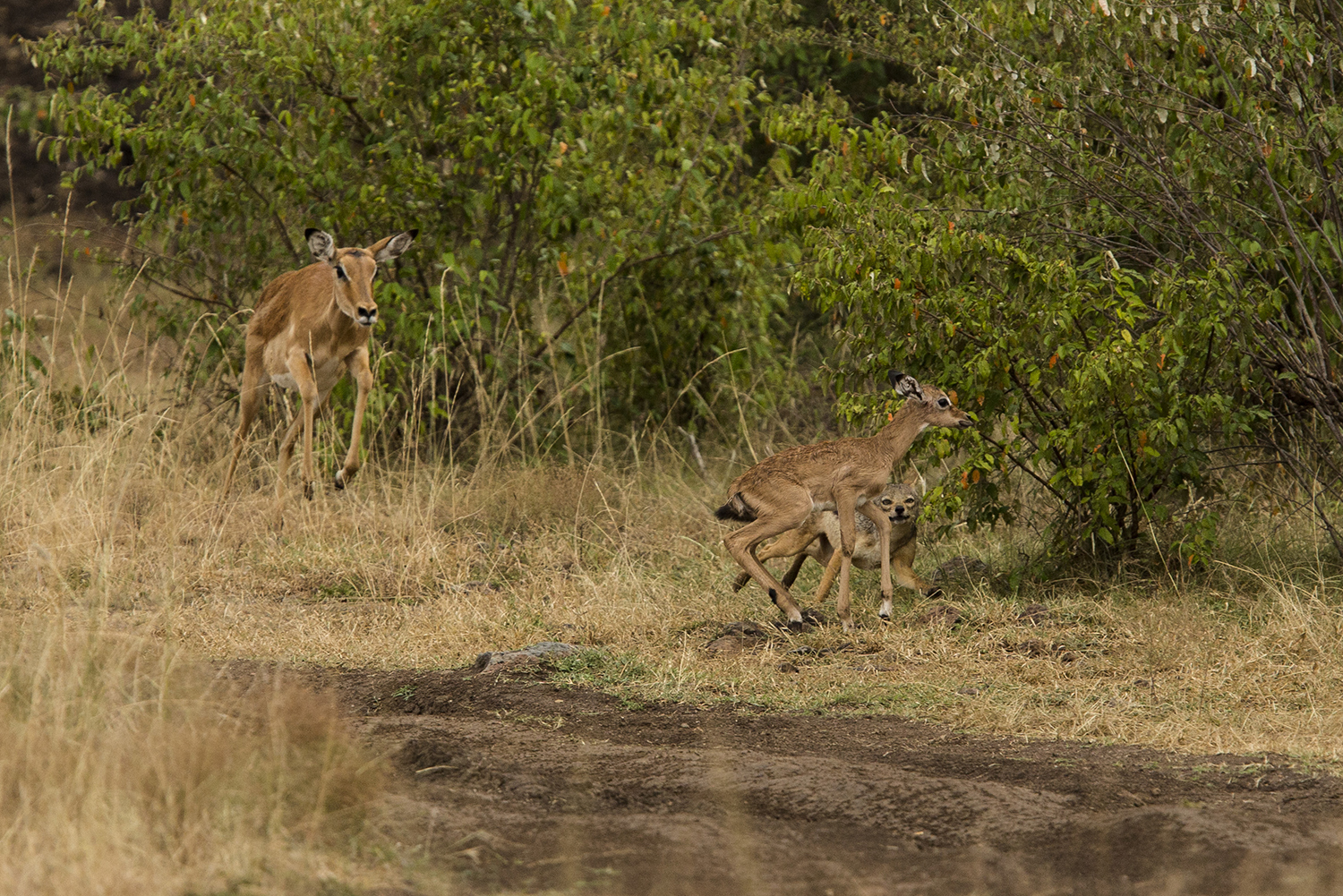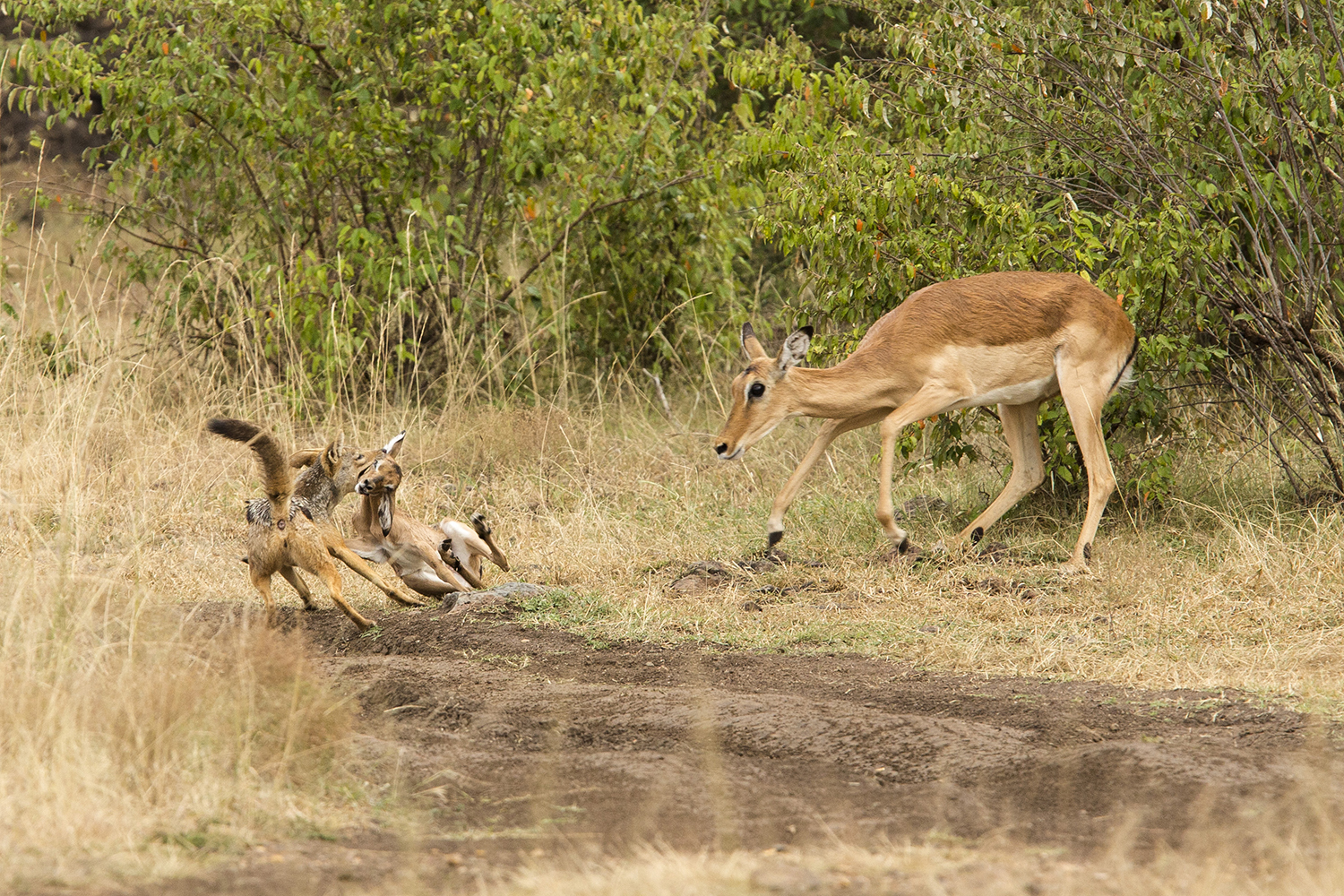 All the photos were taken on the same settings
[f 5.6, 1/1250, ISO 1250, +0.33]
Be sure to watch the short video of the sequence of photographs I took of this event or visit our YouTube channel. and please do let me know, via the comments section if you have witnessed behaviour like this before.
Jackals fight Impala to kill new born baby