Saffron, cardamom and rose-scented cream all come together to create this most delicious of cakes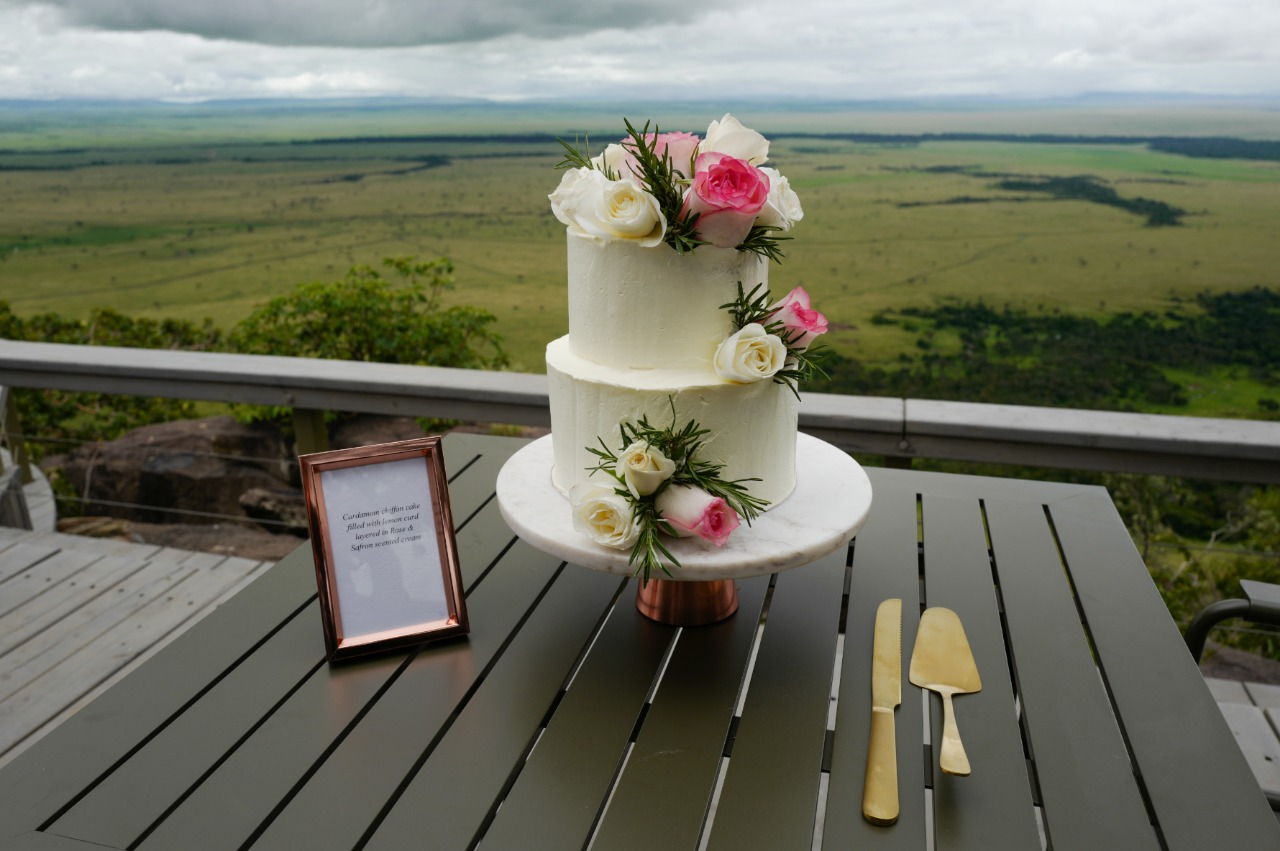 I had never seen a cake disappear so fast.
Our friends gathered at my family home in Cape Town to celebrate our soon-to-be-arriving twins (or "mapacha" as they are lovingly known by our Swahili colleagues). My dear friend Keri, also a mapacha-mum-to-be, had recently completed the Silwood Patisserie Course and had offered to bake a cake for the happy occasion. Well this was a cake quite unlike any other. From cutting to crumbs, it was a matter of minutes before her delicious handiwork was devoured in silence. The softest chiffon with pops of cardamom and rose-scented, saffron cream … a Persian Love Cake is what she called it. It was magnificent.
Fast forward 18 months, and 2 sets of twins later, we were sitting around a table in Johannesburg brainstorming ideas for our first Angama wedding cake. I didn't even hesitate to suggest Keri's "Love Cake" – the rose as well as the spices had a very strong connection with Kenya. By some quirk of fate 6 weeks before D-wedding day, Keri plus 3 of my old school besties (and husbands) would be coming to the lodge for a friend safari of a lifetime. Keri was only too delighted to help and quickly went about converting the recipe, investigating the availability of key ingredients in Nairobi and sourcing and purchasing all the equipment she would need (and lugged it to the Mara – making up just about her full 15kg quota).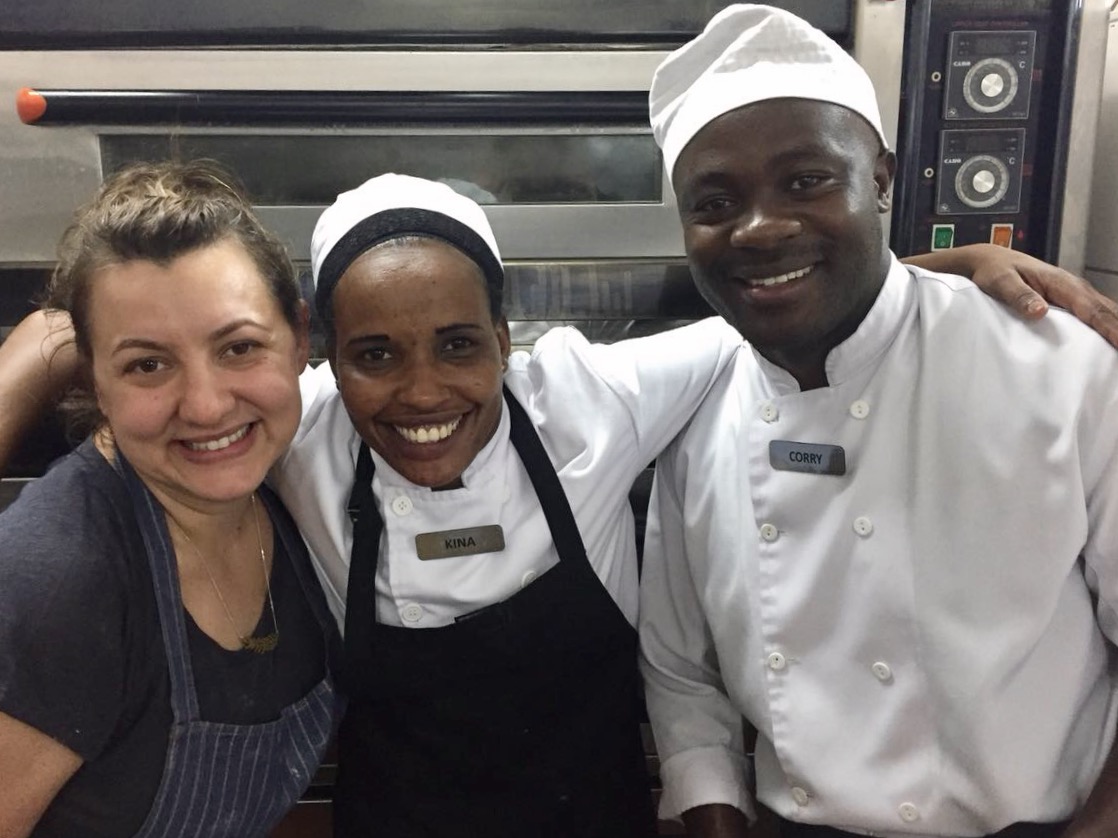 There were cheers of delight as Kina and Corry (the Angama pastry chef team) watched Keri unpacking all of the equipment, explaining as she went that after the cake was baked and frosting whipped, they would both become architects in order to perfectly assemble the wedding cake.
The team got to work – first the lighter-than-air chiffon, with bursts of cardamom, and the lemon curd were whipped up followed by the delicately flavoured rose and saffron cream frosting. Now it was time to put it all together and make the perfect Angama signature wedding cake -not a task for the faint hearted. With engineering skills put to the test the cake came together beautifully. Fresh roses and rosemary from the Shamba added the final touches.
When it was done, Keri told me "Kina has outstanding baking techniques, and Corry pays attention to the finest of details making them the quintessential pastry pair. It was real pleasure to teach such talented chefs and I learnt so much from the both of them too."
What a wonderful moment it was seeing my talented friend presenting her cake against the backdrop of the Mara with Kina and Corry beaming beside her. And then for the tasting – word got out fast and let's just say that this time, there were not even crumbs left for the latecomers.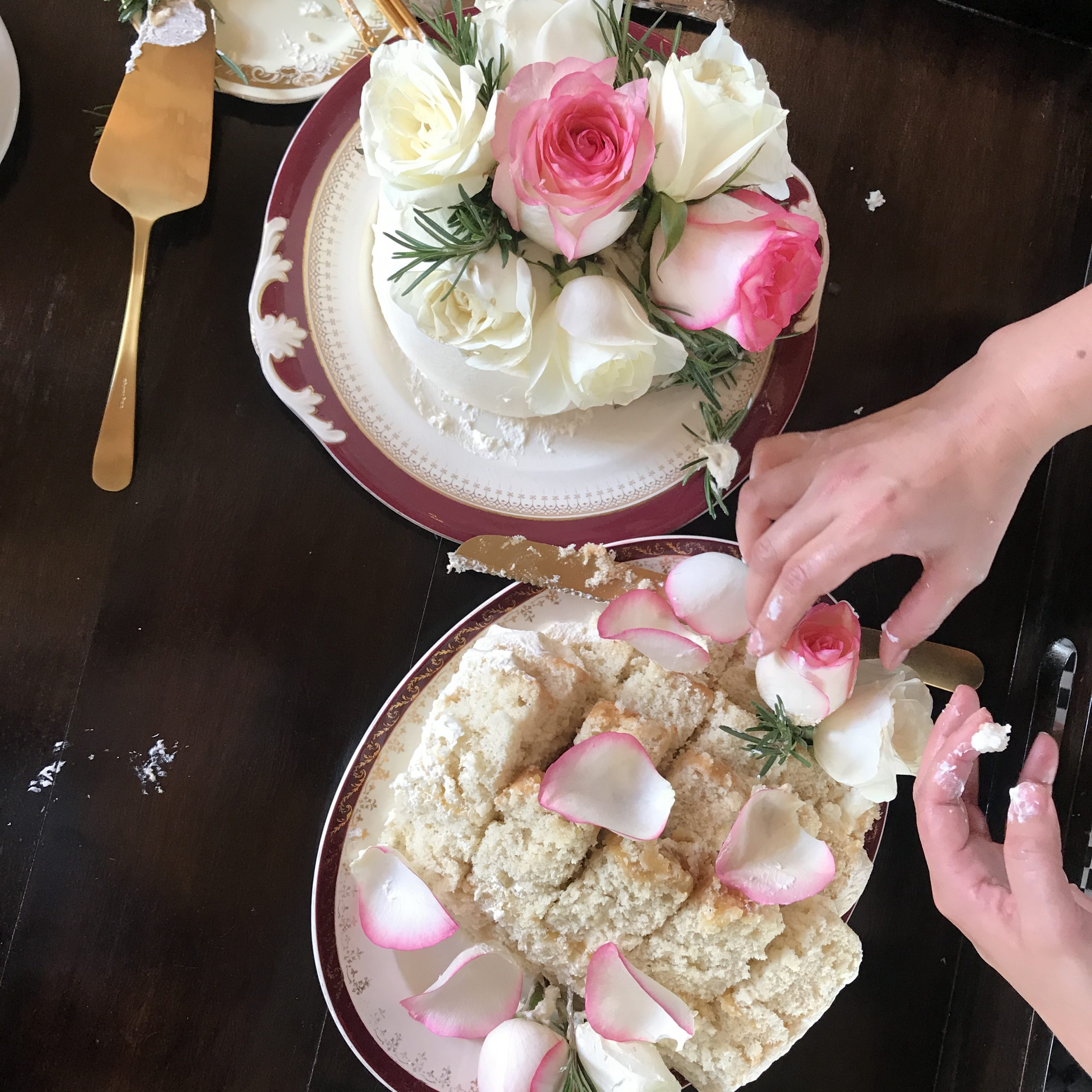 Six weeks and a few more practise rounds later, the big day arrived and our chefs did a grand job at recreating the masterpiece with a few special twists and tweaks for Angama's bridal couple.