Appaloosas, Apricots, Giant Capers and Great Danes
Chef Evans flew in from the Mara for a week of culinary and extraordinary adventures in Johannesburg and at a lovely country house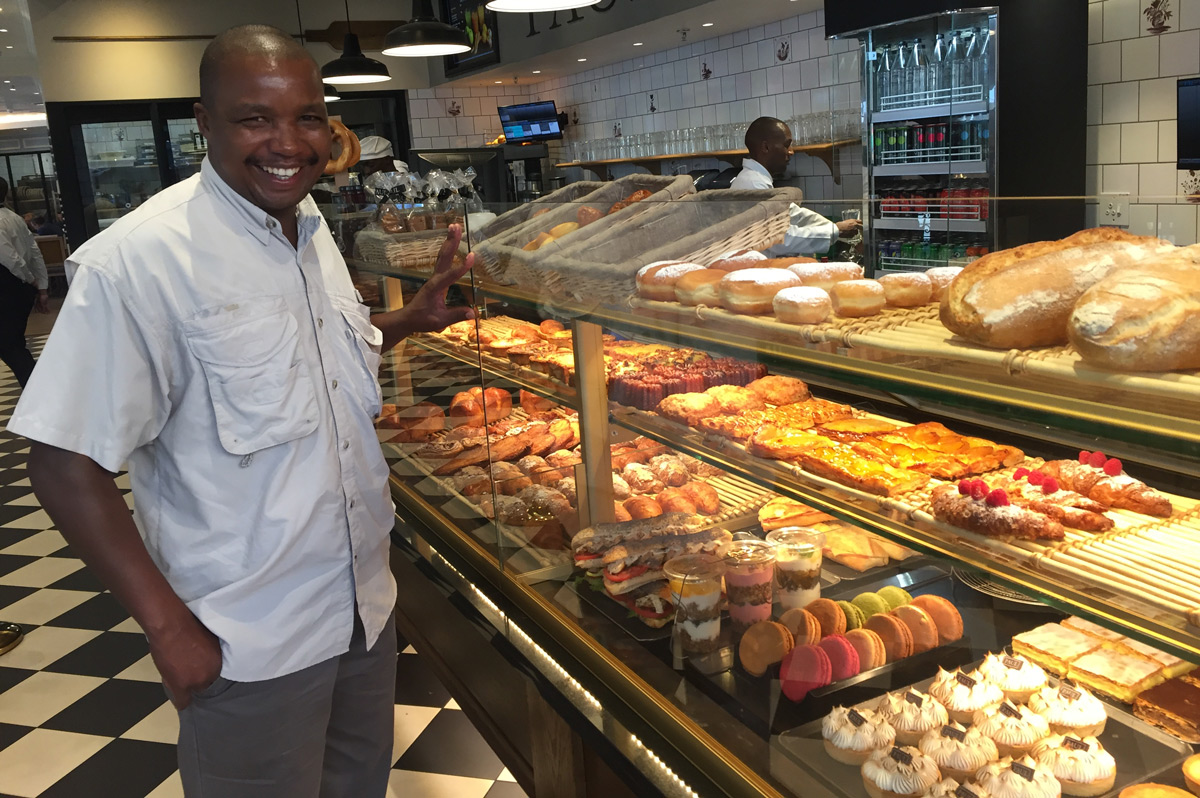 There is nothing more fun, filling and fattening than hosting one of our lodge chefs here in Johannesburg. Last year Chef Collins hit town and we needed a full year to recover, prepare for Round Two and Chef Evans' visit. For those of you who have met Chef Evans at the lodge you will surely remember his sweet smile and gentle manner. When there is a kitchen crisis at the lodge (it does happen occasionally) we send Evans out and he always wins the guests back over in a heartbeat. Nothing is ever too much trouble for this kind man.
Our guests come from all over the world and our kitchen team of 17 merry, hardworking and talented Kenyan chefs, bakers, picnic cooks and scullers cook up a storm for them. We once counted that there are 12 opportunities to feed our guests in a day but it was such a scary thought we haven't done it again. Kina and Cory, our bakers, start at 1am and the last chef knocks off at about the same time when we have revellers in camp. We love feeding our guests and strive each day to do it just a little bit better than the day before. Part of that training is to take them out of the lodge and make them guests for a while.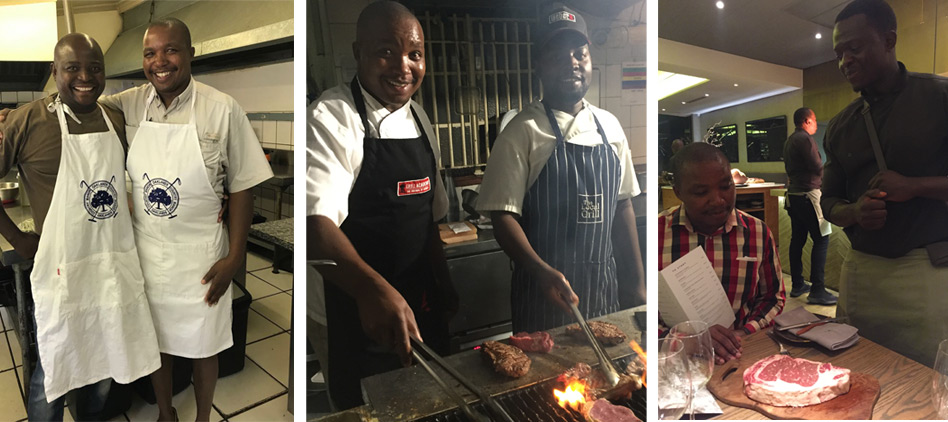 Chef Evans loves meat. He is our meat maestro and any time you might wander through our kitchen (and please do) you will find him deboning a shoulder of lamb, packing spices on a pork belly, preparing the rib-eye steaks and marinating ribs for the evening's BBQ. Nothing makes him happier. Here in Johannesburg he flamed steaks at The Local Grill, he snooped about the smoky kitchen of Che Argentine and he nearly fell off his chair when presented with a steak costing $50 at Marble (we didn't order it). At every meal we were instructed exactly as to what to order and before we could tuck in Chef made sure every dish was photographed, examined and tasted. People stared but we didn't give a fig.
Talking about figs, well not figs exactly but apricots, Chef not only tasted his first fresh apricot (there are no stone fruits in Kenya) but was also introduced to an apricot tree. Small pleasures that were a joy to witness. In Woolies, Evans was astounded to discover that capers come in three sizes. He tried fresh cherries, pomegranates and stared in amazement at the array of table grapes on the shelves, each with a romantic name, his favourite being Candy Floss. We tried them and they tasted exactly like their namesake. Who would have thought?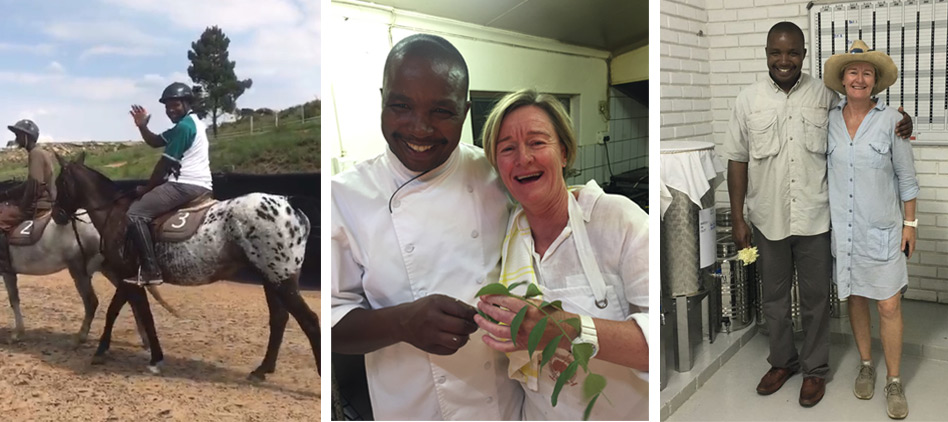 After three non-stop days of breakfast, lunch and dinner in Joburg we set off for Oaklands Farm Stay which is a gorgeous inn-set-on-a-polo-field in the lovely hills halfway between Johannesburg and Durban. Four delightfully eccentric siblings live here: Mumpy owns it, Kathy runs and cooks it, Annie hosts it and Simon keeps a firm eye on his three sisters and manages the front desk and everything else. If you ever find yourself driving along the N3 please stop by for a night or two. The welcome is warm; the Great Danes have their own sofa (with a Reserved for the Dogs sign); the food is outrageously delicious; the setting breath-taking; the air is sweet; the conversation carries on deep into the night; and the horses pop their heads in to say good morning. In this little corner of heaven Chef Evans learned how to make biltong, rode an Appaloosa, discovered a shamba quite like no other, drank home-distilled beet kavassa and kombucha vinegar; and unashamedly plagiarised Asparagus with Parmesan Crusted Egg, which is already on our dinner menu.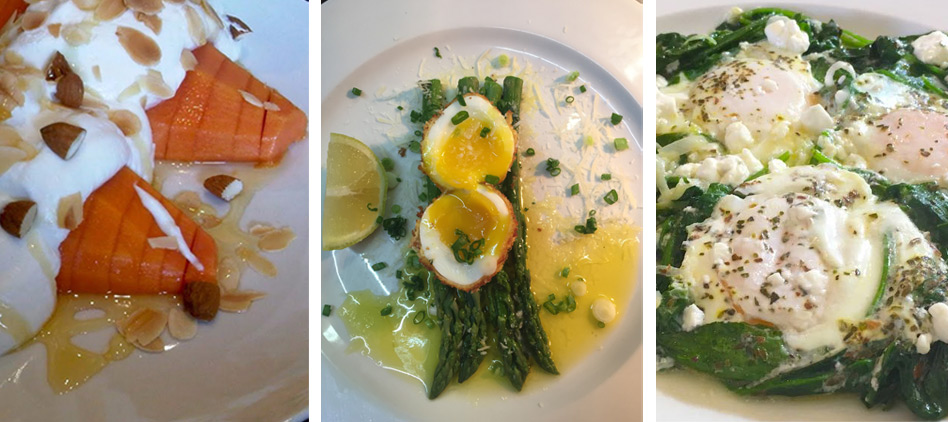 Watch out for the next Angama cooking adventure, another story sure to make you smile.