Farewell Seattle and Hello the Mara
Leaving baseball and buffalo wings behind, Shannon Davis tells the story of her and Tyler's giant leap from Seattle to the Mara and how they became Angama Mara's first Regional Directors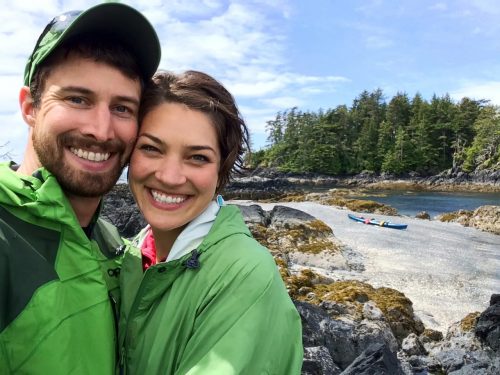 We have been dreaming of it for years. Having been together for nearly a decade, Tyler and I were determined to make our dream a reality and embark on a grand adventure abroad together - specifically, Africa. We've done our share of traveling all over the world, together and independently, and both felt a deep connection to Africa. With itchy feet and a loose plan, we handed in our notices at our current jobs, ready to face the world head on and see what came our way.
It wasn't easy saying goodbye to a job I loved, working as a pediatric nurse at Seattle Children's Hospital. Tyler was in the middle of a flourishing career as a guide and destination specialist for Evergreen Escapes, a Pacific Northwest-based adventure travel company. But we knew if we didn't take the leap now, we may never. Adventure was calling and our eyes were wide open. Our first step - (besides cleaning out our condo, renting it, selling most of our furniture, and finally buying a 1980 VW Vanagon named Sophi that we thought would blaze the trail ahead and possibly become our new home) was exploring our own backyard in the Pacific Northwest.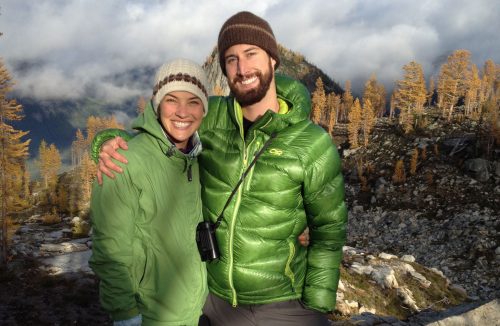 We enjoyed our first phase of adventure, which we jokingly referred to as "early retirement." With no schedule to keep, we spent as much time as we could outdoors, climbing mountains, sipping hot cocoa under the stars, and drinking local microbrews with friends when we were back in Seattle in between road trips. It was somewhere between Stehekin, Washington, and Banff, Alberta, that Nicky and Steve got the crazy idea that we should come to Kenya and visit the Maasai Mara.
The dull parts of exploring various other jobs far and wide I'll omit, because we were immediately drawn to the idea of returning to the African bush, this time indefinitely, to join the Angama Mara dream. Upon our arrival, we witnessed the progress being made as construction was underway, and smelled the sweet earthy air that only Africa can offer. Where the veranda of the guest lodge is soon to be laid, Nicky invited us to step out upon the precipice and take in the view, because as she said, "You only get one first look."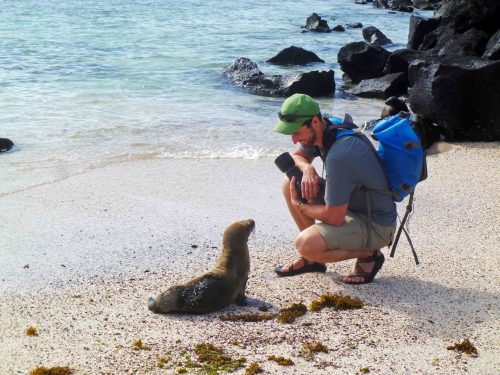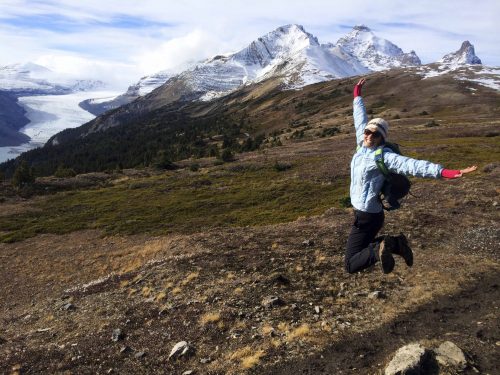 Spanning far and wide, with blues and greens framing the scene, herds of buffalo in the distance, and clouds at eye level decorating the Mara floor with shadowy blotches, I knew life couldn't get much better. Suddenly the fact of never using my brand new skis in the Rocky Mountains mattered very little. We knew we'd found our new home, and new adventure. But it wasn't only the view that had us convinced. During our stay in Kenya with the Angama Mara team, we knew we were among family. One large, loud, wacky family, all too similar to my own and only making me love it all the more. Through the chaos, we were inspired by the vision that Nicky and Steve have. Jumping in with both feet, leaving baseball and buffalo wings behind, our safari is soon to begin and we can't wait to be a part of this amazing journey.
Though you only get one first look over the Rift Valley from the top of the escarpment where Angama Mara lays, the view is still magical each and every time. We can't wait to call it home.
Subscribe for Weekly Stories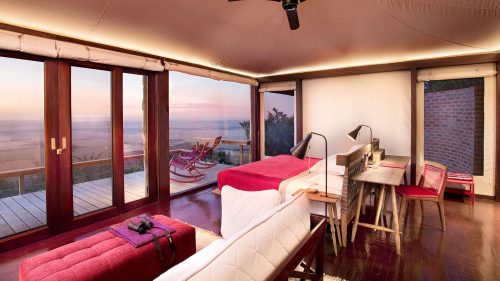 Tented Suites
Discover Angama Mara's classical tented suites, each with the same breathtaking view with sunrises that provide our guests with daily theatre right from their very own bed.
Discover the tented suites