Farewell to the Davis Family
In his last blog, Tyler recounts their final days at Angama and all the surprises the team had in store for them. With games, speeches, gifts – even a parade; it was a proper send-off they'll never forget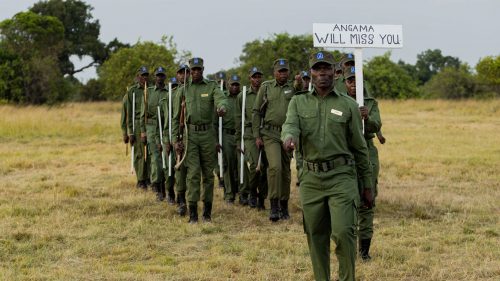 It all started with the Joneses.
The group of eight Americans were checking into Angama Safari Camp on March 22nd – in the brand new location for our beloved new mobile camp, and the team couldn't have been more excited.
After weeks of preparation, including three days of meticulous set up at the most fantastic site along the Mara River, our guests finally arrived, and . . . they were not happy.
Panicked calls came flying in from our Camp Manager on site, as well as our Angama Safaris travel planner based in Johannesburg: the guests were more than unhappy, they were furious. Livid. Apoplectic. Something had to be done.
We rushed to the mobile camp site as quickly as we could, wondering along the way what went wrong, how we were going to fix it and, maybe most importantly, how we were going to help our team's morale after they had worked so tirelessly only to have their efforts met with such negativity and ungratefulness.
As we rounded the final corner into camp, half ready to begin begging forgiveness of the guests and half ready to begin defending our staff at any costs, through the foliage we noticed a throng of people standing together – my god, were our staff having a face-off with our guests?!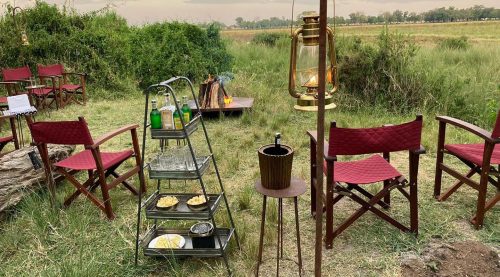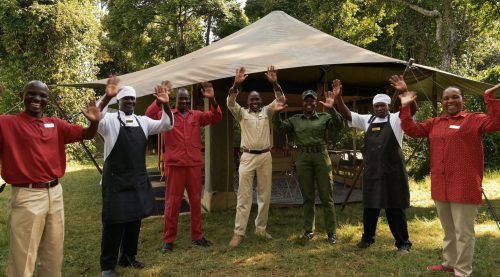 Then the scene came into focus, and we realized . . . we recognized everyone there. Not a new face in the crowd. Members of our Johannesburg team and even one of our investors and his wife stood smiling broadly and welcomingly at our arrival.
"Surprise!" they shouted in unison as we climbed, bewildered, out of the car.
And then it hit us – we were the Joneses!
And so began an overwhelmingly humbling and emotional three-day send-off celebration, starting with two nights as the first guests at Angama Safari Camp's newest site. It was absolutely glorious to enjoy the fruits of our labor with ASC, sharing the experience with our Angama family.
And my goodness, what a camp. It is everything Angama, but with a light footprint and properly immersed in the bush. Exquisite service, scrumptious food, thoughtful details and, of course, remarkable views in their own rite. Hippos, elephants, buffalo, and even a lioness graced the view from our verandah at the edge of the Mara River.
Our nights around the boma will forever be remembered: the first highlighted by an uproarious game of charades, the second by a heartfelt sharing of memories and sentiments of our time together over the last six-plus years.
But the surprises and fun didn't stop there. Getting back to the lodge the next day, we found the Angama football pitch turned into an event field ready to host the "Davii Olympics," with Teams Shannon, Tyler, Perrin, and Lulu facing off in a variety of competitions, from volleyball, to a sack race, to a cook-off (making Shan's famous Sushi Stacks).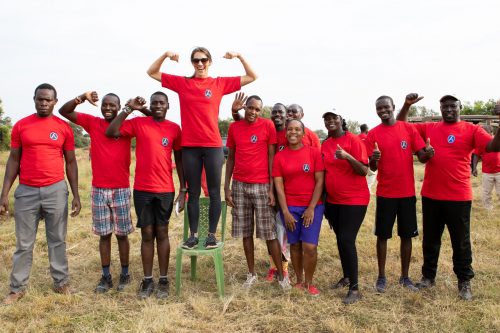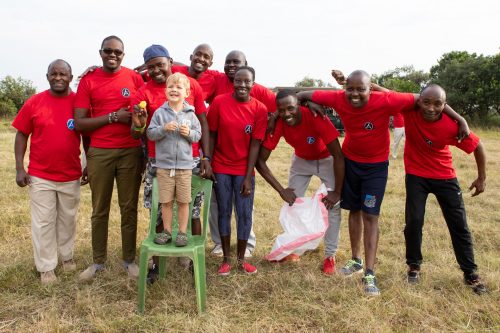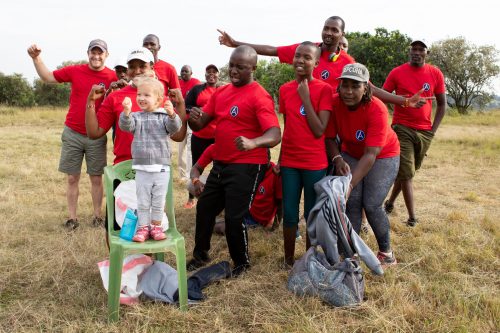 As always, these lodge-wide team-building events were a joyous riot, but the highlight of the afternoon, by far, was the coordinated military parade-style send-off from our Security Department.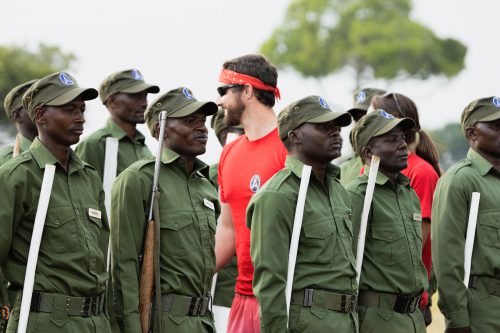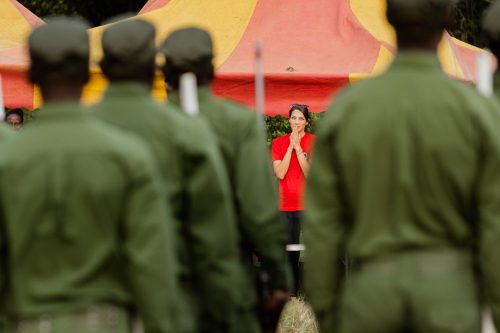 This was one of the most unexpectedly moving things we've experienced in our time here. Dressed in their fatigues with fancy new Angama-branded caps, they came out of nowhere marching in lockstep, following the commands of former Presidential Guard and current Angama Head of Security, John Wayongo. The choreographed parade then culminated in the best rendition of Jerusalema we've seen. It was just so, so good. Our hearts swelled.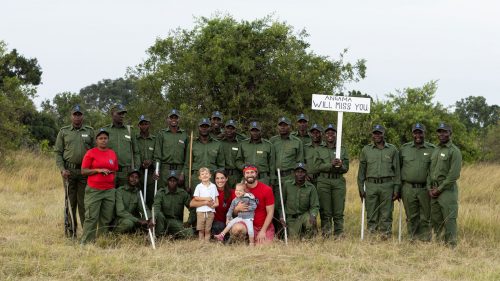 The party then moved to the garage, where the vehicles had been replaced by our canteen tables and a nyama choma* was awaiting us all, with the non-traditional surprise additions of pizza and burgers for us Americans. The team truly thought of everything.
The surprises kept coming as each department made a toast and presented us with a gift. The thoughtfulness and sincerity that went into each, from a painted family portrait from the Repair and Maintenance team, to beaded jewelry for Perrin and Lulu to wear on their respective wedding days from the Maasai Mamas in the Safari Shop, was touching beyond words.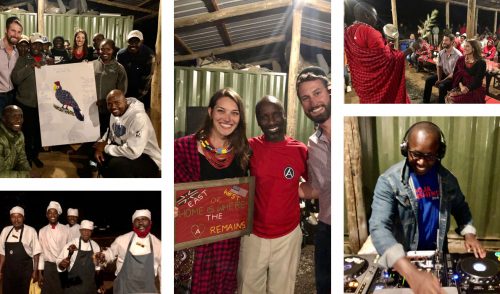 Shan and I couldn't keep the grins off our faces, to the point that our faces began to hurt, and we kept looking at each other in awe and appreciation: what in the world had we done to deserve this?
When the opportunity came for our turn at the mic, we were speechless. We simply could not find the words to express our gratitude for the amount of love and support we felt from our Angama family.
How, in the moment, we wished we could channel Steve Fitzgerald, who had the most uncanny natural gift for knowing the right thing to say with the perfect balance of humor and sincerity.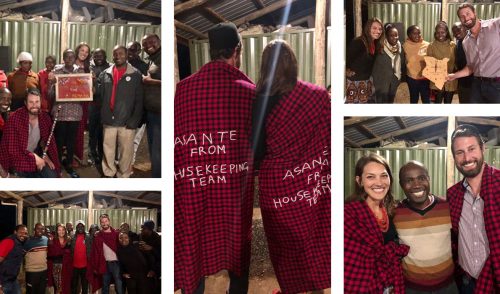 Shan and I feel that way still, even as we write this, unable to find the words that could ever convey how thankful and full of love we are for the Angama family, starting of course with Steve and Nicky for taking the world's biggest flyer on us and treating us as family from day one, and extending to each and every one of our Angama brothers and sisters who became part of our cherished family.
And so all we can say is thank you. We are forever grateful and will carry each in every one of you in our hearts for the rest of our lives.
Thank you, thank you, an infinite number of times . . . thank you.
Nyama choma is traditional Kenyan barbecue, typically goat meat. Next time you visit us, ask our chefs to prepare some for you at BBQ.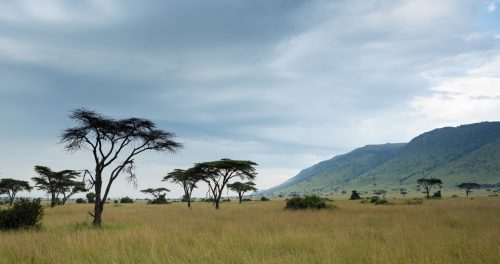 Angama Safari Camp
Deep in the south-western area of the Mara Triangle lies Angama Safari Camp, a sole-is tented camp accommodating eight guests in four lovely tents, positioned in the perfect area for witnessing the mega herds of the migration as well as abundant resident wildlife.
MORE ABOUT THIS MOBILE CAMP