Cooking up an Indian Storm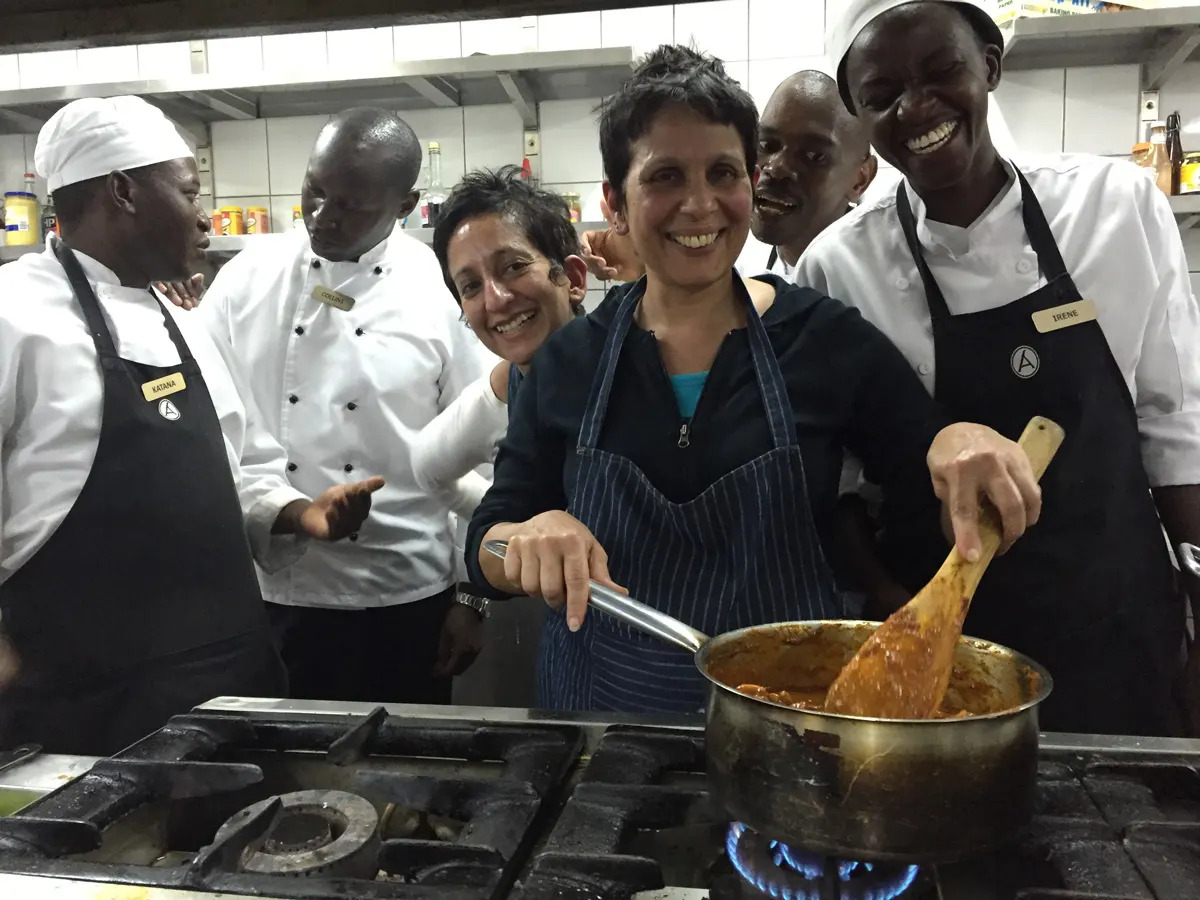 Potato Curry, Kuku Paka … these were the order of the day at Angama Mara during the last week in April. The lodge's sparkling, sterile kitchens were a hive of activity – chopping, baking, whisking, basting, frying and best of all, tasting.

My sister and I were at Angama Mara to teach their chefs the proper way to cook Indian food courtesy of our gracious host, Nicky Fitzgerald. Do we own a restaurant in Nairobi or entertain cooking for 60 people at a go? Neither. We are actually tour operators who just love food. So how did this invitation to teach Angama's chefs come about? Fate played a very big hand here, and it really is true that you need to be in the right place at the right time for things to happen.
In March, my sister Fareen was on the flight back from Serian Camp in the Mara, and Nicky happened to be a co-passenger. She heard my sister saying she was a tour operator, and as my sister was talking about the different camps and lodges, Nicky was all ears. As they flew over Angama Mara, they began to talk about the lodge, introductions were made and my sister discovered that Nicky was one of the owners. That short 45 minute flight was the start of it all.
Enter Kate (Nicky's daughter) and myself – we were both at Wilson airport and after the introductions were done, Kate began to talk to her mum about a recipe book they were compiling, using dishes they had recently been training at the lodge. My curiosity was piqued and on hearing about the project, I offered to help them with Indian dishes, if required.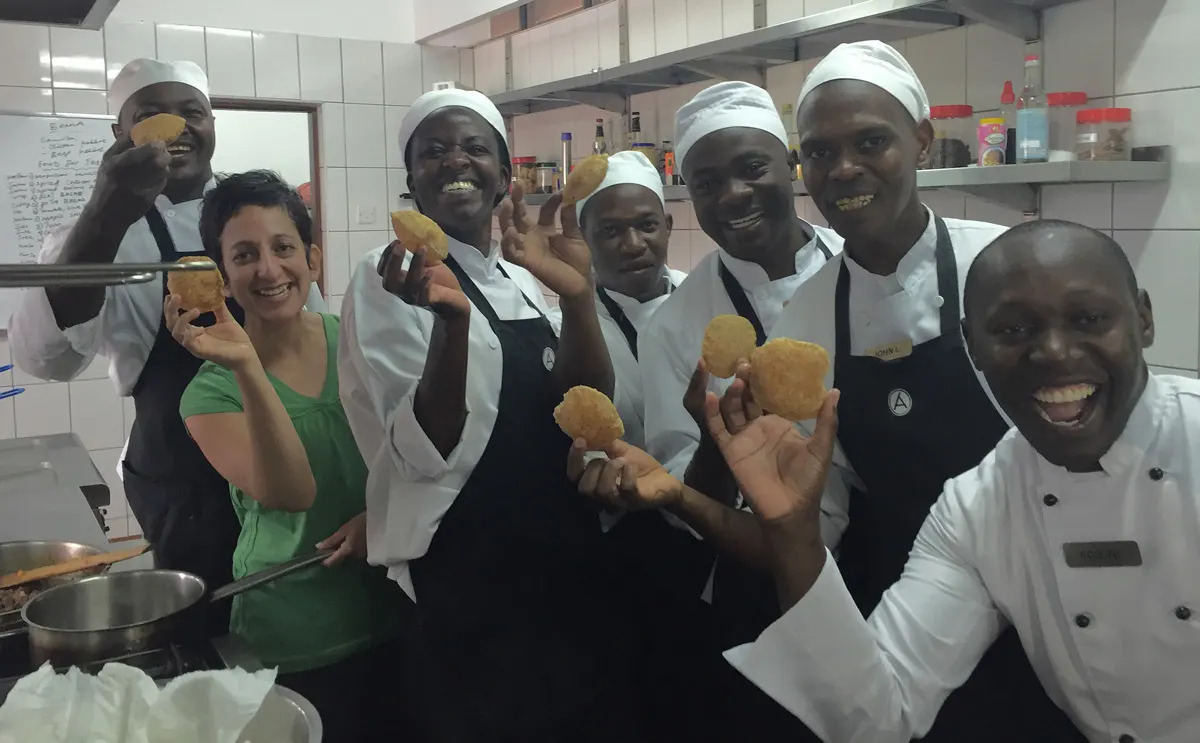 Nicky took us up on our offer, and we flew down to Angama Mara for a fantastic 2 night stay. I have never worked in a lodge kitchen before (always being on the other end, as a guest) and it was so much fun. Collins, the head chef, has a superbly talented team, and I soon had them chopping & peeling away rushing to do my bidding. Nicky was there, recording every step of the process, and finally, everyone got to taste the finished product. The management staff would pop in every now & again – I think the smells coming from the kitchen were so tantalizing that they couldn't resist it. We were treated like family, and we all sat down together for meals, and sampled the Indian dishes of the day. Even some lucky guests were treated to some of the delicacies and now Angama Mara has a genuine Indian breakfast special on the menu.

Of course, Nicky & Collins made sure we took some time out to enjoy game drives and a walk – Moses was our guide and Fred, the Maasai naturalist, were great and we had a memorable time. Angama Mara is truly special in that they have anticipated any need you may have, and taken care of it, and I have never felt so pampered at any other place in the Mara. Behind all of this, is the magnanimous spirit of Nicky Fitzgerald who truly wants her guests to be comfortable – even going as far as to get her chefs to learn Indian cooking for the benefit of her Indian guests.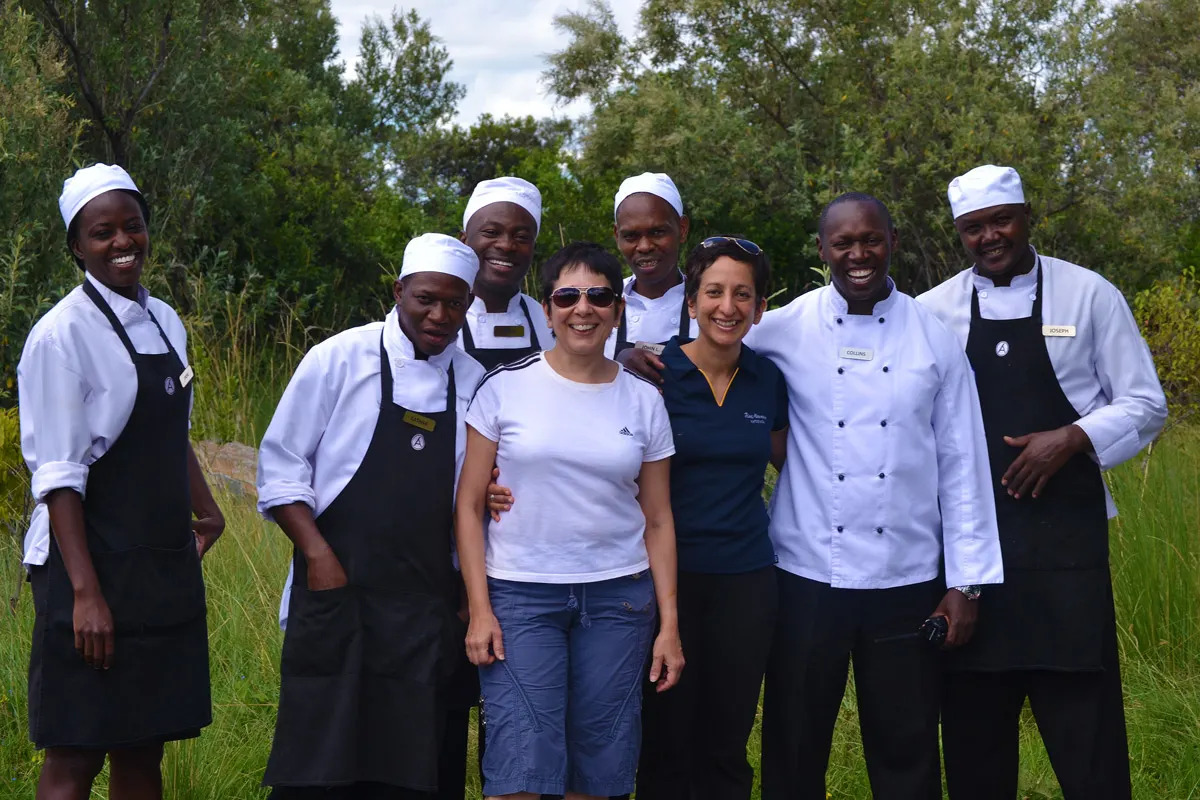 I will miss the cooks at Angama Mara, right from Joseph who handled all my preparations in advance, to Corry who picked up the techniques of naan, parathas and puris so quickly, to Irene who fries the best onions, Katana who used to finish all the food, not forgetting John who made a fantastic Indian omelette for breakfast on the last day. Collins, Shannon, Tyler and Nicky are like family now, and I for one, can't wait to go back to Angama Mara, hopefully with new recipes in tow.
Note from the Editor: Talk about an Indian cooking bootcamp! When we planned this 2 day workshop I thought Shaheen and Fareen Therani (known as the Indian Sisters at our lodge owing to the tongue-twisting nature of their names said at speed – you try it) would conduct a gentle couple of hours training each day. There was nothing gentle about ramming in 14 amazing dishes each one with at least 22 ingredients into 36 hours (including sleeping, eating, a game drive and a nature walk). The chefs and I staggered out of the kitchen on the sisters' departure. But oh my did they ever teach us a whole heap of deliciousness. Indian cooking at Angama Mara was raised to unimaginable levels of culinary delight.