Never has so tiny a creature given safari guests so much delight. We named him after Atticus Finch, the brave hero of one of our best loved novels, To Kill a Mockingbird. And anyway, it fits so well with agama, don't you agree? Mike's lovely words and Adam's delightful images and video (not to be missed under any circumstances) will bring joy to your day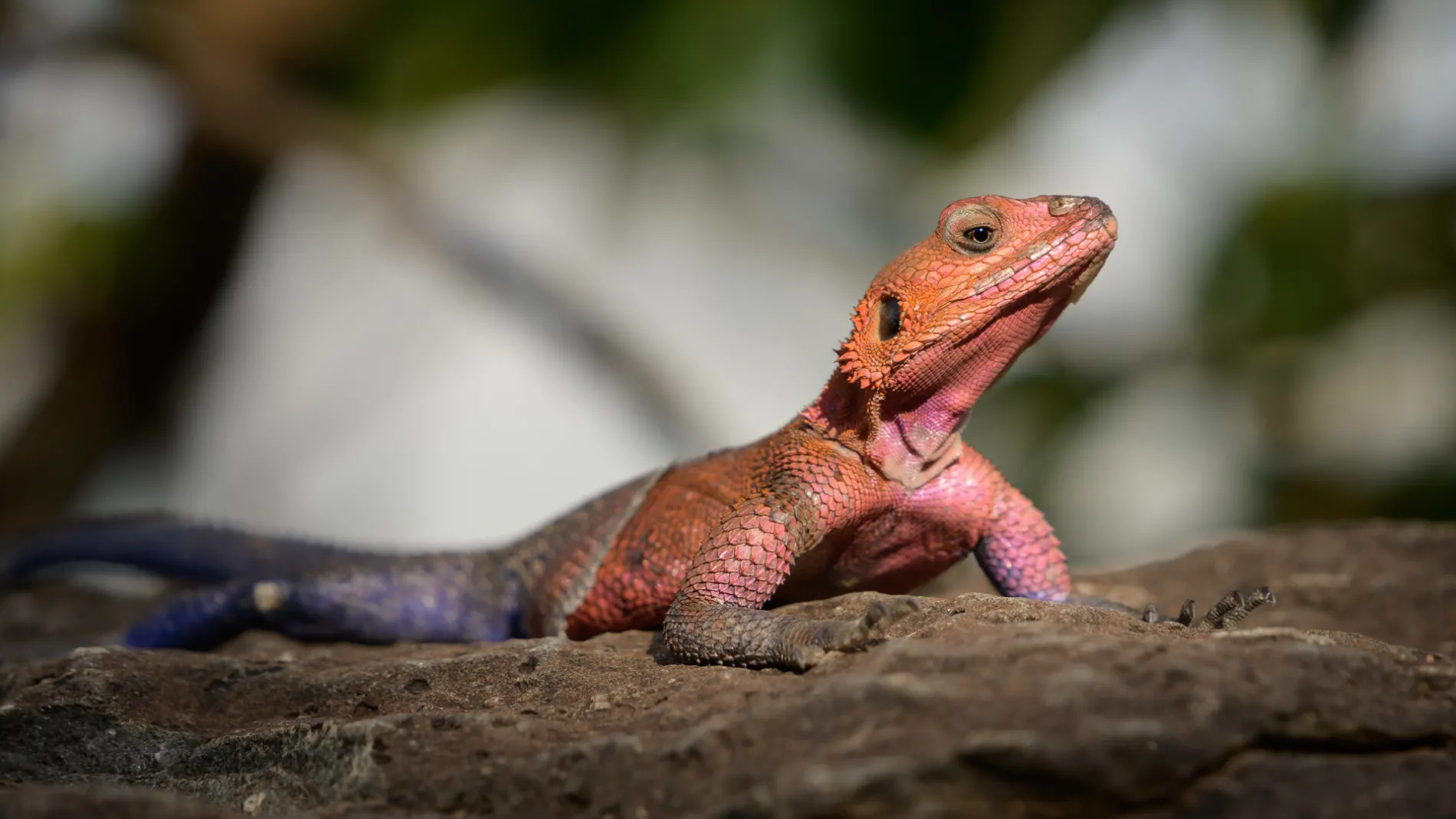 It's a hot, quiet afternoon on the decks of Angama Mara. If you were to gaze out over the plains, you might see buffalo lazily wallowing in their mud baths, lions asleep under a balanites tree and elephants moving quietly through the forest below. All seems quiet and still … But, wait! What's that in the corner of your eye? A glint of blue and red? You look again, and all you see is a tail disappearing around the edge of a rock, or over the deck. Or you might look directly down. It is very possible that there, staring hopefully up at your Best Burger in the Mara, is Atticus, Angama's Agama. Anyone who has frequented the decks of Angama Mara's North Camp knows Atticus. The biggest and bravest of all agamas at Angama. Even quite possibly the Maasai Mara. Kenya? The world?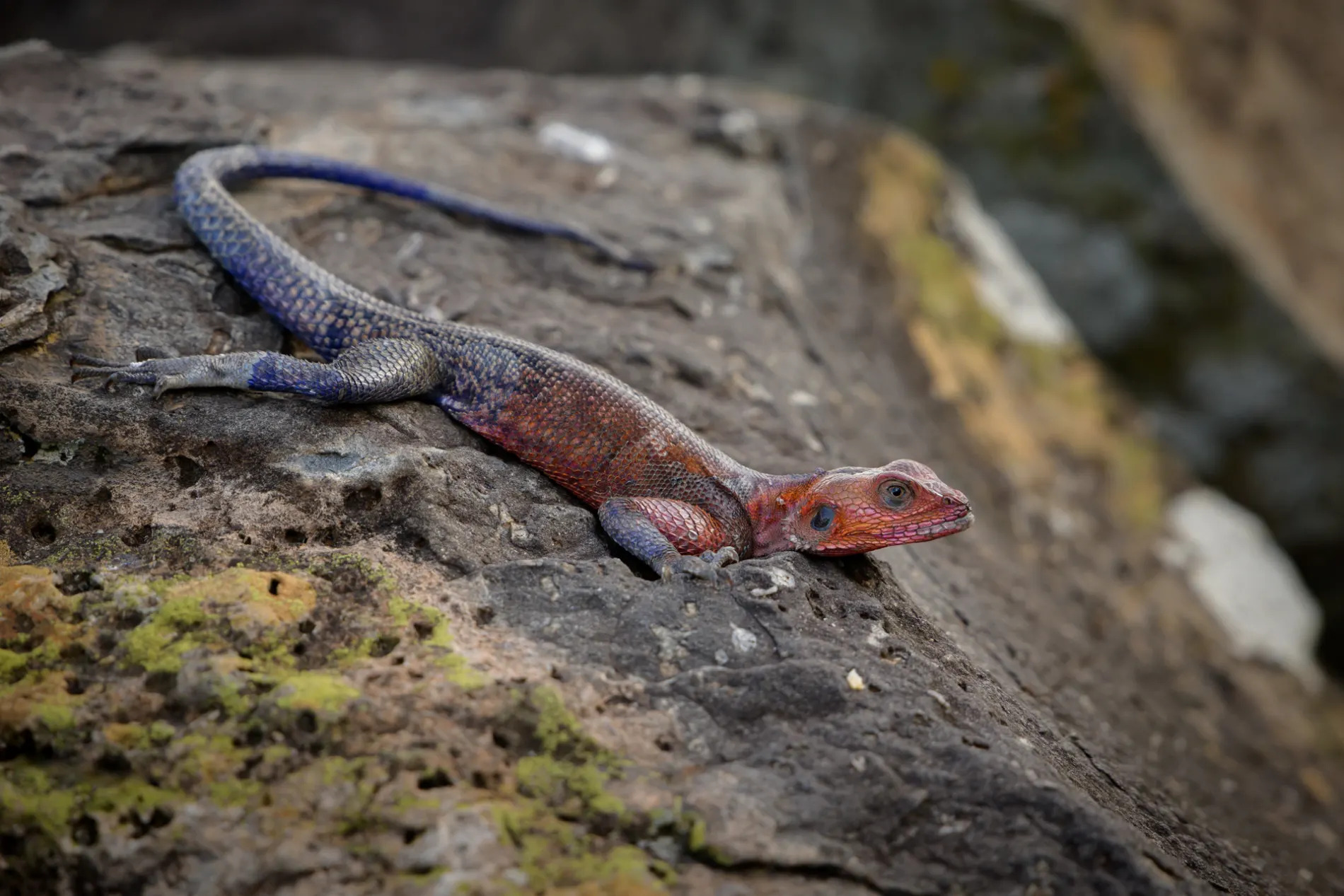 Now, you surely must have noticed the striking similarities between the lodge and this handsome fellow: the agama lizard shares the same bright red and royal blue of Angama's branding and so very nearly the same name as Angama, making our decks an apt home. Atticus, actually, had nothing to do with the naming and the colours of Angama Mara. But that's not to say he doesn't have a role at the lodge, as he entertains children with his customary bobbing of his head, steals crumbs from the floor and dances across the decks, leaping – or flying – across gaps and up trees.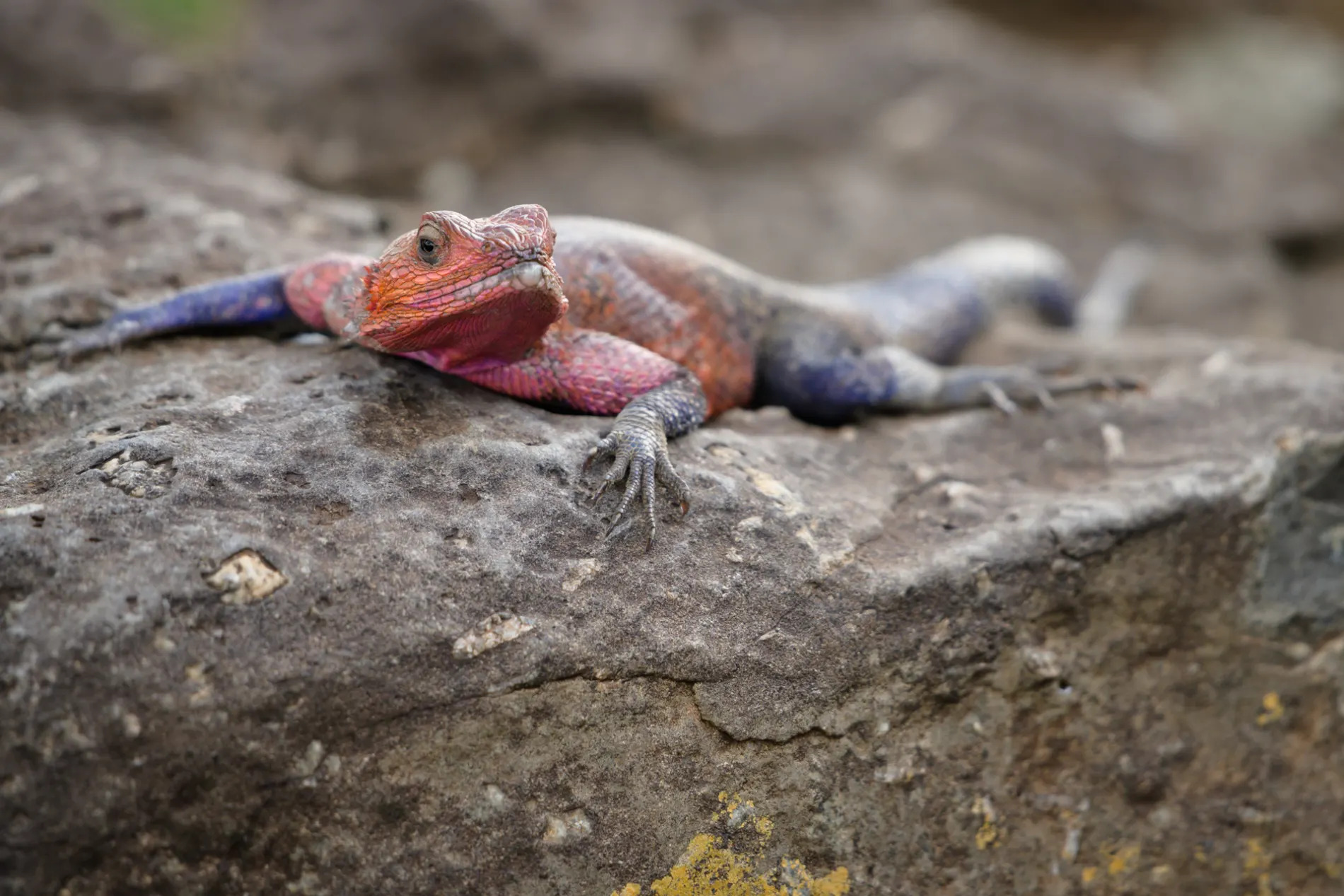 Atticus was born high up the rocks of the Oloololo escarpment. Hatching with his brothers and sisters, at birth he was a healthy 3.8cms in length, and his mother always knew he was different. As it turned out, she was right. His mother dug a hole, and there laid her eggs. Afterwards, she covered it with grass, to allow the warmth of the sun, but also for the hidden protection of her precious eggs. Atticus emerged an independent and bold agama. He carved out his territory at the most sought-after spot on the whole escarpment – a rock-filled corner that offered the very best views across the Maasai Mara, and, some say, the best views in Africa. It wasn't easy, and Atticus had to survive the elements, fight off competitors and dodge the many raptors that cruise by all day, but he maintained his ground.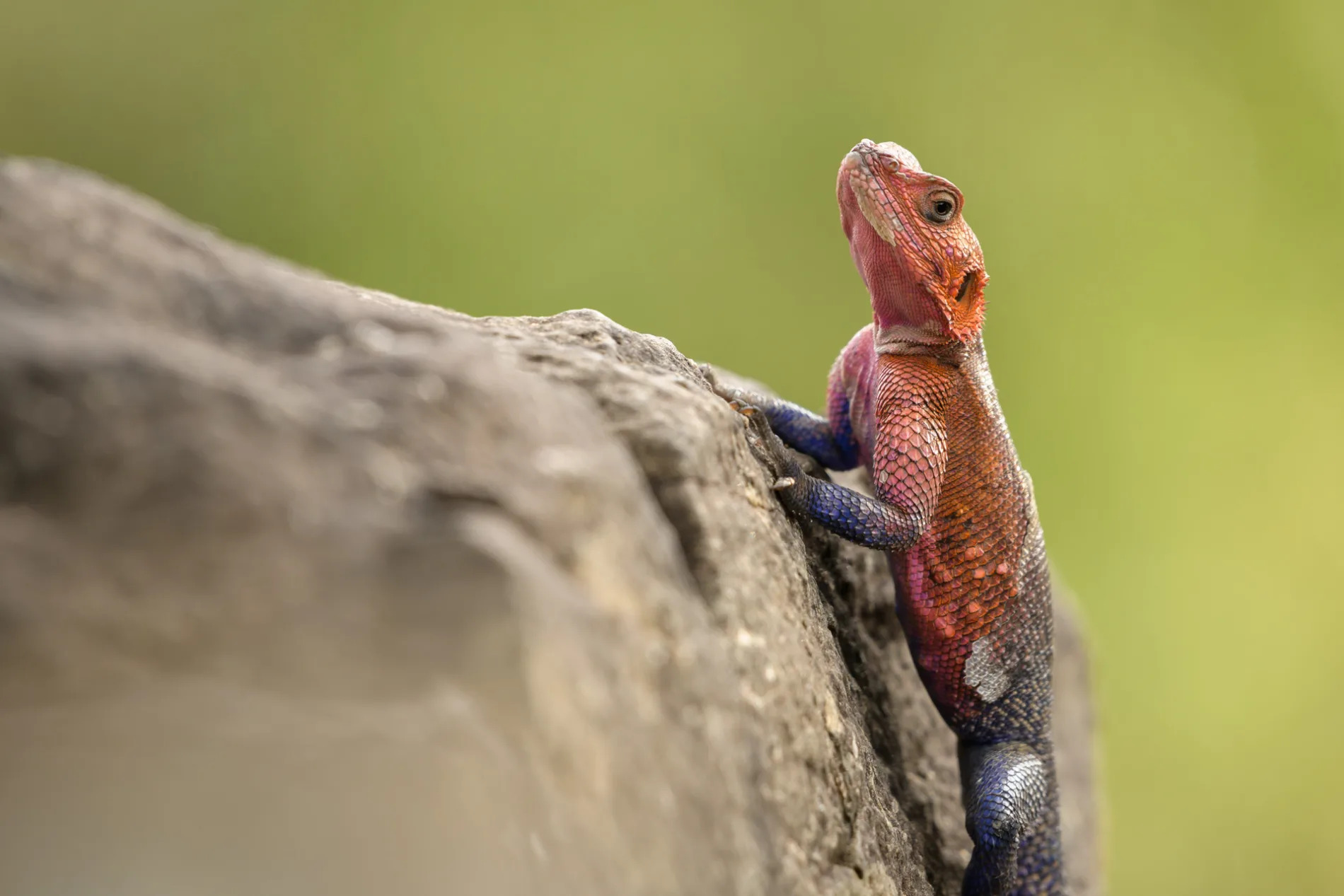 The most challenging time for Atticus, however, was when the builders came. Male agamas do not easily give up their territory, so you can only imagine how he felt when holes were dug, decks were raised and Angama Mara came into existence. But Atticus, as his mother predicted, was different. He saw what could be gained with beautiful, open decks that provided an even better view of the land, and, very importantly, the endless opportunity for grazing. So, he simply claimed North Camp as his own.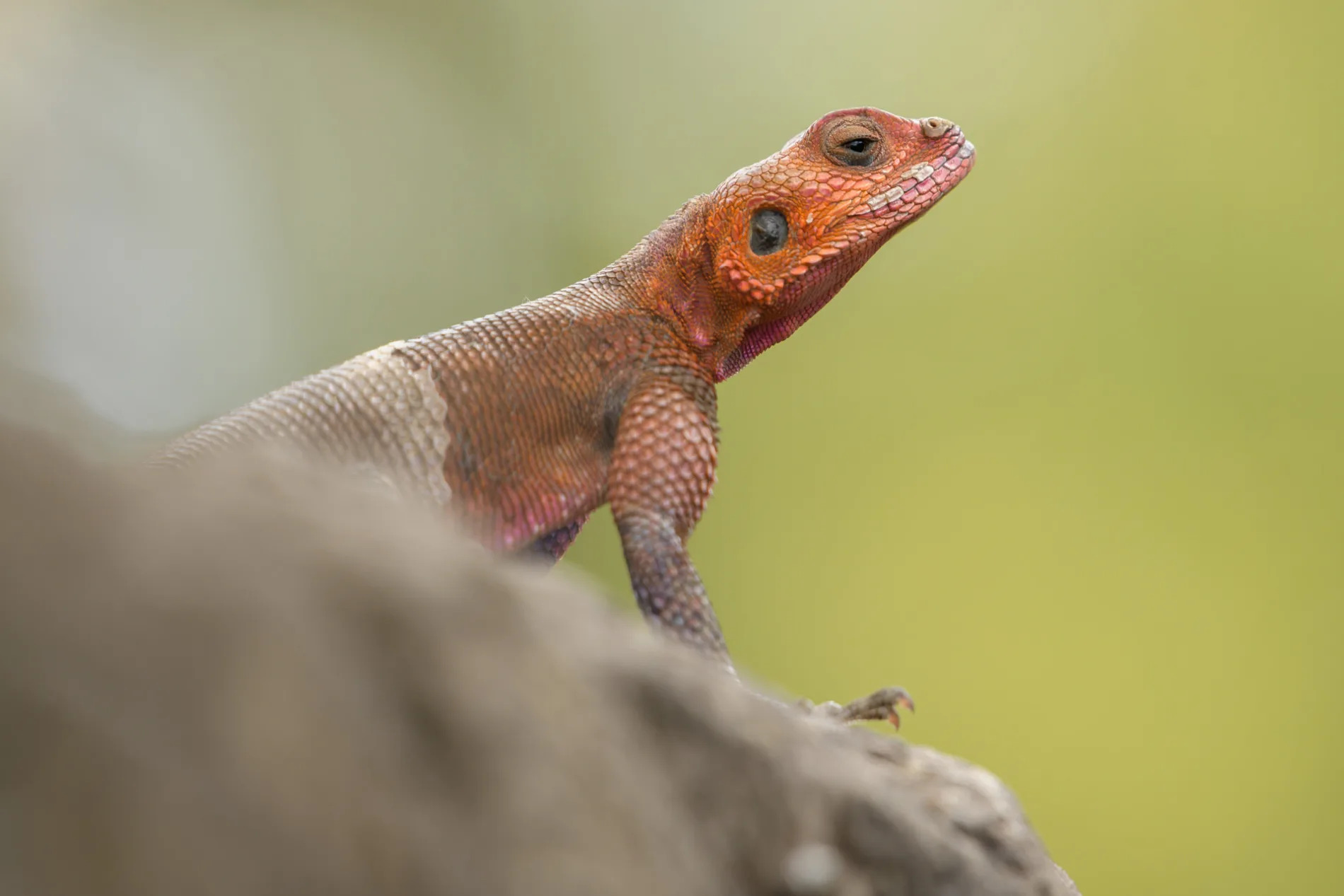 Whether Atticus knows it or not, he is part of the family. He is still the most fearless and free-willed of all agamas. He is unafraid to approach tables for lizard bitings (snacks) and delights the guests as he dashes, glides and skips weightlessly across the decks.
Images and video courtesy of Adam Bannister
Note from the Editor:
We never name animals around the lodge but please forgive us this one time.