The rains have come and there is a freshness to the air. My objective this week was to try and showcase that explosive energy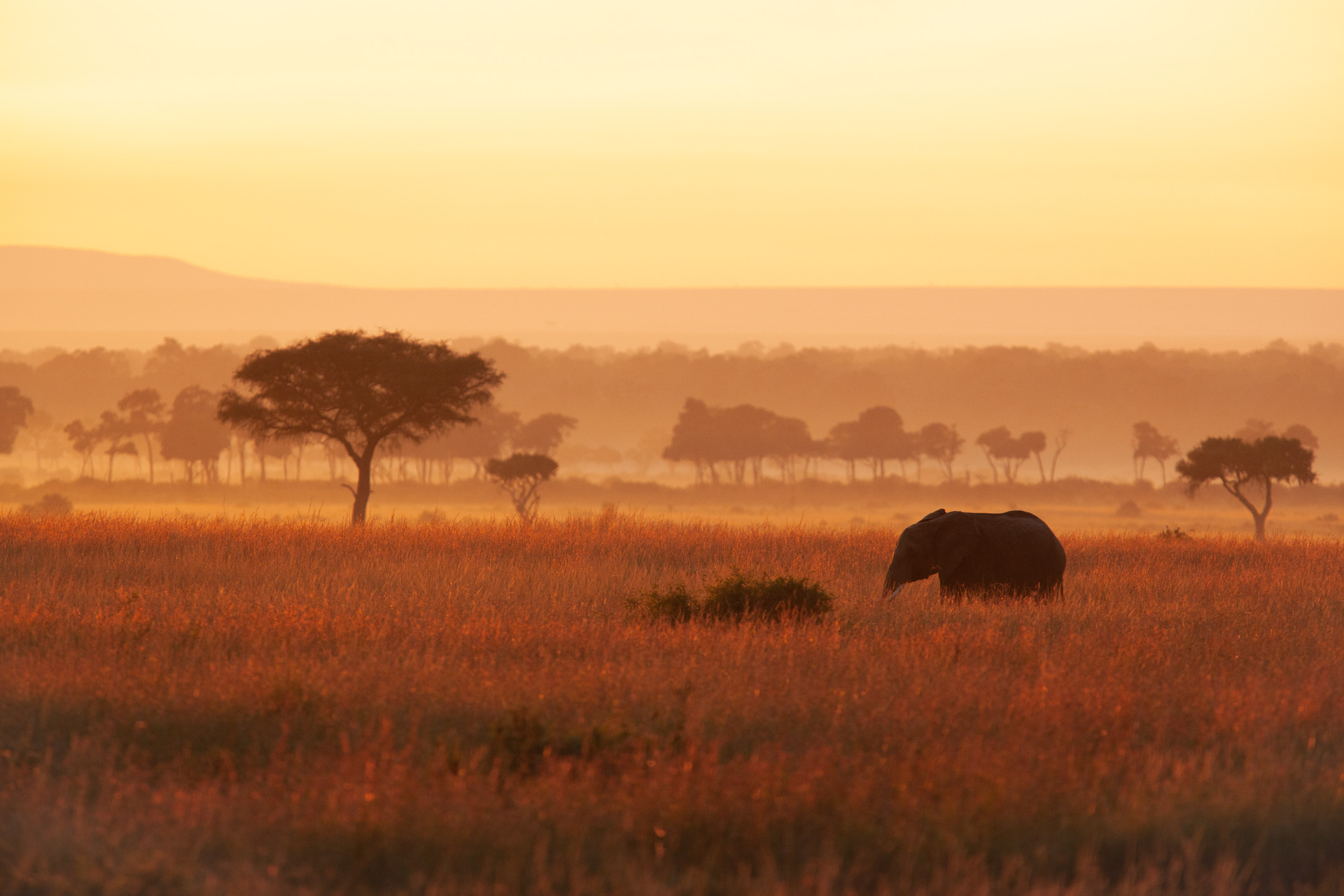 The early hours of the morning see a blanket of gold cast over the grasslands. Elephants dotted throughout the landscape create a real sense of tranquility. [f 5.0, 1/640, ISO 1000]
After weeks of no, or very little rain, the heavens at last decided to treat the grasslands of the Maasai Mara with much needed blessings. A combination of late afternoon electric storms and gentle overnight drizzle has once again restored order to Africa's greatest reserve and overnight, a buzz of energy has begun to pulsate throughout the land.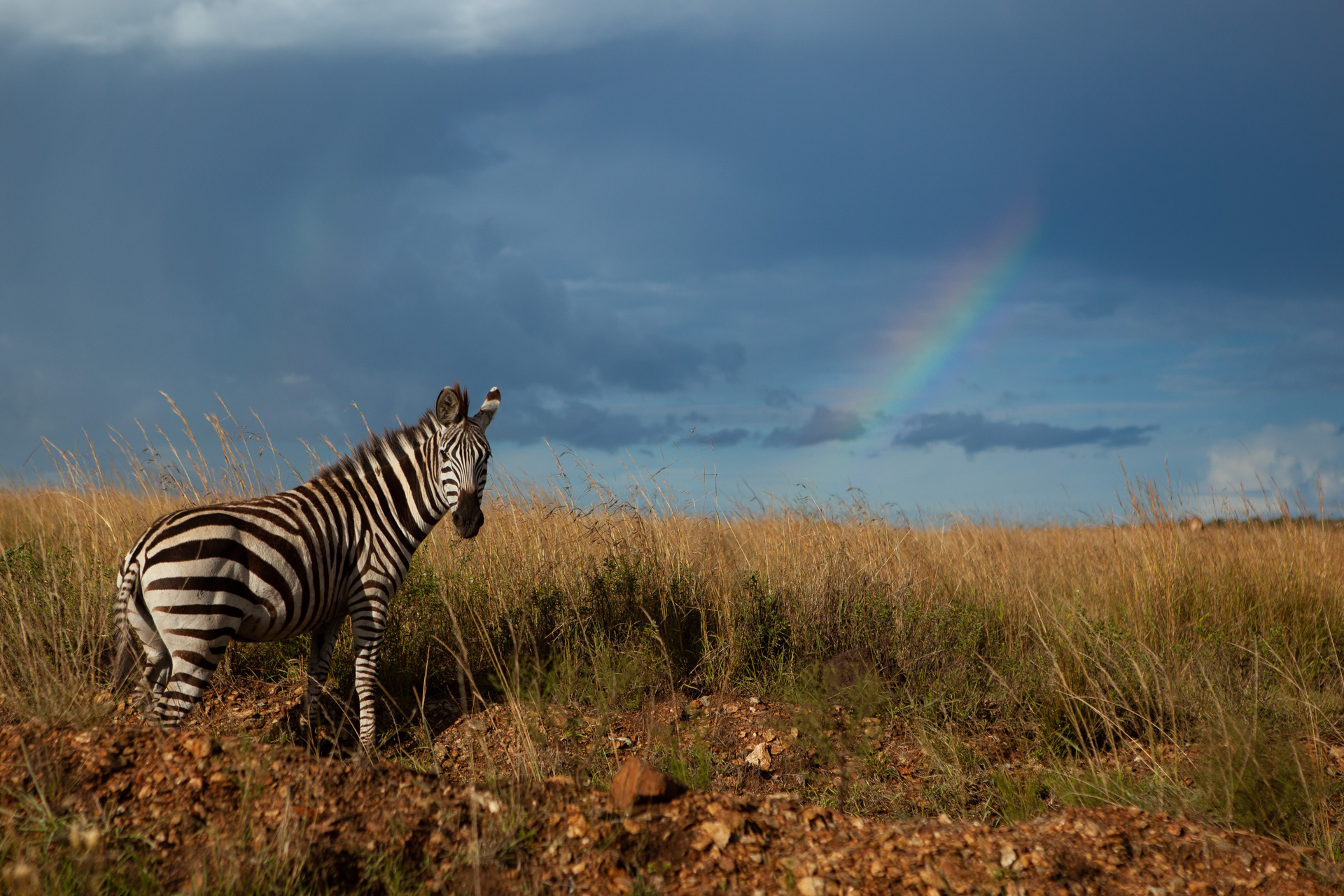 Over the last few days, the skies have been simply sensational. Clouds of all sizes, every hue of blue and more rainbows than I could count. [f 4.0, 1/2000, ISO 250, -0.33]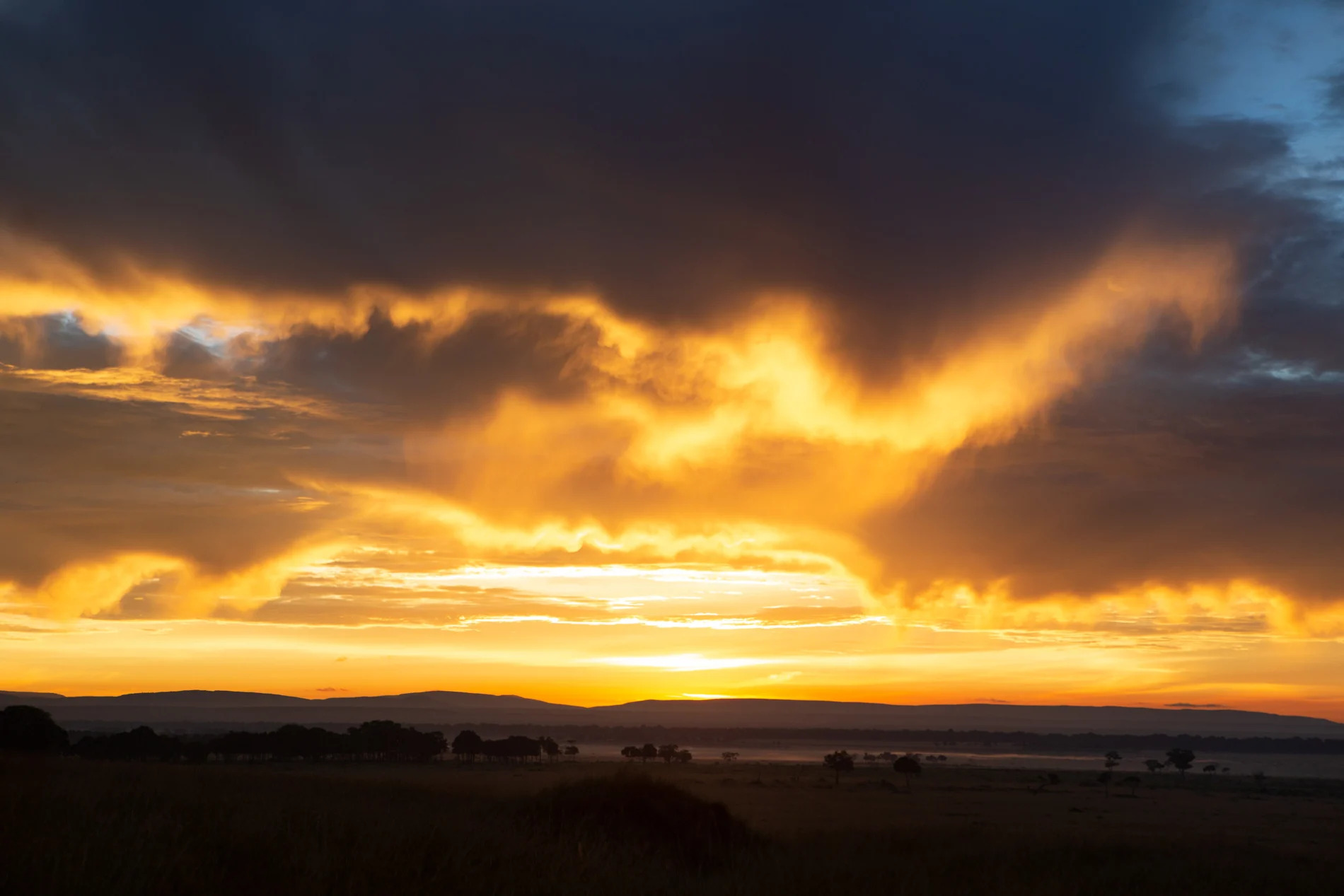 The sunrises have been breathtaking, more so than usual – if that is even possible. [f 5.6, 1/200, ISO 500, +1.33]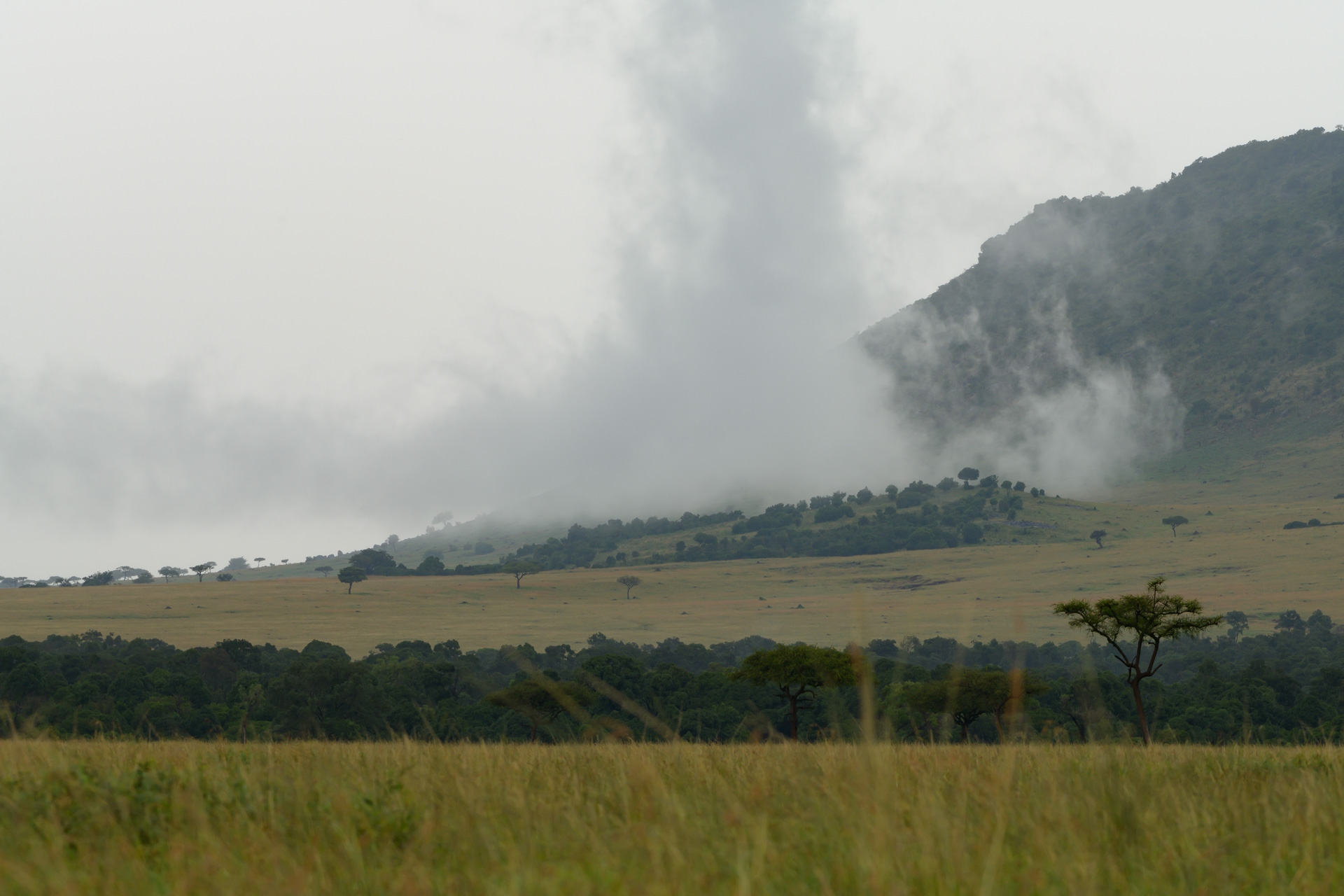 And when the mornings have been overcast, the skies are heavy with drama. This really is the photographer's secret season. The Mara is empty of vehicles, yet full of opportunity. [f 9.0, 1/50, ISO 400, +0.67]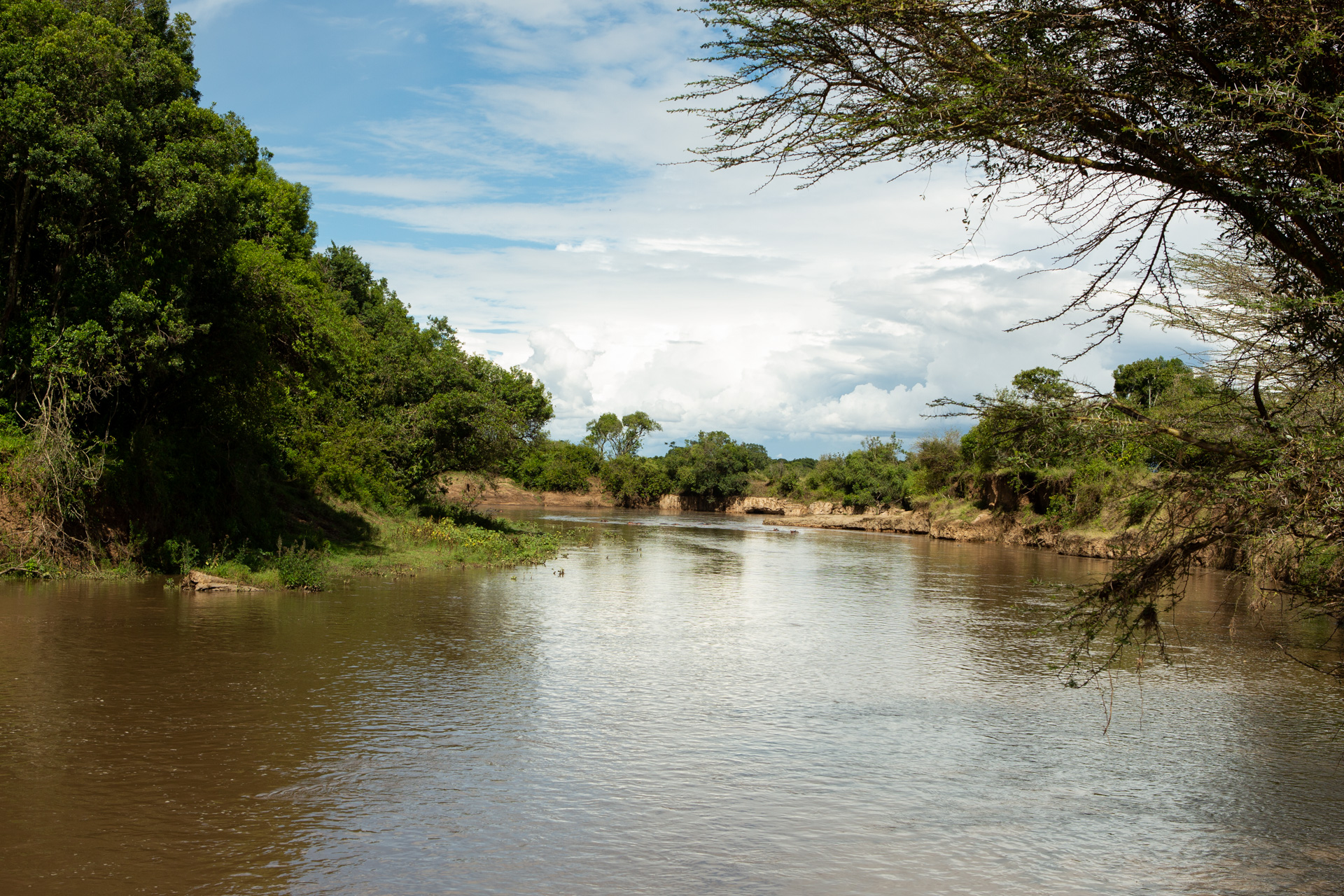 The rains across much of Kenya have brought smiles to everyone. The Mara River is flowing with life-giving water and the animals seem to be strutting around with renewed energy. [f 8.0, 1/160, ISO 160, +1.33]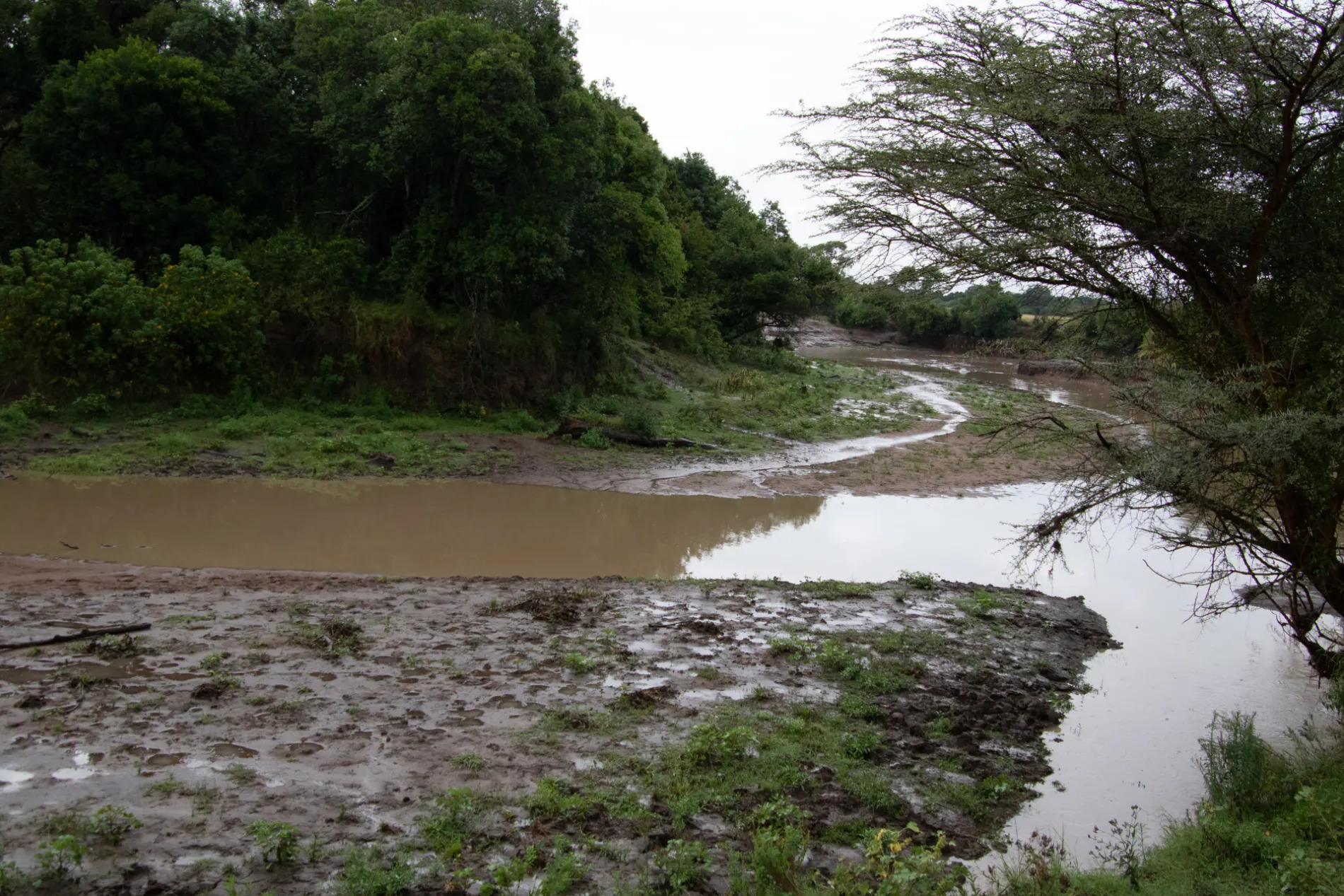 Amazing to think that just a few days prior and the Mara River was on the verge of running dry. These two photographs were taken six days apart at the exact same location at Hippo Pools. [f 8.0, 1/250, ISO 500]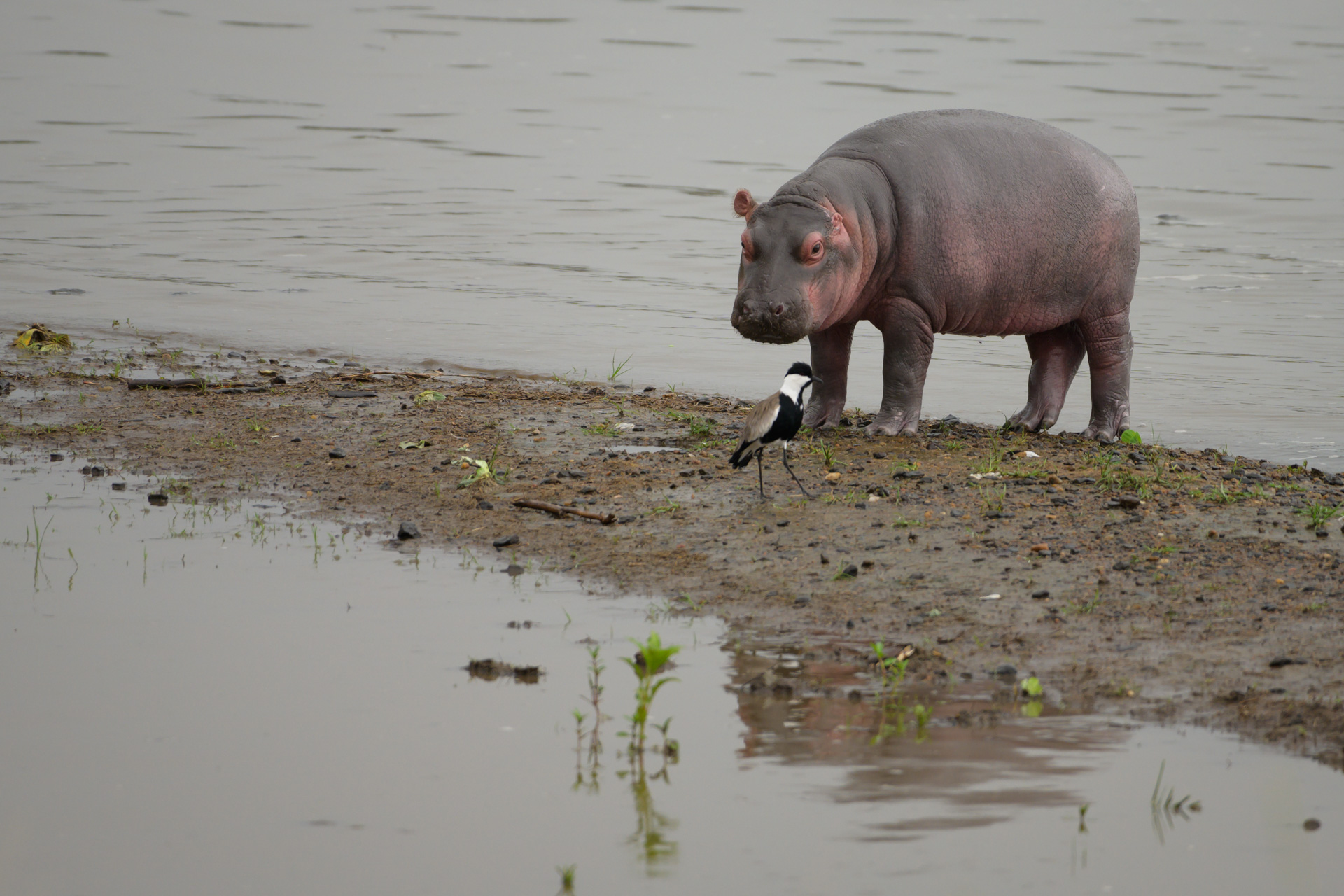 Without a doubt, one of the smallest and cutest baby hippos I have ever seen. This little fellow had a rather humorous moment with a spur-winged lapwing. He was inquisitive about the little bird, but ever so cautious to approach the noisy lapwing. [f 5.6, 1/400, ISO 640]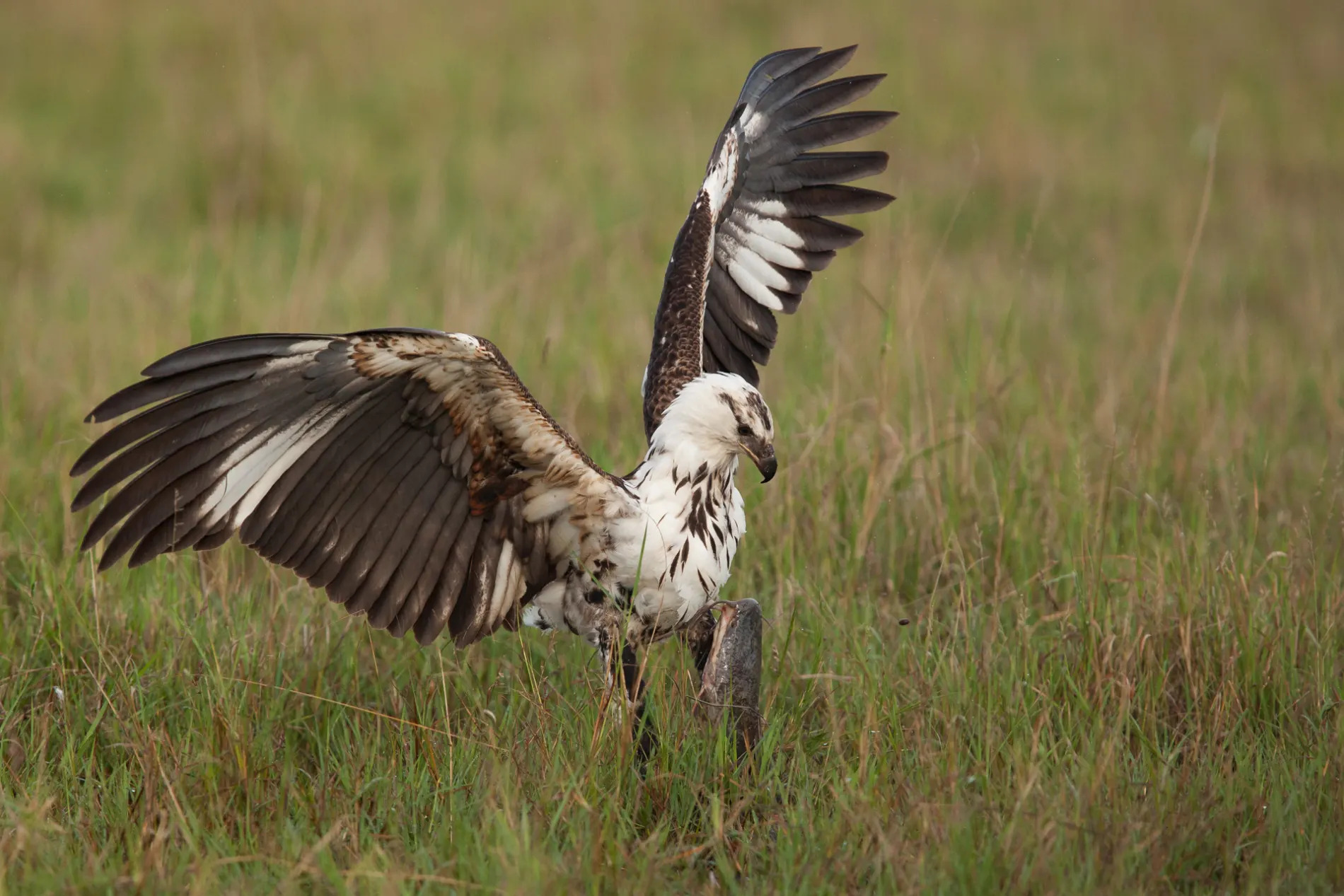 The flooded drainage lines have meant that catfish have moved out into the grasslands. When the water recedes ever so slightly, it leaves these adventurous fish stranded. Easy pickings for a young African fish eagle still learning his trade. [f 4.5, 1/2000, ISO 1000, -0.33]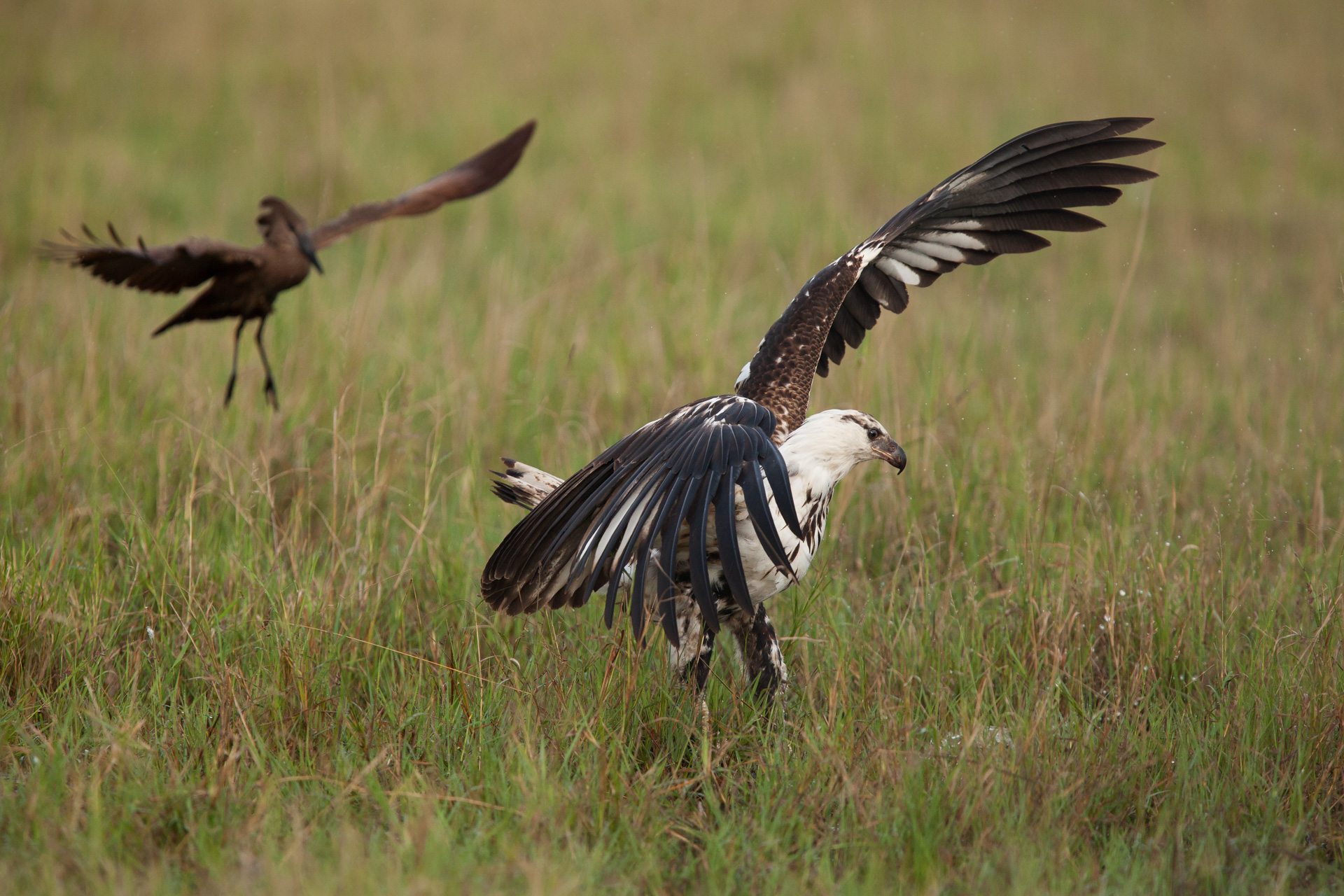 An inquisitive hamerkop couldn't resist coming in for a better look. [f 4.5, 1/2000, ISO 1000, -0.33]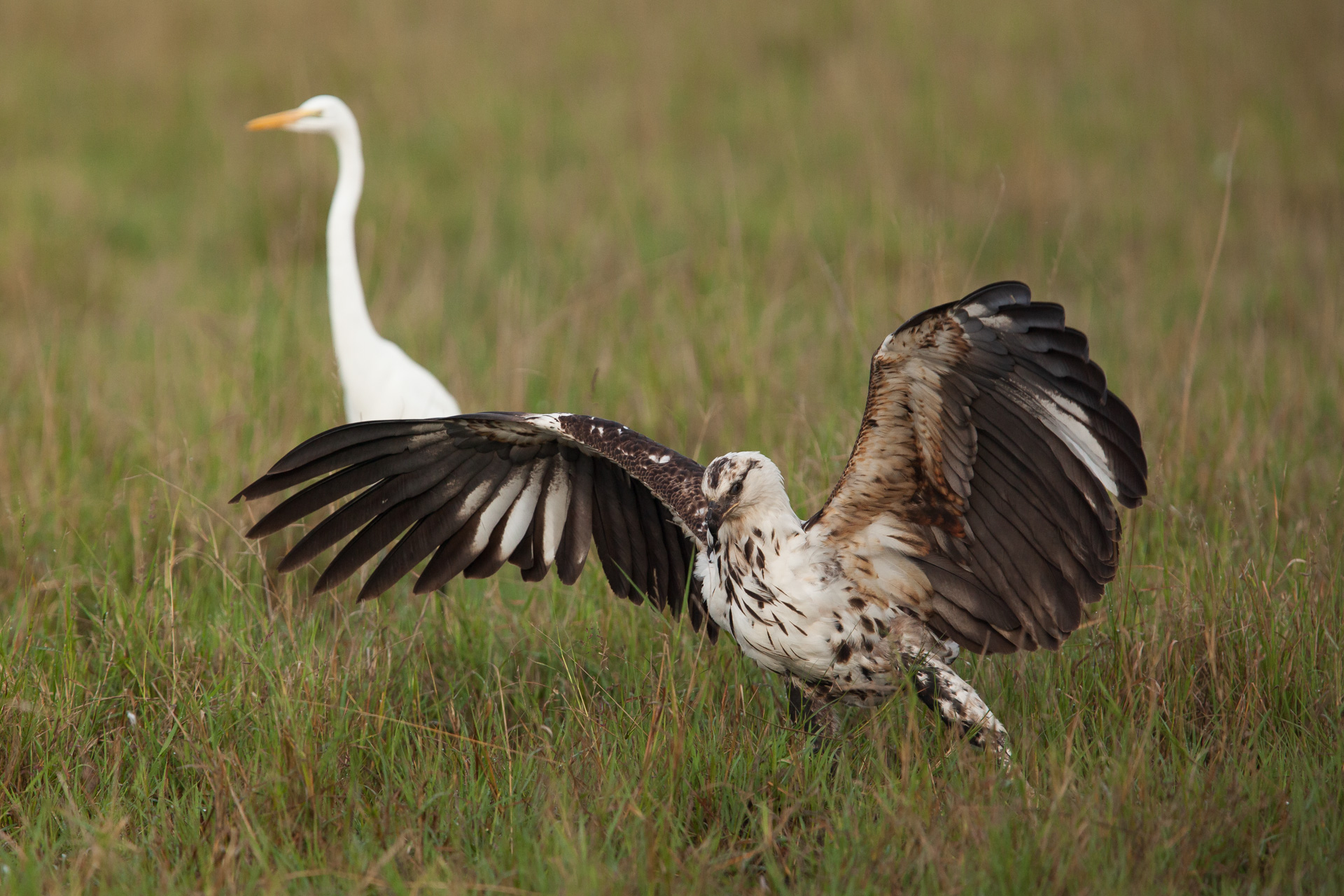 And neither could a great white egret. I just loved how the young fish eagle stretched out his wings to look bigger and to protect his prize. [f 4.5, 1/2000, ISO 1000, -0.33]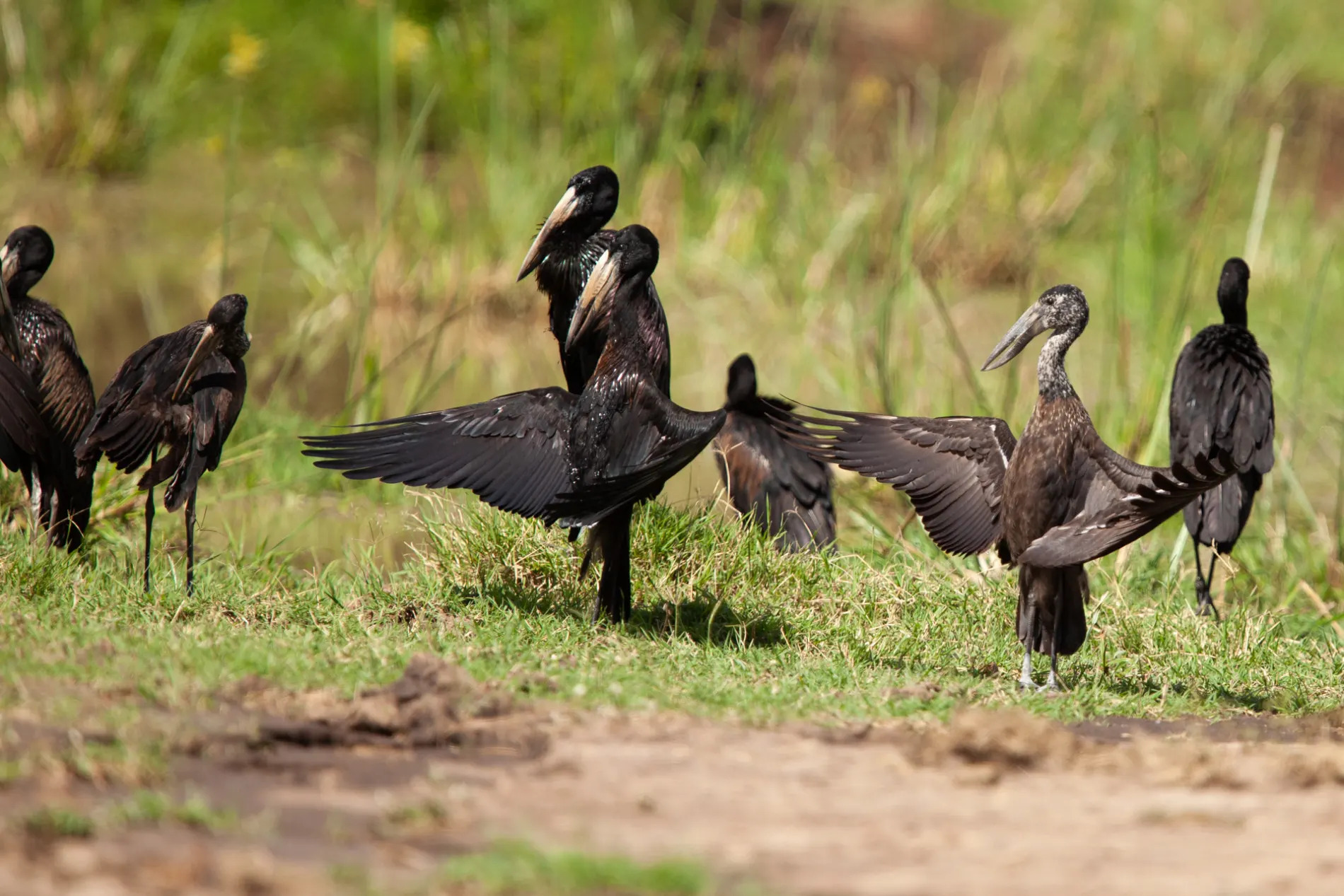 The rain really does bring a new lease on life to the birdlife in the Mara. In between short spurts of rain, the birds need to dry their feathers. Here a flock of open-billed storks open their wings facing the sun, almost in a meditation pose. [f 4.0, 1/2000, ISO 320, +0.33]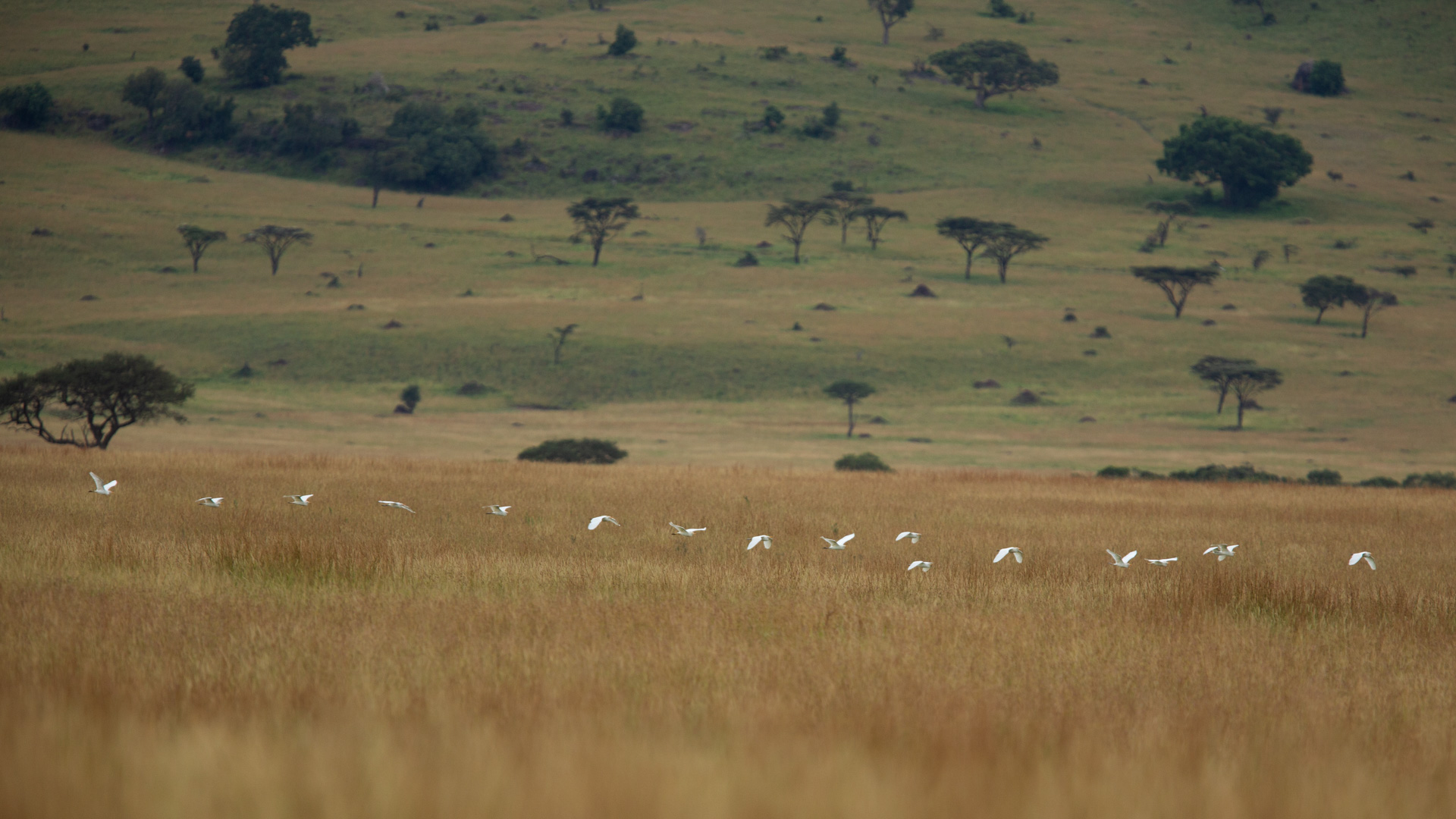 A flock of cattle egrets fly across the grasslands in the early morning. They go in search of the waterlogged puddles and drainage lines that are slowly drying up. A feast awaits. [f 4.0, 1/400, ISO 400, +0.33]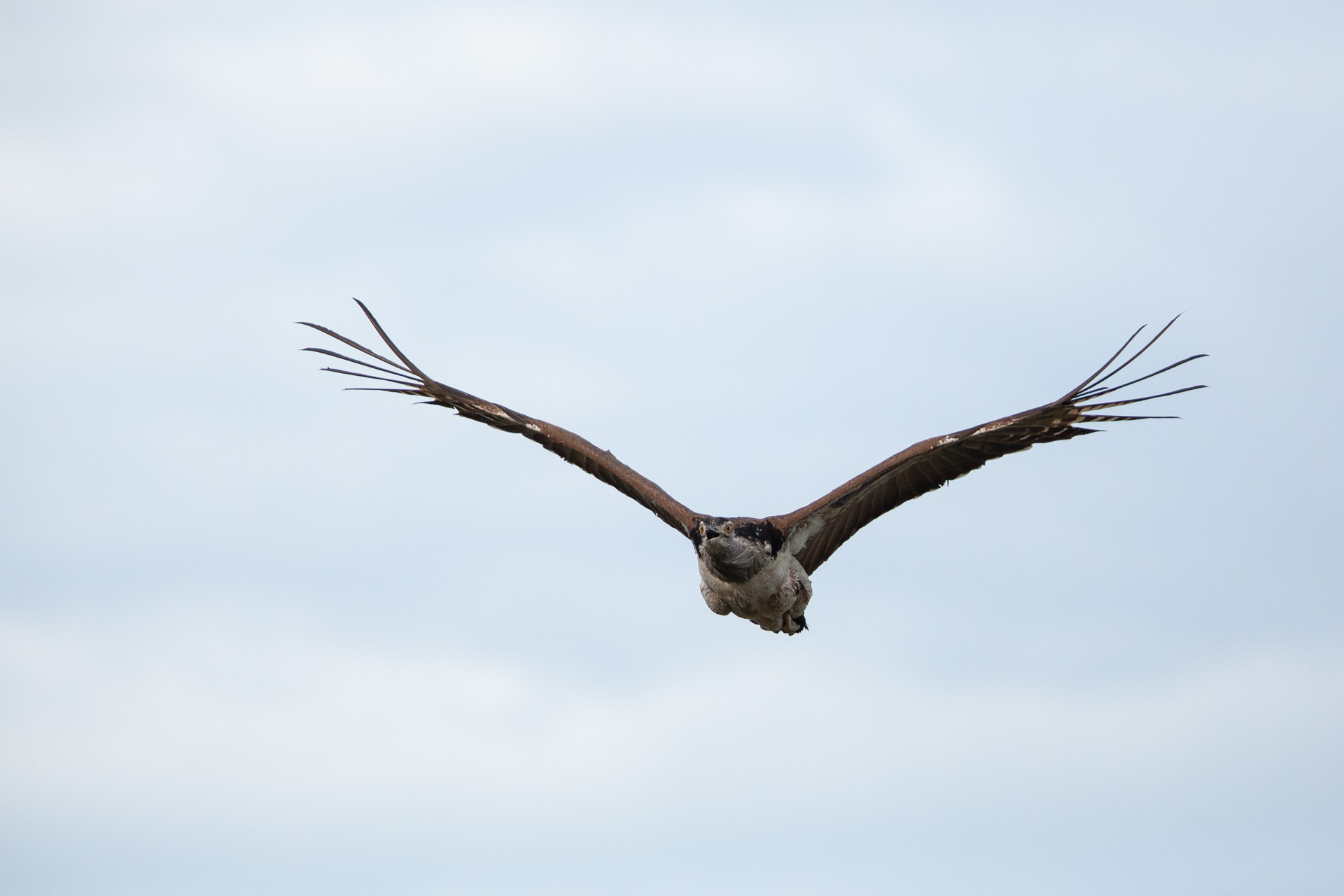 This, ladies and gentlemen, is the heaviest flying bird in the world, and I am delighted to say this is the first time I have ever photographed one in flight. Full marks if you identified it as a kori bustard. [f 4.0, 1/8000, ISO 1000, -0.33]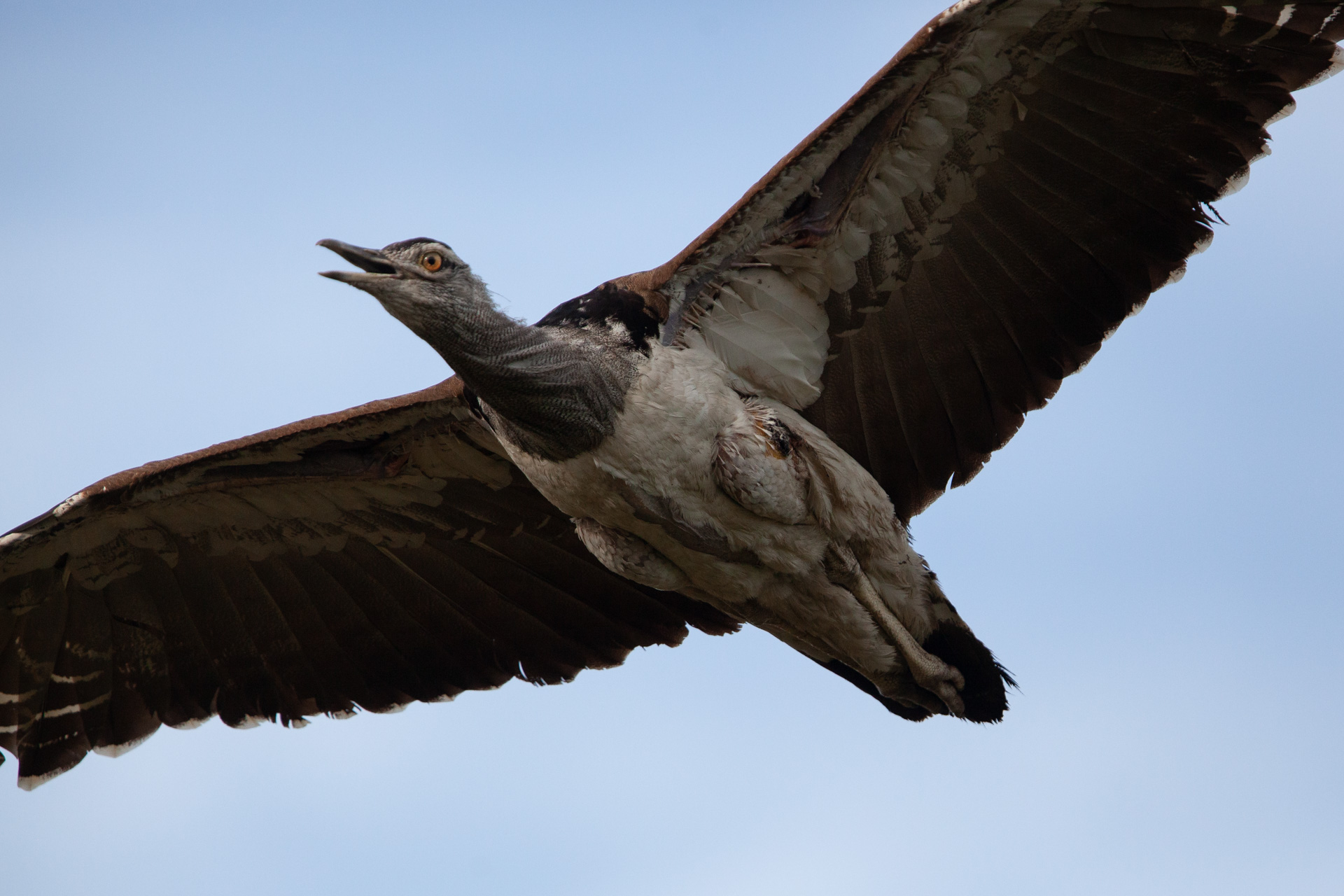 Look at the size of those thighs! [f 4.0, 1/8000, ISO 1000, -0.33]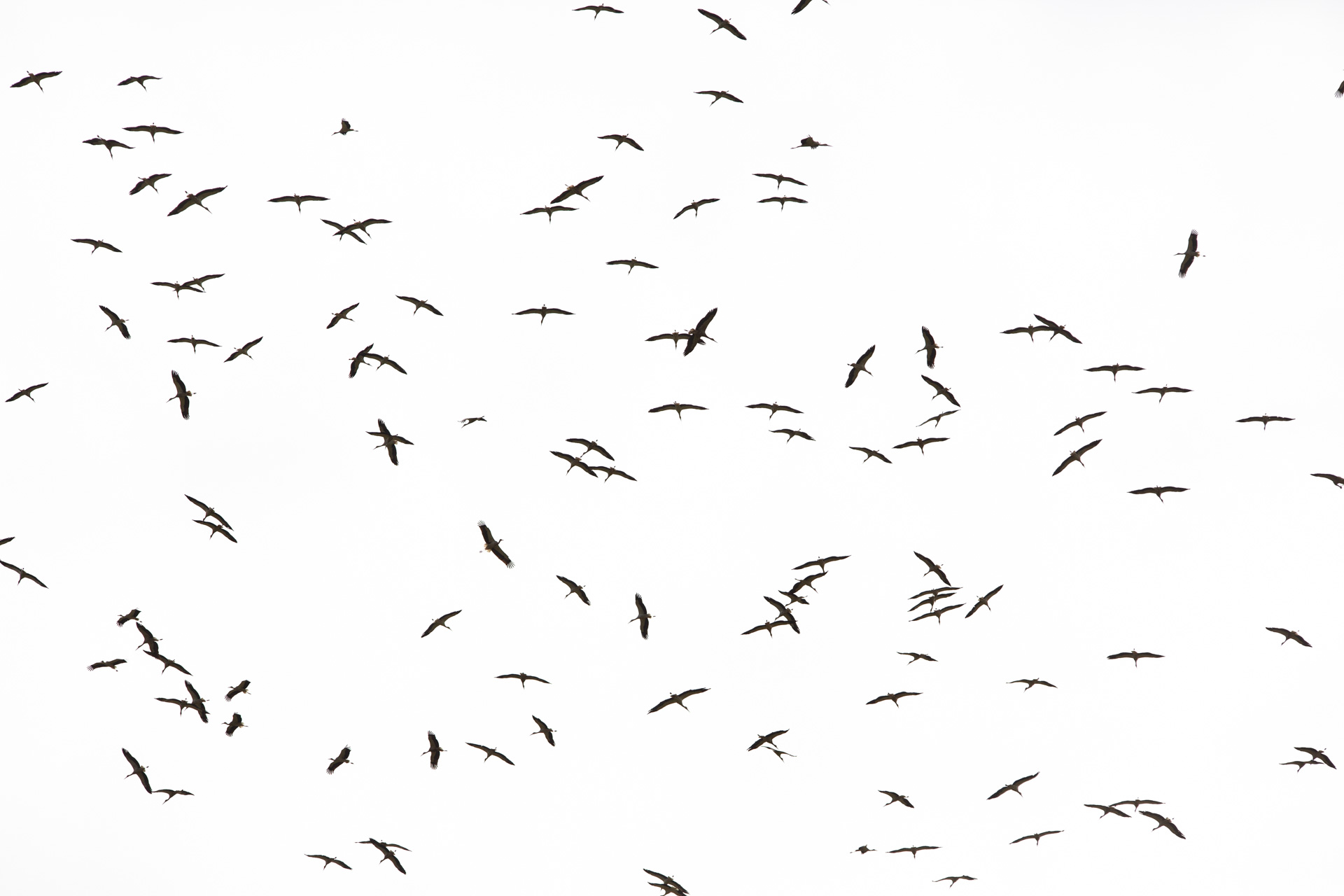 Arguably the sighting of the week for me was a flock of thousands of white storks circling overhead in the thermals. The sky was dotted with these migrating birds as they glided above the escarpment. We sat transfixed as they rode the thermals high and then soared downwards before catching another. [f 5.0, 1/8000, ISO 400, +0.67]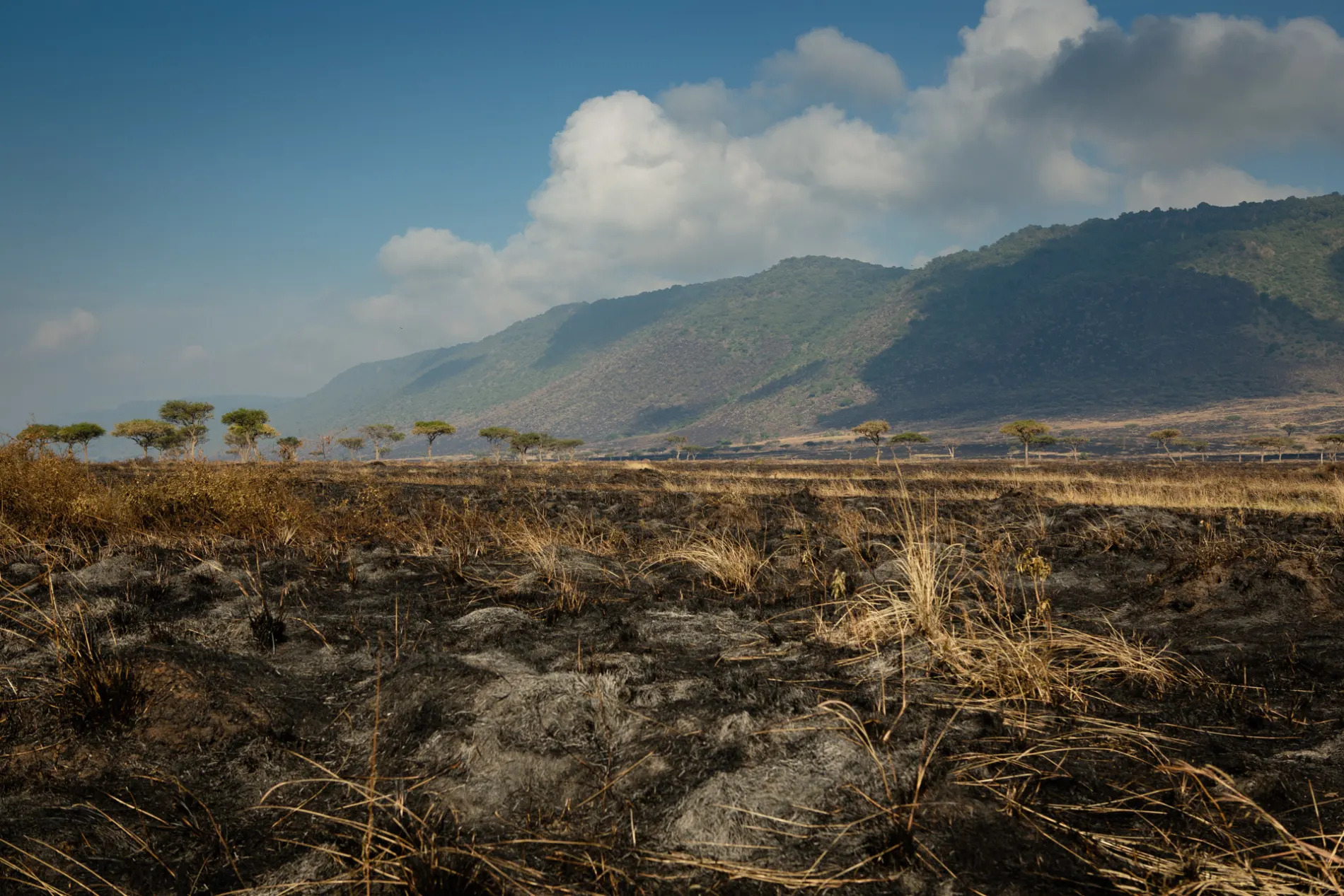 When we started this blog series 65 weeks ago, one of the main reasons was to allow us to document change in the environment and landscape. I took this photograph on the 29th of March, immediately after the large controlled fire conducted by the Mara Conservancy. [f 8.0, 1/320, ISO 400, +0.33]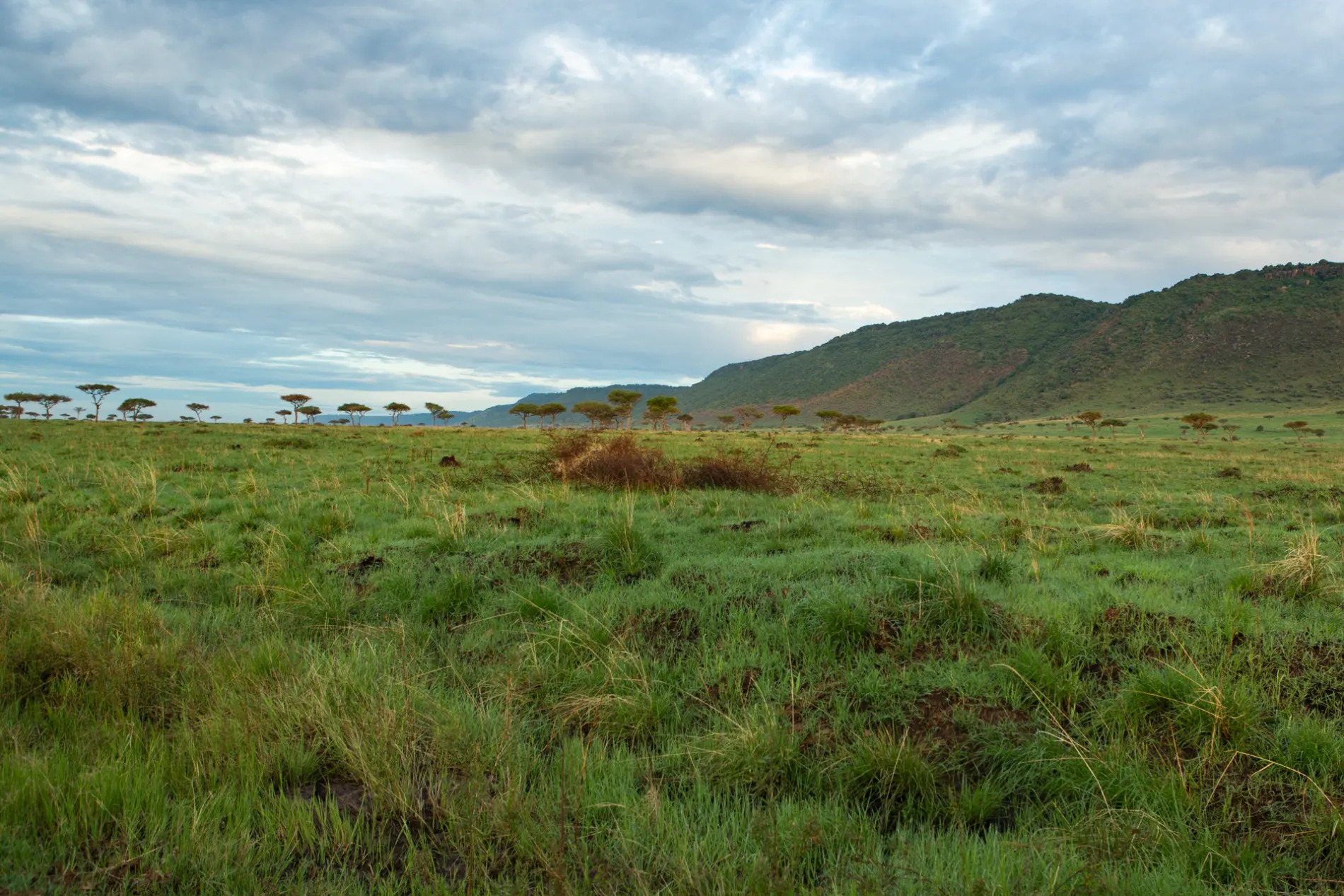 I am excited to show you a photograph taken from nearly the same point exactly a month later. You can see the effect the rain has had on the grass and this shows the reason the fire was lit in the first place – fresh green grass ideal for grazers. [f 5.6, 1/50, ISO 500, +0.67]
One of the most exciting events to occur this week was that we have witnessed both wildebeest and zebra herds trying to cross the Mara River. Late April is not normally crossing season, but it appears the animals are keen to try. Although both attempts were aborted, due to the extremely fast flowing river, it is really exciting to watch such events unfold.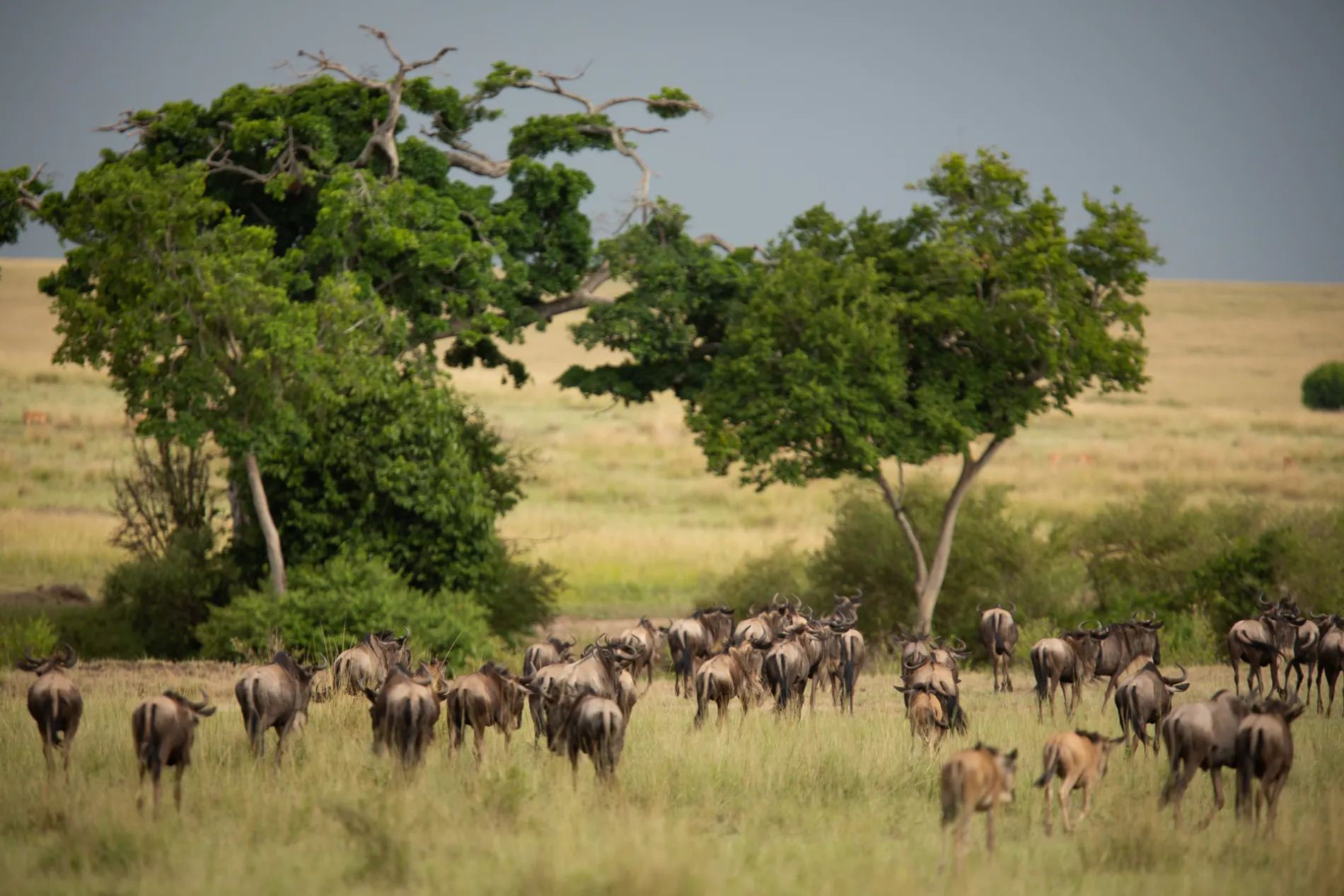 [f 4.0, 1/2000, ISO 500]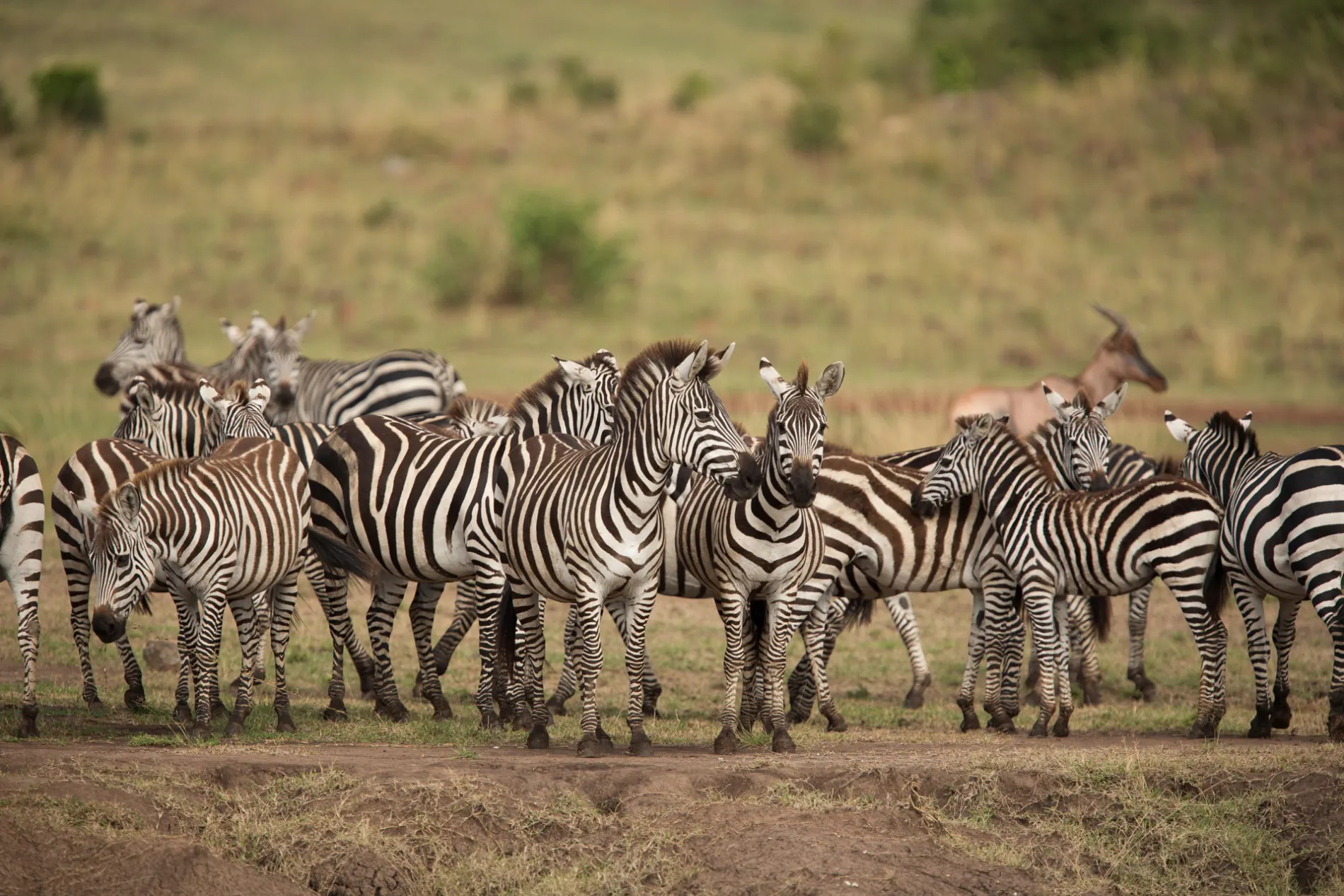 [f 4.0, 1/2500, ISO 400, +0.33]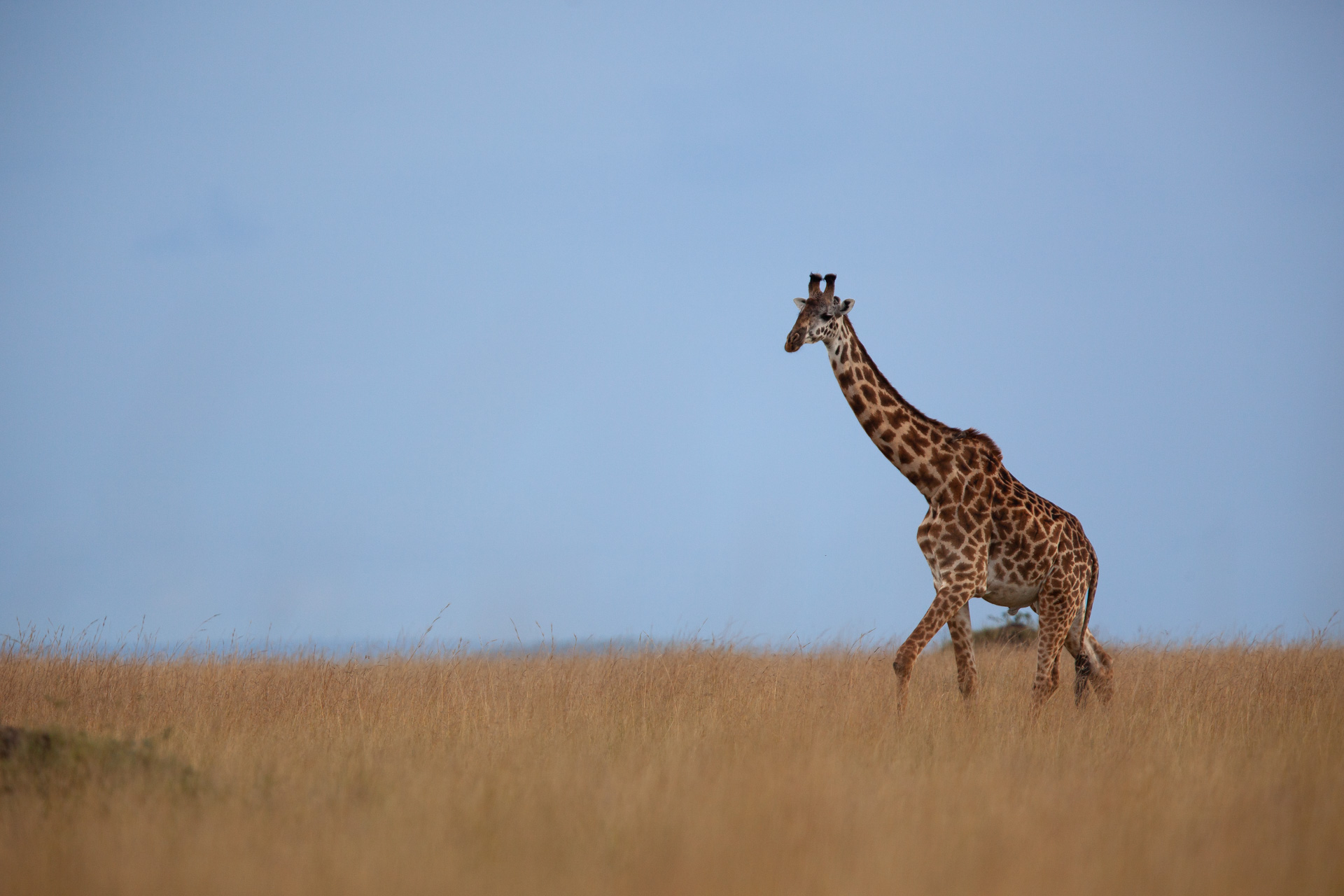 At this time, the Mara is nearly completely empty of vehicles. It is a very special place and time. [f 4.0, 1/2000, ISO 250, -0.33]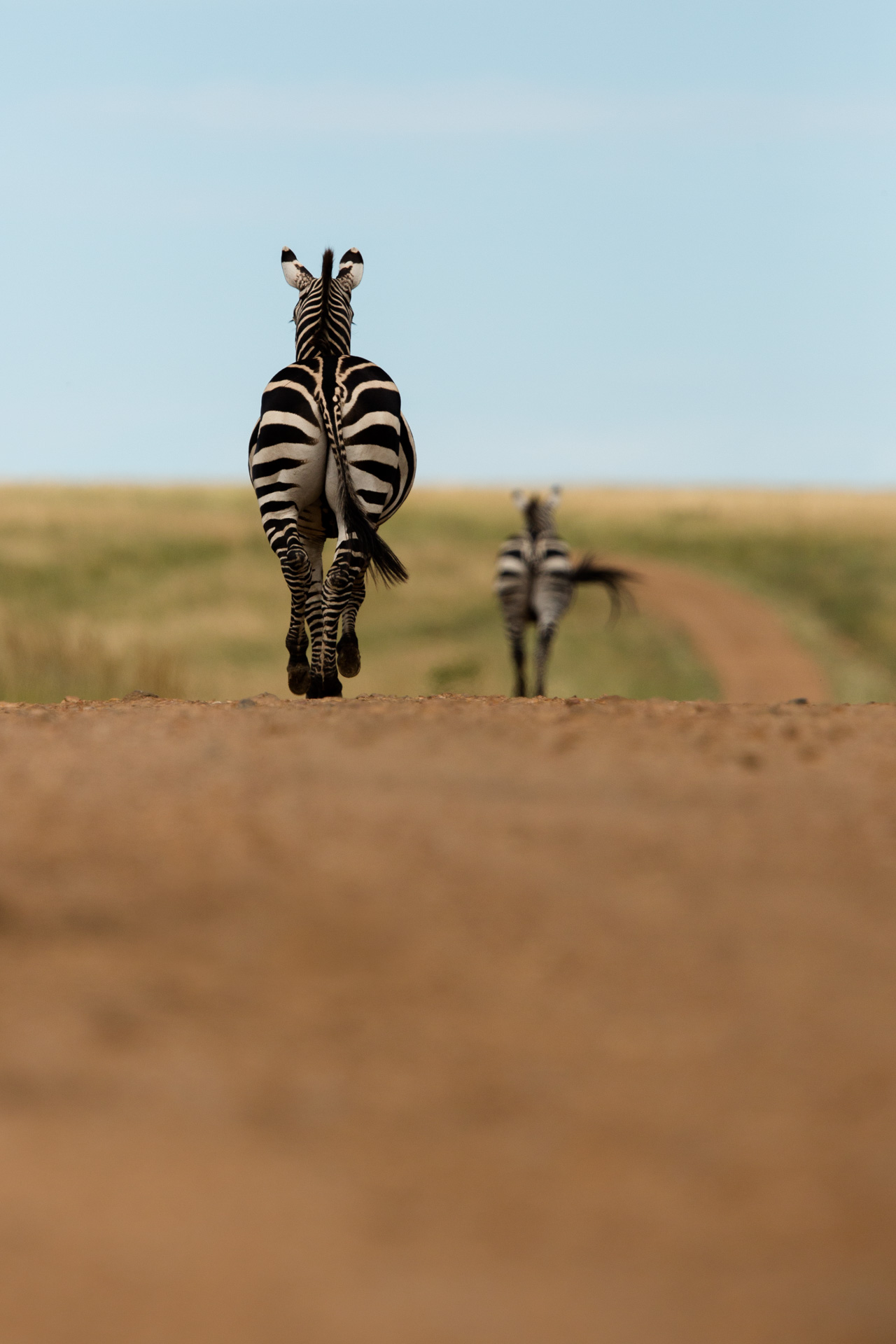 Always be on the look out for how to capture a situation in a dynamic way. Here I included a very shallow depth of field to blur out the road and to enhance the low angle shot. [f 5.0, 1/5000, ISO 400, +0.33]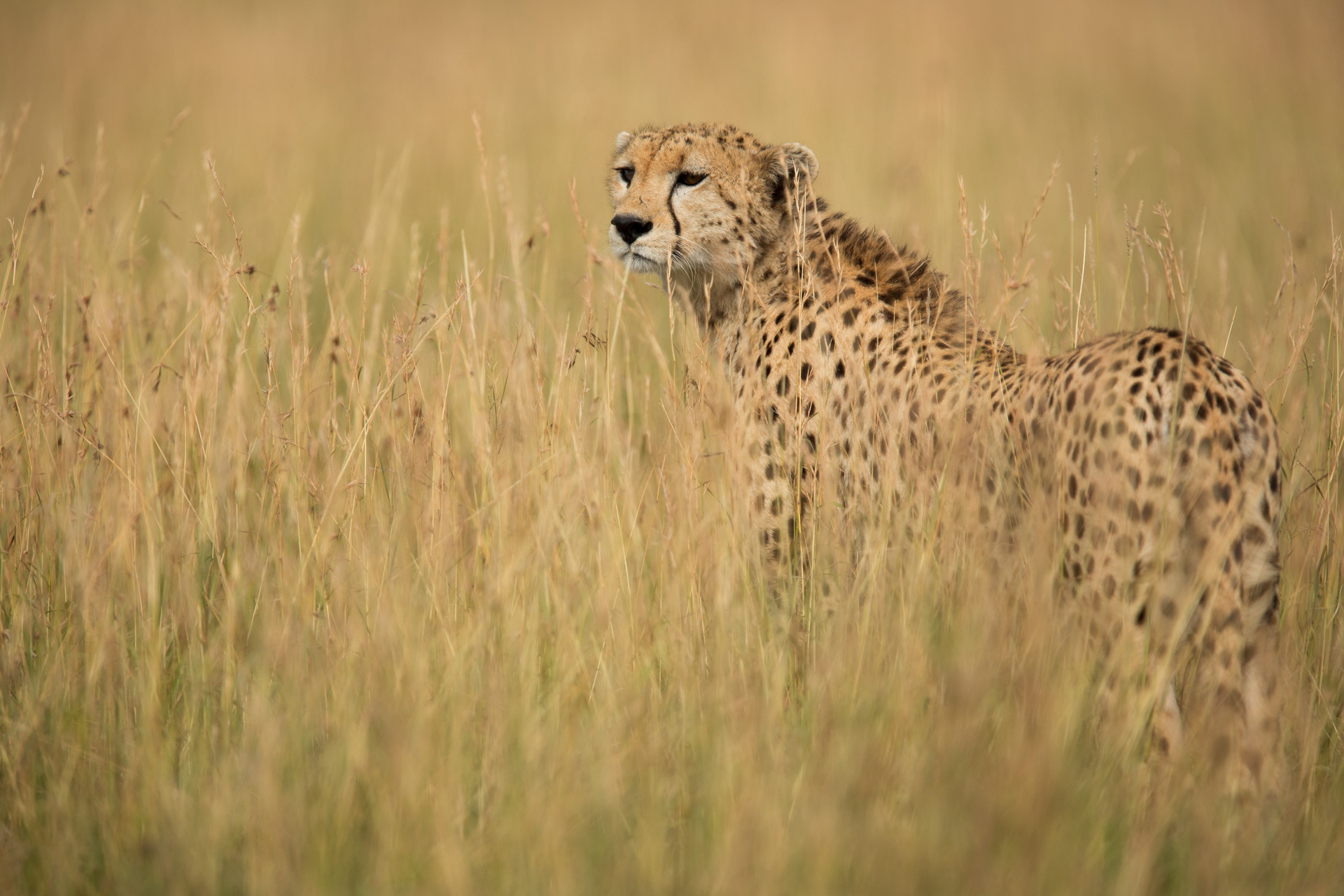 A young male cheetah on the hunt. We followed this male for a few hours as he unsuccessfully kept trying to loop around a herd of Thomson's gazelles. [f 4.0, 1/5000, ISO 400, +0.33]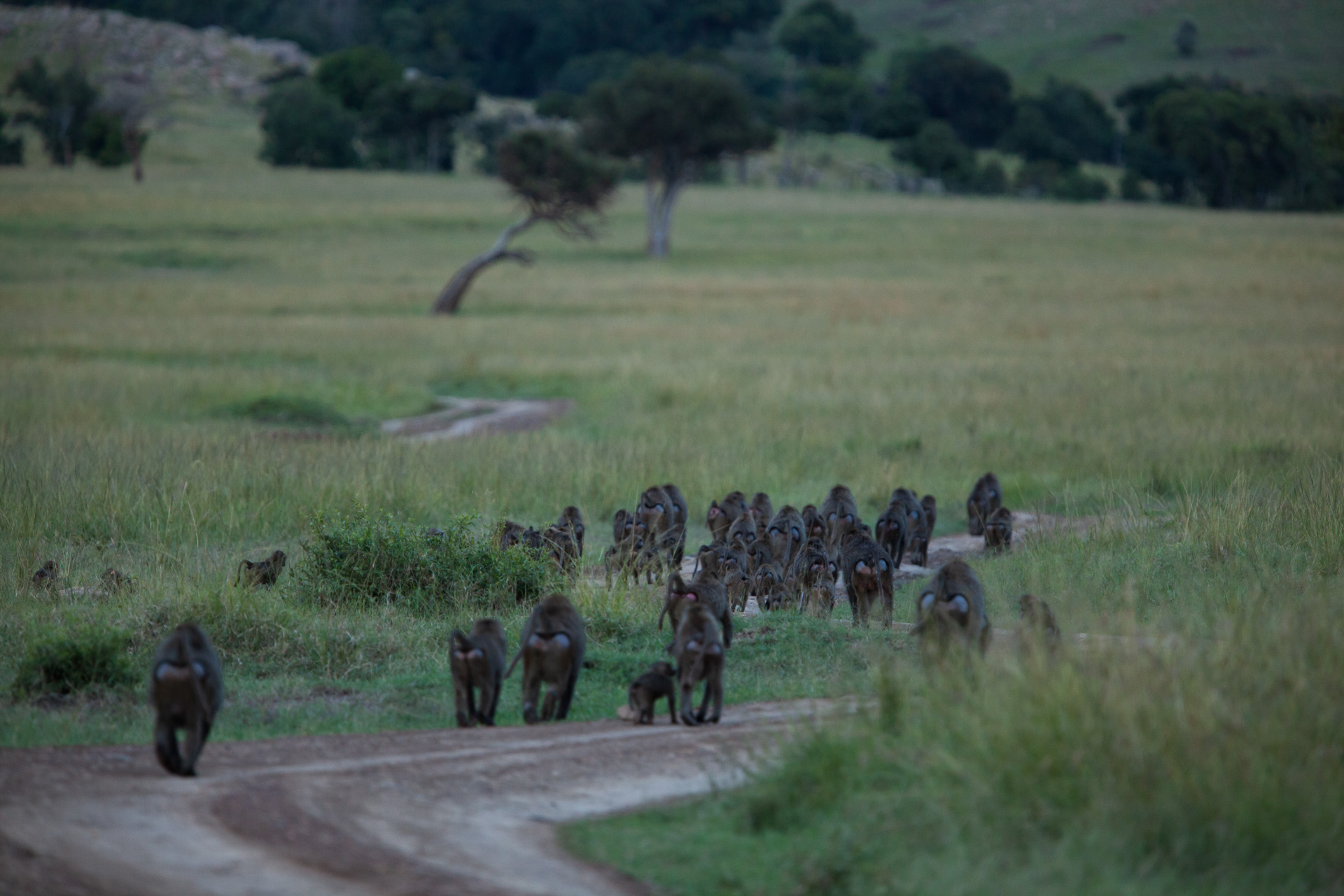 By no means an amazing shot, but an incredible sighting. We counted just over 80 baboons in this troop. In the late afternoon they were collectively marching down the road towards the escarpment. They must have been heading towards some large fig trees where they could to rest safely for the night. [f 4.0, 1/250, ISO 1000, -0.33]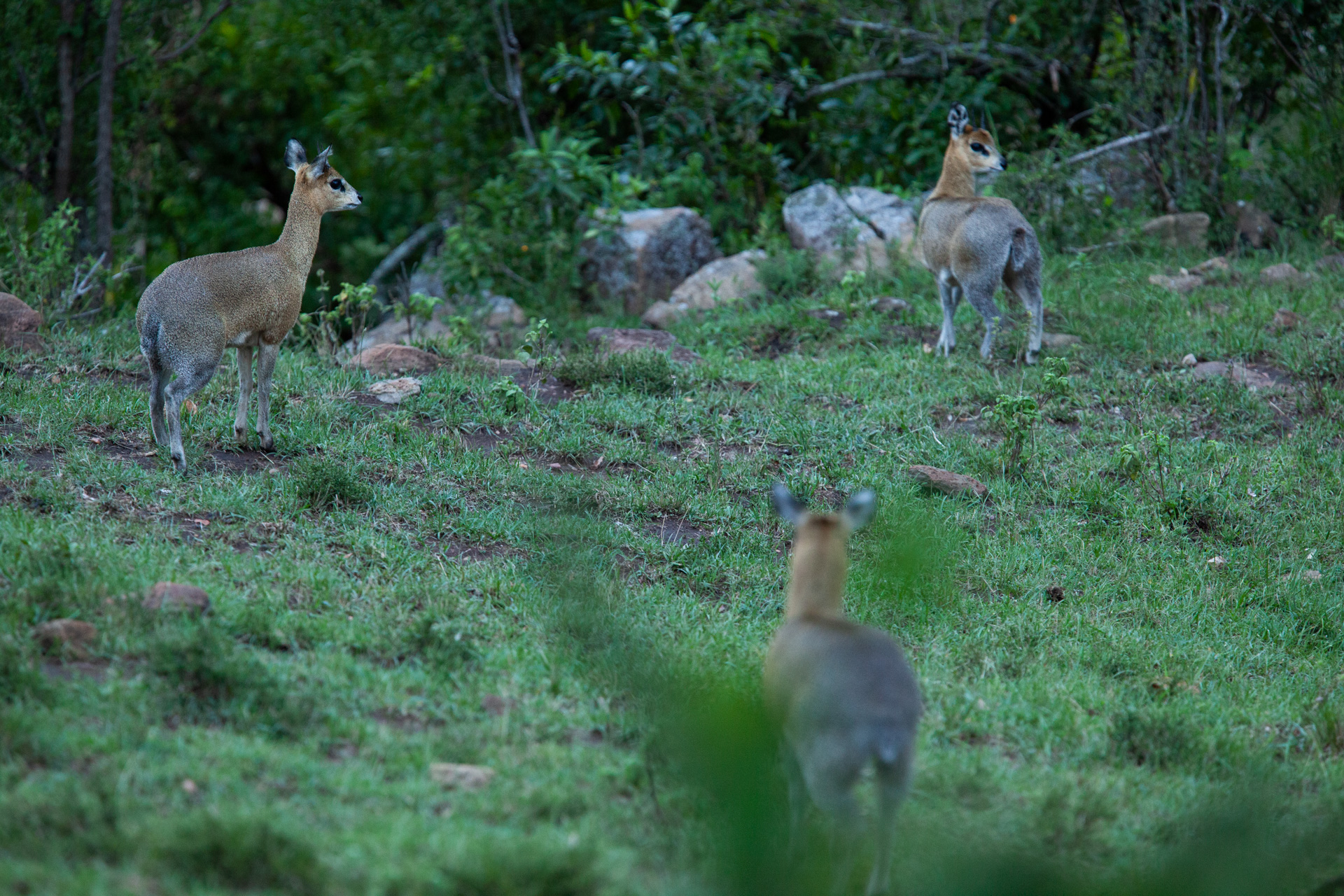 Another memory shot, rather than a technical one. A family of klipspringers on the private road to camp. These small antelope are seldom encountered in the Mara and so every sighting is special. [f 5.0, 1/60, ISO 2000, -0.33]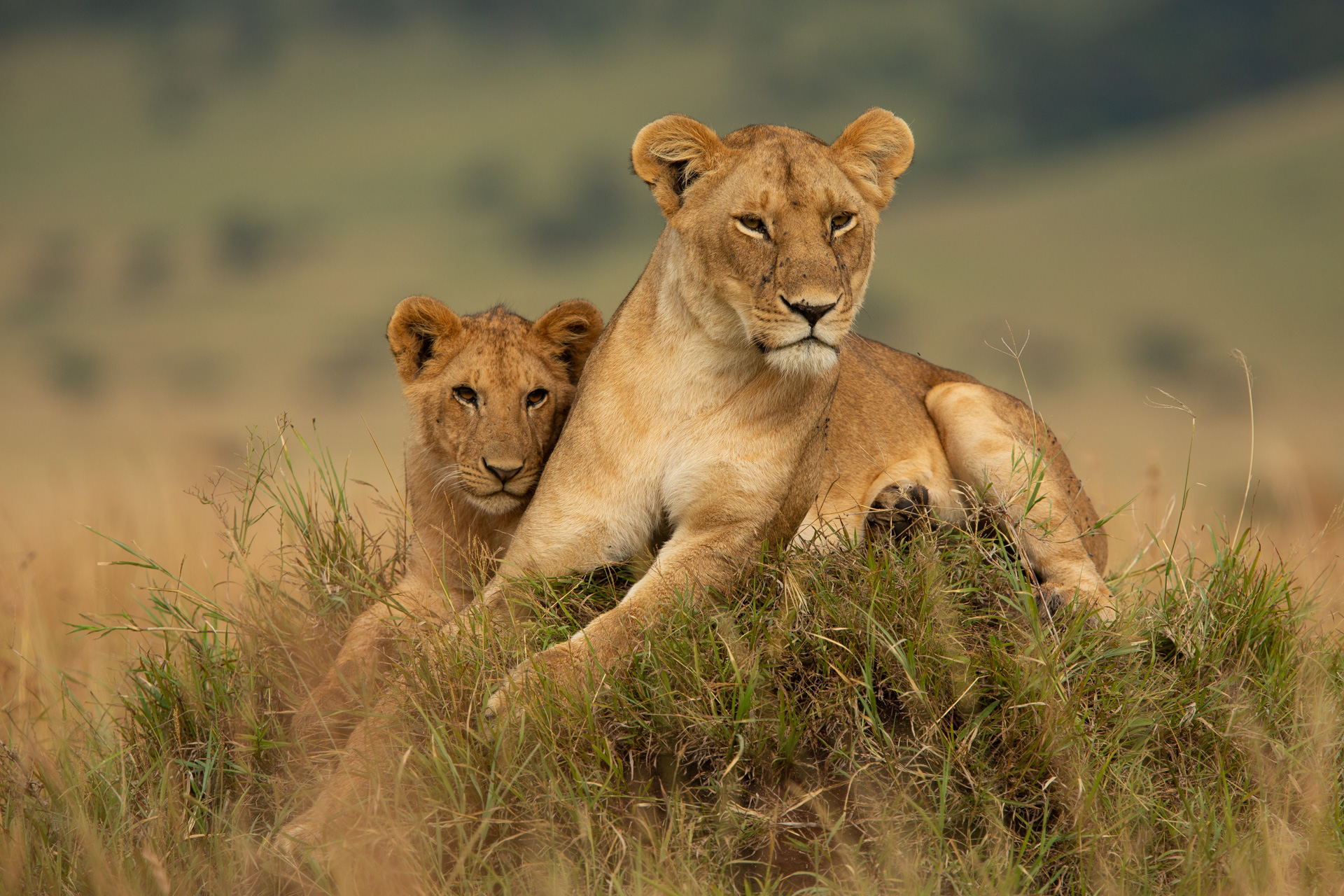 The Sausage Tree Pride seem to be doing really well at the moment. All their cubs are still accounted for and although the Kinky-Tail female still has her deep wounds, she appears to be recovering well. [f 5.0, 1/2000, ISO 400]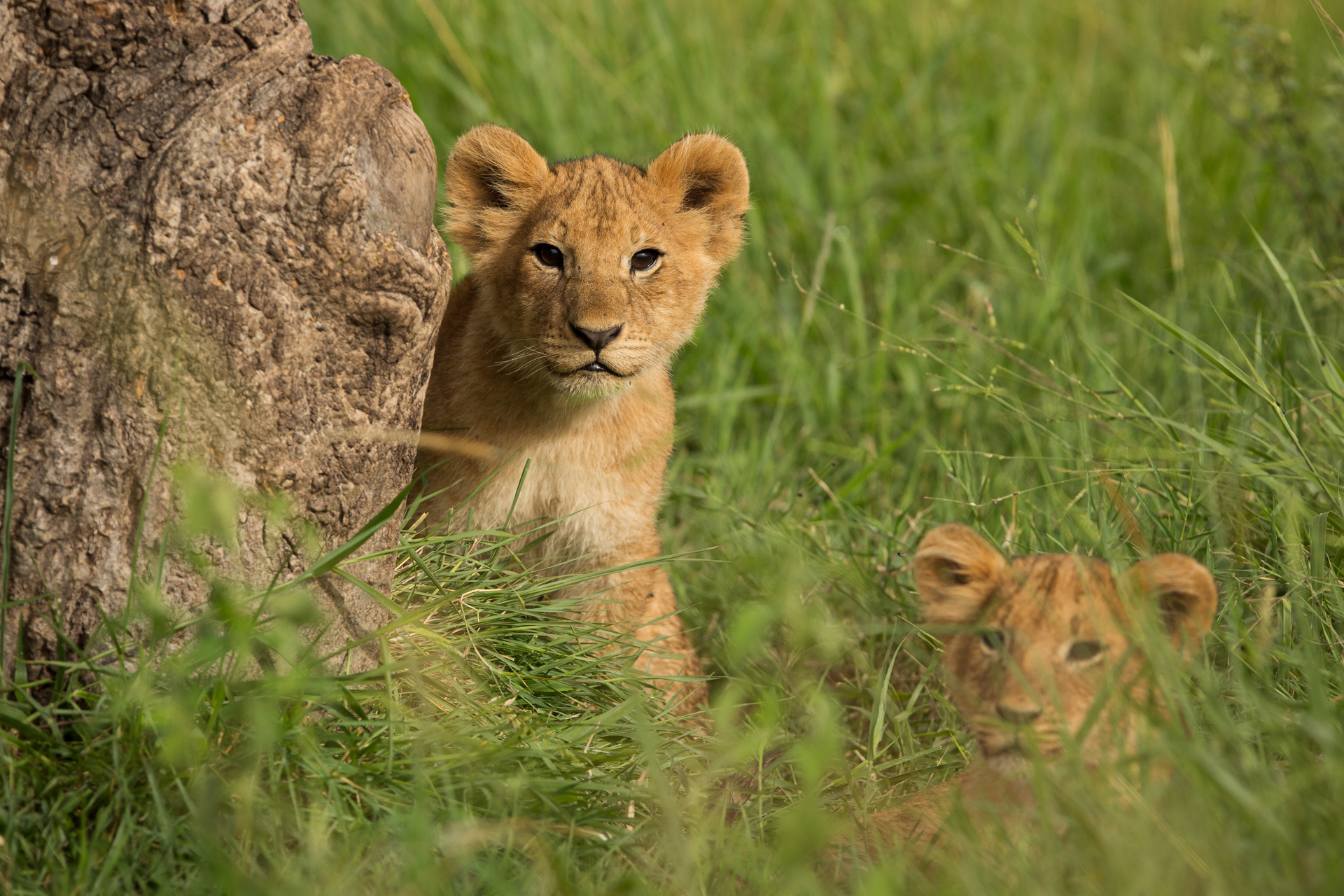 Time with the cubs of this pride is really very special. I have complete respect for the adult lionesses who are raising these fur balls in a very unforgiving part of the reserve. [f 4.5, 1/1600, ISO 400, +0.33]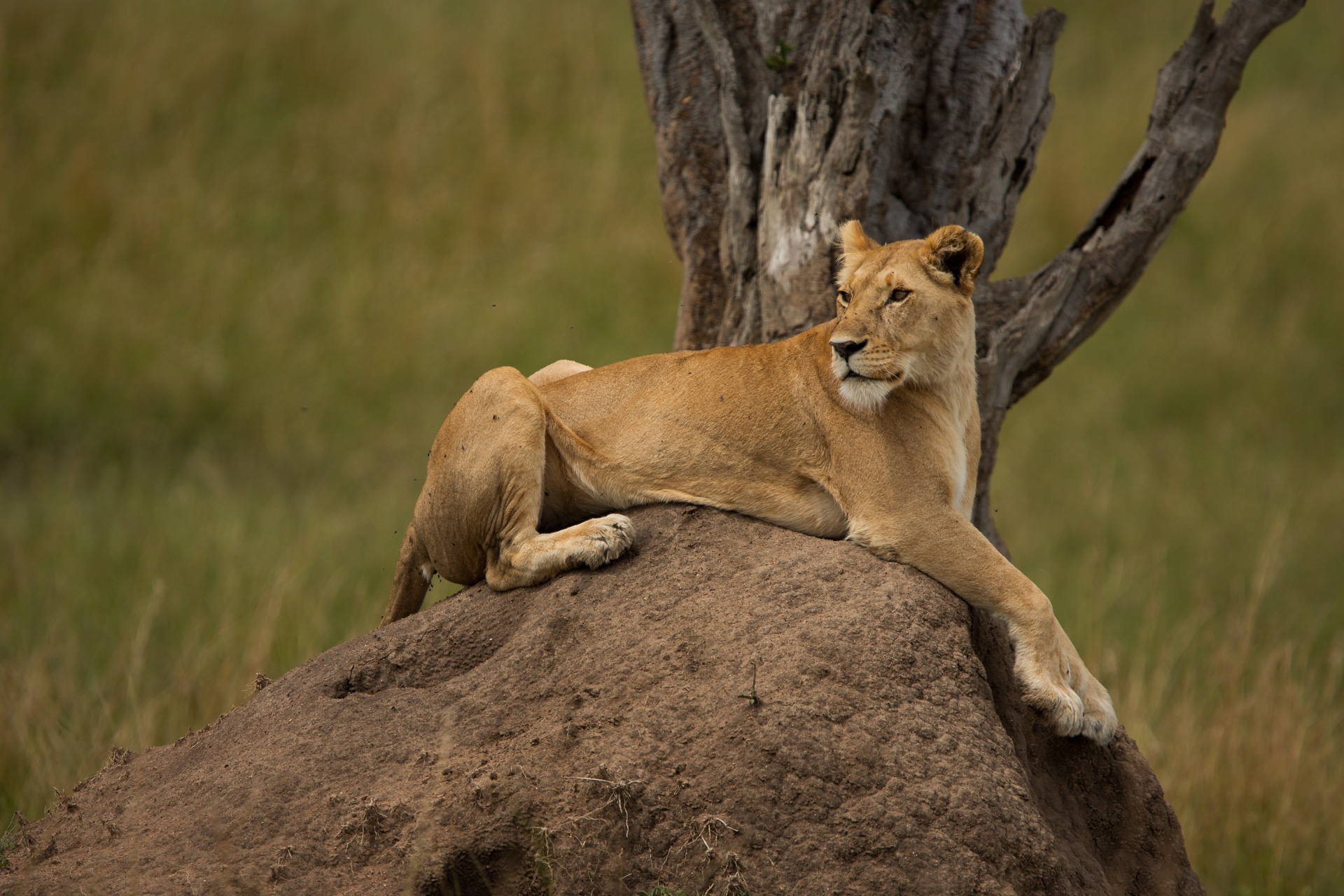 The other pride that has a piece of my heart is the Angama Pride. Located much closer to the lodge, and so seen more frequently, this pride has not had it so easy of late. A few weeks back they were involved in an almighty fight with the River Pride and all the small cubs were killed. [f 4.0, 1/2500, ISO 200, -0.33]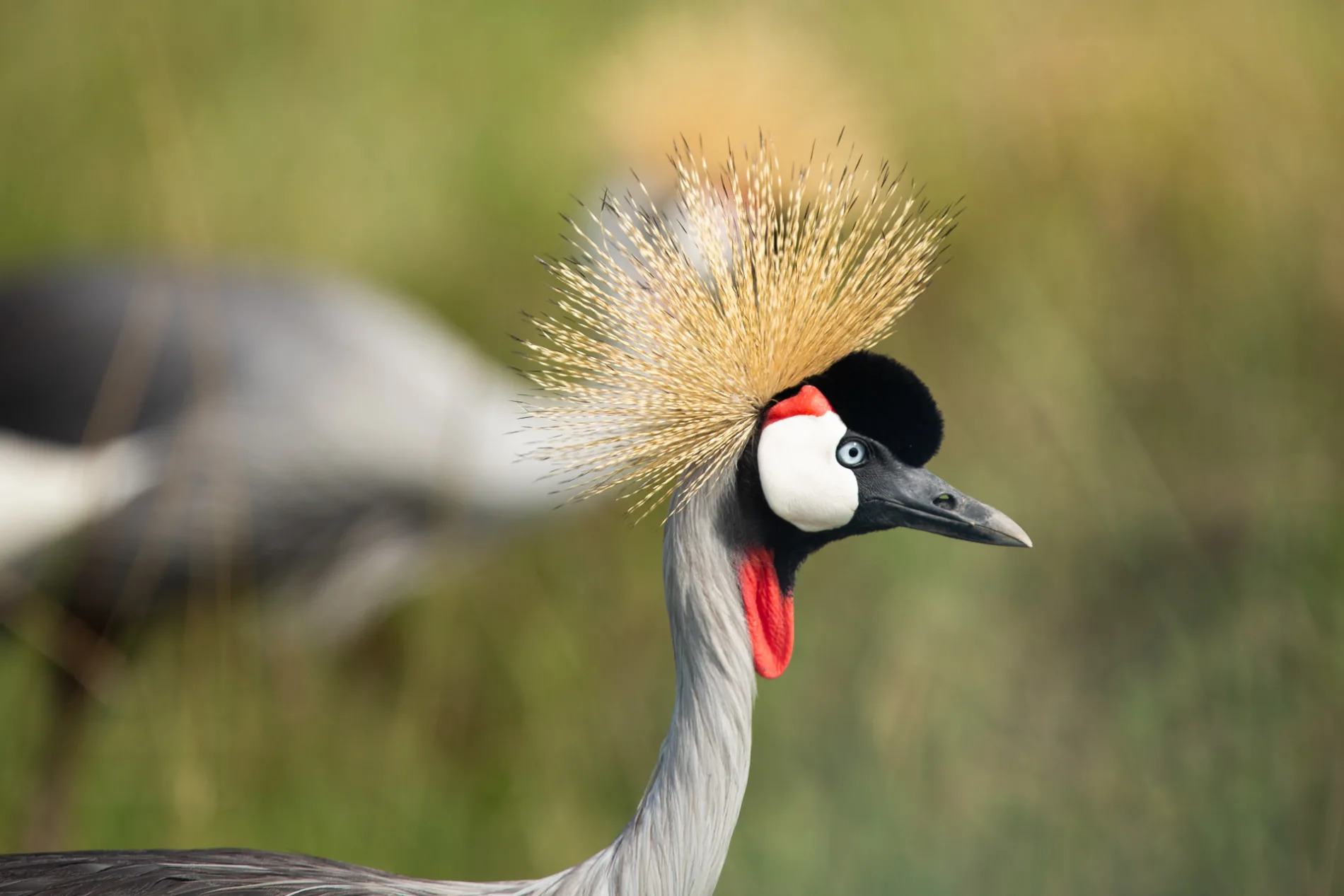 How fortunate are we that the grey-crowned crane is a common sight here? Some cities have pigeons, others have crows, we have cranes. [f 4.0, 1/3200, ISO 400, +0.33]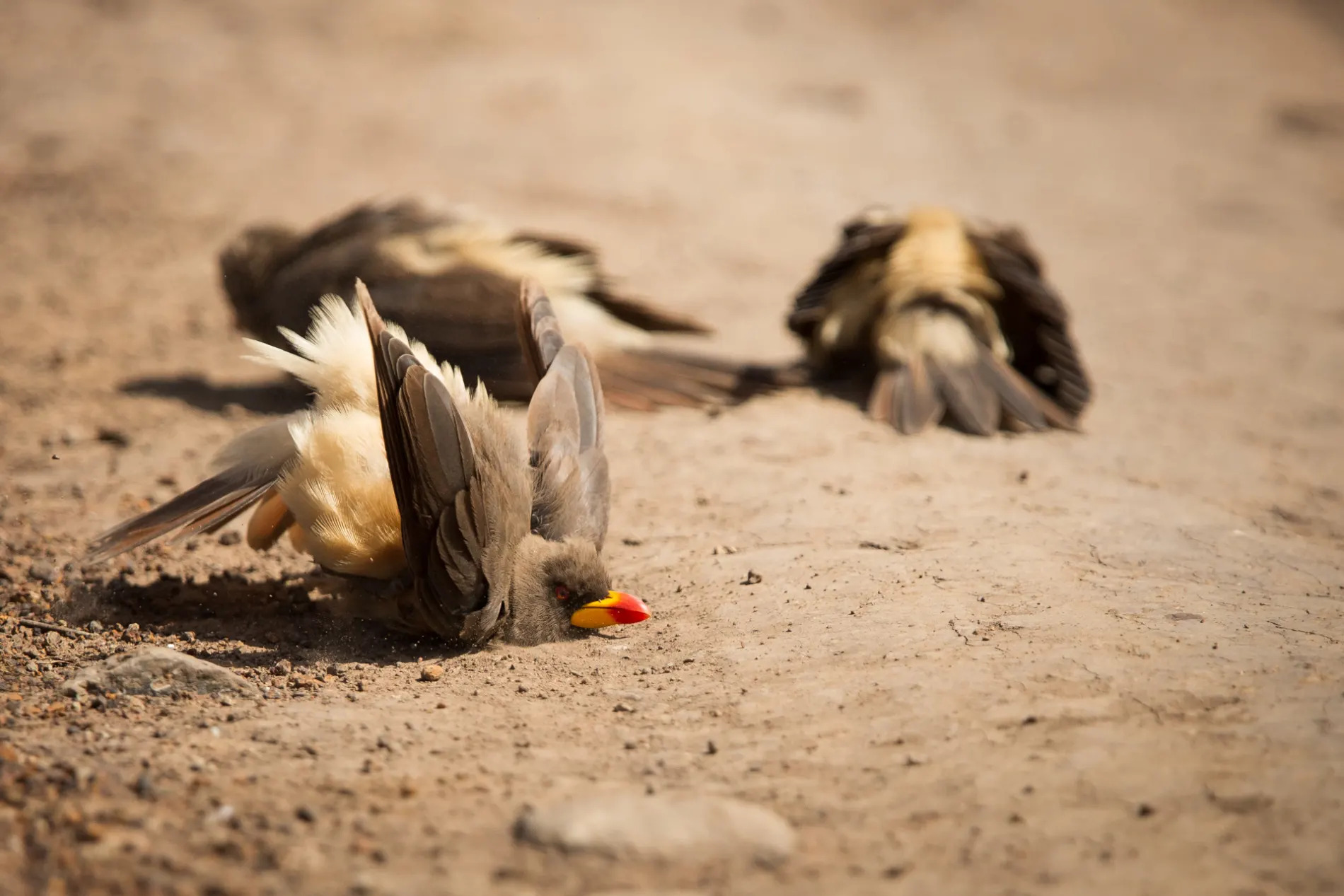 A small group of yellow-billed oxpeckers enjoy a dust bath. By covering themselves in sand they help to dislodge mites that cling to their feathers. [f 4.0, 1/8000, ISO 800, +0.33]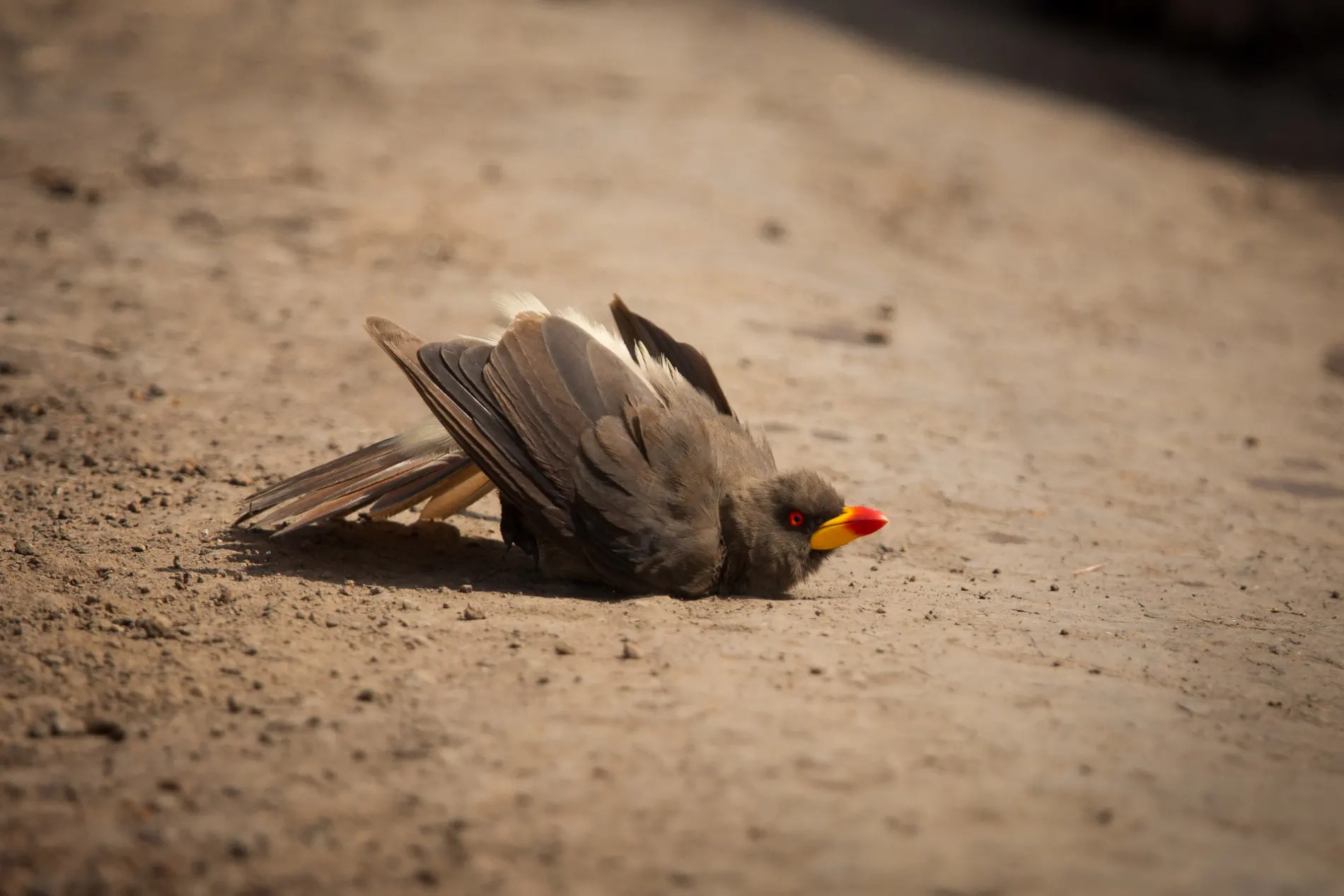 [f 4.0, 1/8000, ISO 800, +0.33]
THIS WEEK A YEAR AGO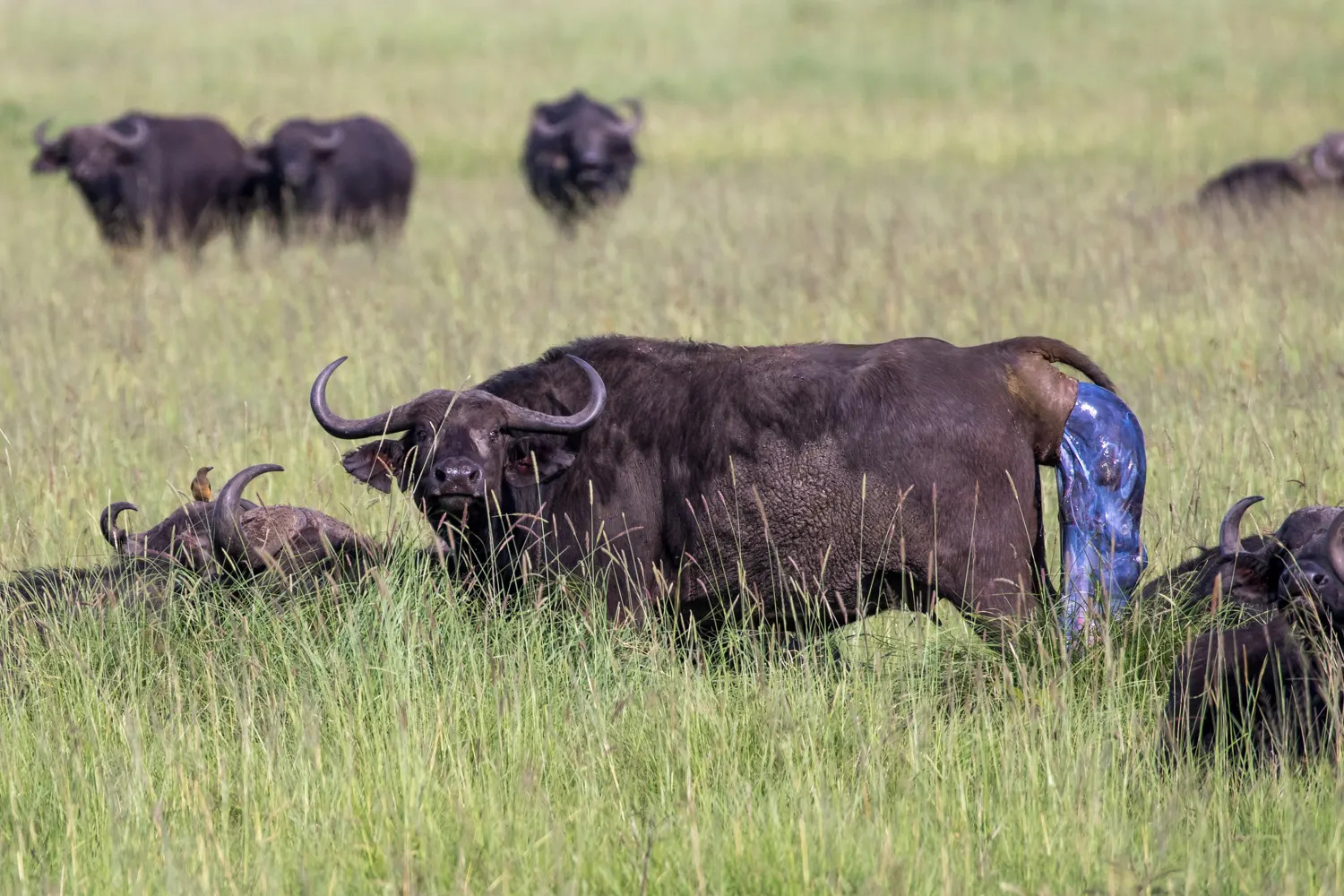 Last year, Tyler was fortunate enough to capture a buffalo in labour. To see any birth in the wild is a real privilege and something that will stick with you for life. [f 5.6, 1/1000, ISO 200]