We leap into the New Year with a simple photographic tip that goes a long way with very little work. I encourage you to give up the back seat and to get down low. The results will be immediate…
As the host of the Angama Photographic Studio I am often asked by guests for advice on how they can improve their wildlife photography. I could dive into advanced techniques and theories, but I find that often the most radical improvement is brought about by one of the simplest suggestions: get down low!
When on safari, in the back of the vehicle guests are often of the theory that the higher you are up in the car the easier it is to see the animals and get above the grass. Of course, they are correct; well partly. The key to taking a great wildlife shot is often in simply getting down to the animal's eye-level. The second its body breaks the horizon, the photograph takes on an entirely new energy and forces the viewer to look twice.
To kick off 2019 I decided to focus on low angle photography and thought that there was no better a place to show the results than in This Week At Angama. Wishing all our weekly followers a wonderful year ahead and we promise to keep our Friday update full of beautiful images that showcase the Mara as a year-round destination.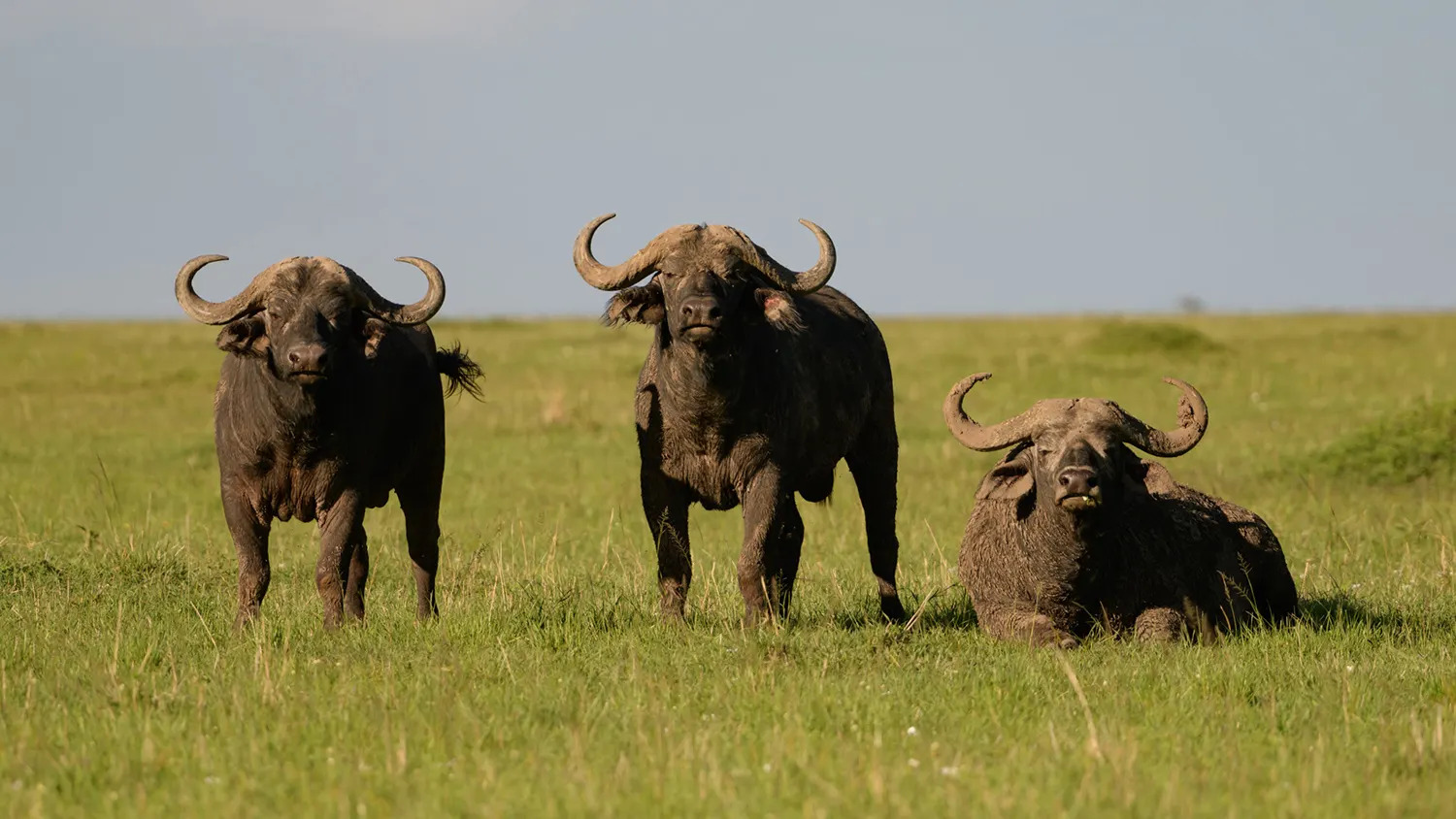 We start off with what is a very typical scene in the Maasai Mara. Three intimidating buffalo bulls staring intently at the safari vehicle. Many would be completely satisfied with this photo as it perfectly shows the power of these animals and gives a hint of the setting. [f 5.6, 1/500, ISO 80]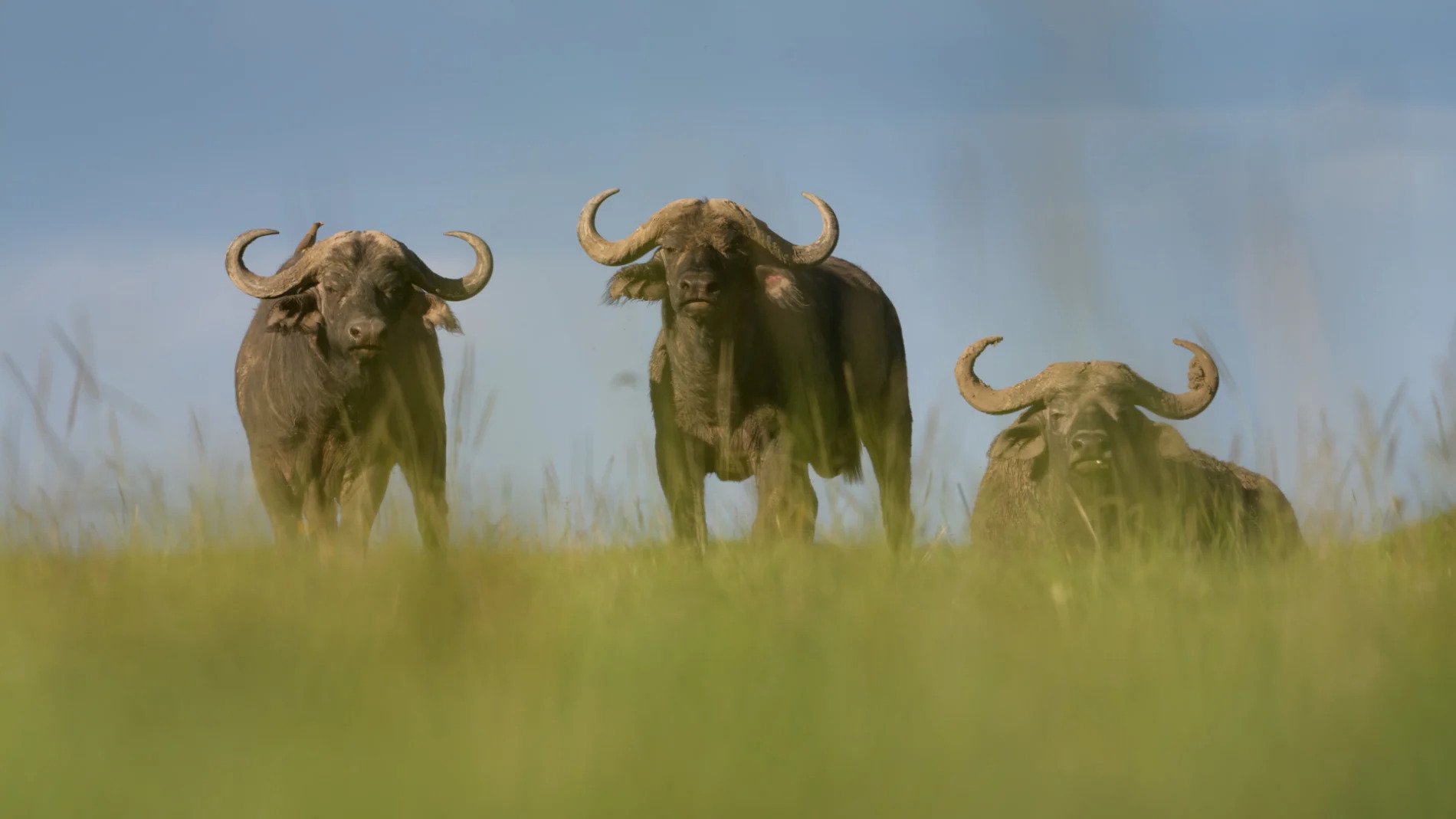 By repositioning the car slightly, and moving lower down within the car, the scene changes completely. Suddenly we have moved to their eye-level and feel as if we are not looking at a picture, but are instead lying there with these magnificent animals. [f 5.6, 1/400, ISO 80, +0.33]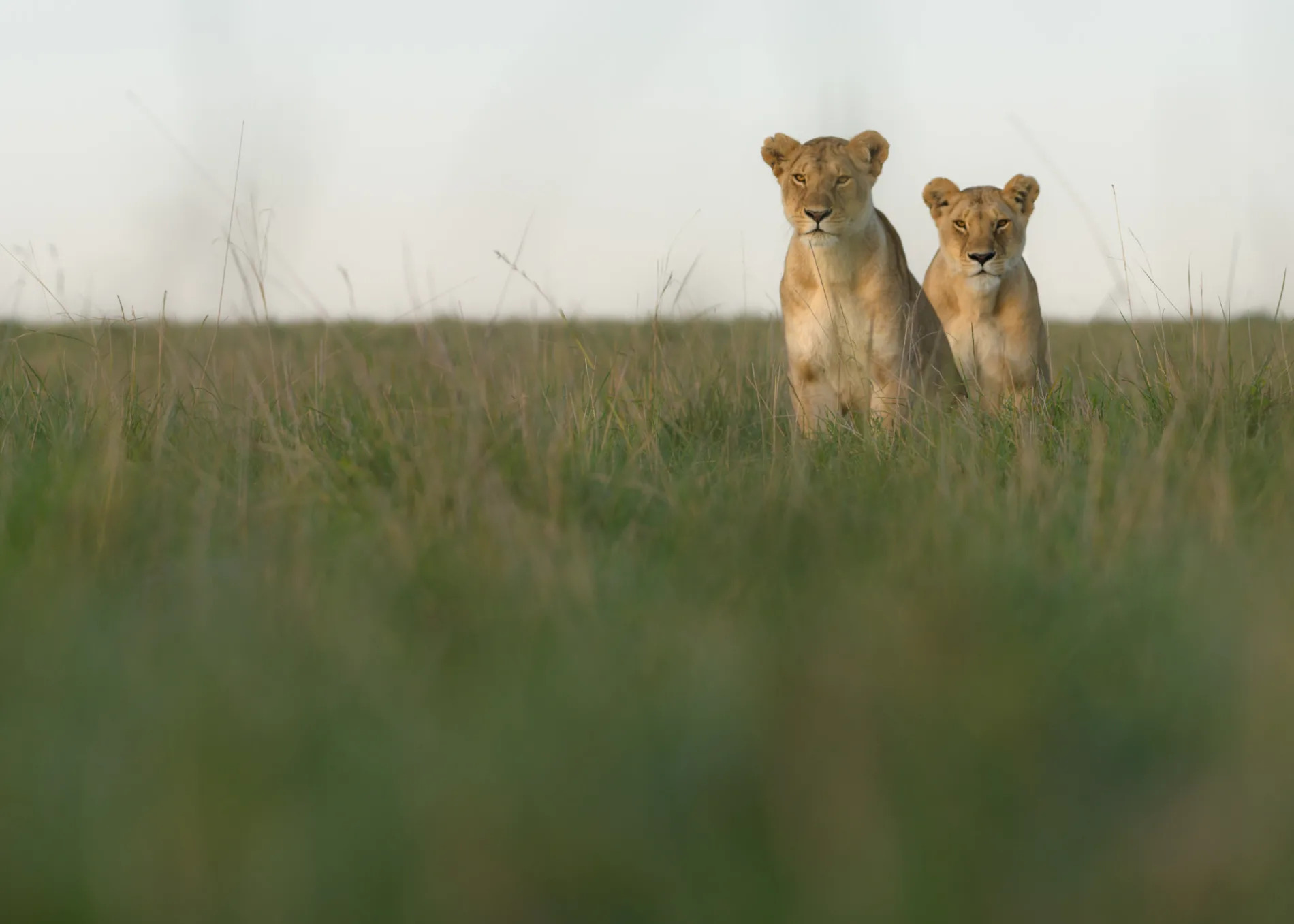 Lions have been ever-present in the Mara this festive season. You can again see how the low angle here makes this scene more exciting. By using a wide aperture, I am also able to substantially blur the foreground, forcing the eye to focus on the lions. [f 5.6, 1/500, ISO 200, -0.33]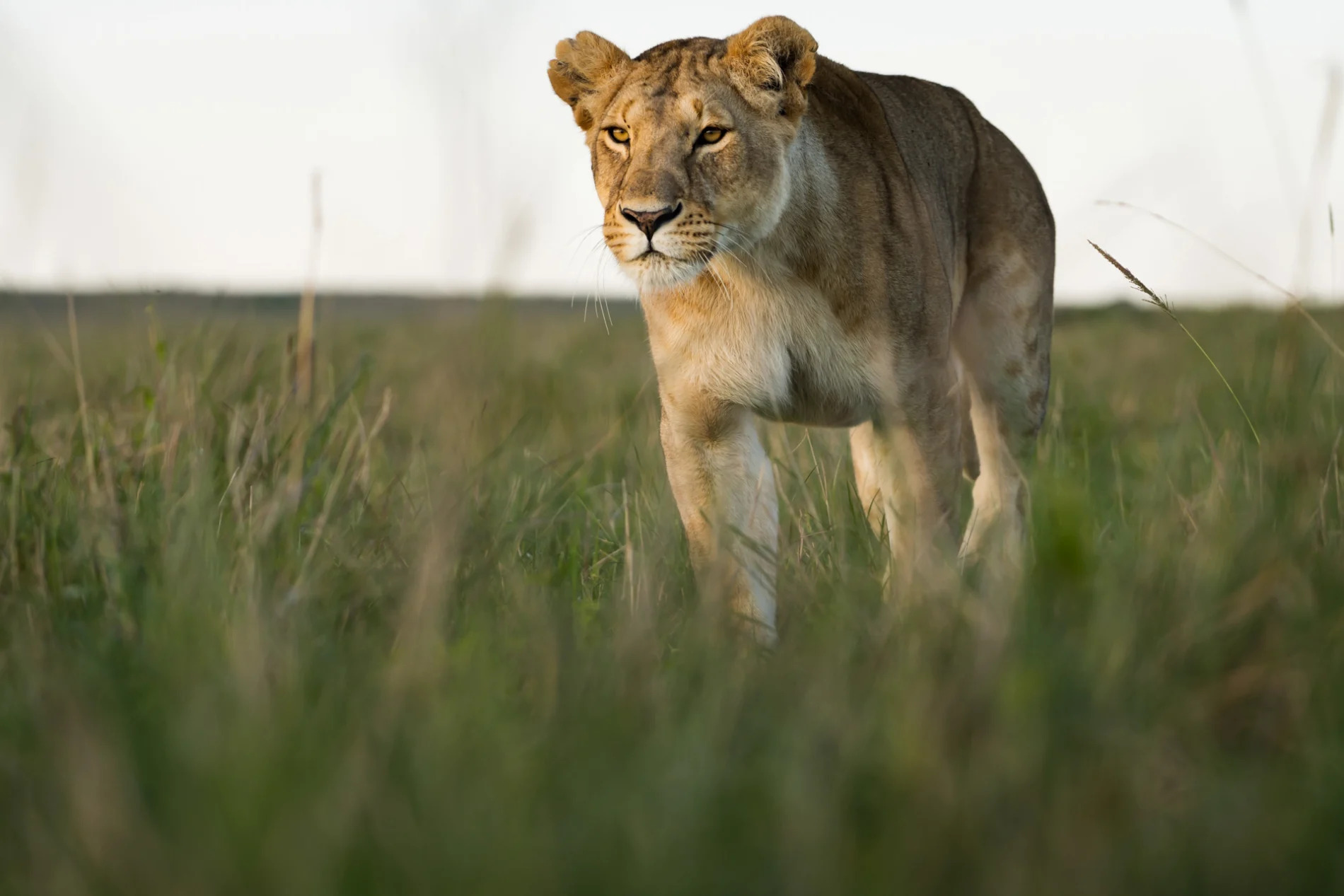 By using the flip screen LCD on the new Nikon Z7 I was able to get an even lower angle which truly makes this image exceptional. You literally feel as if you are in the grass hunting with this lioness. [f 5.6, 1/640, ISO 320, -0.33]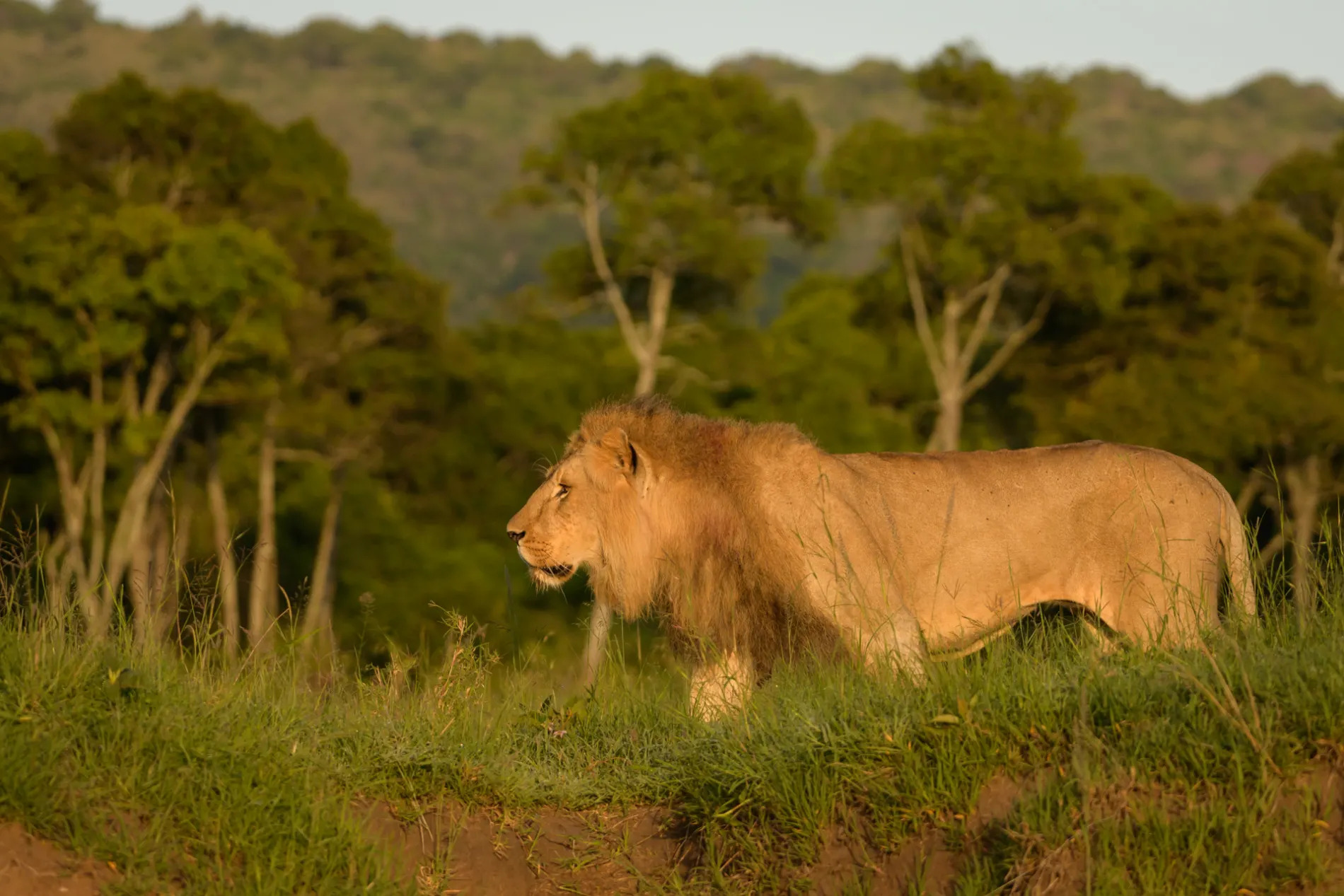 The early morning golden light makes this male lion glow. Often, I am looking to drive in depressions, such as this one, to make the subject matter appear above me. [f 5.6, 1/1600, ISO 640, -0.33]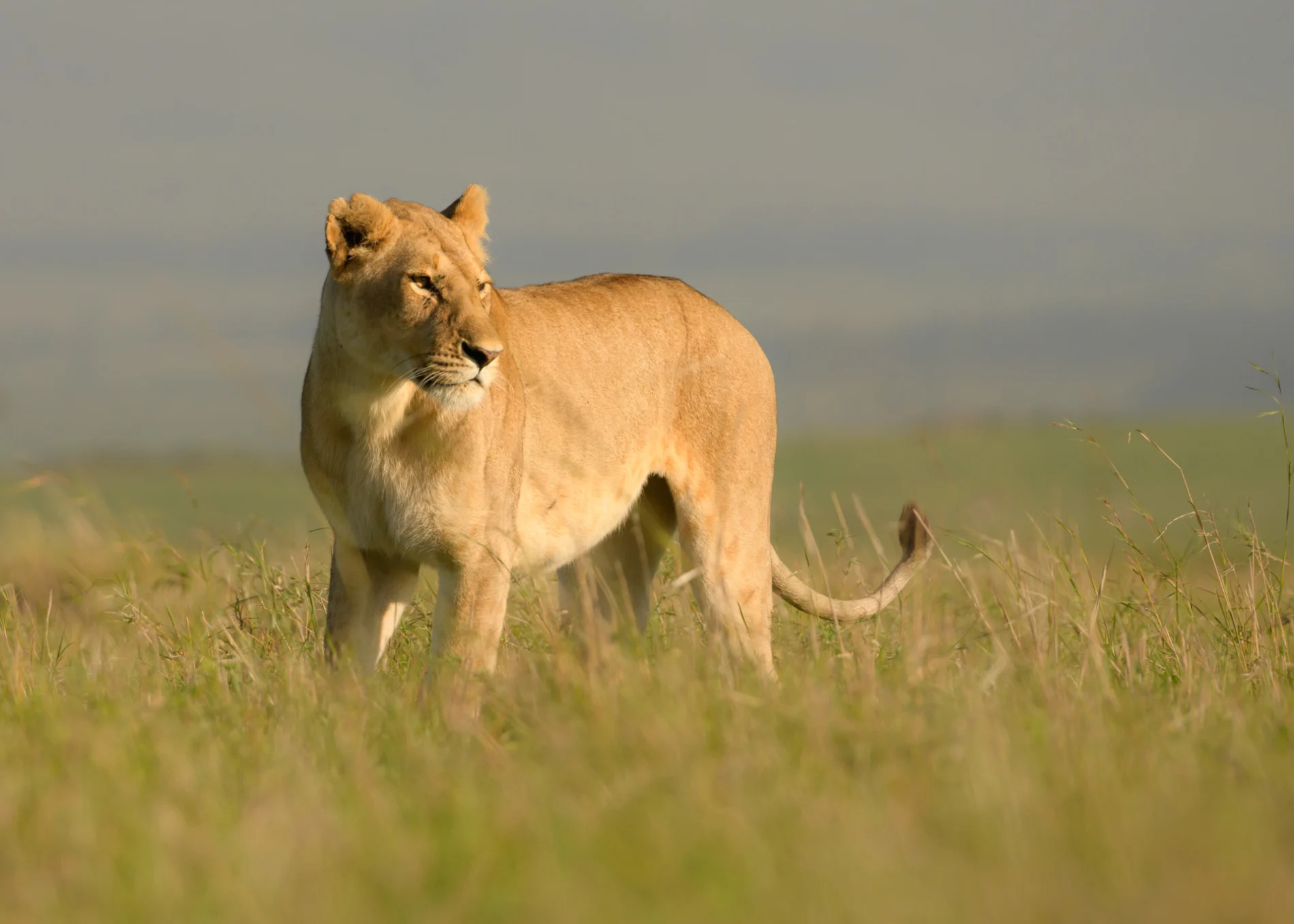 Sticking with the theme of lions, here is yet another one taken at a low level, just above the grass line. 10 [f 8.0, 1/3200, ISO 500, -0.67]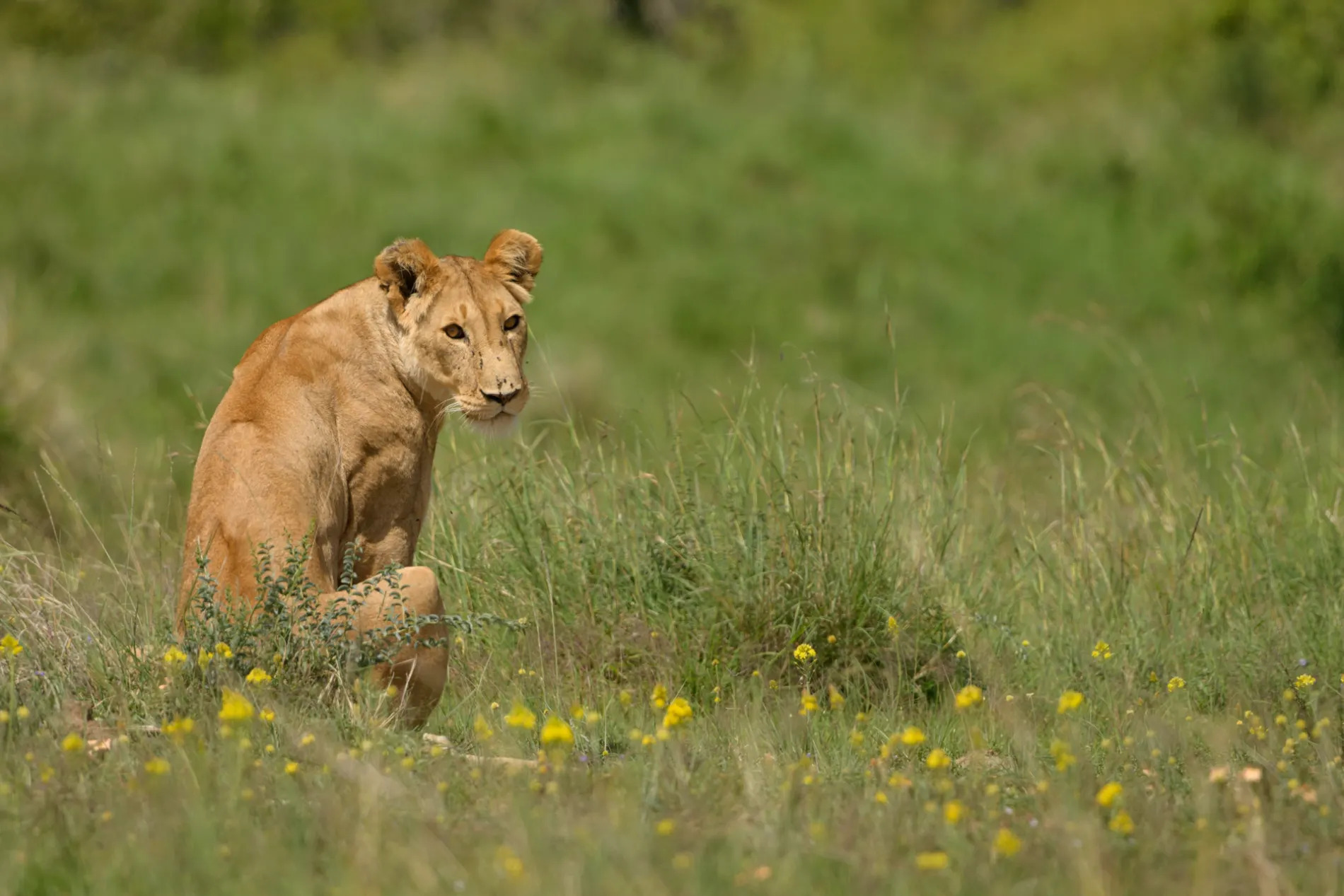 Sometimes it is not just the low angle that helps. Be very aware of the environment and landscape. I waited for ages for this particular lioness to move into a grouping of small yellow flowers. It immediately added that extra something to the photograph. [f 5.6, 1/1000, ISO 125, -0.33]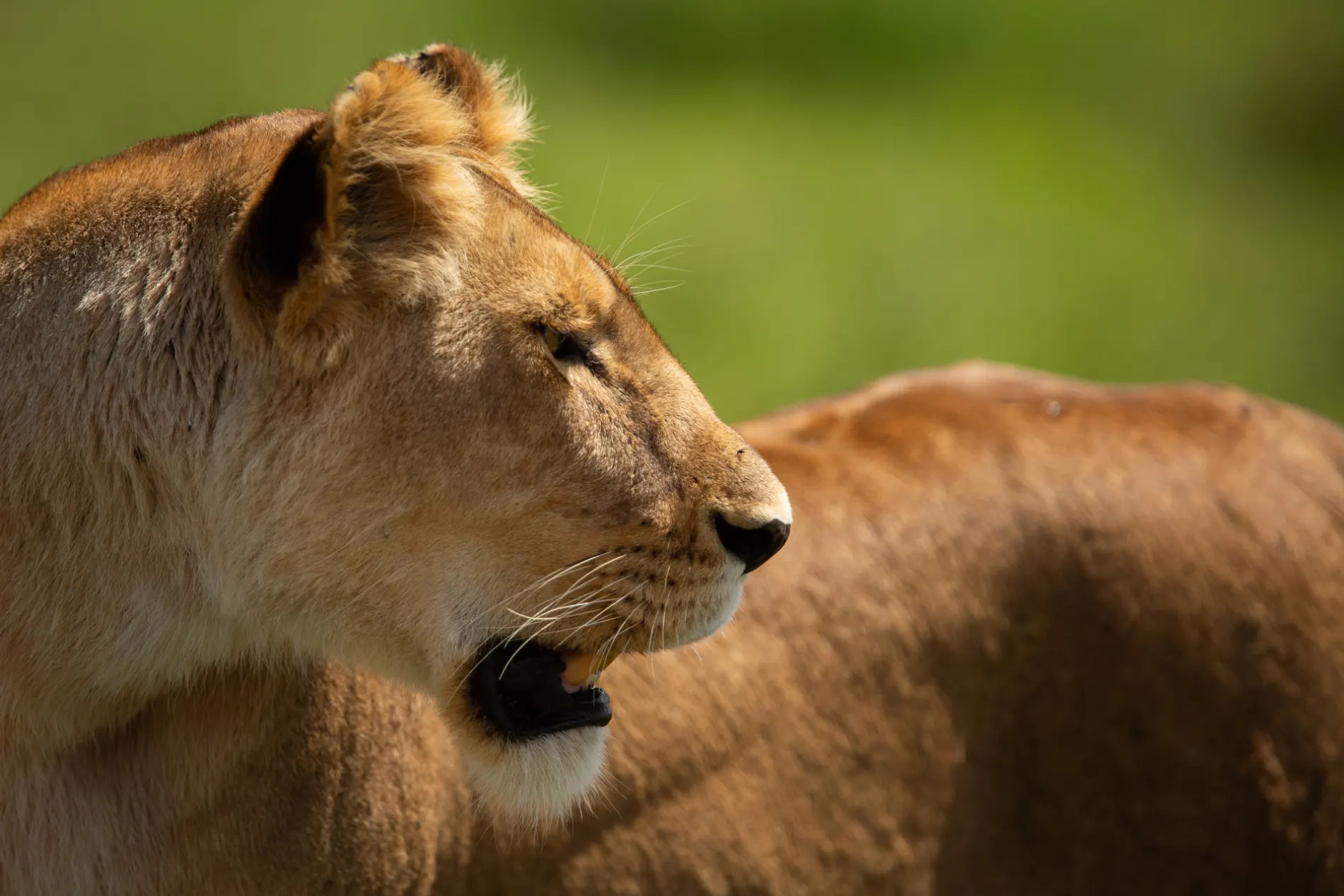 A visit to the Mara at this time of the year reveals just how many shades of green there are in nature. I find myself constantly changing white balance and exposure compensation to deal with the ever-shifting shades. [f 4.0, 1/1600, ISO 160]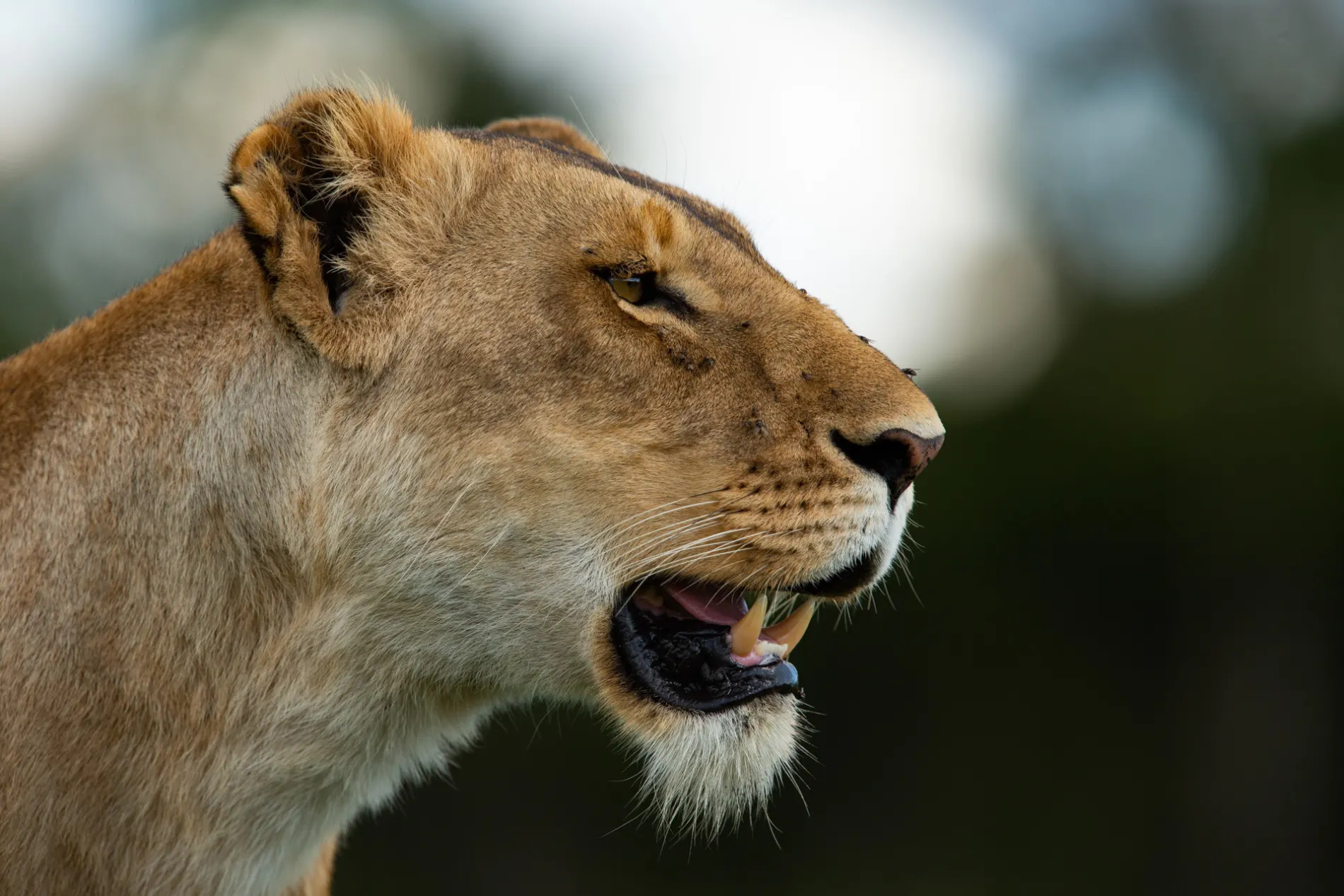 Positioning yourself just a little under eye-level allows the subject matter to take on a position of power. On this occasion I achieved this by waiting for this lioness to climb on top of a termite mound. What makes this image so wonderful, in my opinion, is the extremely shallow depth of field and the eye-level view. The subject literally pops out the picture. I took this with my old faithful setup: a Canon 5D mark III together with a fixed 300mm F/2.8 and a 1.4x extender. If that sounds like a foreign language you can just ignore it and enjoy the crispness of the photo. [f 4.0, 1/1250, ISO 200, -0.33]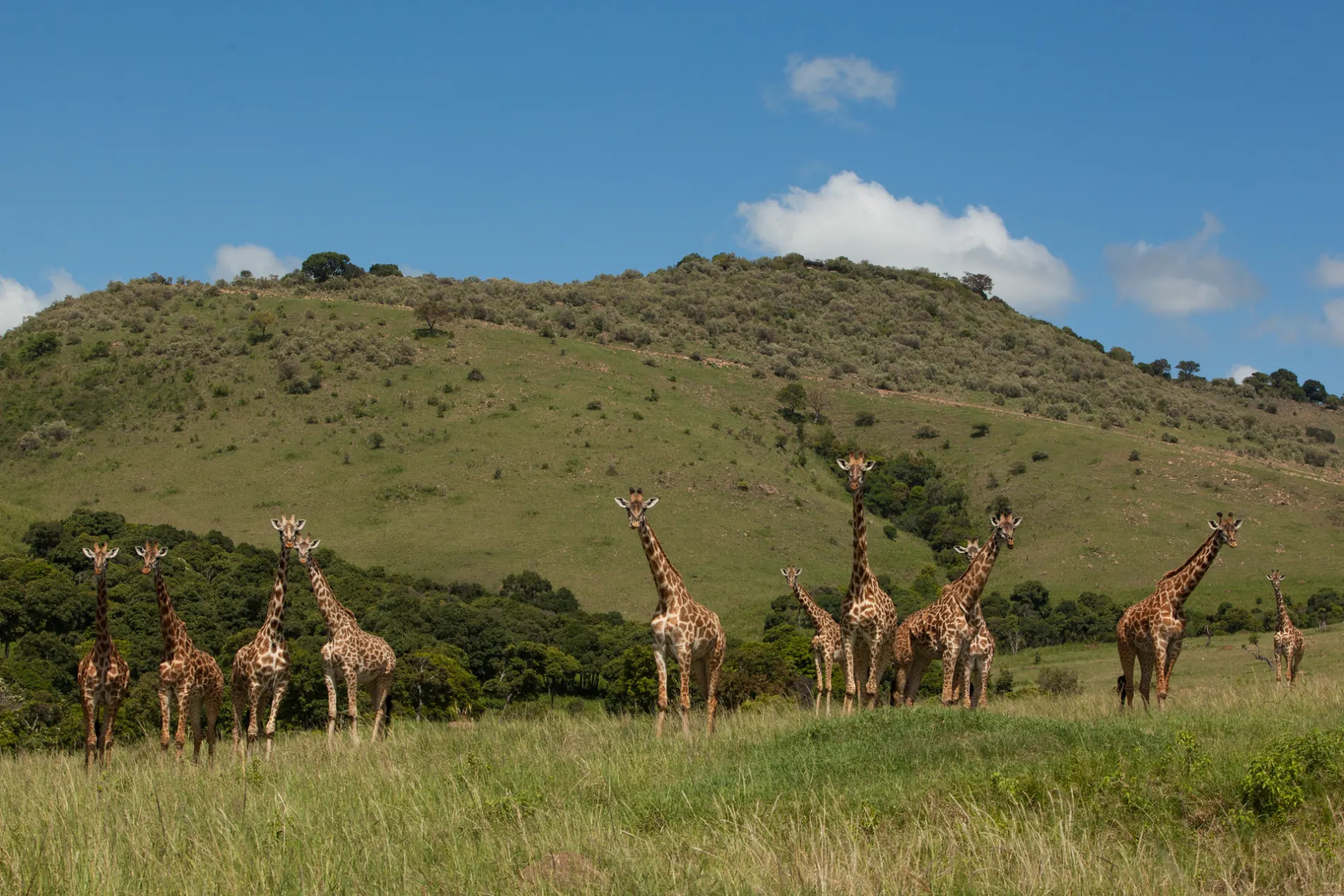 I absolutely love how of late the giraffe have been congregating into large groups. Here there were eleven, but during the course of the week I even saw a journey of 26 individuals. Positioning the car below them and with the escarpment in the background gives the photo a rather fun perspective. You will notice I dropped the aperture to f11 so as to give a greater depth of field – the intention of this was to allow the viewer to see our private road that leads up the escarpment to Angama Mara. [f 11.0, 1/500, ISO 250, -0.67]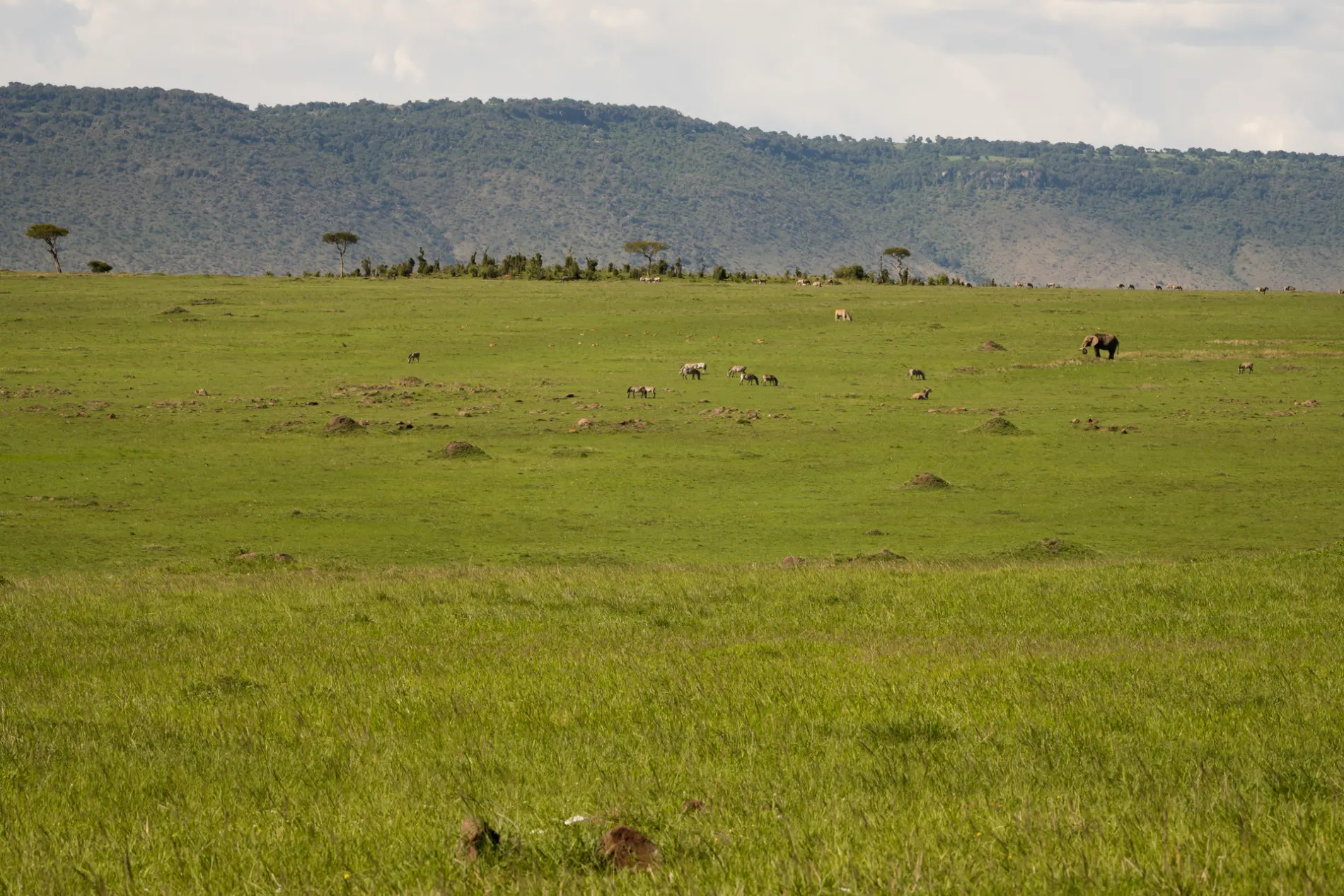 Having taken a rather lengthy vacation from the Mara I was delighted to return to work. The much-needed rains had arrived in the second week of December and, come Christmas, I returned to a lush carpet of green. At times the Mara seems oddly reminiscent of the green rolling hills of Surrey; that is if you turn a blind eye on the giraffe, elephants, zebra and other animals that make this Reserve iconic. [f 20.0, 1/80, ISO 160]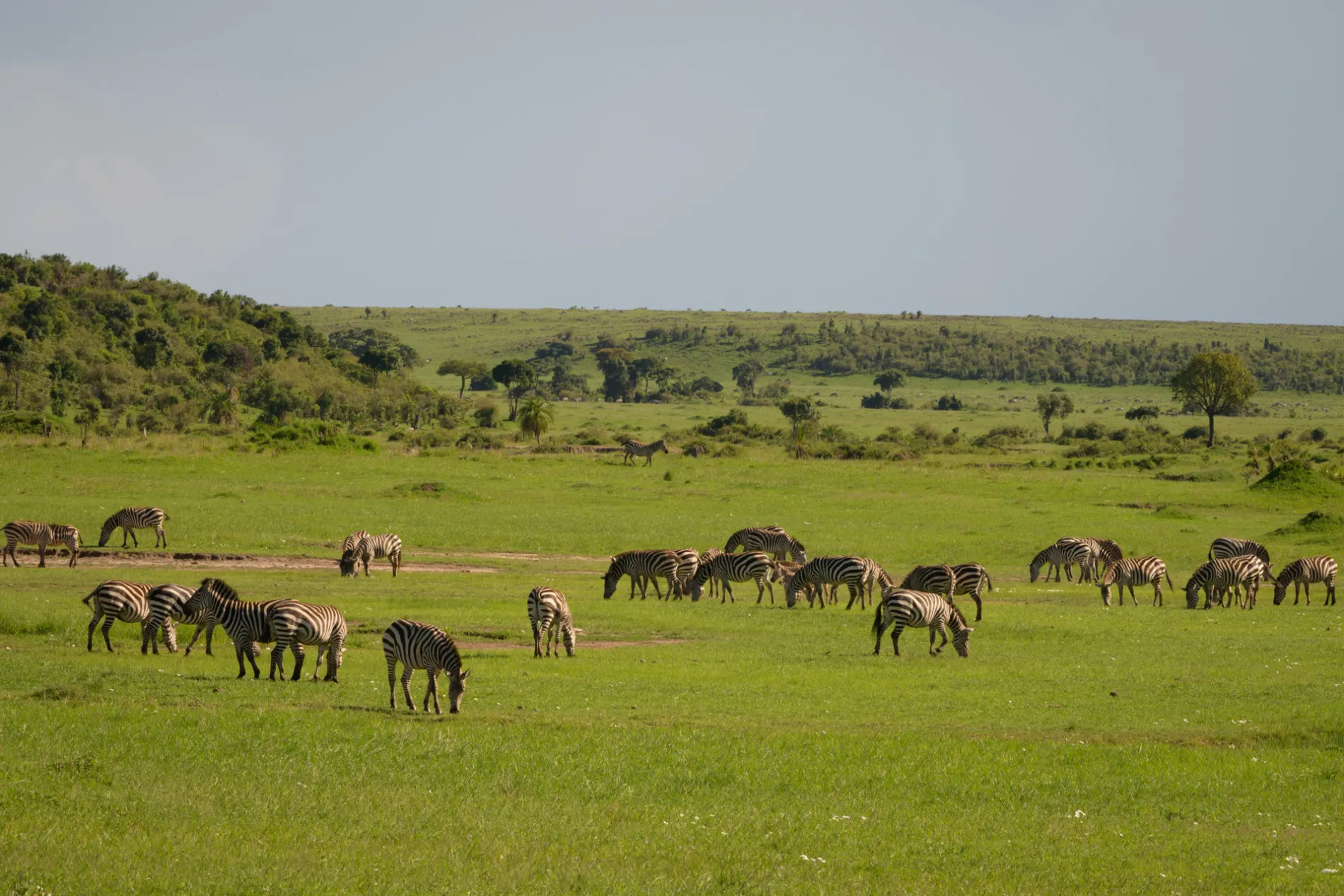 Zebras are out in the thousands at the moment. Hard to believe that we are still seeing mass gatherings of this beautiful animal, and incredibly the occasional river crossing! Here I opted for a wider lens, and a higher angle, so as to give context and to set the scene as to what the Mara currently looks like. [f 16.0, 1/60, ISO 80]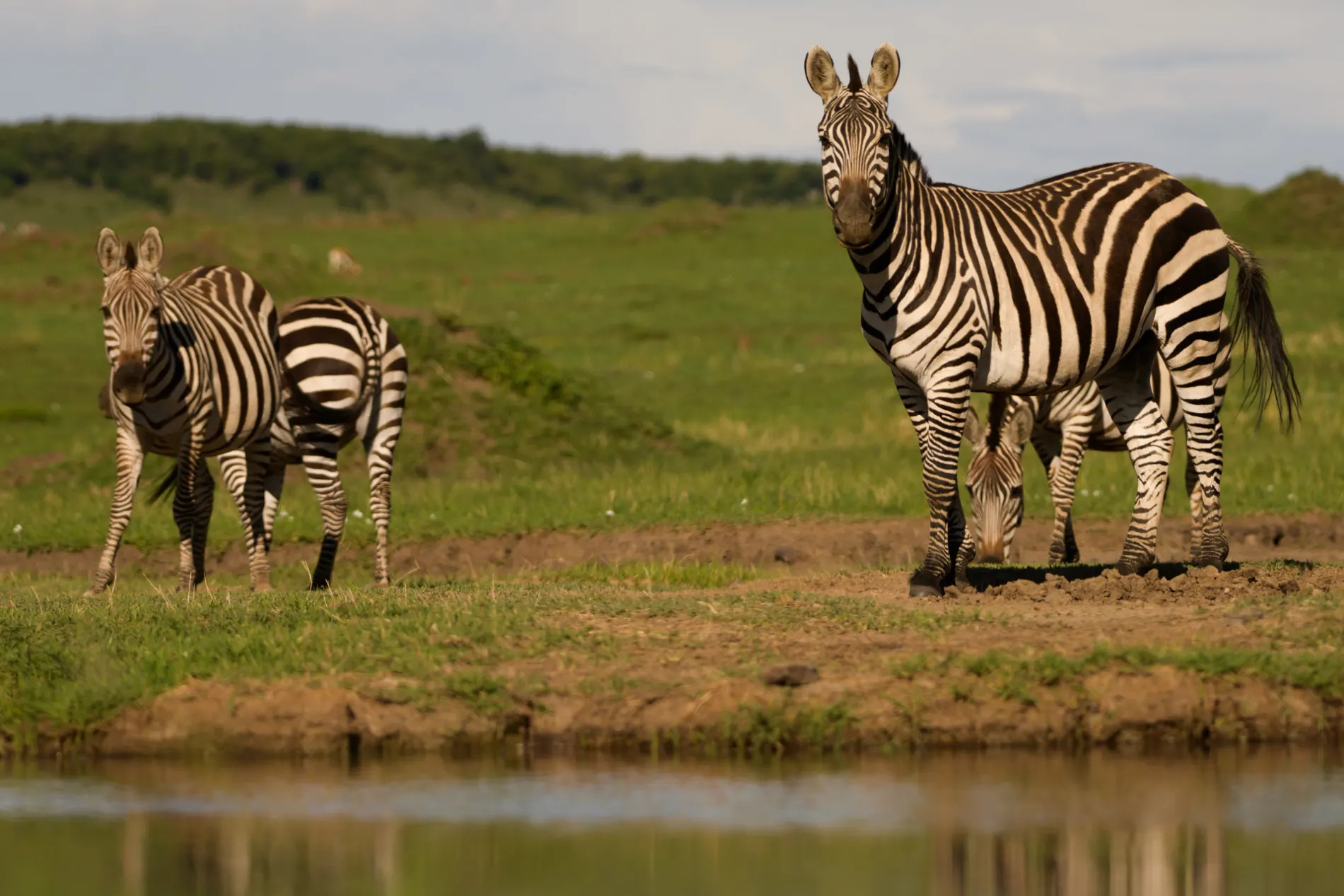 I often find that photographers zone in so much on the Big Cats in the Mara that they forget to spend time with the more common, but just as beautiful animals. It is crucial to remember that you can easily practice and perfect your photography on any animals and not just lions. Yet again, what makes this photograph is the low angle perspective and the water in the foreground. [f 5.6, 1/2000, ISO 160, -0.67]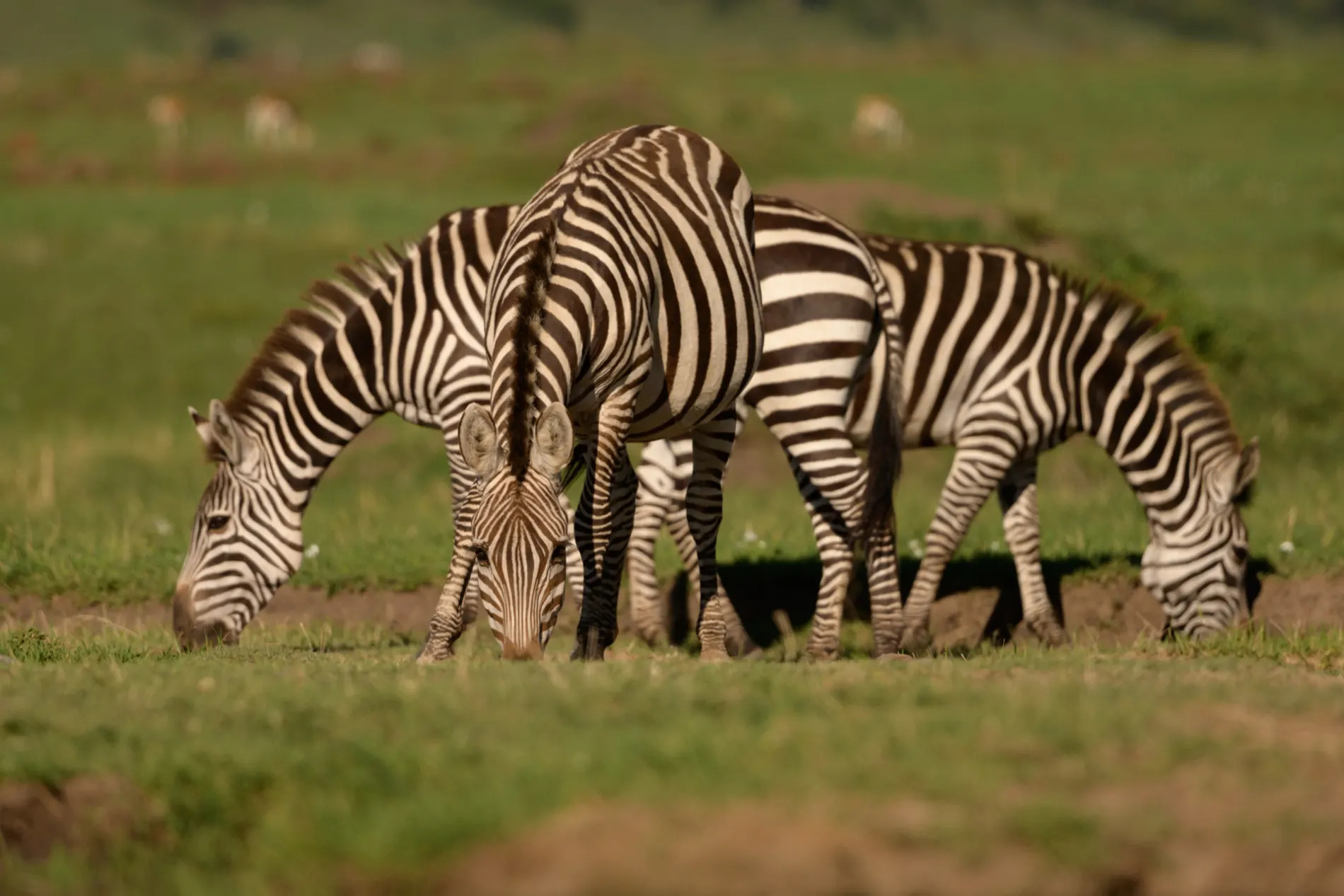 Another photograph from the same sequence. [f 5.6, 1/2000, ISO 160, -0.67]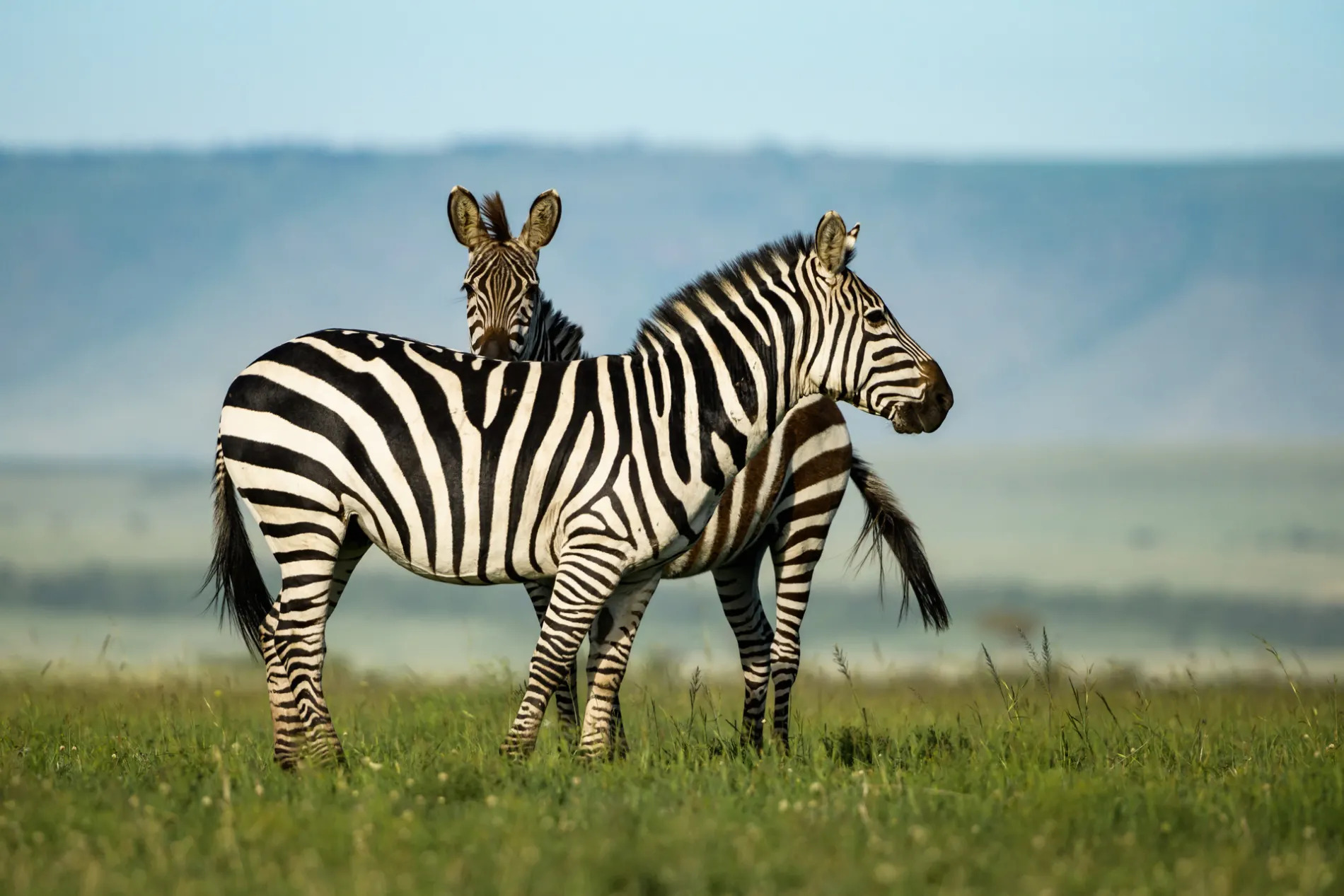 Look for moments that stand out. An individual looking your direction could make the shot that more appealing. Eye-contact goes a long way. [f 5.6, 1/4000, ISO 640, +0.33]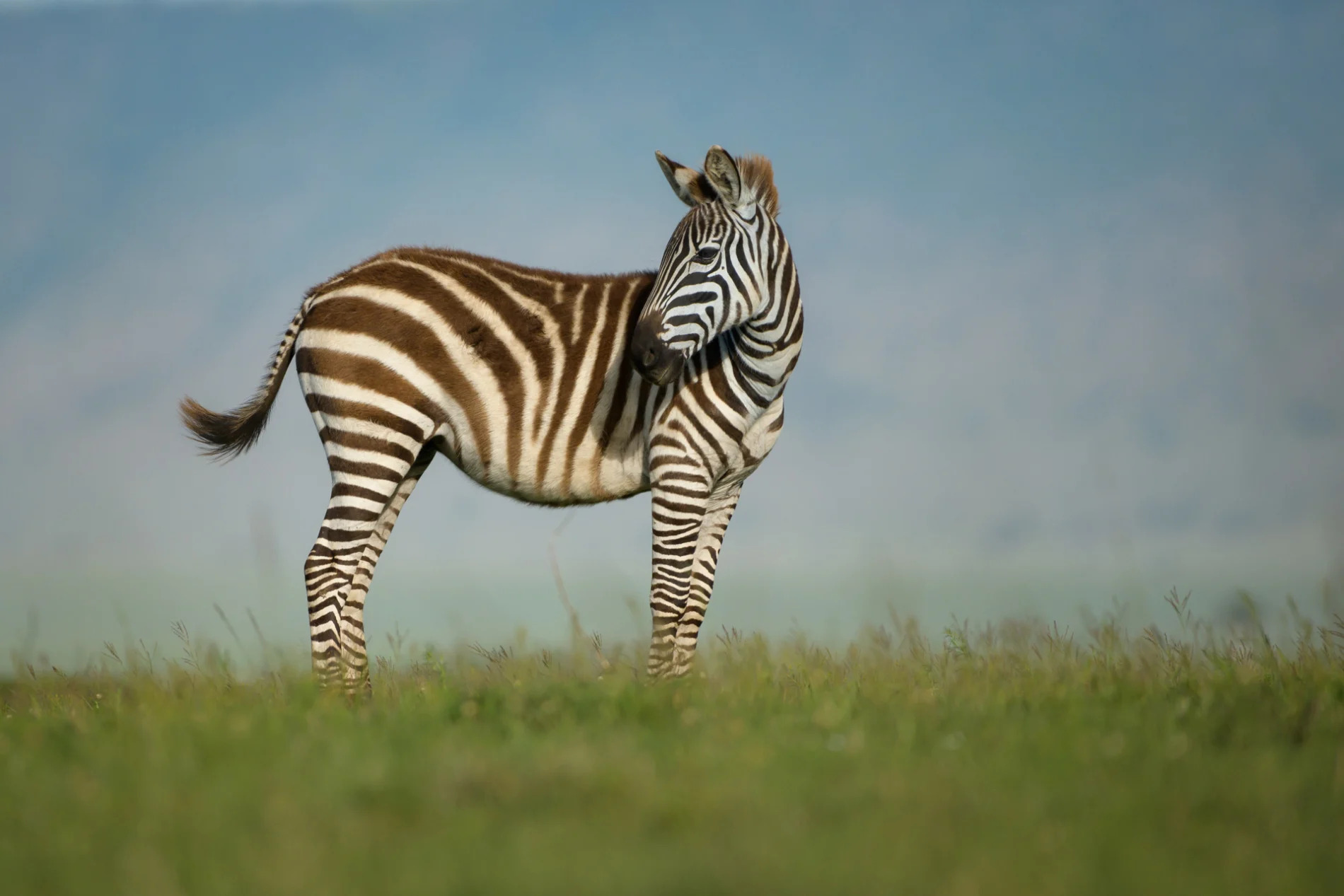 The abundance of zebra in the Mara Triangle at the moment makes them the ideal subject to work on your low-level photography. The grass is brilliantly green and still short; and the Oloololo Escarpment provides the perfect backdrop. [f 5.6, 1/4000, ISO 640, +0.33]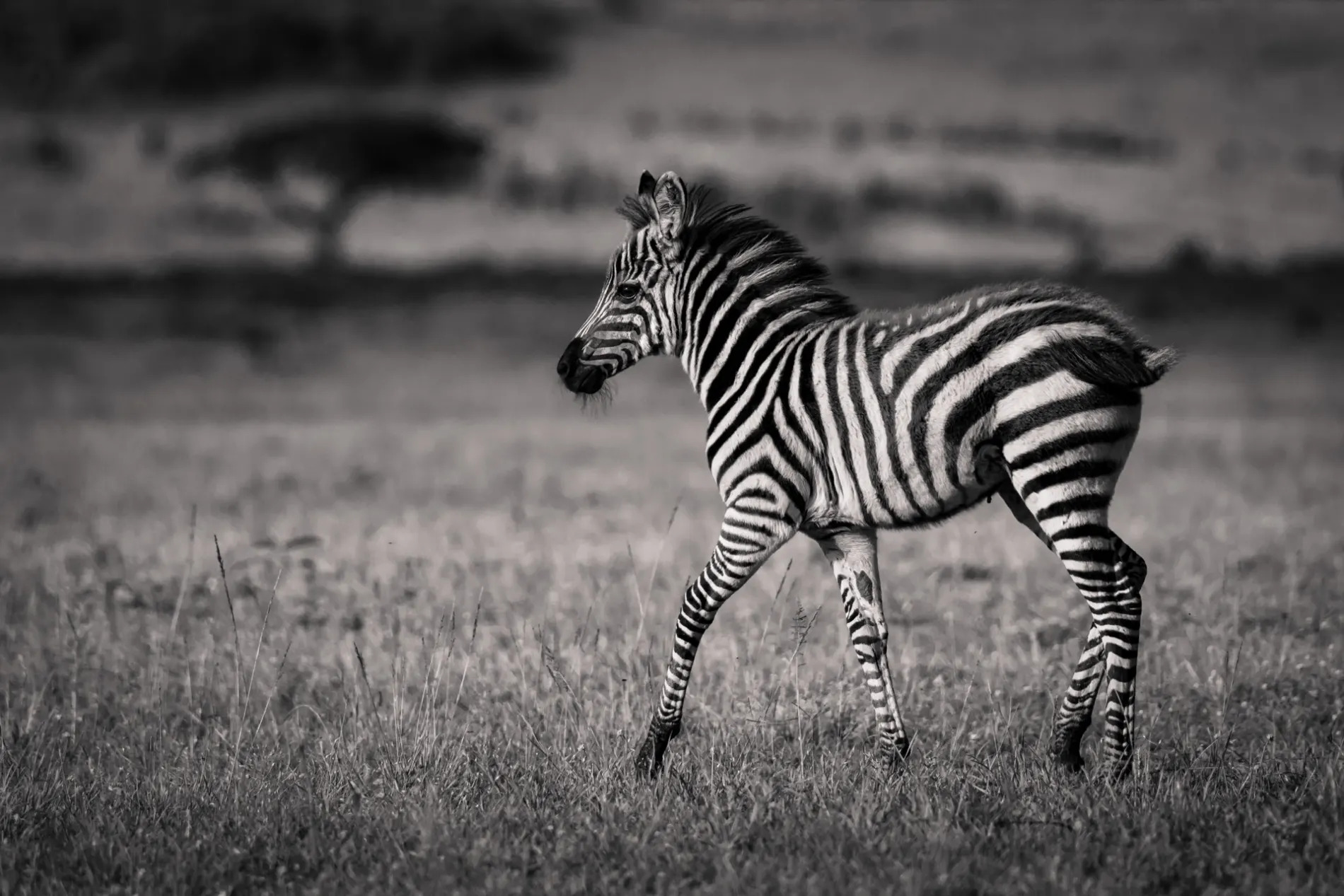 There is also currently an explosion of baby zebra and the tiny foals are just so cute. Here I tried my hand at a black and white conversion. [f 5.6, 1/62500, ISO 640, +0.33]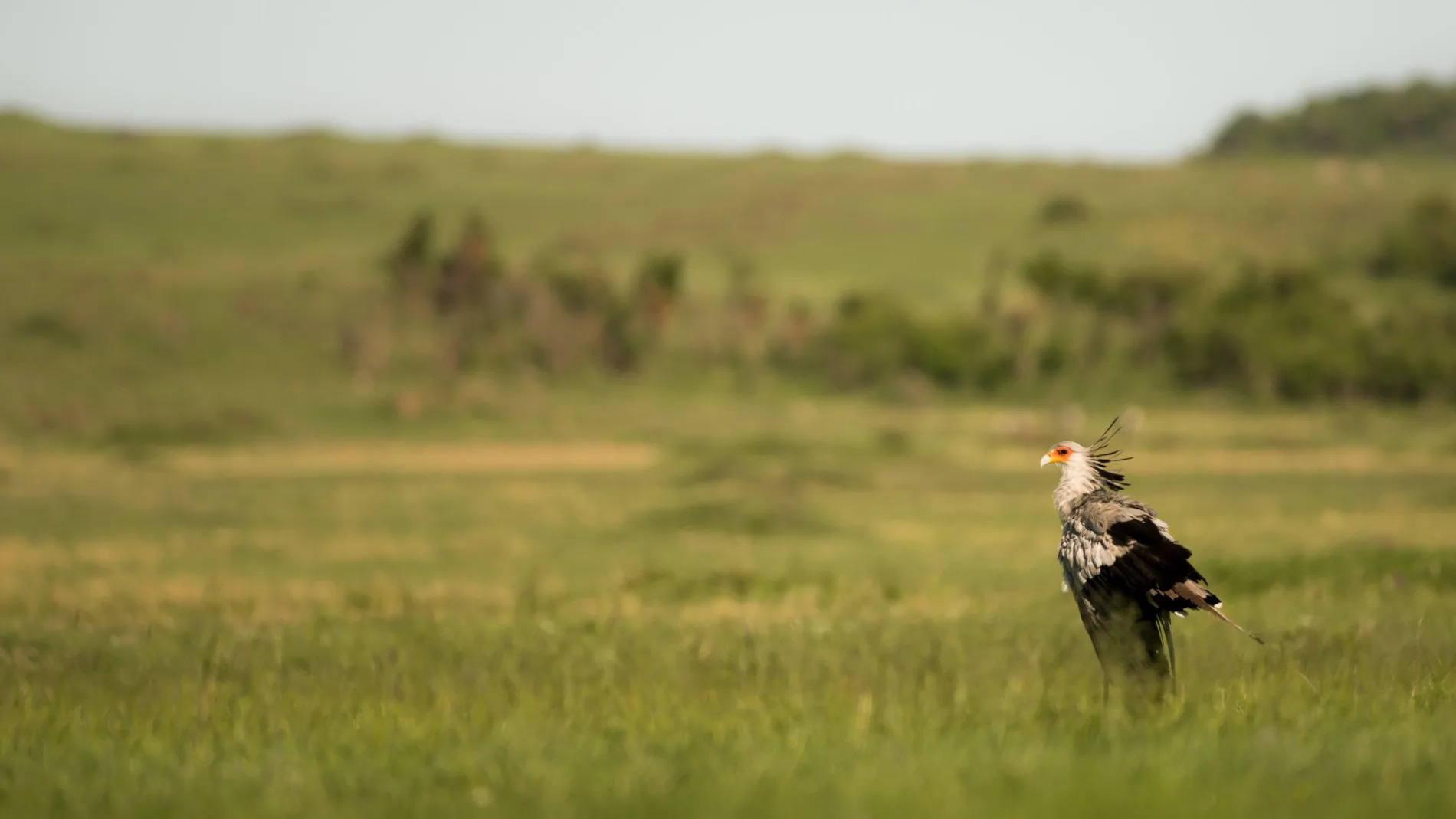 When you start to look at low-level photography then you will find that the world takes on an entirely new look. I have watched many visitors to the Mara drive straight past secretary birds without a second look. However, once you drop down to their level, not only does your photo take on a new dimension, but you start to appreciate these fascinating birds just that little more. [f 5.6, 1/640, ISO 80]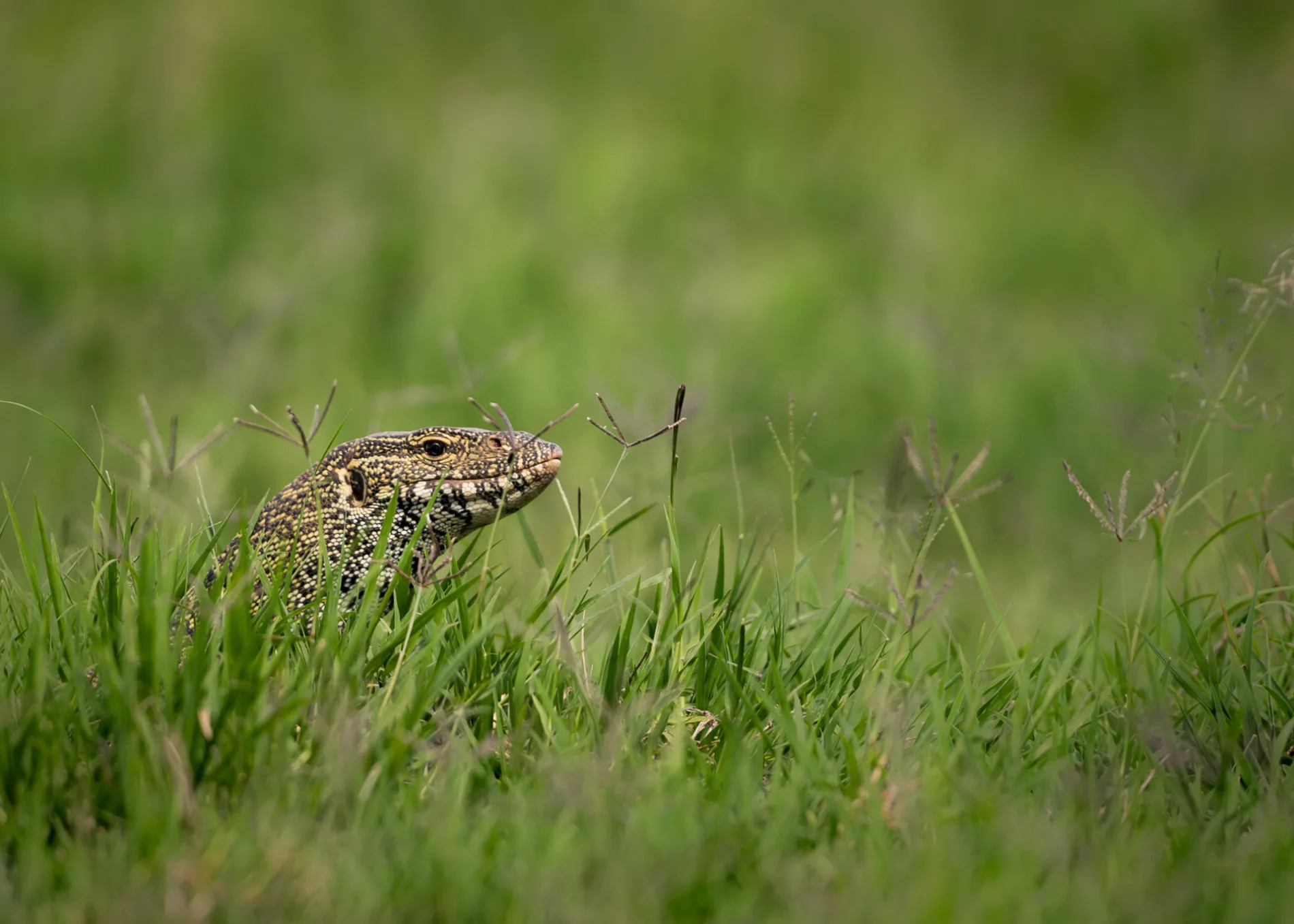 I came across this water monitor lizard walking around camp. This allowed me the chance to lie down on the ground and get an eye- level encounter. Auto Focus will often struggle in situations like this as it tends to pick up the grass and vegetation. You may need to be quick and switch to Manual Focus. [f 5.6, 1/125, ISO 100]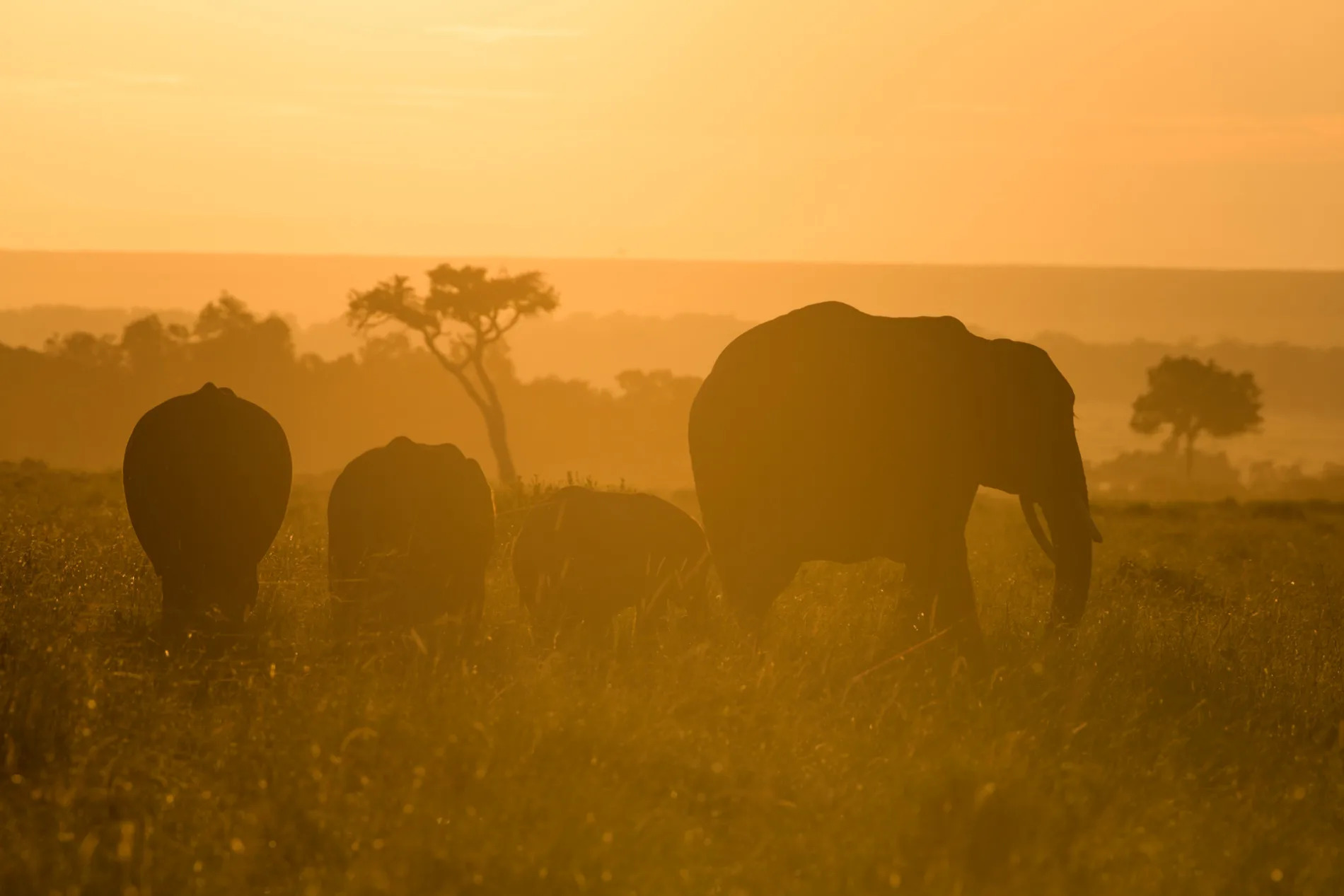 There is nothing better than starting your day with a glorious sunrise and a family of elephants. Shooting low and into the sun often creates moody silhouettes. [f 10.0, 1/500, ISO 125, +0.33]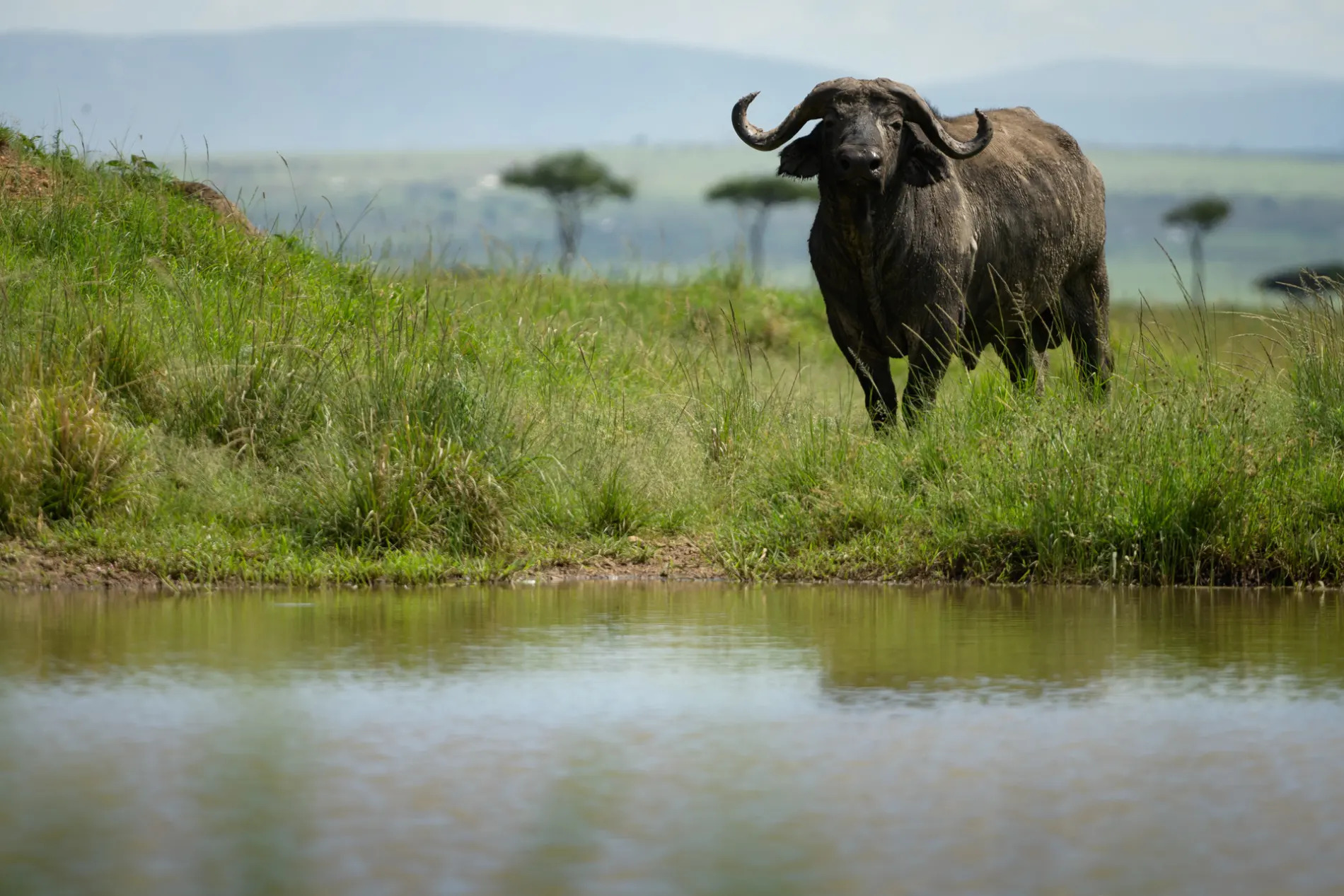 Midday, harsh light and temperatures rising. The time of the day when photography is really hard. This is the time of the day to head for water and sit patiently. You would be surprised how often the action comes to you. [f 5.6, 1/640, ISO 125]