Under duress, regular guest and passionate photographer, James Fitzgerald, was persuaded by his nagging sister-in-law, Nicky, to share his beautiful photographs taken earlier on in September. This is James' second guest appearance on our blog … and next year there will be a third.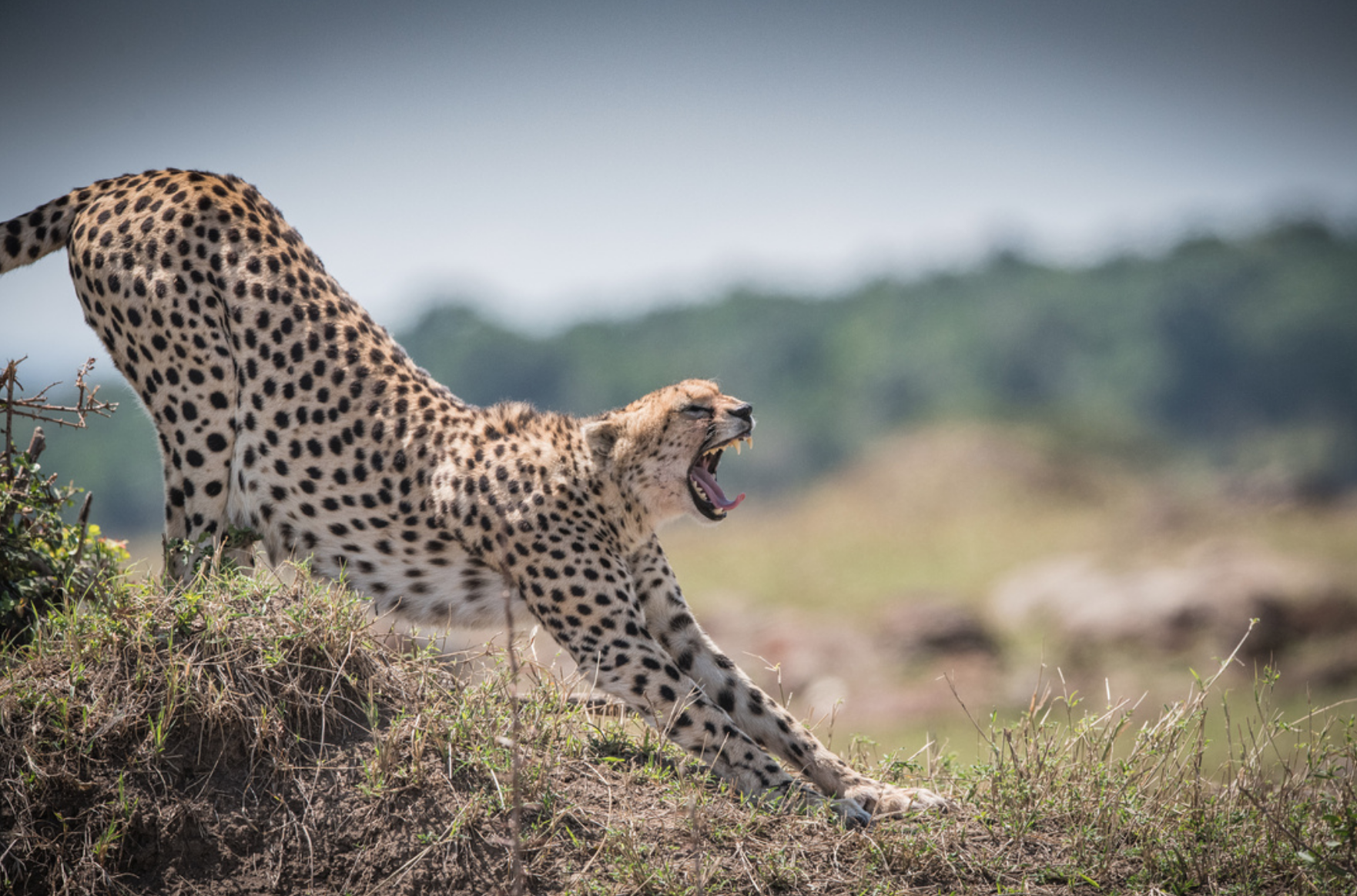 By following the weekly blogs from Angama, it was clear that the migration was still in residence below Angama. Or were they? On landing at Kichwa Tembo we were surrounded by the migrating animals – hundreds of thousands (at least)! We were advised to count the legs and then divide by 4 to know how many! Our friends had never been to the Mara, so it was great to be astonished through their eyes!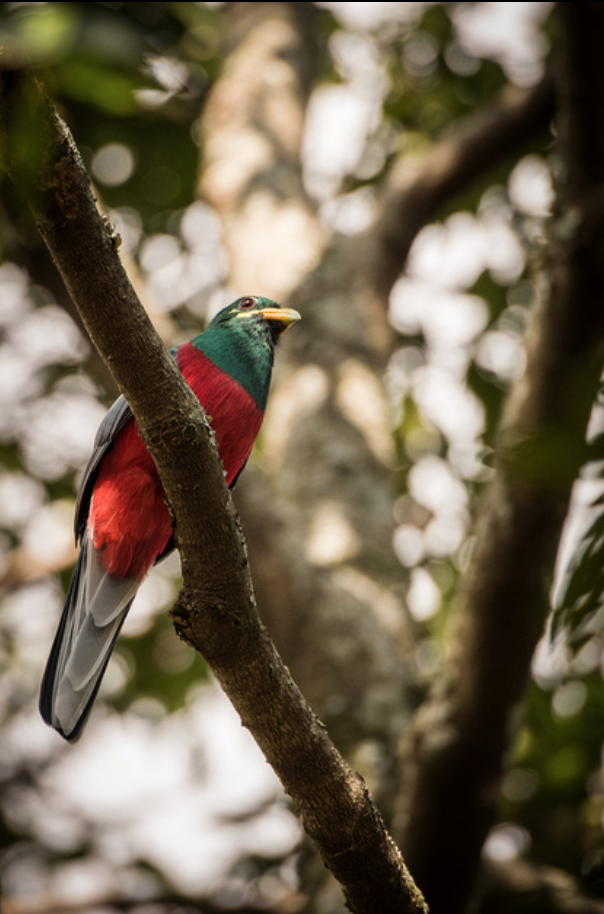 Our first drive out of the camp we came across this Narina Trogon – judging by the excitement of our guide Geoffrey, this was an unusual siting and we were lucky enough to get a few shots before it disappeared into the nearby bush. [ISO 320, 400mm, f5,6, 1/400 sec]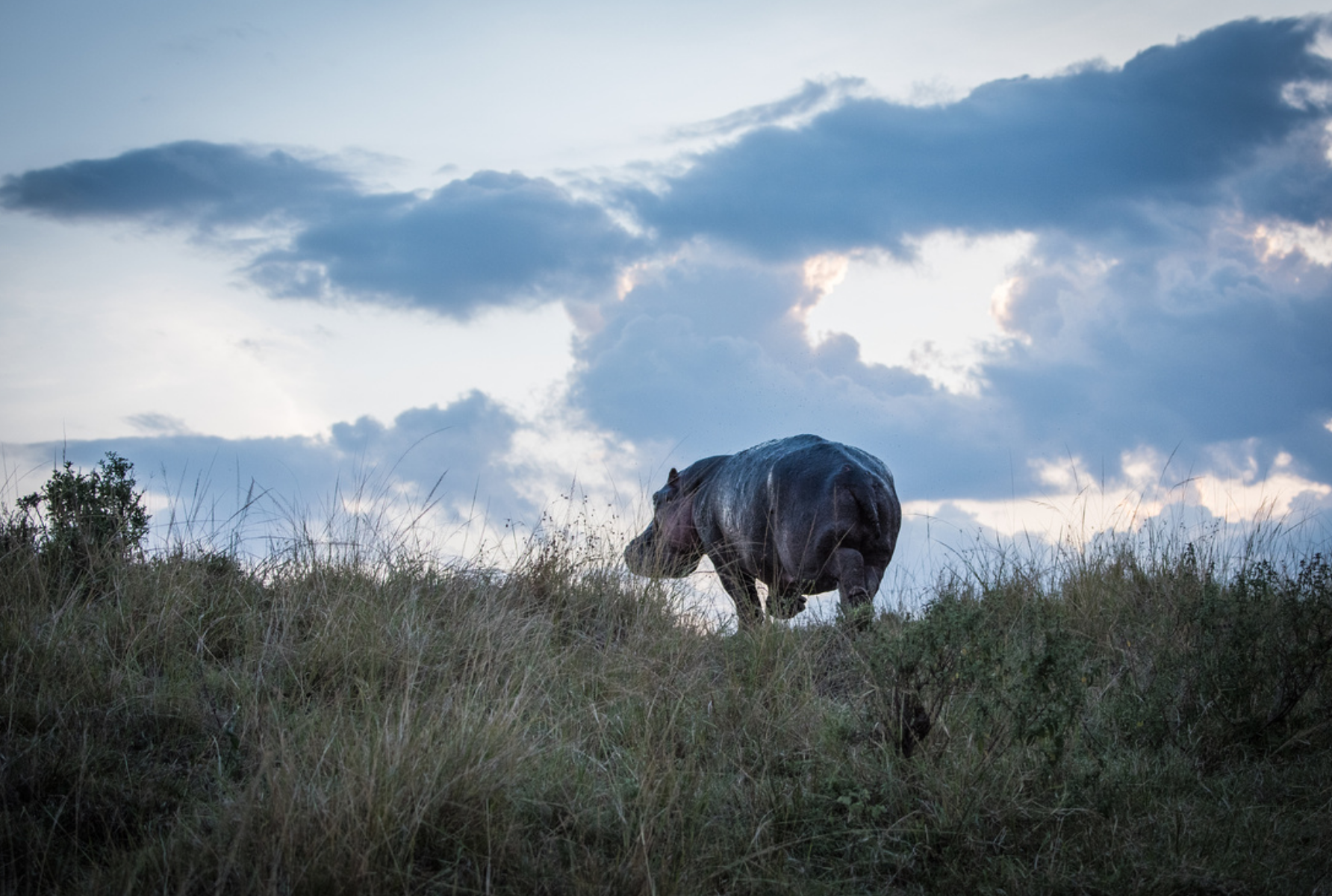 I liked this shot of the retreating hippo at dusk because it was charging up over the hill and giving us a great silhouette in front of an interesting sky! [ISO 800, 80mm, f5,6,1/400 sec]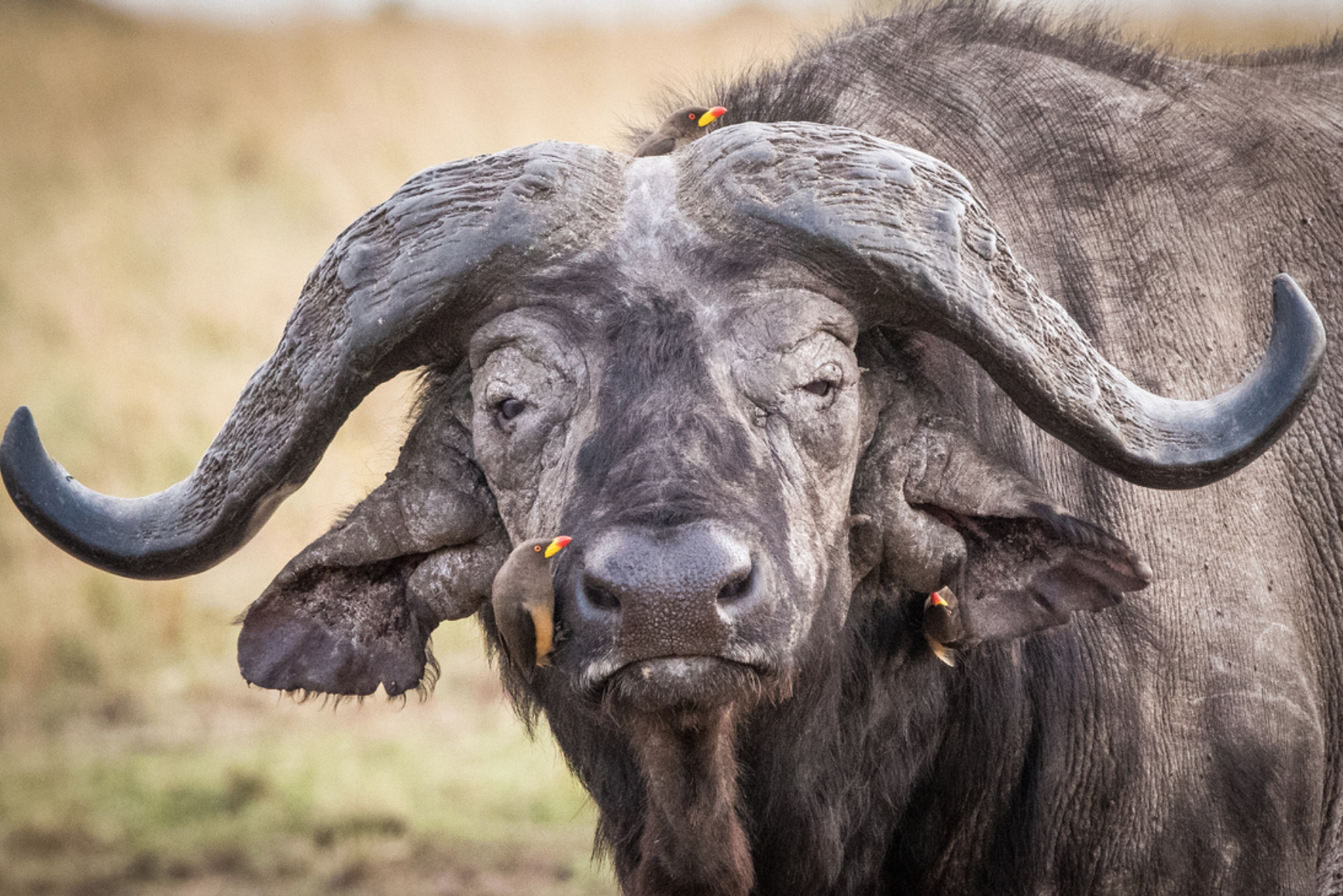 This long suffering buffalo at least had his eyes semi-open while he was being given the cleaning treatment by the ox peckers! [ISO 5000, 400mm, f11, 1/400sec]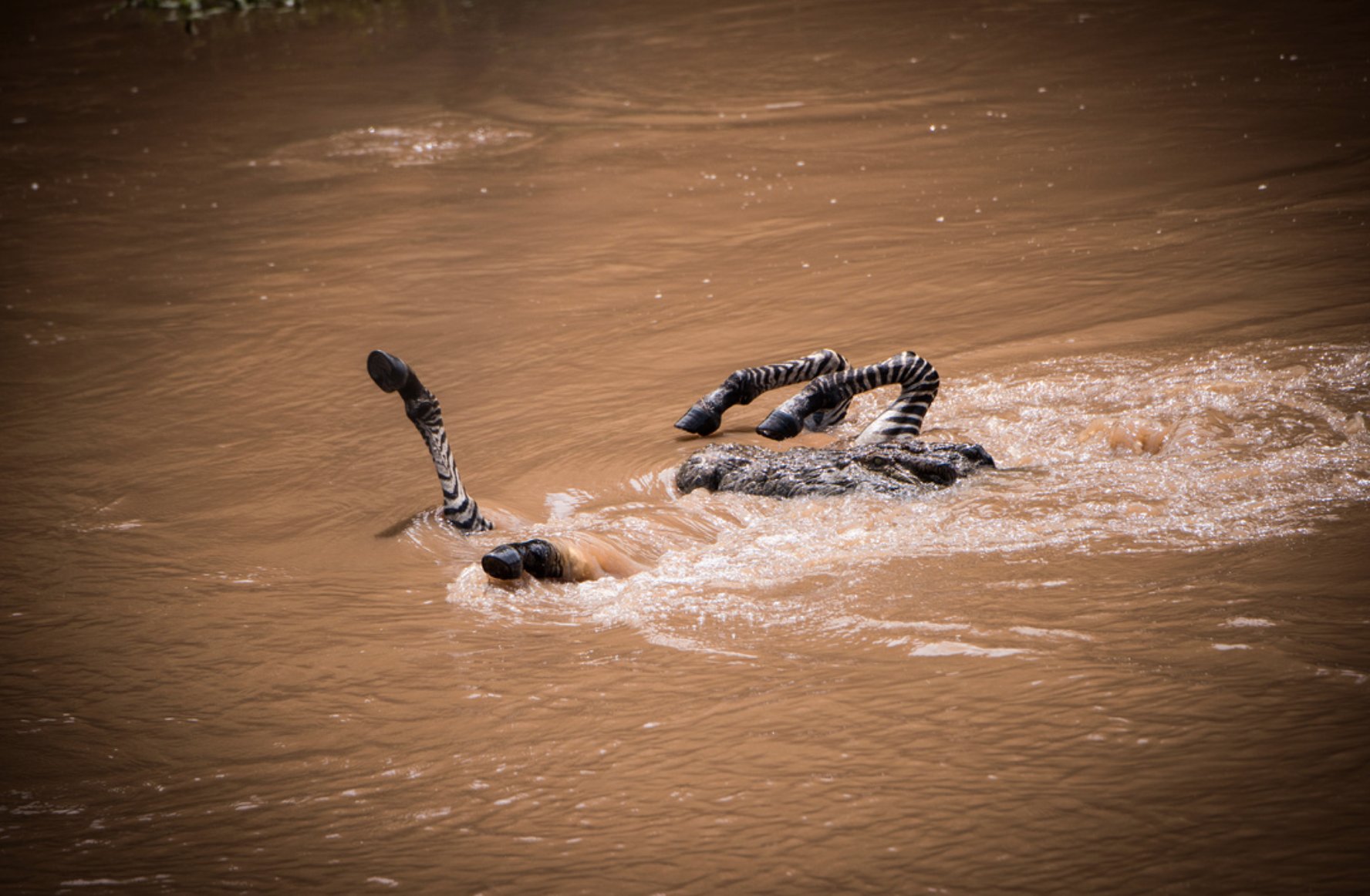 There is a story here! We were at the hippo pools when we noticed what was clearly a dead zebra in the water on the far side of a very strongly flowing Mara river. It was moving around because a large crocodile was attached to it. Suddenly the crocodile lost it's grip and the zebra moved fast downstream! The crocodile chased after it, and this shot shows the speed at which the crocodile pushed the zebra back up to it's intended lair! It was a good 80 metre push! [ISO 200, 400mm, f 5,6, 1/2000sec]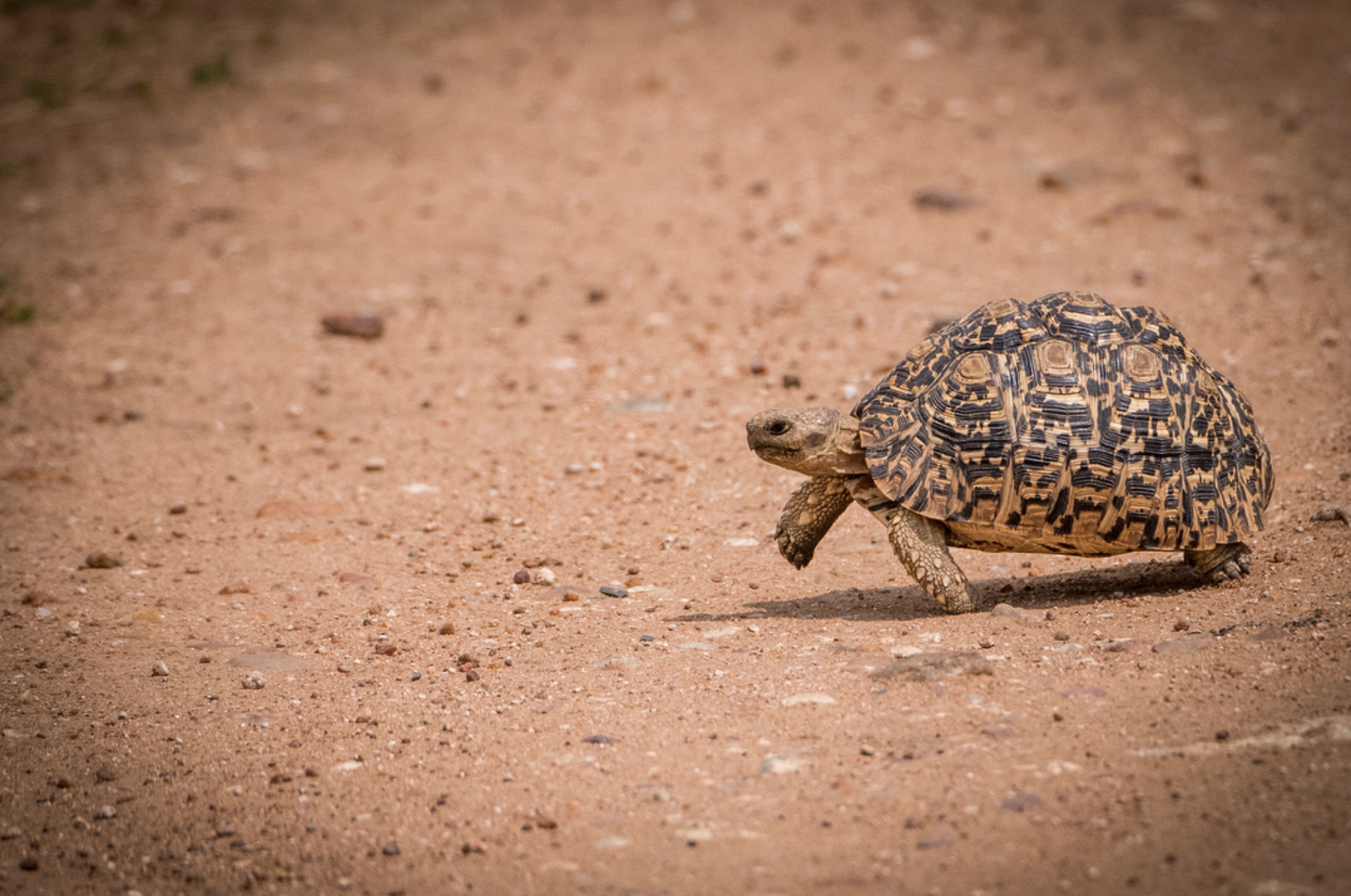 A change of pace and we decided to watch this hardy tortoise make it's way to the safety of the bush on the other side of the road. I like this image because it is very clear that the tortoise is on the go![ISO 640, 400mm, f5,6, 1/8000 sec] – I needed the speed obviously!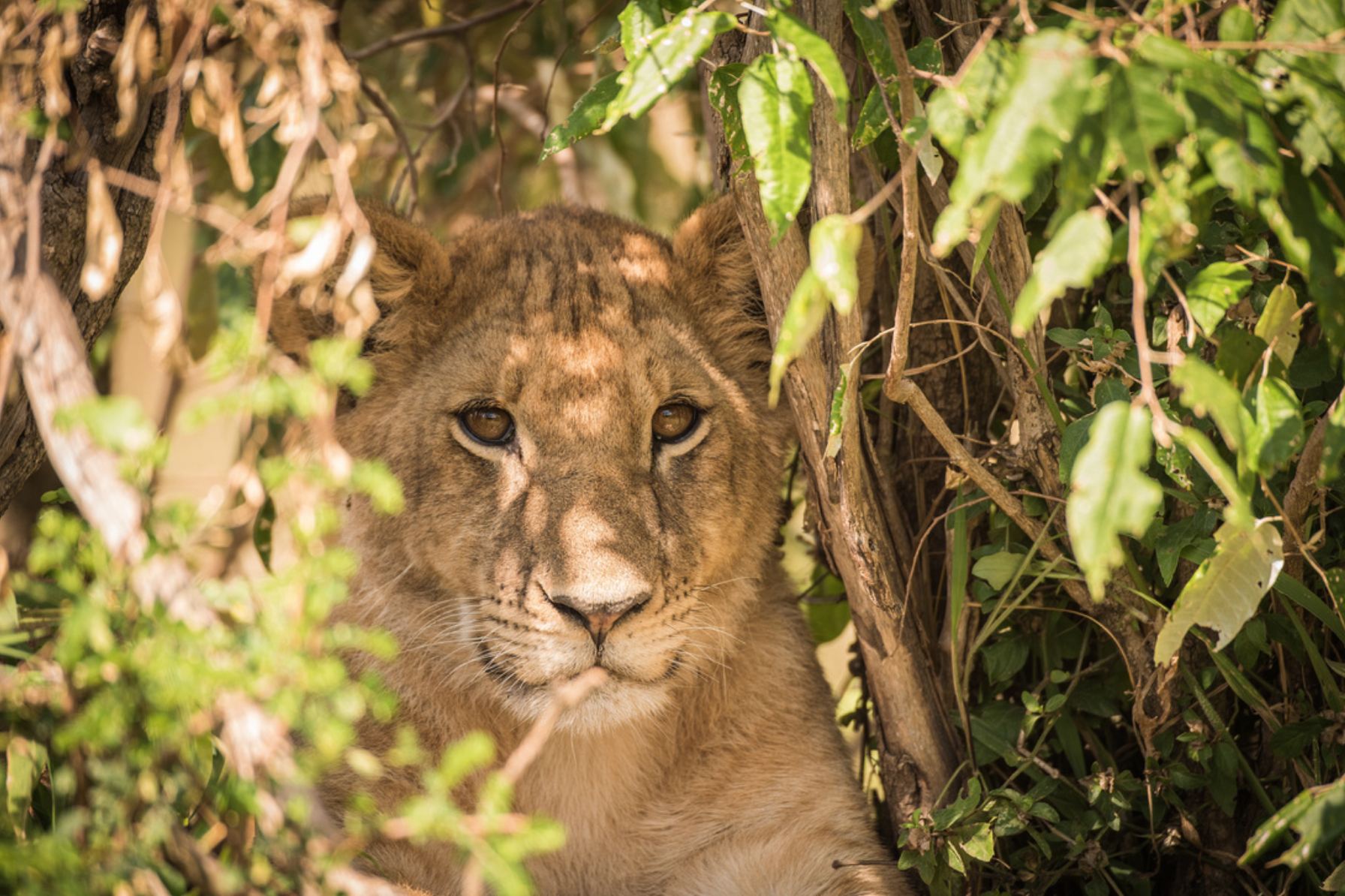 This pensive lion cub was happy to sit in the shade and watch us. Very nice lighting I thought. [ISO 640, 400mm, f5,6, 1/400sec]
Although we did see the full force of the migration, sometimes estimating over a million animals in a full 360 degree view, the migration had already crossed the Mara river and were setting sail for Tanzania – then after some rain they were not and then they were again! So we saw only two "mini-crossings" – so were spared the long waits and the crocodile kills – happily! This group of wildebeest came charging past us just after crossing – I like the effect of the dust in this shot! [ISO 640, 160mm, f5,6, 1/1250sec]
This was the reason that the wildebeest were charging around! In a well planned attack two lionesses allowed themselves to be seen some way off on the left. The wildebeest responded and went charging into this lioness, who was hiding in their path! [ISO 720, 185mm, f6,3, 1/400sec]
This magnificent male from the very large Sausage Tree pride made it clear that he expected the females to do the hunting while he strutted around. He is a beautiful unmarked specimen! [ISO500, 400mm, f5,6, 1/500sec]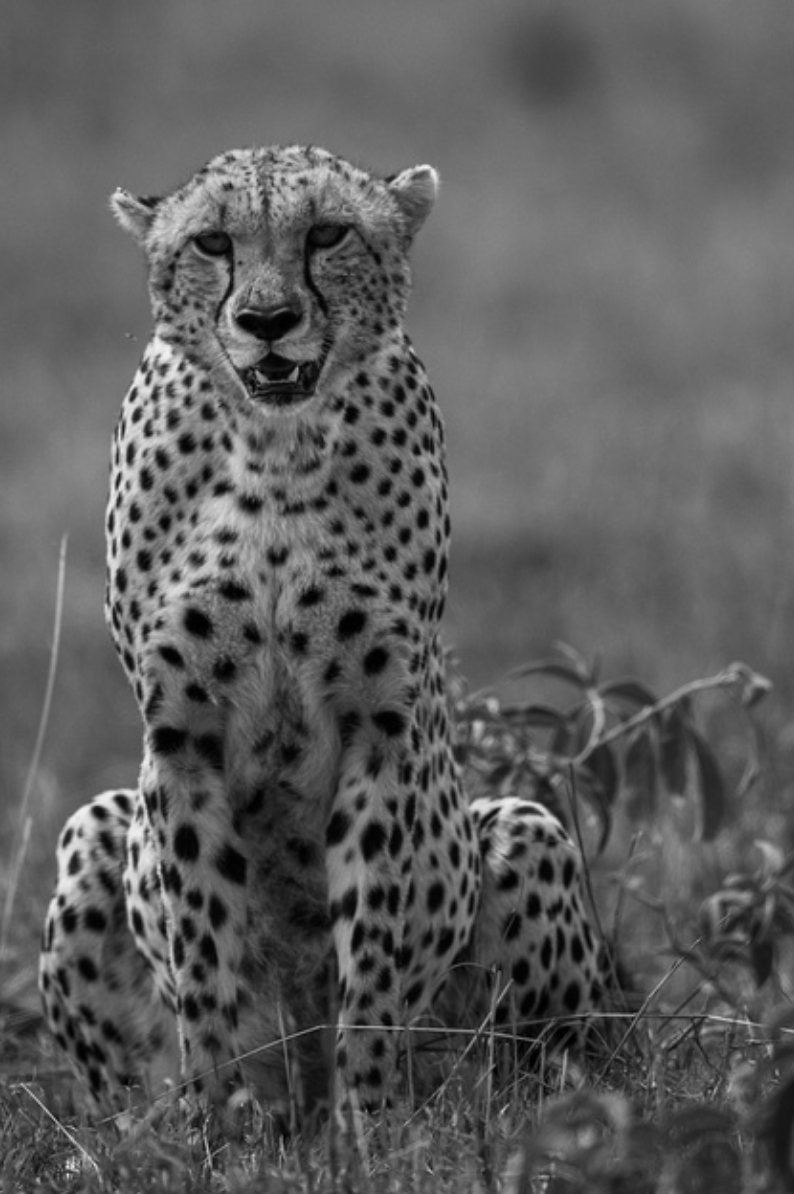 This is one of the two cheetah brothers who operate near the Tanzania border. His brother is right next to him (out of picture) getting stuck into the wildebeest that they have just run down! The light was harsh so I chose to do this one in black and white. [ISO 200, 600mm, f4,0, 1/2000 sec]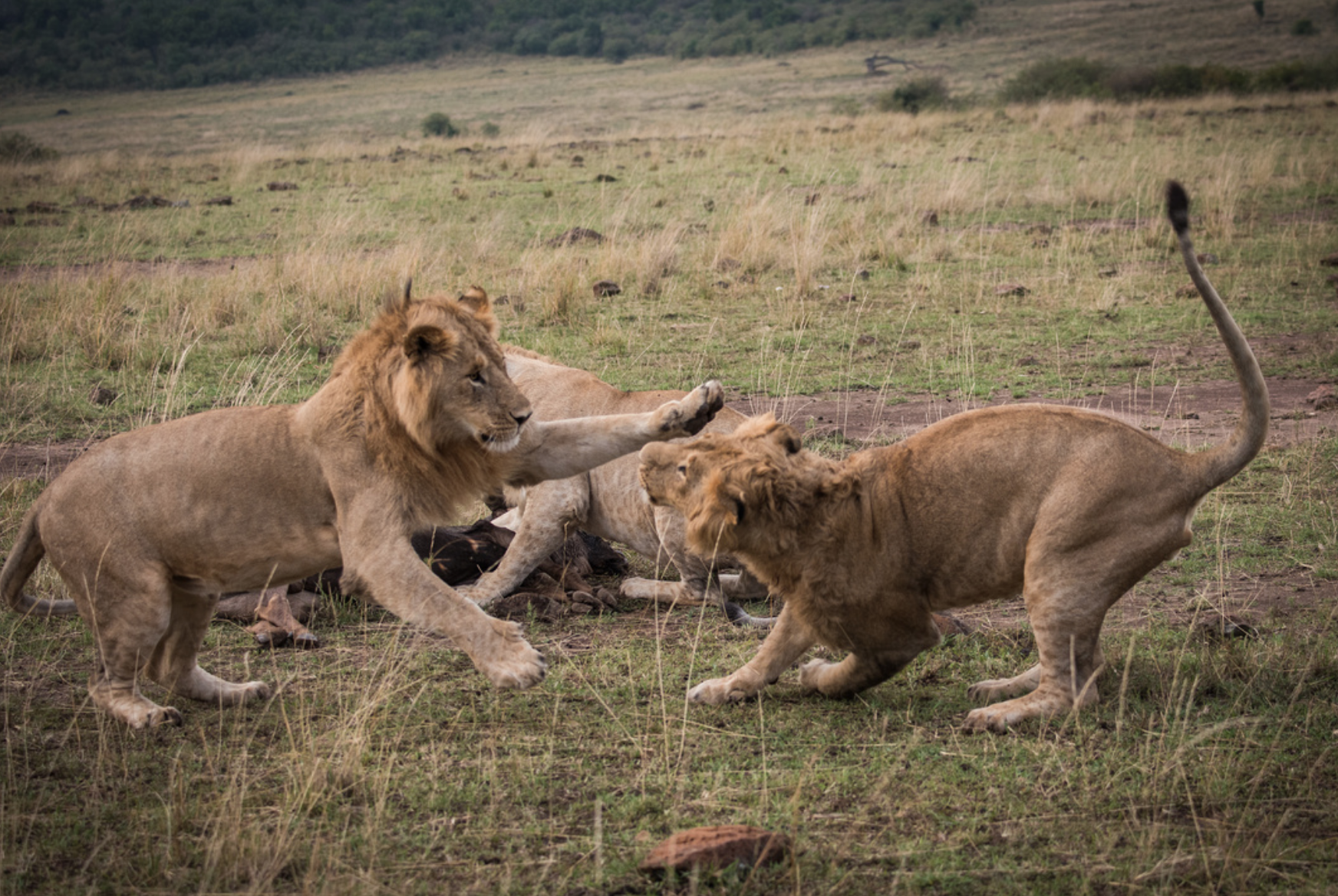 Early one morning we came across three young male lions who had just killed a wildebeest. Did I mention that there were a lot of wildebeest around? Anyway two of the lions were more interested in playing with each other. As they jumped around us, what made a big impression was how heavy they are as they landed next to our vehicle! [ISO 400, 92mm, f5,6, 1/400sec]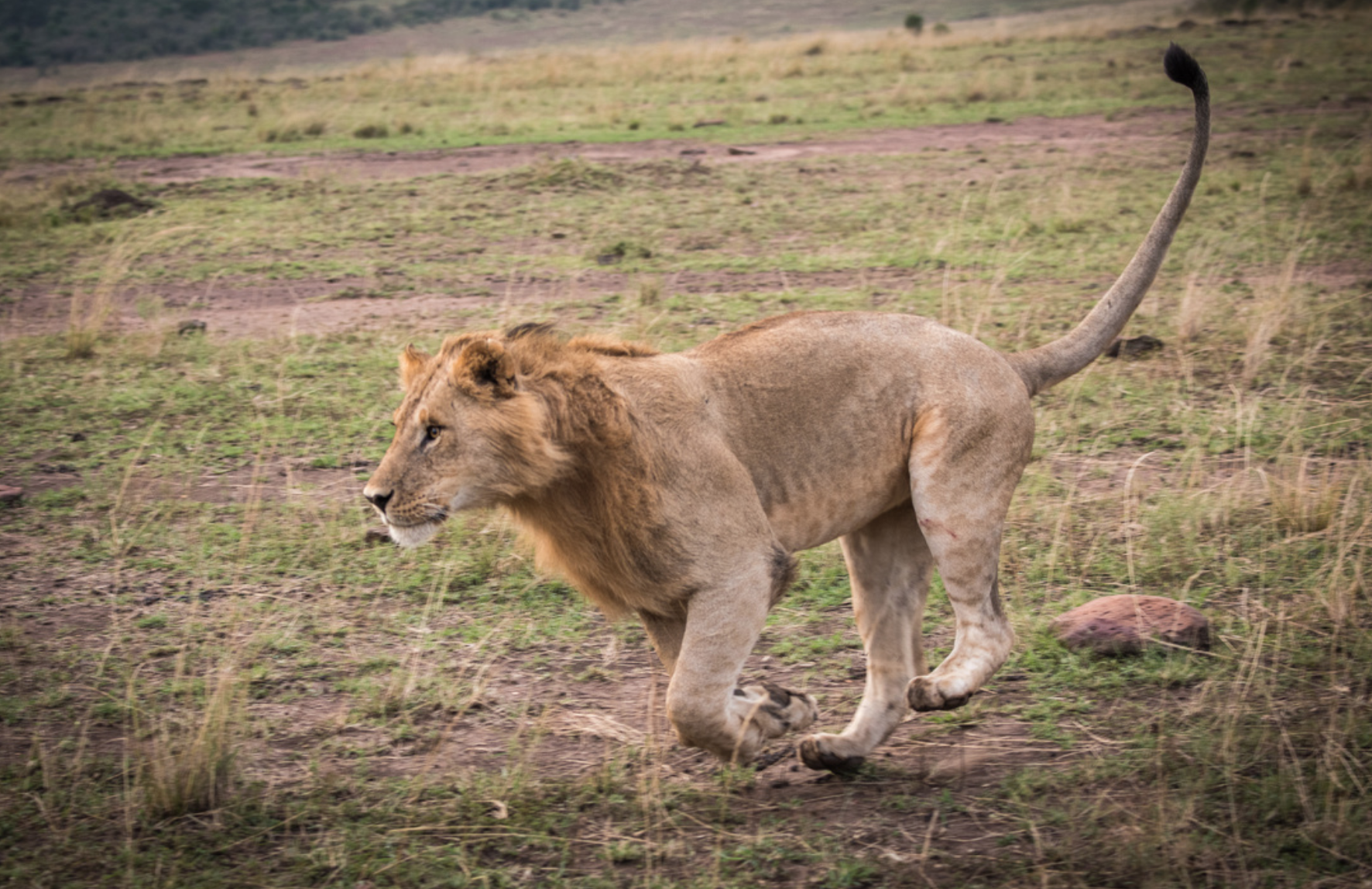 Let the games continue! [ISO 450, 92mm, f5,6, 1/400sec]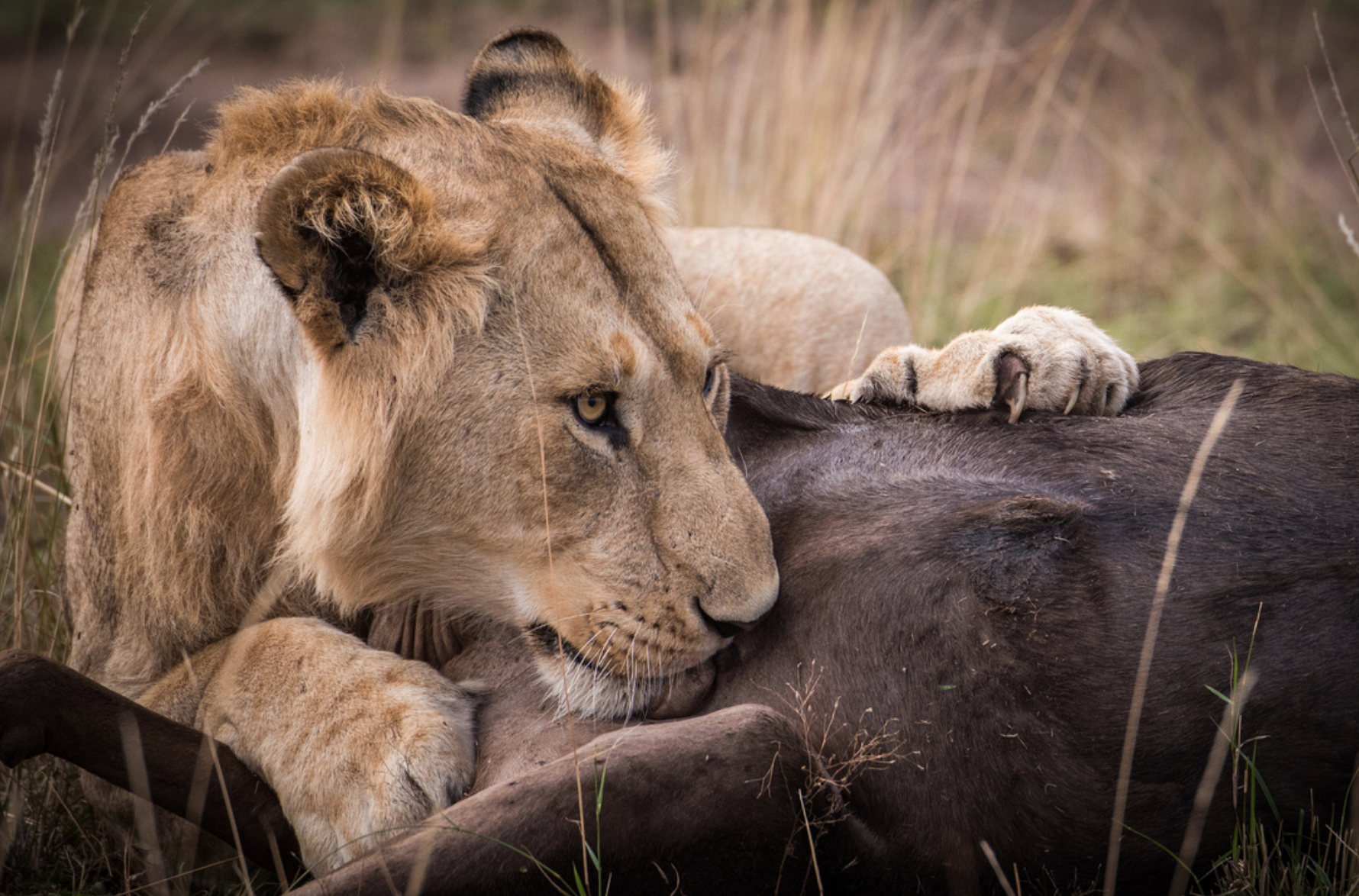 The one diligent brother decided to ignore the others and focus on opening up the carcass. There is a very clear pattern to the way they approach a new carcass as we discovered. Have spared you the gory parts! Take note of the size of his claws! [ISO 640, 400mm, f5,6, 1/500sec]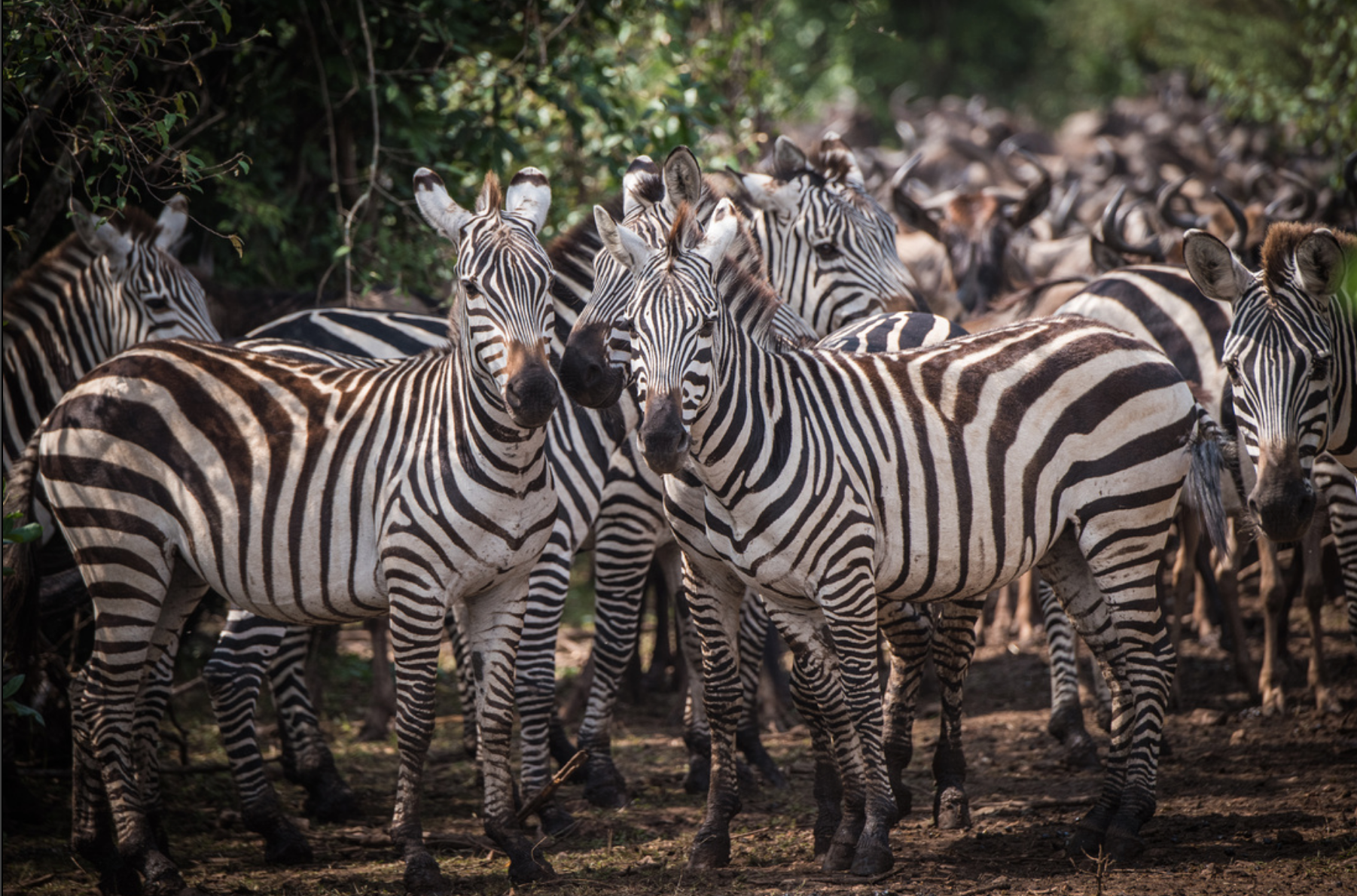 The frenzy that drives the migration is multiplied when the animals take themselves into an area which appears to have no exit – not even to the river! That was the case here, where they planned to breach the river only to find their way blocked! [ISO 400, 360mm, f5,6, 1/800sec]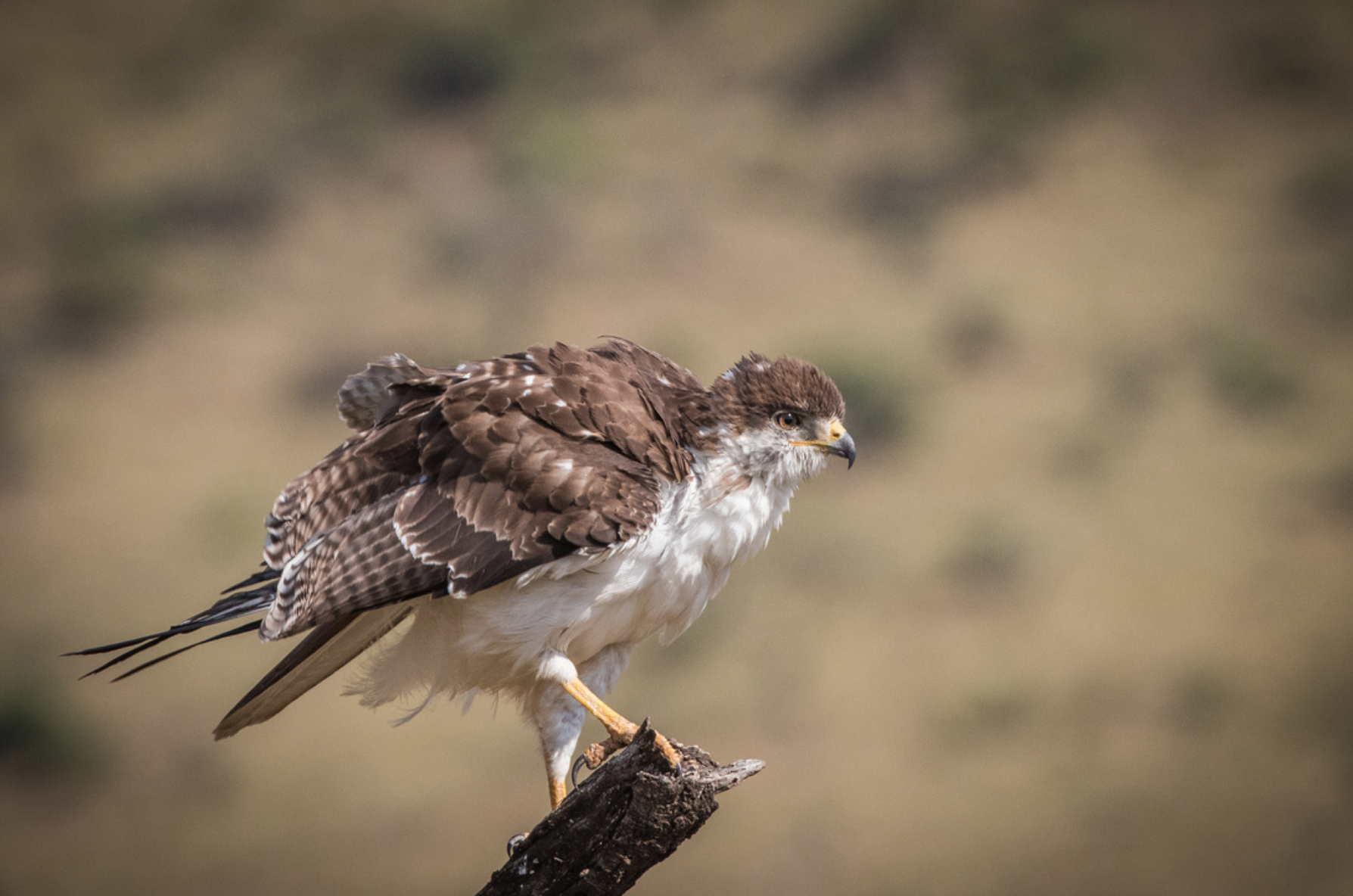 An Augur buzzard prepares to take flight! [ISO 800, 400mm, f8,0, 1/2500sec]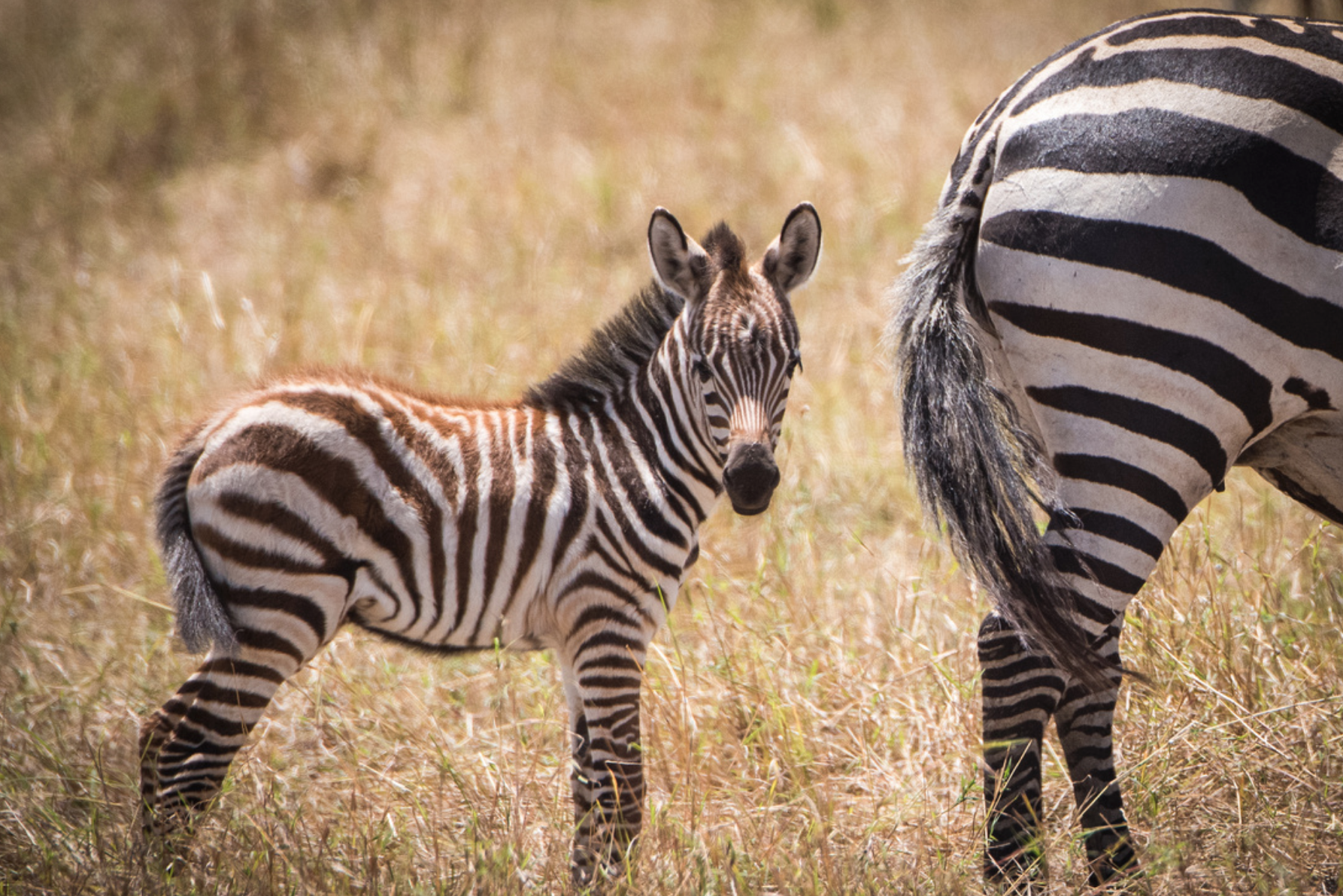 A very young zebra follows her mother! I like the composition which I think tells the whole story! [ISO 800, 400mm, f8,0, 1/1250sec]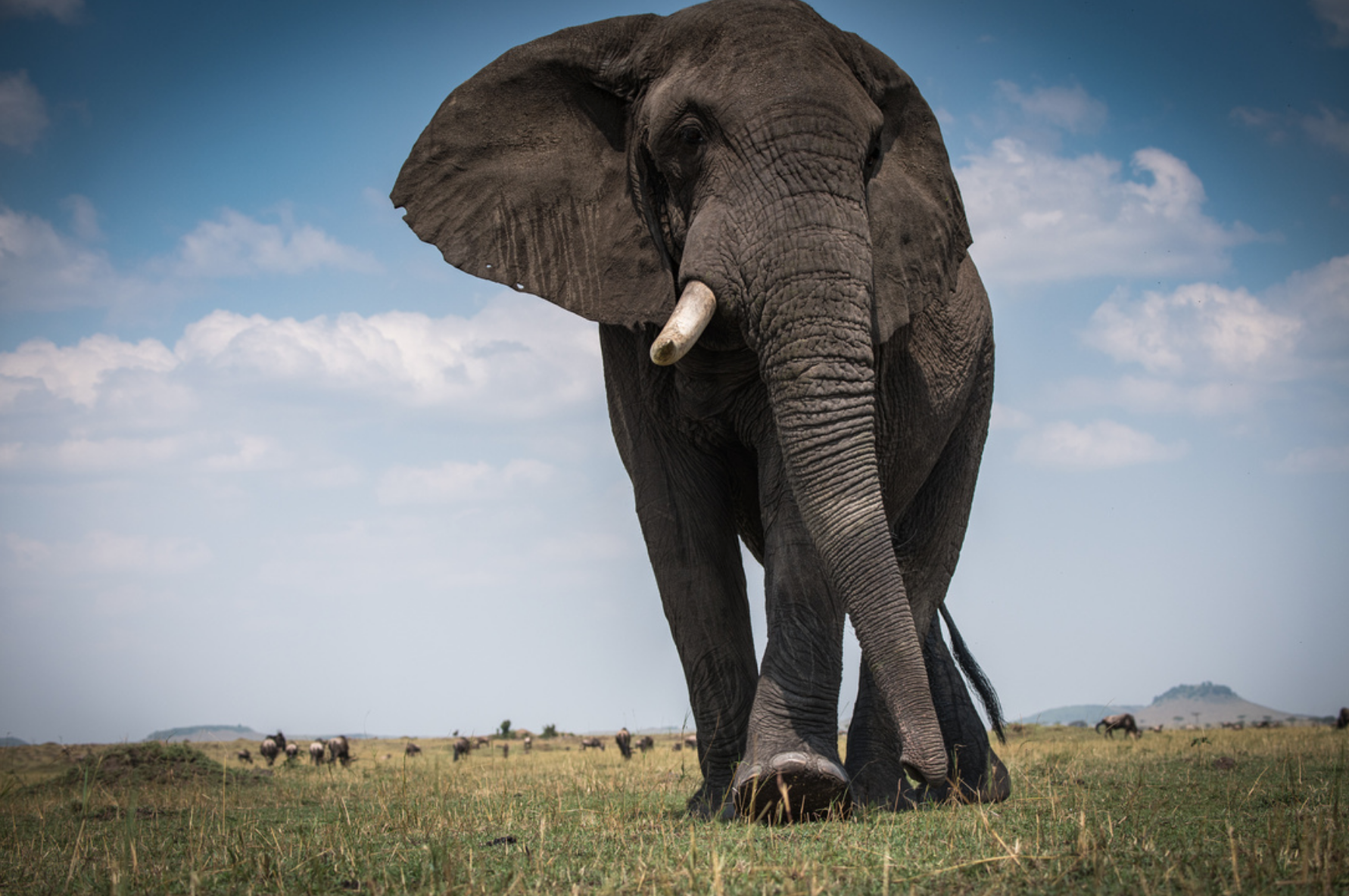 An elephant with one tusk! Actually that's not the story! What hopefully makes this picture interesting is that it is taken from ground level and the elephant is very close!(For those interested, the camera was lowered to the ground via a monopod and the shot triggered remotely from my cell phone where I could determine the focal point! Am very happy with this first attempt!) [ISO 250, 80mm, f7,1, 1/1000sec]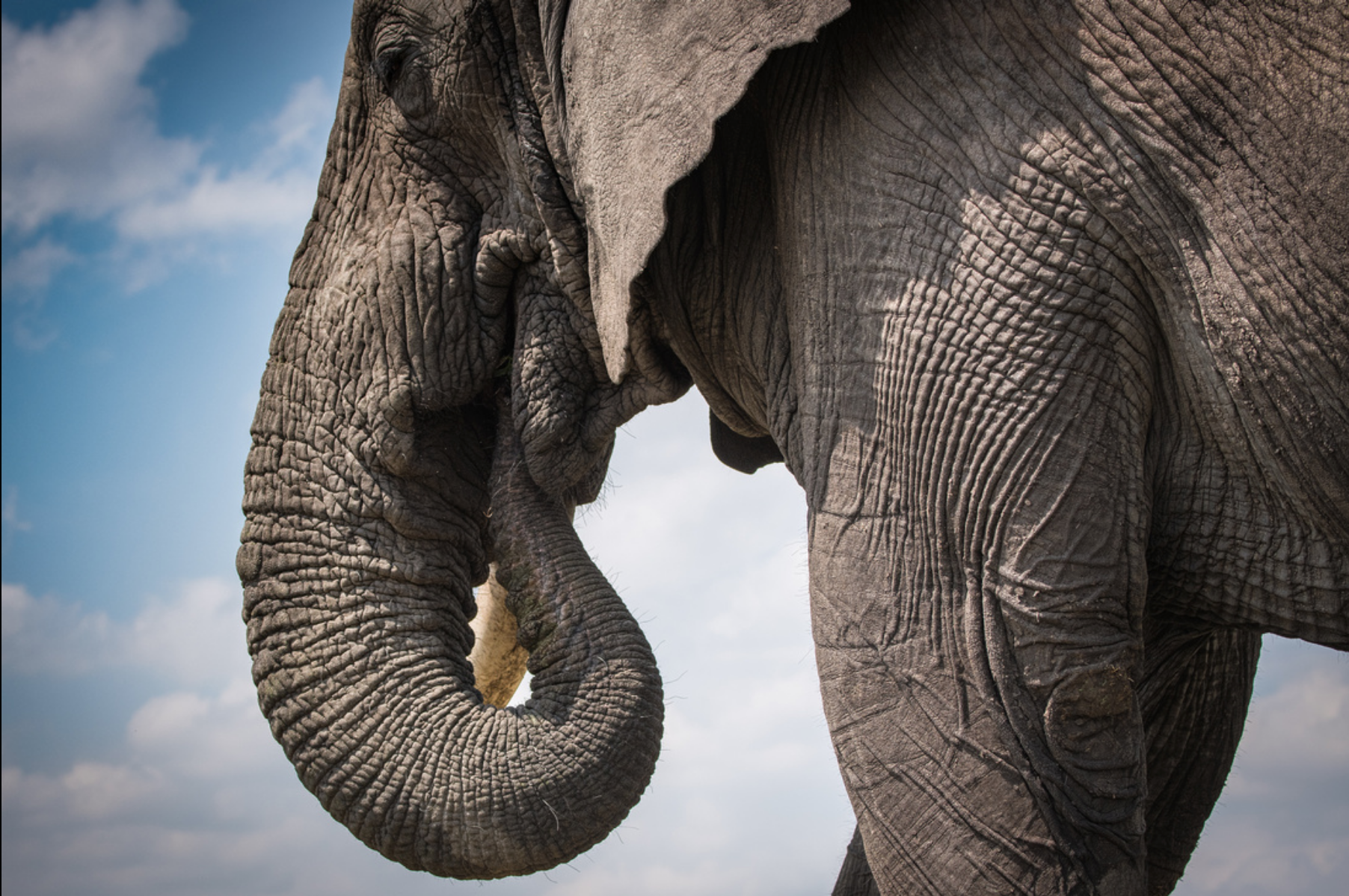 Now the elephant was too close so it eventually turned around! Great textures and the missing tusk is now clear! [ISO250, 80mm, f7,1, 1/1000sec]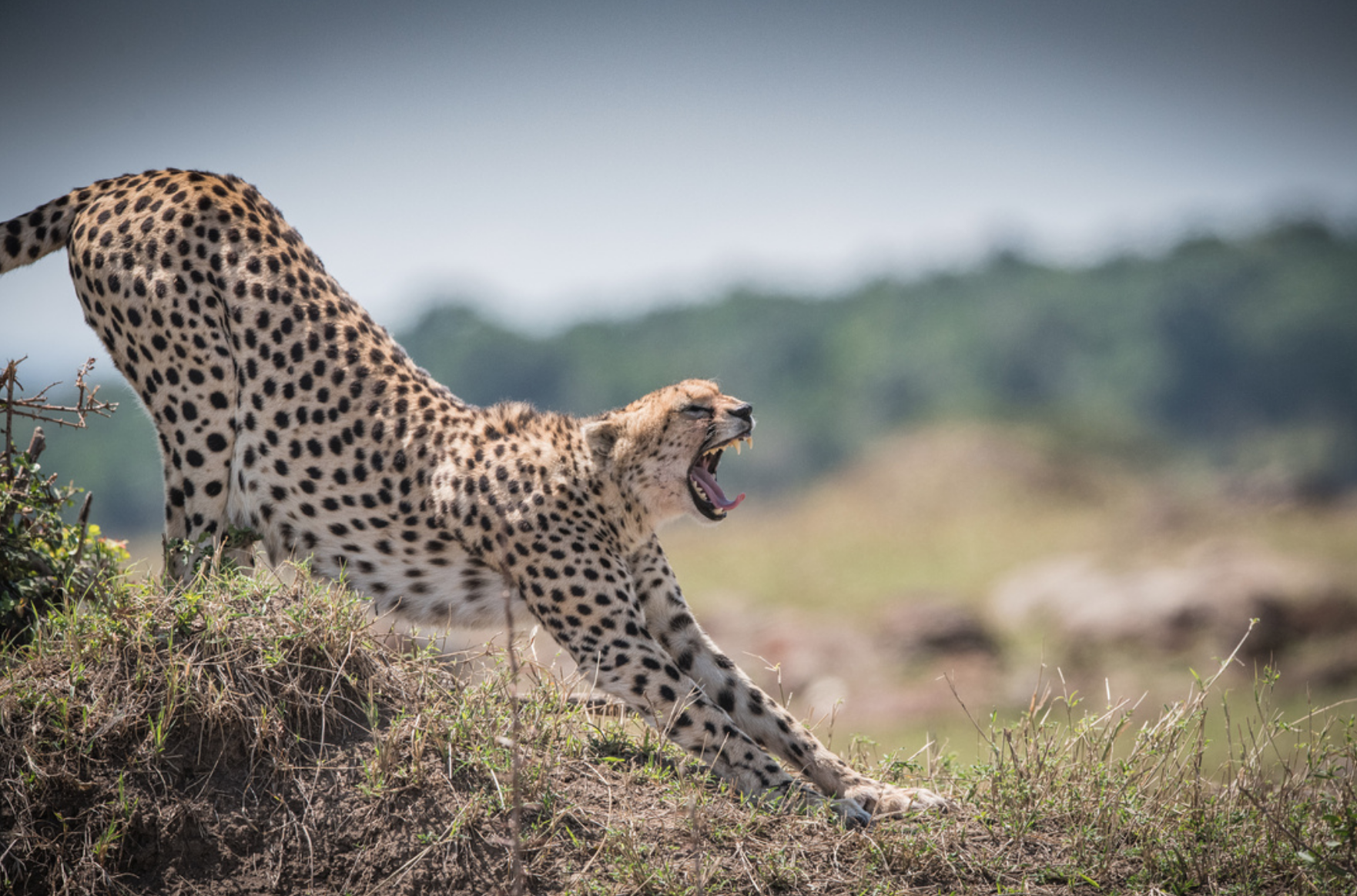 A new cheetah female just arrived from Tanzania. She appears to be operating alone but the surrounding herds were giving her lots of space – even before she started stretching! [ISO 1250, 600mm, f8,0, 1/2000sec]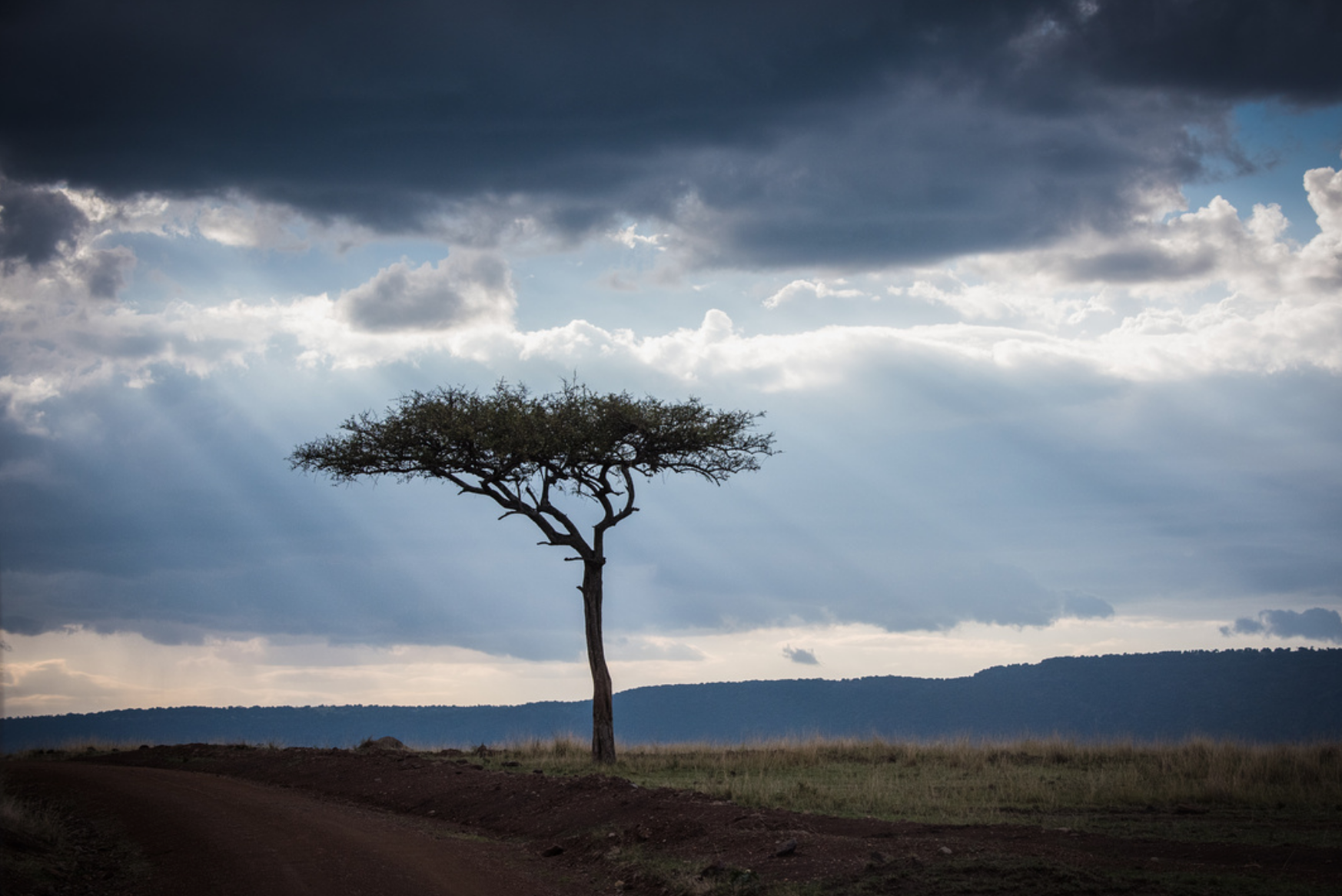 And to finish off, a moody tree shot in front of a sullen sky. One is continuously tempted to shoot tree shots in the Mara – I can't resist positioning the rising sun behind a Mara tree – every morning. But everybody does that! I thought this was sufficiently different to include as my last pic. [ISO 800, 102mm, f8,0, 1/2000sec]
What a wonderful week we had. Our long-suffering guests put up with two twelve hour game drives, innumerable picnics (not that that is a hardship) and still enjoyed every moment. I took the opportunity to get Adam Bannister to accompany us one of our days out – he really helped fine-tune my photography and taught me some new tricks! Going back to camp is always a pleasure – smiling friendly faces, great comfort and of course – that view!