The Mathematician in the Laundry Room
With so many variables and speedy turnarounds, ensuring the laundry runs smoothly requires meticulous multi-tasking and a mathematical mind. This is a day in the life of Japhet Koech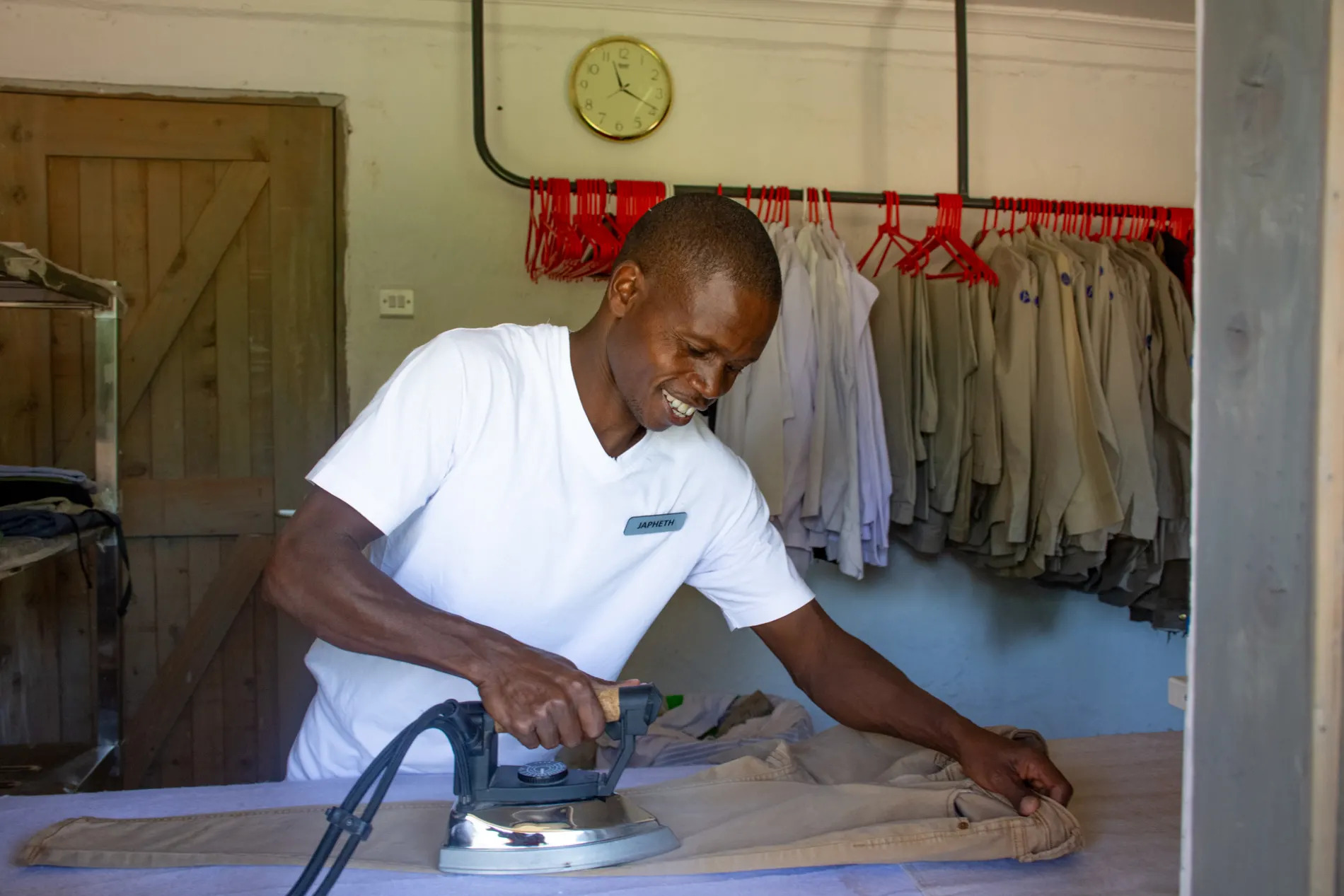 My name is Japhet Koech and I am 36 years old. Laundry was the natural career choice for me. I have tried to change and I just can't. It's what I am meant to do. My day starts first thing in the morning at 05:40. I shower and dress – I have to make sure I am presentable – then check that I have my keys and head straight to the laundry to be there by 6am sharp as today I am on the early shift.
The first thing I do is open all the doors and ventilate the room. Today, we've been requested to conduct some maintenance on the machines and run them with plain water for five minutes with no soap or clothing. Then, I start working on preparing the laundry loads and first priority goes to the napkins.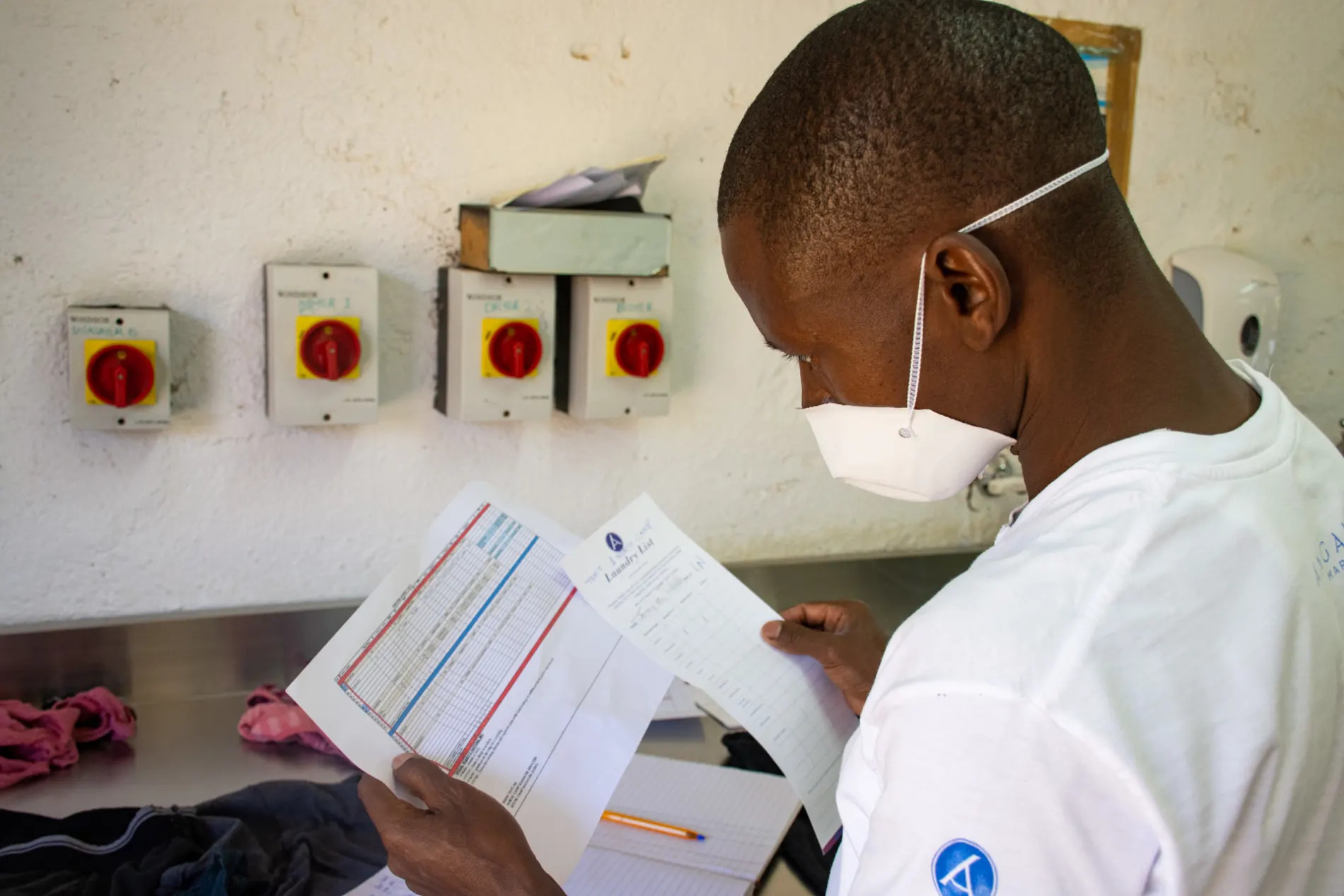 Next comes the guest laundry received the previous night, which should be delivered before 10am checkout. Then come the towels. This ends the previous day's work. What comes next depends on the number of checkouts – many checkouts means lots of sheets and towels. I already have my day sheet so I am prepared and know exactly how many guests are leaving and how many new arrivals we're expecting. At 07:30 my colleagues arrive and I handover what I'm busy with so that I can go for breakfast – tea with bread or sweet potato. Then I quickly head back to continue my day to receive more laundry.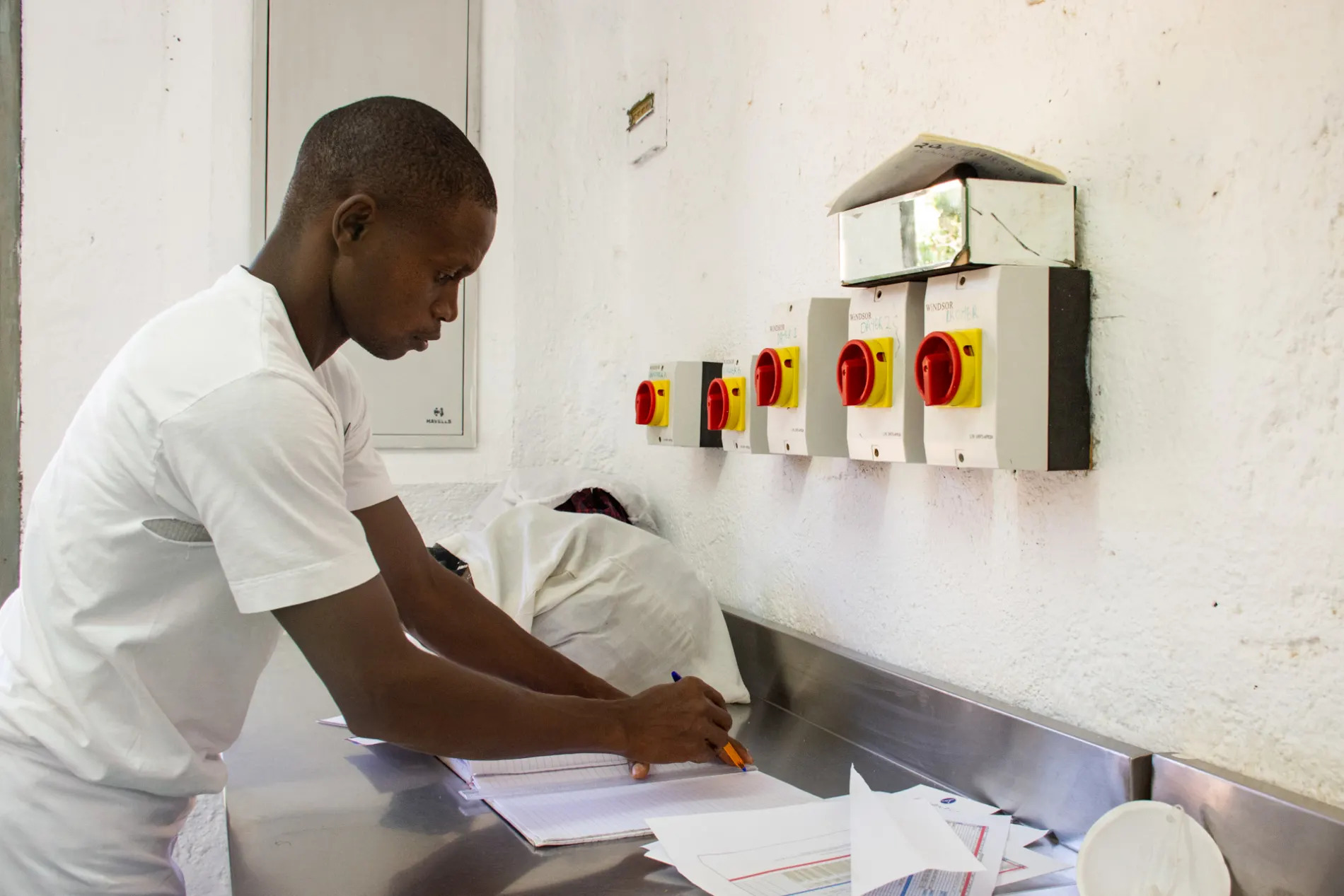 My colleagues proceed directly to the napkins on arrival. They take them out the machine, load them into the dryer and finally press them before sending to the guest areas in time for breakfast. By 08:30, all staff uniforms should be ready for washing and by 9am I ensure they are in the laundry machines. Much relies on the tent stewards and how quickly they bring the used linen. I need 17kg in order to load the machine. Of our two machines, one is busy with the staff uniforms and we have whites, khakis and colours, which are each washed separately.

When we are busy like today, we work in a team of four. Two will iron guest clothing and staff uniforms and the other two work the pressing machine, loading and offloading the machines and sorting. This prioritisation can be a bit hectic – our work is all about mathematics! You have to weigh and prioritise in order to be as efficient as possible. By 10am, most of the used linen has been received and clean linen has been dispatched. "You bring me dirty, I give you clean – it is a trade".
Then we need a team of two to press the sheets in the machine. We are always mindful of the quality, which is far more important than quantity. I also like to empower my colleagues and trainees to focus on the detail if they are yearning to be productive in this industry.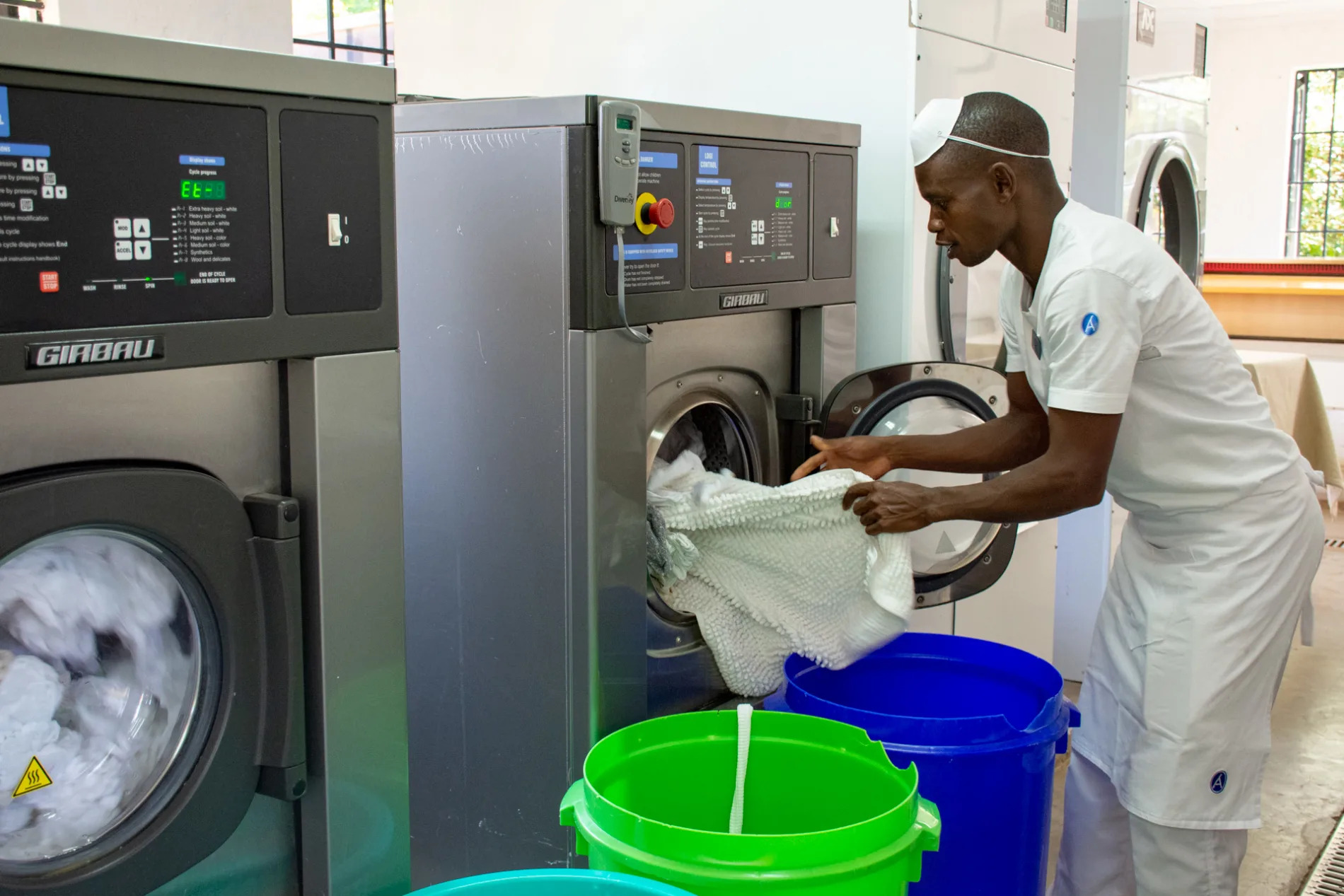 At this stage of the day, there are a lot of things happening at once. Washing machines are loaded, dryers are busy – one with towels and the other with sheets in loads. There is a lot of communication as we are working on the various tasks and continue to process the day sheets. Then you have to be flexible and sacrifice your work to assist the tent stewards with items from the storeroom (known as the "silent room") for special requests like extra pillows, duvets, pens, lost luggage amenities etc.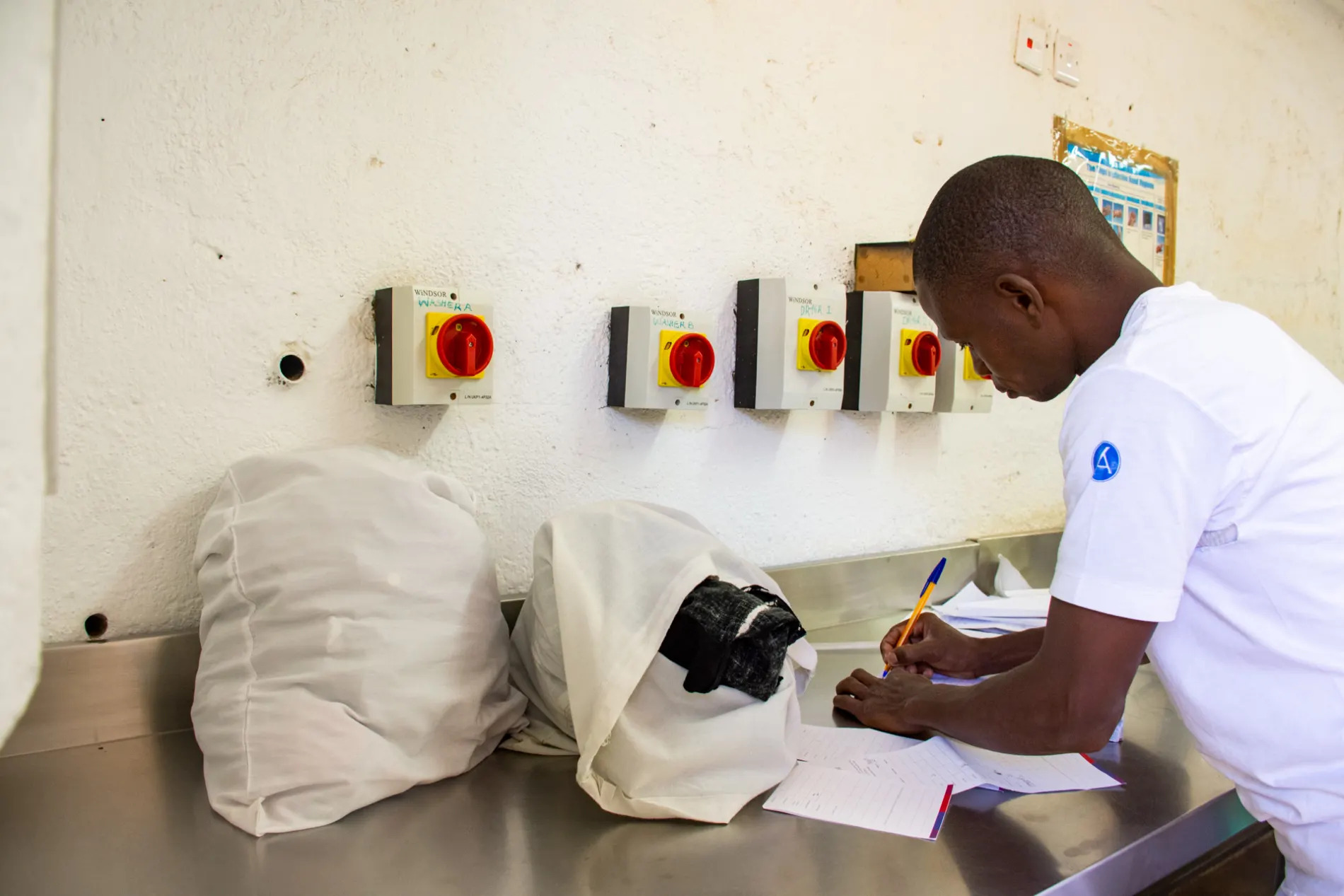 Now we have implemented a sign that says "Knock and Wait" to ensure you balance between their requests with the importance of what we are busy with.
Between 12pm to 2pm, staff members stop by to collect their clean clothes. We take our lunch break in turns, two at a time. I like to sit with anybody at lunch and chat for 30 minutes and relax a little bit. In the afternoon, we put up our "Do Not Disturb" sign so that I can sort very thoroughly and undisturbed until all the clothes match the way they came in and are ready to be dispatched at 4pm. This can go on until 6pm depending on the day and the amount of guest laundry.

If I'm delayed, I have to inform my tent stewards through WhatsApp messaging and they will then inform the guest if need be. On the other side, the dryers are done and my colleagues are now folding and pressing. Others are doing wet work outside like mats, tablemats and staff shoes. My day ends when all the laundry has been dispatched, usually between 5pm and 6pm, but sometimes as late as 7pm if there is a full camp.
After work I like to go to the field and play soccer with my colleagues or run to the airfield. On weekends, when time allows, I go to the recreation room and watch football. I call home every day to find out how my family are – I have a wife and two children.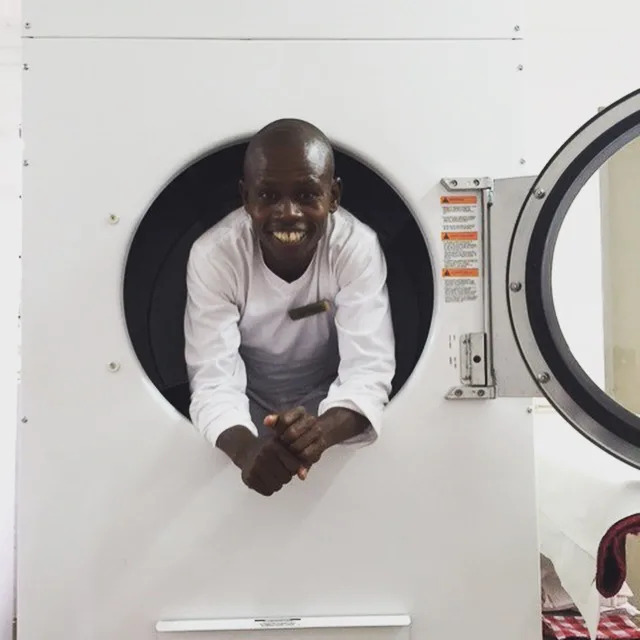 At 7pm I have dinner – usually ugali and meat or vegetables. After dinner, I go to my room and do some laundry research on Google. I am especially interested in fabrics and different water treatments. I like researching anything that touches on laundry especially when I face a problem during the day's work, then I look up possible solutions.
I am happy if guests are happy and I love getting feedback. We also face challenges and no day is the same. You have to always improve yourself… but that is obvious.