This week, we focus less on the animals of the Mara and more on the extraordinary humans and initiatives that allow us to enjoy the wildlife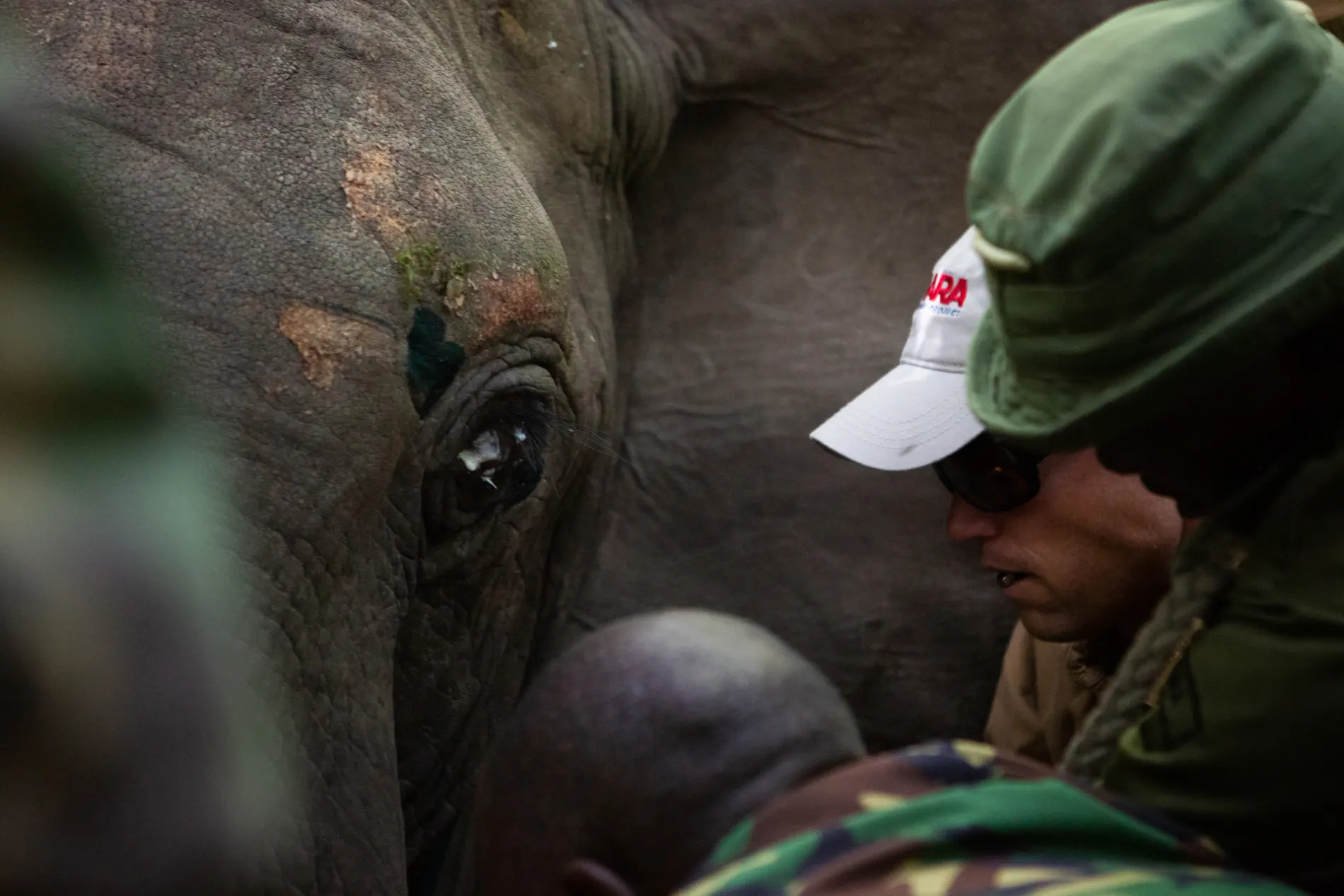 Like many ecosystems across Africa, the Maasai Mara is fragile. A balance exists, that if knocked off course would be catastrophic for many. Week in and week out, these photographic stories look to capture the diversity of the Mara and convey its beauty to you, our loyal readers. There is, however, far more to what we do each day than simply being a beautiful lodge and a launching pad from which to explore the endless grasslands below. Enjoy This Week At Angama. [f 2.8, 1/160, ISO 3200, -0.33]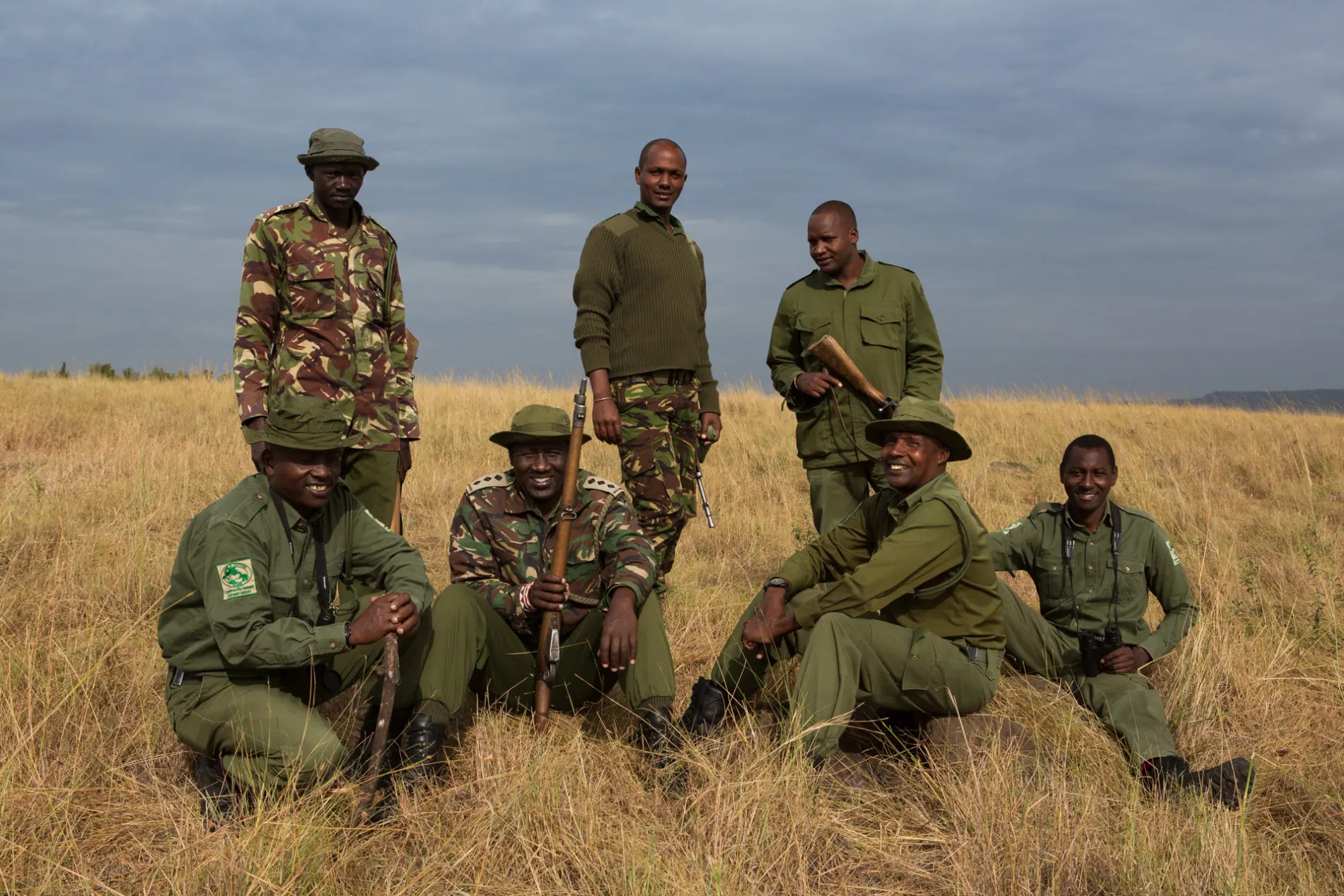 This week, I was invited to accompany the Mara Conservancy Anti-Poaching Unit as they went out on patrol. The Great Migration sees hundreds of thousands of wildebeest and zebra stream into Kenya. A wonder for tourists, but sadly also easy pickings for would-be poachers. However, the management of the Mara Conservancy, together with the Anne K. Taylor Fund, do everything in their power to keep the poachers at bay. [f 9.0, 1/500, ISO 400, -0.67]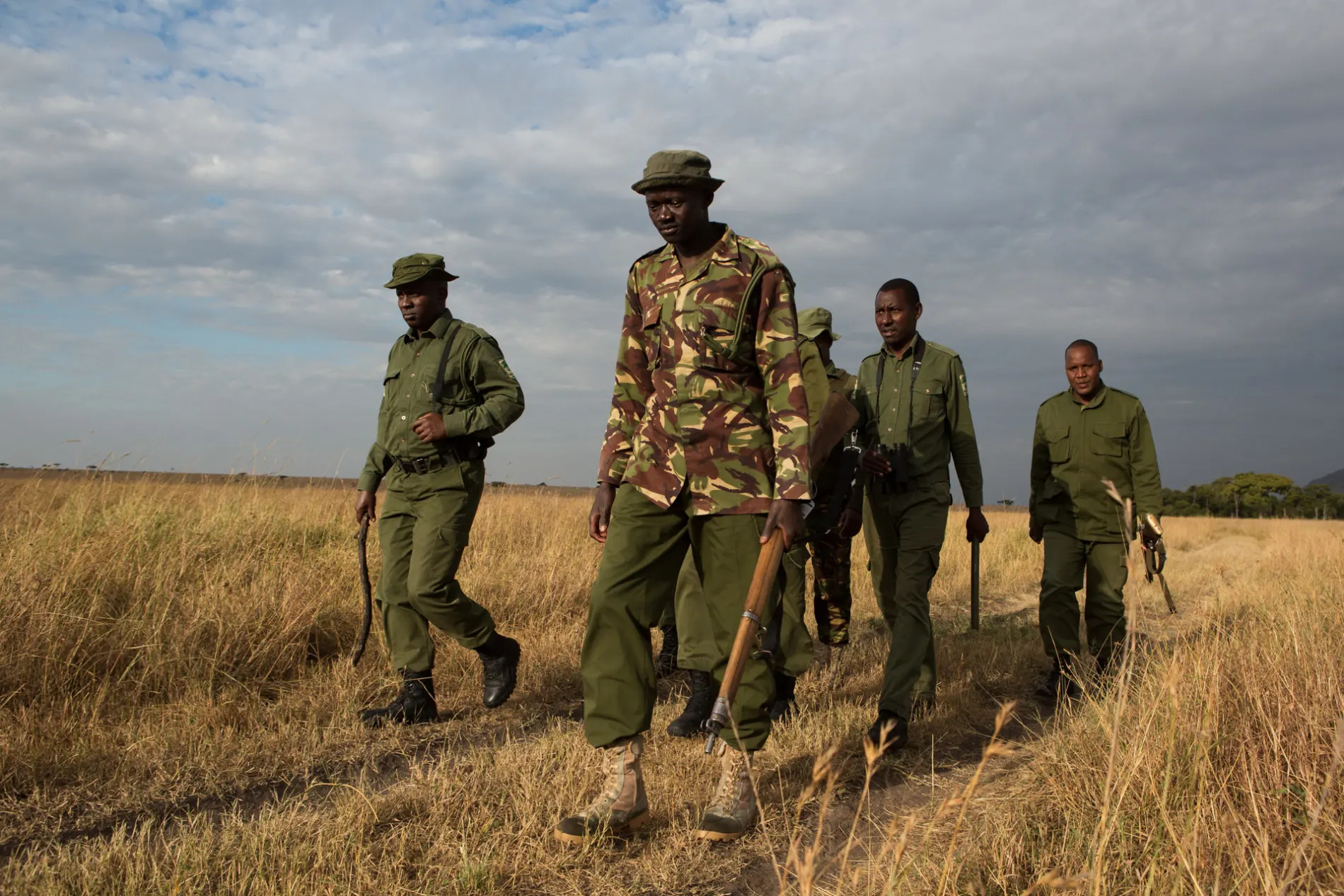 I have tremendous respect for this group of men who walk many miles each day, exposed to the elements and putting themselves in danger – all in an effort to maintain a safe haven here in the Mara. [f 7.1, 1/500, ISO 400]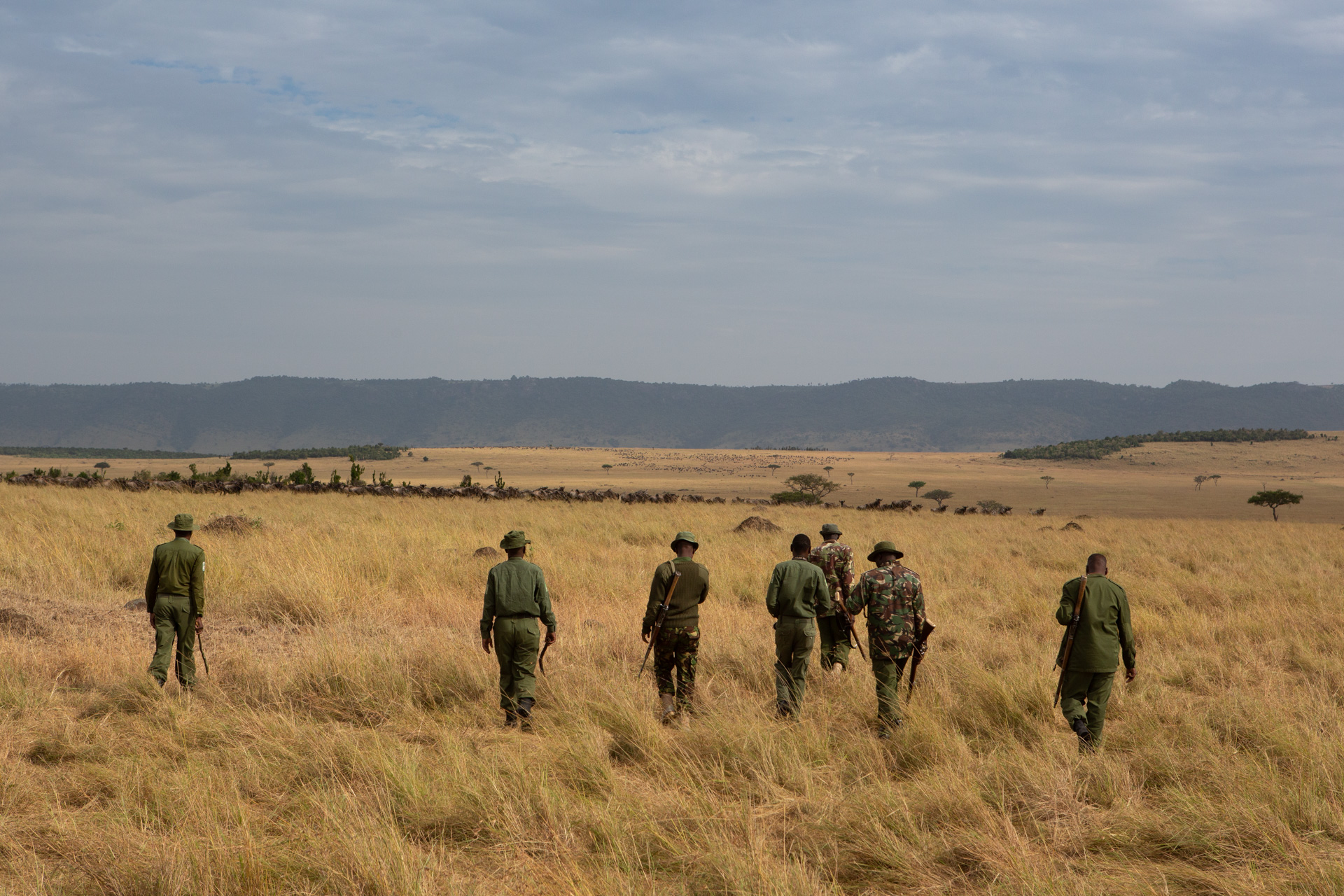 Having the opportunity to walk along the Tanzania/Kenya border was truly an honour and I feel that we, at Angama, have the ability to really make a difference – not only through financial contributions as made possible by the Angama Foundation, but also through assisting in exposure and storytelling. Every day, guests comment about how this weekly blog has opened their eyes to some of the projects undertaken here. This is music to my ears. [f 9.0, 1/400, ISO 400]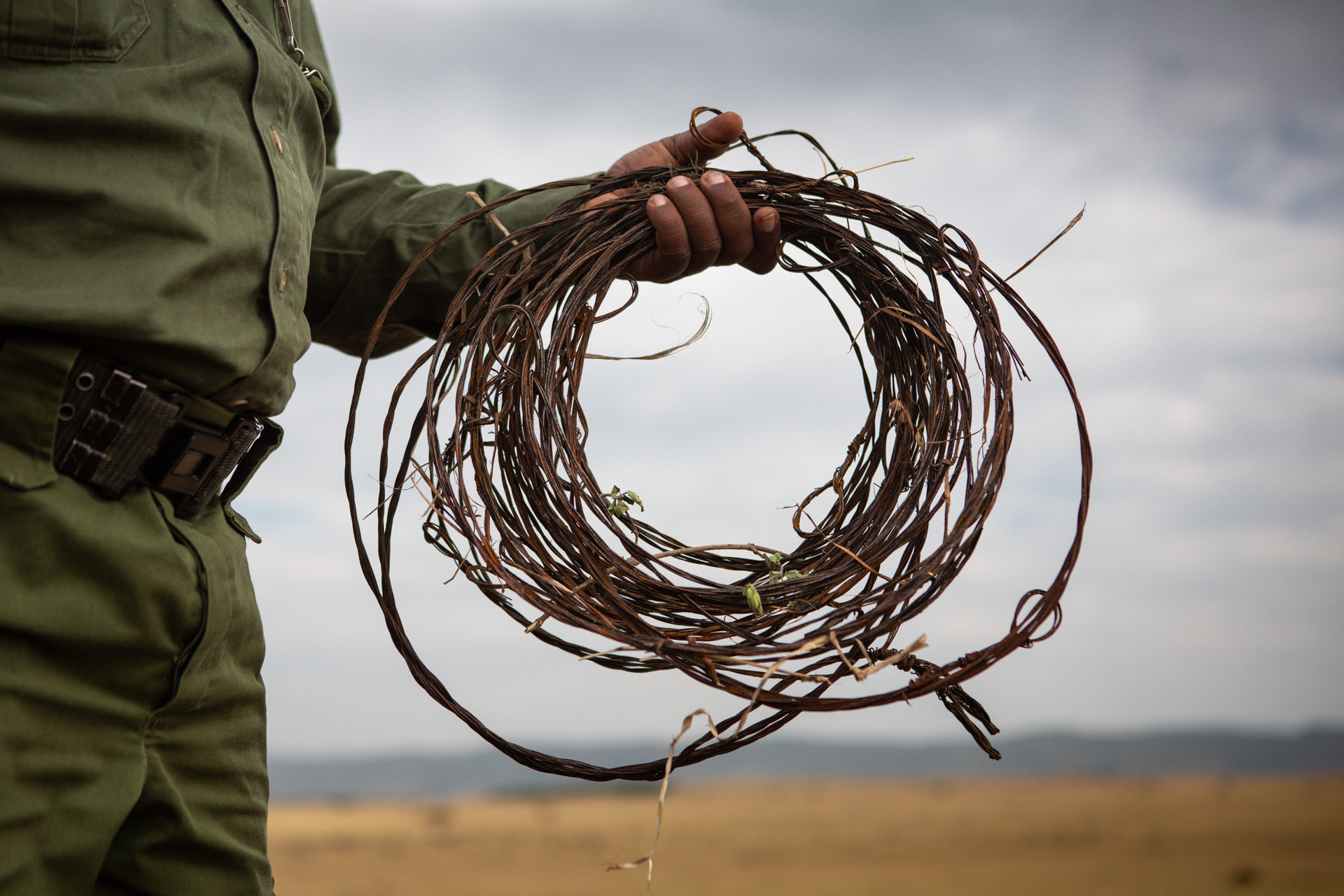 Dismantled snares are removed from the Mara. Interestingly, the majority of the snares are made out of the wire found inside car tyres. Poachers will burn the rubber of used car tyres to retrieve these thin wires which are made into snares and placed in various locations under the cover of darkness. They favour watering holes and forested areas, which the animals use for shade. [f 3.5, 1/1600, ISO 320, +0.33]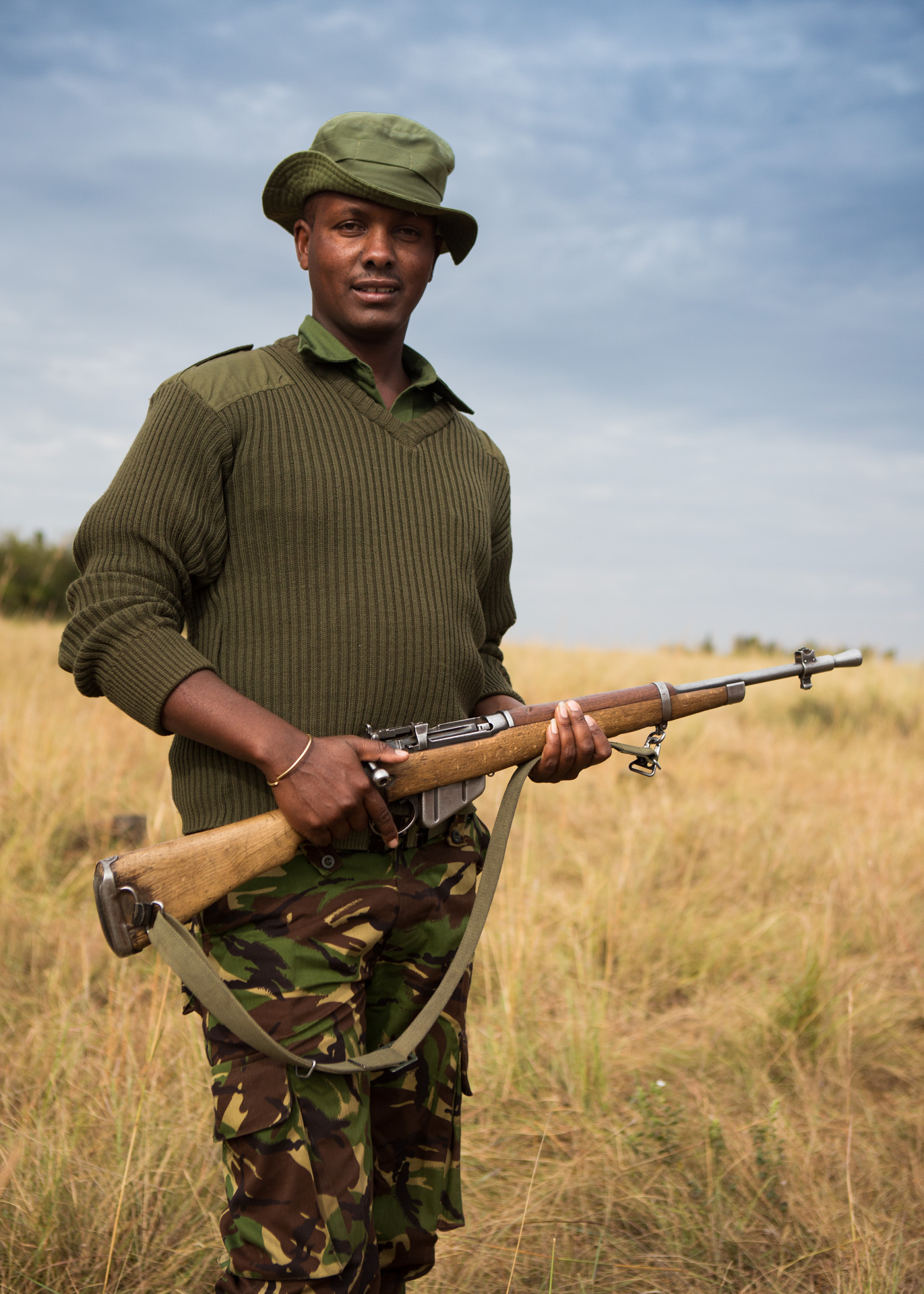 The Silent Heroes of the Maasai Mara – it is a seemingly never-ending battle, but these men are ready for the challenge. Snares do not discriminate – they kill everything and anything. Every snare removed is a life saved. [f 3.5, 1/1600, ISO 400, +0.33]
I have written about the Mara Elephant Project (MEP) before, but this week was special. This year, the Angama Foundation donated an elephant collar to the project, and covered all the expenses and salaries required to monitor an elephant for the next three years. MEP uses high-tech collars to monitor elephant movements and to manage human/elephant conflict. These sophisticated collars alert rangers when elephants have moved out of the reserve into farming areas. This is crucial to prevent crop-raiding and the retaliation that invariably follows.
A few months ago, the decision was taken that we would try to collar a 'forest-dwelling' elephant. Located to the west of Angama Mara is the Nyakweri Forest, one of the last remaining forest remnants in the region and an area believed to be a crucial breeding site for elephant. It took three attempts to finally catch an elephant in this forest. The incredibly thick vegetation makes for difficult conditions for the helicopter to manoeuvre – the result is that the capture and veterinary team had to go in on foot.
I am delighted to say that this week the stars aligned and we were able to dart and collar a very healthy 25-year-old bull. Information gleaned from his collar will help MEP with conflict management in the area. It will also help collect data that can be used to show authorities how important it is that we protect the last remnants of this rapidly diminishing forest fragment.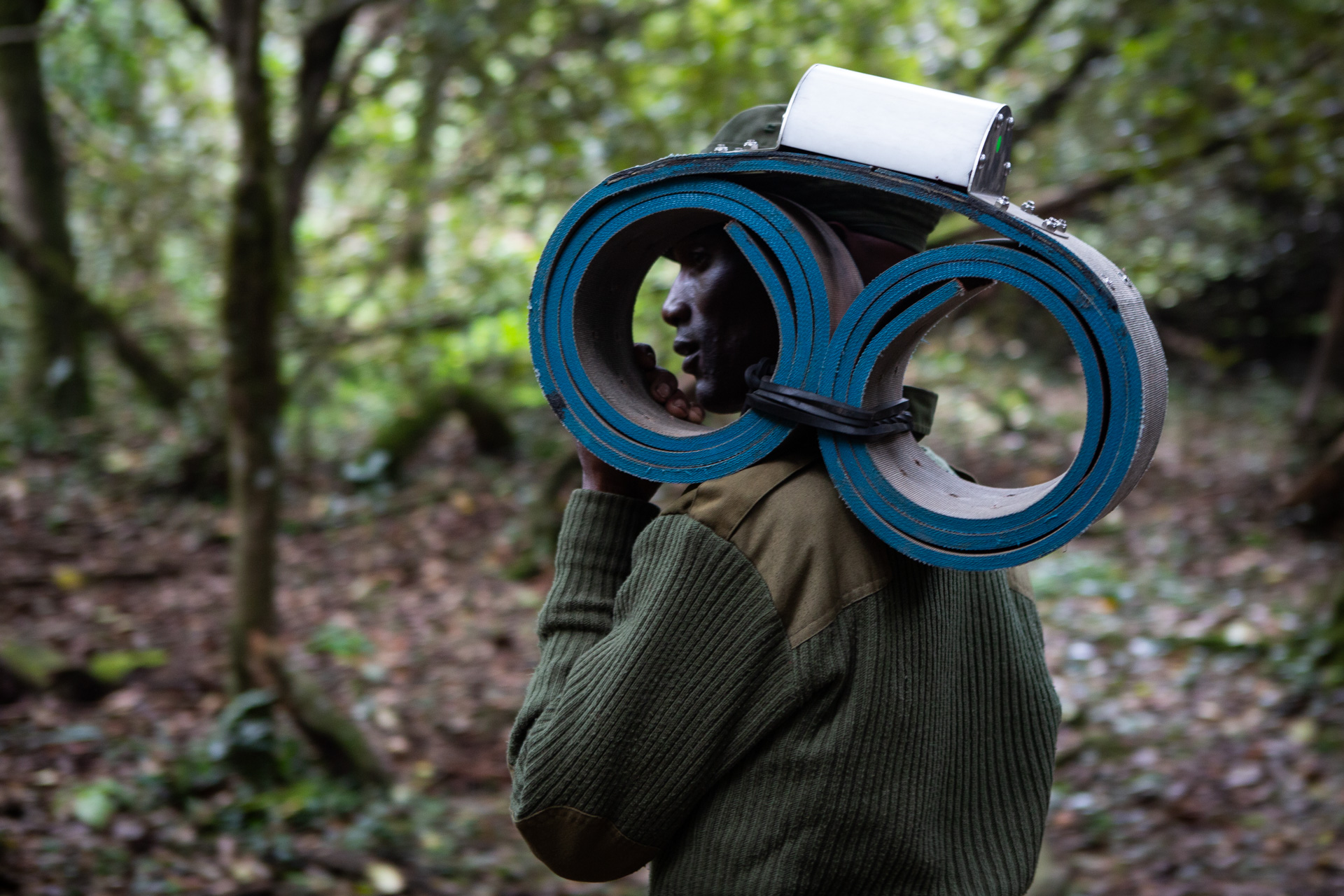 The collar being carried into the forest. [f 3.2, 1/50, ISO 800]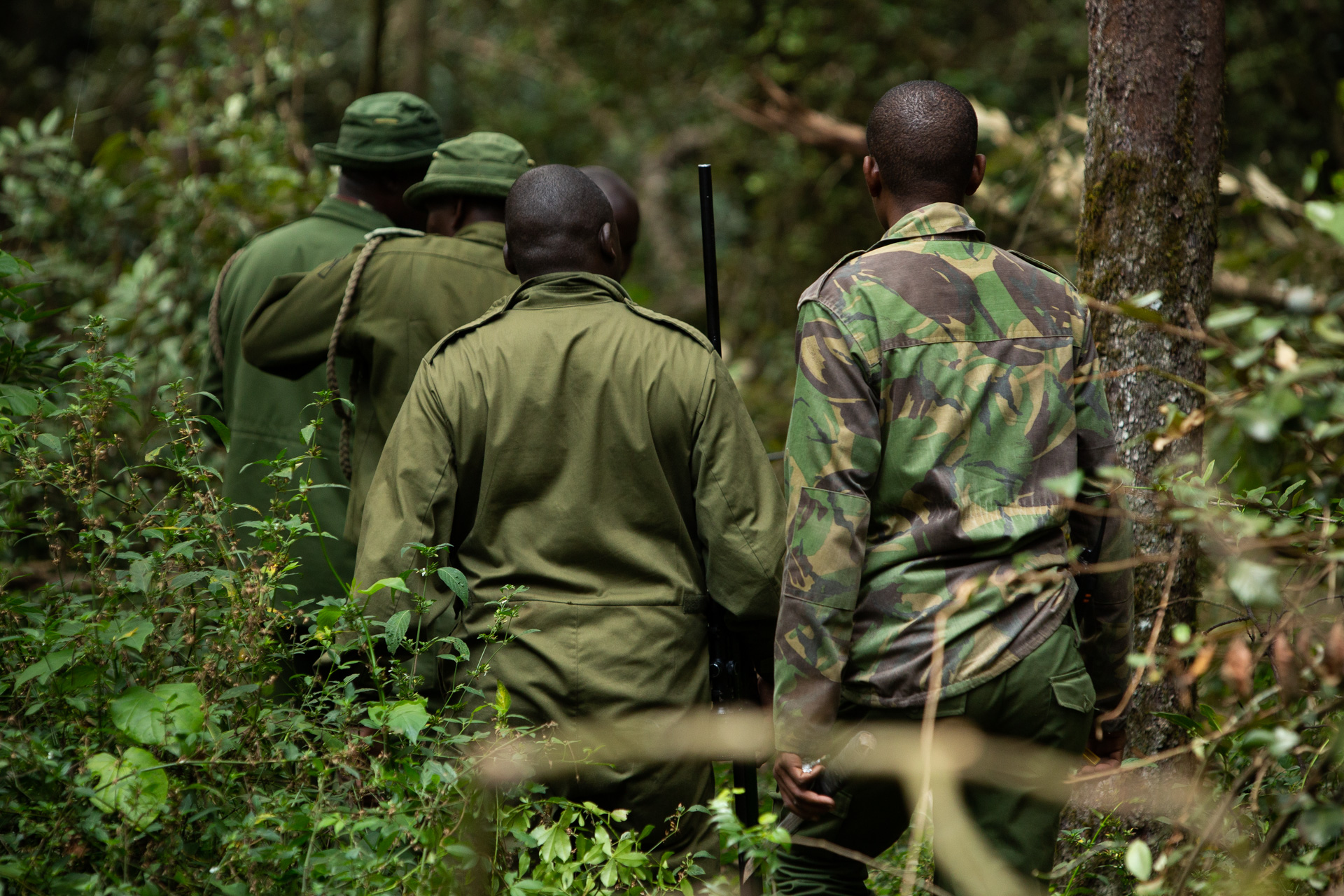 Rangers and vets walk silently through the dense forest. [f 4.0, 1/500, ISO 800]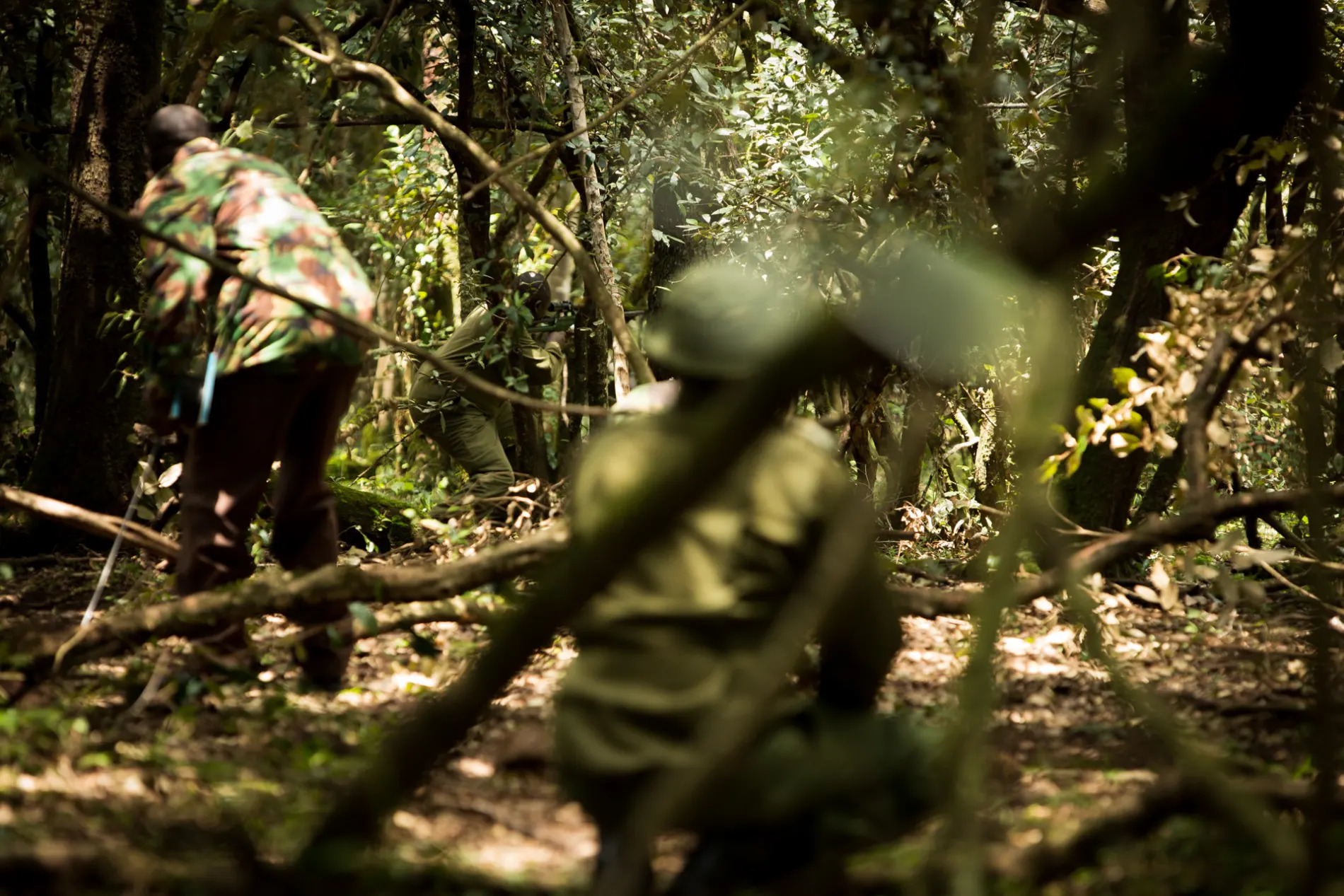 Look closely and in the background you will see Doctor Limo taking aim with his dart gun. It took hours of walking before the team finally managed to get close enough for a shot. The drug used to sedate the bull was M-99. This image shows just how difficult the conditions were in which to try to catch a very large, and agitated elephant. [f 4.0, 1/100, ISO 800]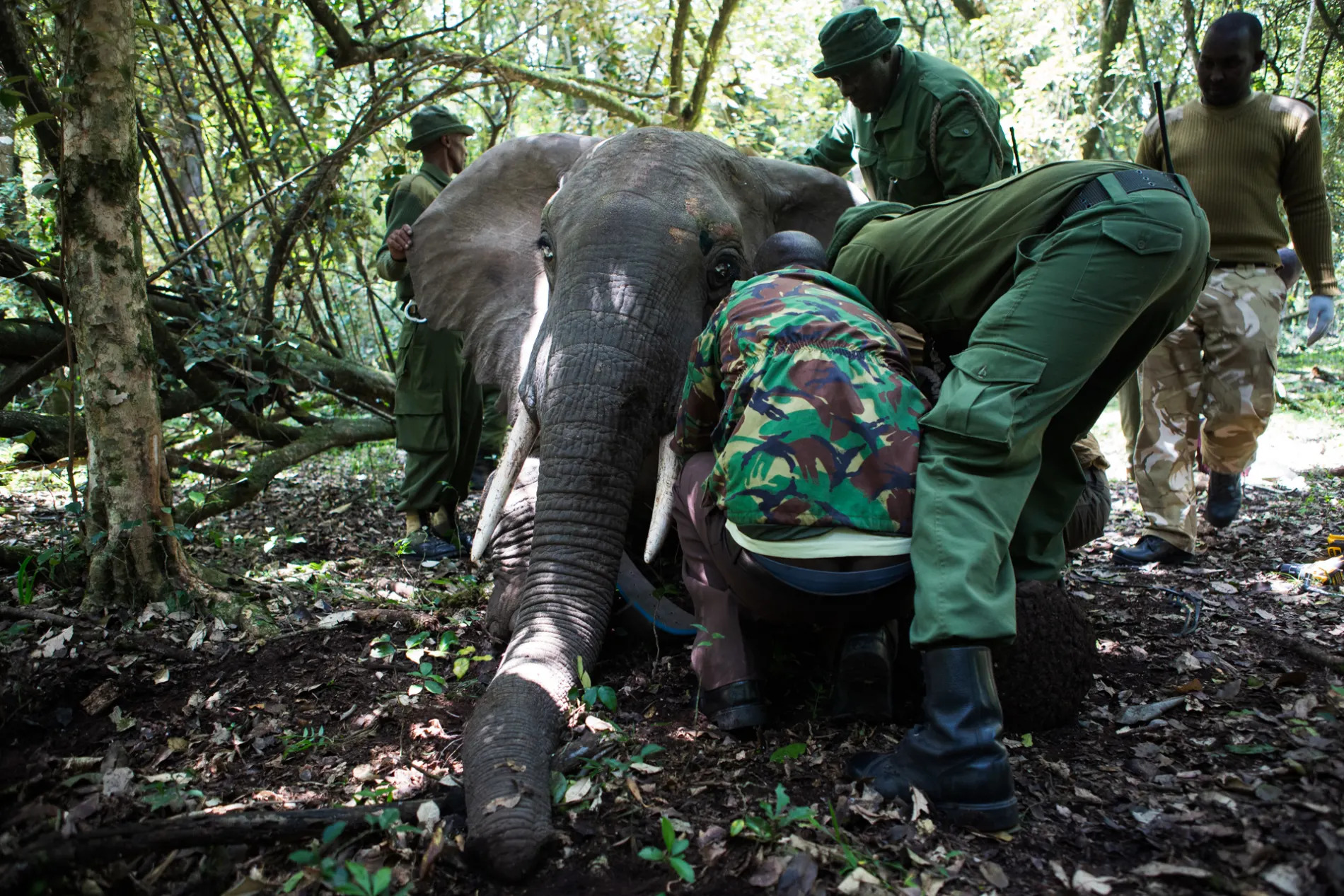 After being darted the elephant ran…and ran. The drug would kick in after approximately 10 minutes. After that we would have roughly half an hour to 'work' on him. However it took the tracking team 28 minutes to find him. The team had to spring into action. It was incredible to watch. [f 2.8, 1/40, ISO 1600, +0.33]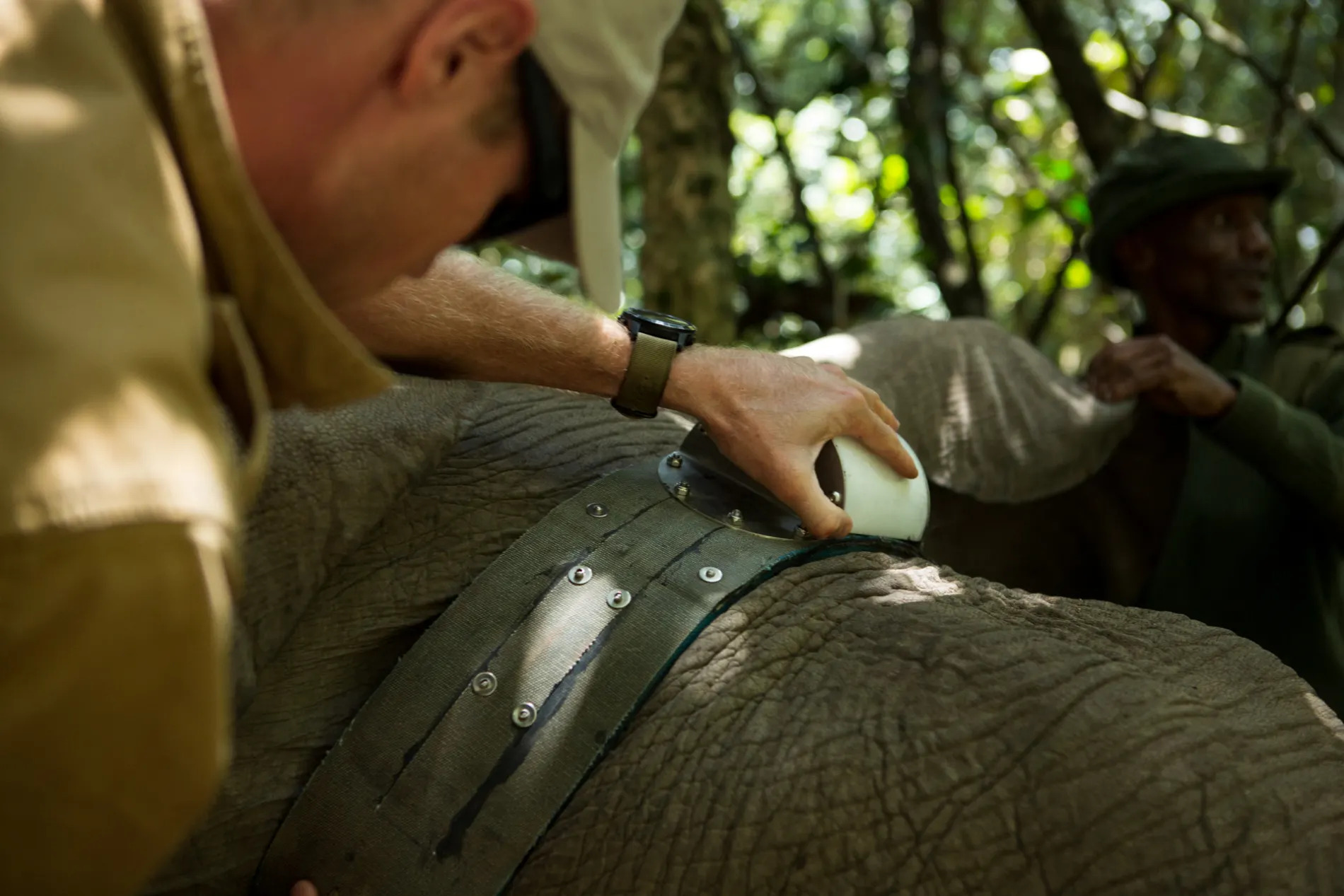 The most important thing was to get the collar fitted safely and securely. Here you can see the talented Jake Wall in action. [f 3.2, 1/100, ISO 1000]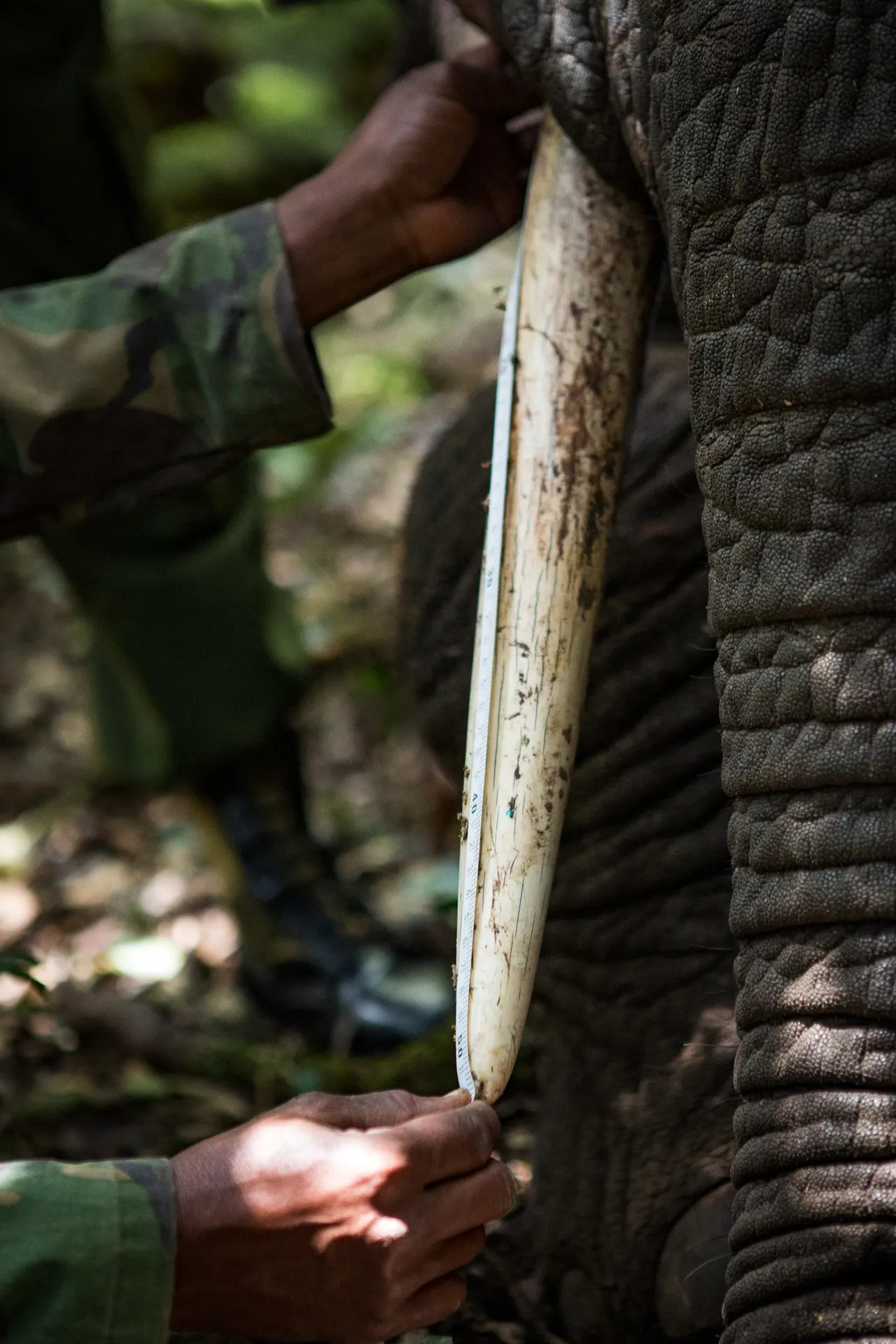 Whilst Jake was fitting the collar (with plenty of space for growth), the rest of the team set about measuring various body parts. [f 2.8, 1/80, ISO 2000, +0.33]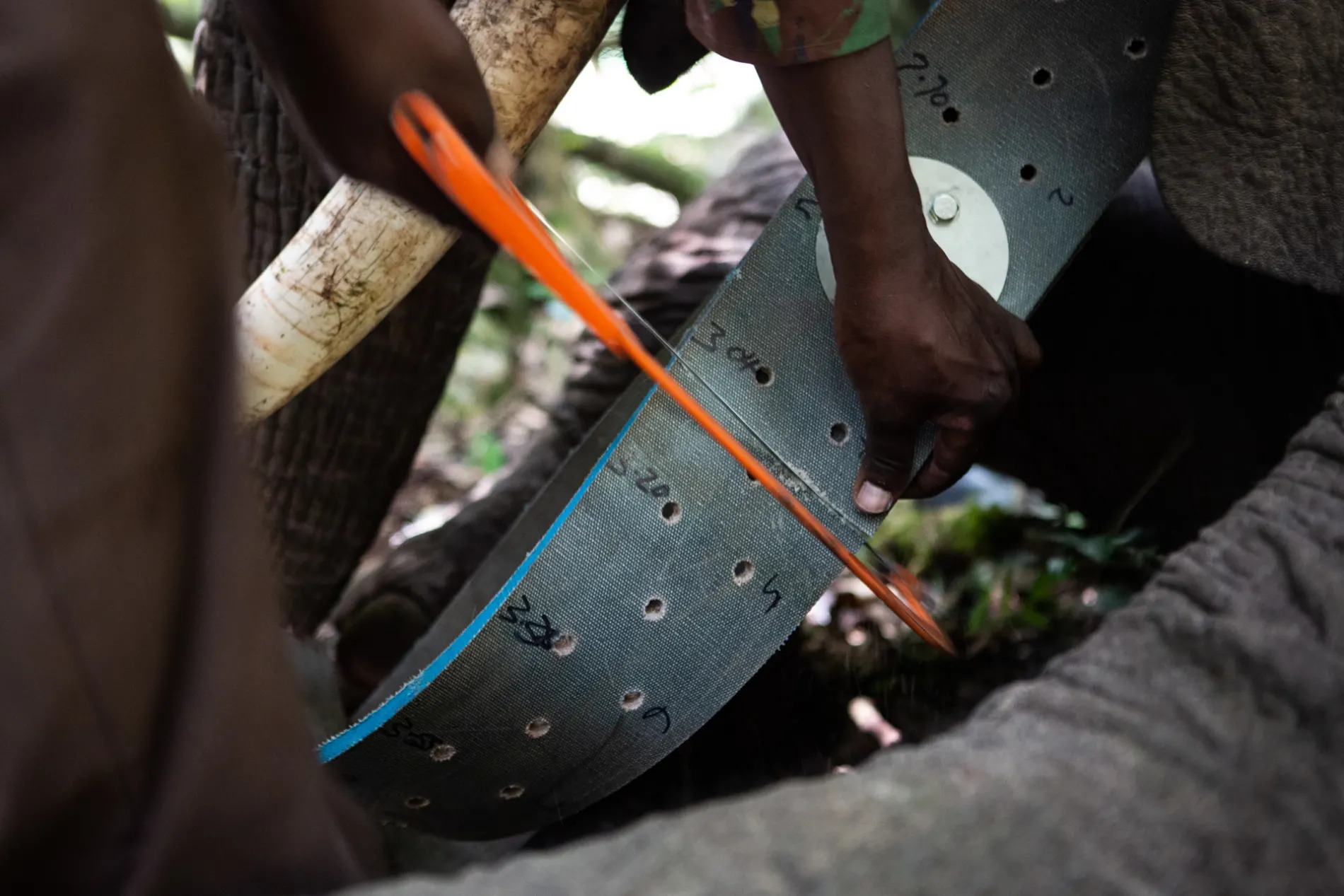 The most important thing is to make sure the collar fits and is secure, but is not too tight so as to affect the growth and breathing of these magnificent animals. [f 2.8, 1/50, ISO 4000, -0.33]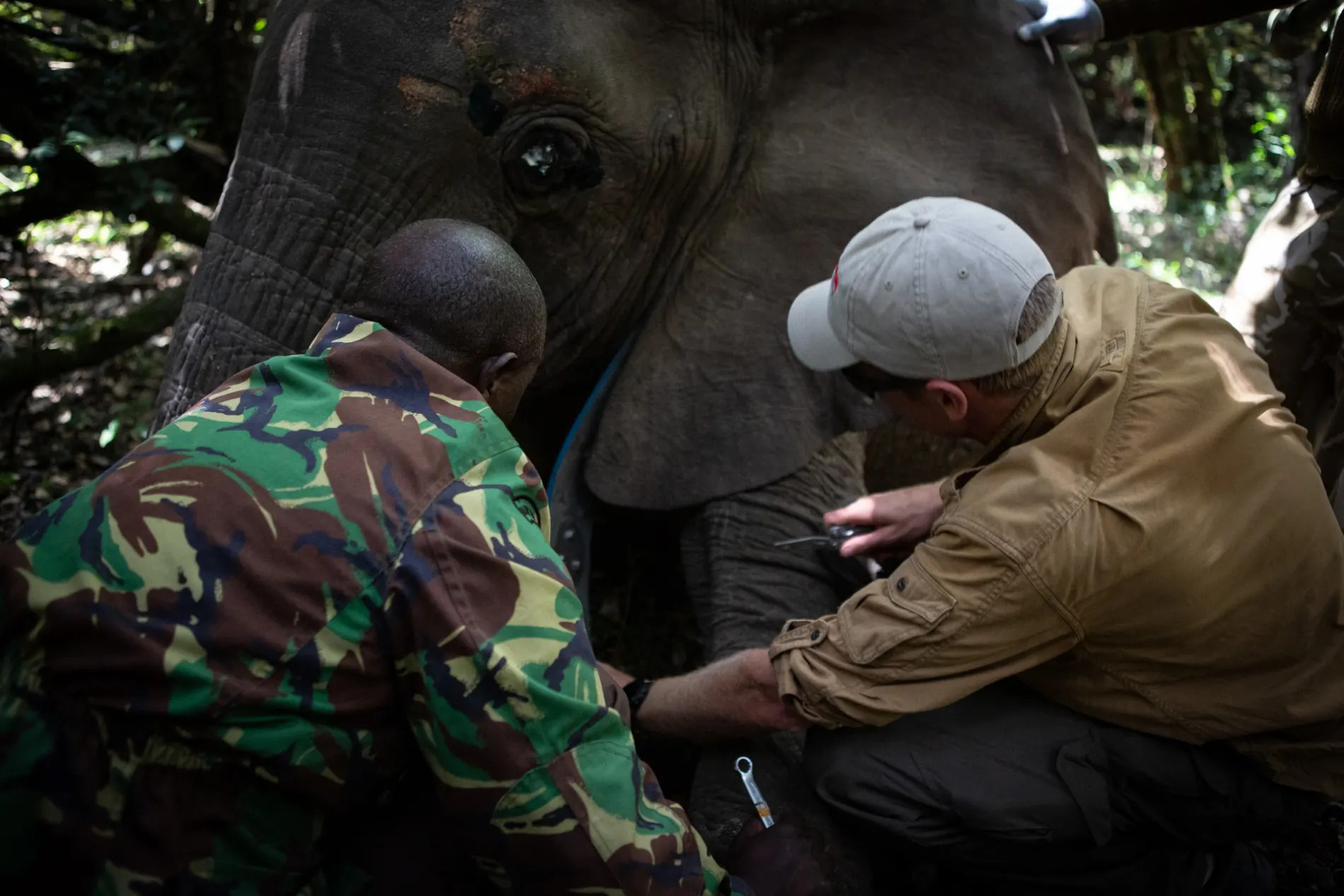 Making final adjustments to the collar. [f 2.8, 1/200, ISO 4000, -0.33]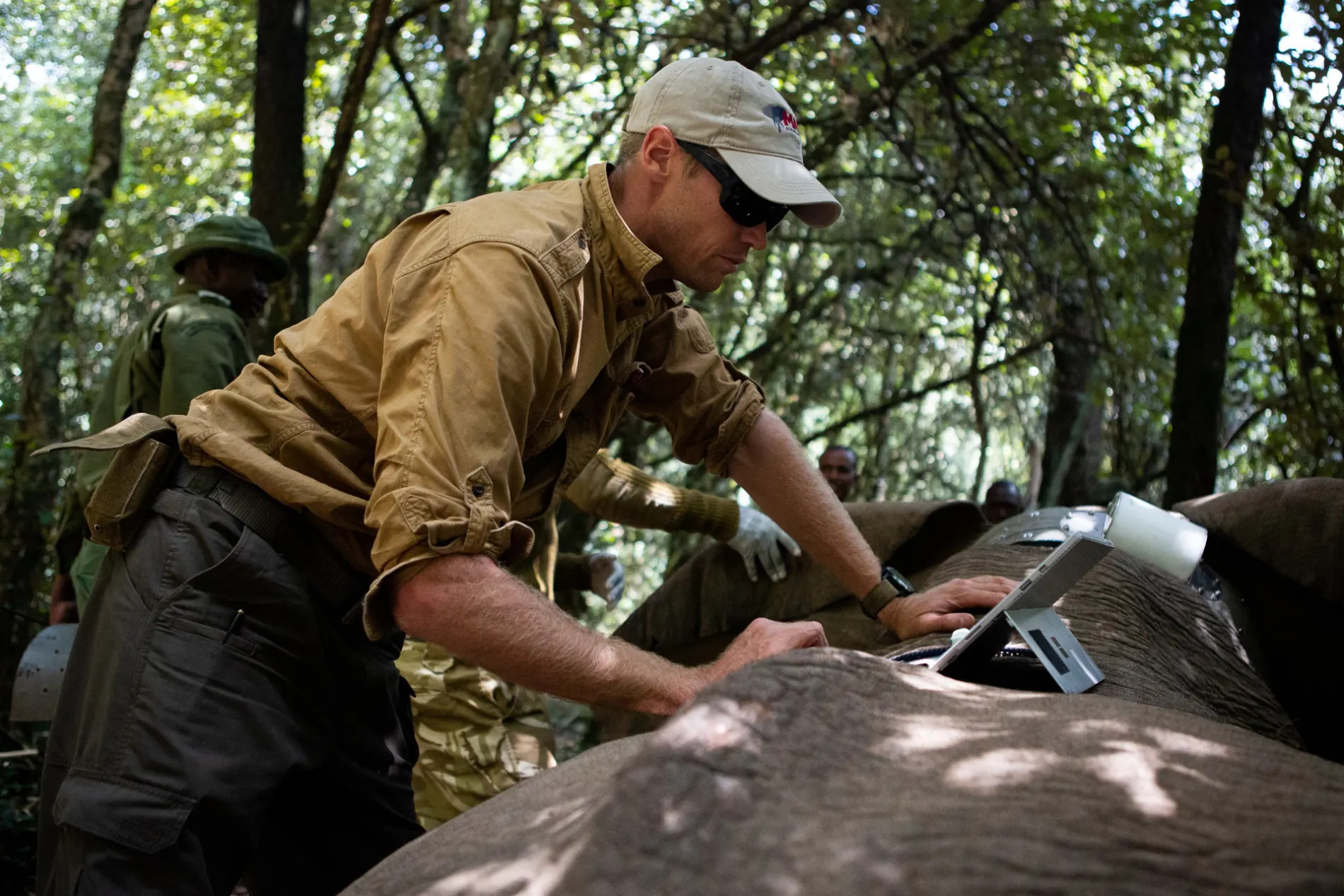 It is impressive how MEP is embracing and using technology to monitor and conduct research. Here, Jake is activating the collar – we can't wait to see the results. Needless to say, the data is kept safe and secure. [f 2.8, 1/500, ISO 4000, -0.33]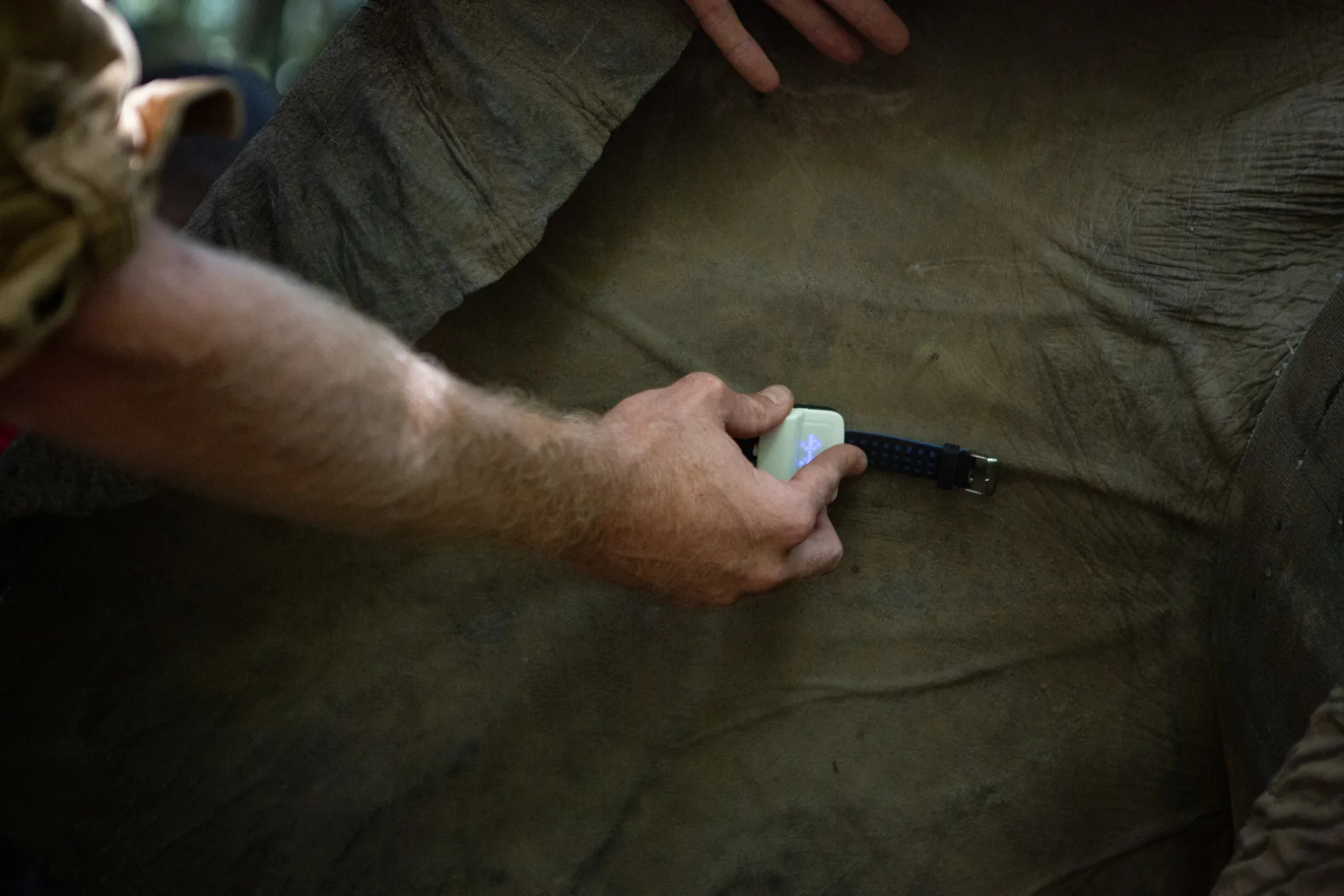 Using the large veins at the back of the ear to record heart rate. [f 2.8, 1/320, ISO 4000, -0.33]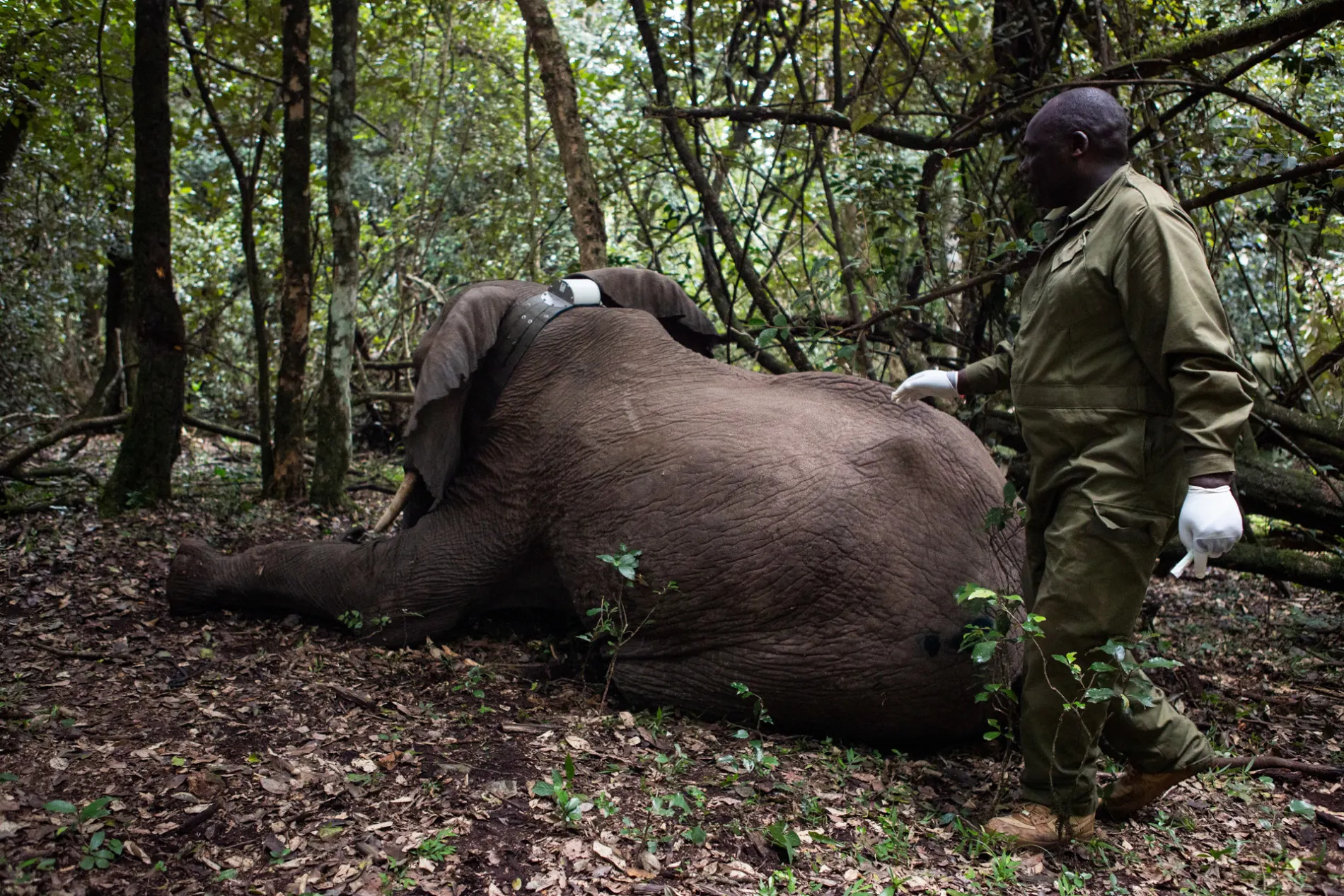 With the collar secure and all measurements taken, Dr Limo is the last one on the scene, making sure that the male wakes up safely. We all moved away to safety and watched from a distance as the male stood up and marched off into the dark forest to meet up with his family. And I am proud to say MEP has honoured the memory of Steve Fitzgerald by naming him Fitz. [f 2.8, 1/250, ISO 4000, -0.33]
This week has seen me spend very little time out photographing in the Mara, but of course there is always something to be seen and so I will conclude with a few images I managed to take in a few hours of driving around. It is thanks to the Silent Heroes of the Mara that such photographs have become relatively common in this landscape.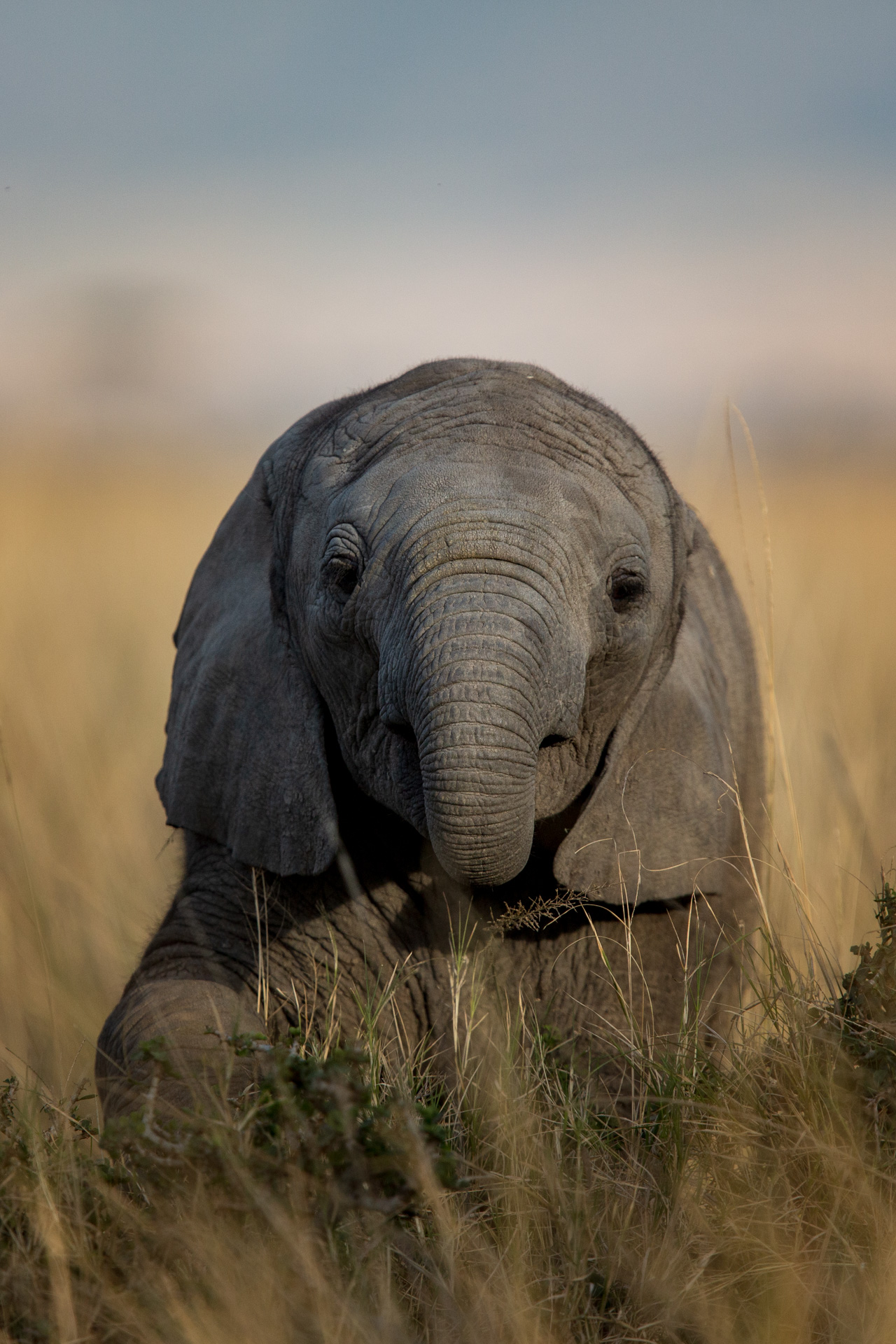 There's nothing more adorable than a baby elephant. [f 4.0, 1/2500, ISO 500, -0.67]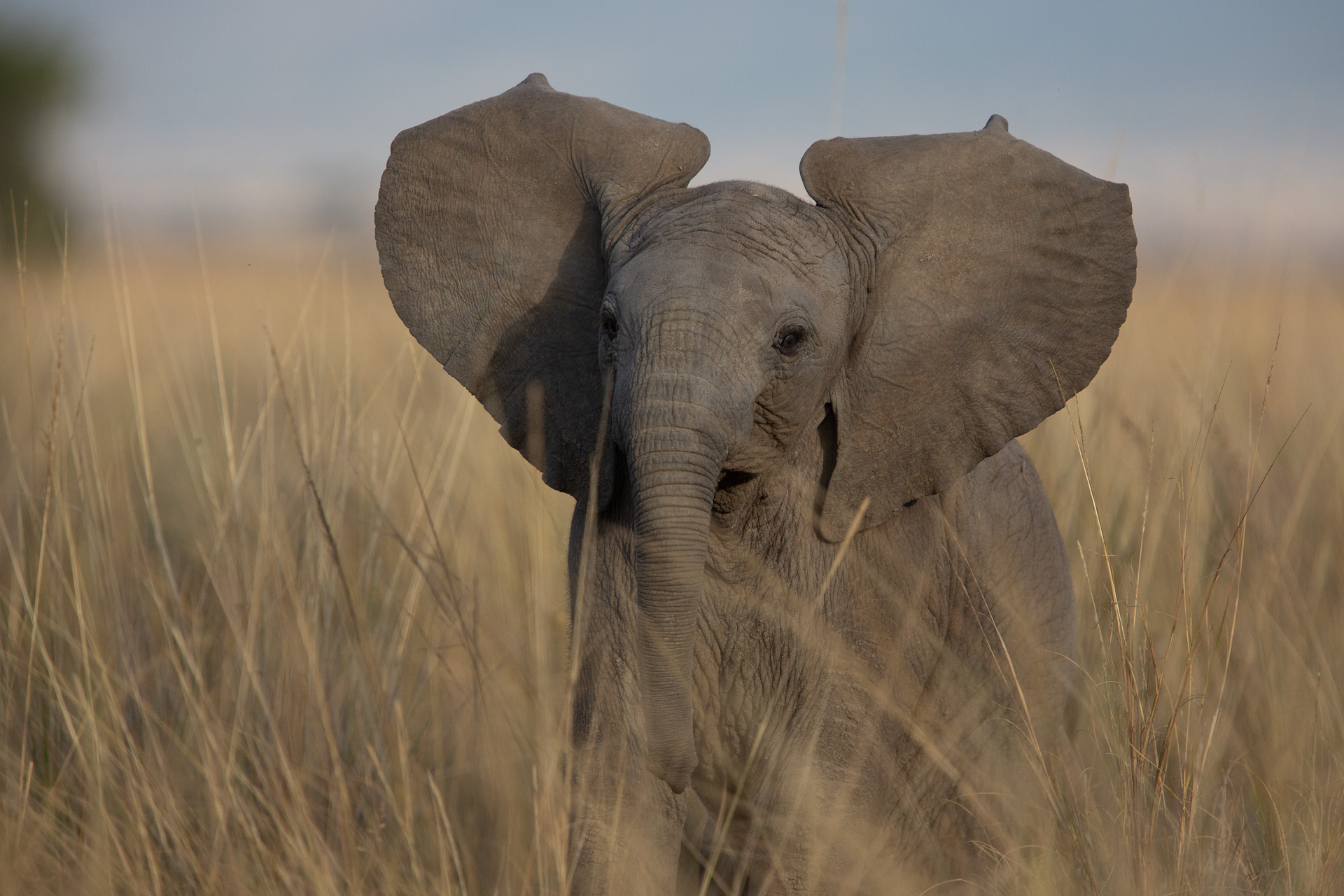 Oh my, what big ears you have. [f 4.0, 1/2500, ISO 500, -0.67]
Meanwhile on the other side of the reserve, Jeff managed to capture some wonderful crossings.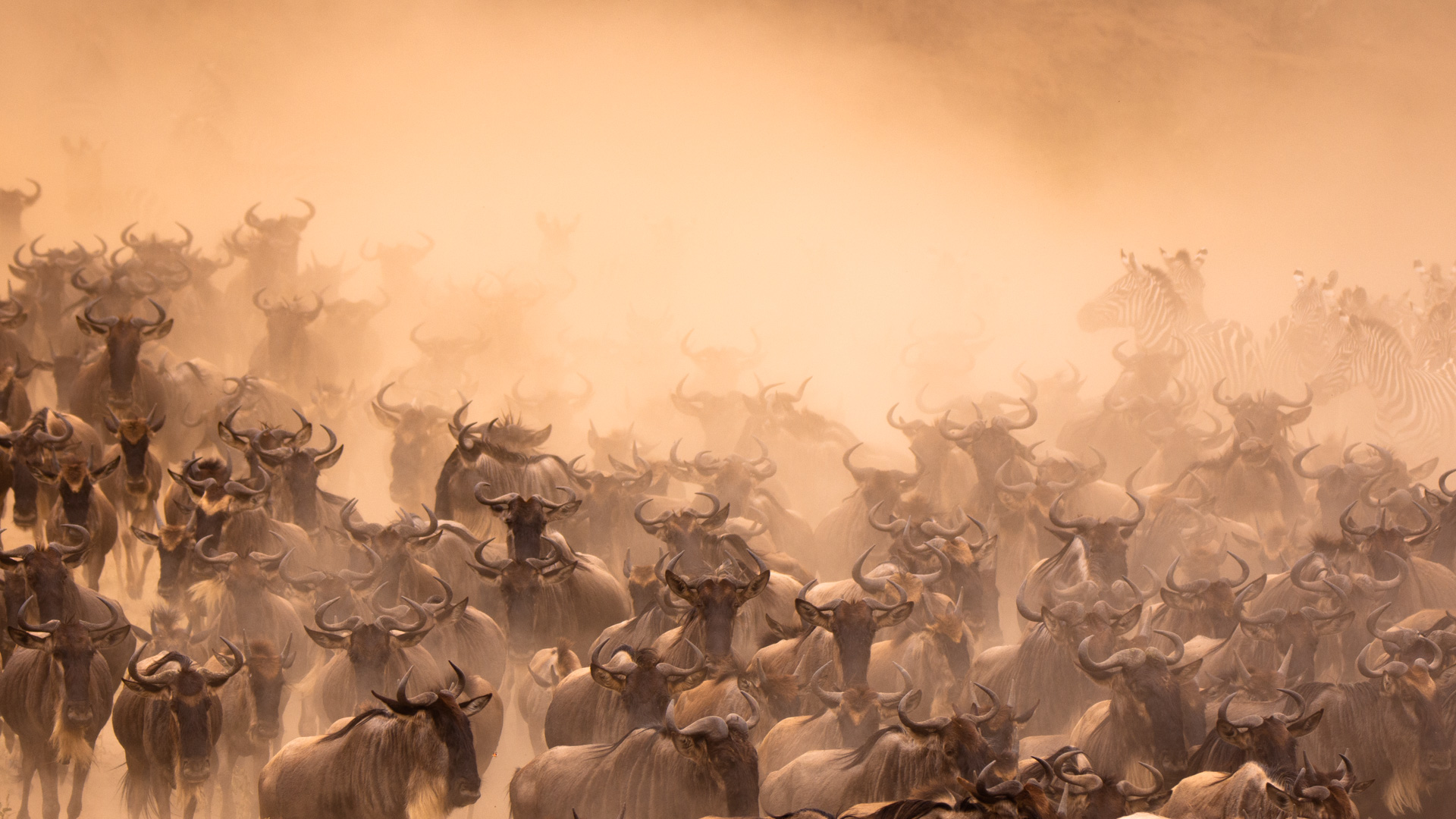 Photograph by Jeffrey Thige. [F 5.3, 1/1000, ISO 320]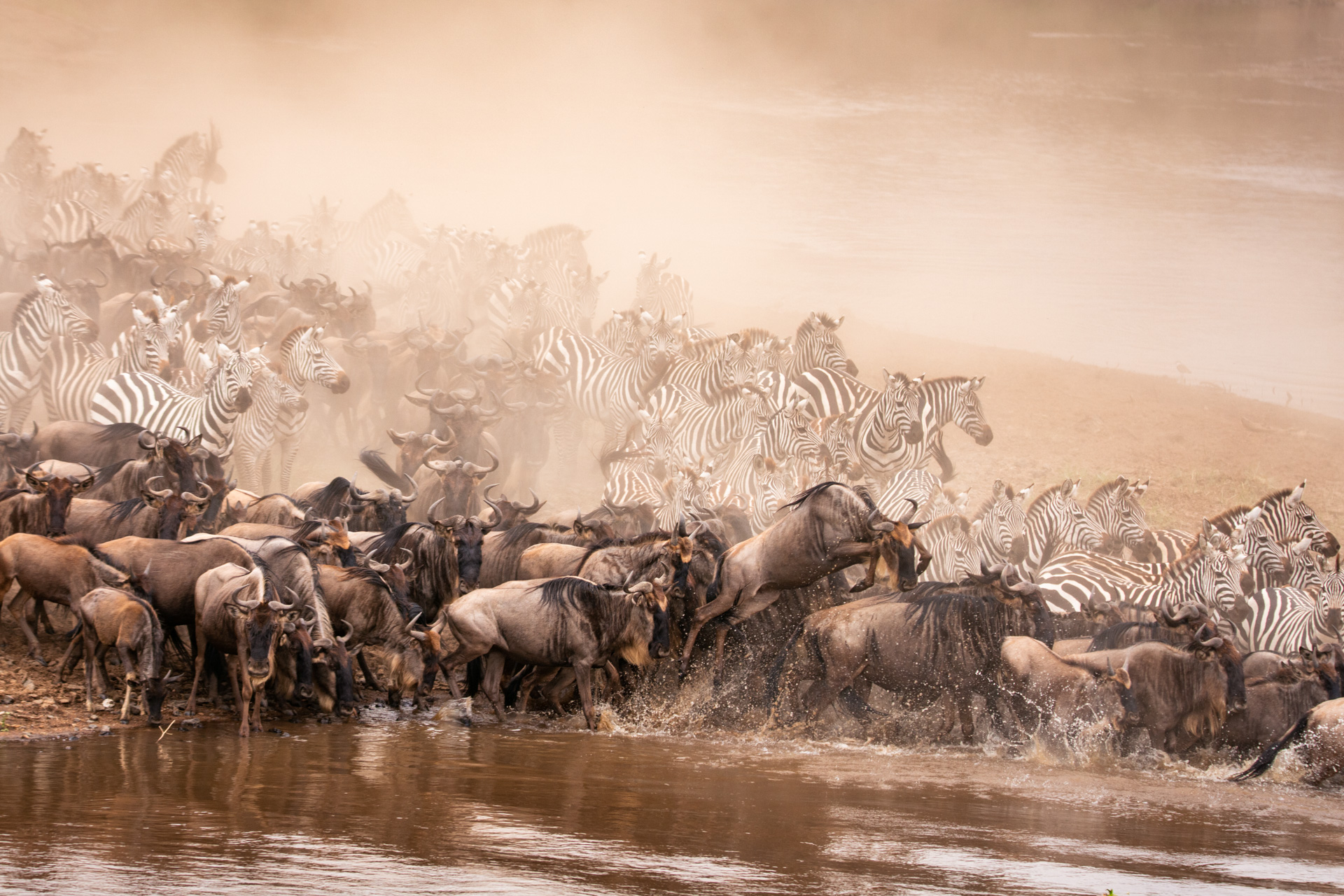 Photograph by Jeffrey Thige. [F 5.0, 1/1250, ISO 320]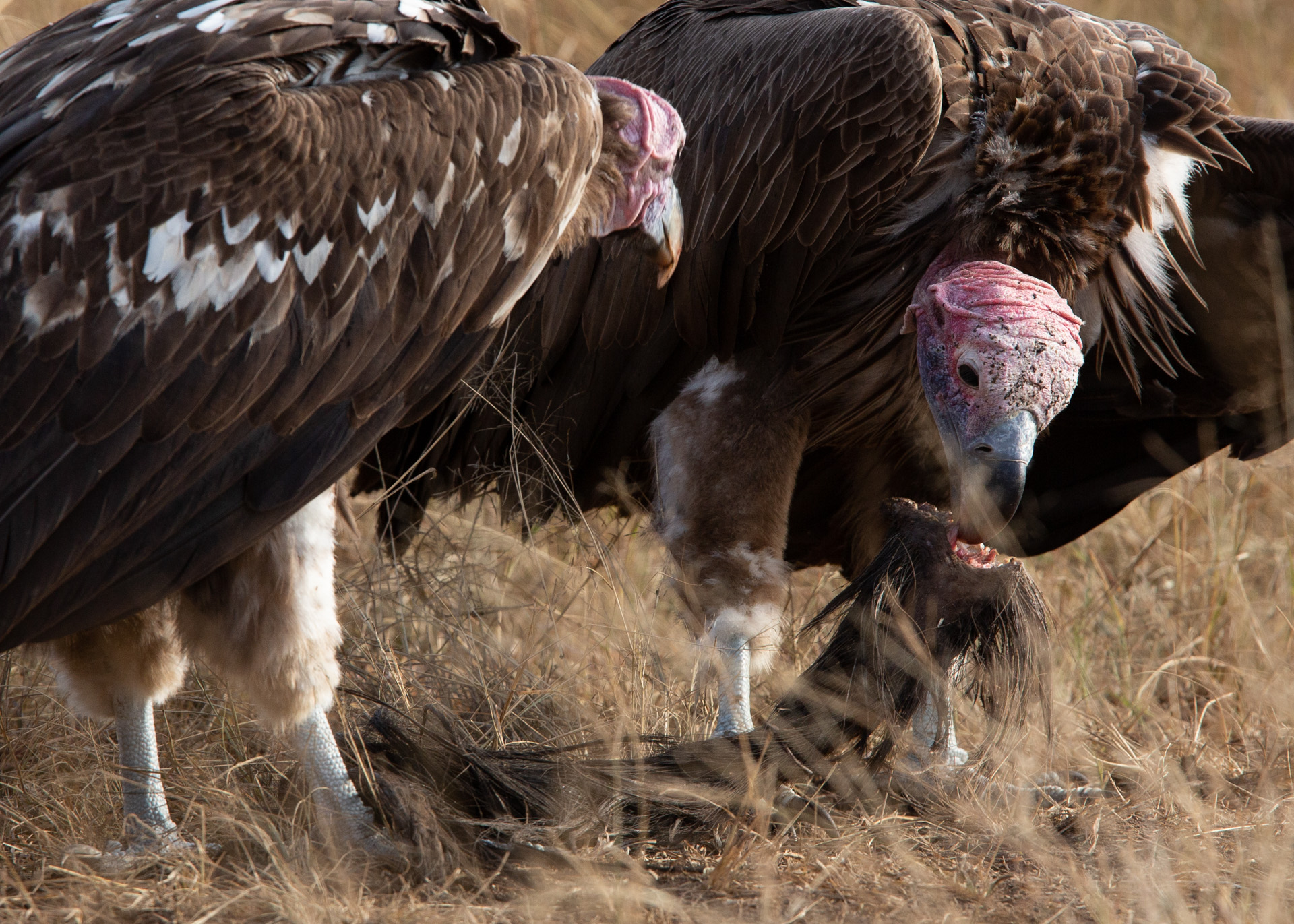 Lappet-faced vultures fighting over the tail of a wildebeest. [f 6.3, 1/800, ISO 500]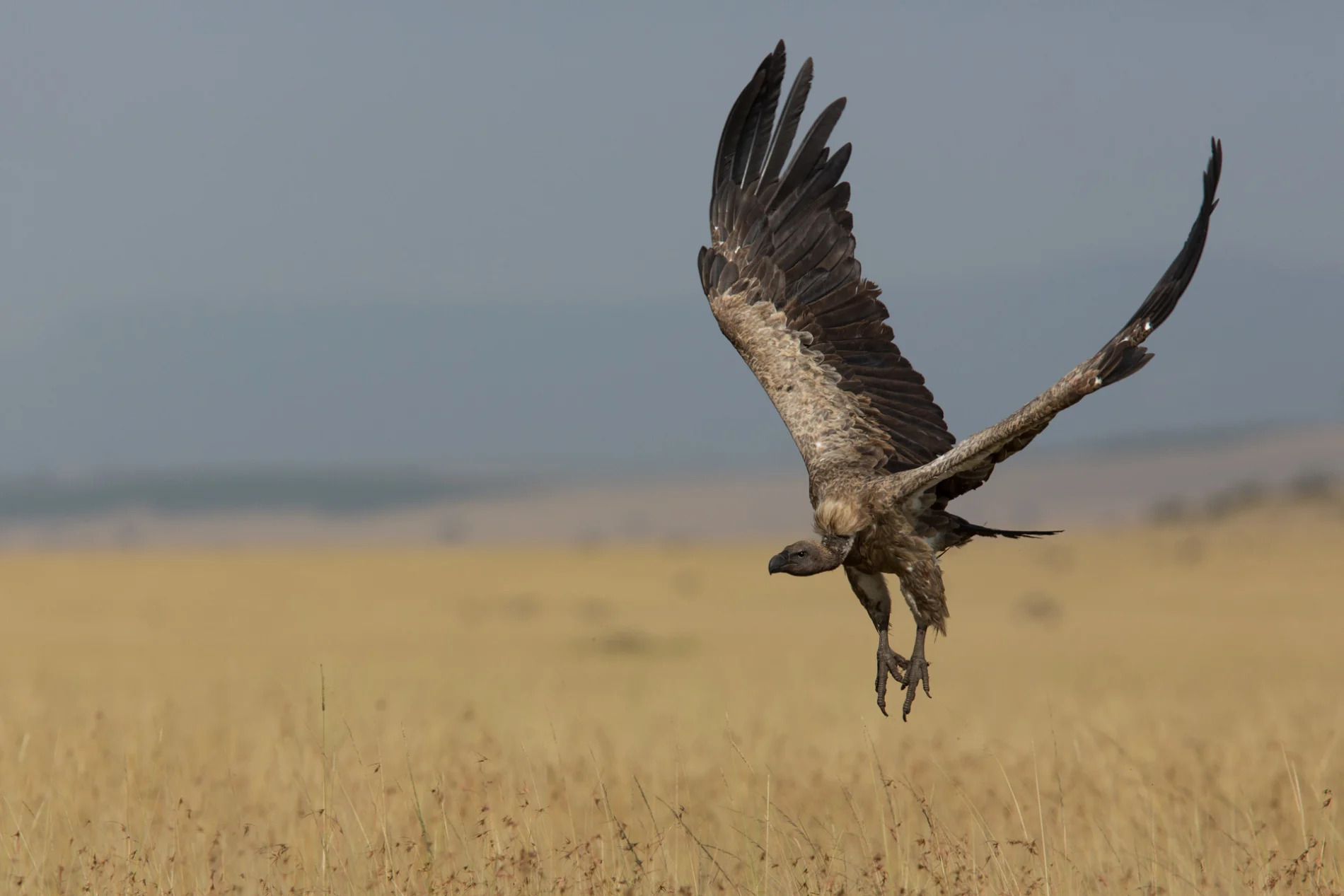 A white-backed vulture comes in to land. [f 6.3, 1/3200, ISO 320, -0.33]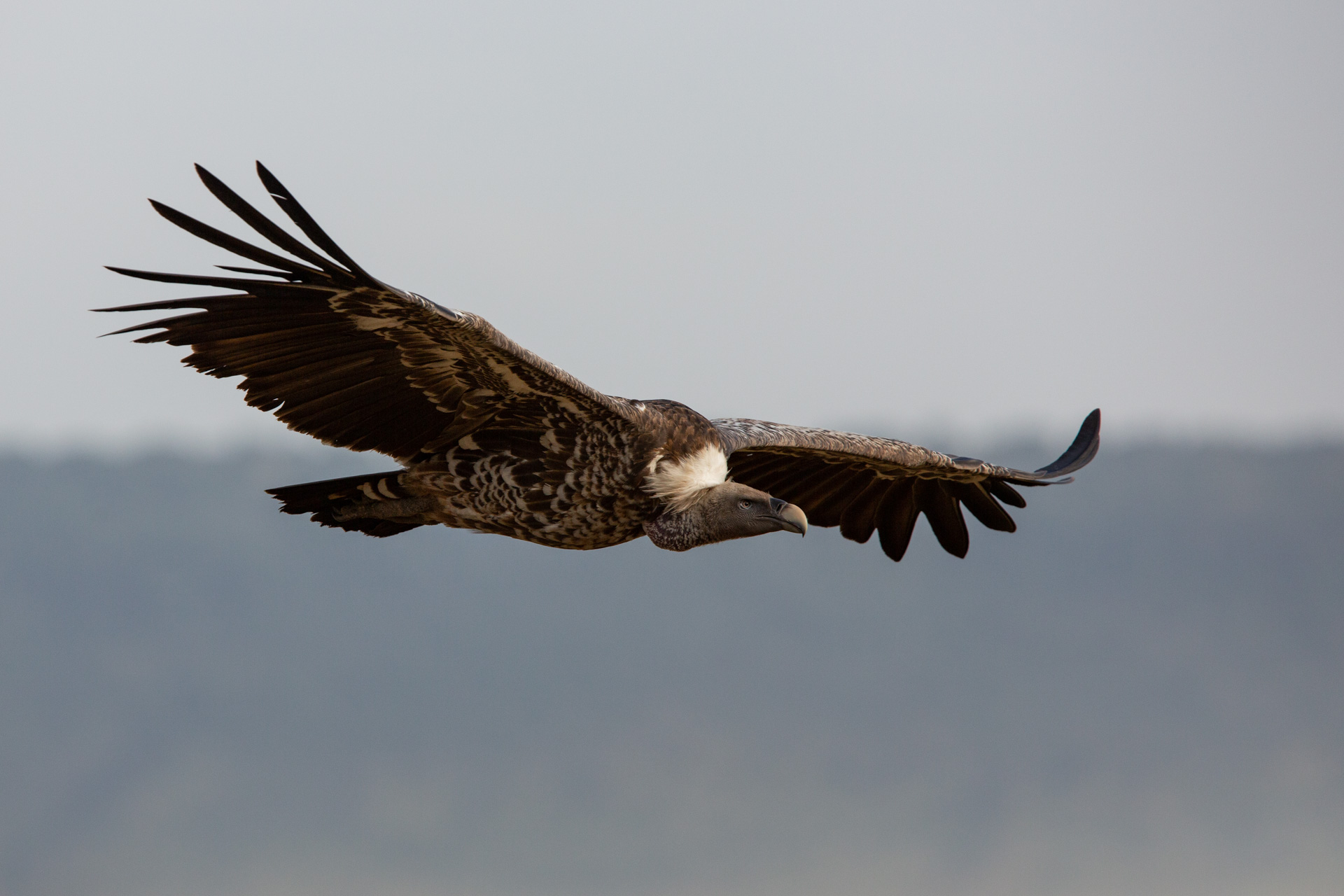 A Ruppell's griffon vulture soars overhead. [f 6.3, 1/2000, ISO 500]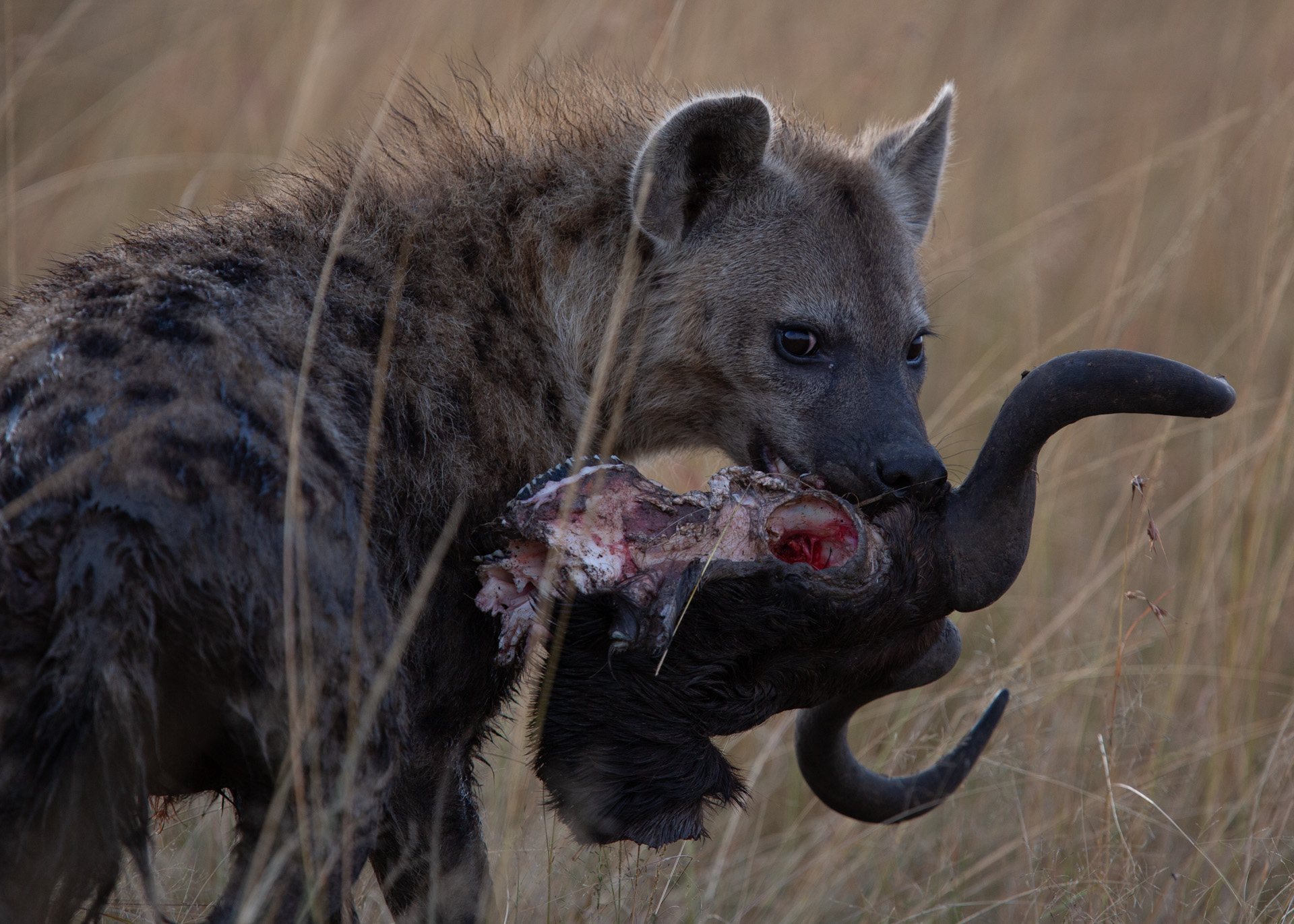 Meanwhile, a lone hyena makes off with the head. [f 4.0, 1/800, ISO 500, -0.67]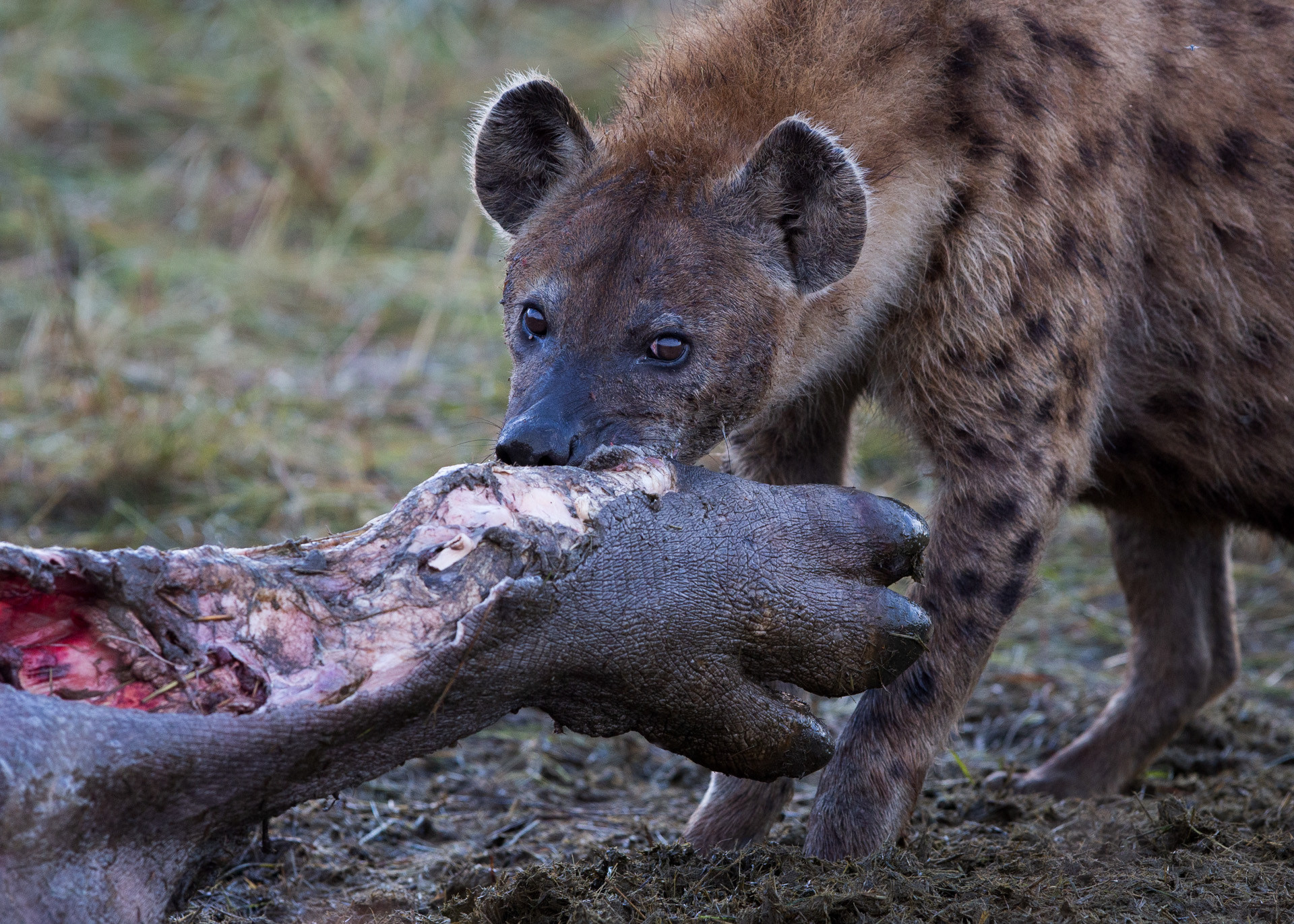 Sticking with the theme of scavengers, we assume that this male hippo died in a fight with another male. The local hyena clan was delighted and gorged themselves for two days. [f 4.0, 1/640, ISO 1000, -0.33]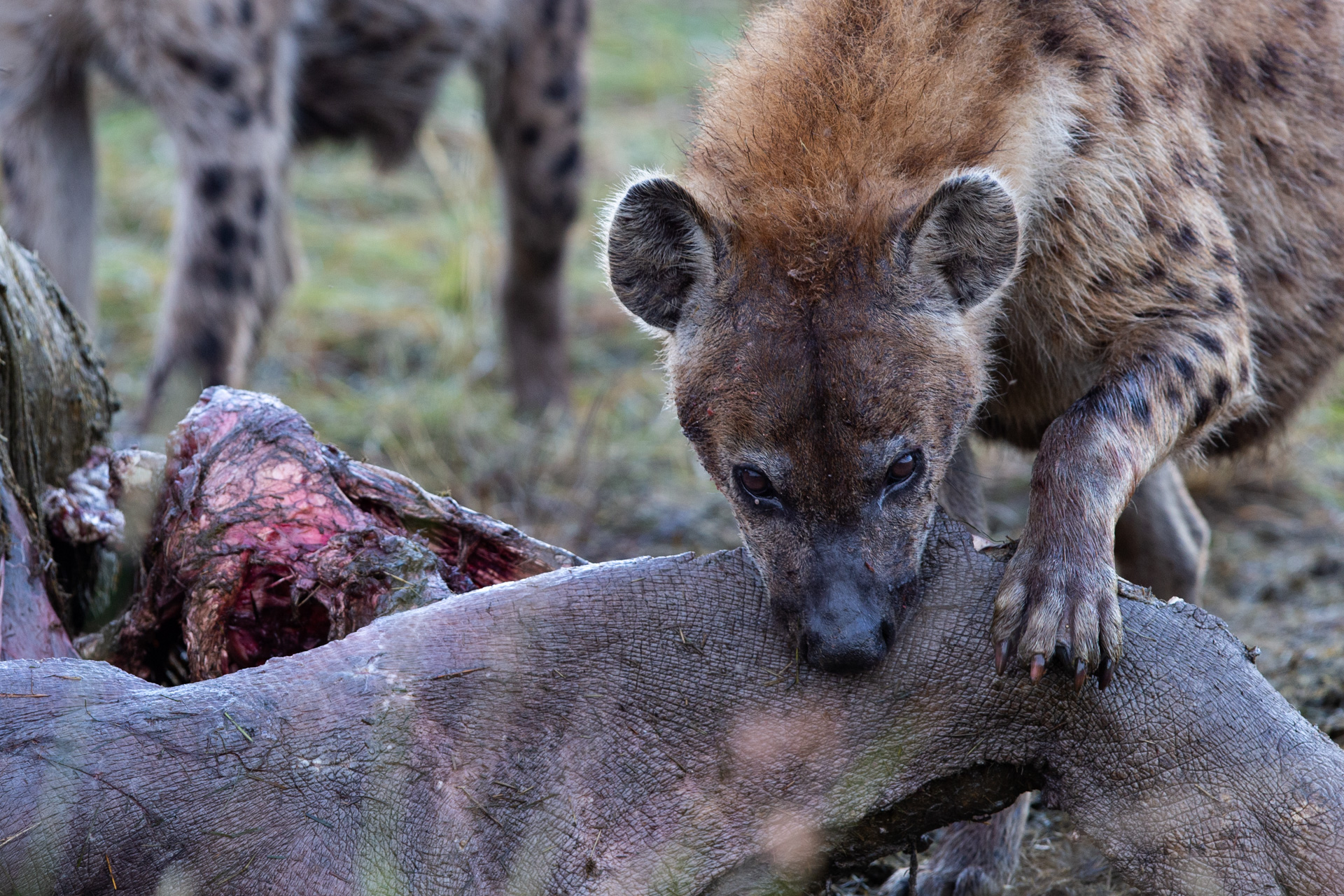 It's not often you get to appreciate the claws of a hyena. [f 4.0, 1/250, ISO 640]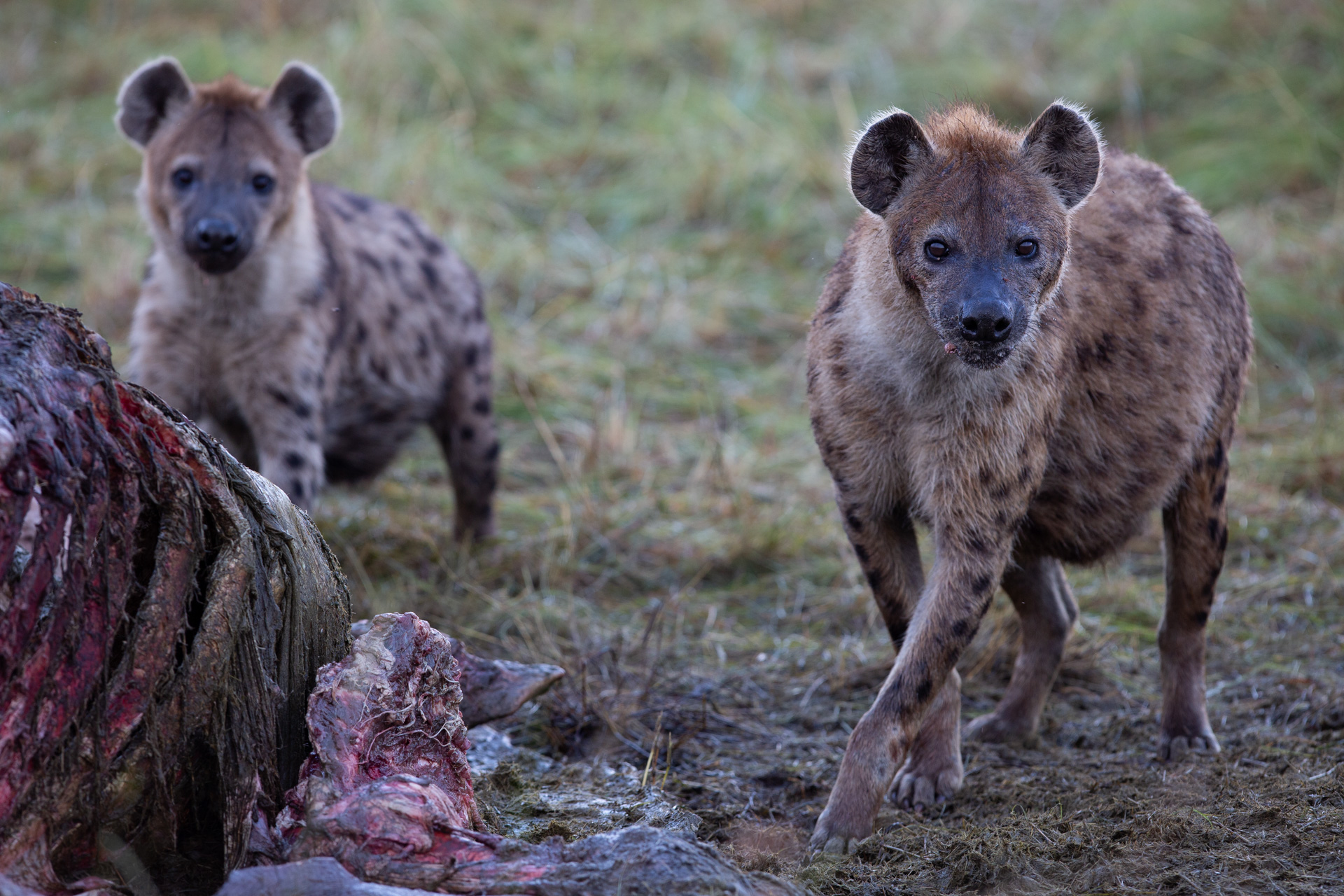 Or the rather unusual way they tend to stand. [f 4.0, 1/320, ISO 500]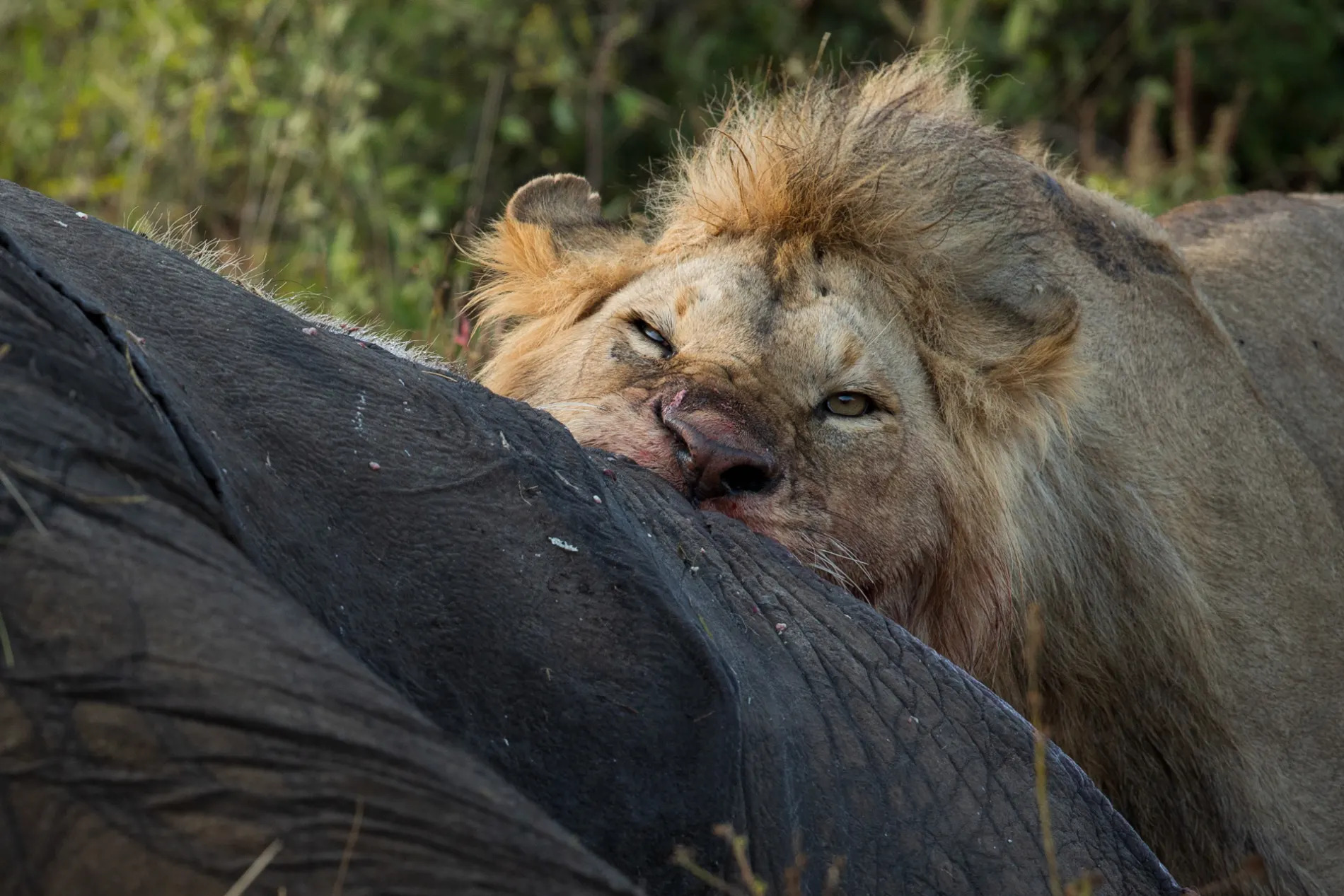 Hearts always sink when elephants die in the reserve. Sadly another pachyderm tragically passed away this week. The cause: a spear. At this stage we really don't know much about the actual events which lead up to the death. An investigation has been opened and we hope to gain more information. The assumption is that this elephant went outside of the protected park boundaries and perhaps strayed into farmland. One can only imagine the difficulties and anguish that led the farmer to throw a spear at this mighty animal. This event came only a few hours after we were celebrating the collaring of Fitz as shown above. This sad event reiterates the importance of the work being done by organisations like MEP outside the boundaries of the national reserve. We take some solace in the fact that the passing of such a large animal will not come to waste – his body will feed many mouths. In this specific case the male lion with the half tail (Prince Mkia). [f 7.1, 1/320, ISO 640, -0.33]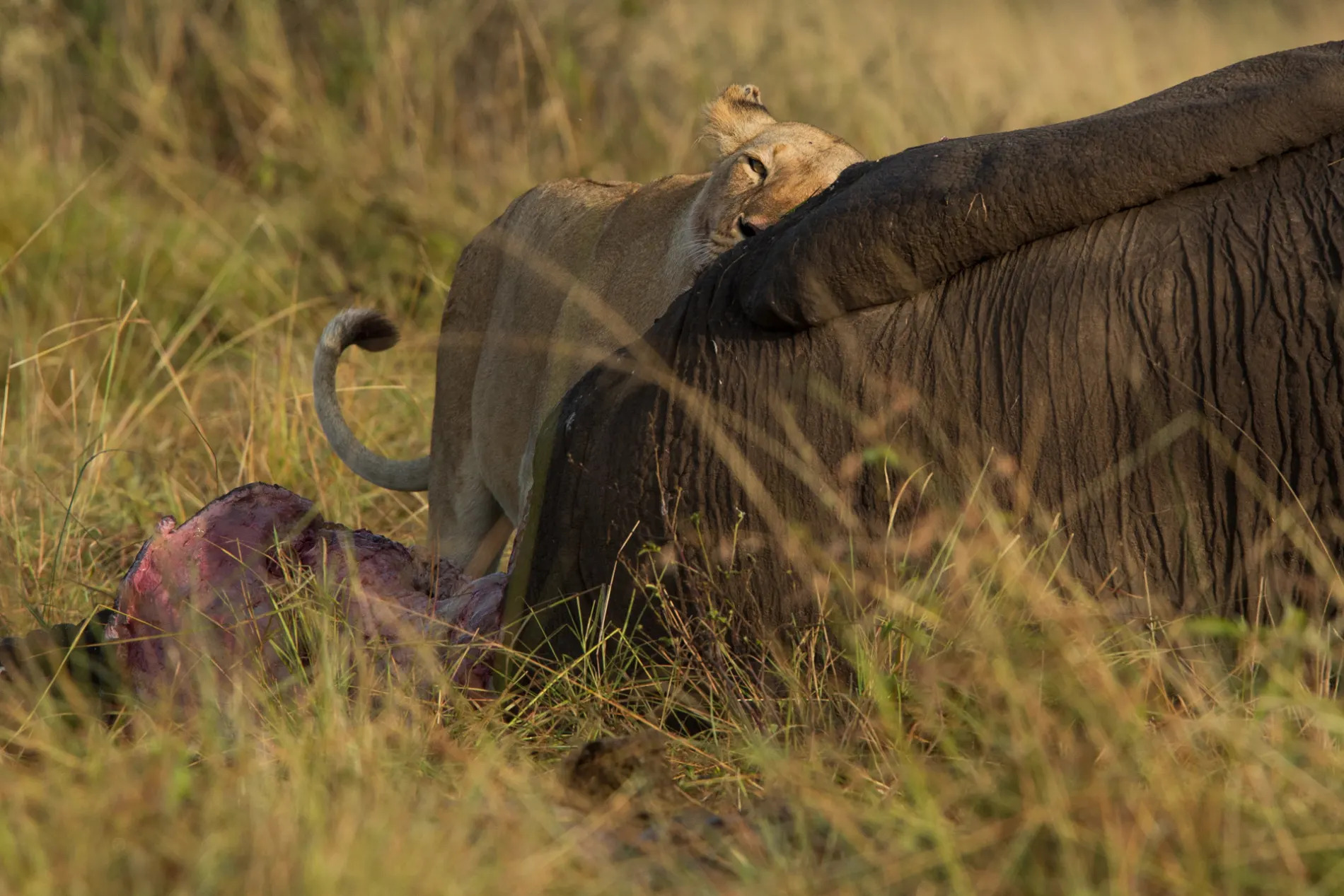 Two lionesses also moved in for a free meal. As per policy and protocol, the rangers had removed the tusks from the deceased body. [f 7.1, 1/1000, ISO 640, -0.33]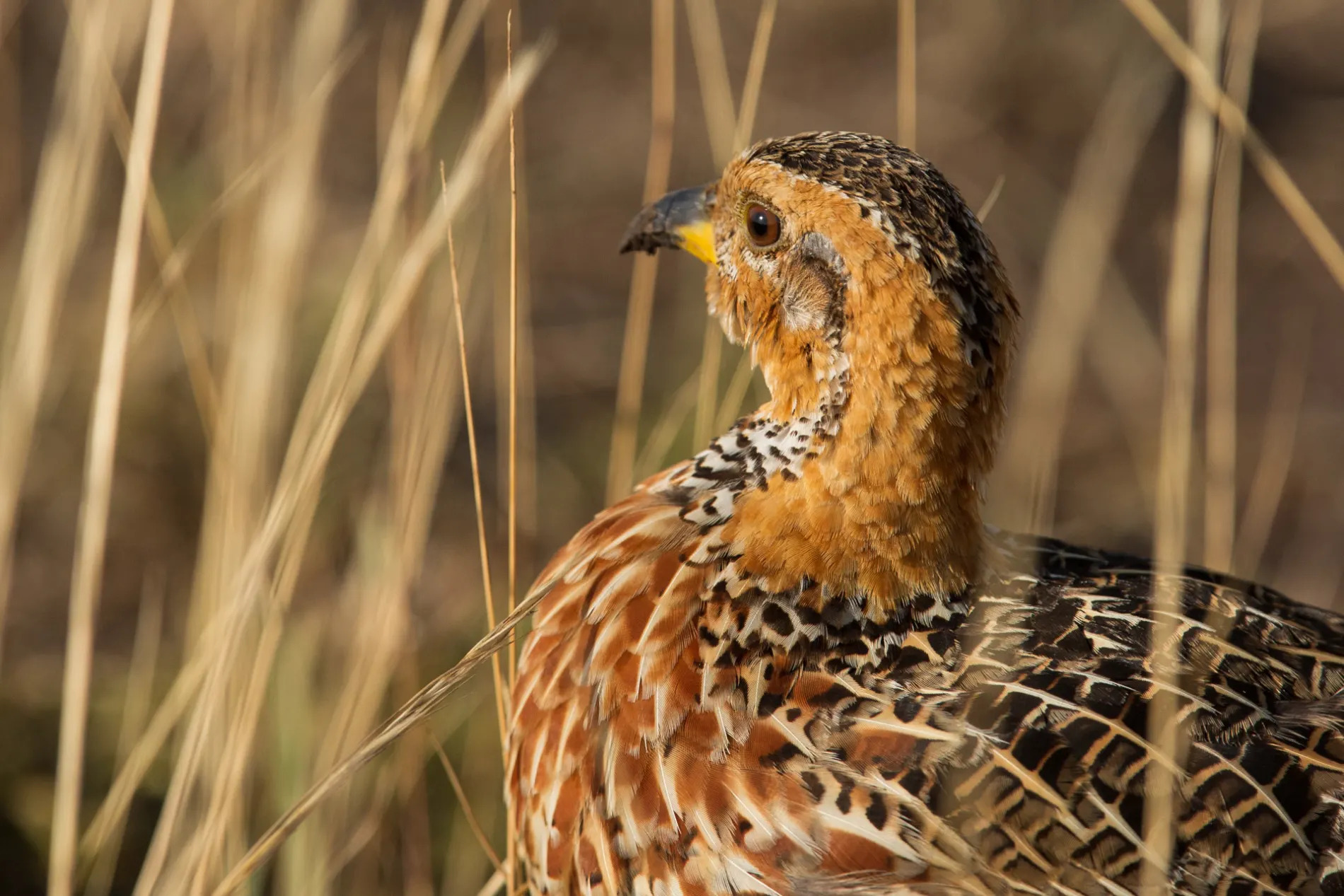 A most handsome red-winged francolin – a bird often overlooked. [f 5.0, 1/3200, ISO 400, -0.67]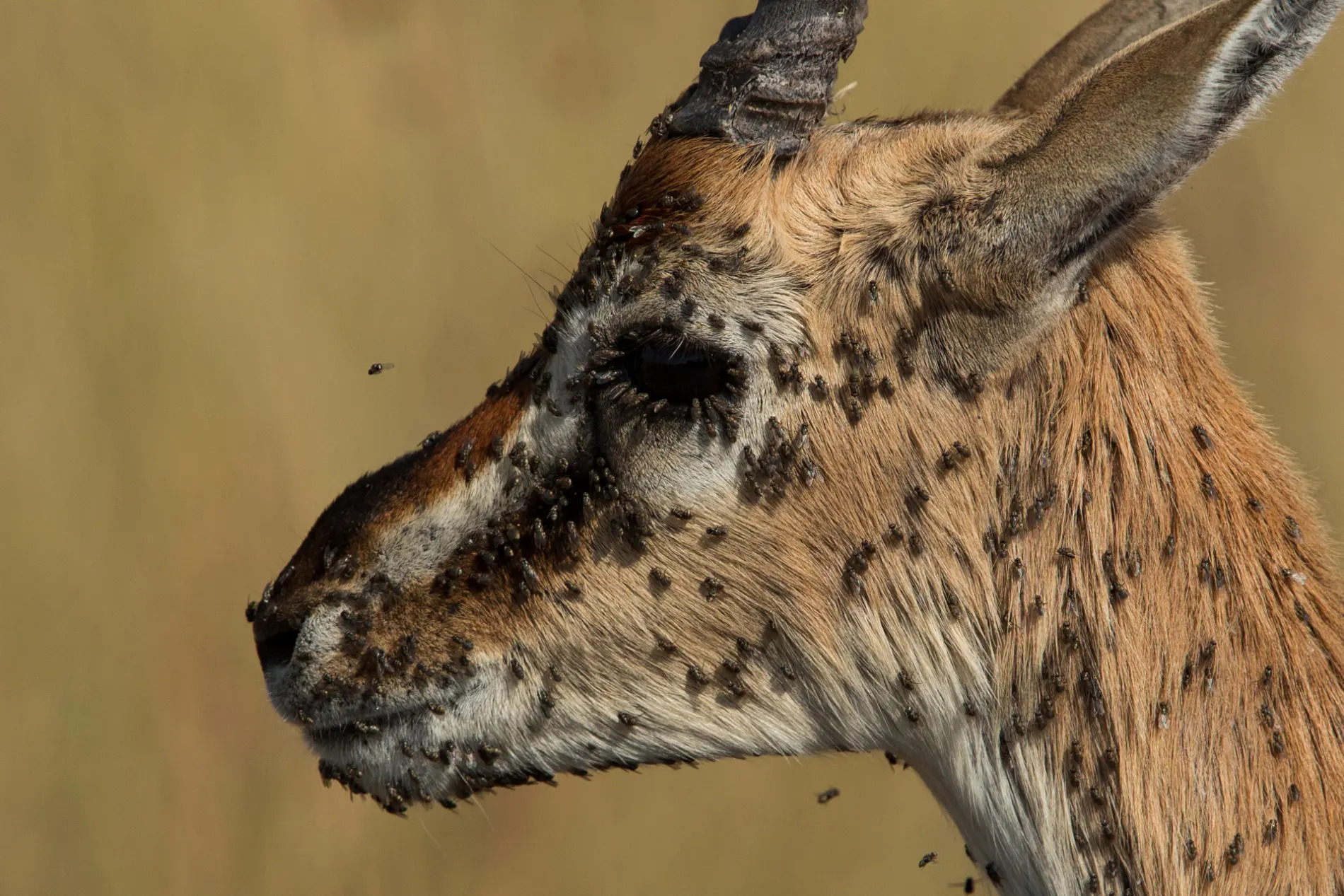 If you think you are having a bad day, just remember this poor Thomson's gazelle. [f 5.0, 1/6400, ISO 400, -0.67]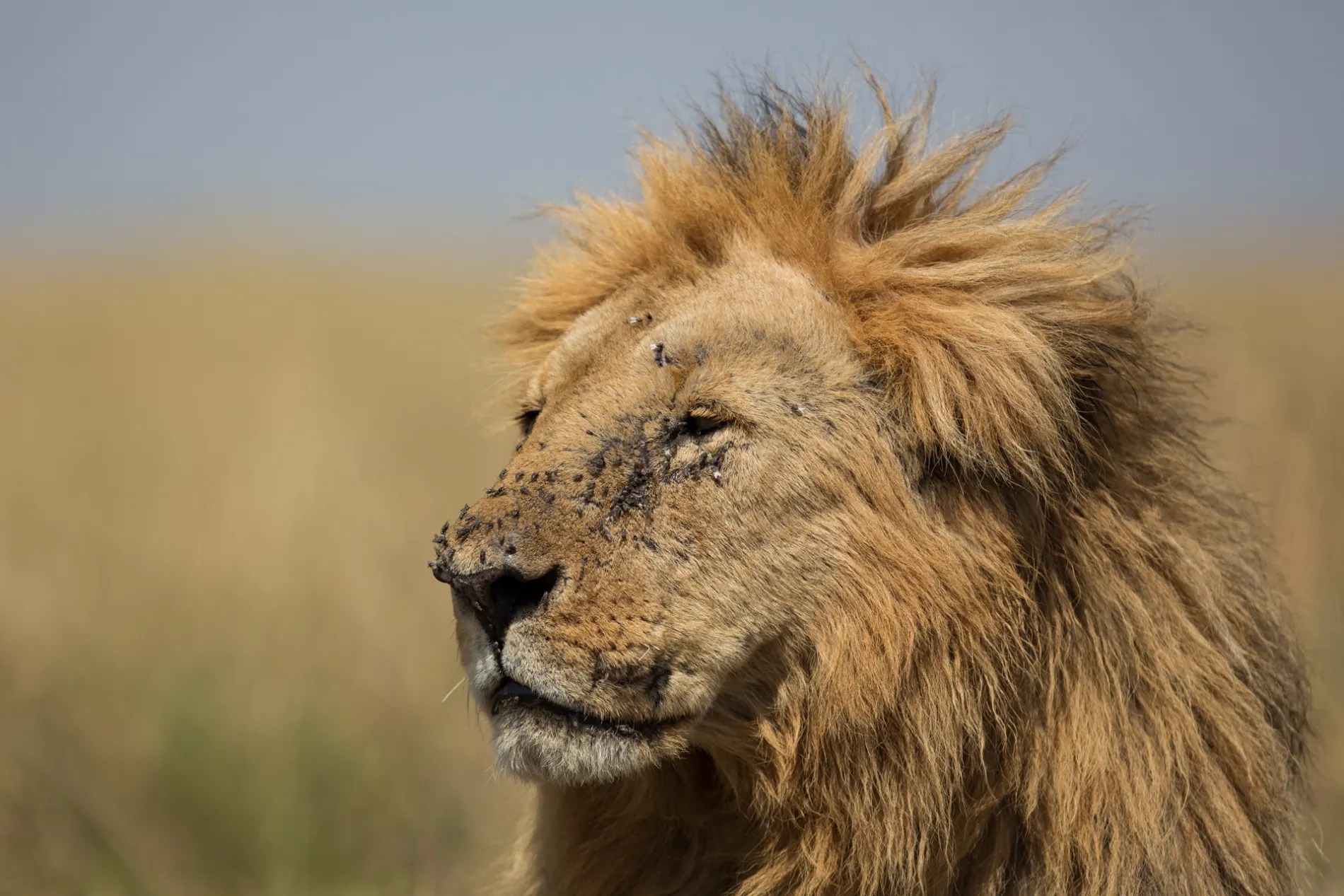 Fang, one of the iconic males of the Triangle. [f 3.5, 1/3200, ISO 160, -0.33]
THIS WEEK A YEAR AGO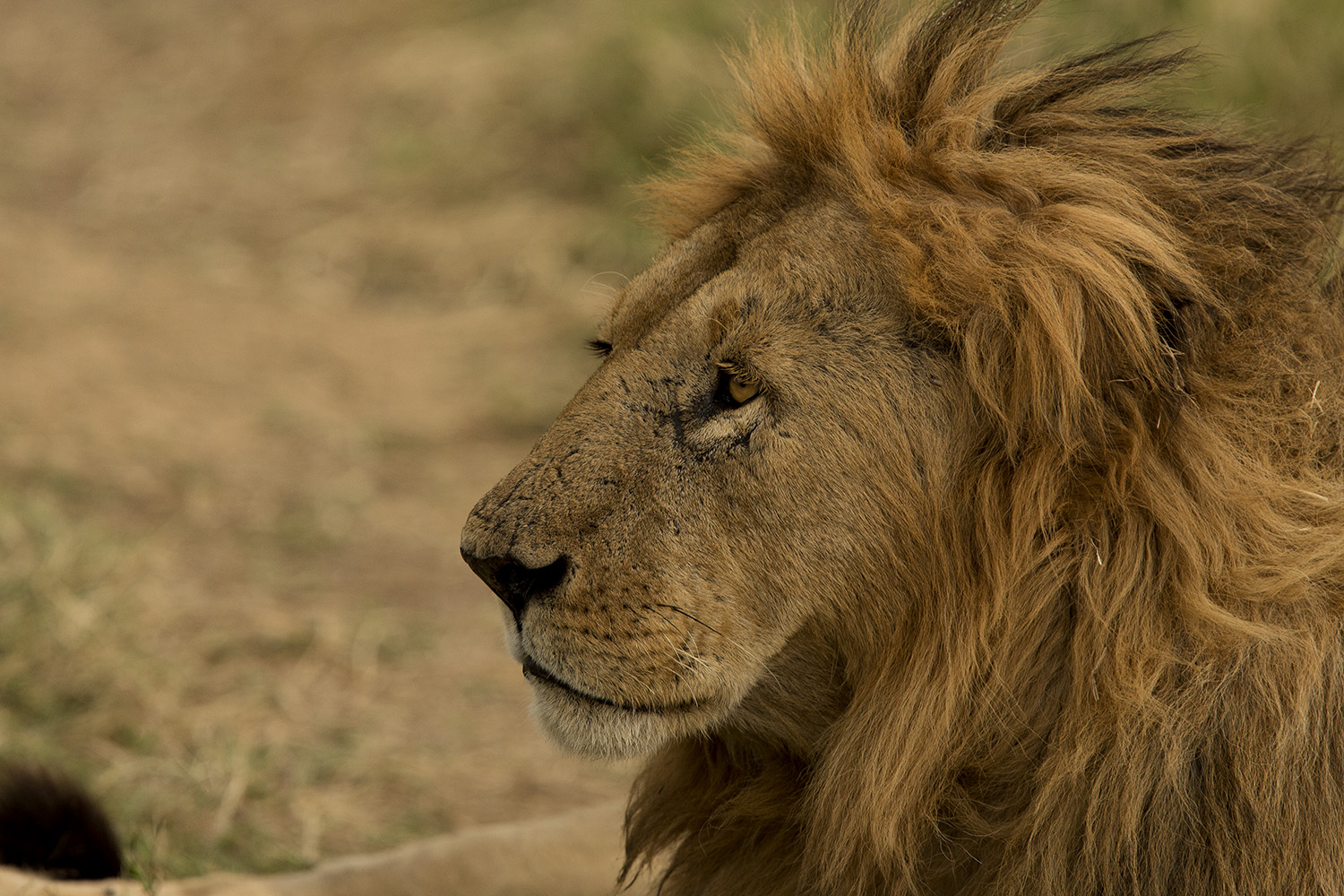 Exactly 365 days ago, I took a picture of Fang – the exact same male as shown in the previous picture. I wanted to get a near-identical shot to try show the growth of a male lion in a year. His mane has thickened out a little and he has a few more scars, but I am incredibly impressed with his determination and his resilience. Being a male lion in this area is not easy. [f 4.5, 1/250, ISO 640, -0.33]