Sometimes, all it takes is just one day in the Mara Triangle to walk away with a handful of outrageously good memories
Usually I dedicate this post to a summary of the week's events, however, I am about to break this tradition and showcase photographs from a single day. I was hosting a full day private photographic tuition drive, leaving camp at 6:30 am and returning at 6:30 pm. The previous evening the guests and I decided to focus on a few photographic elements and our hitlist included 3 iconic Mara moments. Firstly, we wanted a pride of lions in the early morning golden light. Next, we wanted a large carcass with intense vulture activity. Lastly, when the sun was at its zenith we wanted to photograph a wildebeest migration crossing. A tall order by anyone's account, but the 12 hours out in the field delivered way beyond our wildest expectations. Enjoy a day in This Week at Angama.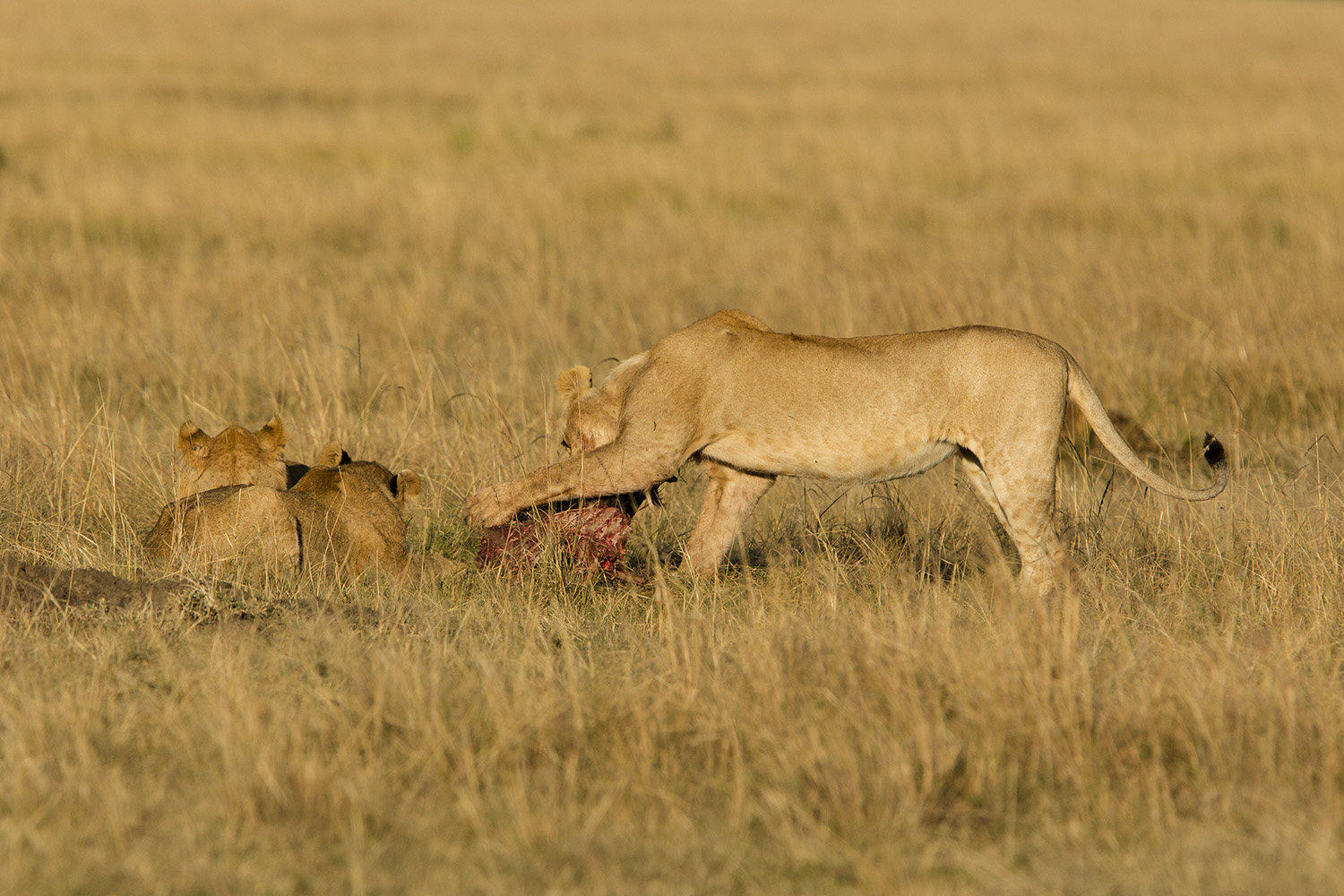 We left the camp at first light and within no time we were sitting with three young lions from the Angama Pride. They had killed a young wildebeest and were scrapping over the final pieces of meat. We bagged the golden light we had planned for. [f 5.6, 1/2000, ISO 400 +0.33]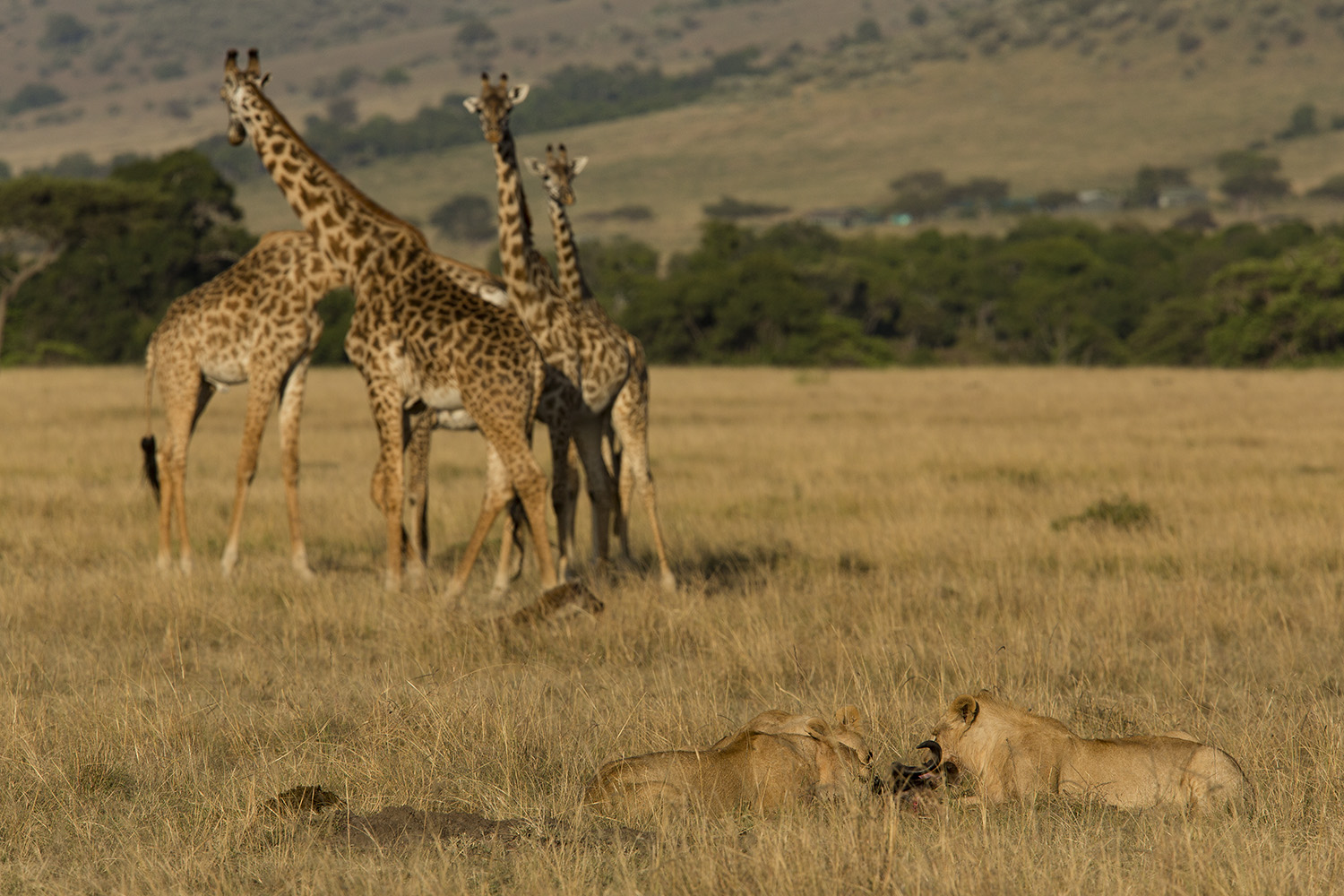 The scene became all the more interesting when a nearby journey of giraffe headed over to inspect the commotion. I decreased the aperture (bigger f number) which provided a greater depth of field putting more clarity on the giraffe yet maintaining focus on the lions. [f 9.0, 1/1250, ISO 400]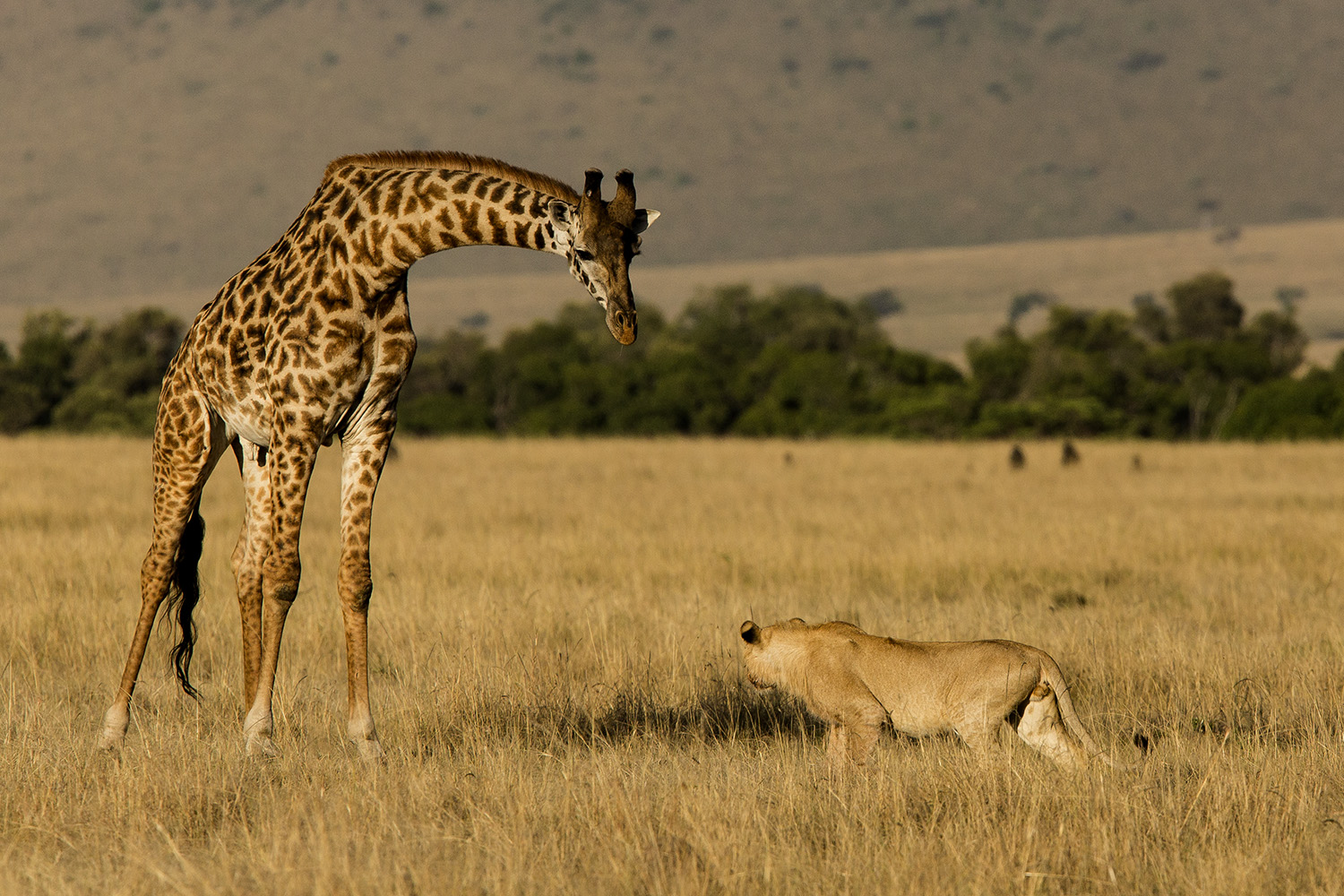 Out of nowhere one of the young male lions, roughly two years in age, started showing interest in the giraffe. My natural response was to slightly increase the ISO to make the camera faster. If there was going to be action I wanted to make sure the camera was fast enough. [f 6.3, 1/2500, ISO 500 +0.33]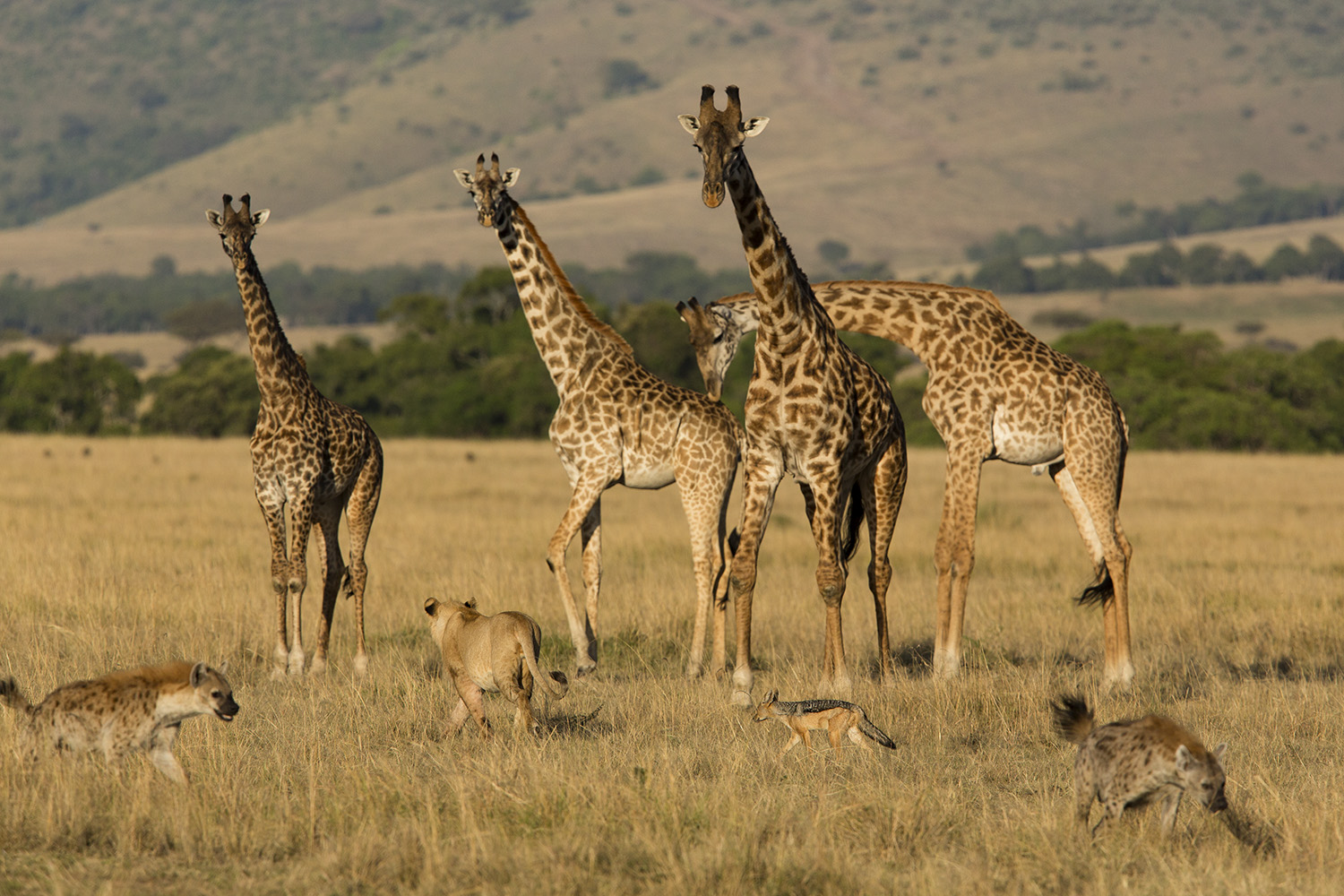 At one stage there was so much going on it was hard to know where to focus and how to compose. [f 6.3, 1/2500, ISO 500]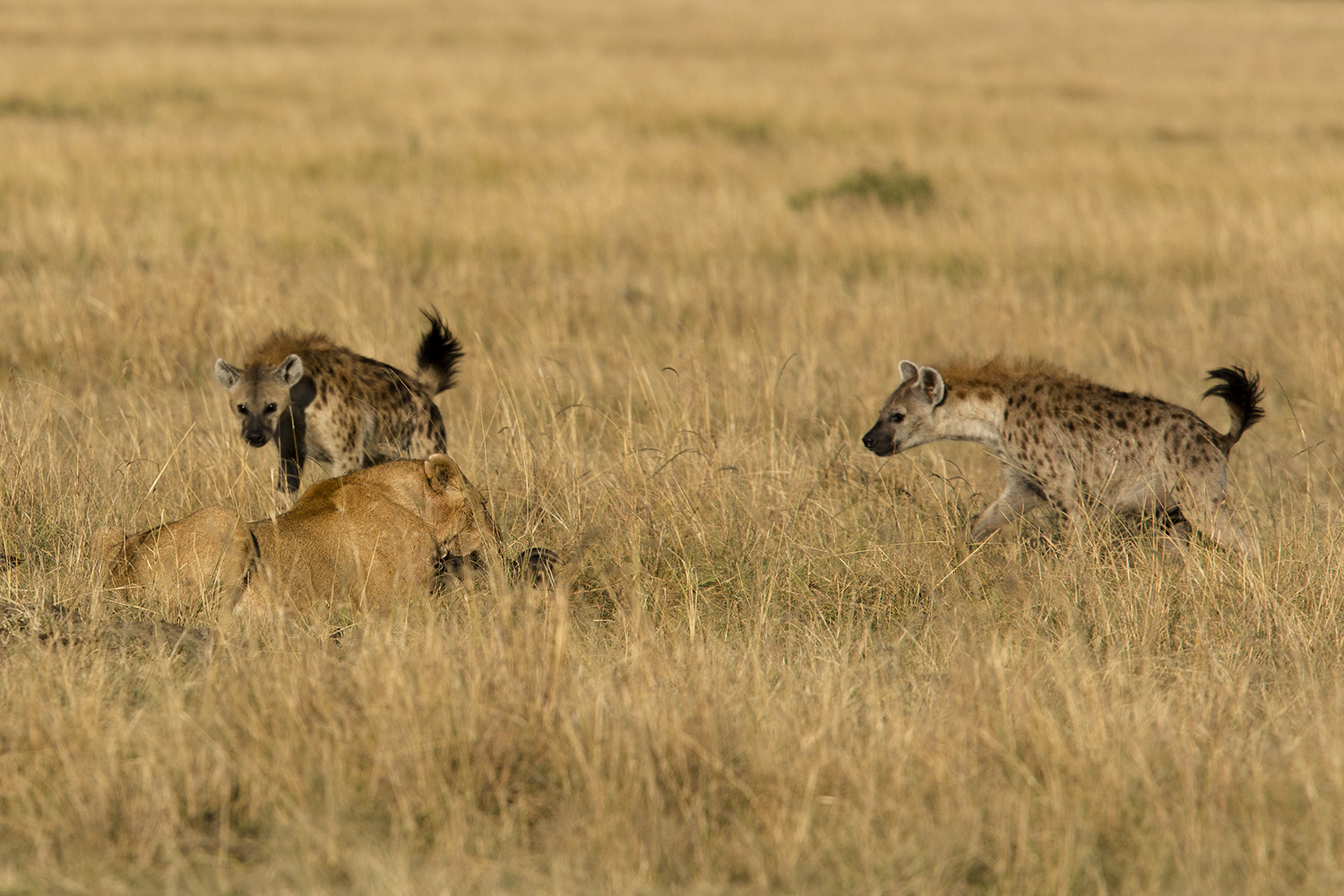 With two of the lions having moved away from the carcass, the hyenas sensed it was their time to move in. They surrounded the solitary lion, tails up and giggling. [f 6.3, 1/2000, ISO 500 +0.33]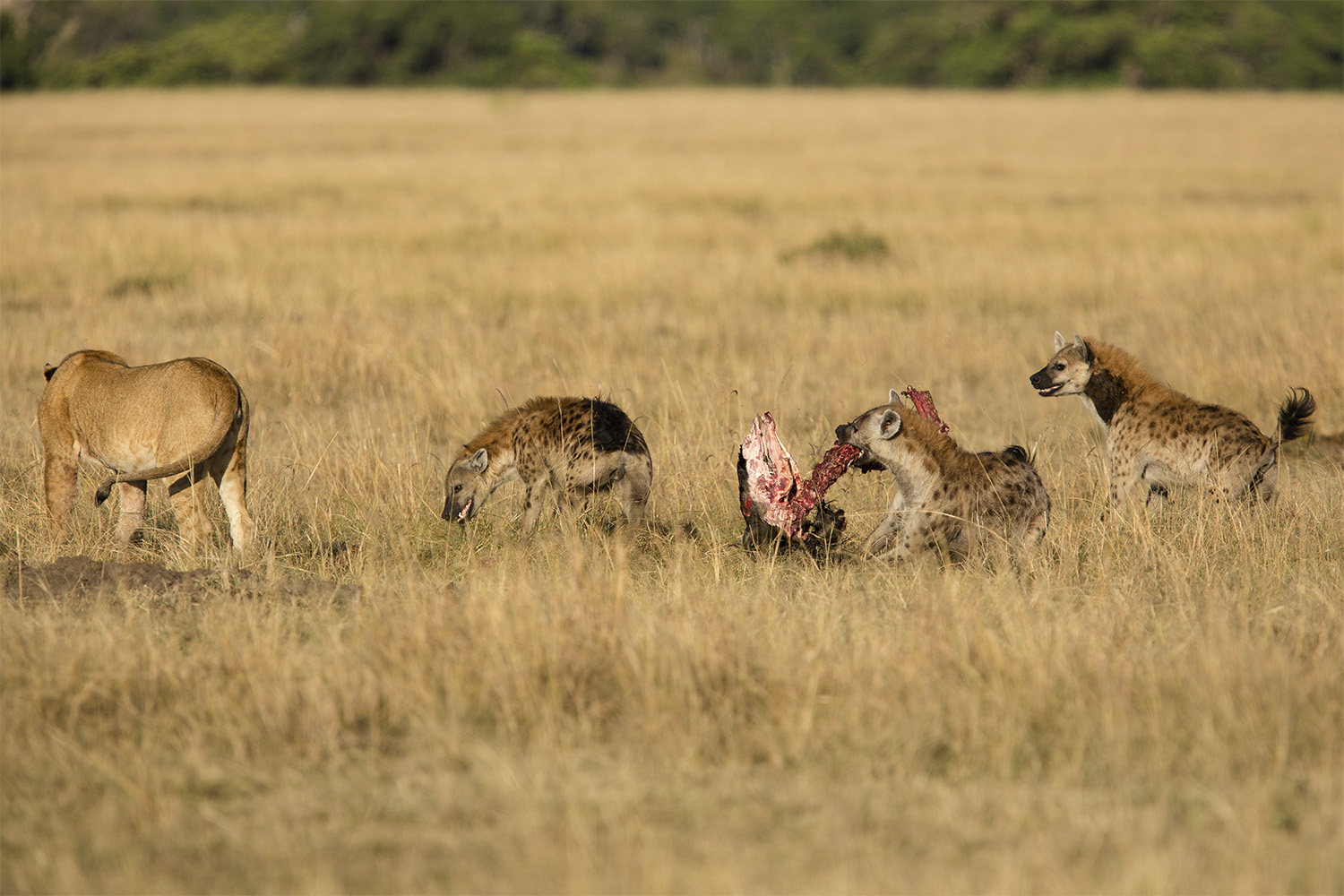 Within seconds the lion gave up the fight, walking away and leaving the clan to squabble amongst themselves. Photographs simply cannot capture the sounds that accompanied this scene. Again you will see I had the shutter speed set up exceptionally fast so as to focus on the chaos. [f 4.5, 1/5000, ISO 500]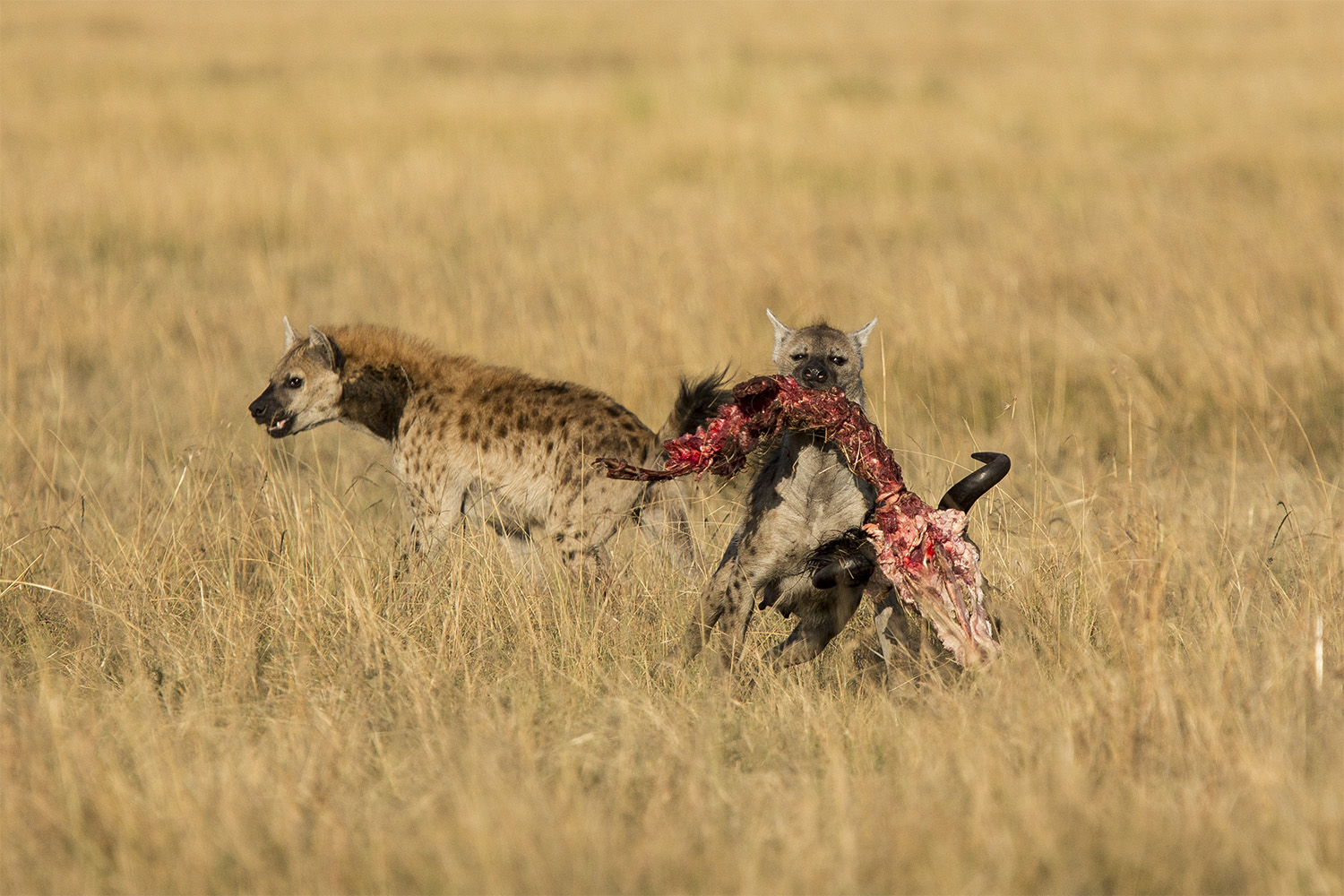 Each hyena grabbed a piece of meat and ran off. One clan member ran off with the entire spinal cord and head. The power of hyenas astounds me. [f 4.5, 1/5000, ISO 500]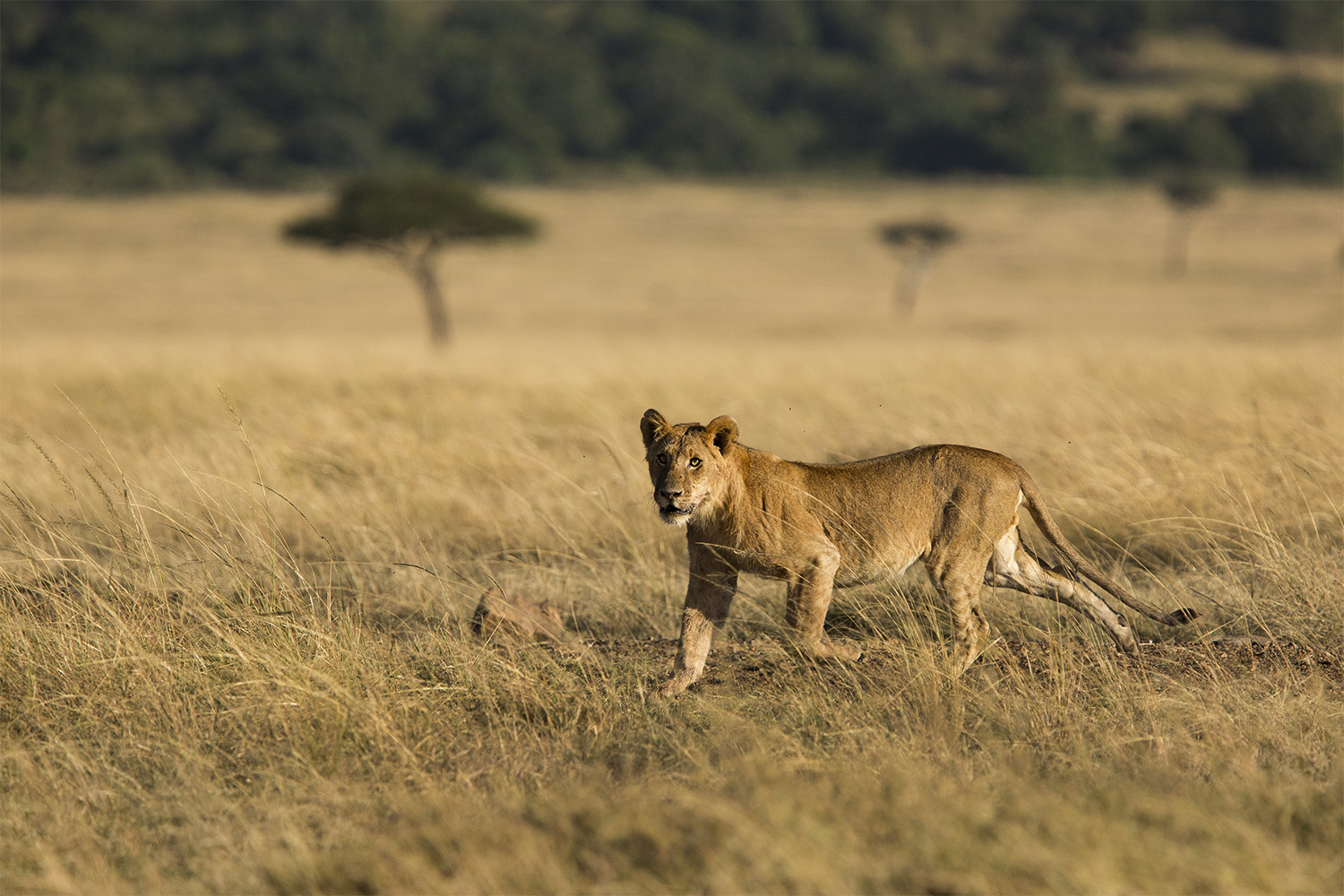 All the drama was too much for the lions and the youngsters sprinted off in different directions. [f 4.5, 1/4000, ISO 500, +0.33]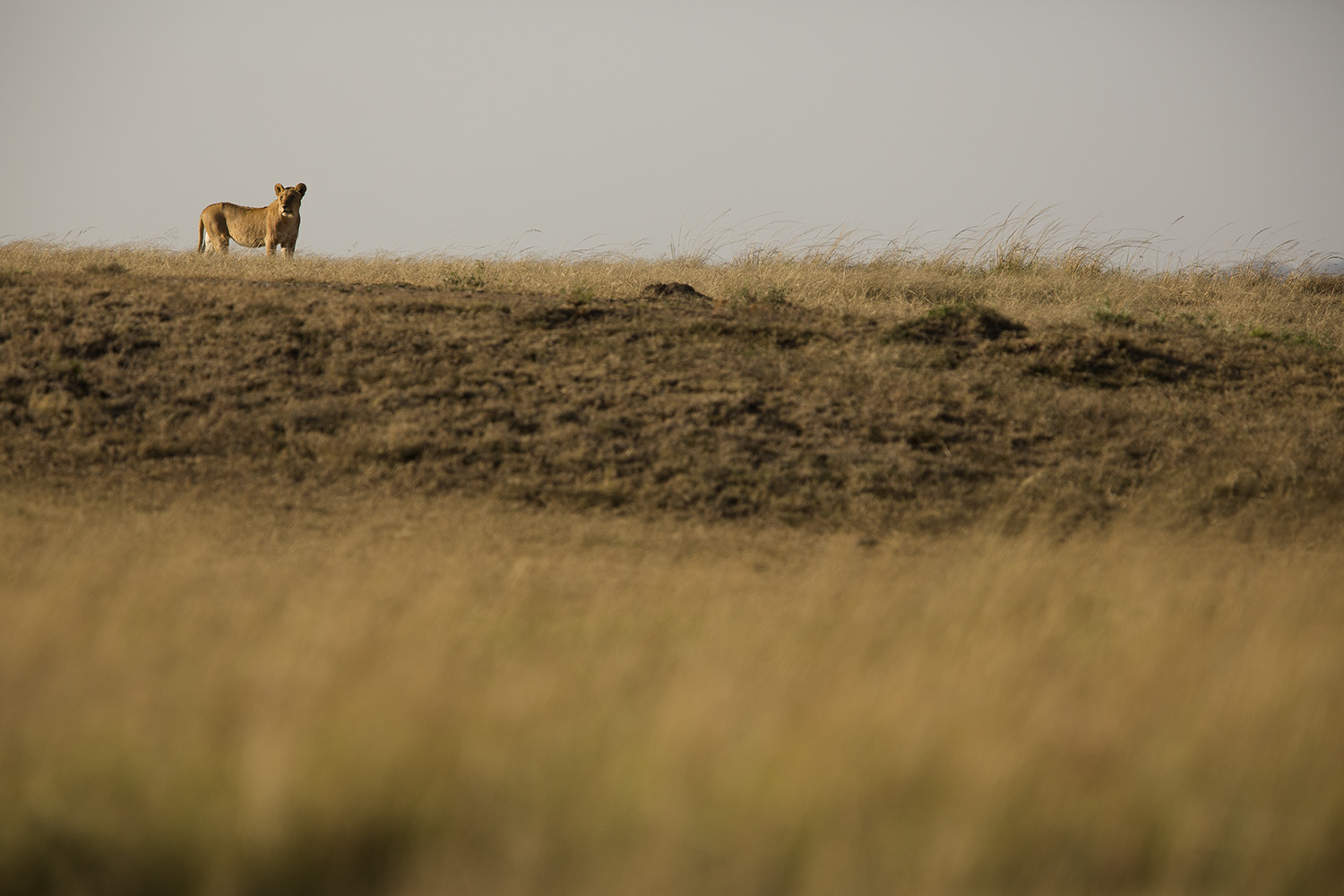 It is always a good idea to compose and frame a relatively normal scene in an unusual way. By composing the young lion in this manner, it almost forces the viewer to spend a little longer looking at the photograph. [f 4.5, 1/3200, ISO 320, +0.33]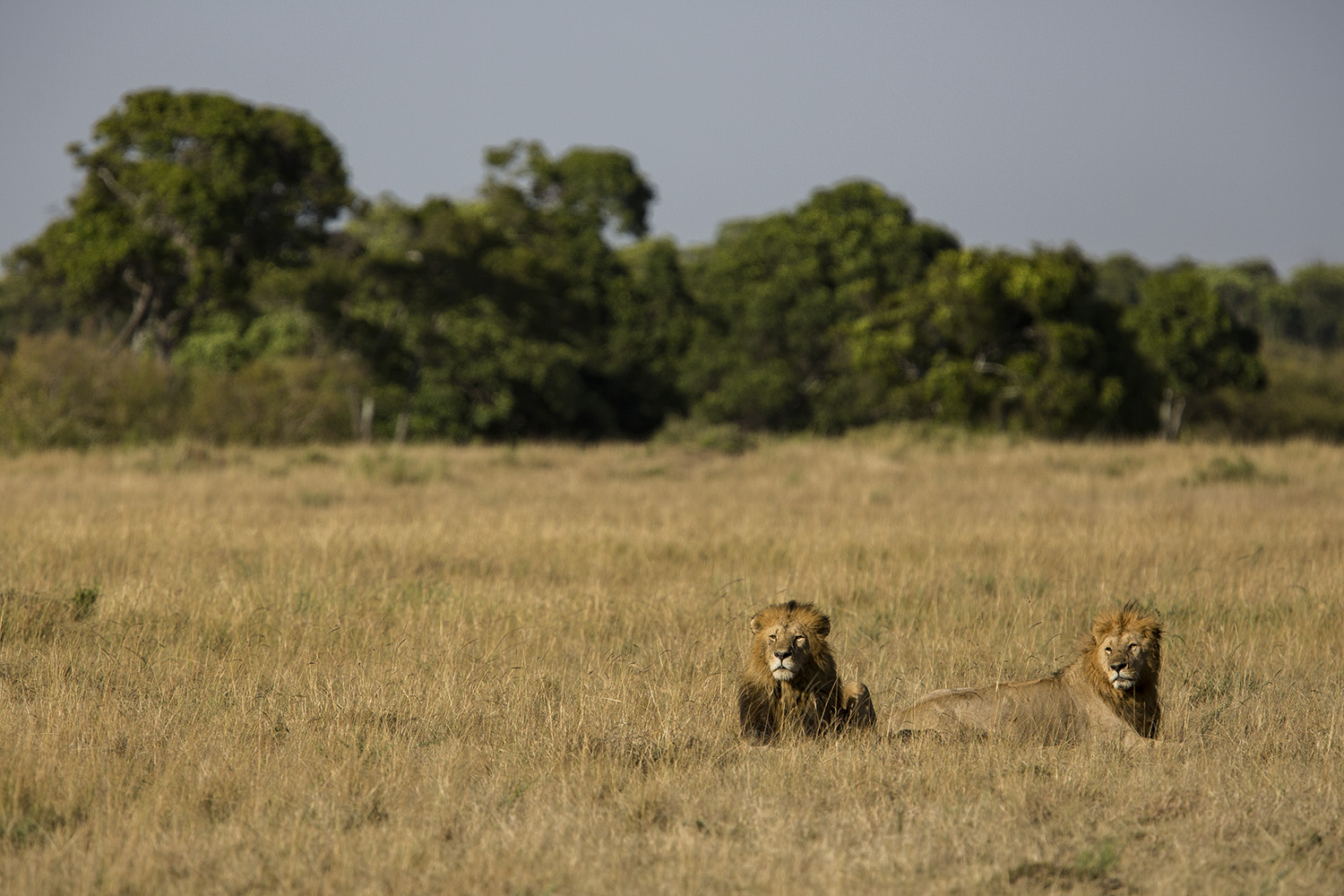 To top off an exceptional sighting and start to the photographic day we came upon two coalition members, Short Tail and Blondie, on the short grass plains. Whilst these males were stationery I was able to discuss with our guests about white balance, exposure, bracketing, focal points and other photographic terms and technicalities that are crucial in wildlife photography. [f 4.5, 1/4000, ISO 320]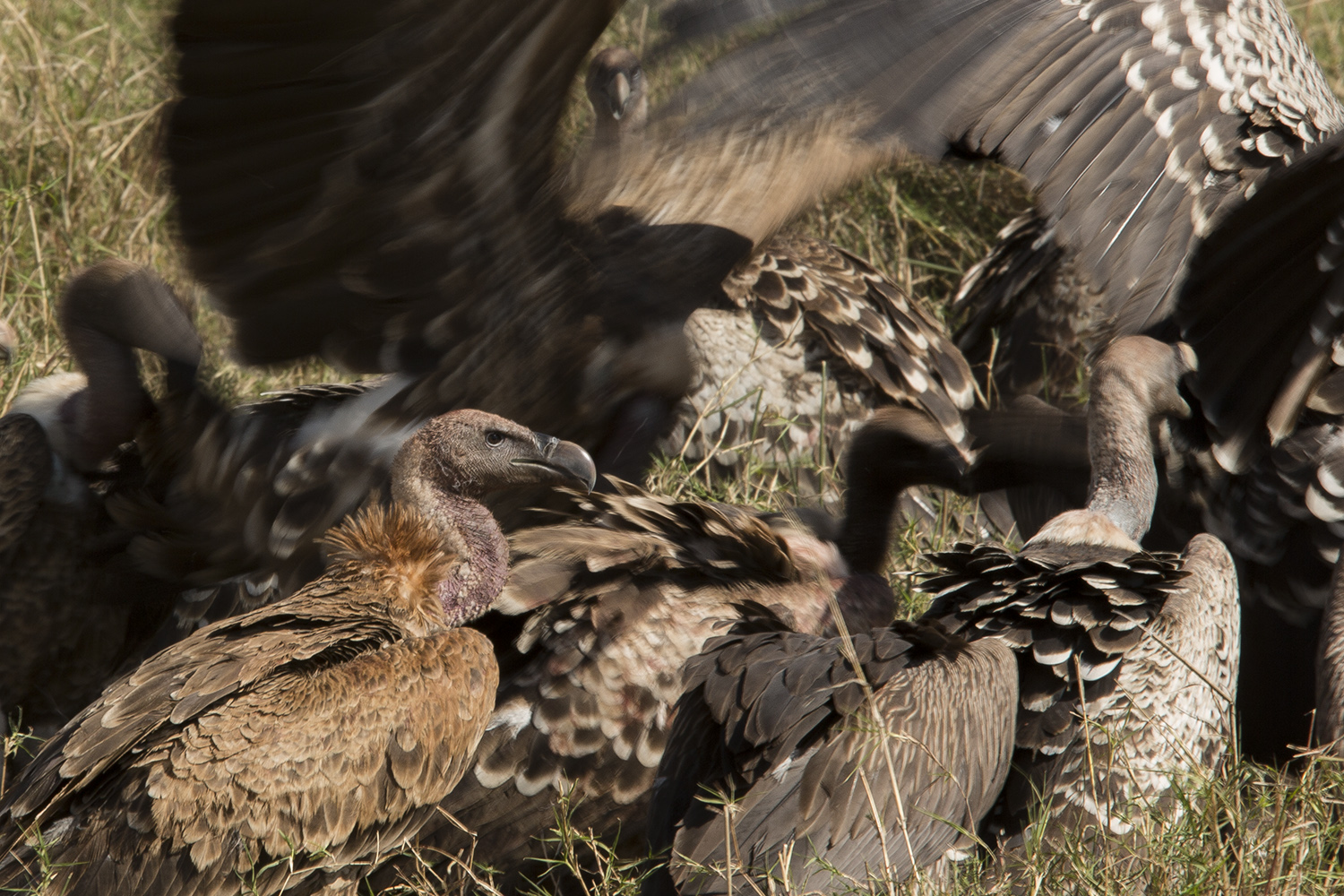 About an hour later and we had our next photographic challenge. About 50 vultures in a frenzy feeding on the remains of a zebra. We focused on slowing the shutter speed right down to give 'blur' and to highlight the chaos. The intention is to get one bird in focus as it remains still, but then to have the rest of the birds blurred as they fight over the meat. [f 22.0, 1/30, ISO 100]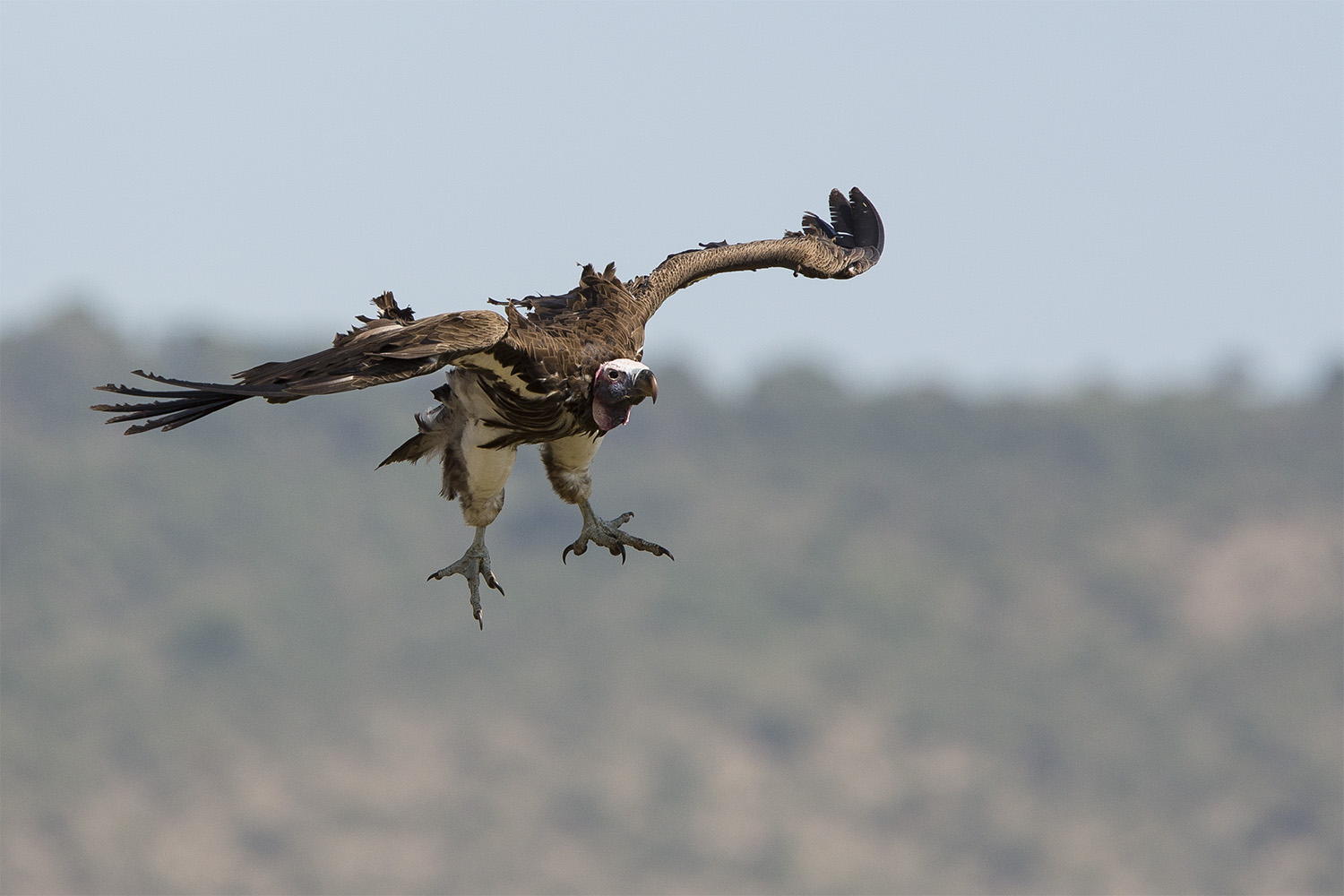 My favourite birds to photograph in the Mara are vultures in flight. Working with the guests, we were able to get some amazing action shots of these majestic birds coming in. Here you can see the wind ruffling the feathers of a rapidly approaching lappet-faced vulture. [f 5.0, 1/3200, ISO 400, +0.67]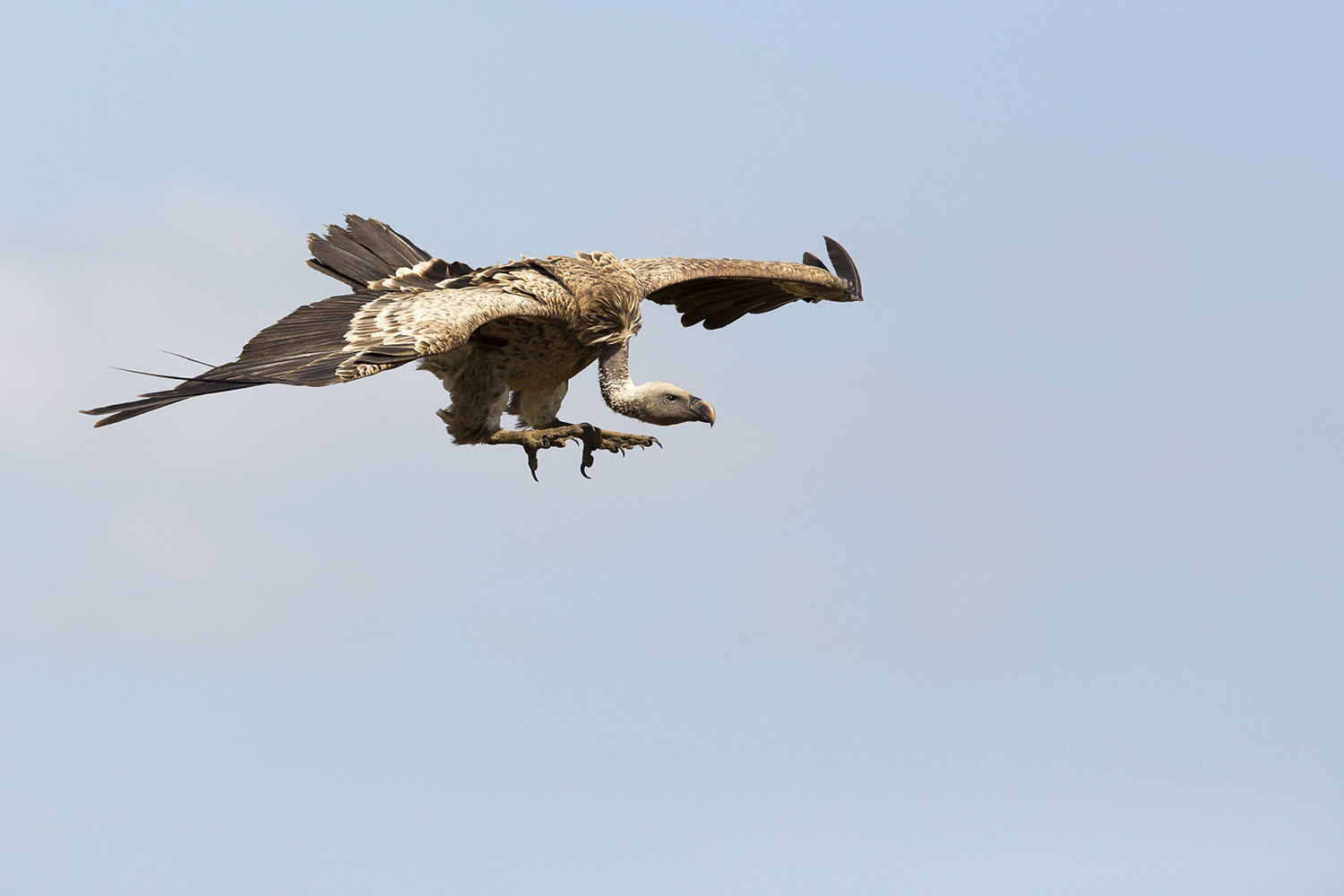 In this shot I loved how the neck of the Ruppell's griffon vulture droops down seconds before landing. [f 5.6, 1/3200, ISO 500, +0.67]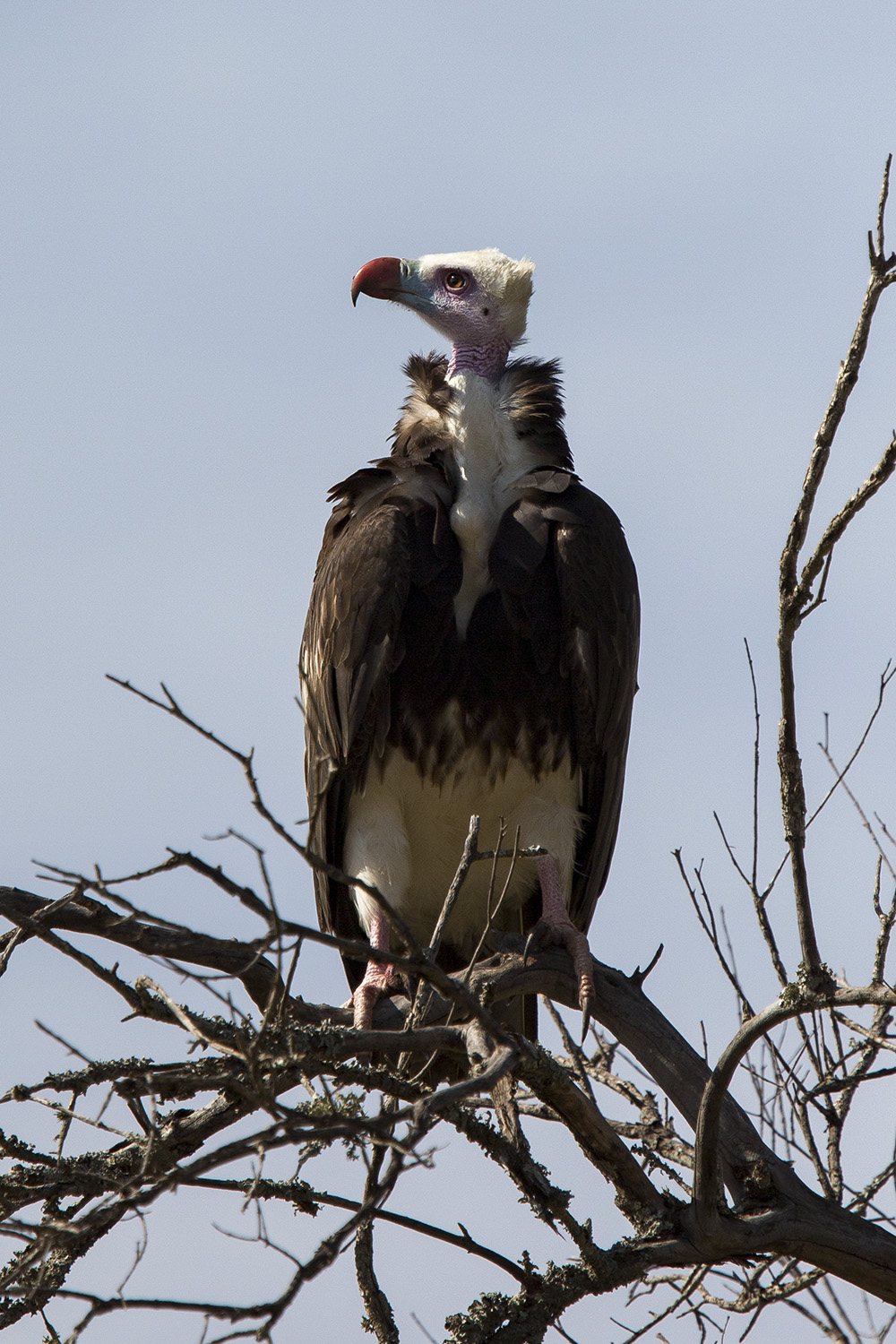 It is always special to see a white-headed vulture and even more so getting a detailed shot of the tomato coloured bill and painted face. [f 4.5, 1/3200, ISO 250, +0.33]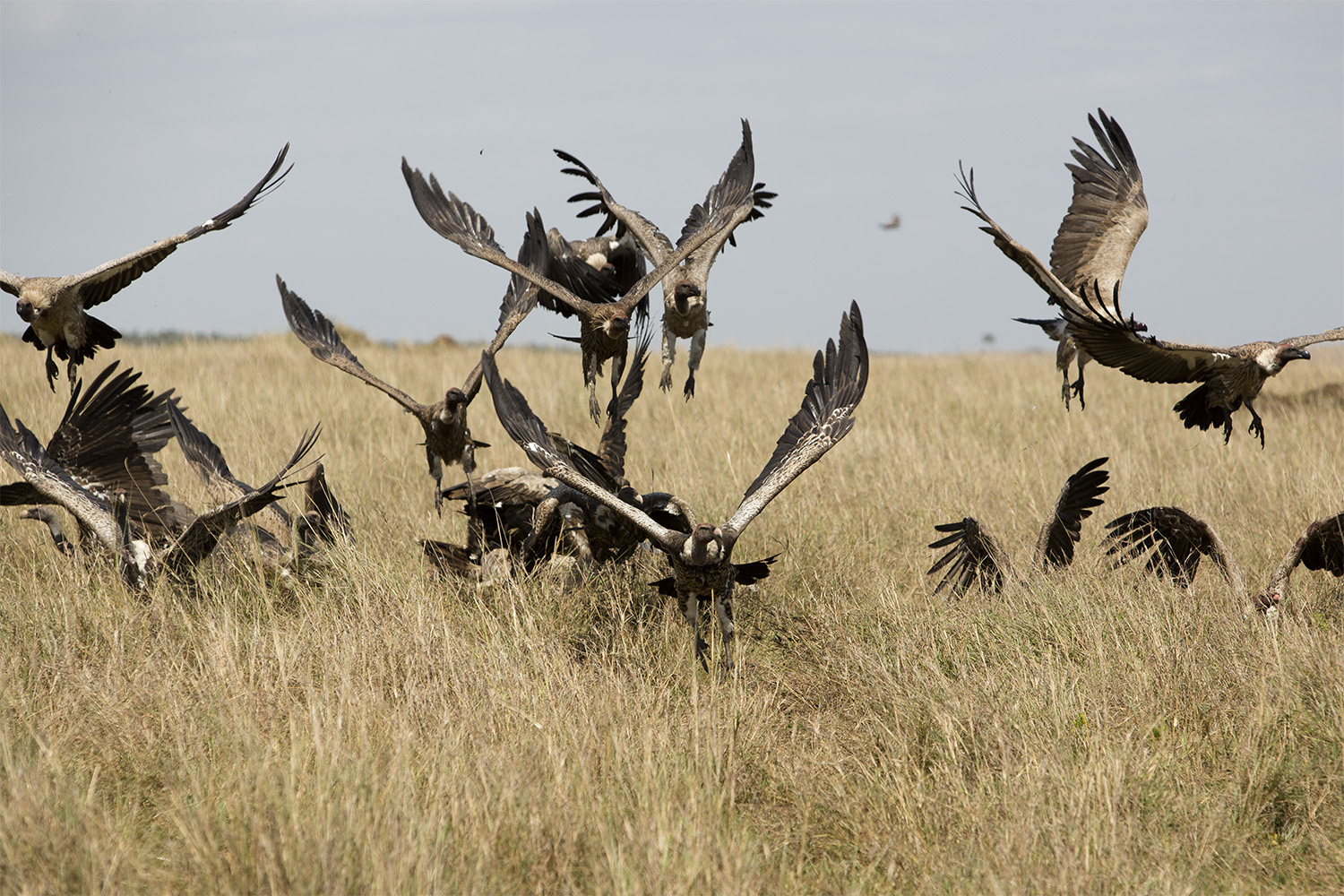 By lunch time we knew we were in the midst of a special day. And when the going is good keep riding the wave. Down in the far south of the Triangle we came across almost 100 vultures feeding on another zebra. We moved in closer to inspect. Within seconds of our arrival the birds exploded into flight. [f 5.6, 1/2500, ISO 320]

A lioness came charging in. It all happened so fast that it was nearly impossible to get the right settings, but this photograph captures the intensity of the moment. [f 5.6, 1/2500, ISO 320]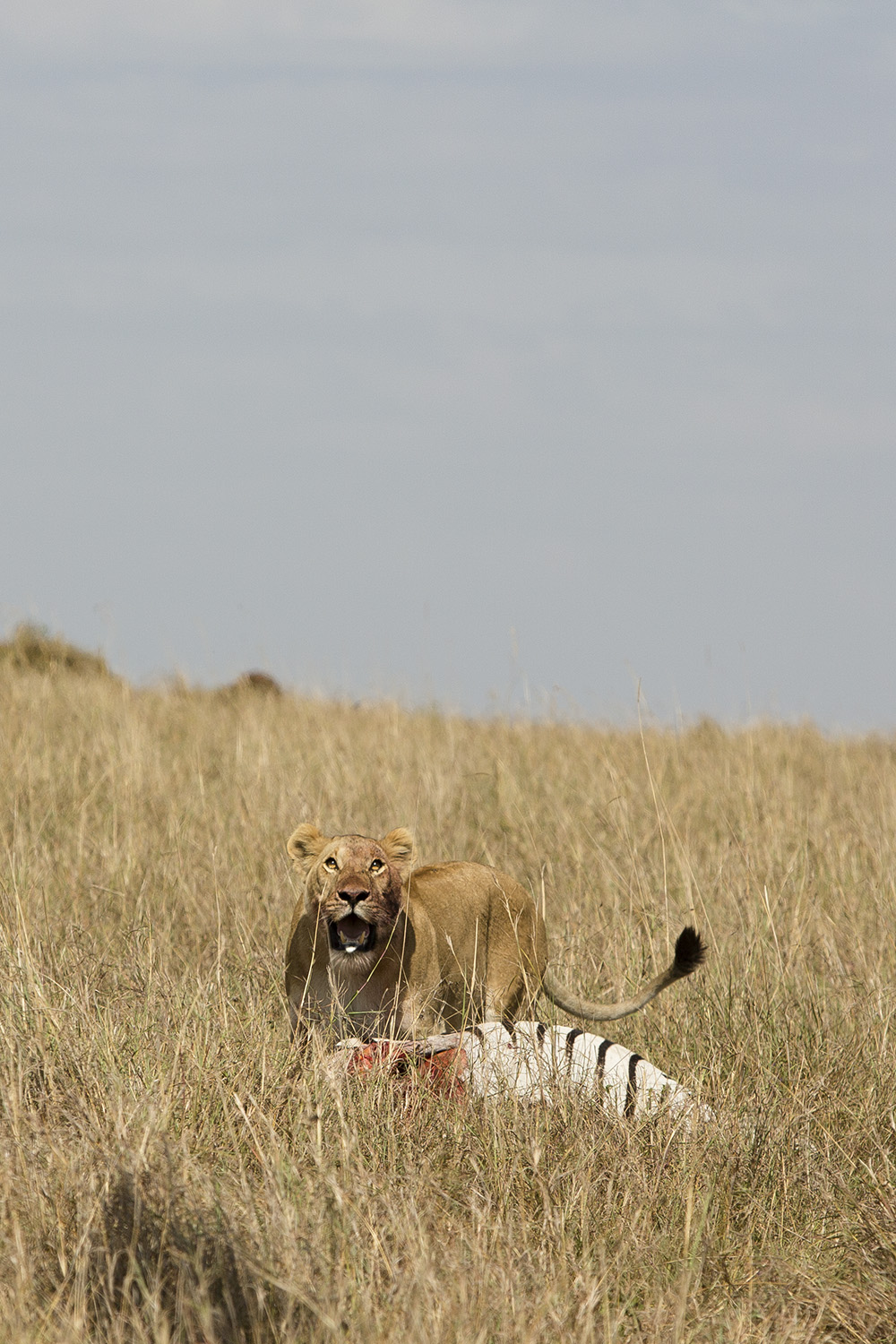 Having reclaimed her kill, the lioness looked into the sky which was littered with soaring vultures. She knew the situation was helpless and the vulture numbers were too great. [f 6.3, 1/1600, ISO 250]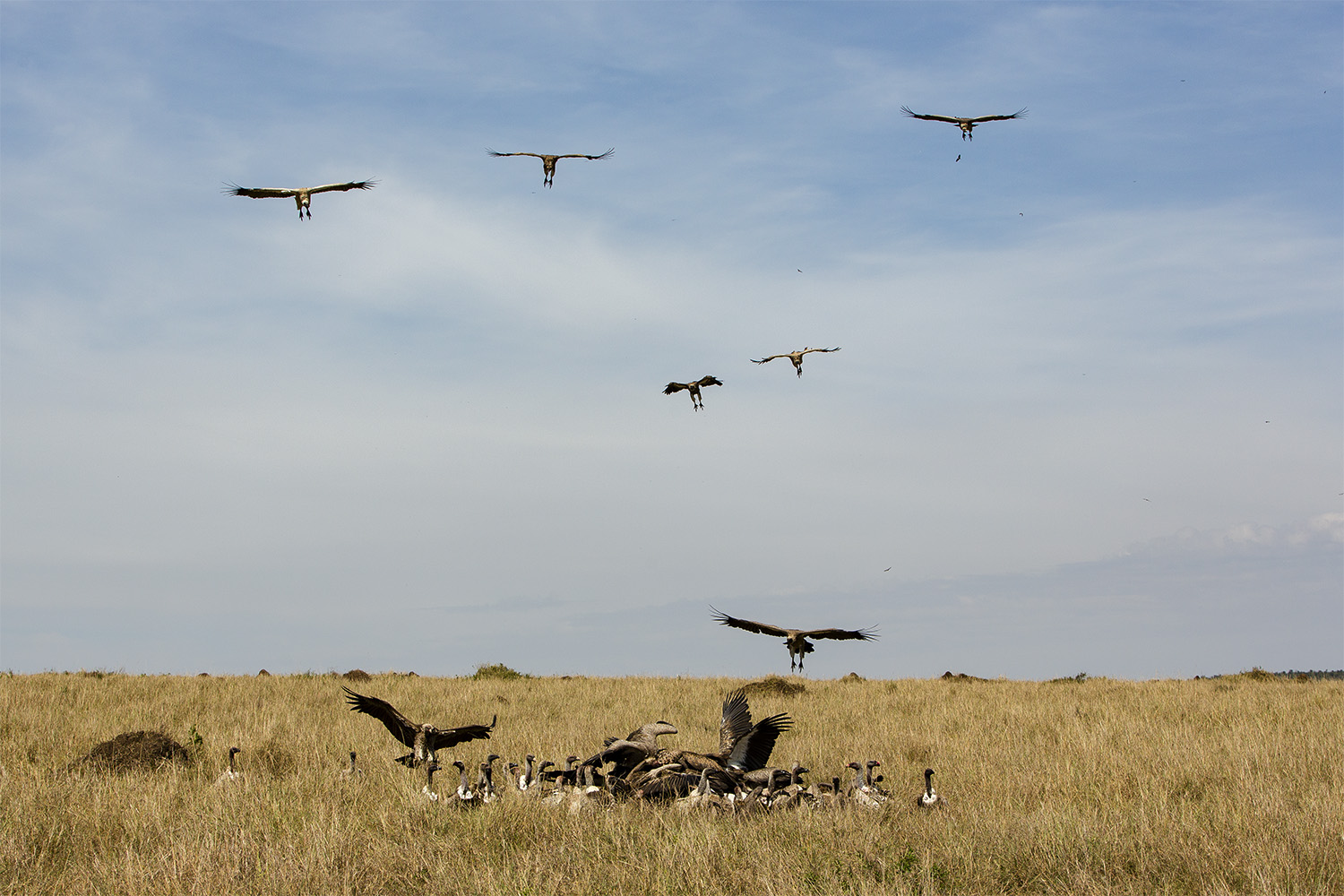 This was my favourite photograph of the day. Resembling airplanes coming into Heathrow the vultures descended en masse from the skies above. Landing gear engaged… [f 9.0, 1/800, ISO 250]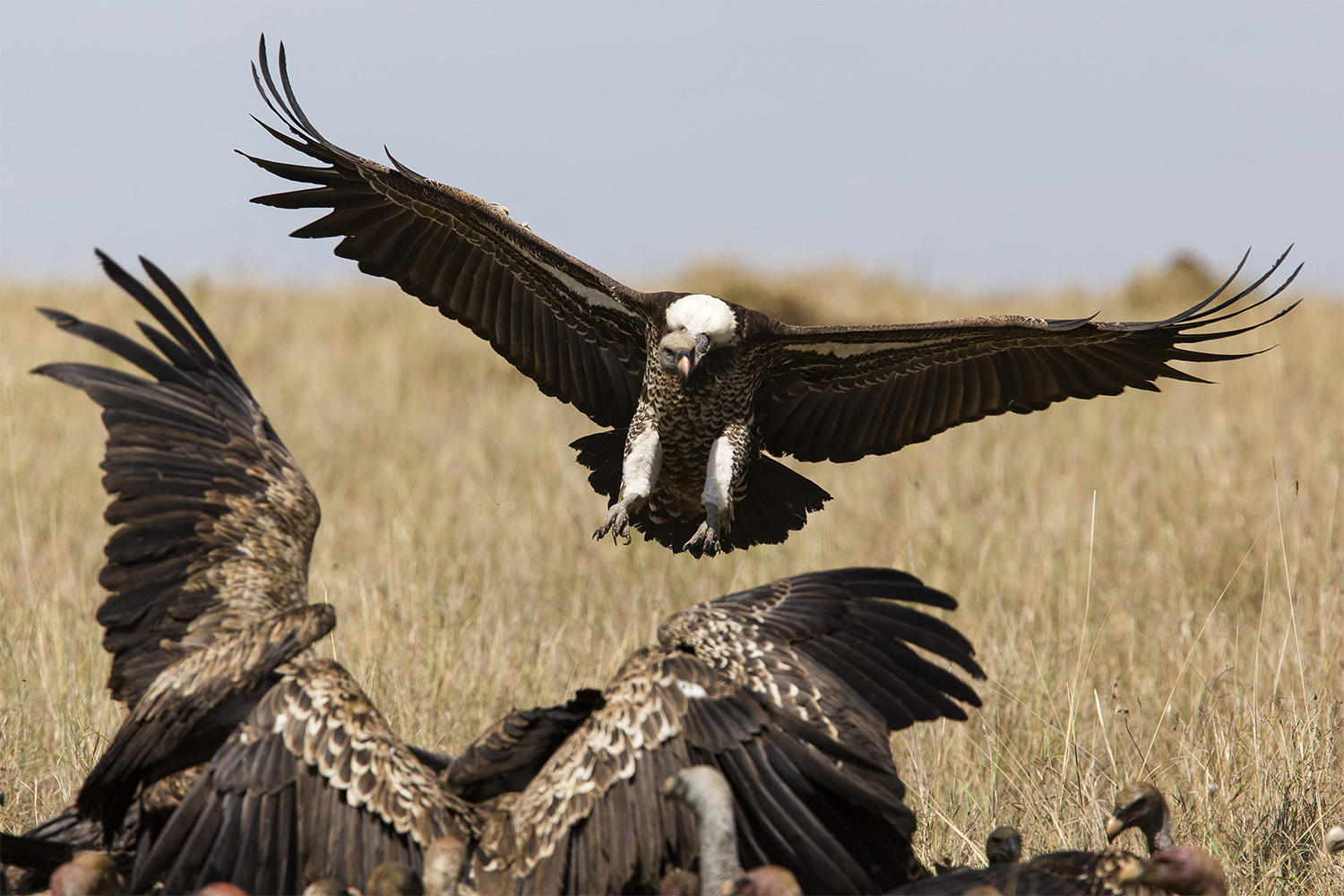 For the second time that day we had the opportunity to work on shutter speeds using fast flying vultures as our subjects. My intention here was to combine fast shutter speeds with creative framing. [f 6.3, 1/1600, ISO 400, +0.67]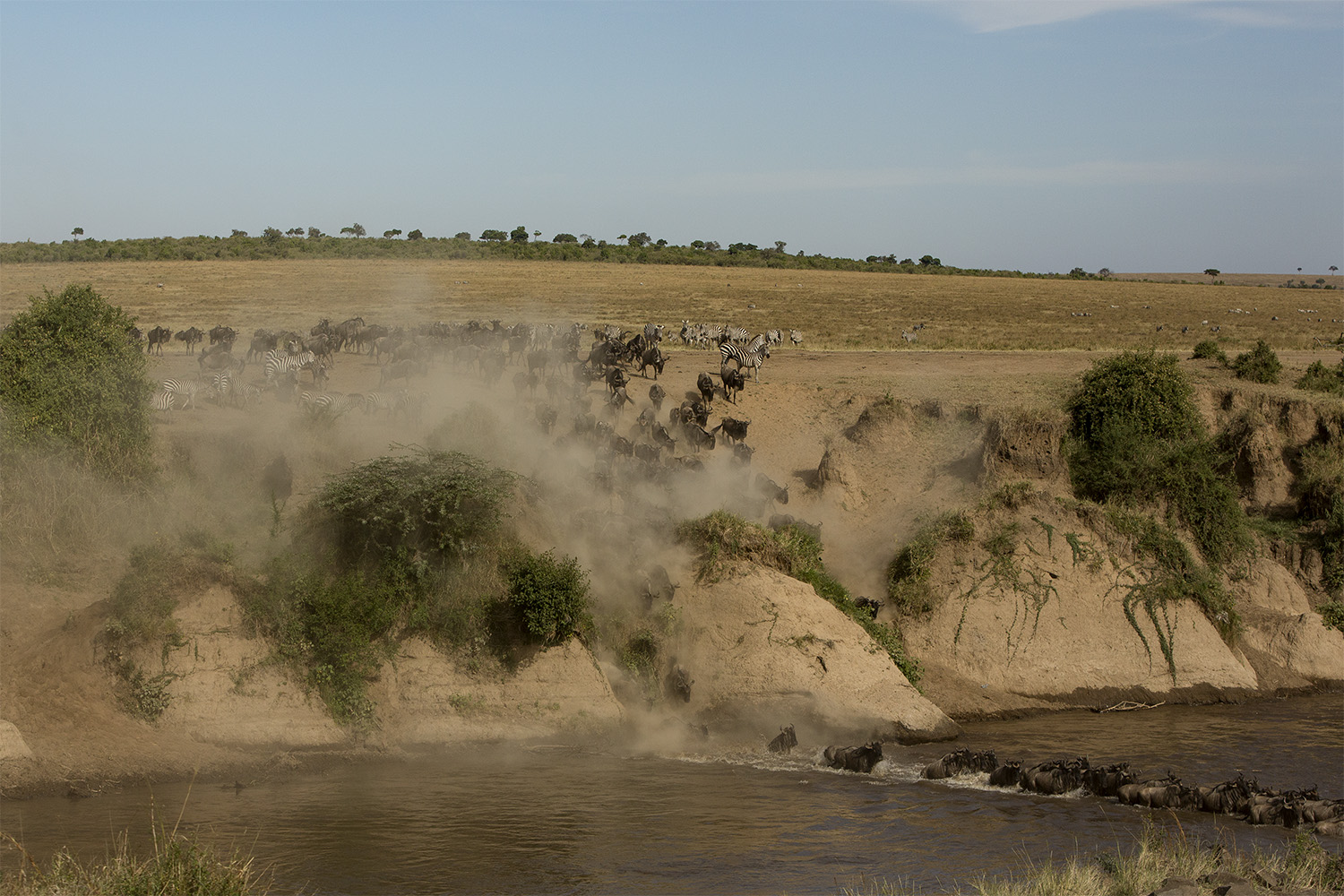 As if scripted our day went from great to greatest. As the midday heat soared herds of wildebeest and zebra edged towards the Mara River. It was now a patience game. We knew that if we sat and waited we would be in luck…and so we were. [f 6.3, 1/5000, ISO 800, -0.67]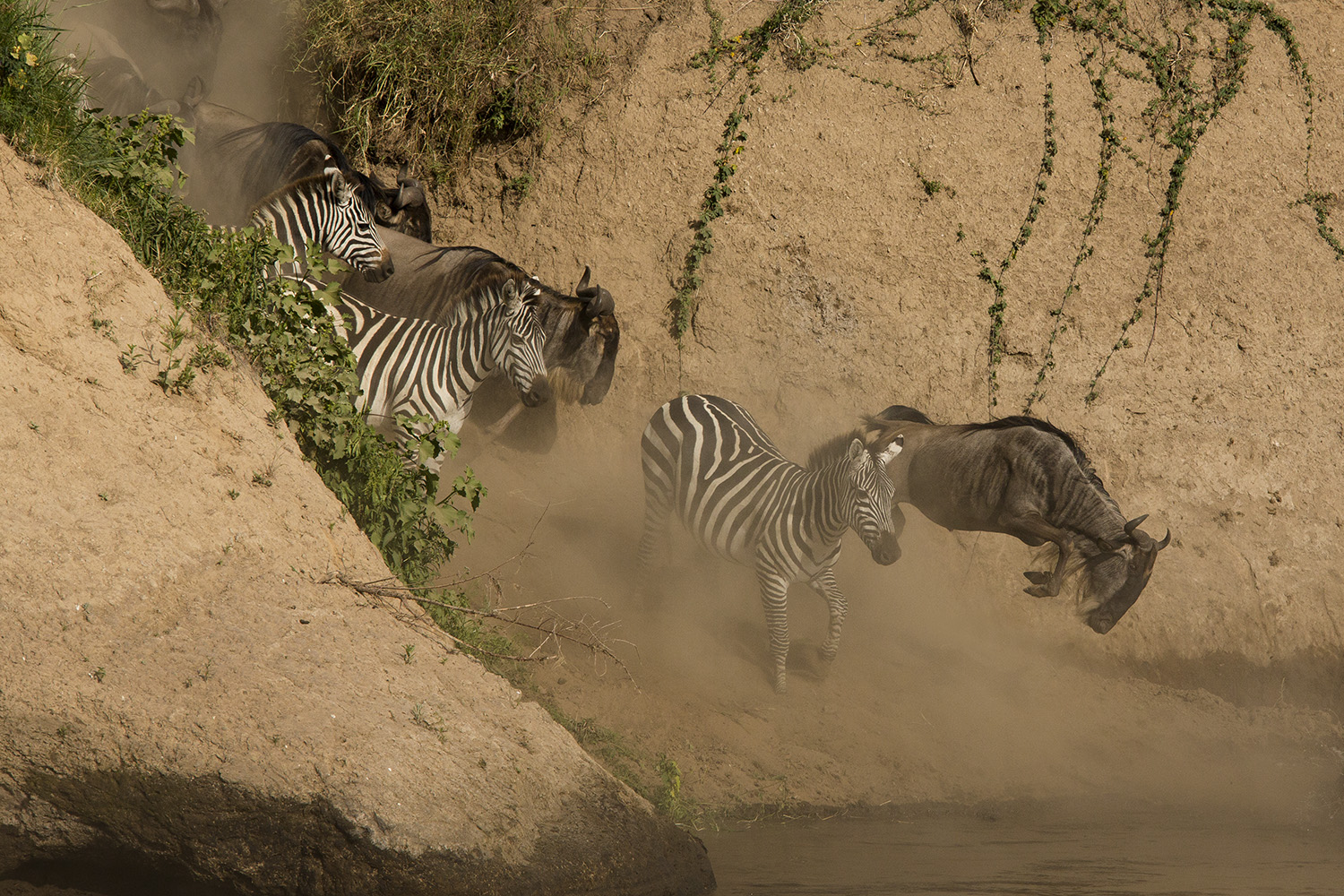 After getting some initial establishing shots we all changed lenses to zoom into the action. Crossing photography is often about isolating individuals and looking for the action. The entry point into the river is often the most dramatic. A wildebeest leap of faith. [f 6.3, 1/5000, ISO 800 -0.33]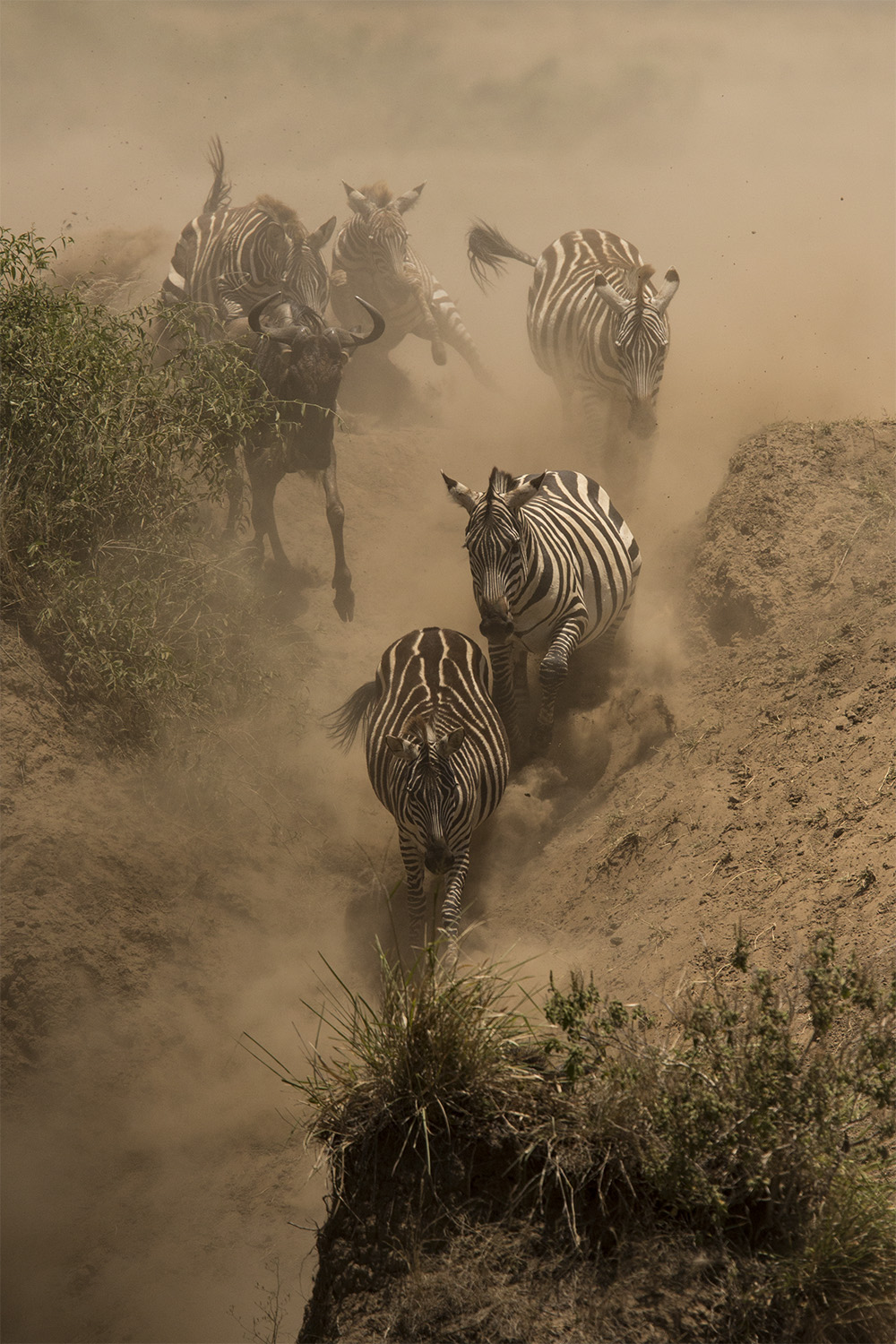 Once we had secured some epic 'entry' shots we moved up the bank to capture the dusty descent. Switching to portrait orientation often yileds the best results for shots like these. [f 5.6, 1/6400, ISO 640, -0.67]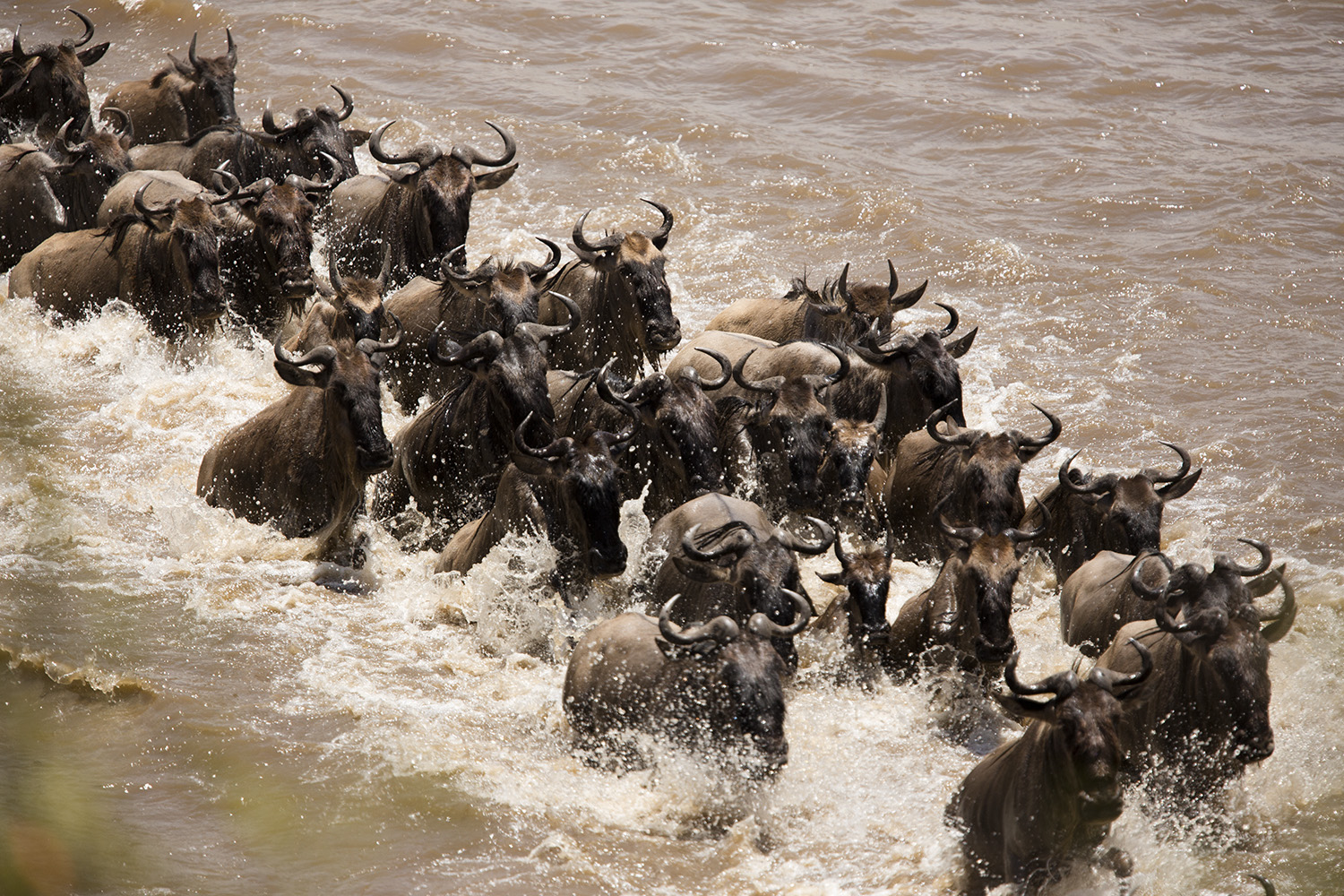 That wasn't the only crossing we got. We actually witnessed two separate crossings that afternoon. This allowed us to play with different angles and approaches. As we watched the swarming mass swim I encouraged our guests to get the shutter speed as fast as possible – overdo it if need be. The reason: you never know when the action will get more intense. [f 4.0, 1/5000, ISO 500]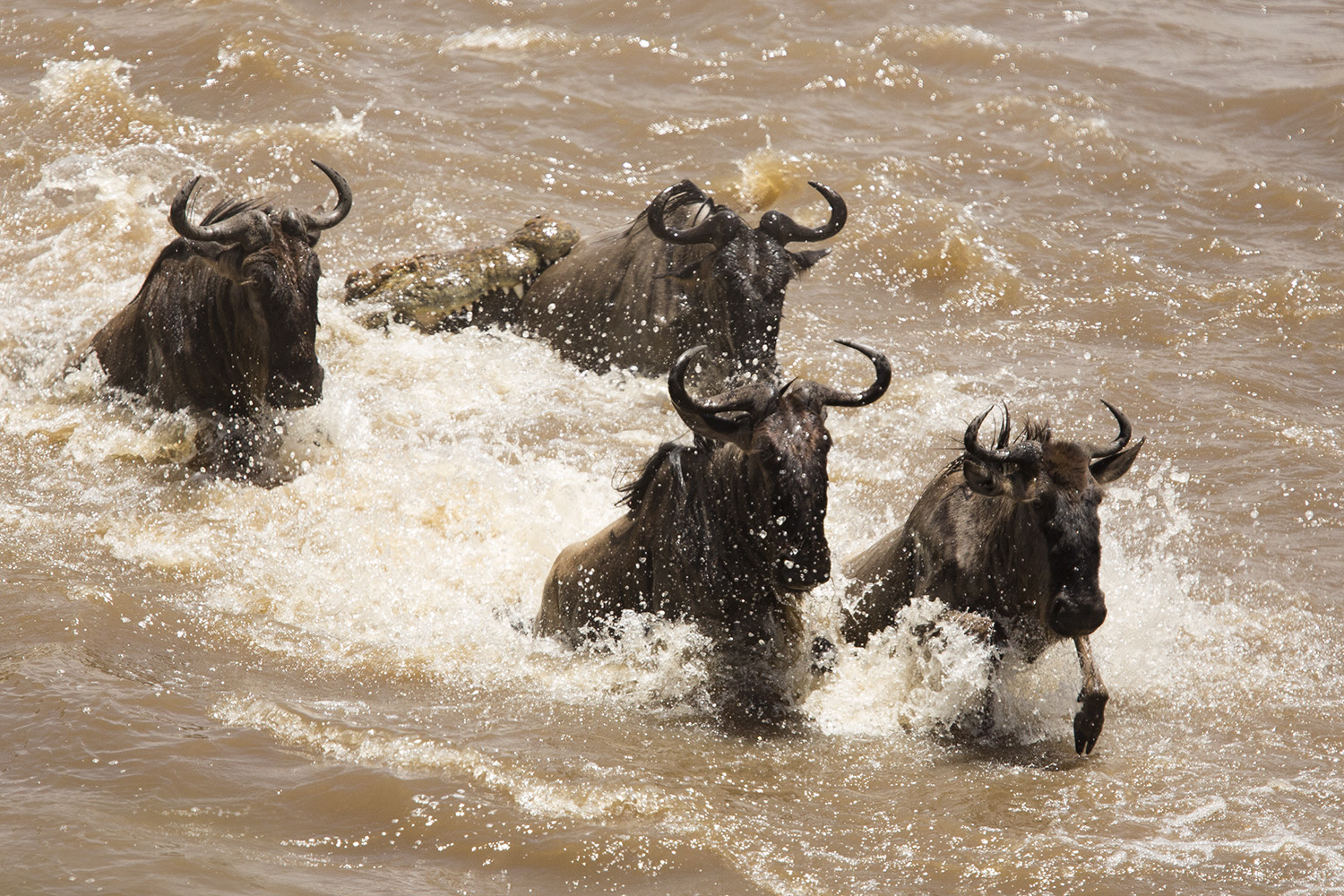 And so it did. By raising the ISO and opening up the aperture I was able to get a seriously fast speed of 1/6400. As the crocodile attacked I gently pressed the shutter and managed to get the exact moment the gigantic crocodile erupted from the depths. [f 4.0, 1/6400, ISO 640]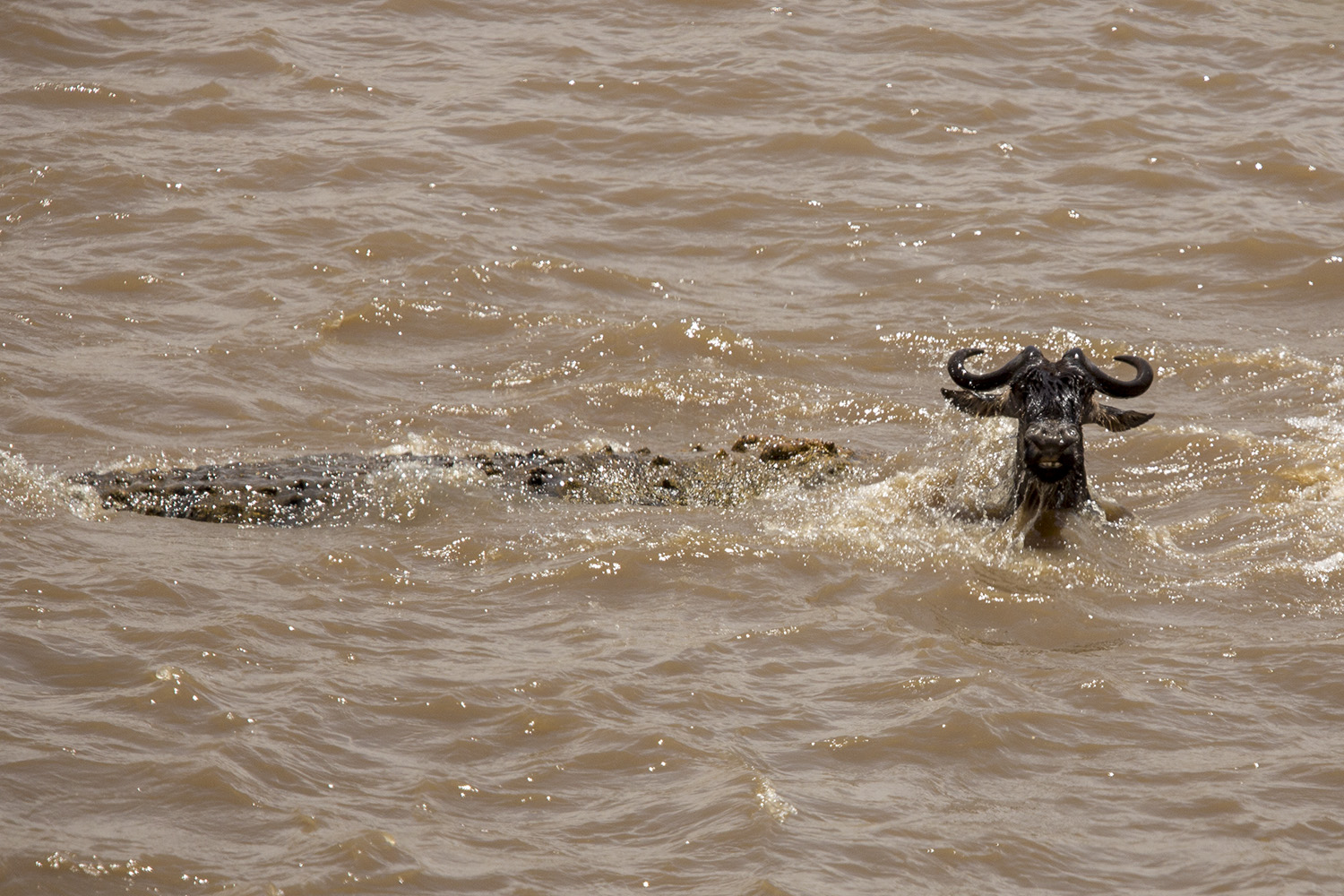 And so ended one of the most spectacular days in the Mara. It included drama and emotion, life and death and countless photographic learning and teaching opportunities. [f 4.0, 1/6400, ISO 640]
All photographs taken by Adam Bannister.