Some more guest photographers join us this week to showcase not only the diversity in photographic talent at Angama, but also the diversity of sightings in any given week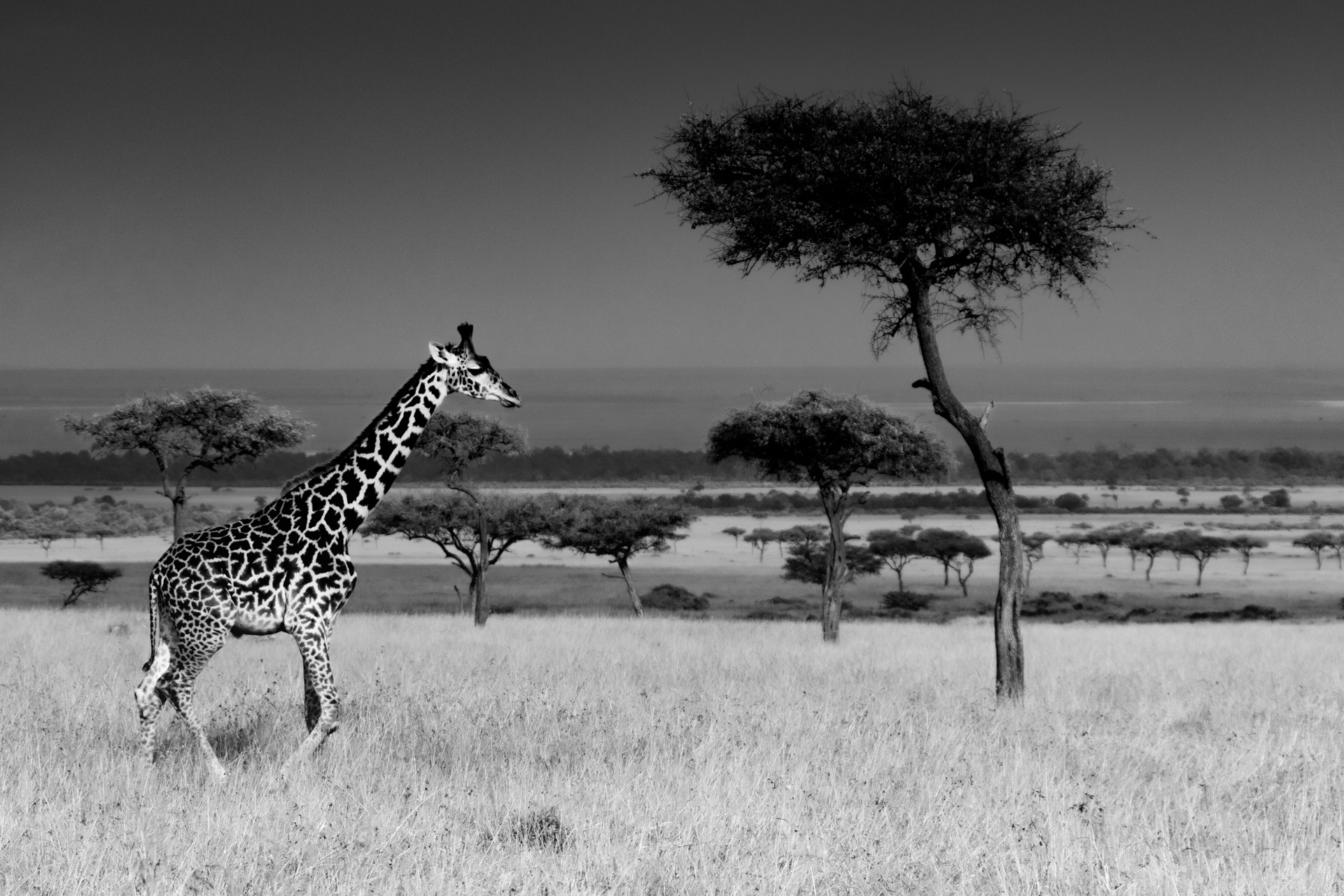 The long rains seem to have begun earlier than usual, as we recorded rain every single day this week – yet, you wouldn't know it from looking at the photographs below. As is expected, the dramatic thunderstorms typifying the green season came in the late afternoon and evening, sometimes a drizzle accompanied by distant but fantastic shows of lightning bolts, and at some times, intensely heavy downpours. Photo by Sammy Komu
As proof that there is still plenty to see during the green season, below are images from three different photographers who went on multiple drives to different corners of the Mara Triangle, and all came away with fantastic sightings and photographs.
A special thanks to Angama's Head Guide, Sammy Komu, and Angama extended family member, Stratton Hatfield (who has written a few Leaving out the Dull Parts posts of his own over the years), for contributing to This Week at Angama.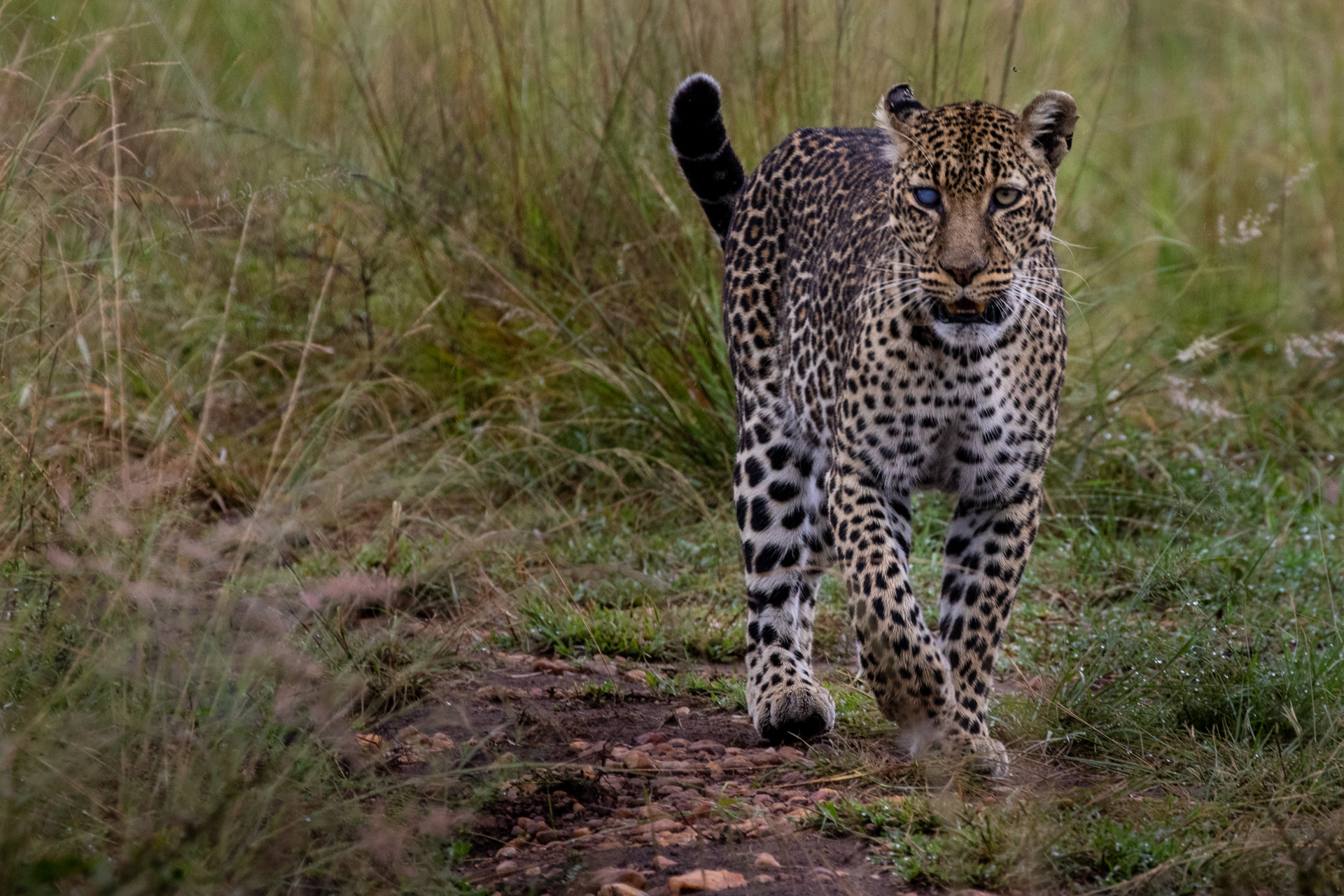 Photo by Stratton Hatfield
We know this female as the 'Maji Machafu' female, identified by her spot pattern (she has a distinctive butterfly-shaped collection of spots on her forehead). In recent years, she's been one of the most readily observable leopards in the Mara, favouring a particular tree just off the main road (though she's been known to disappear for months as she crosses the Mara River in search of a mate). The opaque eye is a new and concerning development – she seems to be doing okay so far, but we'll be watching her closely. [f/7.1, 1/500, ISO 800]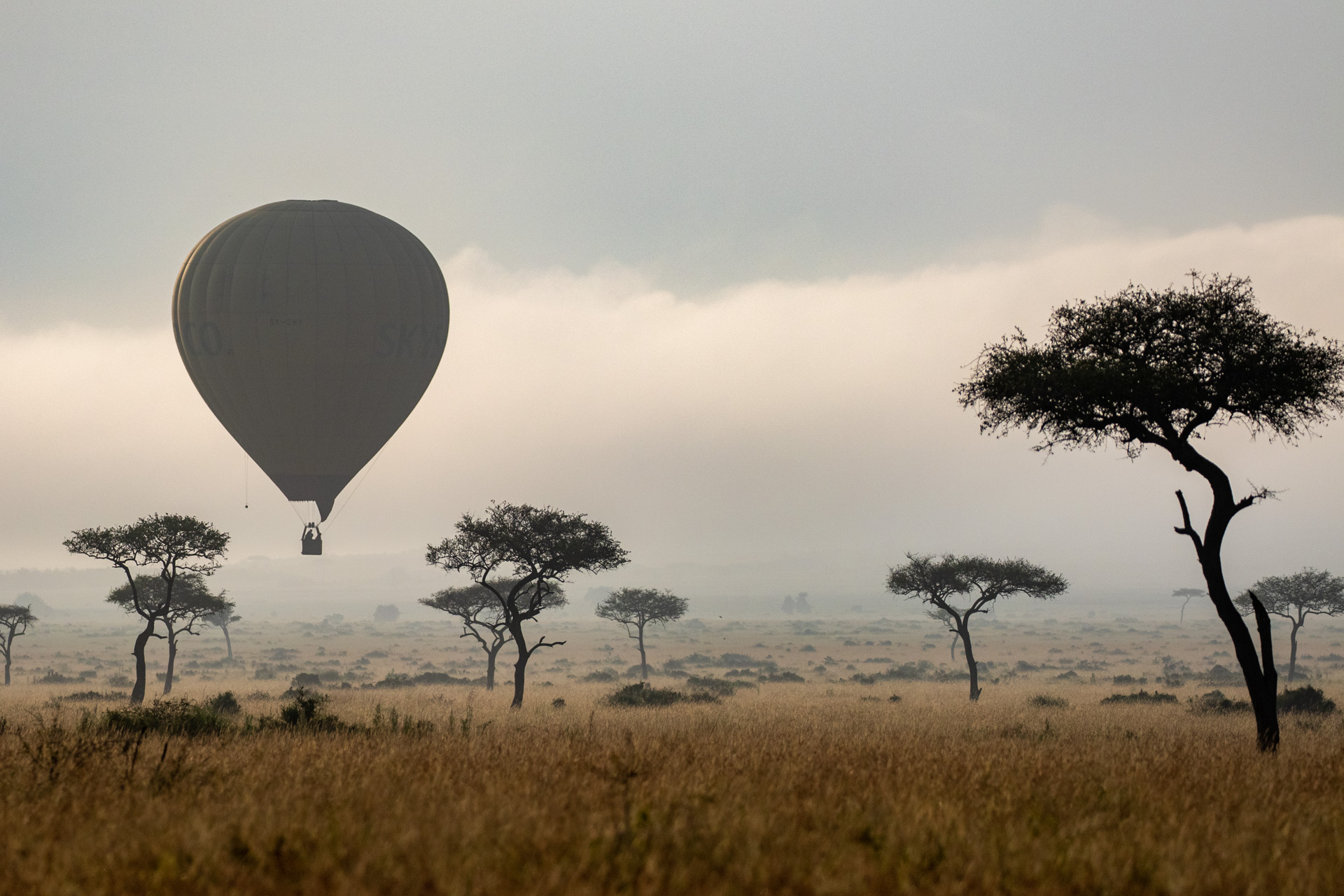 Photo by Tyler Davis
It is difficult to pass up the opportunity to capture the serene elegance of a balloon floating over the Mara on a warm-toned misty morning. [f/5.0, 1/5000, ISO 400]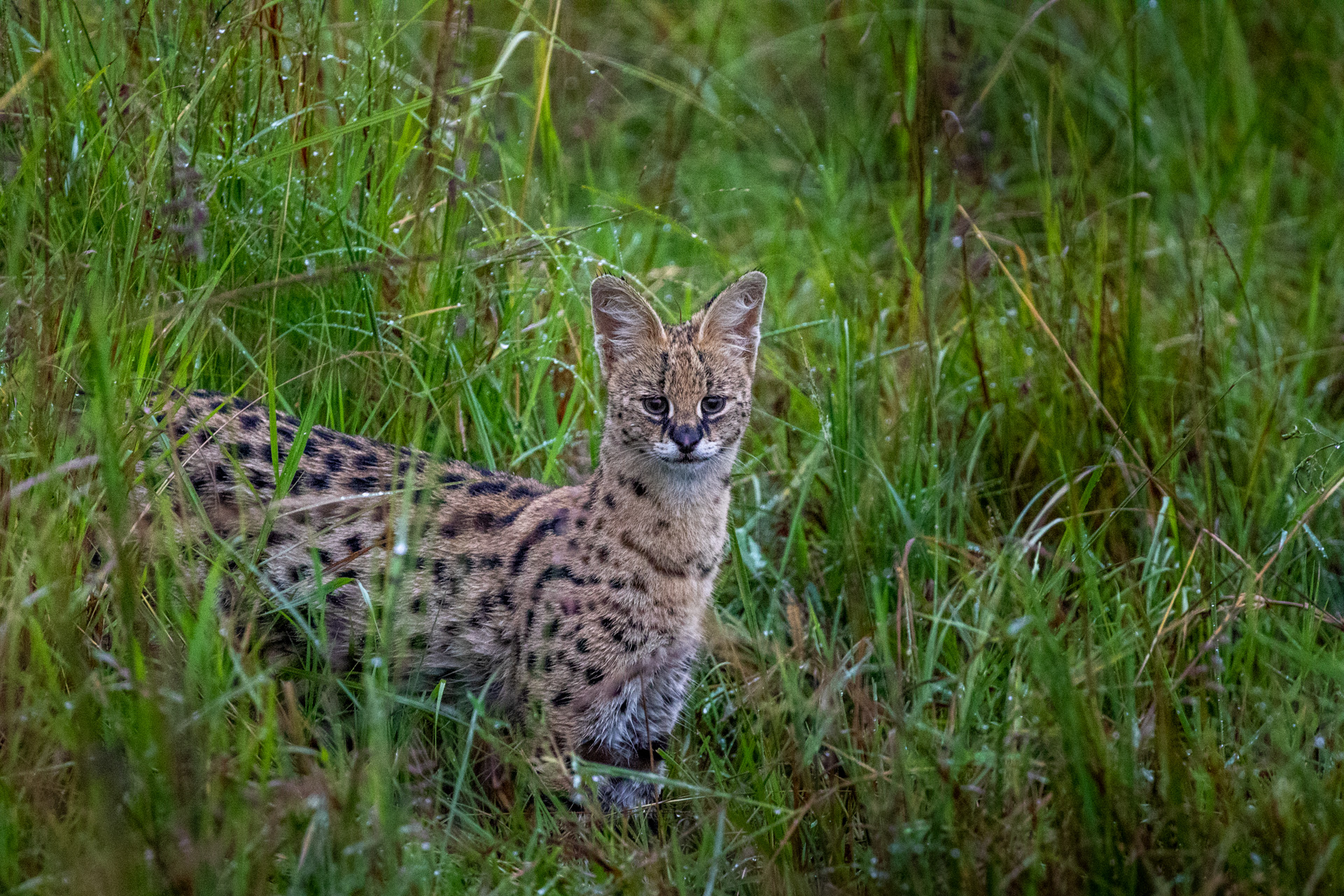 Photo by Stratton Hatfield
How lucky to find such a confident serval. A great sighting and excellent capture. [f/5.6, 1/200, ISO 500]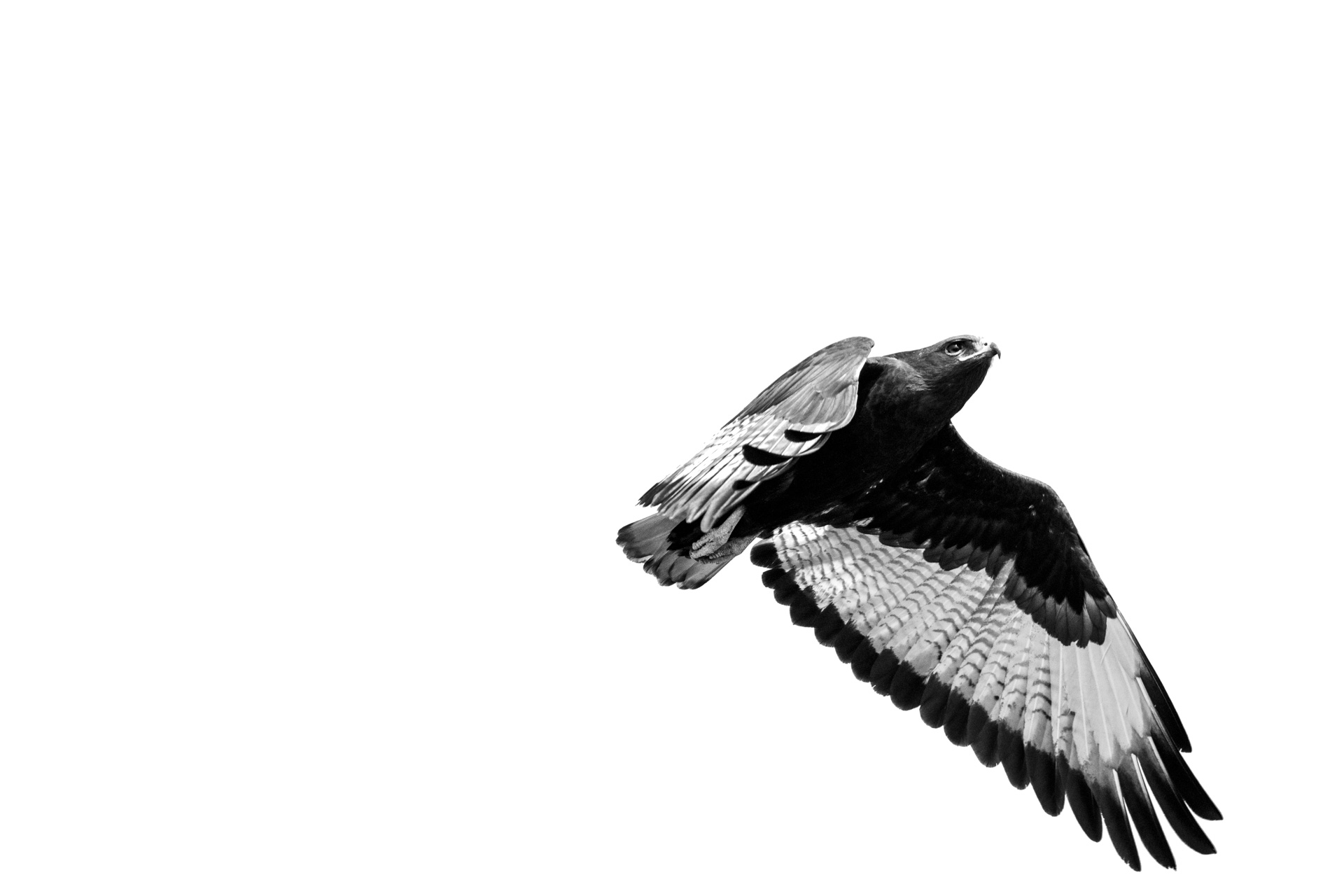 Photo by Tyler Davis
A dark-morph augur buzzard took flight from a tree. Because I shot against a bright, uniform sky, I decided to convert to black and white to create a more artful and appealling photograph. [f/5.6, 1/1600, ISO 400]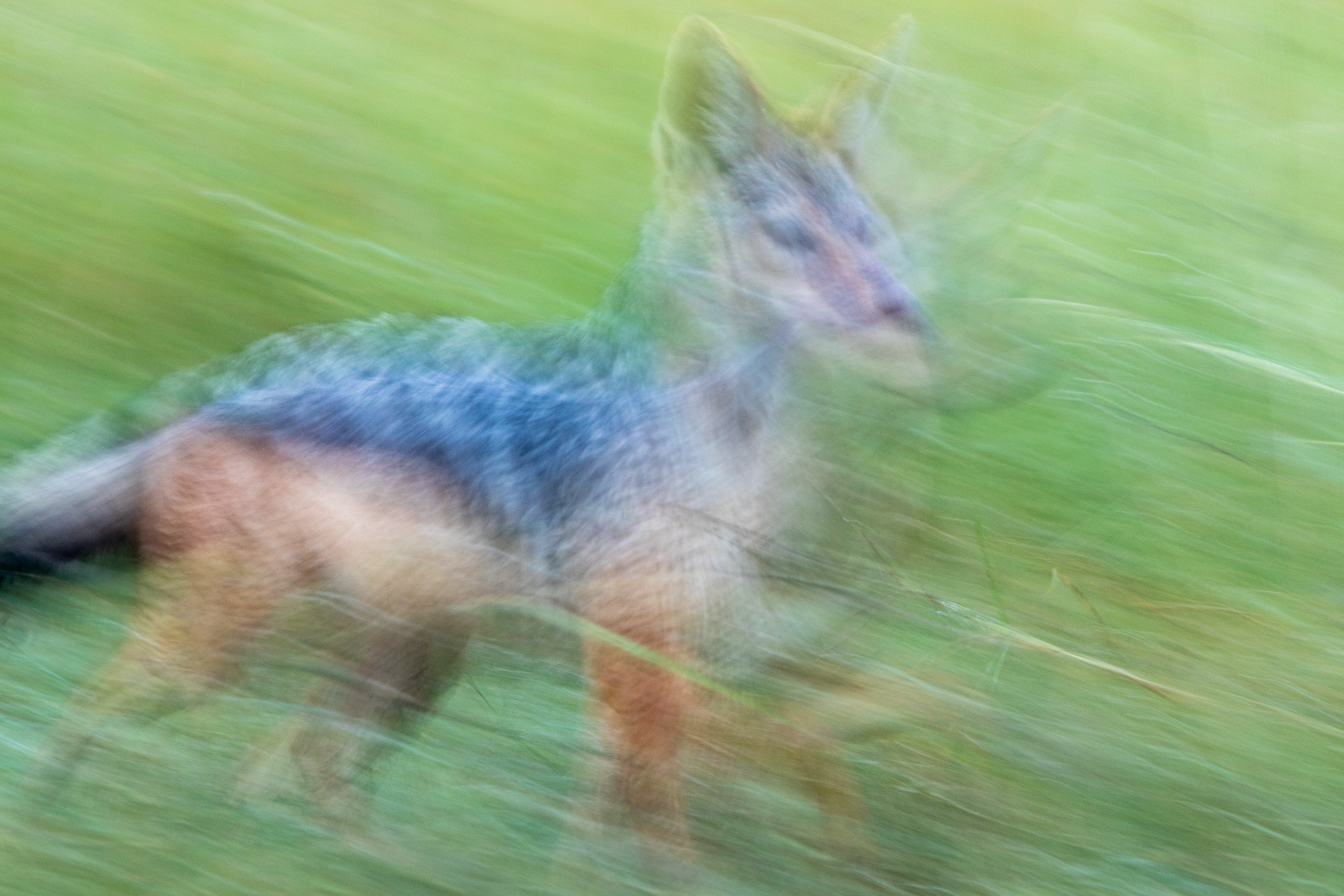 Photo by Sammy Komu
Jackals are often so active, energetic and seemingly always on the move – Sammy captured this nicely here by slowing the shutter down to a third of a second. [f/8.0, 0.3, ISO 200]
Photo by Sammy Komu
Fantastic use of black-and-white conversion to turn the harsh midday sun into a feature and focal point of this photograph. You can almost feel the heat and discomfort of the zebras. [f/9.0, 1/800, ISO 400]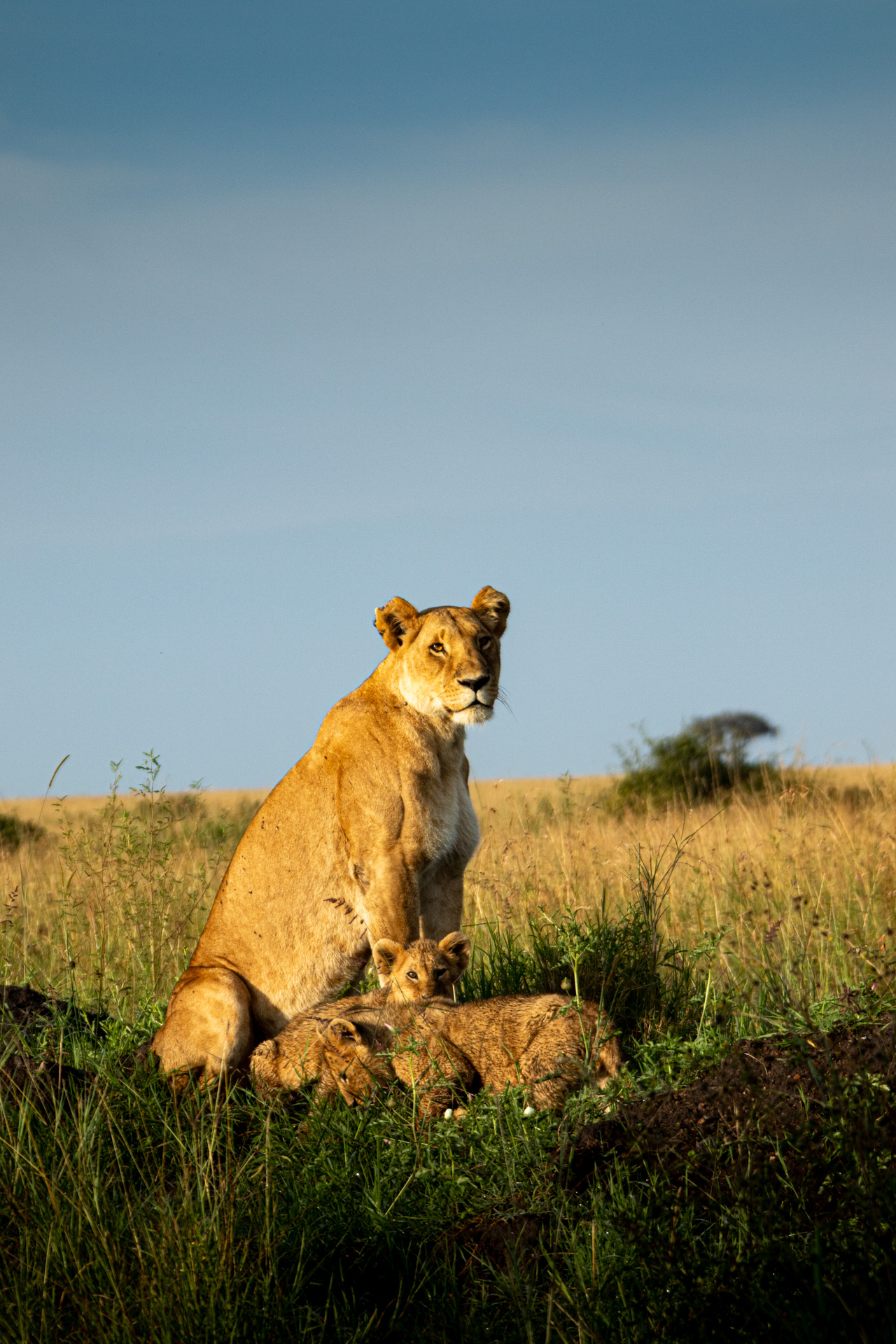 Photo by Sammy Komu
Gorgeous morning light on this lioness and her two cubs. I especially love the cub sneaking a peek directly at the camera. [f/5.6, 1/800, ISO 200]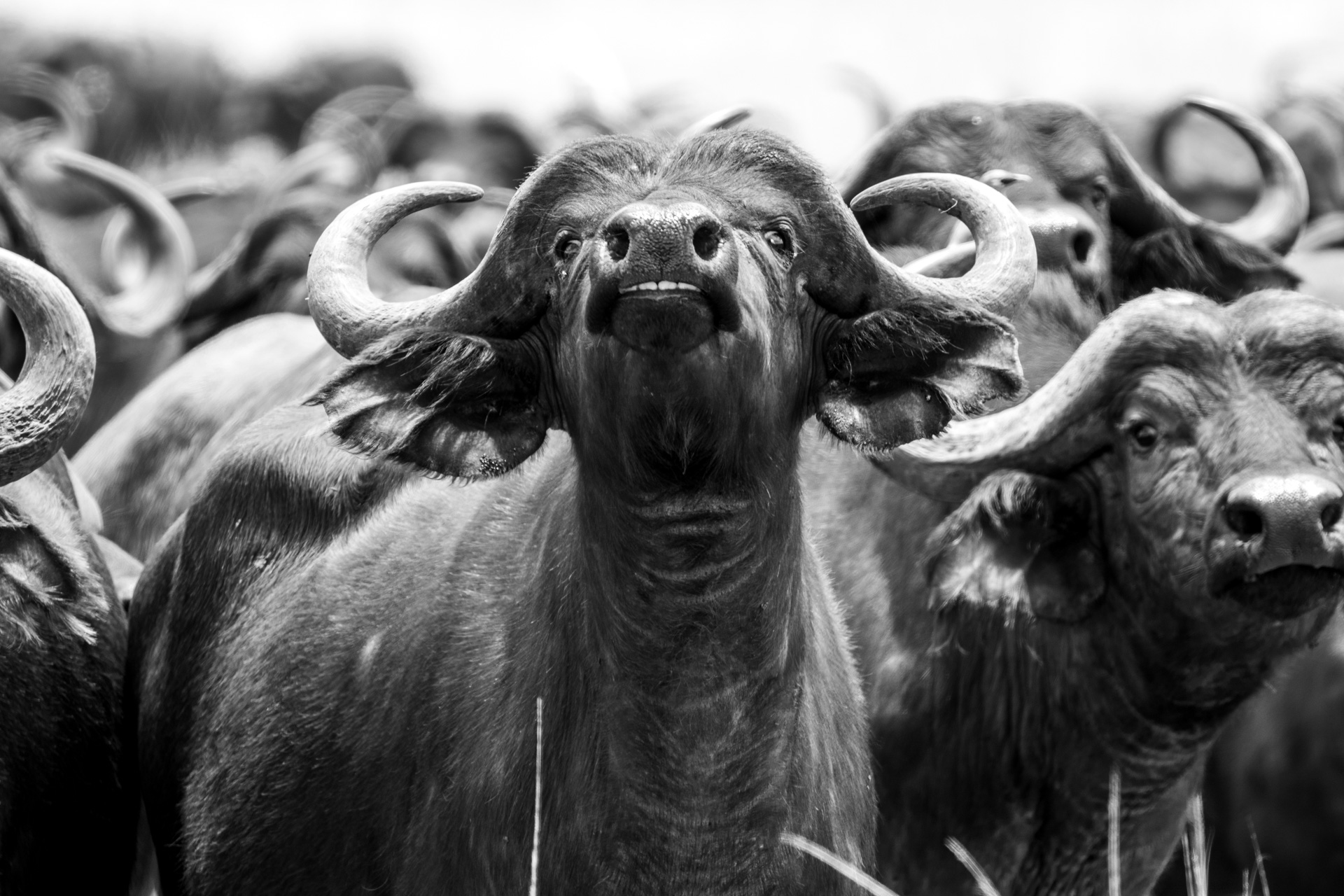 Photo by Stratton Hatfield
A great capture of one of the savannah's most thuggish characters (at least when it's looking down its nose at you with a toothy smirk). [f/5.6, 1/160, ISO 100]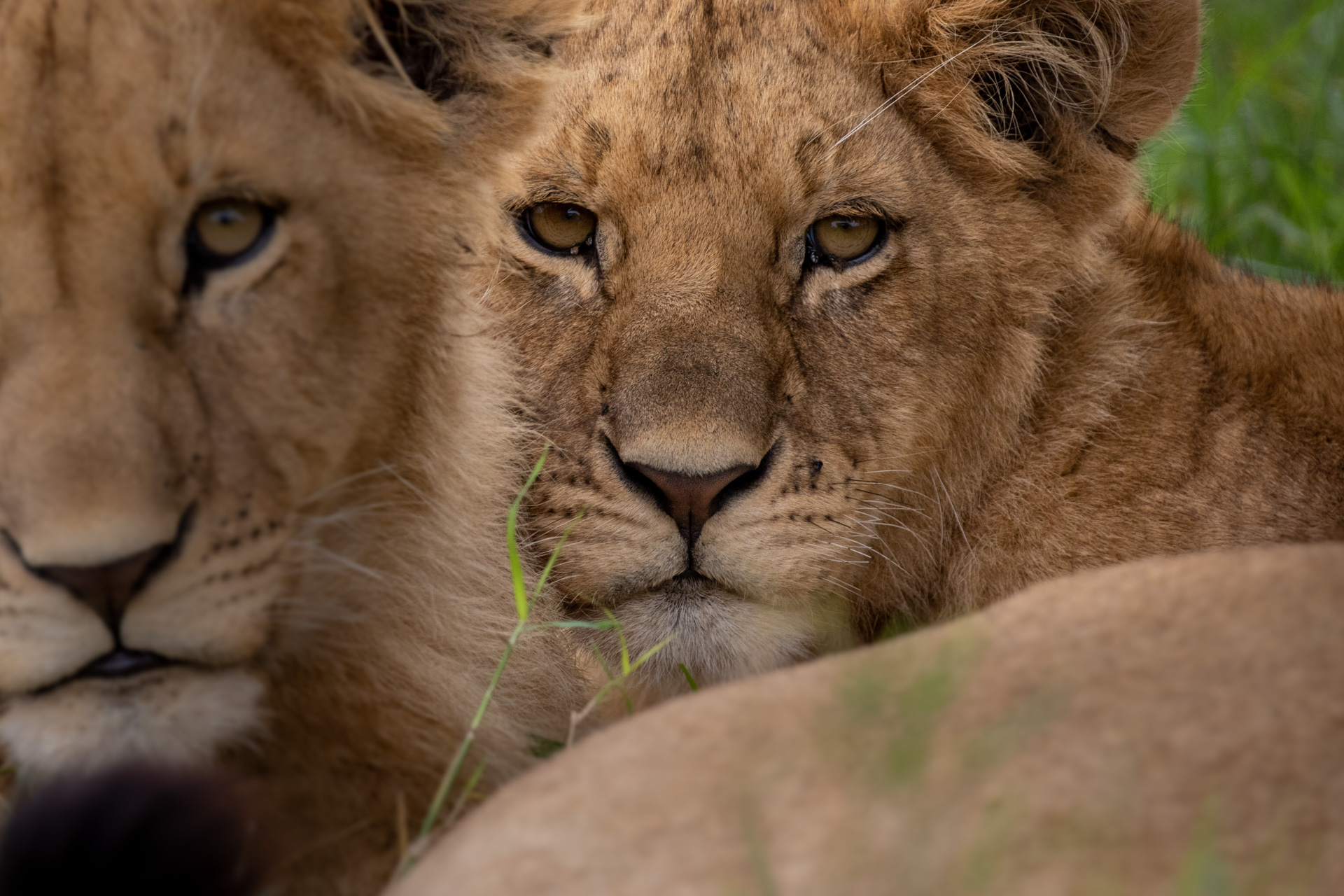 Photo by Stratton Hatfield
I love the crispness of the subject lion cub, framed nicely by a blurred sibling, thanks to a wide aperture. [f/5.6, 1/1000, ISO 400]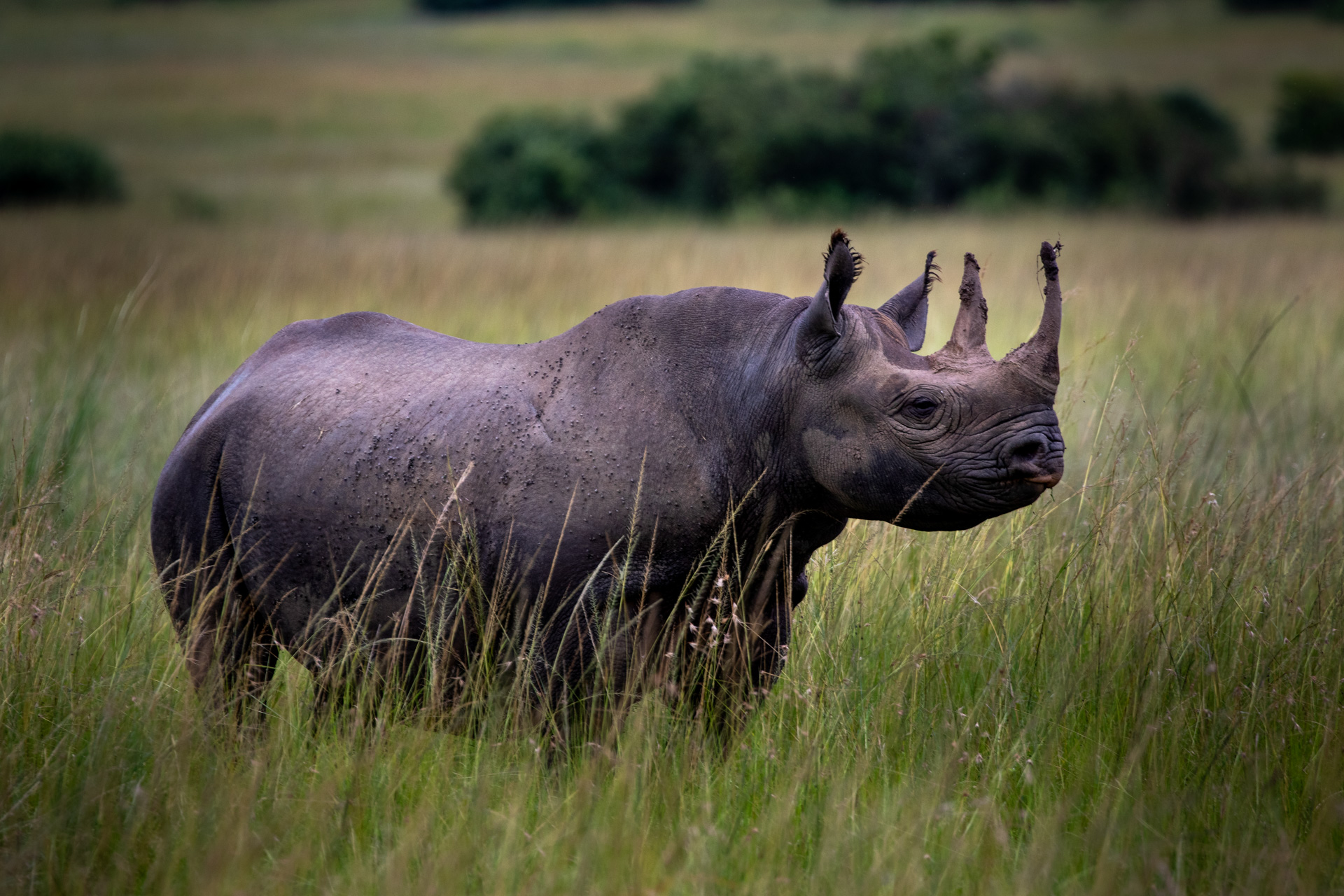 Photo by Stratton Hatfield
With so few black rhinos in the Mara, this was a fantastic sighting and lovely capture by Stratton. [f/5.6, 1/125, ISO 250]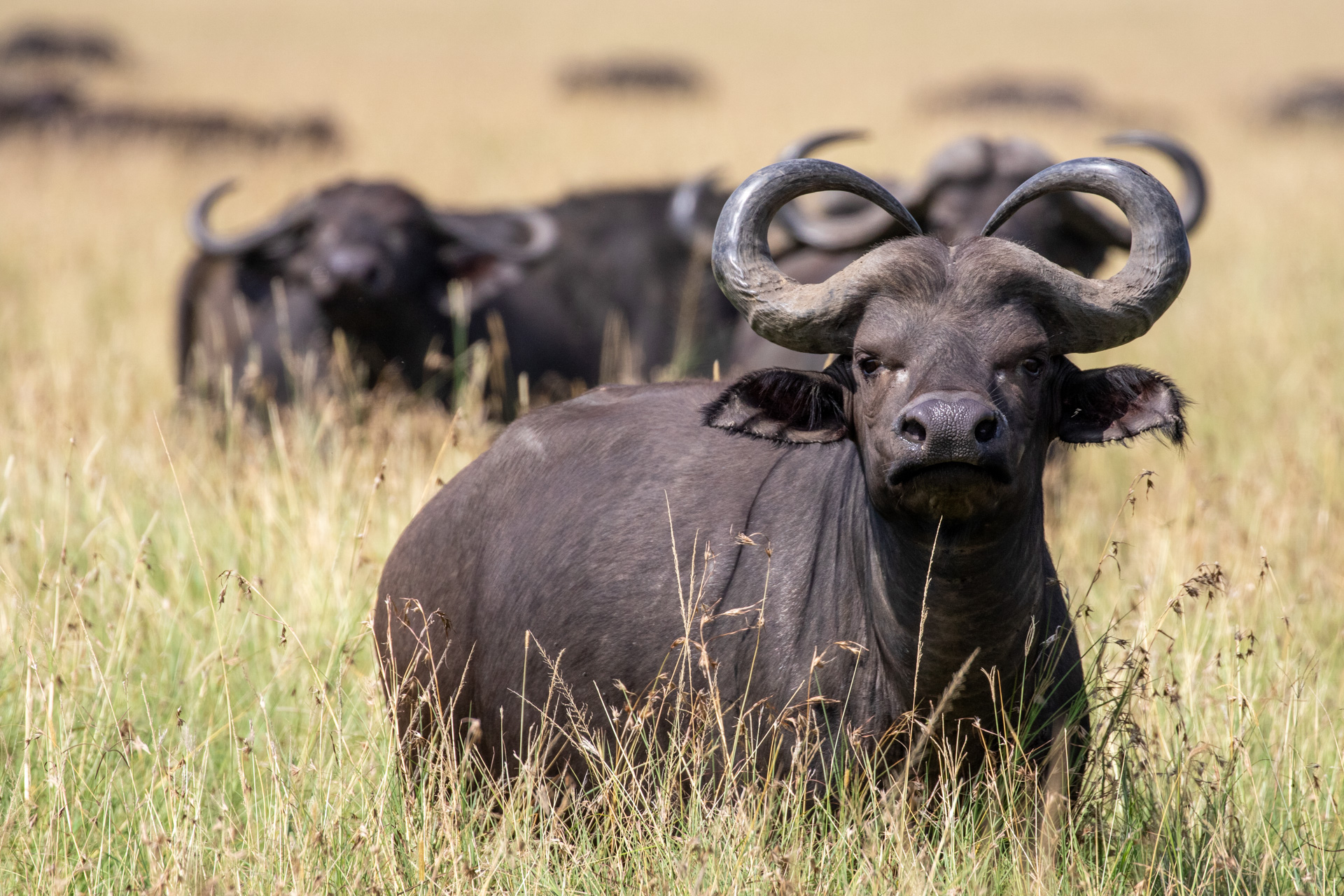 Photo by Tyler Davis
I'm amazed by the diversity of size, shape, and character of buffalo horns; completely unlike any other horned animal of the Mara. This remarkable individual's horns have spiralled nearly all the way back in on themselves. [f/5.6, 1/1250, ISO 400]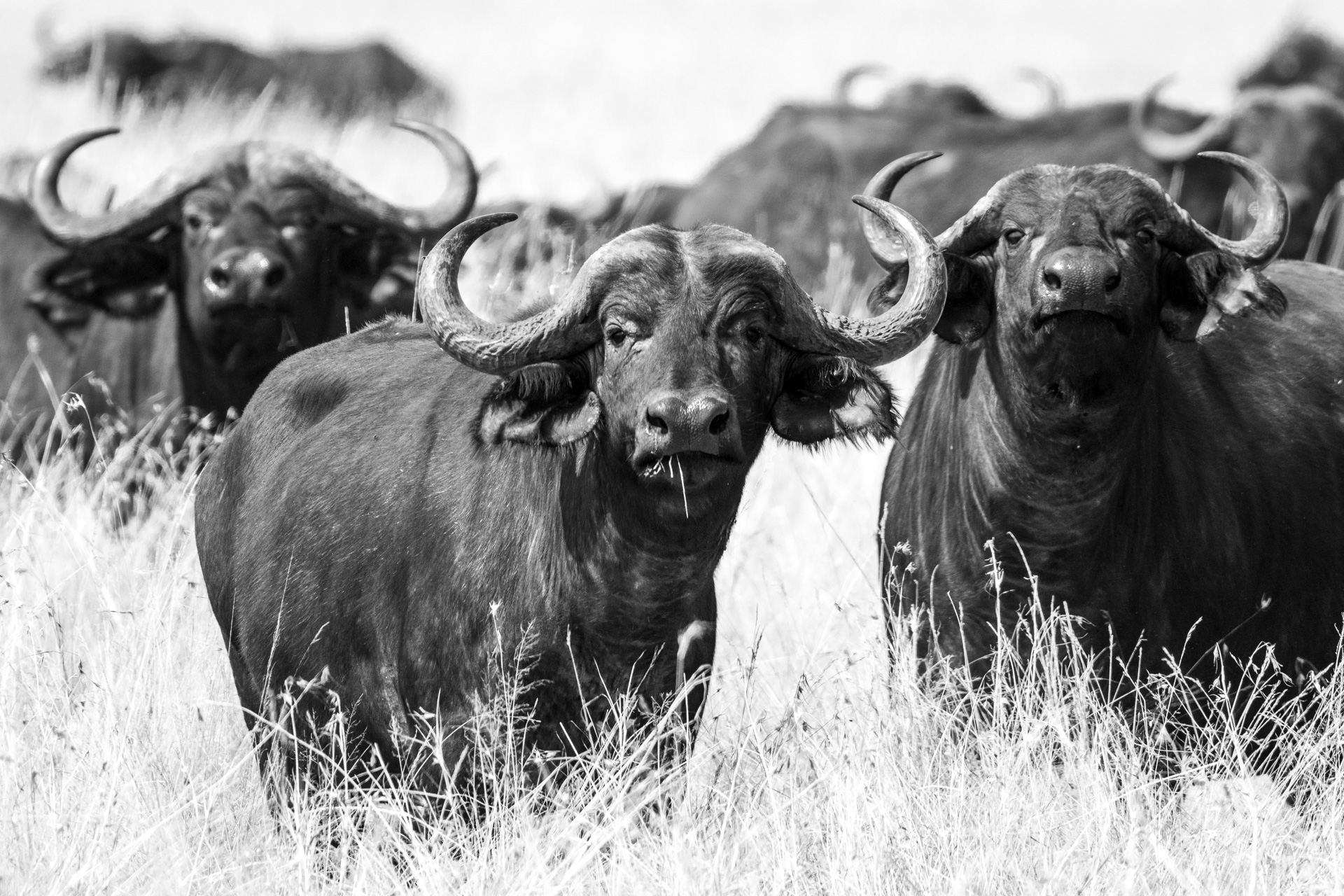 Photo by Tyler Davis
I like the 'layers' of buffalo in this photograph, with differing amounts of blur as a result of the narrow depth of field on each successively more distant buffalo. [f/5.6, 1/1000, ISO 400]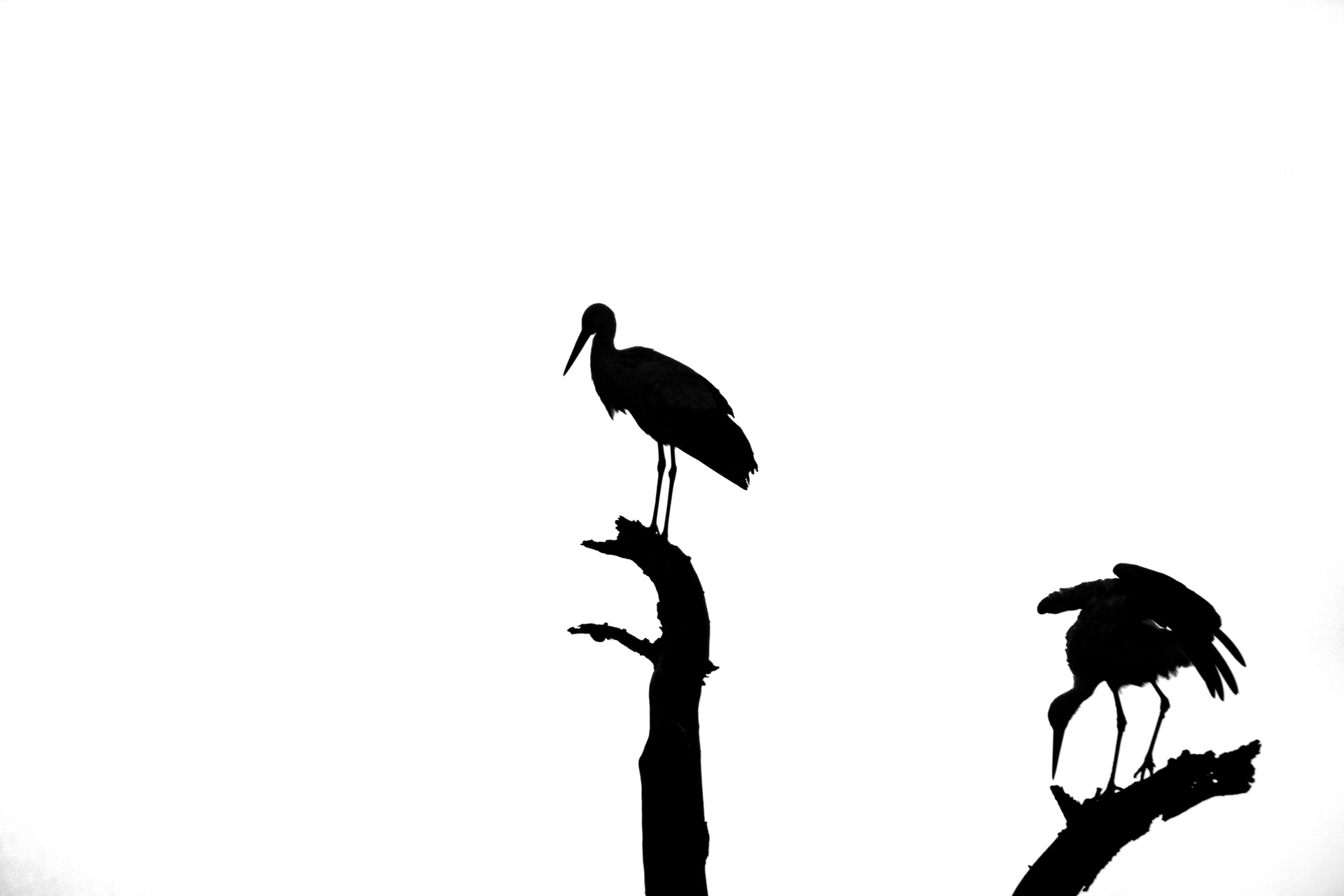 Photo by Sammy Komu
An afternoon silhouette of two white storks against a uniform background can very easily be turned into a simple yet elegant piece of abstract photographic art with a little basic editing in Lightroom. [f/5.6, 1/2000, ISO 200]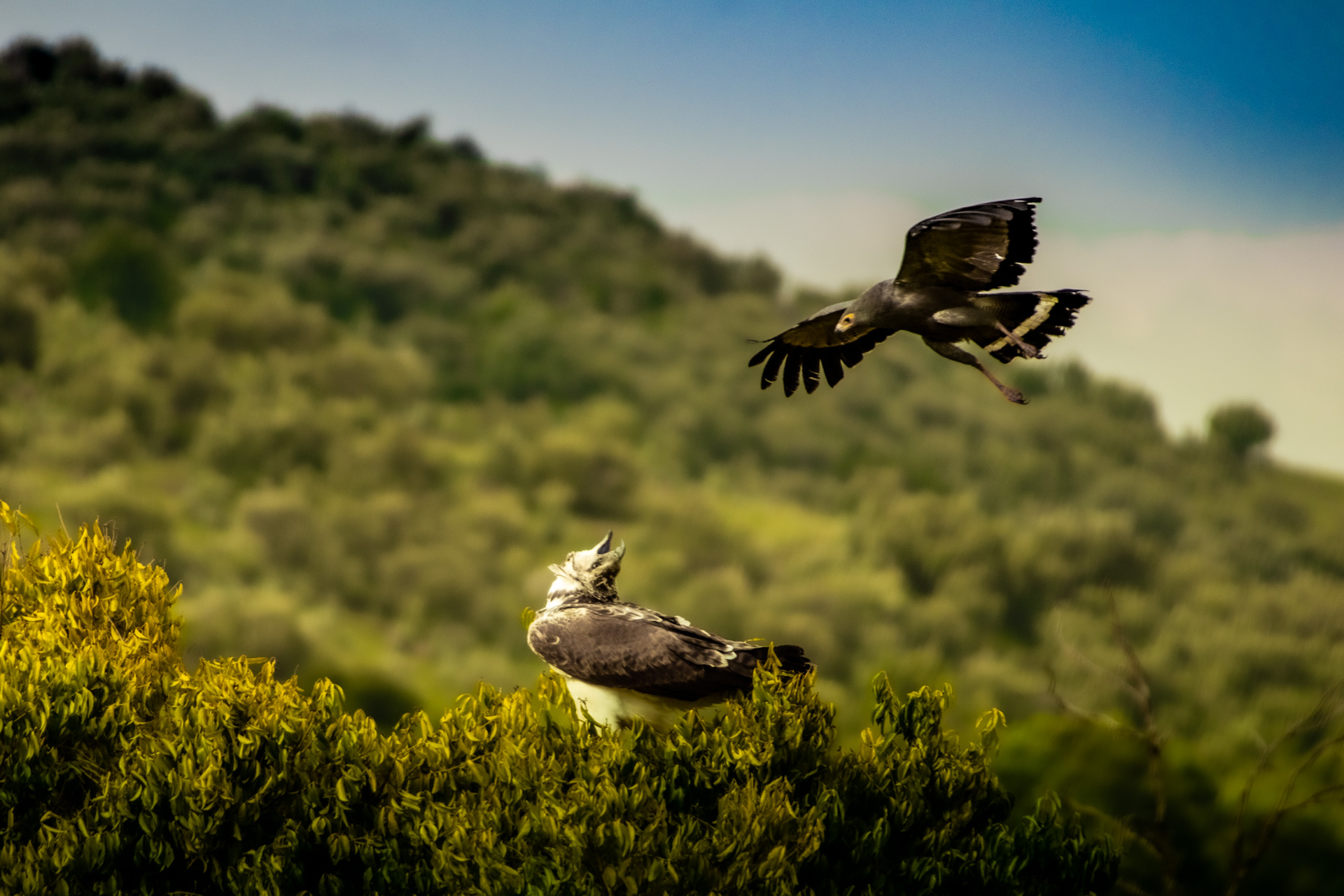 Photo by Sammy Komu
What an amazing sighting – an African harrier-hawk dive-bombs an immature martial eagle. [f/5.6, 1/640, ISO 200]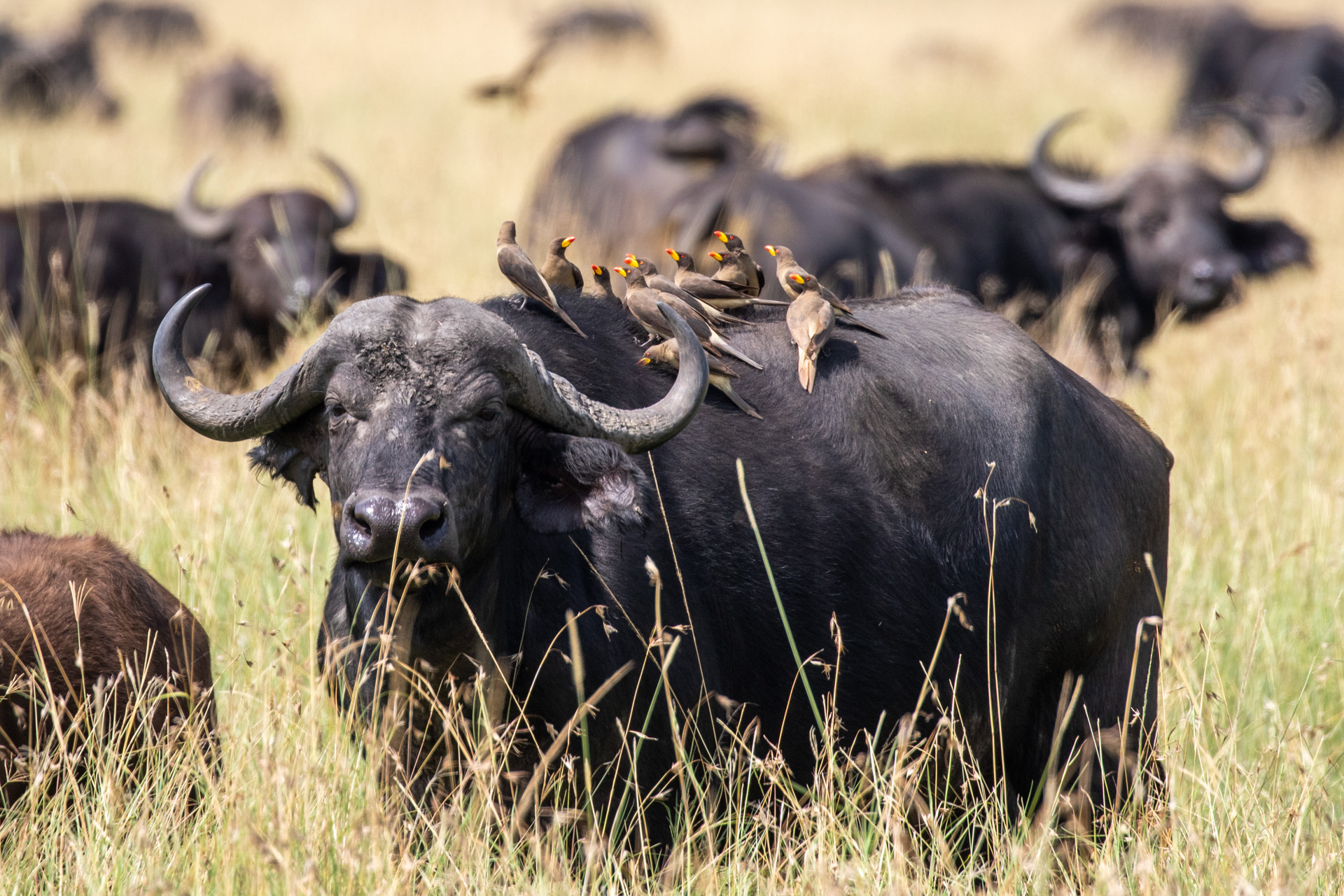 Photo by Tyler Davis
An impressive gathering of a dozen yellow-billed oxpeckers having a midday chat between meals. [f/5.6, 1/640, ISO 250]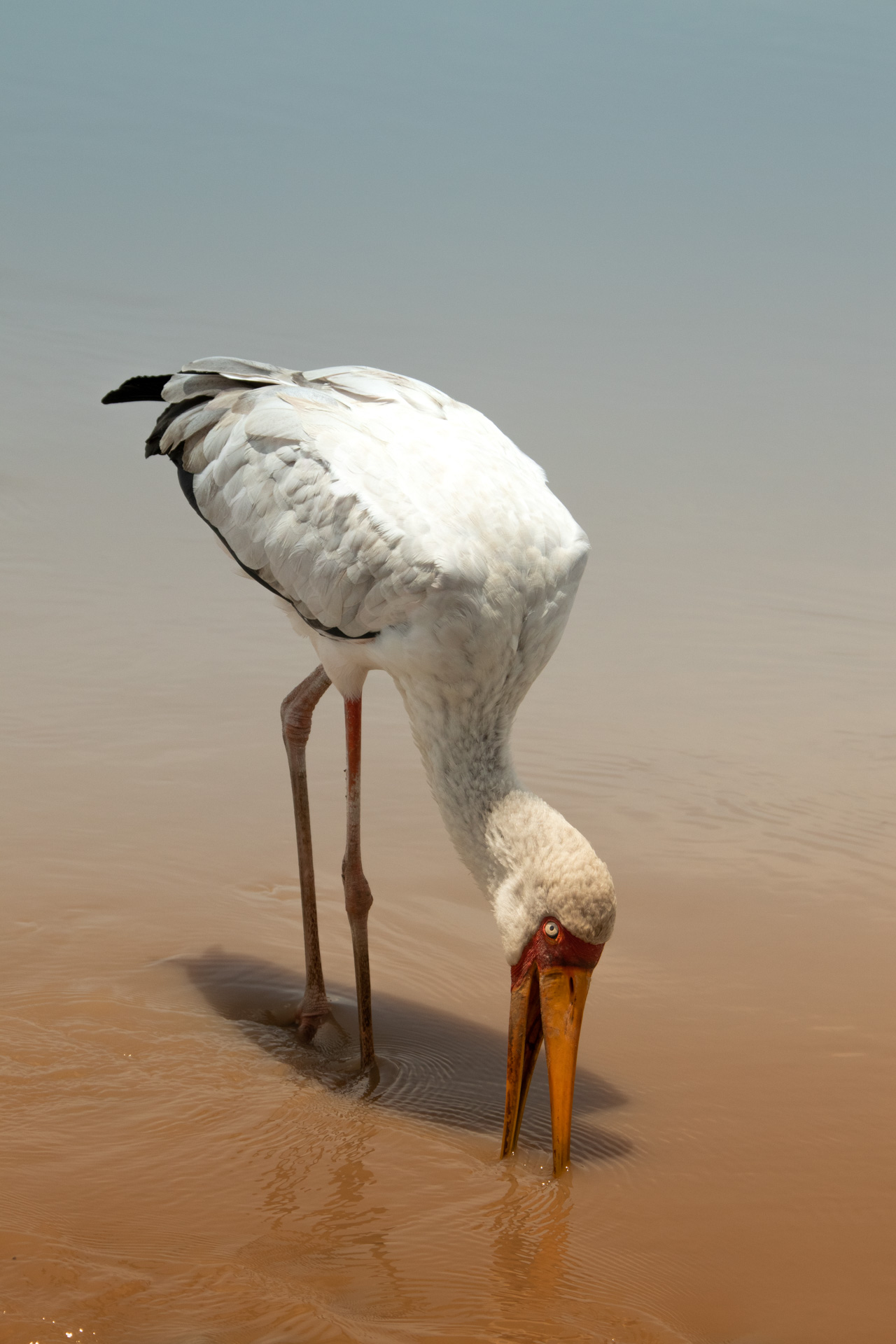 Photo by Sammy Komu
I love the colours Sammy captured here; the blend from cool blue to warm orange surrounding this feeding yellow-billed stork is visually appealing. [f/9.0, 1/1250, ISO 400]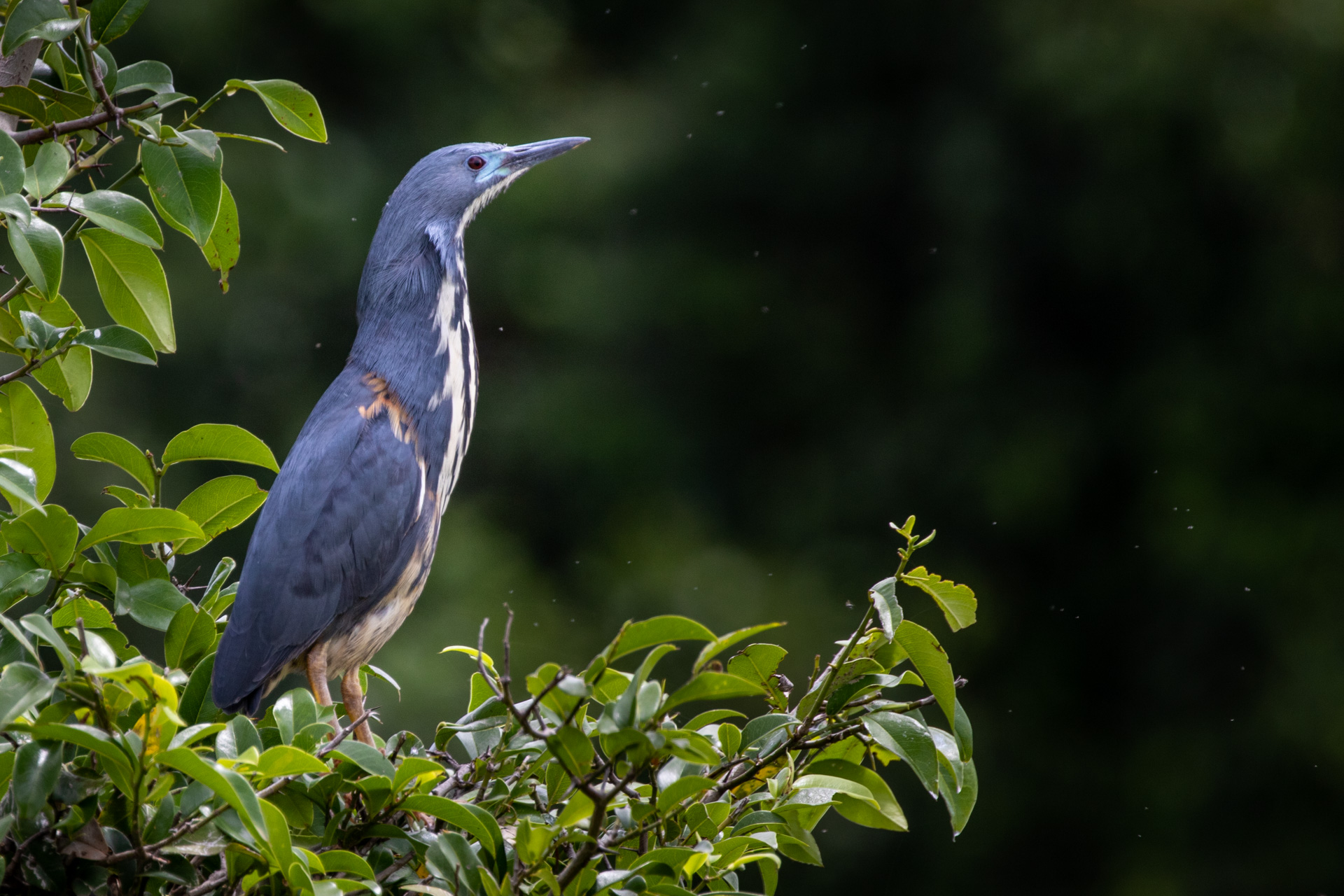 Photo by Stratton Hatfield
A stunning image of a stunning (and scarce) bird: a dwarf bittern (not pictured: below this bird are nearly a dozen lions lounging in the shade of the tree). [f/5.6, 1/500, ISO 100]
THIS WEEK IN THE PAST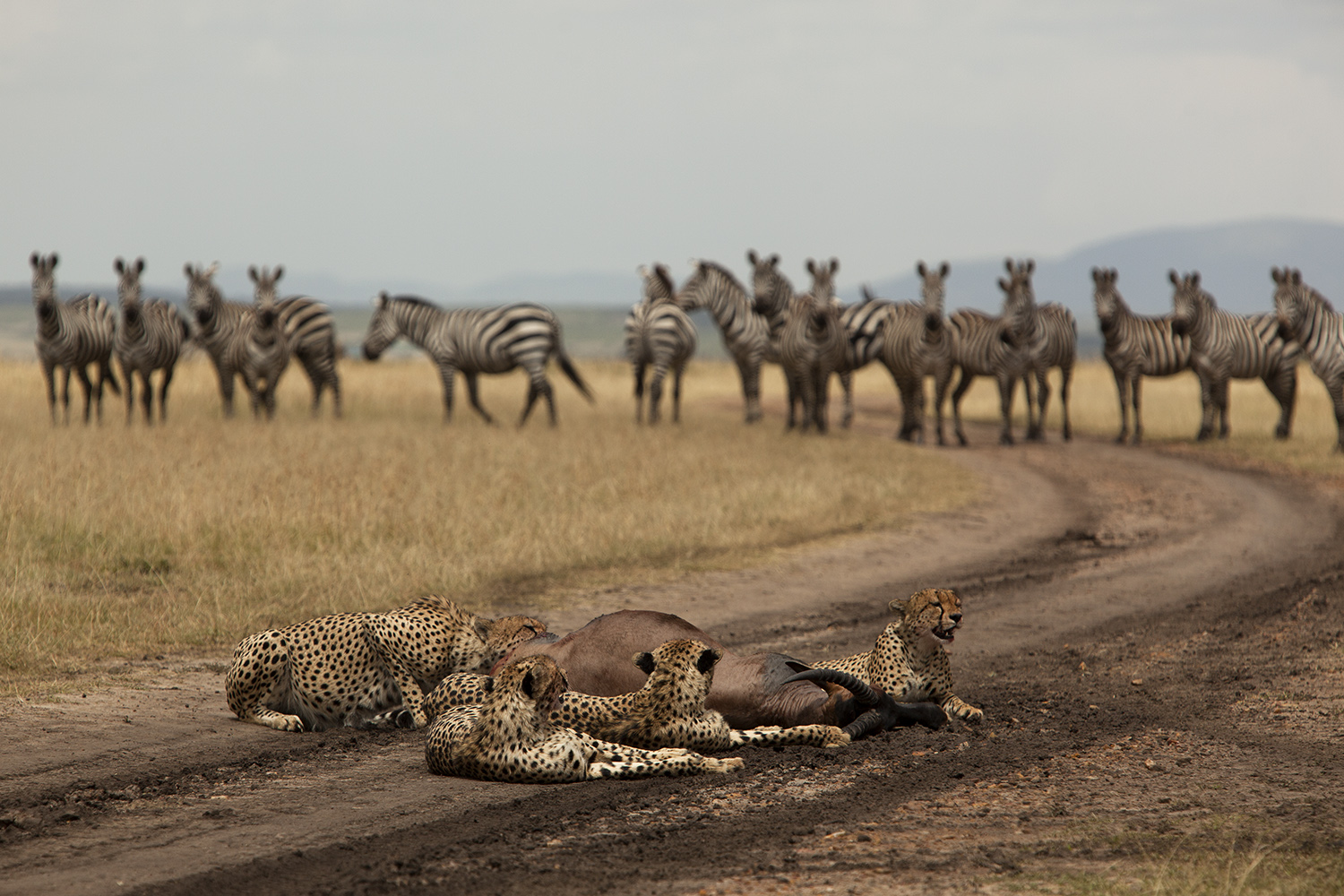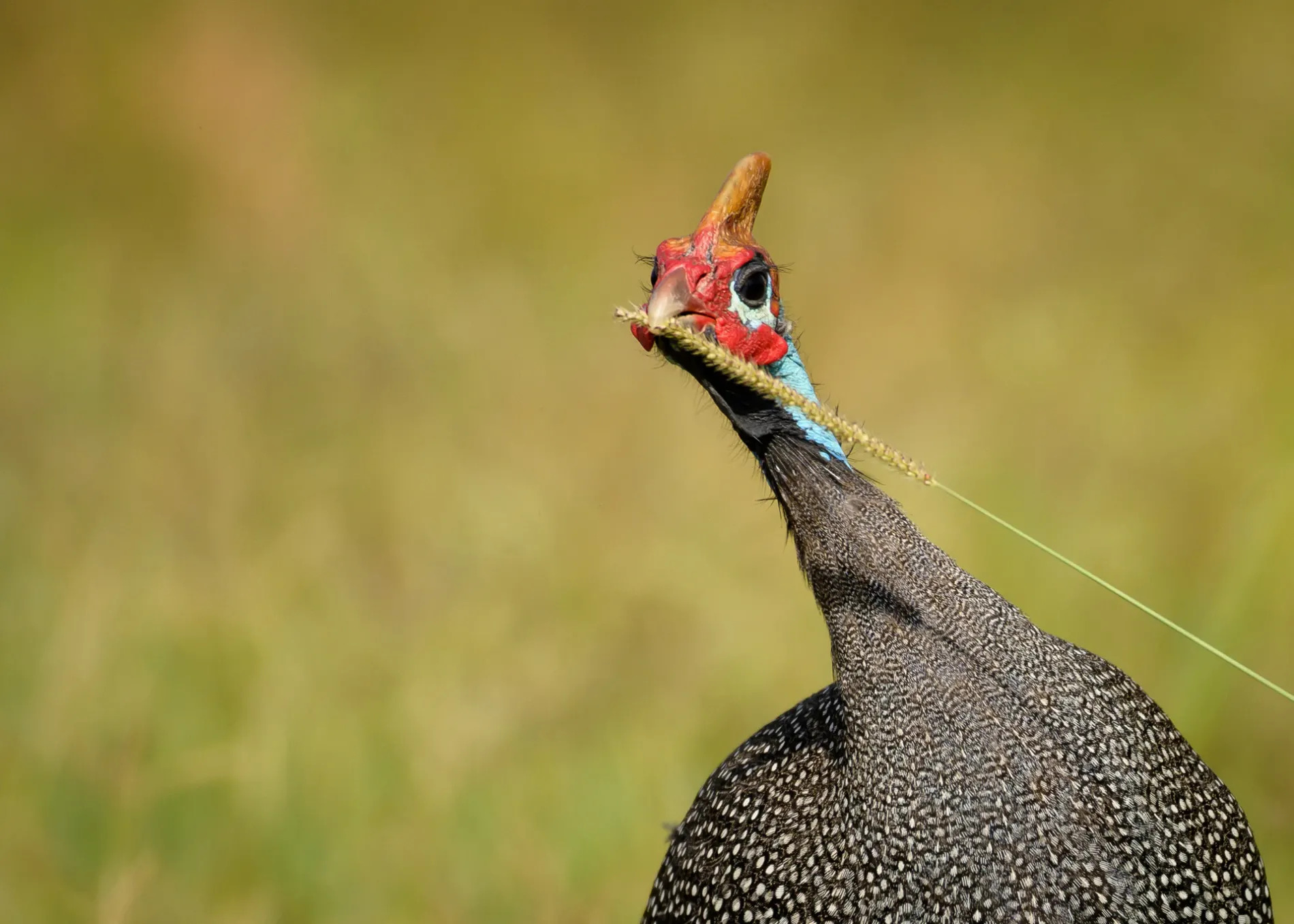 Two years ago, in just our fifth installment of This Week at Angama, Adam had the good fortune of witnessing the Fast Five take down a topi. Two years later, and the cheetah coalition is still alive and well, with guests currently seeing them in the main Reserve. And last year, Adam captured this wonderful shot of a helmeted guineafowl picking seeds from a grass stalk; there's a lovely feeling of simple and delicate parallel action in this photo between the bending grass stem and twisting guineafowl – a good reminder that not all compelling photos are of big animals doing big animal things, and stopping to observe the smaller characters of the Mara go about their business is often very rewarding.