Two Elizabeths, Seline, Cecilia, Joyce, Marian and a couple of Annes. No, not the eight ill fated wives of a modern-day Maasai King Henry VIII, but the merriest group of beaders in all Maasailand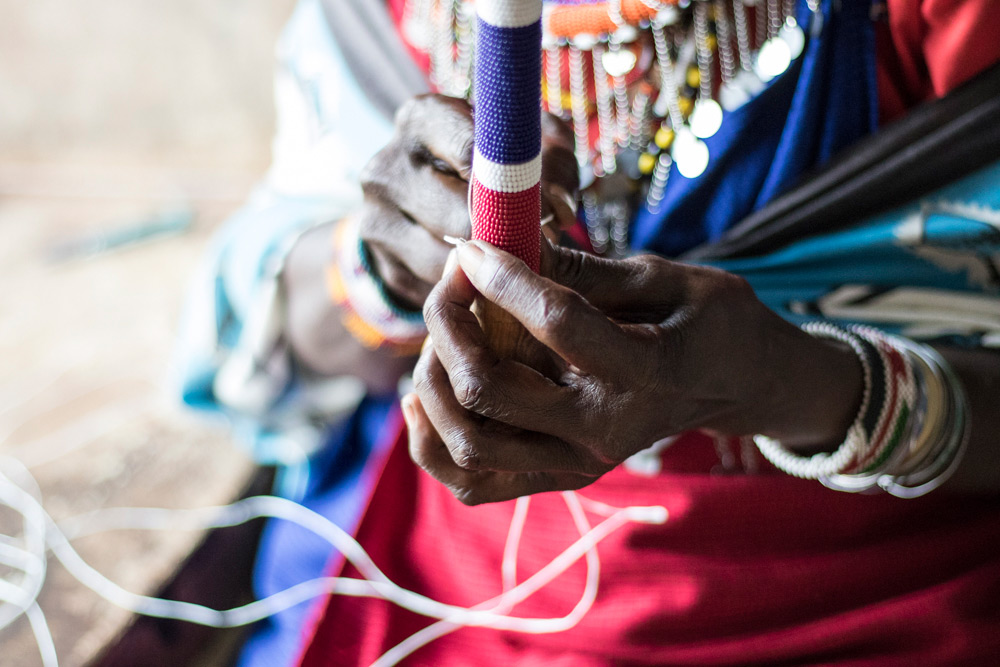 Entering Angama Mara's Safari Shop, your attention is immediately drawn to a table in the adjoining studio where beautifully adorned women, with heads bowed and fingers flying, concentrate as they work another tiny bead into a delicate design. On approach they all look up in unison and their lovely faces crack into the widest of welcoming smiles. Linger awhile and you will hear them singing sweetly as they work with beads, wire, wood and fabric crafting necklaces, bracelets, rungus and other Maasai items for Angama Mara's guests. Sometimes it's love ballads, but mostly they sing hymns and what they call "motivational songs" – songs about their work and how they love what they do. They ask for strength and speed to finish their tasks so the profit made can be shared with the community.
Guests return time and again to sit with the beaders learning more about their culture and trying their hand at this finicky art. Because only a few speak even the most basic English it is heartwarming to watch the interaction – using sign language and much laughter stories are shared and skills transferred. Compared to their traditional life back home in their manyattas, working here has opened up a whole new world of opportunity. With the help of Angama Mara's shop manager Mary Wanjiru, acting as translator, I took some time to talk to The Elegant Eight.
These are their stories:
Seline Natira learnt the art of beadwork from her mother and when she isn't working or looking after her family she loves to play volleyball. What Seline loves most is teaching guests how to bead and whilst doing so, they both express their thoughts with signs and words in their own language. They laugh, bead, share and become friends. And Seline ensures guests learn how to greet in Maa teaching them over and over again until they get it right!
SOPA (hello, how are you?)
EPA (good!)
Anne Nampayio prides herself on being good with young children, having taught Sunday school for many years. Young visitors spend hours quietly beading under her watchful and patient eye, boys and girls alike. Working at Angama has made a great difference in providing for her seven children, and she has enjoyed learning English.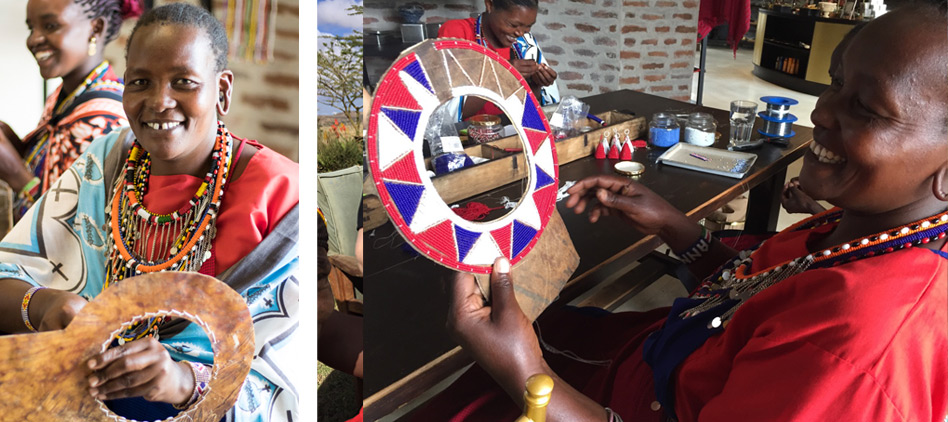 "I am a very good singer," says Elizabeth Napolus. She has loved singing since she was a little girl, particularly church songs. She has also become expertly skilled at making lampshades, which, suspended above the worktable, are a feature of the studio. When she arrives at work and sees that some have been sold she is happy and immediately starts making more, knowing that the profit will go to the community. Her favourite thing about working in the beading studio is that "Everybody is happy here. I like that".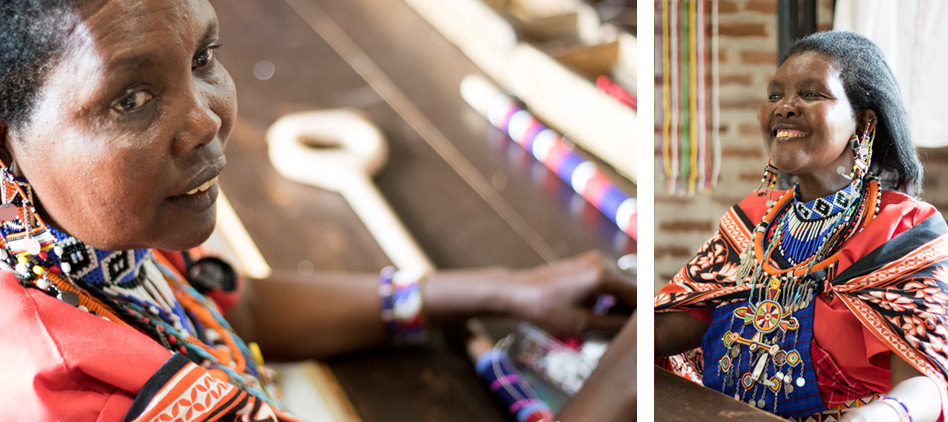 Elizabeth Narikungishu says she works for "happiness" and enjoys inviting people to her home and into her happiness. Her mother taught her to bead on calabashes, many moons ago. She loves meeting people, singing, talking and just enjoying life. Elizabeth always looks absolutely delighted when anyone comes into the studio.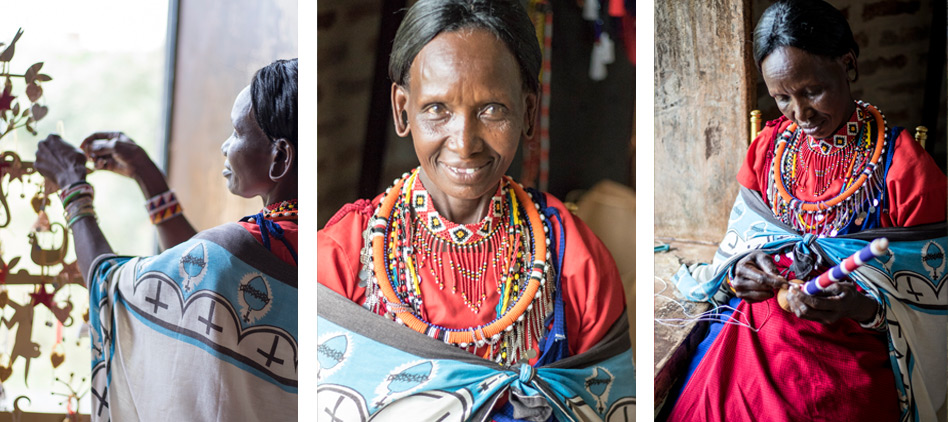 When Anne Natuno first came to work at Angama she only spoke Maa. Through daily interactions with Mary and the resident tailor Ondeyo, she has learned to speak basic Kiswahili and a bit of English, although she's the first to admit that she's made some mistakes along the way. Somehow, she thought that "bubble gum" was "welcome", so enthusiastically greeted guests by saying "Bubble Gum!" as they entered the studio. Another tale, which cracks her up, happened when a guest was admiring the lampshades asked "Free?" Anne nodded meaning they were free to look at. There was much laughter as with Mary's help, the guest came to understand Anne was not giving it away for free.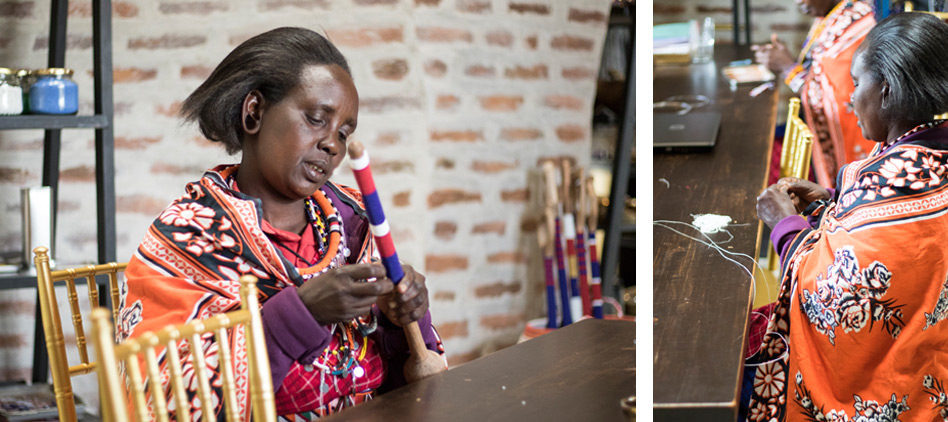 Joyce Nansikoi comes from a family of ten and she is the only one of her siblings who is not a farmer. Joyce is a self-taught beader and what she enjoys the most about working in the studio is how all the women work together learning from each other every day.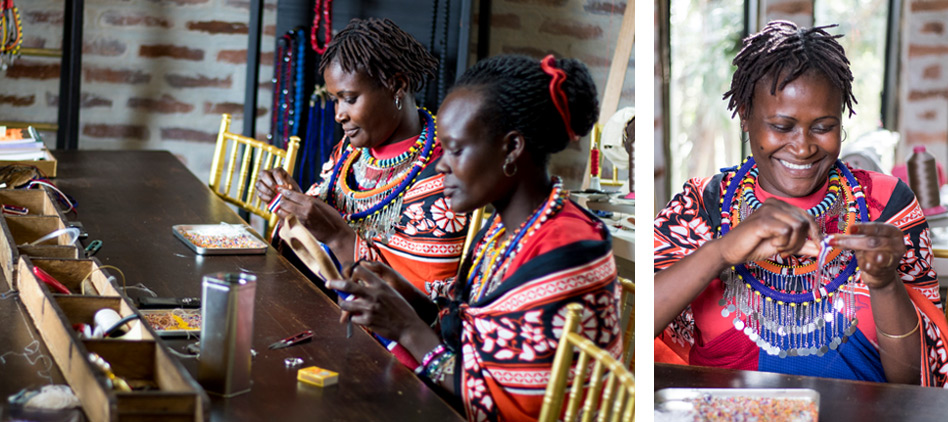 This is Cecilia Kimanjoi's first job and she is proud to be contributing to her children's education, whilst also supporting her parents and parents-in-law. Cecilia loves getting to know the guests and most especially enjoys teaching the children how to bead. Her specialty is showing them how to make a "two-liner" bracelet, which she gives away so that they come back time and again to bead gifts for their teachers, and friends and family back home.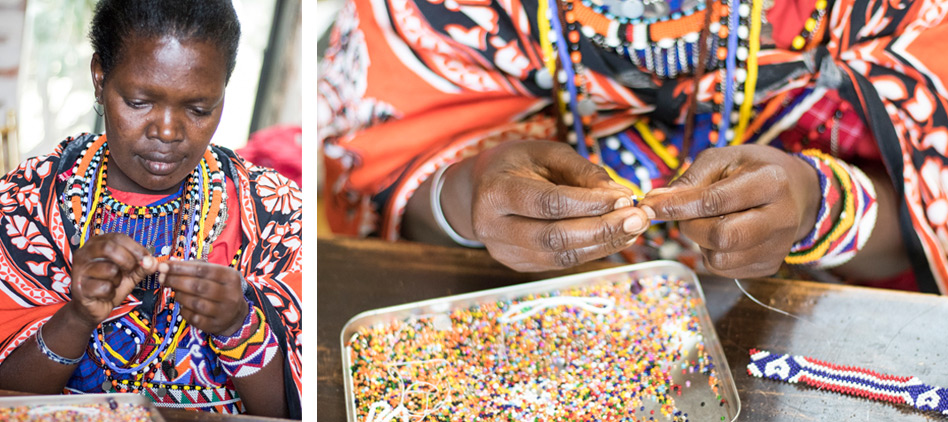 Marian Nadupoi is the studio comedian and loves to make people laugh. She is proud to work here and especially loves the view and the architecture. Her gogo (grandmother) taught her how to bead and she uses this talent to pay for her small son's education. She feels very excited when guests come, showing her what they like and putting in complicated requests. If the items cannot be finished in time before a guest leaves the Mara, the items are shipped internationally, and Marian eagerly awaits feedback from the other side of the world.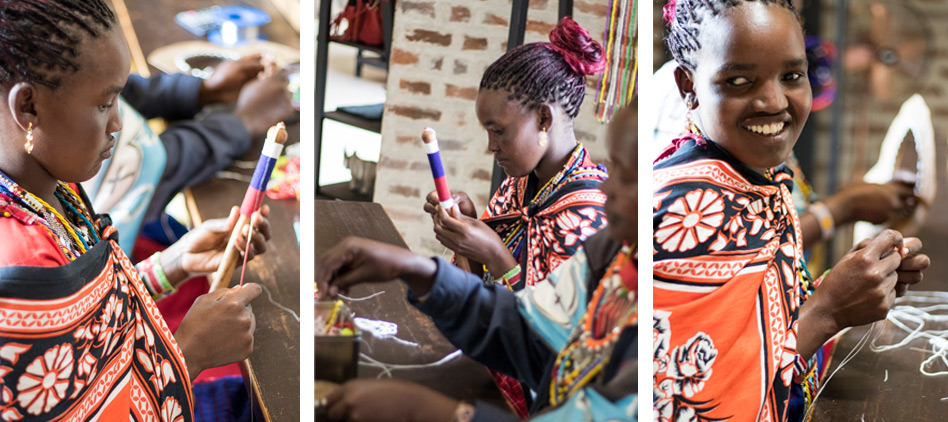 Note from the Editor: When we opened our lodge two and half years ago we had an inkling that our Beading Studio would offer our guests an opportunity to gain a deeper understanding of Maasai culture. What we have learnt since then is that some guests choose an afternoon in the studio over a safari because it is just the best fun.