A Maasai Naturalist Discovers the Land of the Lemurs – Part II
From Giraffe Weevils and Giant Stick Insects to Dancing Lemurs and Spiny-tailed Iguanas, Maasai Naturalist Fred Ole Sinoni continues the guide exchange program and explores wild Madagascar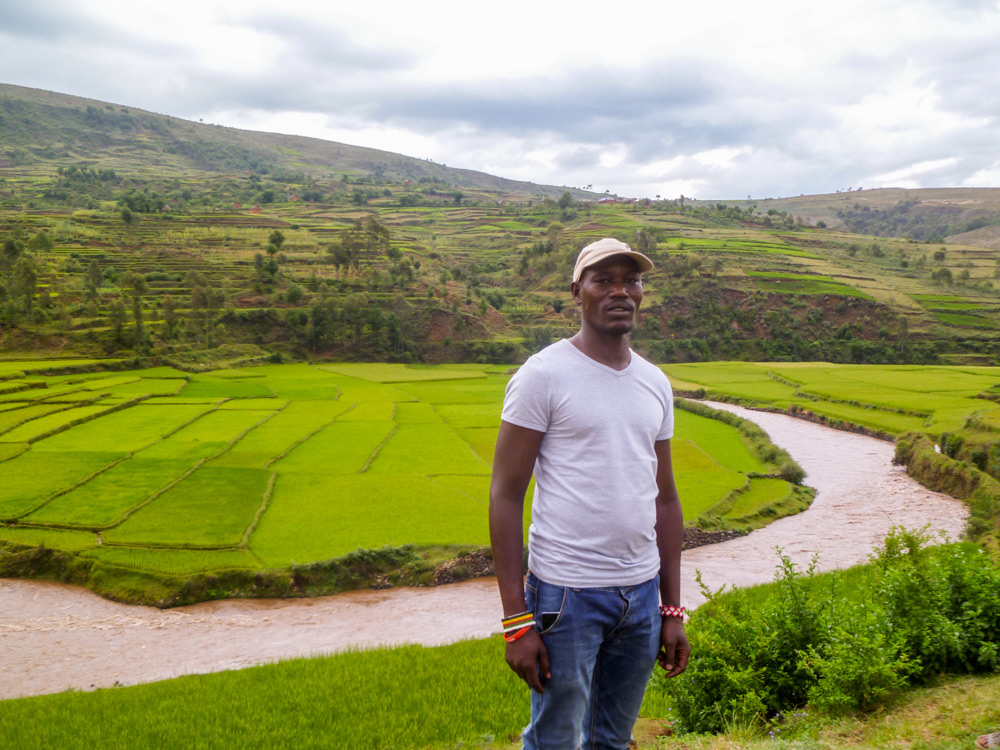 Spiny Forests, Roaring Cicadas and Flirtatious Fodies
Now was the time to explore wild Madagascar.
We arrived at Setam Lodge very late in heavy rain. The lodge sits on a pristine location on the edge of Ranomafana National Park, a typical tropical rainforest. Amid the darkness, I could hear the river, frogs, and so many other strange forest noises – the ambient atmosphere was just fulfilling. I couldn't wait to set my eyes on the forest, but reluctantly went to bed.
The following morning, out of curiosity, I was up at the crack of dawn merely to ensure I didn't miss the forest wake-up. What met my eyes was special! Tall trees, a cloud of mist loosely hanging above the forest, with the sun's rays shimmering through the canopy – a sight to behold. As the forest understory is so dense and the weak morning light hadn't yet penetrated, we only ventured into the jungle after 7.30am. The deep deafening sound of the giant cicadas welcomed us, a sound so loud we could barely hear anything from the local guide, who was struggling to give us an orientation. My first sighting, guess what? Something on top of my wish list: not a bird, not a reptile, not even a mammal. It was an insect known as the giraffe weevil! Just like its name suggests, this pretty jewel is indeed like a giraffe in a different taxonomic class.
Deeper in was so promising: the dense forest looked tall and impressive and the raging river and numerous waterfalls were spectacular, but you have to work hard to see animals and the urge to see lemurs started building up and I could feel it threatening to tear me apart! Thanks to the dedicated spotters, we found two groups of lemurs foraging near one another. The Ranomafana National Park is home to 12 lemur species, and the sighting before our eyes was that of the Red-fronted Brown Lemur. On a nearby tree a small family of Golden Bamboo Lemurs playfully jumped from one branch to another. Unfortunately the lemurs are 60 feet up so the only way to observe them is to look straight up, which can be quite tiring. After trekking for three hours, my sighting list had three species of lemur, including the extremely rare Greater Bamboo Lemur, which actually came down to eat some bamboo shoots on the forest floor only 3-4 meters away.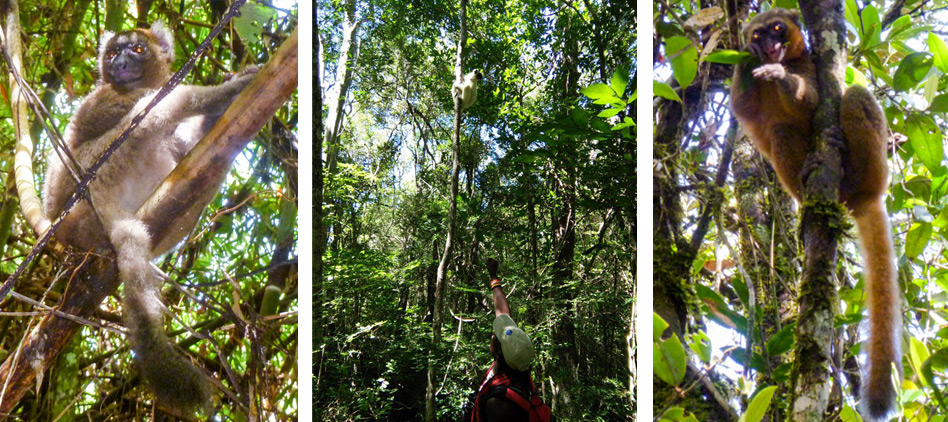 As a keen birder, I must admit that birding in a tropical rainforest is a real challenge – I only managed to see three species: Rufous Vanga, Tylas Vanga, and a cuckoo-roller. Other interesting sightings included Golden Orb-weaver spider and even for someone suffering from arachnophobia, you can't help but admire how beautiful it is. As we were about to end our forest walk, our guide pointed at a dead bamboo stalk, and guess what? A giant stick insect, a creature that is a twig until it jumps – best camouflage! Time was not on our side, and just as we were about to leave a Short-Nosed Chameleon was perched on a twig hanging over our path as if to say, "I am here to represent my reptilian tribe."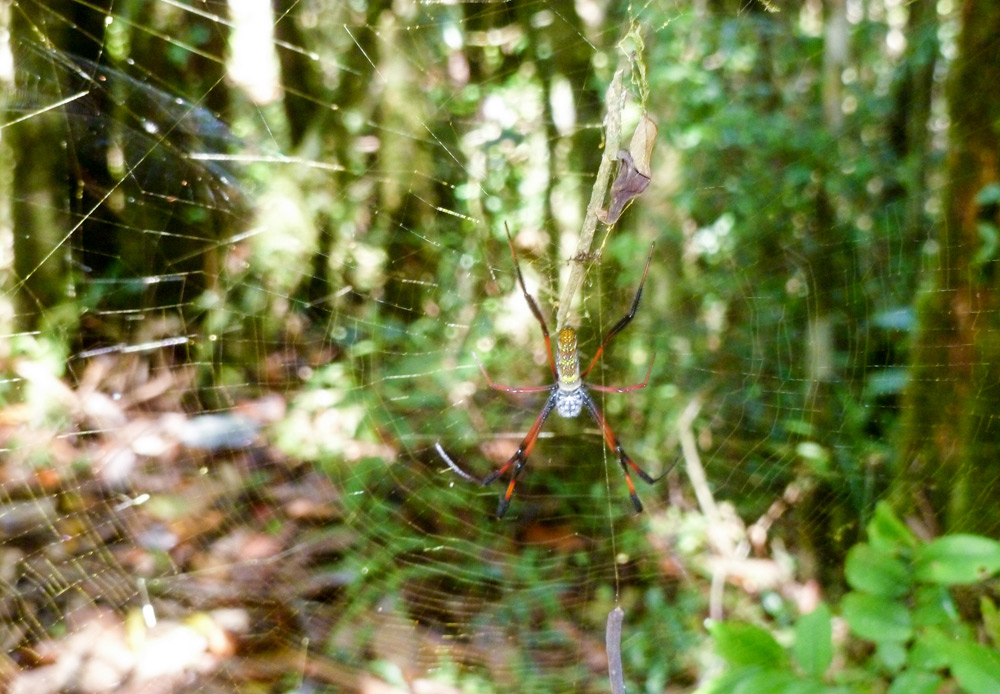 From the forest, we hit the road to Fianarantsoa, arriving at dusk and had a tour of the old town. The richness of the architecture of its historic buildings reflects the different stages of colonization and evangelization of Madagascar. Fianarantsoa, meaning 'good education' in Malagasy, is the cultural and intellectual center for the island and is also known as the capital of wine in Madagascar.
We continued our road trip, leaving the central highlands to enter a new microclimate, the dry semi-arid bush of southern Madagascar. Our first stop was a small community reserve called Anja, an engulfed area of only 30 hectares. Nonetheless, the space is enriched with an ecological range of flora and fauna, most notably its dense population of semi-habituated Ring-tailed Lemurs, which happily can be observed at a very close range. The visit was short, but it ended up well with a special sight of a huge unidentified chameleon: the male was brown with irregular white markings while the female, half his size, was yellow with black and red striped markings. Anja is a perfect example of how humans and nature can co-exist and flourish.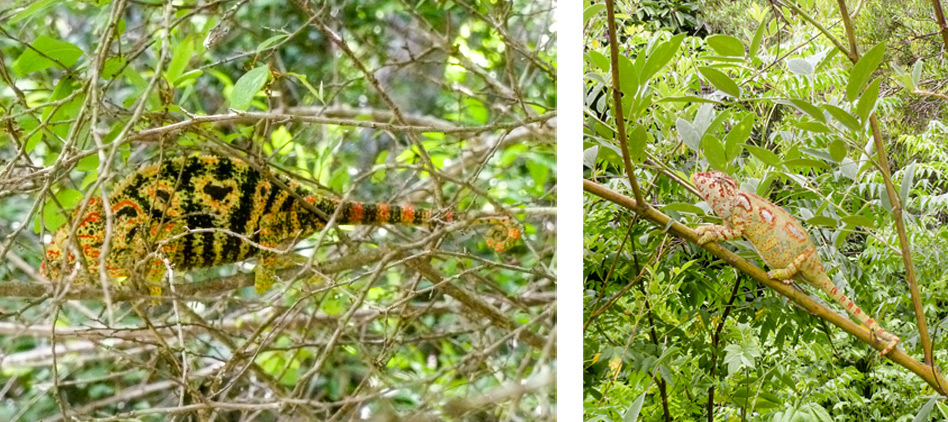 From there we continued south. It was a long drive to Ranohira, the town nearest Isalo National Park, but one thing about Madagascar is that you will never get bored looking at the magical landscapes. The journey led us across vast open grasslands that immediately reminded me of home. To make it more Mara-like, the Bara people have settled here with their zebu (cattle). At one point, I had to alight from the vehicle to admire the black white-faced Bara bulls. We arrived at Isalo National Park at sunset, and checked into Jardin du Roy Lodge, a French establishment, which turned to be my favorite. In the morning, I woke up to a surprisingly different environment. The park is well known for its wide variety of terrain: sandstone formations, deep canyons, a palm-like oasis and grasslands.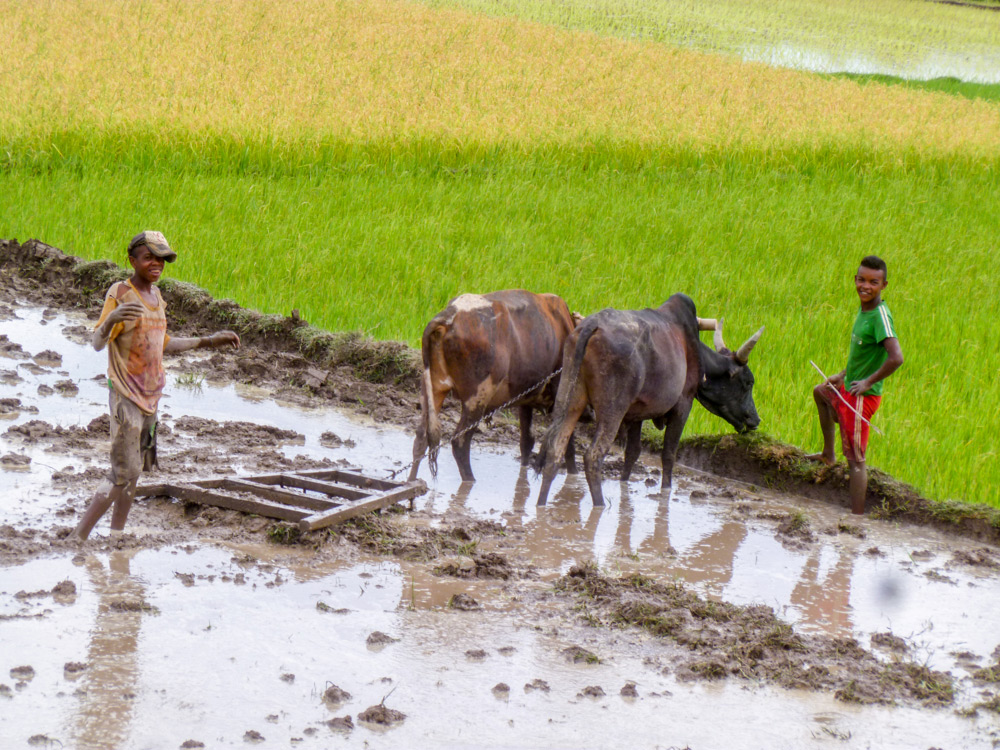 After breakfast, I set to hike the canyons of Isalo. The unique flora, dominated by the Tapia woodland, has evolved adapting to the existing conditions. We climbed the canyons enjoying panoramic views of the landscape and swam in a natural pool. There are so many fascinating things in this part of the world. Tapia is the staple food for the wild Malagasy Silkworm, or landibe, both of which are endemic to Madagascar. The landibe cocoons are collected from the Tapia forest and subjected to different treatments before ready for use as silk. After more treatments, they are dried in the sun then once again boiled in soapy water for an hour and kept in a pot for four days. After fermentation, the silk is ready to be spun. Women then weave fabrics and scarves in a wide range of natural colors.
Apart from the fascinating landibe, I recorded other fauna specimens, including Spiny-tailed Iguana, Red Scorpion, and a tiny unidentified green chameleon. So many other plant species that our local guide was unable to identify, notably one with tiny spikes that responds to touch by closing its leaves. At the end of the day we drove to the window of Isalo, a rectangular formation of rocks with a large hole, like a window. In the middle of nowhere we were the only ones there. Time to surrender and breathe in the beauty. We watched the sun set – another day well spent admiring Mother Nature's wonders came to an end.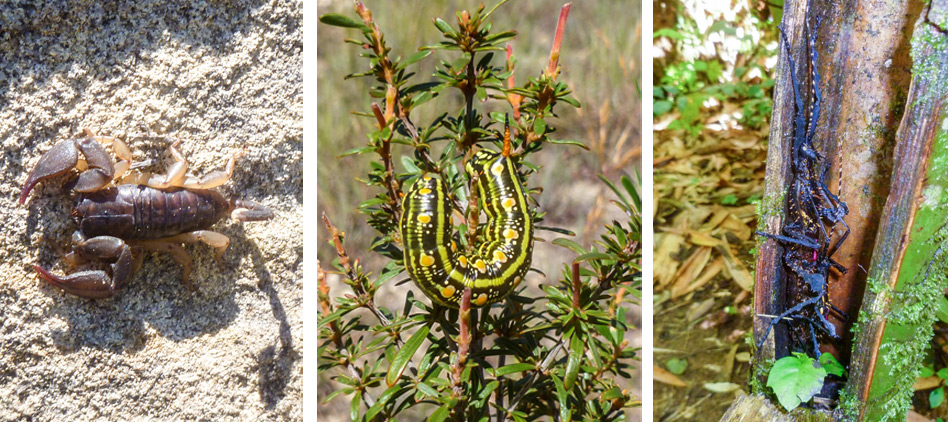 And finally we travelled south to Ifaty, our final destination. En route, we had a short stop at Zombitse-Vohibatsia National Park, home to the most important remnant of dry deciduous forest on Madagascar, forming a transition zone between the country's dry and the humid areas. Flora is especially rich here, including giant baobabs and numerous orchids. I saw a very interesting plant called a walking tree, aptly named, as indeed it looks so! Even though this park boasts a wide range of wildlife, our short trek didn't yield much: only a troop of Dancing Lemurs (my favorite of all) and a scary snake called Leioheterdon. Thank God the sighting was on our way out!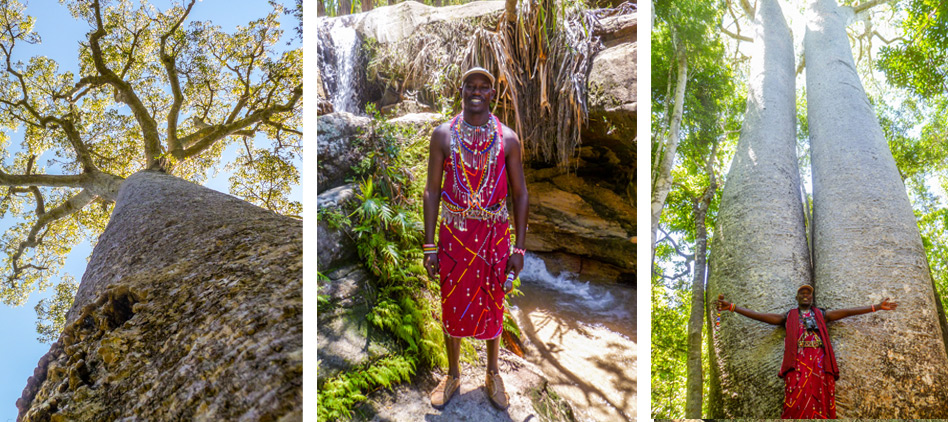 I spent the last hours of the day roaming the seashore of Ifaty. In the morning, I visited a totally different spiny forest habitat sitting on a sandy carpet floor – lots of great stuff here, too: Madagascar langaha (a very common snake), Giant Coua, White-headed Vanga, Madagascar Partridge, Spider Tortoise, and Madagascar Red Fody (a weaver that changes colors from grey to bright red during mating season – just do a makeover he says!). In the afternoon, I had a rare opportunity to interact with the Ifaty people, a tribe that lives along the shoreline and entirely dependent on fishing. I was invited for a feast but as a Maasai unfortunately seafood has never been on my menu. But at least they were glad I tried their traditional dancing moves.
Note from the Editor: Fred's hand written journal of his adventure ran to 2700 words – a true naturalist noting down every detail. These two stories are just a taste of what he experienced. Asisten Travel graciously hosted Fred in Madagascar. And in return Angama Mara welcomed their guide, Tanjona Raharijoana, who spent time with us in the Mara – a dream come true for him, too, on seeing his first elephant.