Long-time family friend of Angama, Cath Magnifico provides her account of the honeymoon she shared with her new husband in the Mara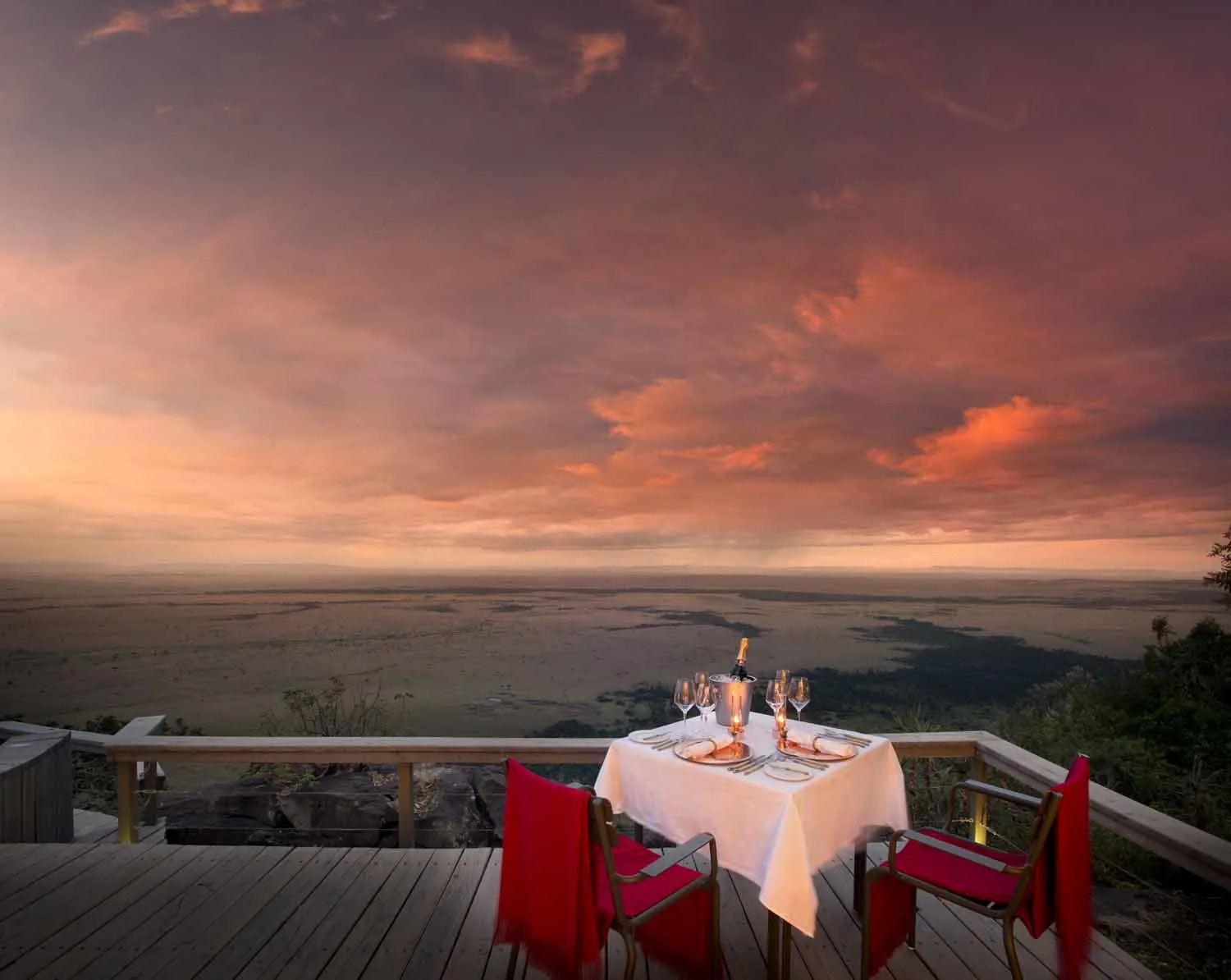 Touchdown! At an altitude of 1,900 metres we landed at the Angama Mara Airfield. We were met on the runway by our guide, Moses, who gave us a warm Mara welcome, leading us to the game-viewing vehicle for a short drive to the lodge where we were introduced to our Camp Manager and the other wonderful staff who looked after us during our stay.

We were shown around the main lodge area, a sanctuary swathed in the traditional Maasai red, yet somehow still allowing the natural environment to take its pedestal. With a view that has to be one of the most spectacular in the world, the vast plains filled with hundreds of magnificent animals, we had arrived in paradise.

A short while later, we were taken to our tent, with the door adorned by a beautiful beaded Maasai heart. Imagine everything your heart could ever desire in one huge area – freshly baked cookies; crystal glasses for your private selection of gin and whiskey; a shower with a view of the Mara; a bathtub built for two; and a bed fit for the Queen of England made even better with just a glass panel between you and the stars of the African skies. Our first night was filled with candlelight, sensational food, sounds of the wild and a galaxy of stars.

Bright and early at 5:30am the next morning (by choice), we were woken up with a tray of freshly brewed coffee. By 6am we were off on our first drive, with our breakfast and lunch packed by and ready for us to enjoy on safari. We opted to spend the whole day out on safari; there was no danger of us missing even a minute in the Mara.

After two hours of sensational animal viewing, we decided it was time for breakfast. Freshly squeezed juice, muffins baked that morning, homemade granola, a bacon and egg sandwich, I could go on… The location? Not a soul in sight but us, our delicious breakfast and the migration of thousands of animals.

With full tummies we were off to try and get a glimpse of a famous migration crossing. After waiting hours for the zebra to cross as they raced from one area to the next, coming closer to the water only to get spooked and turn back, eventually one lone ranger – a wildebeest – came running from over the hill. Dust kicked up behind him, without a thought he jumped into the river and crossed, which set off the whole zebra herd. Words simply cannot explain the spectacle of a Mara crossing; it is a moment of frenzy and a race for life. Within minutes it was over, from the sound of splashing water to an airy peace, we were ready to head home for dinner.

By 6pm we were back at the lodge sitting around the campfire snacking on popcorn with stories to share and pictures to show off, everyone experiencing something different during their day. Dinner was made from fresh produce grown from the Angama vegetable garden and every meal was a feast of flavours, topped by a traditional jumping dance by the Maasai. The attention to detail throughout Angama Mara blew our minds. The team became our beloved friends. Angama is not just an epic wildlife and lodge experience, it refuels your soul. After six magical days, it was sadly our time to reluctantly leave this paradise, finding peace in the knowledge that one day we will return.