Visiting Roy's Maasai Village
A 14-hour flight and the Atlantic Ocean couldn't stand in the way of a beautiful meeting between two Americans and the residents of a remote Maasai village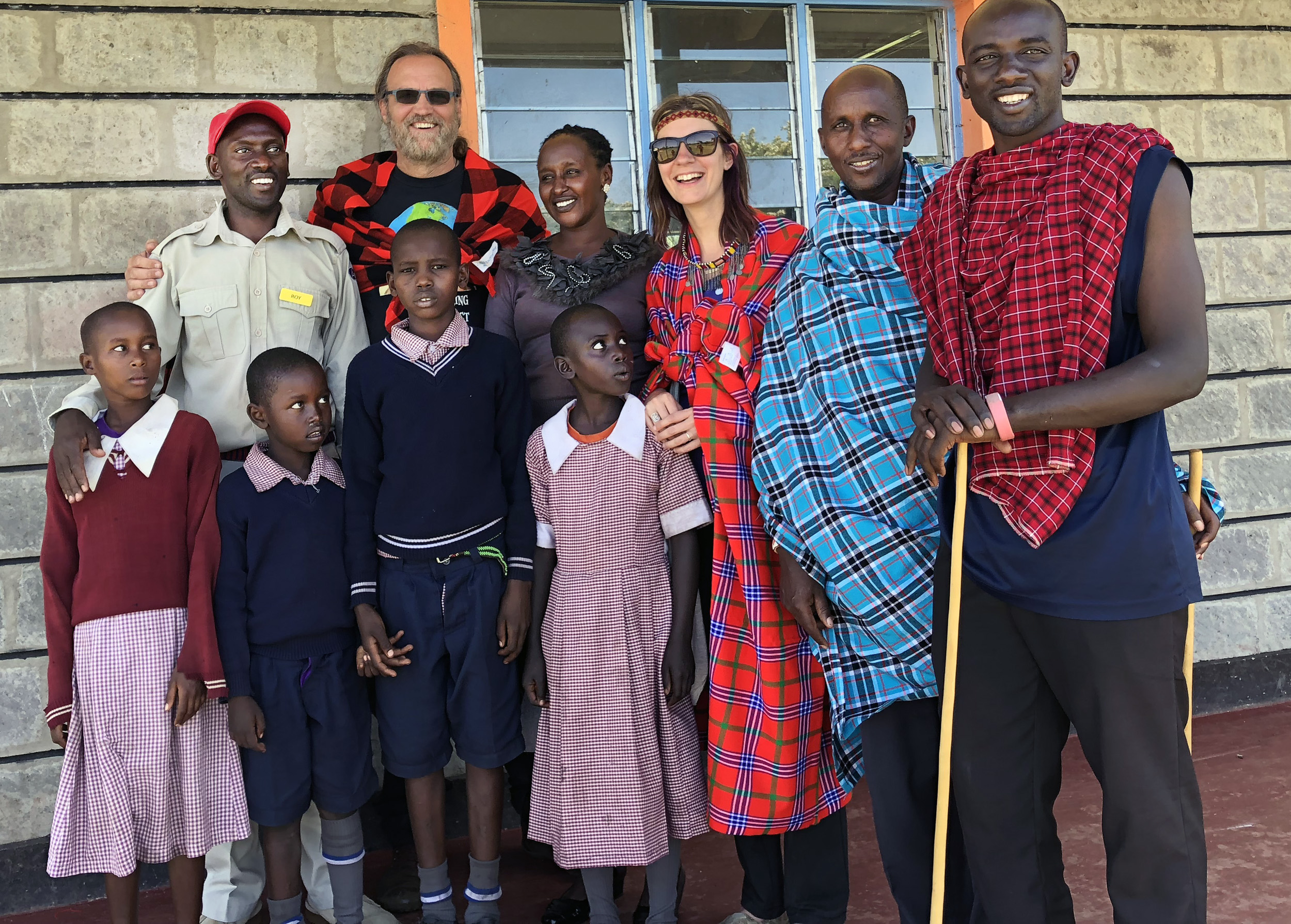 Kenya ignites imaginations across the planet with its elephants, lions and wild places that make hearts skip a beat, and that is why I travelled to this absurdly beautiful country with my 30-year-old daughter, Chelsea, in January 2019. We traveled from New York City to Nairobi on a direct 14-hour Kenya Airways flight (shockingly only US$740 round trip at the time). We adjusted for jetlag and an eight-hour time difference with one night in Nairobi, and then flew on a small bush plane for one hour and landed on a grass airfield edged with grazing zebra and giraffe at Angama Mara.
Overlooking the Maasai Mara, Angama Mara is carved into an escarpment hundreds of feet above herds of elephant and journeys of giraffe that can be spotted ambling across the vast grasslands below. Chelsea and I spent five days at the lodge with our guide Moses Kibet. We watched a pride of lion devour a warthog, stared into the eyes of a massive bull elephant just 25-feet away from our open safari vehicle, patiently waited for three black rhino to graze past us, and photographed leopard and hippo and buffalo and cheetah and zebra and birds so bright and bizarre that they could have flown straight out of a Dr. Seuss book.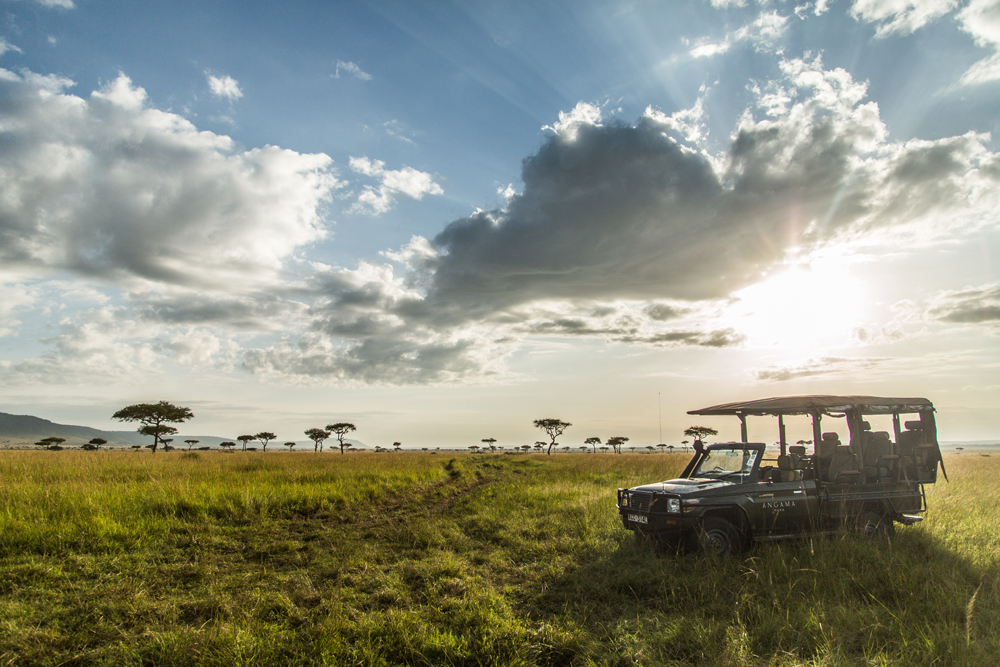 It was magical and heart thumping as we explored the Mara Triangle, but our most unexpected adventure at Angama Mara unfolded from a casual conversation with Roy Jackson Nangida, our housekeeper. We brought two beautifully illustrated geography and history books to donate to a local school, and I asked Roy, as he cleaned our rooms, if he had any suggestions where we could take them.
"Yeah sure," he said. "The school in my village."
Roy is Maasai (one of 42 tribes in Kenya) and told us that Angama Mara had a strong relationship with a school a mile away from the lodge, but that no one had ever visited his village, Entiasamis. We decided to skip one of our safaris, and Moses agreed to drive us to the village in our open-air safari truck, while Roy made arrangements with the village elders for our visit. It was an hour-long drive away on dirt roads through the middle of the bush.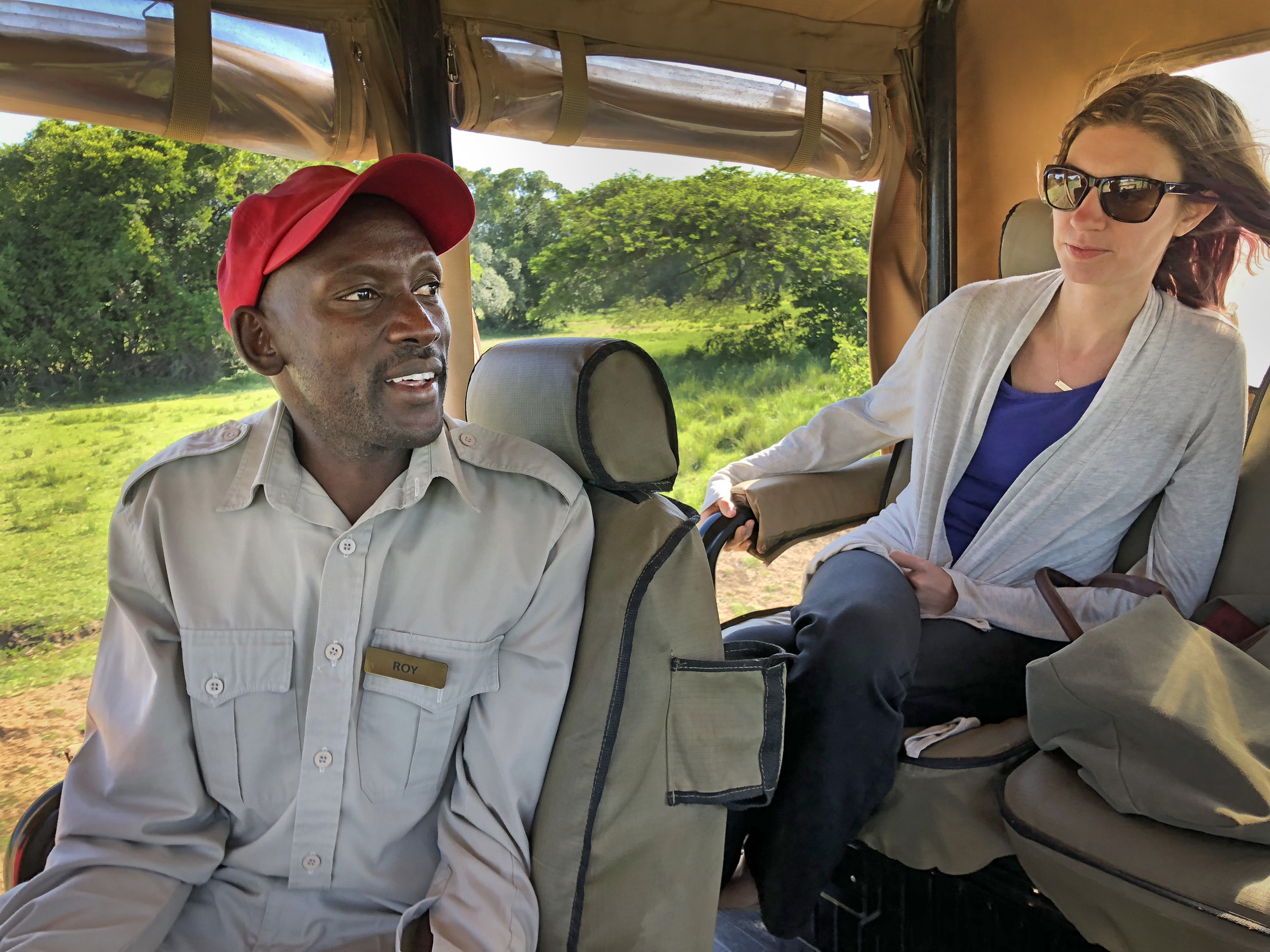 When we arrived the entire village of Entiasamis – 150 Maasai – were lined up to greet us. Roy told us this was a very special occasion as the children of the village had never met a white person before. "Everyone is very excited," he said.

We toured the Olooshur Primary School where Roy's wife was the head teacher. The conditions at the school were spartan; the walls were bare, one classroom was made of mud and sticks, and the students wore uniforms and sat crowded together on rickety wooden benches. Despite the lack of paper, workbooks and pencils, the students were engaged, incredibly well mannered, and sang portions of their lessons in English.

The students and elders in the village performed a 10-minute welcome song and dance for us, and then we presented the books along with markers and notebooks to the senior leader at the school. I opened the geography book and a cluster of Maasai men pressed close to look at a physical map of the world. Immediately, and without borders and names on the map for reference, the senior leader pointed to Kenya. I nodded, and then pointed to New York City, and the men nodded back at me.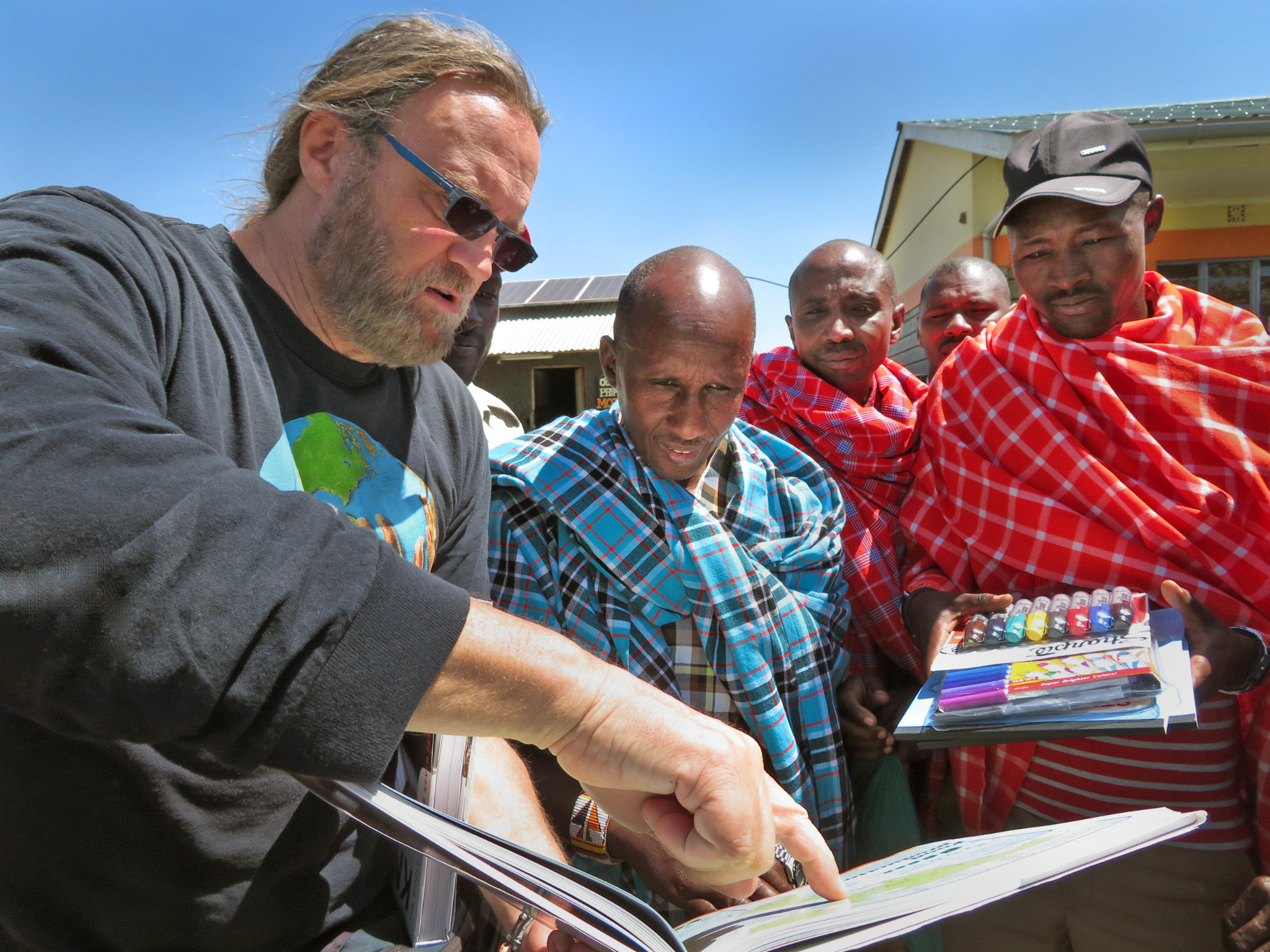 Then an elder, looking puzzled, asked in Maa (the official language of the Maasai) about the vast, blue-coloured area between Africa and America. I told him it was water – the Atlantic Ocean – and he was stunned. He had never seen the ocean and hadn't realised that 70% of the planet was covered by water.

We were presented with traditional Maasai shuka blankets, and Chelsea received a beaded headband and a necklace. Our guide Moses, a member of the Kalenjin tribe (famed for long-distance runners), had never visited this Maasai village before and he was as excited as we were when he was presented and wrapped up in his own shuka blanket.
After we said goodbye to the students and teachers at the school, Roy told us he had a surprise for us. We climbed back into our safari vehicle and were joined by eight male villagers excited to go on their first car ride. We drove away from the school, turned left off the dirt road and plunged into the bush. We drove around thorn trees, past termite mounds and after 10 minutes came upon a mud house where six Maasai warriors holding clubs and spears were waiting for us.

For the next 30 minutes we danced and sang with Maasai as they celebrated our visit and rejoiced in the books and small gifts we had presented. The authentic cultural experience transcended our imaginations and we were given Maasai names by the villagers. Chelsea was given the Maasai name meaning "Happy", because the women of the village said she was always smiling and laughing. Me? I was called "Tall One".
It was an epic adventure.
Happy and Tall One had veered off schedule to spend a morning with Maasai tribesmen in the remote village of Entiasamis, and for that we are grateful to our housekeeper, Roy, and for Angama Mara for making it happen.