There is a growing trend in the wildlife photographic community to use their talent to give back to the conservation and preservation of the wilderness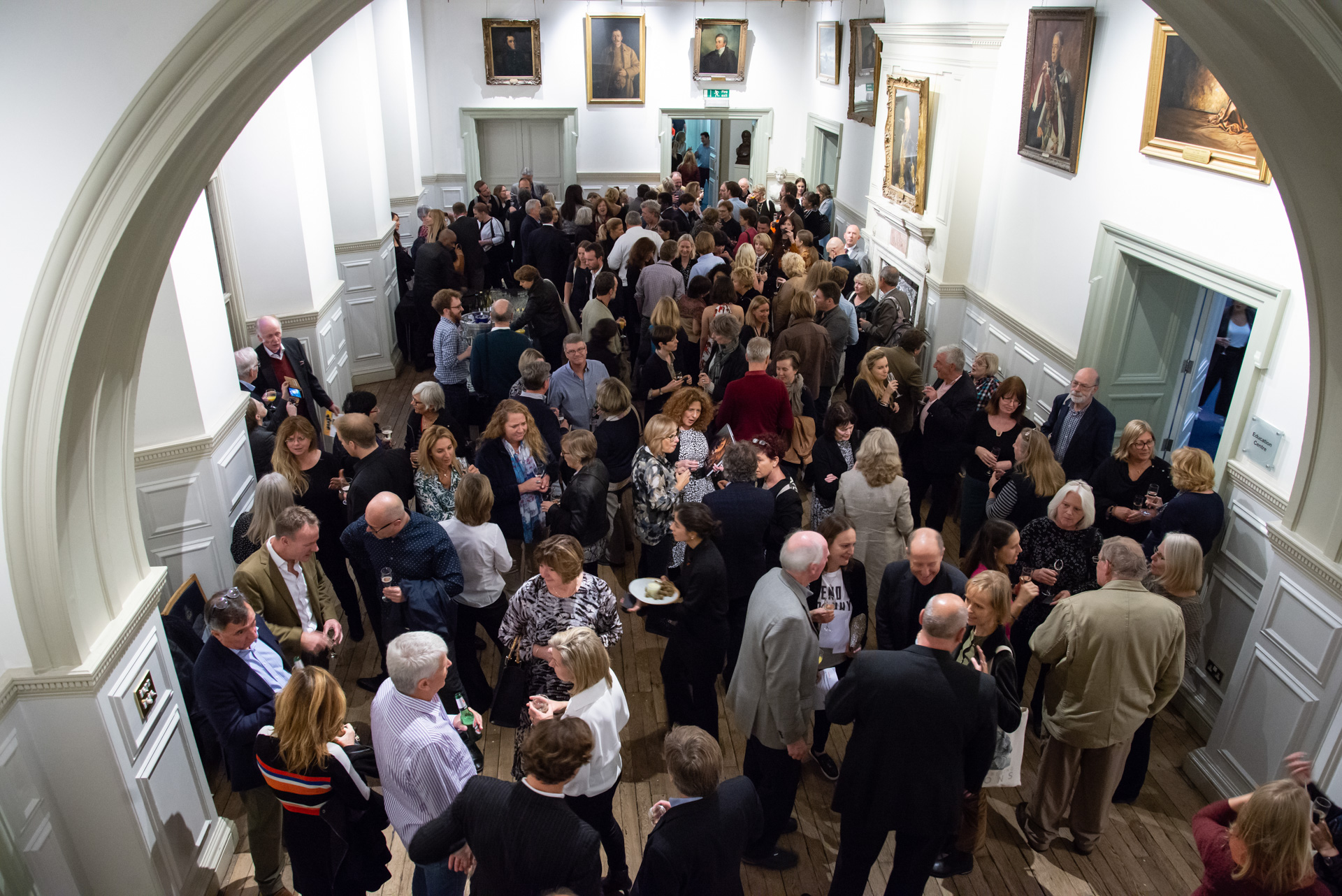 Wildlife needs our help. As the human population continues to skyrocket, so precious lands set aside for animals are becoming smaller. These priceless pockets are where many of us return to time and time again to renew ourselves and find purpose. People come to these wild spaces from afar to watch animals as they are meant to be – wild and free. Sadly, many iconic animals are under threat and radical change is needed if we are to ensure they remain free to roam for generations to come.
The Remembering Wildlife book series was set up as a battle cry; a way of calling together the global wildlife photographic community to unite. To pull together resources, talents, experiences and knowledge and in the process, raise much-needed funds for conservation.
Founder Margot Raggett states it simply: "Our mission is to create the most beautiful books on a species ever made and then, sell those books to raise awareness of the plight facing that species and funds to protect it".
Margot started off with Remembering Elephants, a gorgeous coffee table book packed with incredible elephant photographs from some of the biggest names in wildlife photography. The book flew off the shelves and large amounts of money raised in the process was injected straight back into elephant conservation projects around Africa.
The book was such a success that Margot went on to make another on the plight of rhinos. With poaching so high it seemed the title 'Remembering Rhinos' was a very sobering warning of a bleak future that we need to fight to prevent. Could we really reduce these magnificent animals to photographs on the pages of a book? Next, came Great Apes and a call to action to take notice about gorillas, bonobos and orangutans.
In addition to raising much-needed funds for various projects, the books were also starting to get the wheels turning on the creation of a global community of well-intended photographers. It was becoming an outlet and a means for photographers to give back.
I was overjoyed when the call came asking me to contribute to the fourth book in the series, both in the form of an image and also a written essay on the 'Life of a Lion'. It promised to be the biggest book in the series yet. Determined to help, Angama Mara also donated nights at the lodge to help raise the source funding needed to print the books and provided help in any shape and form that they could to help the book come to fruition.
I was able to travel to London for the launch of this book – Remembering Lions. It was a fantastic week. No less than 74 of the best lion photographs, taken by 70 of the world's top photographers were on display in a gallery; a stone's throw from Trafalgar Square. Seeing one's work printed large and on display is always a very rewarding experience, but when contributing to a cause such as this, it was even more enriching. In addition to the gallery event, in which the photographers and volunteers all came together, we had the most inspirational evening at the Royal Geographical Society. Books were sold by the hundreds, prints and artworks auctioned off and speeches were made by remarkable men and women who work in conservation.
Below are some photographs of the two major events, encapsulating the important role photographers play in showcasing the natural world. To be a contributor to this was truly amazing and I am so thankful to Angama Mara for sending me to what was truly a moving event.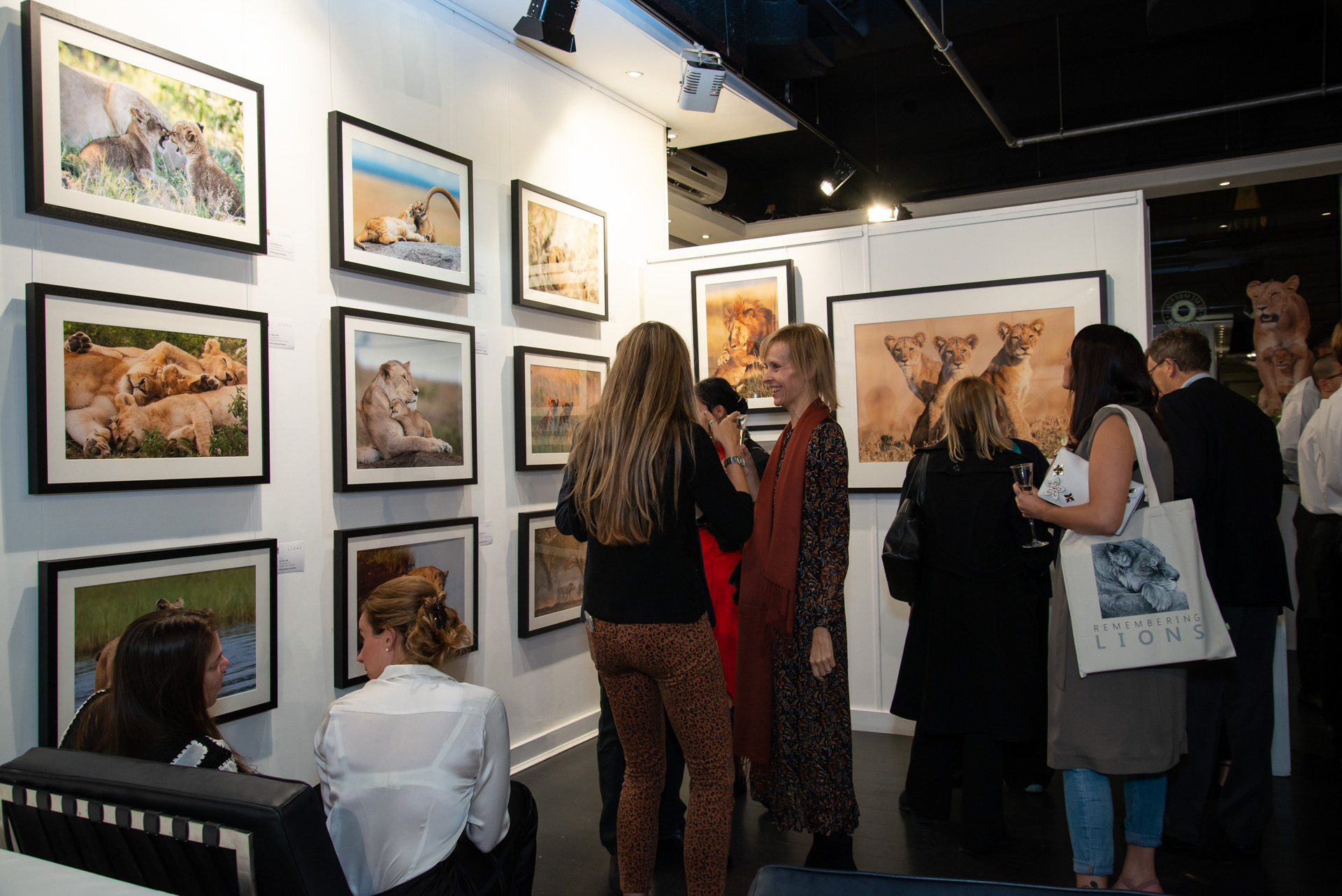 Beautifully framed and displayed, it was special walking into a room of lions.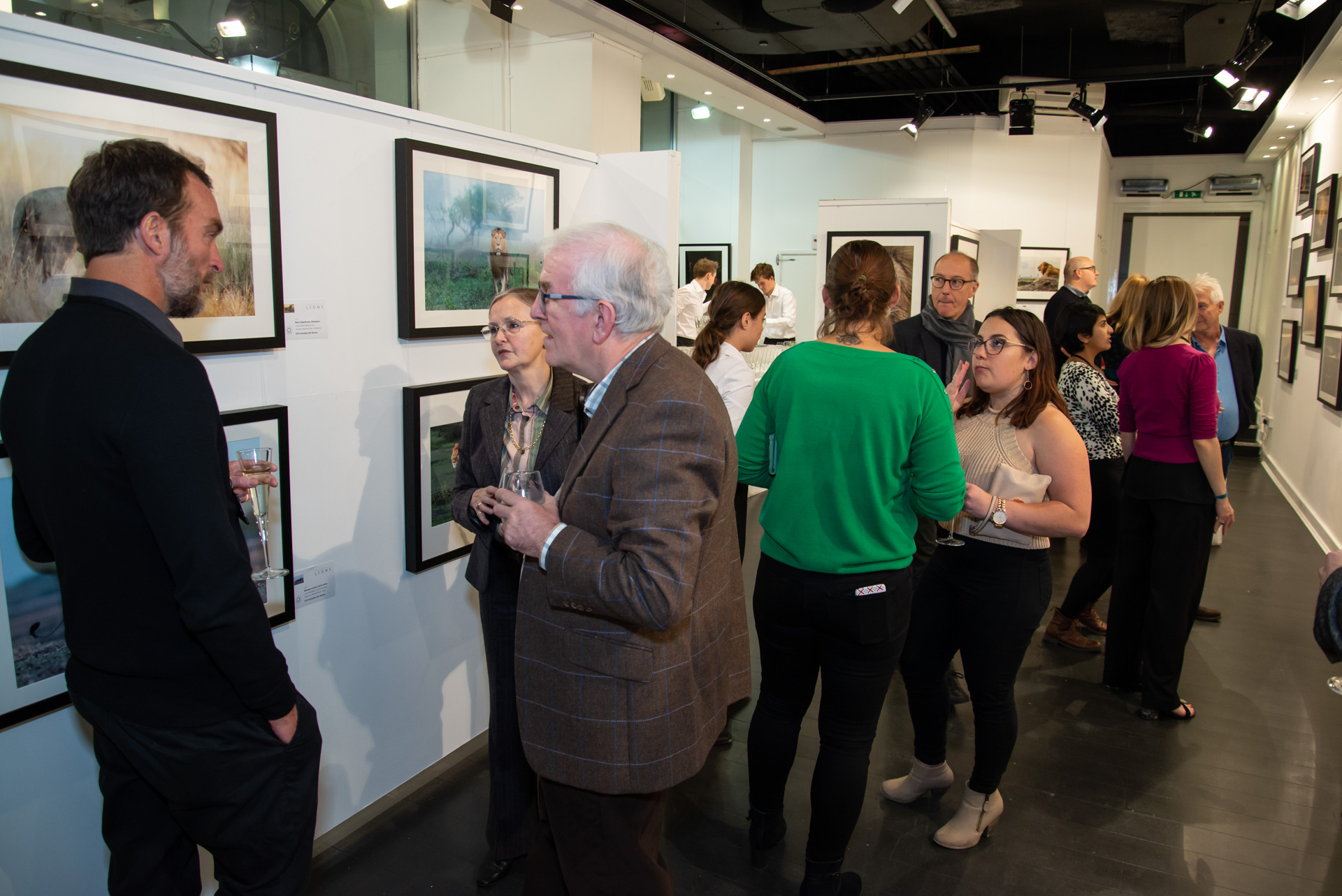 What a great way to spend an evening.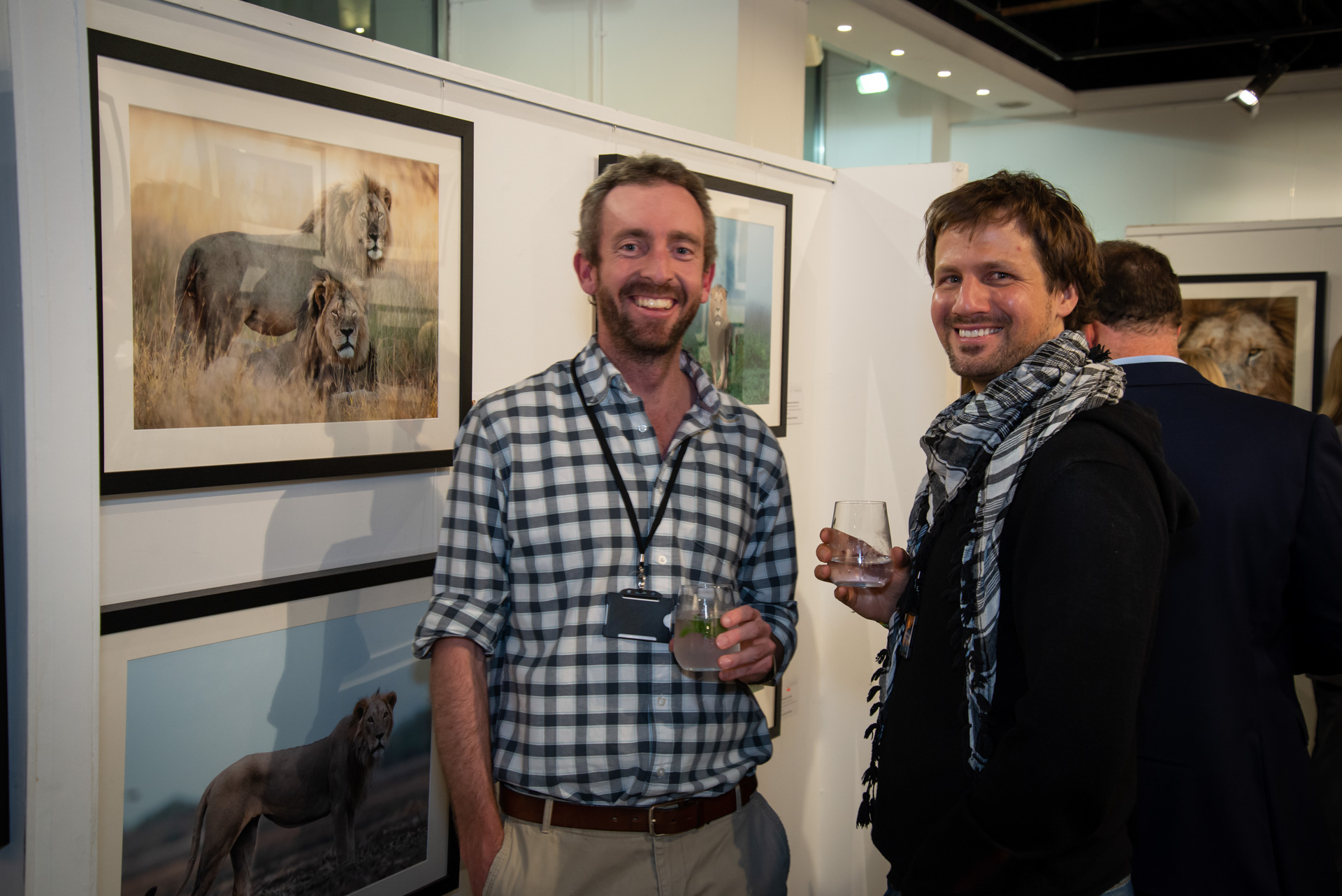 I enjoyed connecting with many photographers I had previously only communicated with online. In this case, the talented wildlife photojournalist Marcus Westberg.
In addition to being two of the most talented photographers and naturalists out there, Jonathan Scott and Todd Gustafason are also simply wonderful people.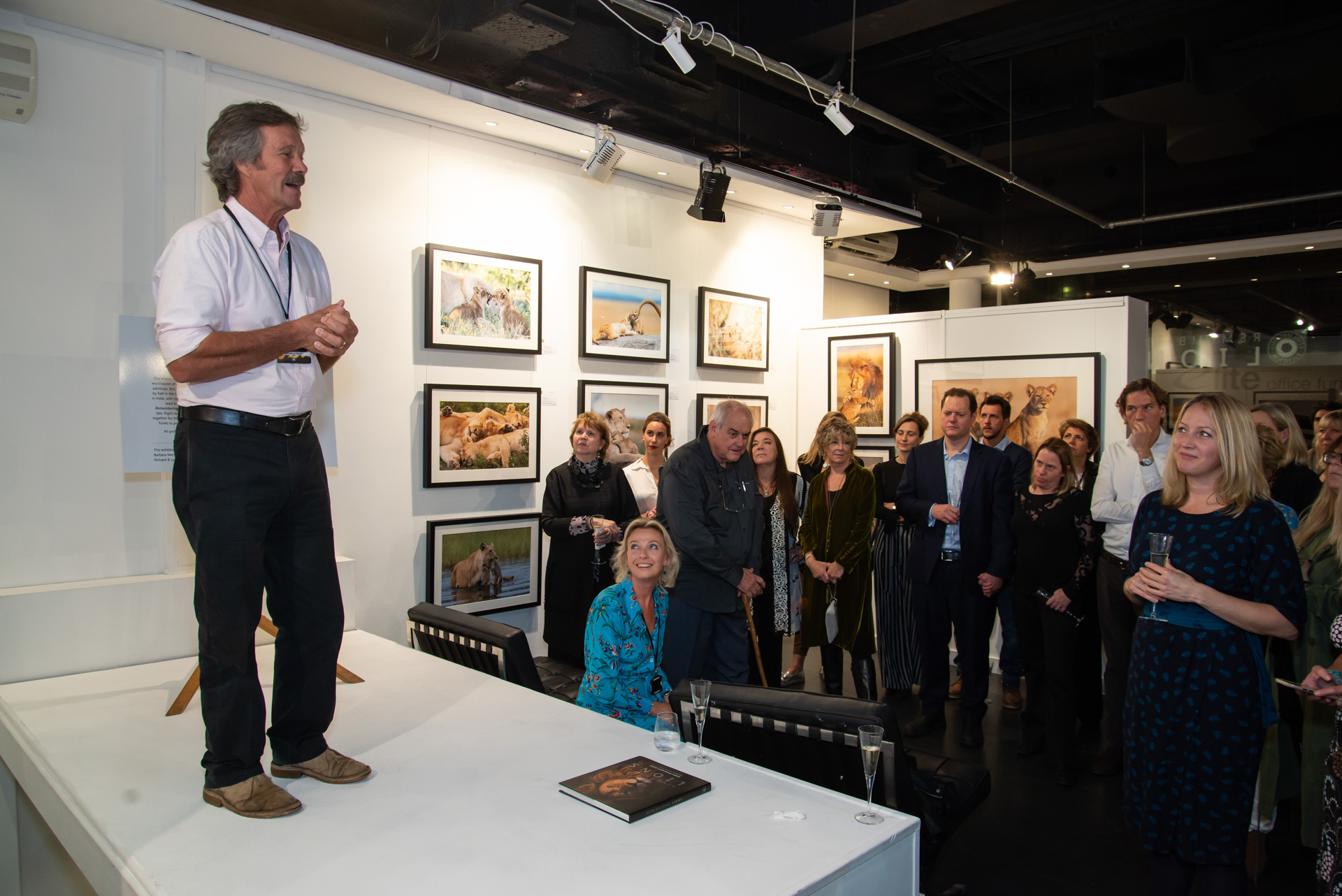 Jonathan Scott takes to the podium to address the group on the impacts photography can have on conservation and how professional photographers play should be role models in this increasingly digital world.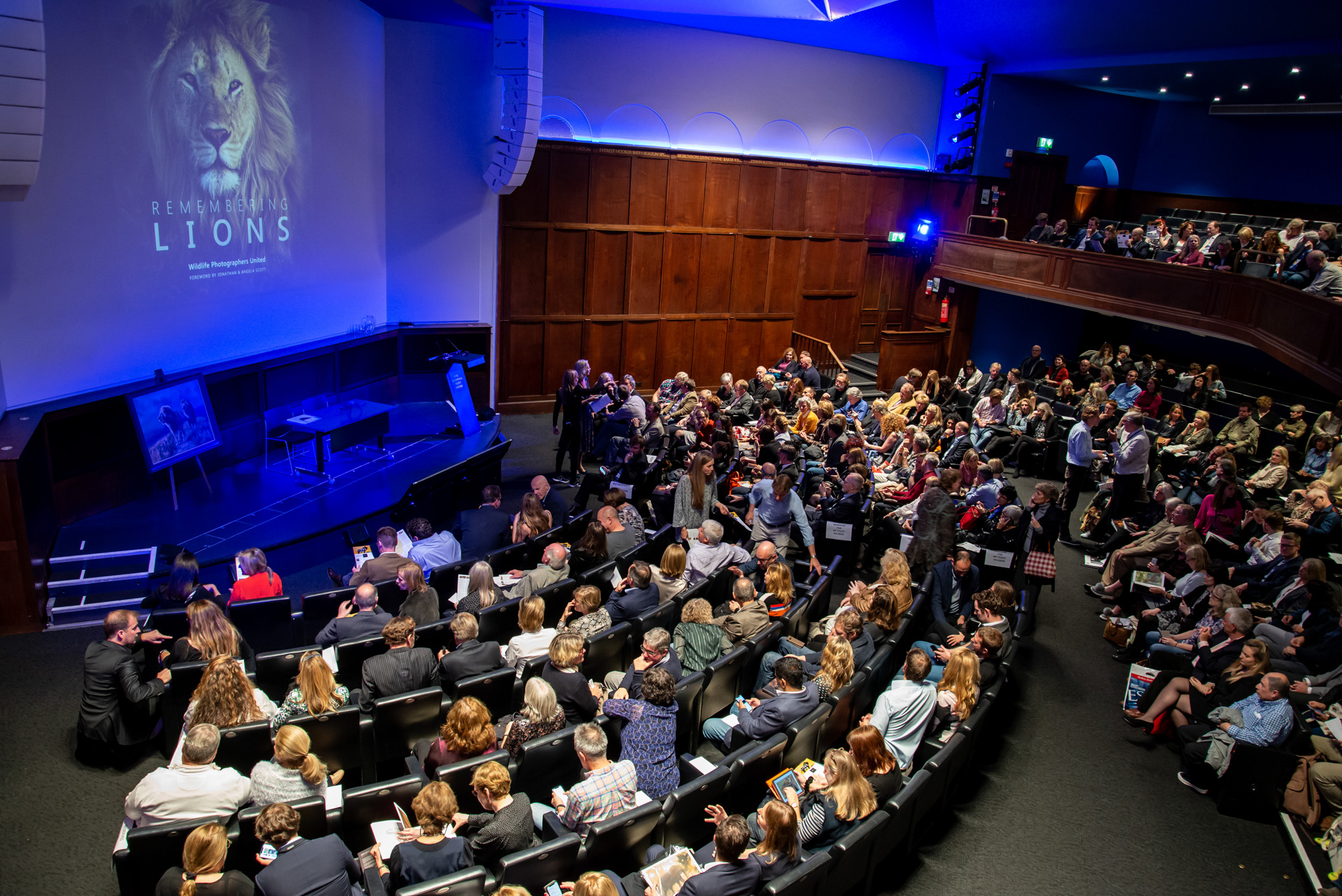 A look inside the Royal Geographical Society. I had also contributed a four-minute video on the work being done by the Zambian Carnivore Programme. This video was shown on the big screen – I had to wipe away tears as I saw my work being shown in one of the most prestigious venues, in front of a crowd of people I had such huge respect for.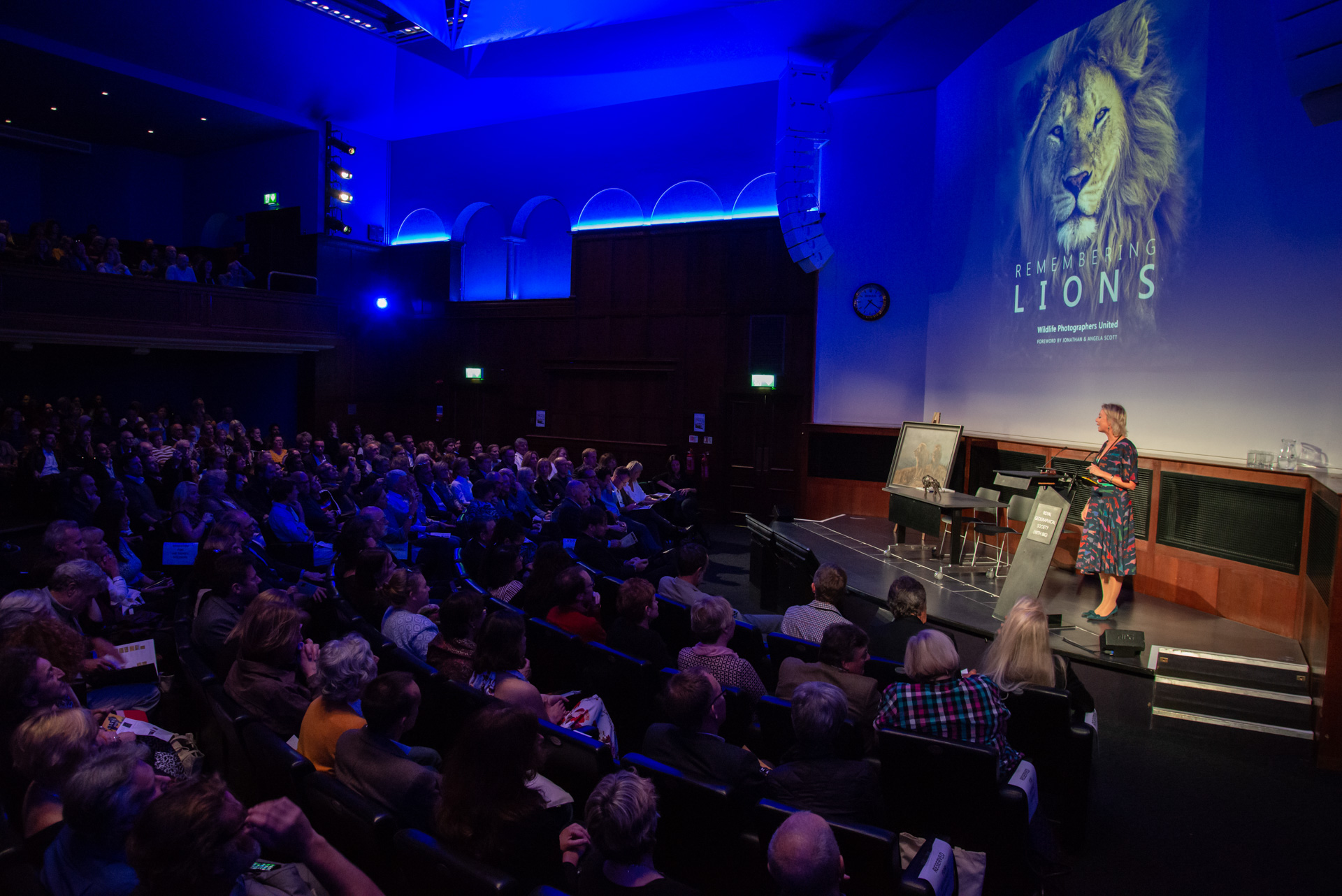 Remembering Wildlife founder, Margot Raggett, addresses the crowd of over 600 people.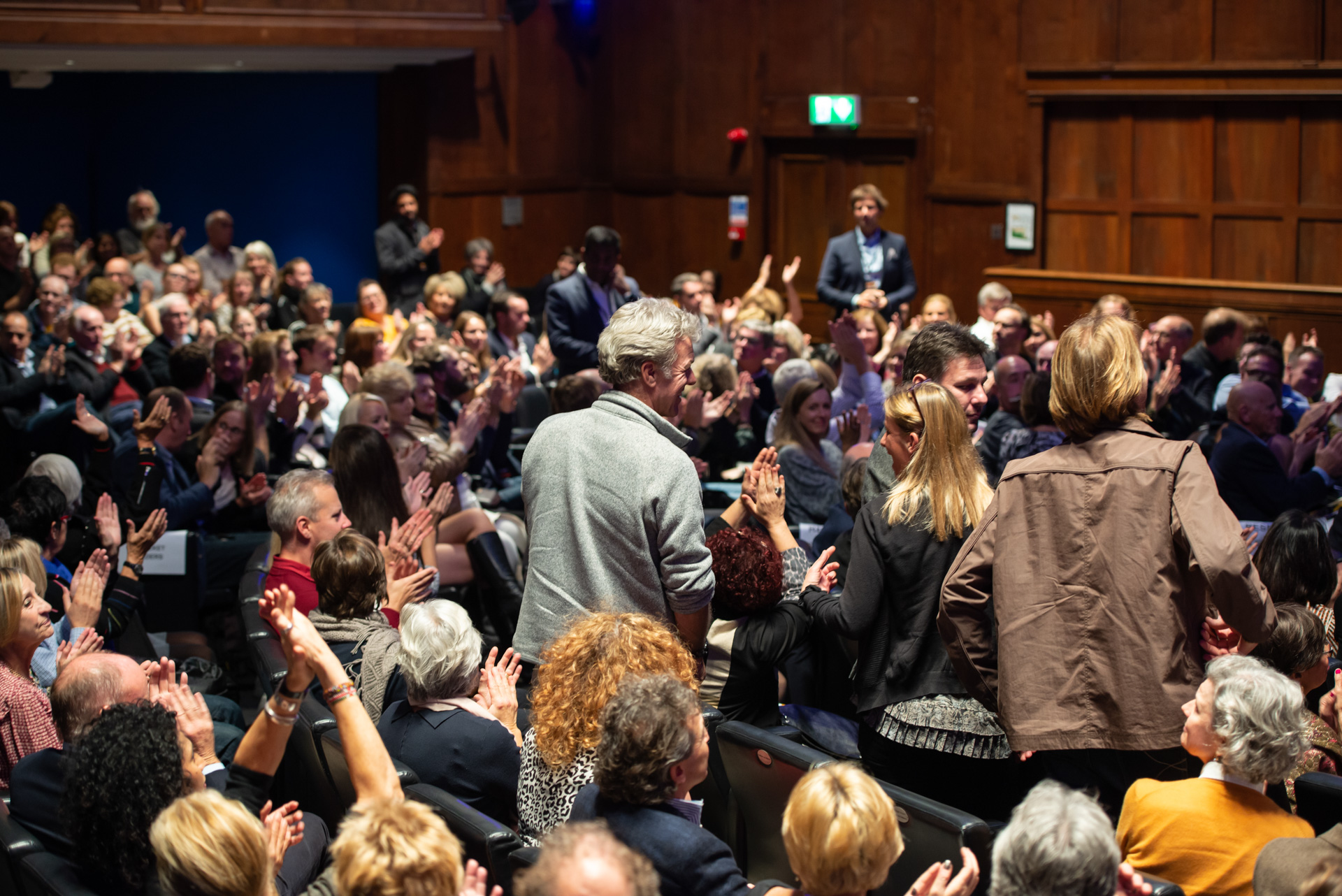 Nearly 25 photographers out of the 70 in the book had come from all corners of the world to be there that night.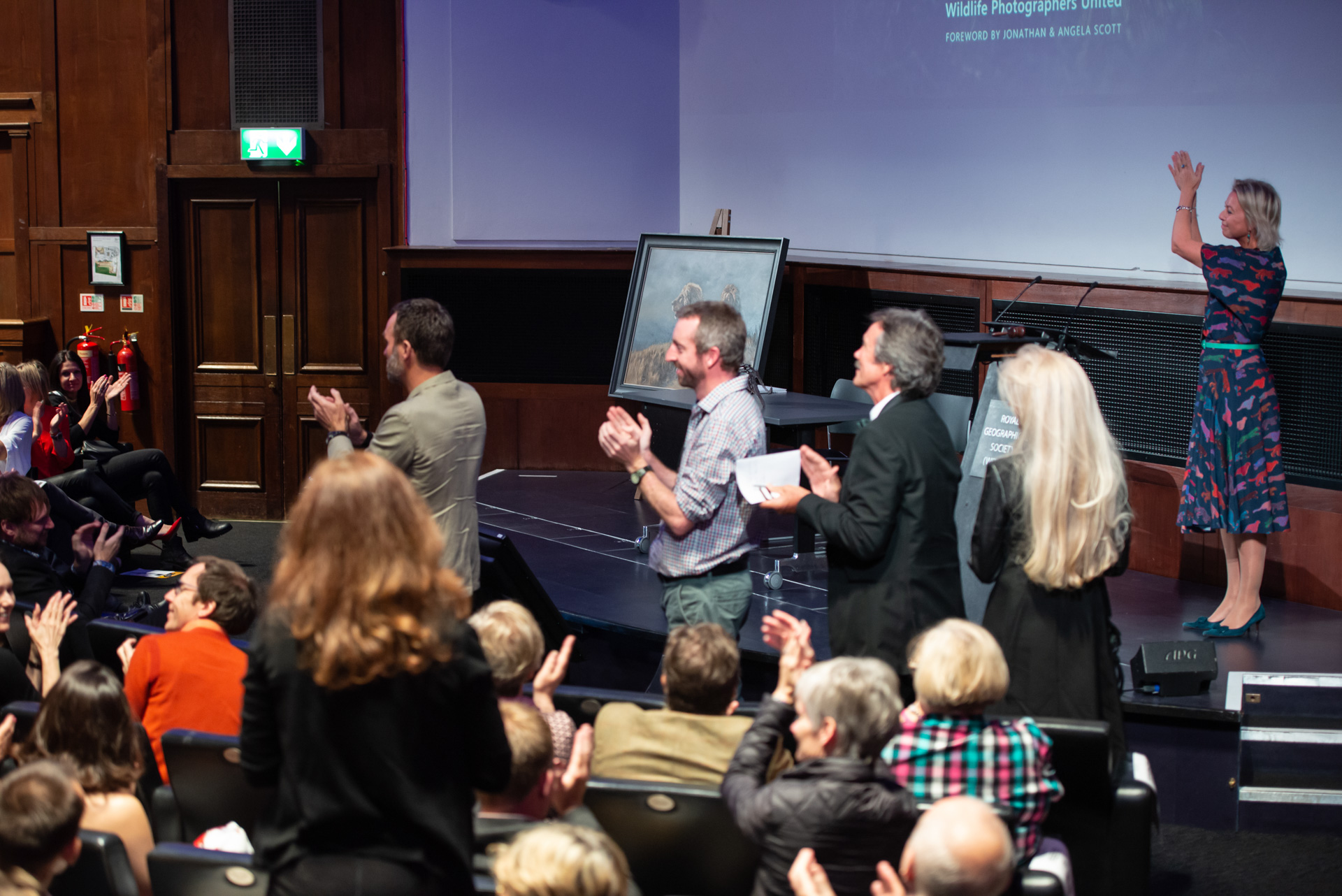 What a moment – flanked by Jonathon and Angela Scott on the right, and Brent Stapelkamp on the left.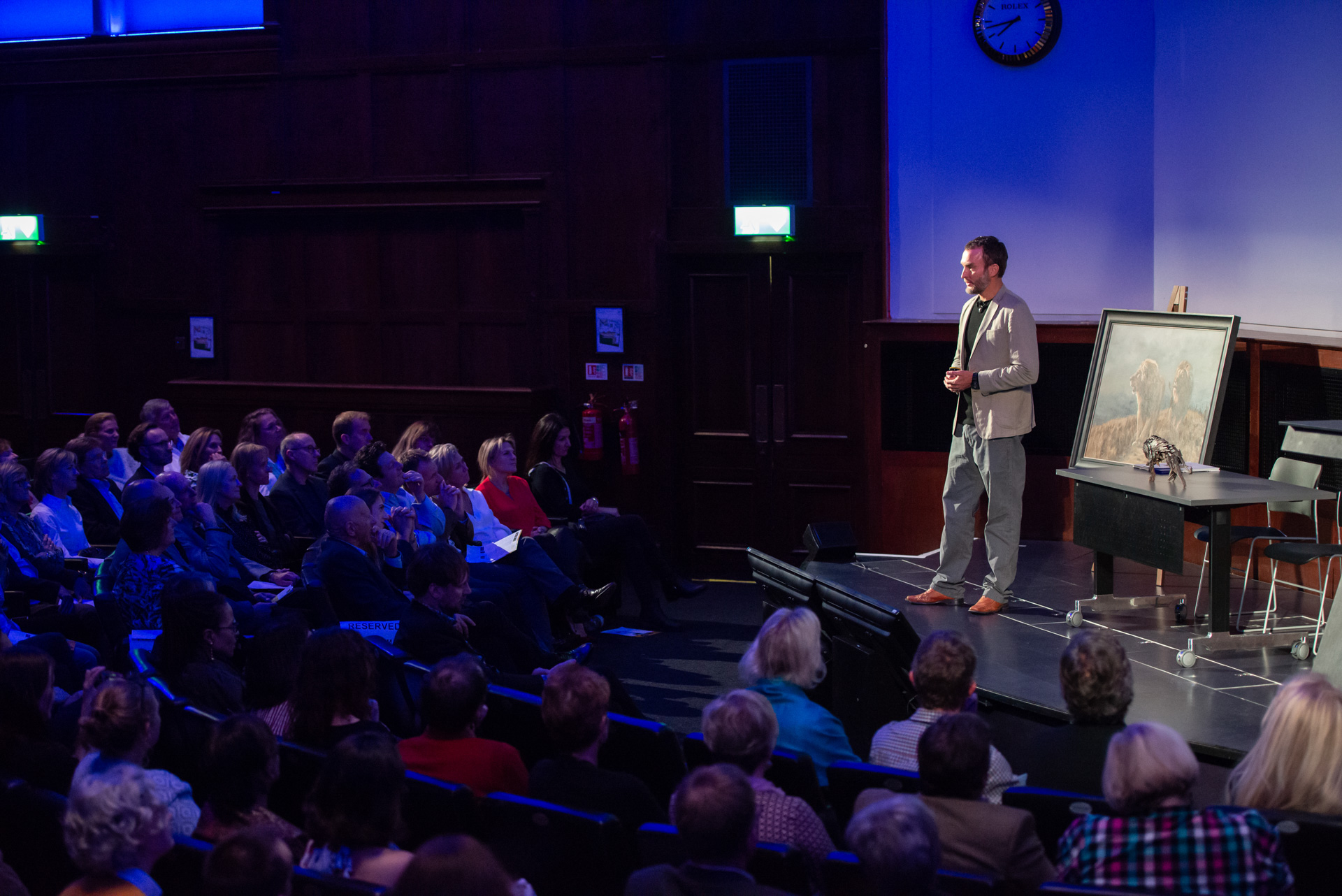 One of the headline speakers for the evening was Brent Stapelkamp, the researcher who blew the whistle on Cecil the Lion; the beautiful 13-year-old male who was hunted and killed by the dentist back in July 2015.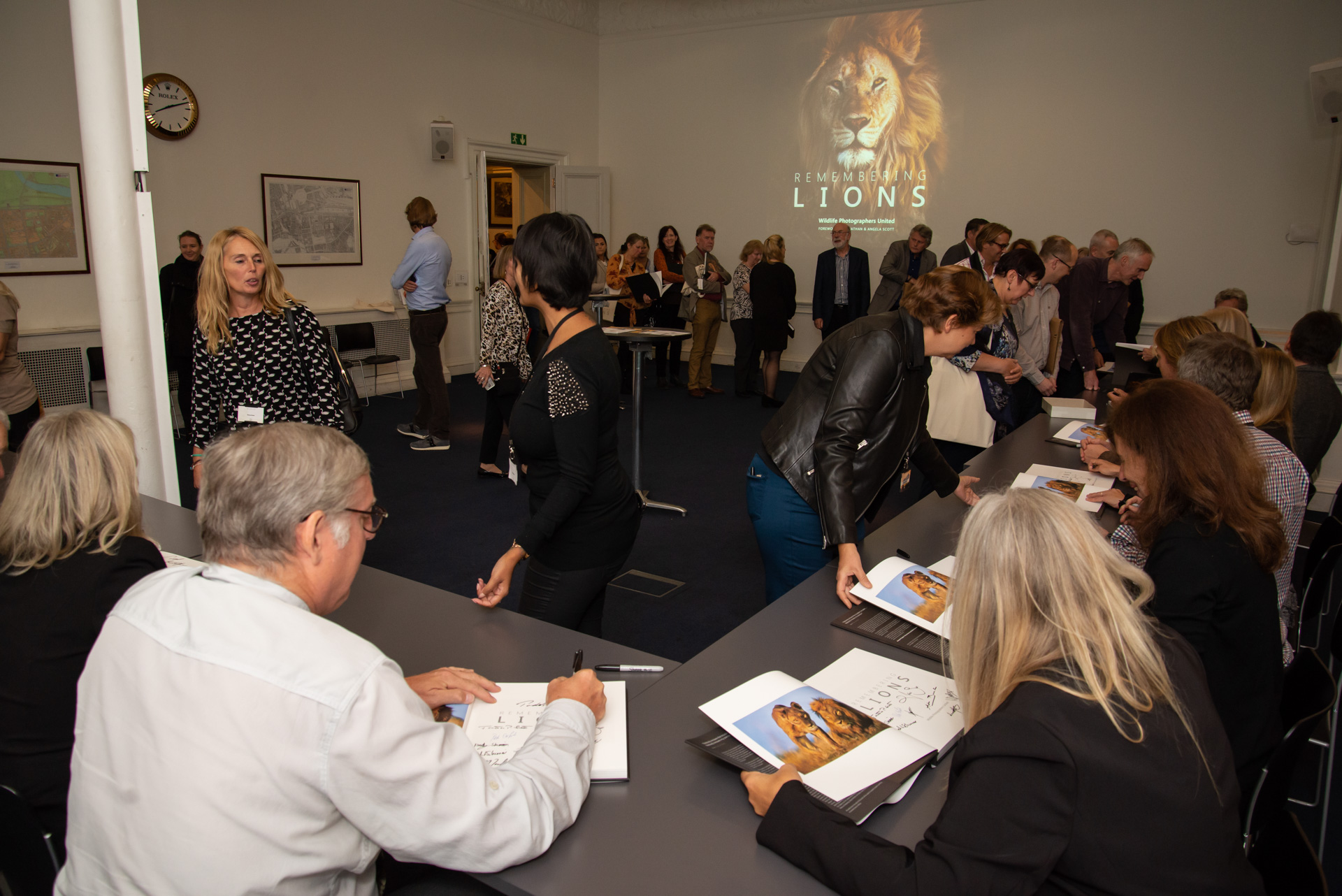 During the interval all the photographers were marched off to a room where we were seated at a long table and given pens. Our job: sign the books.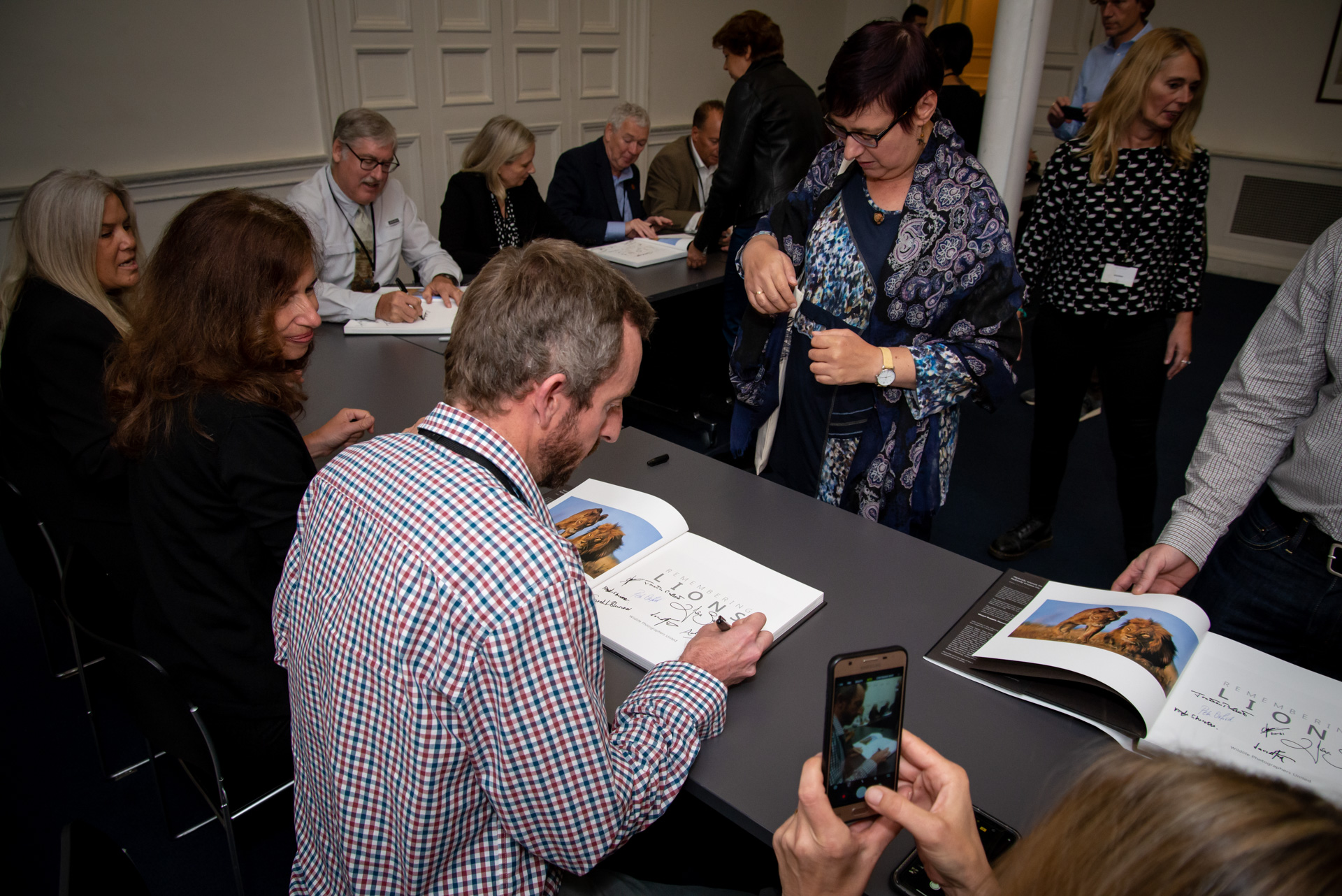 At last I know what it is like to be a rock star. We signed over 250 books that evening in a one-hour sitting. The energy was incredible.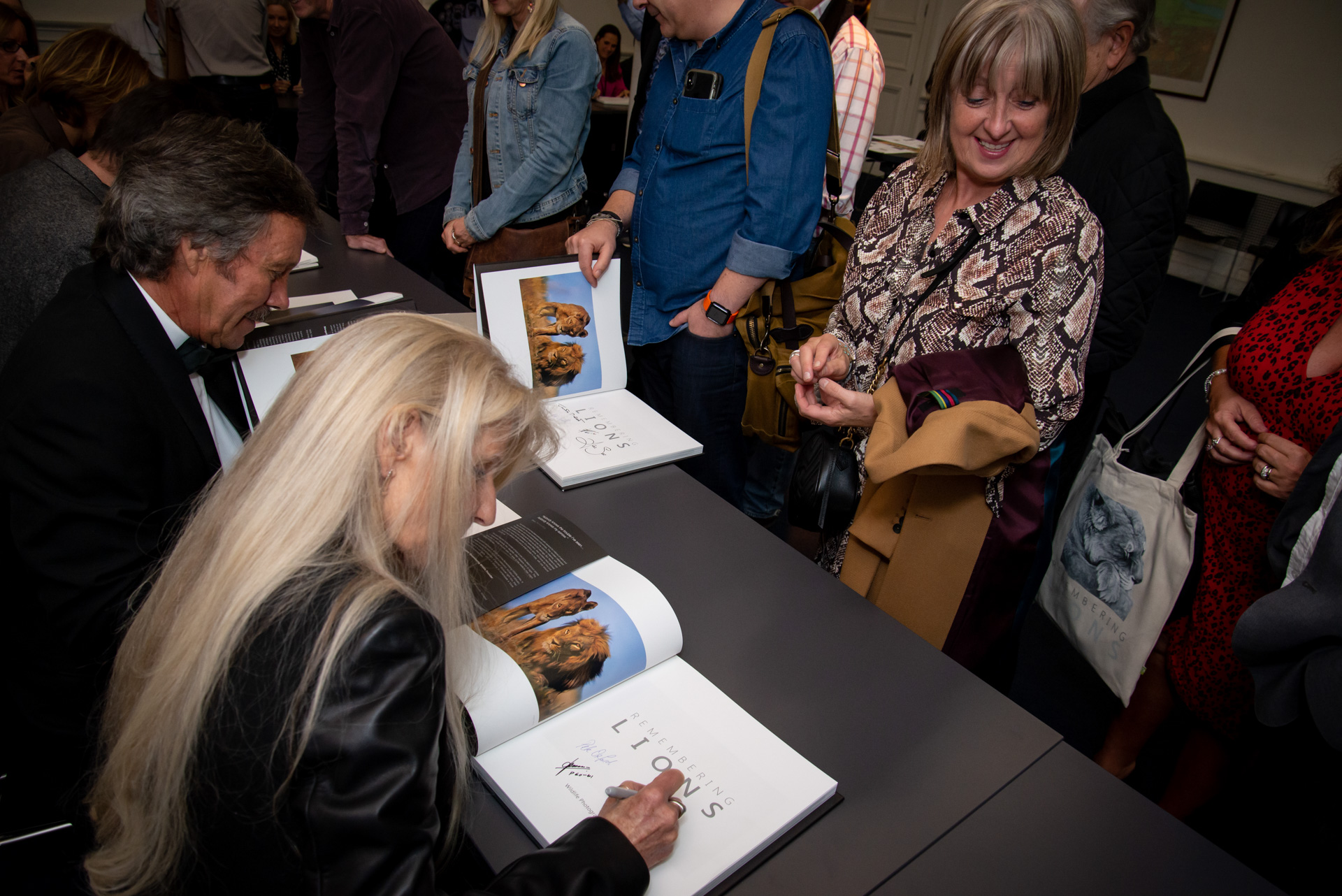 The legends themselves; Jonathon and Angela Scott (aka The Big Cat People) signing more books.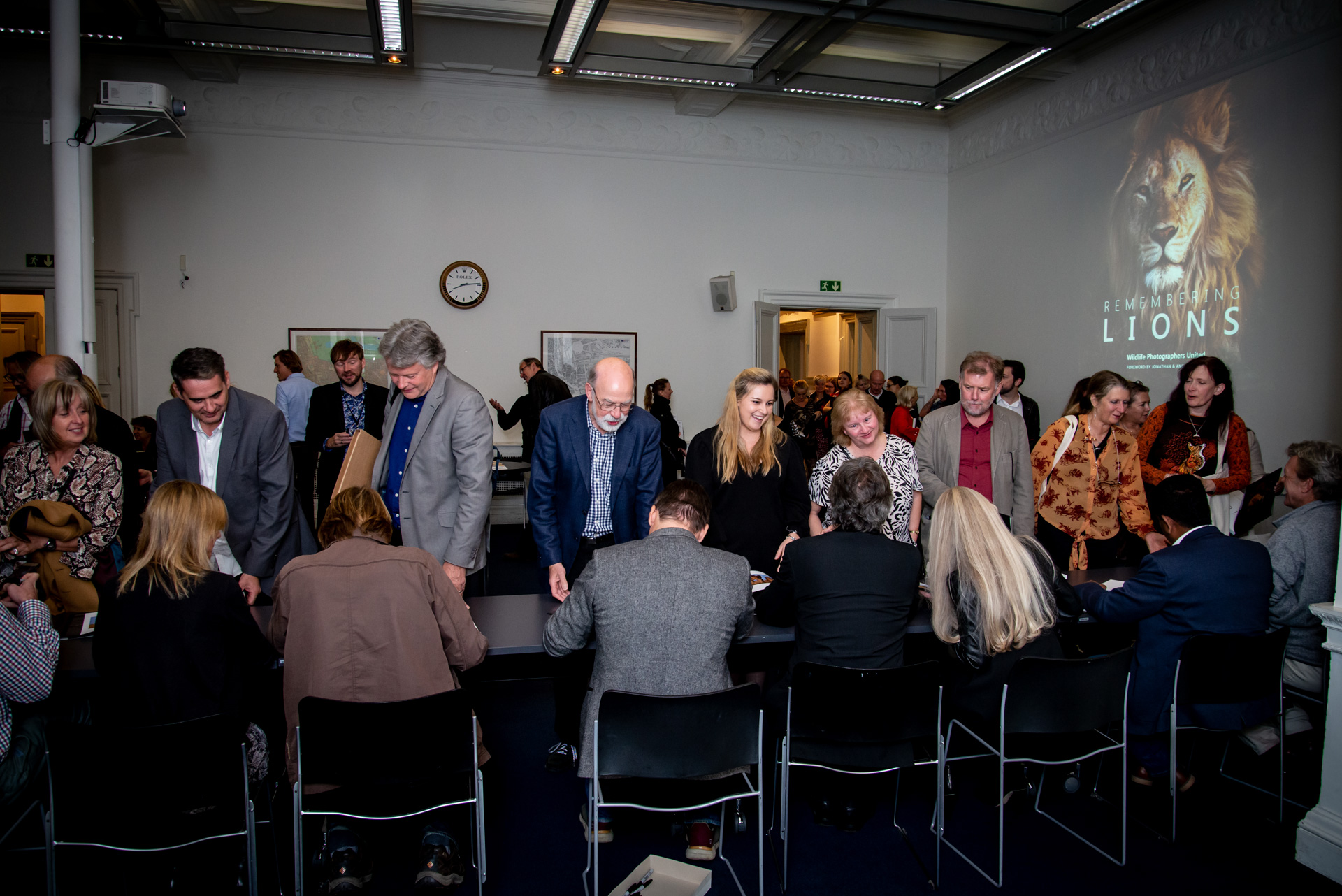 A surreal experience.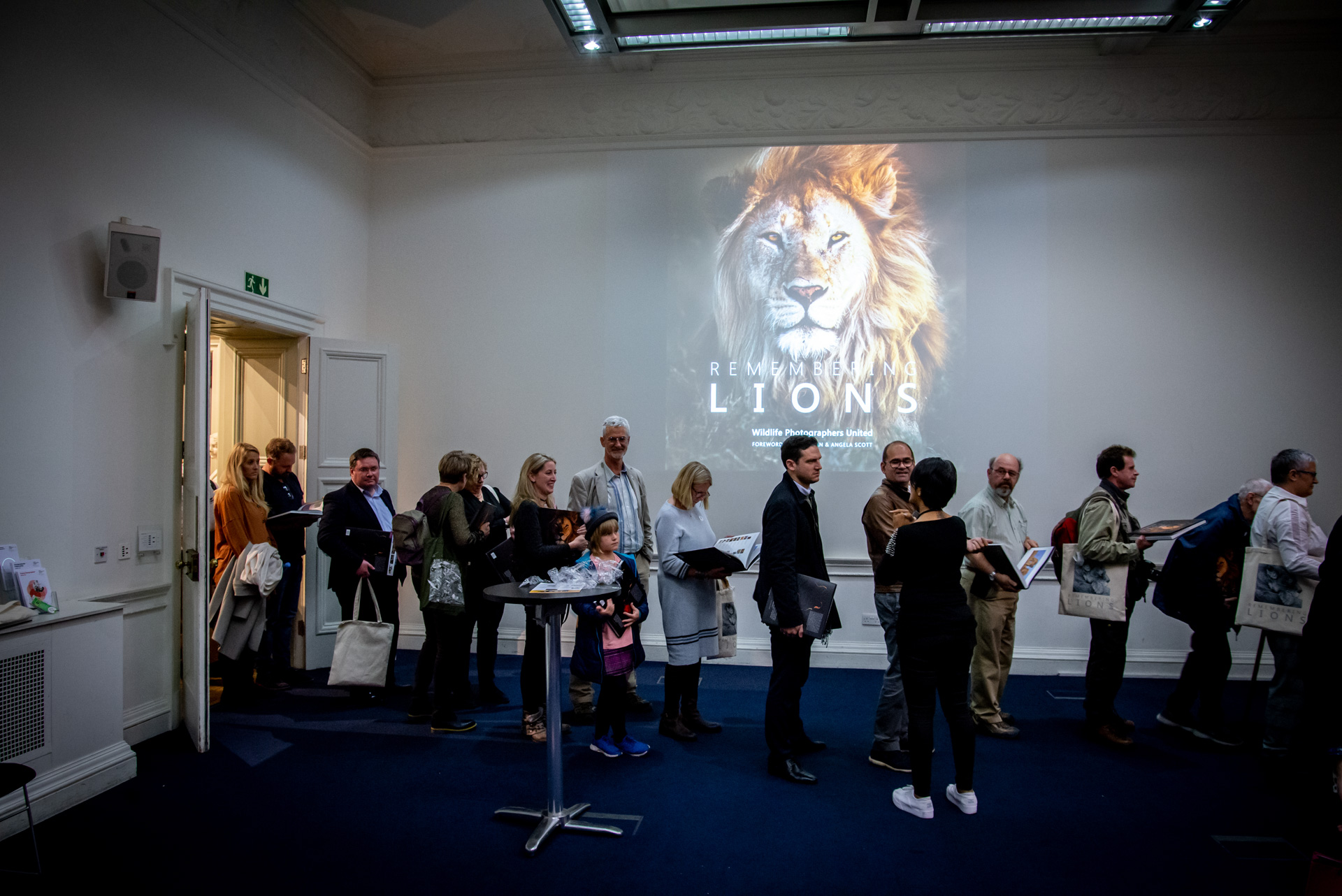 It was moving to see how many people care about the plight of lions and will do anything in their power to conserve these magnificent cats.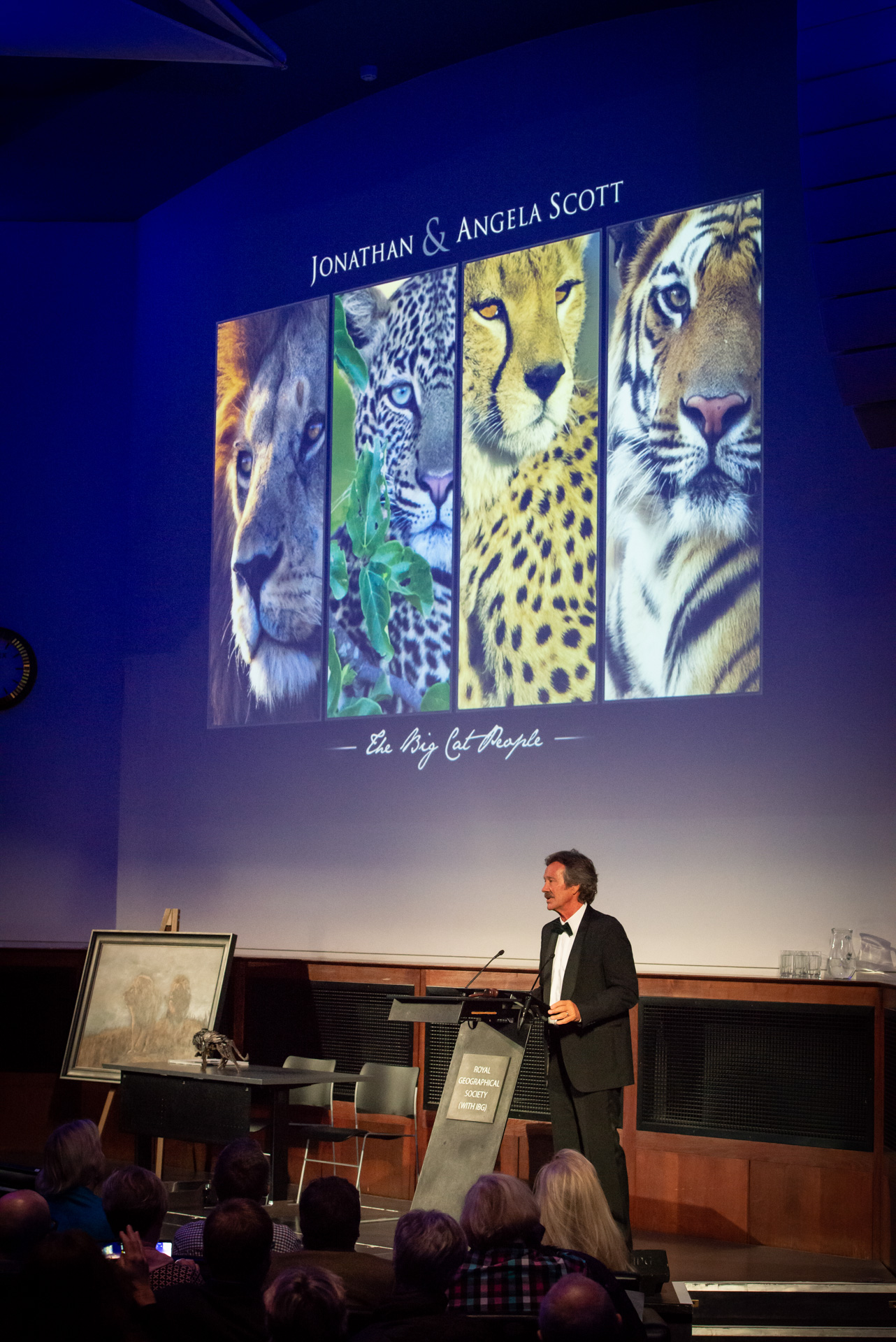 After the interval, Jonathon Scott took to the stage to talk passionately about his life's work in the Maasai Mara and on television.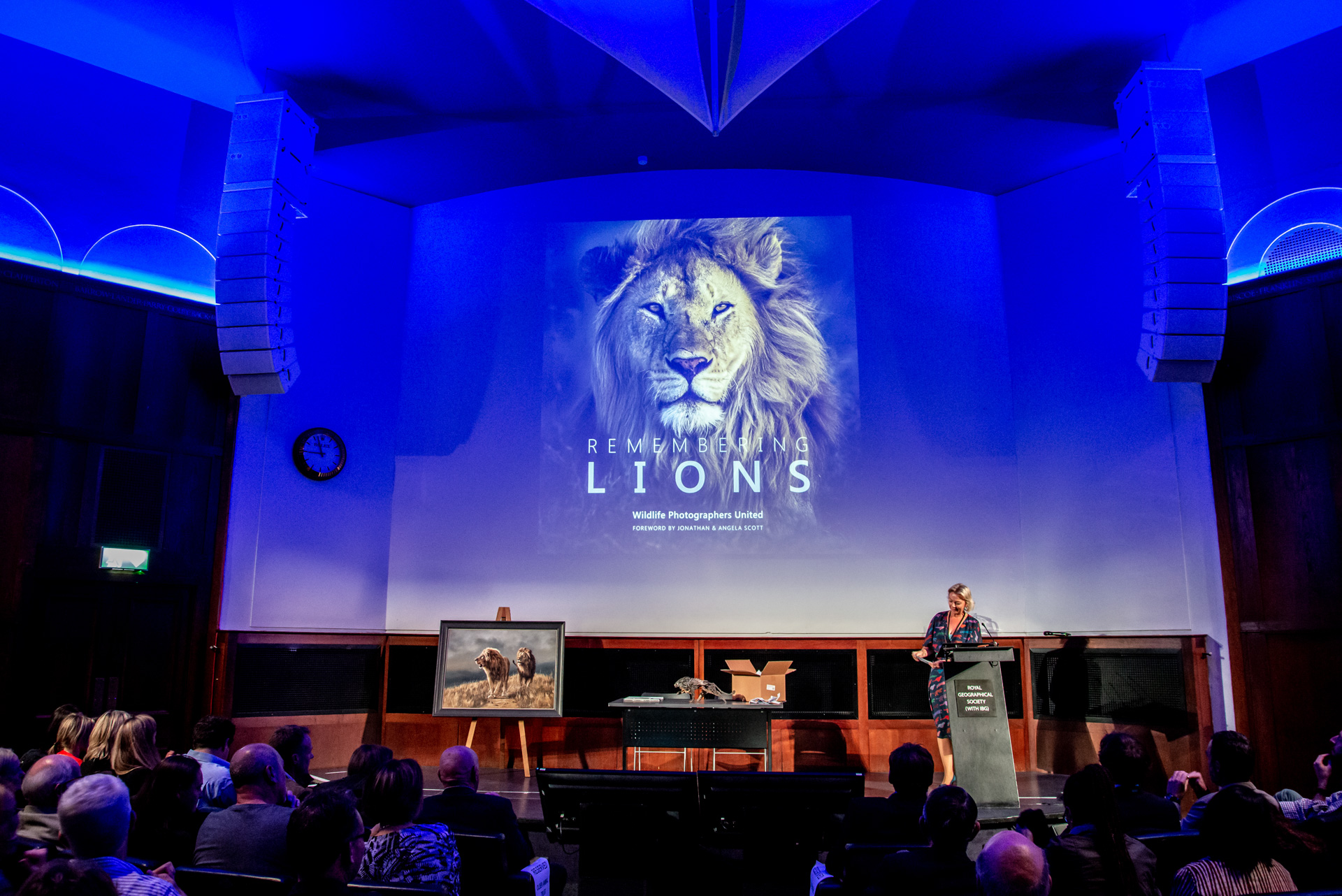 Various items were auctioned off including artworks from my brother Simon Max Bannister, Karen Laurence Rowe and Emily Lamb. In addition to this, there were photographs and stays at safari lodges that went to the highest bidder – all in the name of conservation.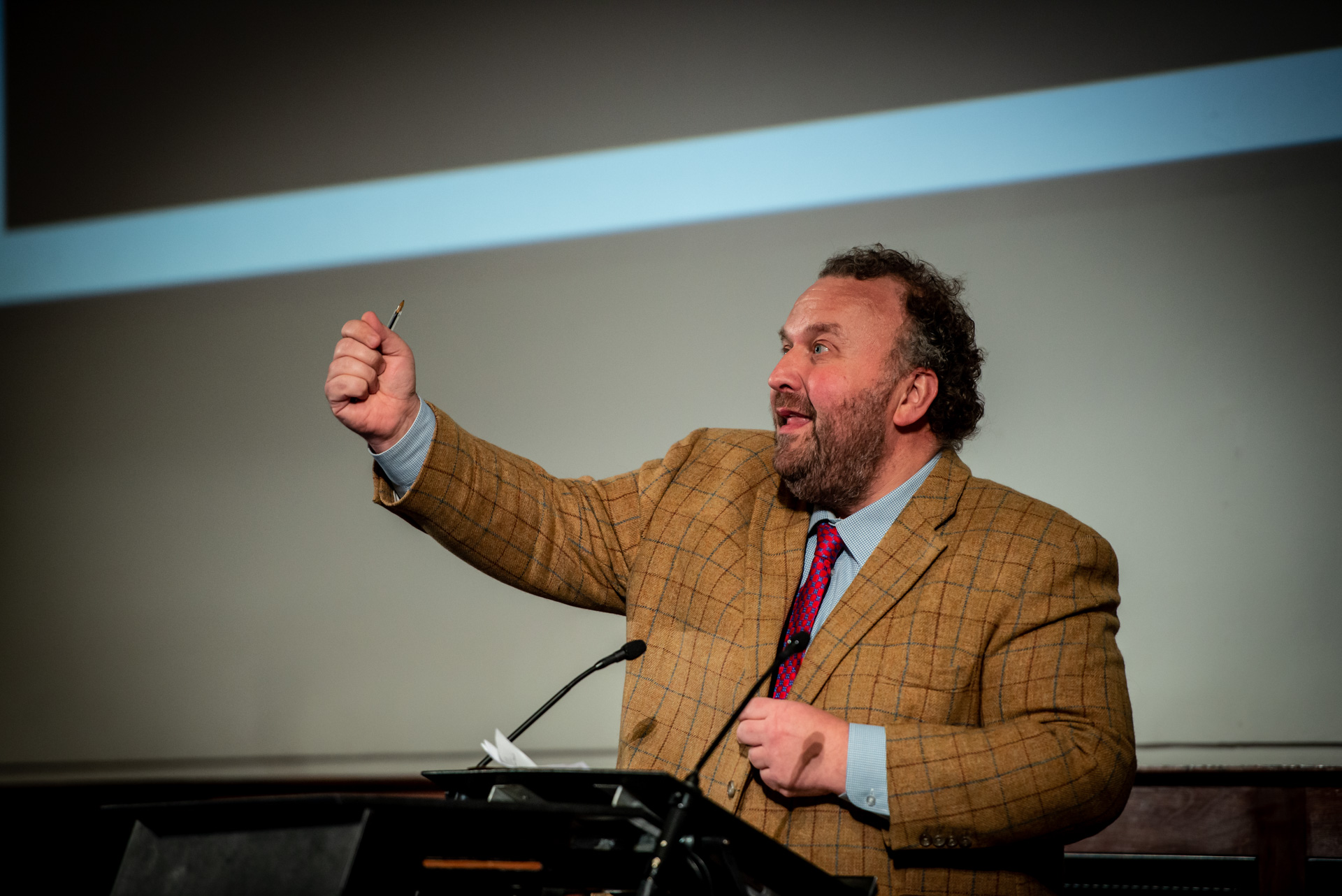 James Lewis auctioneer extraordinaire.
Should you wish to contribute towards lion conservation in Africa please be sure to log on to www.rememberingwildlife.com to purchase your copy of the book and to follow along with the journey.
*Thanks to Whitehat Marketing for the photographs used in this story