From looking for lions and changing tyres to lunching at the hippo pool and learning about different animal horns, here is a letter from Esau about his day spent with Angama guides in the Mara Triangle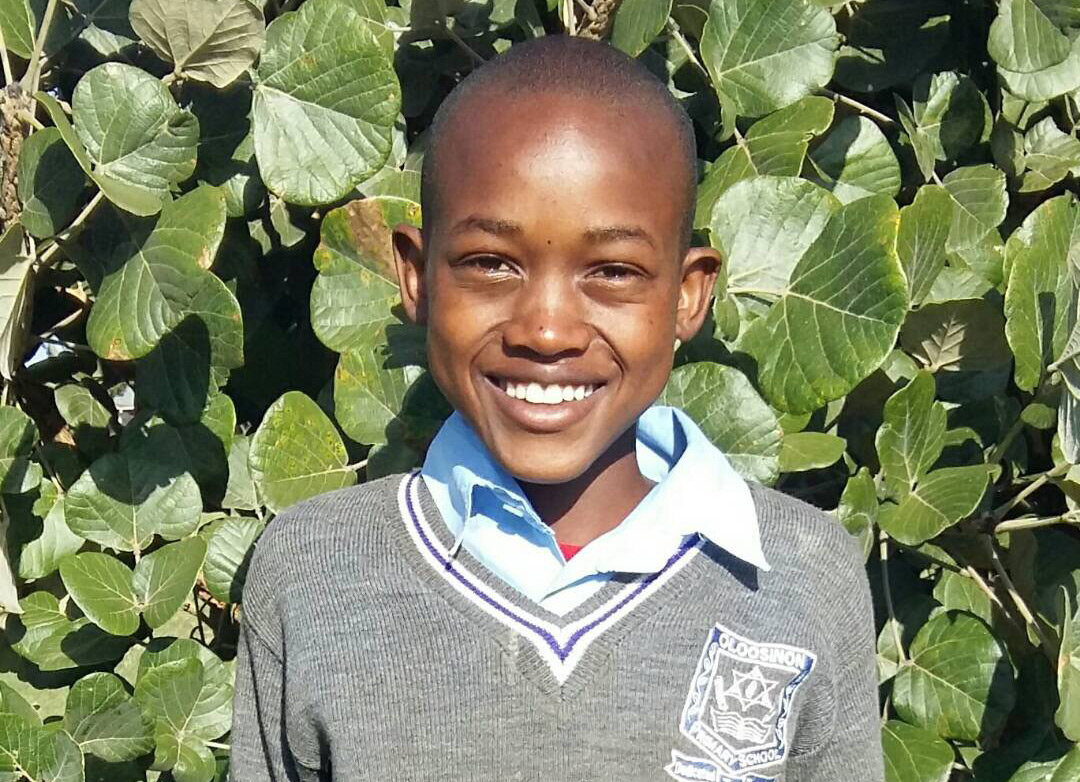 Nothing gives the guides at Angama Mara more joy than taking community school children on conservation lessons into the Mara Triangle – and nothing gives us more joy than reading the thank-you letters from the children.
A JOURNEY TO MASAI MARA GAME RESERVE By Esau Kiipas (Grade 8) – Oloosinon Primary School
It was on monday morning, the sun rose with it's scorching rays and birds were singing with their pleasant sounds. I woken up immediately I first thanked my Lord for being with me all the time. After that I took a cold shower fast as deer. I went and I put on my school uniform. It was as clean as dutch oven. After all the bell was rung for breakfast. I took out my cup and I went to the kitchen. I was happy as a daughter of king walking around the palace.
We all took our breakfast as comfortable as a coin. We tried to hurry up but I recalled that hurry hurry has no blessings. After finishing the bell was rung we all assembled. We saw three luxurious that were green in colour and there all written in capital letters "ANGAMA MARA" the guides wore clothes which were the same. They introduced them sellves. Their names were: Alice, Wilson and Daniel. They were filled with happiness on seing us how we had dressed. They were as happy as an arab who has seen a rain cloud in a desert.
They gave us rules that were to guide us at the park like: While the car was moving you are not allowed to move from one seat to another because you may fall down. Also you should not speak loudly in the park because there are dangerous animal that do not need noise. After all advices we were photograph by a tour guide who was called Daniel. We prayed and we took off towards Kawai centre. We were excited about what we like to go and see.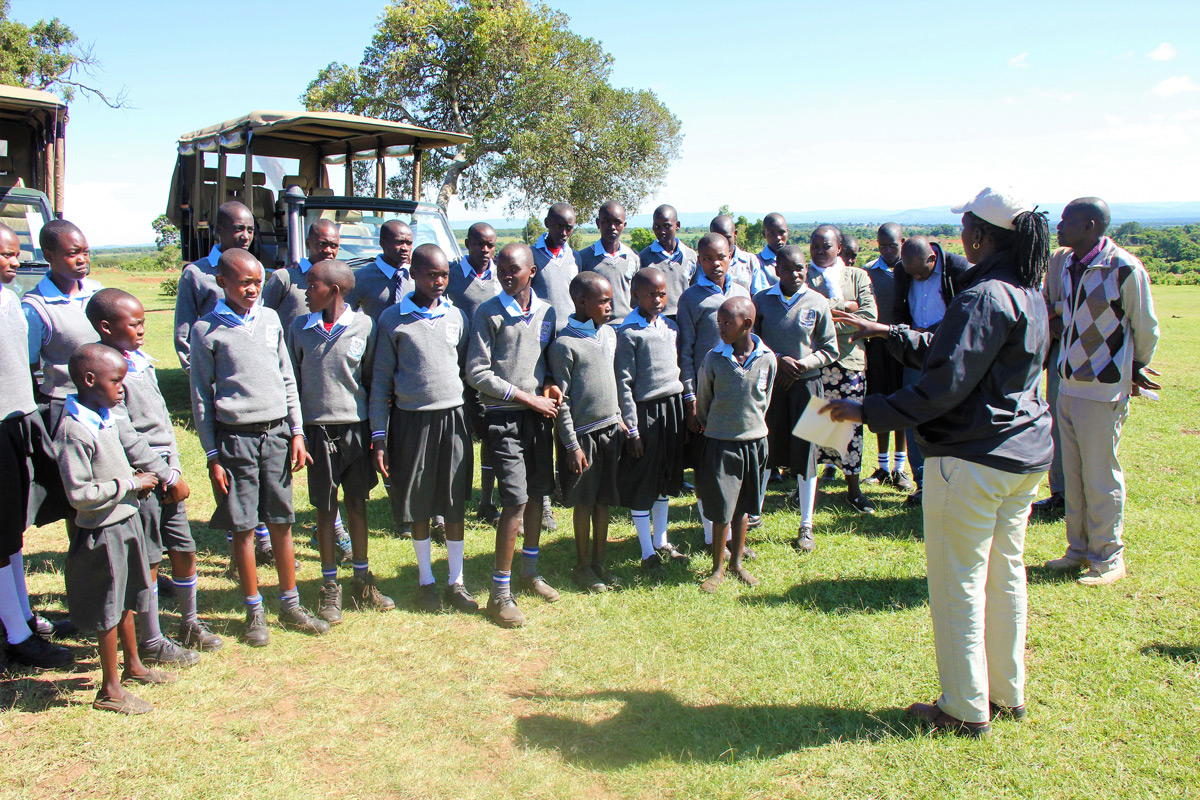 Before we arrived Oloololo gate we started seing few animals like: Buffaloes, Thompson's gazelle, zebras and monkeys. As we reached there we alighted from the car we were given a short calls. There were different types of horns of different animals. We were asked questions on horns. We were shown an elephant, Buffalo and rhino. As we were waiting for the guides they went to register that we were to entered into the park.
At the gate the luxurious passed through the house and there was a thing that waits a cars a car to come and it opens itself and closes. We entered inside and we went directly to the park. The first thing we saw was grand gazelle. Females do not have big horns. For the male it had very long, sharp and coiled horns. The zebra and elephants were grazing.
Before moving far away we saw three lionesses and seven cubs sharing meat of a buffalo's calf. We were told that those cubs were four to five months. We were told that those lionesses gave birth at the same time and at same day. After giving birth they join all children together to be sisters and brothers. The main thing that make them to join their children is because when one mother dies any one can feed all the cubs. We were told that after the cubs have grown the lionesses go and search for the lion. But before cubs grow the lions are not found near where cubs are. Because cubs like playing with lion and do not want lion become territory of their family until the cubs mature. Lionesses goes for one week to search Lions.
As we moved on we saw different kinds of birds. First we saw grey crown bird, hummer cock it's a bird which builds the largest nest and also an Egyptian goose. Before we could do anything we moved around a distance our car tyre went flat. Our guide communicated with other guides for help. They replaced the tyre. That was so strange to us because we had never witnessed such a site in our lives. They all came back to help our guide. They only used one minutes. While Mr Wilson and Daniel were repairing the car, Mrs Alice was giving us water and mixed nuts. We were excited about it because we had never eater such sweet nuts. After they had repaired the car we started moving searching a lion.
We drove off to the River Mara. As we reached there we saw crocodiles inside water. It seemed death but it was a live. They were about five and above. We looked at them one of crocodiles opened the mouth. It had very sharp teeth. We were told that it has not tongue. It just cuts a piece of meat and swallow. I was as happy as king because I did not know about it.
It was a bout to lunch we came back through the route that we passed before. On reaching there there was a sign board that was written "Hippos Pool and toilet". We all branched to that direction. We were asked to alight from the car for lunch. The tour guides removed food from the luxurious vehicles. We were requested by tour guide to have our hands washed. But it was surprised because it was not water we have used to clean our hands. We ate our food everybody two bottles of soda and a slice of a bread. It was a very delicious meal.
After all we were lead by a tour guide. We followed him at the back. At there we saw a very large pool of water. Also a school of hippopotums. I was in sixes and sevens and surprised about the huge hippopotums has approxemettly three tonnes. They were almost bigger than elephant. After some minutes we hard hippopotums making a surpring sound that almost make me run away. Also they were other hippopotums that were terrtory of their family. One of the hippopotums openened the mouth. It was wide and very long teeth. Mrs Alice told us that it showed its dangerous. After all we went and boarded our luxurious vehicles and we came back to school.
Thank you very much Angama Mara may God bless you Abundantly Welcome again.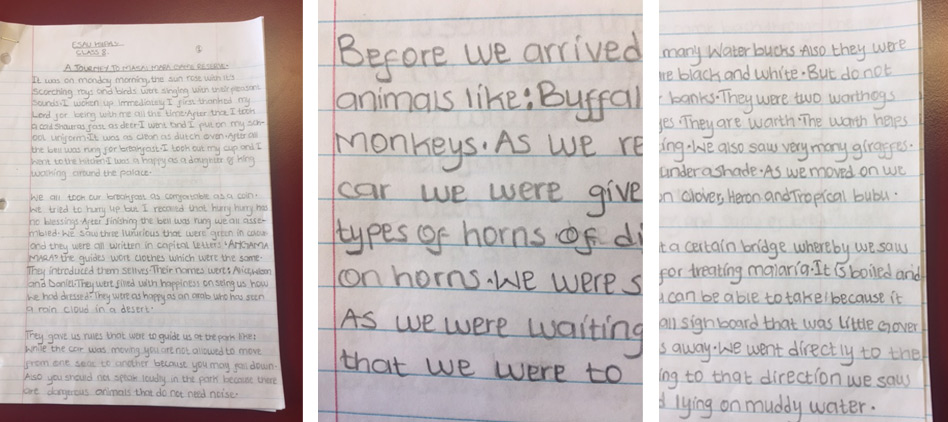 Note from the Editor: Even though they live within a stone's throw of the Mara Triangle, for all the children we have taken on conservation lesson drives thus far, this was their first experience of seeing animals in the wild. And every single pupil understood the importance of caring for the Reserve and the role it plays in creating opportunity for their futures and for those of generations to come. What is extraordinary about Esau's letter and those from all the other children are the following: their penmanship is beautiful; English is their third language; and their use of English idioms is utterly enchanting – 'as happy as an Arab who has seen a rain cloud in the desert'.