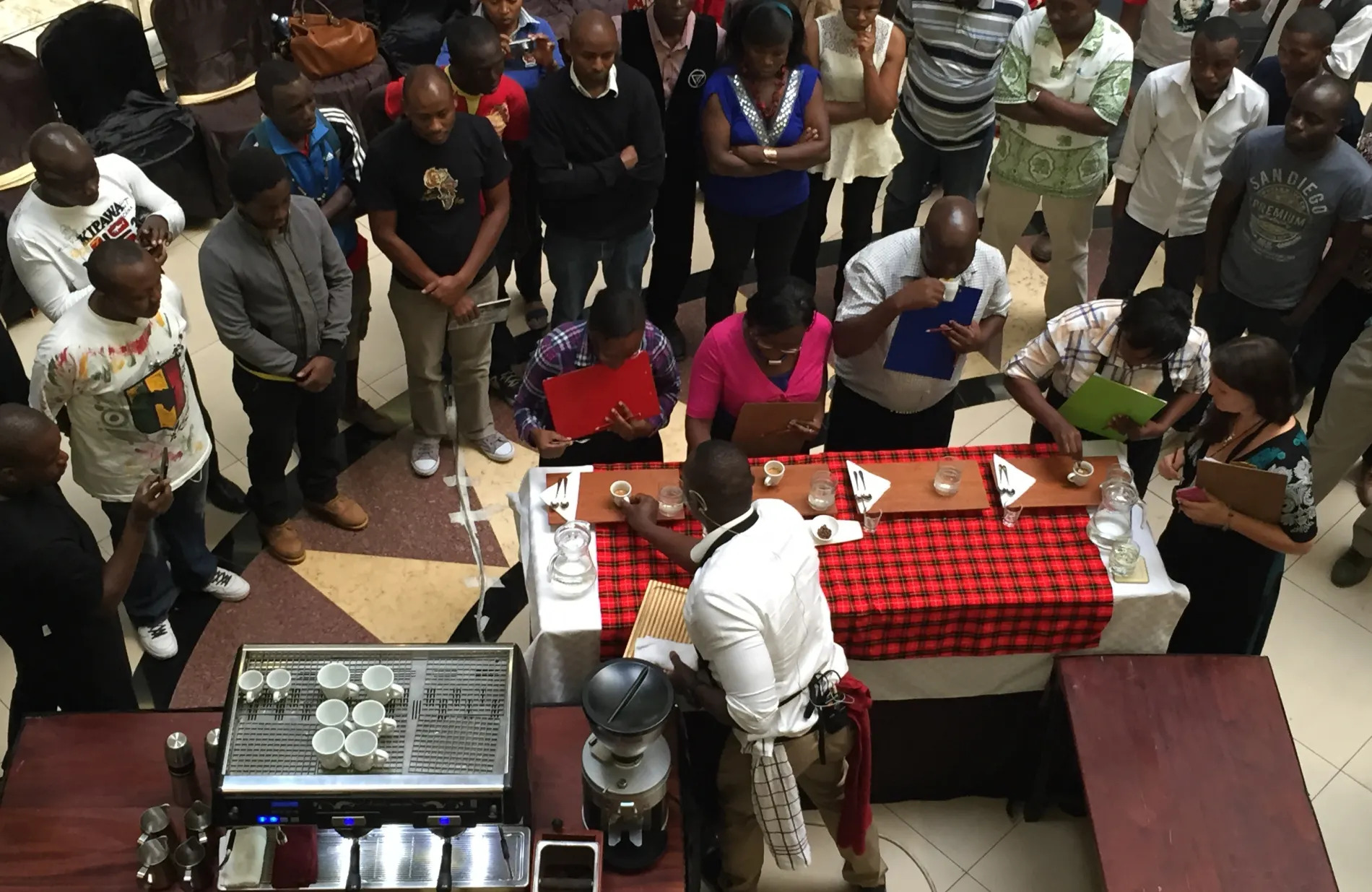 In the grand atrium at the Oval Center in Westlands, Nairobi, a crowd is being charmed by a barista, wired with a microphone, as his fast-working hands whip up delicious coffees. Two technical judges are behind him scribbling notes and eying their stopwatches. Four sensory judges await the next cup, carefully tasting and grading the colour, presentation, flavour, aroma, balance and creativity, and noting if the taste matches what the barista promised. An international head judge whizzes about – tasting, watching, taking notes, observing everything. Not a drop of milk or a shaky hand goes unnoticed, holding each competitor to the highest standard. A large Dormans sign stretches along the back wall, and the air is filled with the bold, delectable smell of Kenyan coffee . . .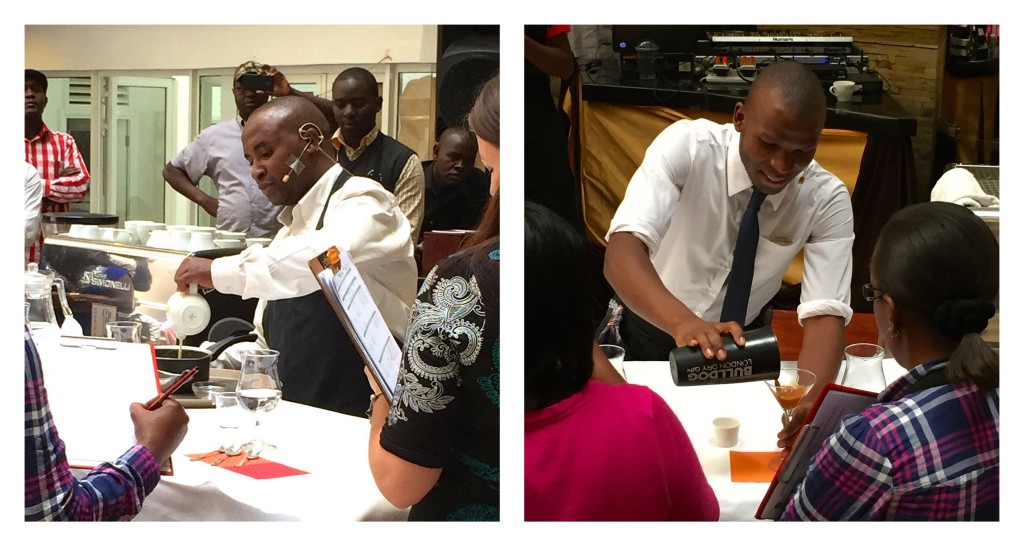 Welcome to the 2015 Kenyan National Barista Competition!
This year the event attracted forty baristas from all over Kenya, most representing coffee shops, hotels, and restaurants. Each competitor served 12 coffee beverages in 15 minutes: 4 espressos, 4 cappuccinos, and 4 signature drinks. To develop a signature drink, the barista artistically mixes coffee with a choice of various creative ingredients, such as spices, fruits, extracts and chocolate, to create a delicious beverage that must still showcase a distinct coffee flavor. Thirteen competitors made it past the knock out rounds but only six baristas made it through to the semi-finals.
The clock starts: 15 minutes … working smoothly, the barista sets up for espressos. He describes his chosen beans, how they were roasted, and why the precise amount of 30 grams will give this blend a smooth and consistent taste. He serves the judges – first step completed.
11 minutes … next up is a quartet of cappuccinos all delicately presented with elegant frothy designs.
6 minutes … the judges continue writing notes, tasting, nodding. The barista doesn't break his stride and goes straight into finalizing his signature drink, shaking it with ice, straining spices, or warming chocolate with a blowtorch. Anything goes.
90 seconds … "The floral aroma will hit your senses first. Your palette will pick up on the citrus flavors, but the cool coffee flavor comes through and lasts on your tongue". These signature drinks are unique, fun and inspiring.
7 final seconds … the judges tap into their five senses. The barista exhales, smiles and graciously thanks the judges and audience. Applause from all around and cheers and smiles everywhere. The judges disappear to deliberate, and then it all starts over again for the next contestant.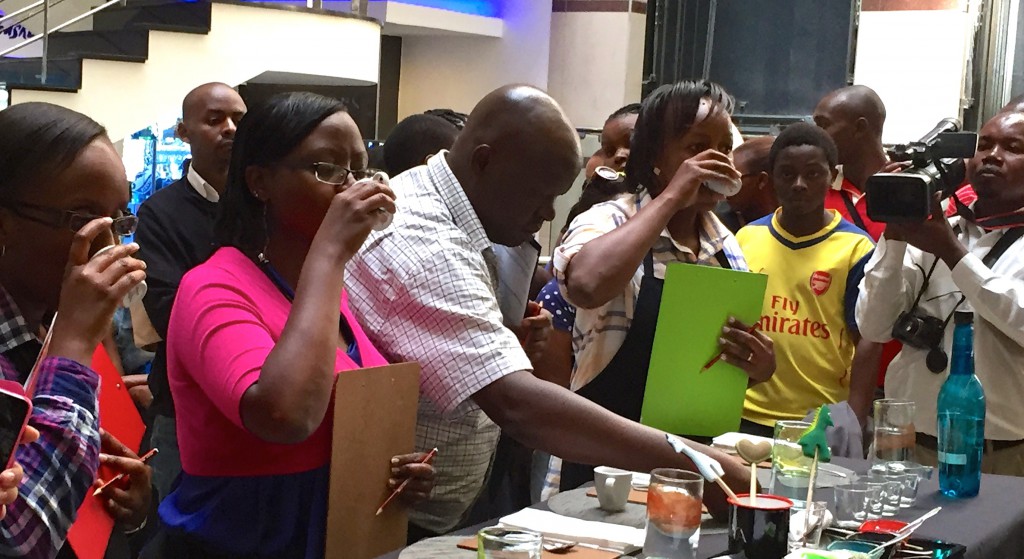 After six nerve-wracking rounds, the contestants decompress and have fun with a latte competition to keep the audience entertained while the judges compare notes and make their final decisions. Crazy and cool designs decorate the milky caramel-colored lattes – the audience is charmed.
Finally the judges return to announce the winner: Martin Shabaya from Art Café took gold for both the best espresso and signature drink. Second place went to Martin Opiyo of Java Coffee House and third went to William Odhako of Fairview Hotel.
This competition plays a key role in creating an appreciation for world-class coffee. Kenya produces some of the planet's finest coffee, yet sadly less than 5% of this coffee is consumed locally. While a coffee-drinking culture is emerging with an increased number of coffee shops, there is still a long way to go. This competition aims to promote excellence in coffee and advance the barista profession.