Musings on African Film … Part Three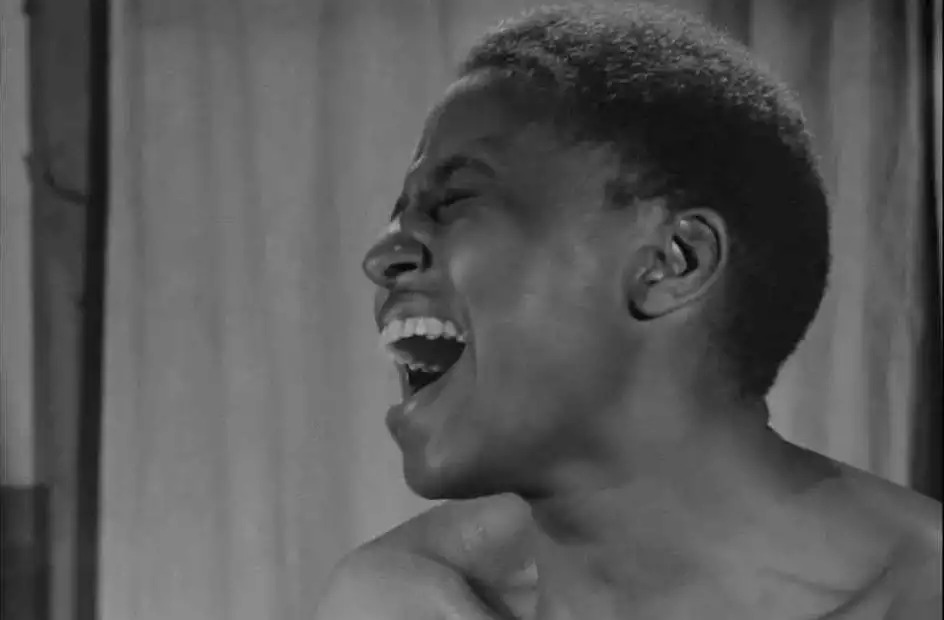 [Caption for main image: Mama Africa, Miriam Makeba, singing in Come Back, Africa (1959)]
One of the oldest of the continent's cinemas is that of South Africa. Some of the earliest films were exhibited there in the early 1900s, and the first studios built in Johannesburg in 1915. One of the main attractions is the beautiful and varied landscapes of South Africa – throughout the 20th century and into the 21st, the country has been the backdrop to many international films besides its own. South Africa is now able to boast some of the best filmmaking talent, facilities and resources on the continent. As well as the country's great beauty, South Africa's history has inspired a wealth of home-grown stories, albeit mainly of sadness and oppression.
Looking back on the history of South African cinema, it is hard to pull out the best films. One of the greatest and most enduring films from the country is Lionel Rogosin's Come Back, Africa (1959). This is a beautiful and classic film, recording the injustices of Apartheid, that survives to this day. It was filmed in secret, and not only is it a realistic portrayal of life for African people in South Africa at the time, but is also well-known for 'discovering' Mama Africa, Miriam Makeba, who sings in the film. This film is worth watching simply for its capture of everyday life in that era. Another film of that ilk is Mapantsula (1989), a wonderful, lively depiction of Soweto life in the 1980s.
Indeed, because of apartheid, many of South Africa's stories of injustice spring from this time. Films like Sarafina! (1993), starring Whoopi Goldberg, and Cry, The Beloved Country (1995), based on the Alan Paton great novel, emerged in the 90s and have continued to be made to this day – including the much-anticipated screen version of Nelson Mandela's Long Walk To Freedom, sadly released soon after the beloved President's death in 2013.
Alongside the destructive rule of apartheid, another type of film began to emerge – incongruously, it seems now – into South Africa in the 1980s: the slapstick comedy. Leading the way was actor/filmmaker Leon Schuster. Still famous to this day, and indeed still making films, Schuster is also responsible for South Africa's biggest box-office success in history (for a home-made film) Mr Bones 2 (2008) taking R33 million in 5 weeks.
Unfortunately, another theme in South African films is the AIDS epidemic, which has inspired some beautifully sad, yet often hopeful stories, like the Oscar-nominated Yesterday (2009) and Life, Above All (2010).
But that is not to say all South African films are caught in the clutches of these terrible times in the country's history. Examples are two films that no-one can ignore in South African cinema. The world-wide smash hit (and Oscar nominee for Best Film), District 9 (2009) and the Oscar-winning Tsotsi (2005). Both films show the extraordinary talent and capabilities of cinema in the country, and while they take from, and remain part of, the country's history, neither are depressing tales of life in worse times.
Note from the Editor: Angama Mara's operational project manager, Lesley Fox, was the Post Production Manager for Sarafina; Cry, The Beloved Country; and many Leon Schuster movies, including Mr Bones 2 mentioned above. Just saying … (and my favourite South African director is Neill Blomkamp – Ed)
Postscript: Please refer to Part One and Part Two of this series on African film in case you missed it.