My Children went on "Sforee" and Fell in Love
Tamsyn Fricker took her children on their first real safari to Angama Mara and tells us about their adventure, all the Angama Mara activities and how her children quite simply fell in love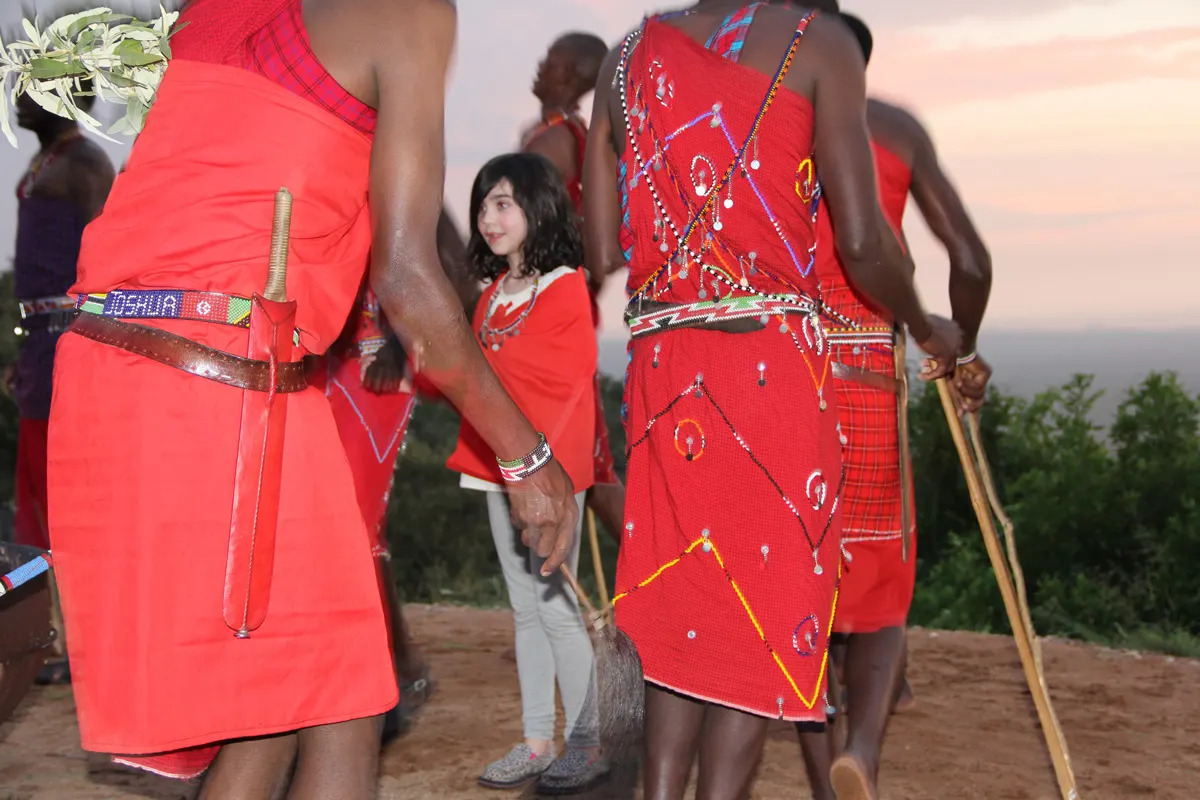 It took about a millisecond for me to deliver a resounding YES to my husband's suggestion of spending winter break in Kenya. I don't quite recall how the conversation started but I do recall a glass of Kanonkop Pinotage, a desire to flee Copenhagen's winter days and an even greater desire to be on African soil once again. The bonus… this would be the kids' first real safari.
No journey is without effort and as we finally set-off for the airport in the wee hours of the morning (note: early hours = a cranky 6 & 7 year old) we had to take a few deep breaths, remind ourselves why this was a good idea and negotiate with said-children regarding nap time and iPad usage. Don't judge! Jokes aside, the trip was seamless and very doable; a quick 90-min flight from Copenhagen to Amsterdam followed by an 8-hour flight to Nairobi, Kenya and an overnight stay at the truly unique Giraffe Manor.
After a good night's sleep and breakfast with a herd of Rothschild giraffe, we braved the Nairobi traffic for Wilson Airport and a light aircraft flight into the bush.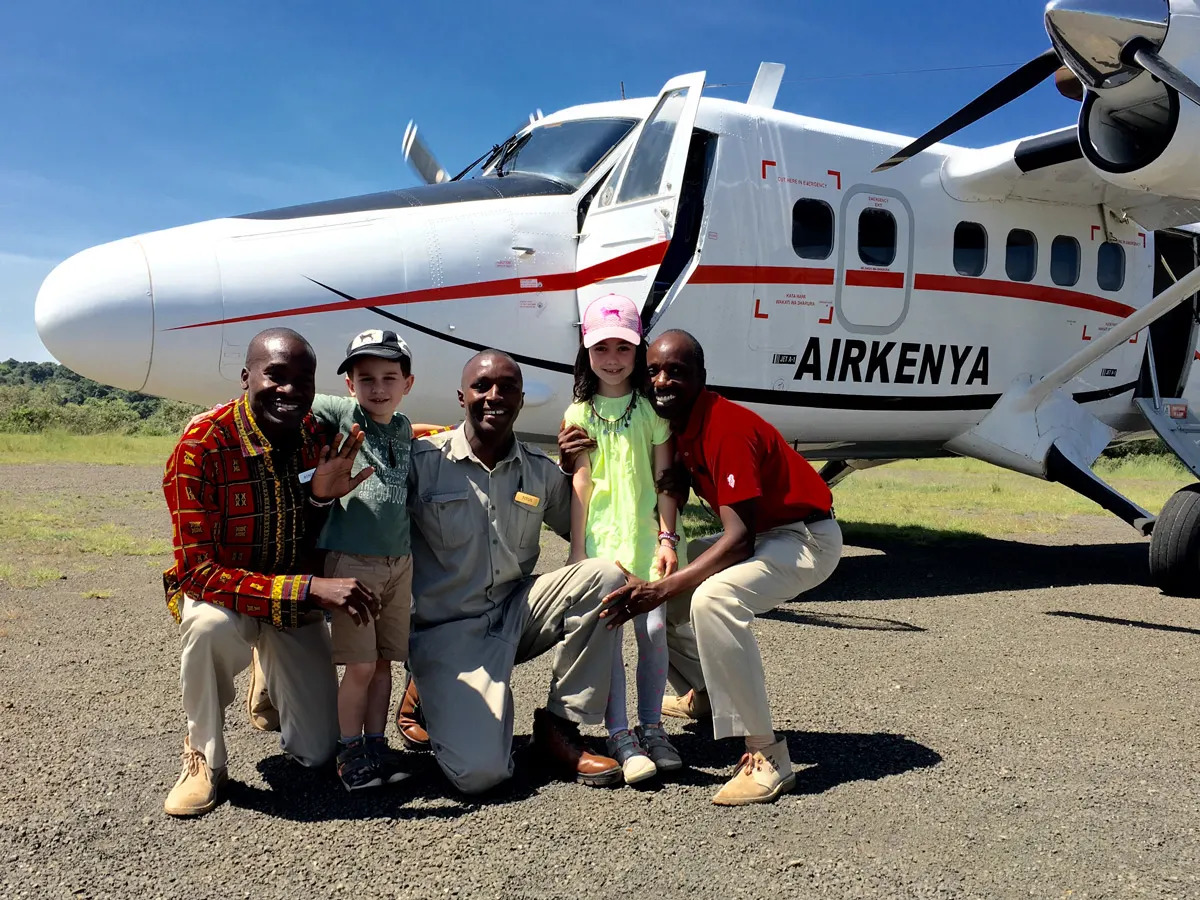 There was no containing this family's excitement as we touched-down on a dirt airstrip deep in the Mara Triangle. The kids bounded off the flight and were immediately enchanted by our welcoming committee in the form of Ranger Titus and Naturalist John in full Maasai regalia (the little guy thought he was a King). A few short minutes and we were jumping off the jeep and following little legs as they raced to Angama Mara's deck and baraza area. And this is where I found myself speechless, completely taken aback by the dramatic view and quite humbled in fact. It even stopped two very busy kids in their tracks and held their attention, before spotting a rock hyrax and dashing off with Titus to catch a photo of the creature. Priorities!
We had purposefully decided to spend all 4 nights on safari with Angama vs. split our time. A wiser decision could not have been made. The kids would've rebelled had we even considered leaving a day earlier. In fact, their little bodies sobbing at having to leave Angama on the return flight to Wilson Airport was heart wrenching enough.
I could tell you that my kids' love affair with Angama was purely based on heavy-hitting game viewing – which we had – but in all honestly, this was probably reason no 4 or 5 on the list.

They certainly loved being on game drive and were as thrilled as Mom & Dad to see elephants up-close, drive through a breeding herd of Cape buffalo, watch a lone rhino cross the savannah, catch sight of the elusive leopard, listen to grunting hippo in the river below and giggle over a lioness clumsily dropping to the ground from her lounging spot in a tree (to name just a few sightings). All of this was only part of the fun…
I know for a fact that my big girl would've been willing to sit and bead with the Maasai women at the Angama beading studio for days on end. She'd eagerly head-out on game drive in the morning only to ask a few hours later if we could return so that she could bead with her new friends. She spoke no Swahili, they spoke little English and yet this was her happy place, as they created jewelry pieces (now prized items) together.

The little guy was desperate to drive the jeep and be just like Ranger Titus. And so, Titus made it happen not because we asked but because he knew what joy it would bring. I still listen to stories about "when I drove the jeep just like Titus" and have video of the BIGGEST smile my kid has ever had, sitting on his Ranger buddy's lap and driving along a dusty road in the middle of nowhere.
In fact they were having so much fun at the lodge that they eagerly advised Mom & Dad that they would not be joining one of the morning game drives as John was taking them on a nature walk. We weren't invited (!) and so off we went on game drive while the kids went walking with John. Over 2 hours in the bush surrounded by giraffe and zebra, crafting bow & arrows, catching butterflies, learning how to make fire and survive in the bush and hearing about Maasai culture ("Mom, did you know that Maasai drink cow blood & milk"); this was a favourite morning.

And on it goes … from a visit to the village school and an impromptu soccer game, right down to our unbelievably gracious butler, Bonface, arranging their favorite meals; sneaking extra Maasai honey cookies onto the game vehicle, and making sure that they got to bake with the pastry chef and dance with the Maasai warriors at Boma. Yes, the animals were a huge part of this trip BUT honestly the humans were an even bigger part for our family. Our little city slickers fell in love with the humans of Angama Mara.
And there's no set Children's Programme. It's the Angama family doing what they do best. My kids went on "sforee" (see the little guy's school drawing) and fell in love … with Kenya, her wild animals and some very special people.
I did too.