Giraffe Kisses, Slurping Ellies & the Finest Curry in Town
From kissing giraffes and baby ellies to retail therapy and delicious curry, Alison Mitchell spends an action packed weekend in Nairobi and tells us about some of her highlights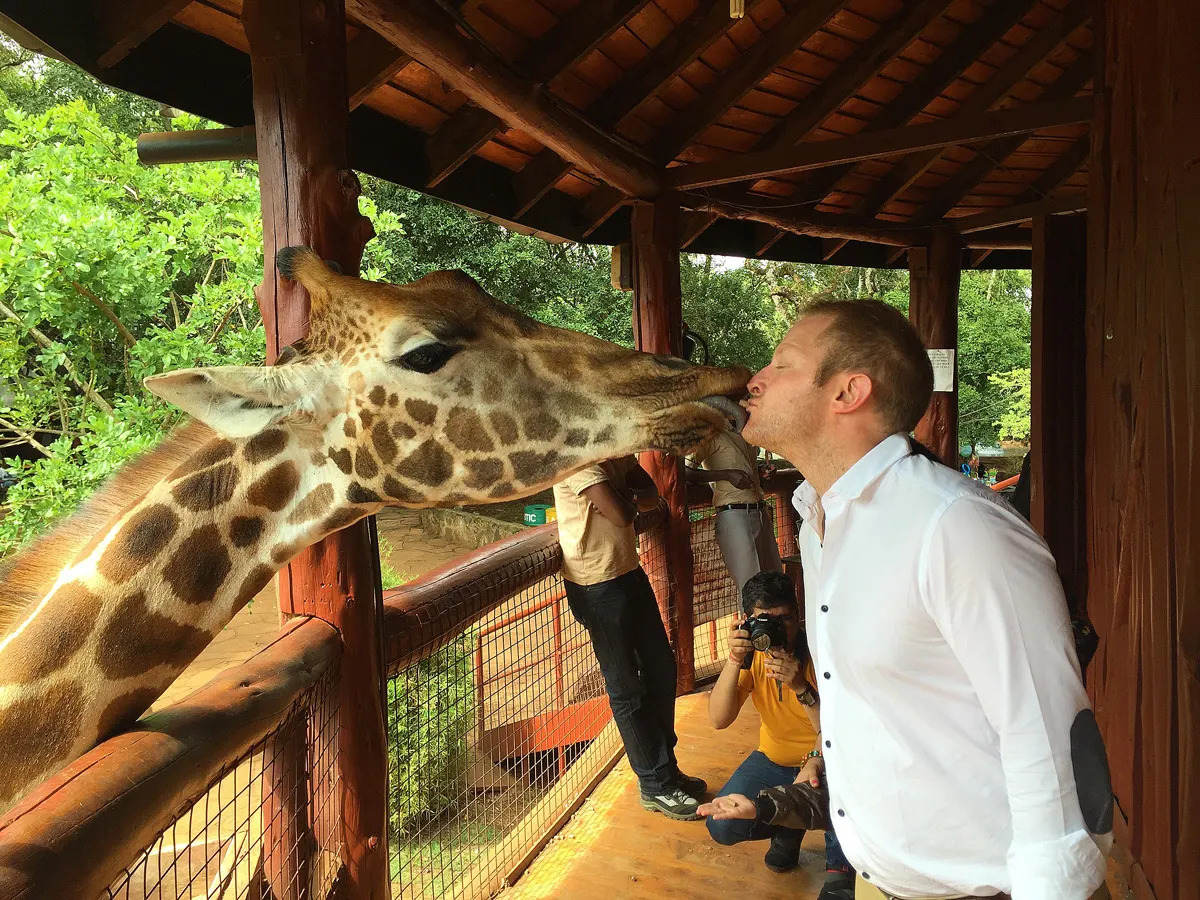 24 HOURS IN NAIROBI
Having spent more than a year to-ing and fro-ing between Joburg and Nairobi, I decided that it was high time that Steve and I spent a weekend experiencing some of the best-known sights of this exciting African city; and with our new colleague Maiketso on her first trip to Kenya, the timing was perfect.
Our first stop had to be the Blixen Museum in Karen. Our guide Daureen took us on an informative conducted tour through Karen's house, sharing some delightful anecdotes that didn't make it into the movie or the book – like Karen's fascination with clocks and time keeping. We enjoyed her Danish furniture and her paintings, each with their own story and memories of her time in Africa.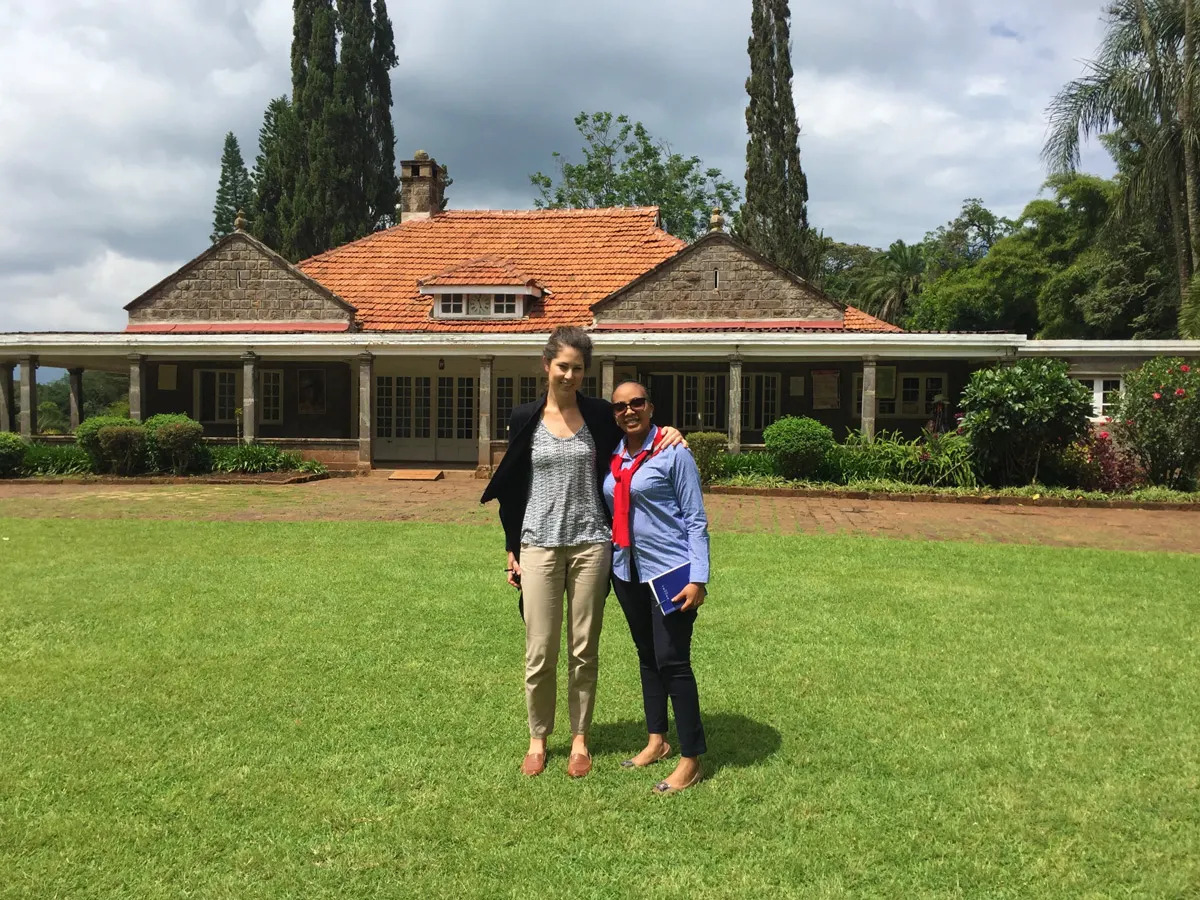 Staring up at the Ngong Hills from her veranda, I thought of my own grandmother who had spent 20 years in Nairobi in the 1930's and 40's, and finally understood why she'd named her Cape Town home "Ngong" and why any mention of her time in Kenya brought tears to her eyes.
A short hop from Karen's house brought us to the Giraffe Centre, where we learnt about the endangered Rothschild giraffe and got a little more up close and personal with giraffes Daisy and Stacy then we'd bargained for. We popped into Giraffe Manor for a beautiful lunch on the lawns surrounded by warthogs and our 6m tall NBF's, including a little one just 2 weeks old. It's obvious why guests love it here – where else in the world can you walk onto a first storey balcony in the morning, to the expectant faces of these beautiful animals waiting for you to feed them their breakfast pellets?
Of course our day wouldn't have been complete without some retail therapy and so we stopped in at Utamaduni Craft Centre and Matt Bronze to show Maiketso some of Nairobi's finest artefacts, curios and sculptures.
Last on the list was the much-anticipated and world famous Daphne Sheldrick Elephant Orphanage (read more about Anne's visit to this special place) where we watched 35 baby elephants charge chaotically home for feeding time and promptly fell in love. After we'd had enough of ellies slurping water out of our hands and curling their trunks curiously around our limbs, we adopted Alamaya, a tailless 2 year old from the Mara.
As much as I enjoyed seeing the elephants and witnessing the affection they showed their keepers, I also enjoyed the children who showed up for the evening feeding session to "visit their elephant" and the discussions overheard between parent and child about the responsibility involved in the adoption and the additional household chores they'd have to undertake to pay for their elephant. And I felt overwhelmed with hope for our young generation learning to love, respect and care for our wildlife at such an early age.
We ended the day off at a favourite Indian restaurant in Westlands, Open House, and piled straight into their famous Ginger Chicken Wings and more delicious curry dishes than we could possibly manage. Too tired to talk but so happy to have had one of the most memorable days.
After all my time turning this city upside down buying things for the lodge, I couldn't help thinking to myself that to truly understand Kenya, one needs to spend at least a full day in this crazy, wonderful metropolis. Sure you'll sit in some traffic and see some unkempt streets and buildings in need of attention, but you'll also feel the true heartbeat of this great African city.
Nairobi Trivia
The word "Ngong" is a Maasai word meaning "knuckles", referring to the 4 hill peaks of the ridge, which stands alone rising from the plain around Nairobi
Karen Blixen's house was not used for the filming of Out of Africa. According to the movie's production notes: "The Ngong Dairy in Karen, with areas of lush farmland and a magnificent view of the Ngong Hills, provided a fitting location for a replica of Blixen's home. An existing farmhouse on the property was renovated to duplicate the original. Thick ivy was stripped from its walls, and a cookhouse and paved veranda the full length of the house were added." This house previously belonged to the widow of Jomo Kenyatta, the first Prime Minister and President of Kenya
For an utterly delightful read grab a second hand copy of Raising Daisy Rothschild (1977) by Betty and Jock Leslie-Melville
Giraffe Manor was modelled on a Scottish hunting lodge, and was constructed in 1932 by Sir David Duncan, a member of the Mackintosh family of Mackintosh's Toffee fame (Wikipedia)
In 2003 an orphaned elephant all the way from Southern Africa arrived at the Daphne Sheldrick Elephant Orphanage and of course he was named Madiba!