Dan Davis recounts his experience walking along the edge of the Great Rift Valley with Maasai naturalist John "Neke" Peenko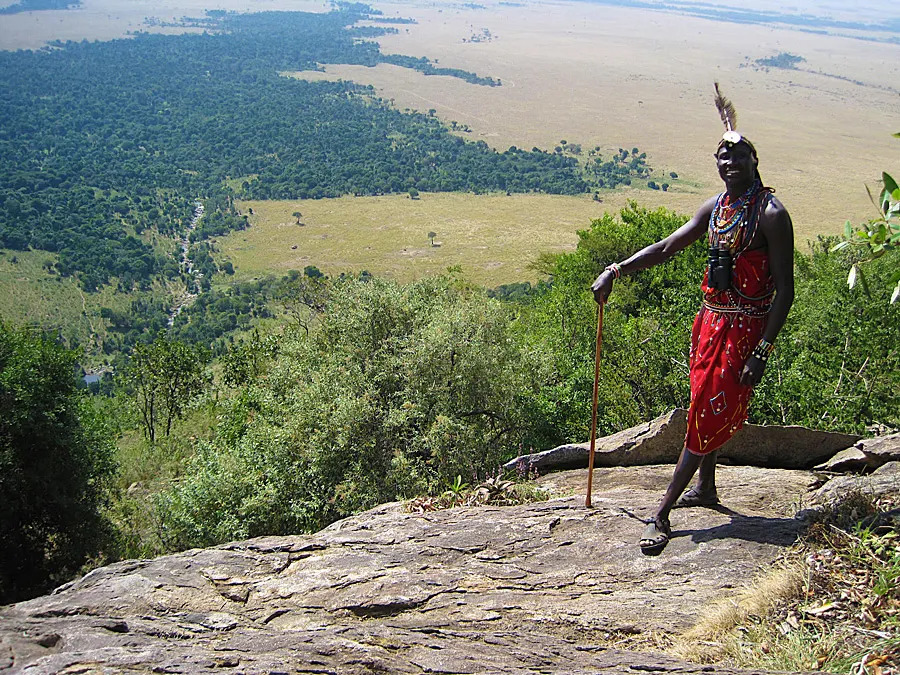 During my memorable stay at Angama Mara in September 2015 I went on a 'bush walk' with a guide/naturalist named John (his real Maasai name is Neke Peenko). I'd arranged to meet him shortly after breakfast and was fascinated to discover that he was wearing his beautiful Maasai warrior regalia complete with headdress and 'empere' (spear), 'engudi' (peace stick), and 'orinka' (talking stick). He introduced himself and let me know a couple of basic rules about how we should walk during our trek (quietly, with him in front) and communicate (soft words and finger snaps to get one another's attention).
Just past the Angama airfield we turned south along the edge of the escarpment. Immediately we started encountering zebras, impala, topi and giraffes, all of which seemed quite unconcerned by our passing. There was much evidence of elephant, which worried me a bit, but John pointed out that they foraged on the high ground at night and headed down to the freshwater pools lower in the Mara during the day. John seemed to know every plant on the escarpment and their various uses by the Maasai for medicinal and hygiene purposes. A substantial portion of the animal-related bush lore John shared had to do with dung – John knows poop! From any given turd John could tell not only the species of the depositor, but it's size, gender, age and freshness.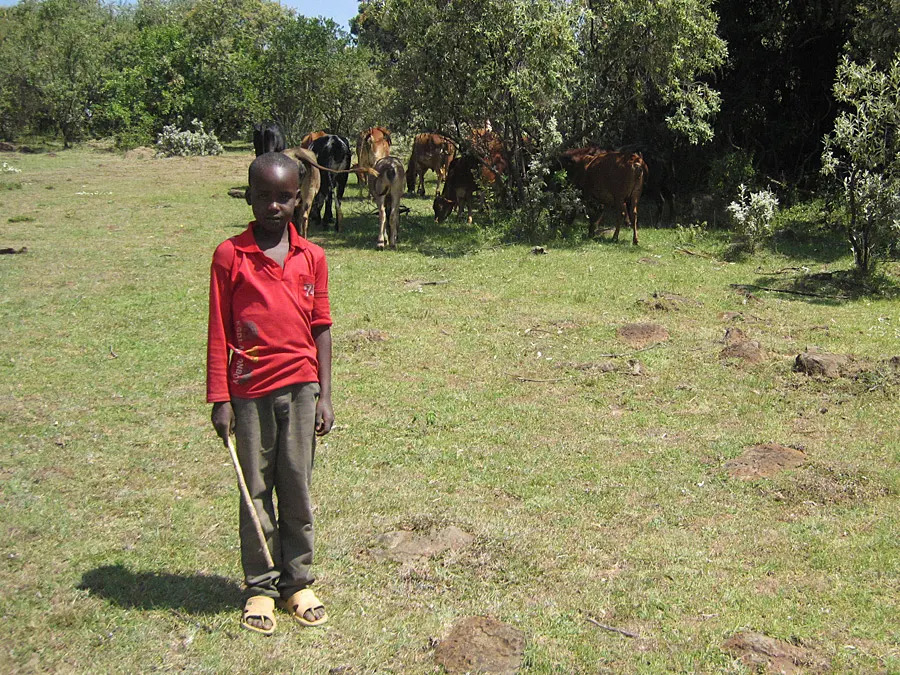 Along the way we encountered several small herds of Maasai cattle with their young herdsmen. One little guy (7-8 y.o.) was apparently all alone with a herd of a dozen-or-so cows. John described to me what this lad's day-to-day life is like – which he knew well because he lived a similar life growing up, looking after his family's cattle over this same ground.
On occasions when we wandered upland from the edge of the escarpment toward flatter ground we encountered more signs of human habitation and passed by several Maasai dwellings each with an enkang (corral) made of interwoven live acacia trees. The houses and surrounding yards were very tidy and attractive. Even while engaged in their daily chores the women wore their wonderfully colorful shukas.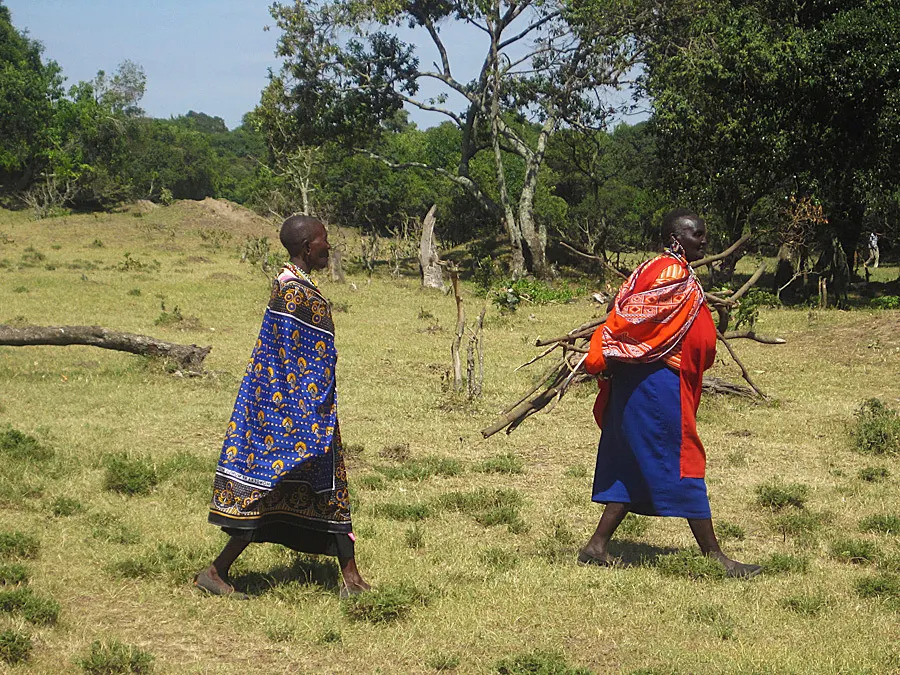 As we approached nearby one of the homes through the forest, John pointed out a beehive made from a hollow log; apparently quite effective evidenced by all the honey bee activity nearby.
At the turnaround point of our hike we met three high school-age lads perched on a rock overlooking the escarpment. They all spoke excellent English and after getting over initial shyness they wanted to know about me, where I came from and more, and in turn were very forthright in answering my queries about their school, social lives and ambitions. These were really curious and sharp and endearing young men.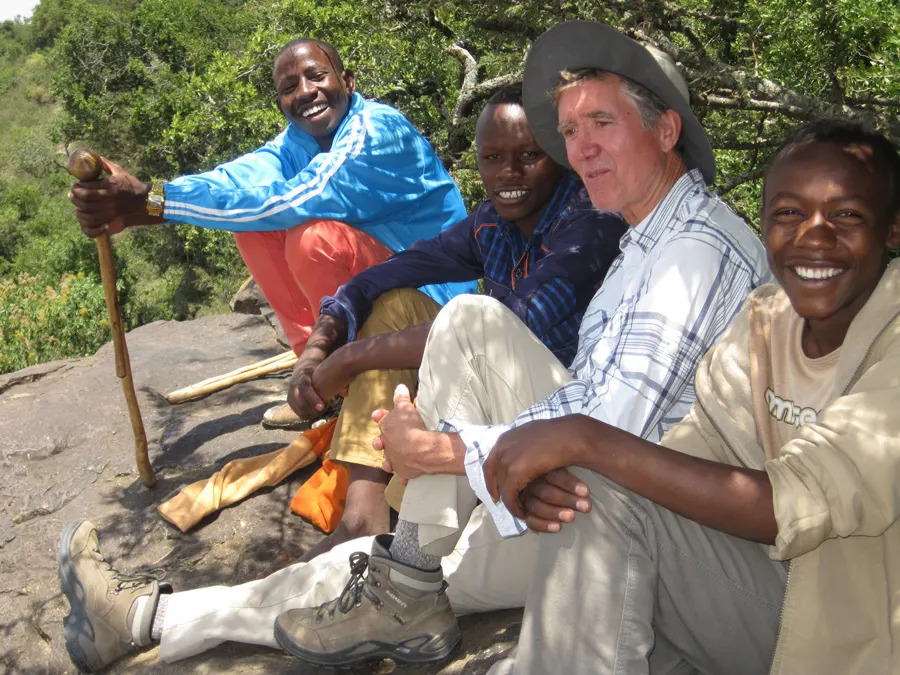 My hike with John was a wonderfully enriching experience … a marvelous way to spend a morning. In four hours we covered about 18km. John is a charming man who very much enjoys sharing his wealth of knowledge about the flora and fauna of the Maasai Mara, and the culture of his people. I highly recommend him as a guide/naturalist to anyone who comes this way and would enjoy a similar experience.
Note from the Editor: When we started building the lodge we had no idea what treasures lay right on our doorstep. If guests do one walk invariably they will ask to go on another … and even a third, time permitting. Dan is the only guest to date who has cracked 18km (in 4 hours with time to sit and chew the fat with the neighbours). Mostly our guests amble along gently for a couple of hours birding as they go. With over 224 bird species recorded on the property to date, who needs to go on a game drive?