Mike promised to take our readers up Mt Kenya and this delightful account of his mountain adventure will leave you longing for thin air and those big views...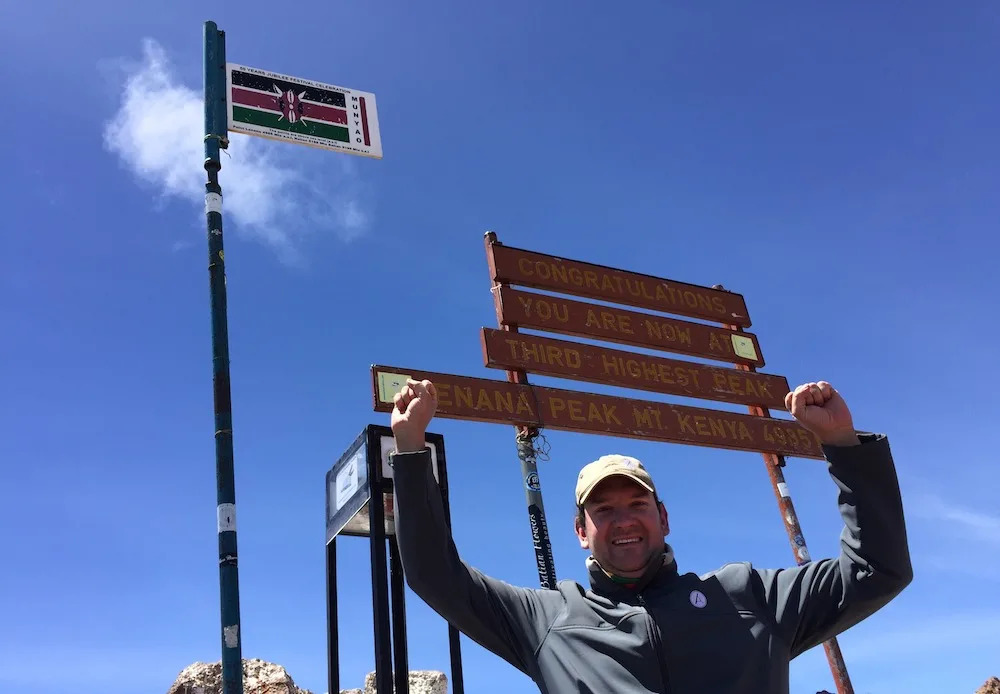 I looked back to where I was. Back to Nairobi. To where I was looking at where I am now: standing at Lenana Point, Mount Kenya's third-highest peak.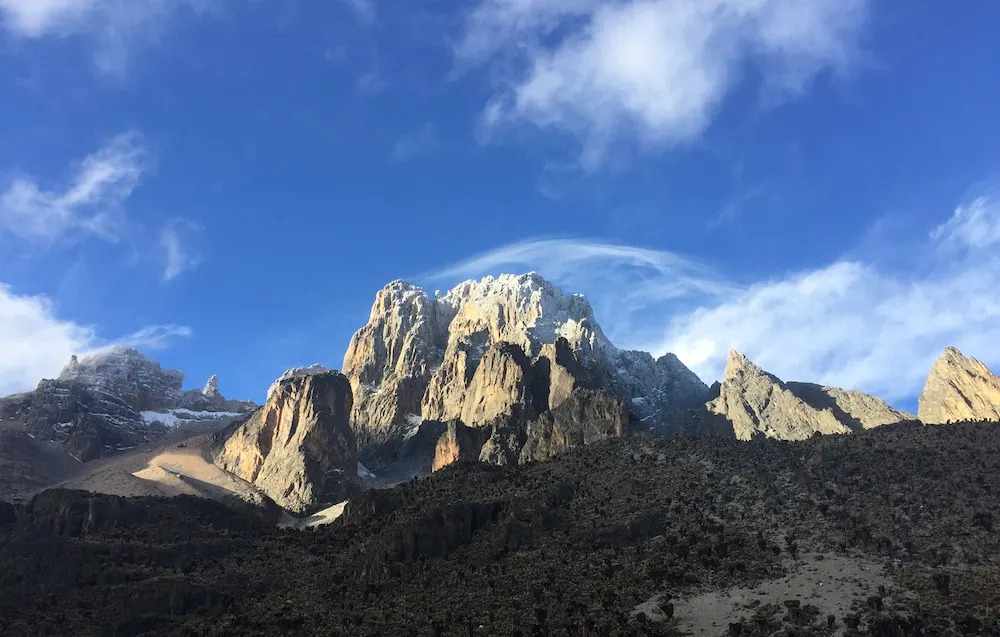 At the beginning it felt like an easy climb. We hiked for a total of one hour to Chogoria Gate (2950m), where we entered the Mount Kenya National Park. When climbing a mountain it's baby steps, to combat the altitude. So we spent the afternoon lying in the sun, reading and playing cards. The next day we hiked for three hours through beautiful forests to Chogoria Road Head where the drivable road ends. The afternoon was spent hiking into the hills and more acclimatisation. Drink water, rest often, let your body mould into what it needs to be, we were told. We could see the peaks within our reach. Never trust distances on a mountain, it's always further than you think.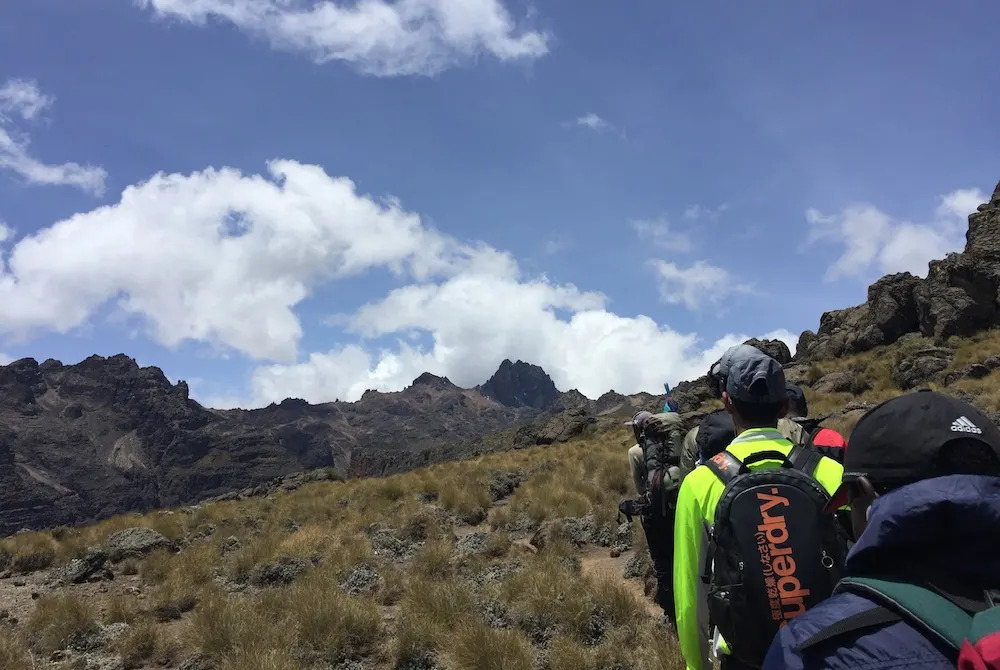 Suddenly these smaller hikes were child's play, as we strapped our bags on the next day and hiked the length of a ridge, constant uphill for six hours, to Minto's Camp (4200m). The vegetation became increasingly sparse, grasslands to rocky lunarscapes. The earth here is dead, another hiker told me. Now the thin air was taking its toll. Just standing up too quickly gives you a light head. The surroundings were dramatic. We rested at the end of the Temple, a grand cliff face that juts out into the valley. Above us the mighty Batian and Nelion peaks. Below the valley stretched out, and we could see the path we had taken. Our legs ached, our heads light.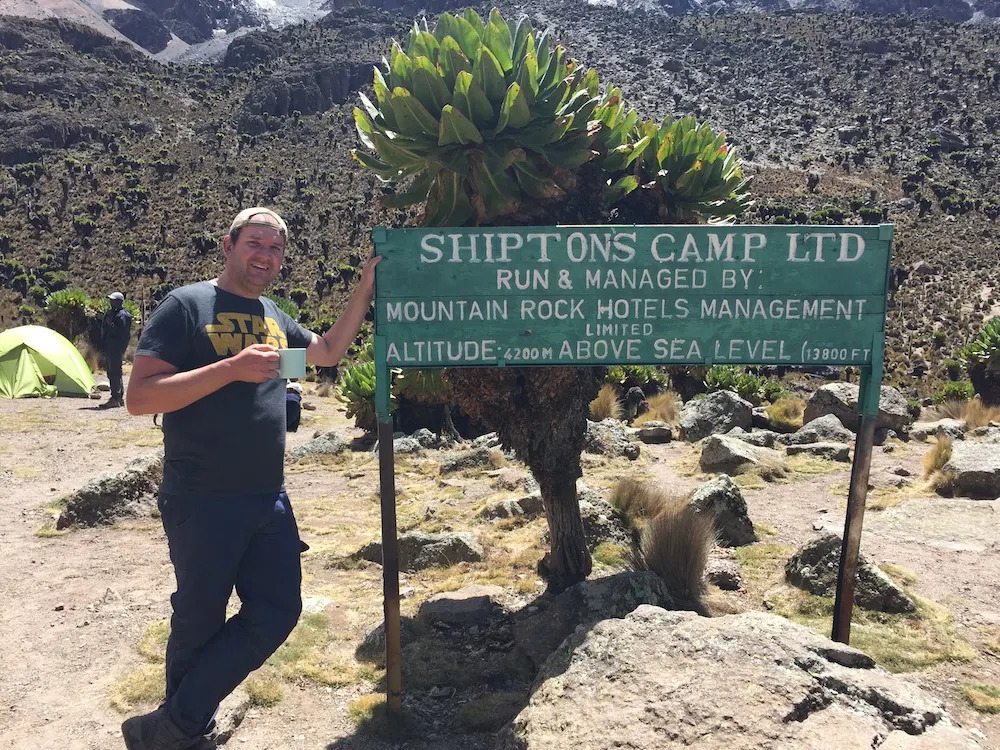 From here, we emerged on the third morning barely prepared for the climb (and I mean a climb) to Lenana. The path wound through the last of the valley, rising up into the rocks where nothing exists. The silence of the place surrounds you, the wind the only living thing, and your footsteps on the loose gravel cracking like glass. The last push is an individual experience. No one speaks. You watch the person in front of you and step where they step. Each metre you rise feels like an effort. 'Pole, pole', the guides keep saying – take it slow. I imagine myself in slow motion to get the right pace.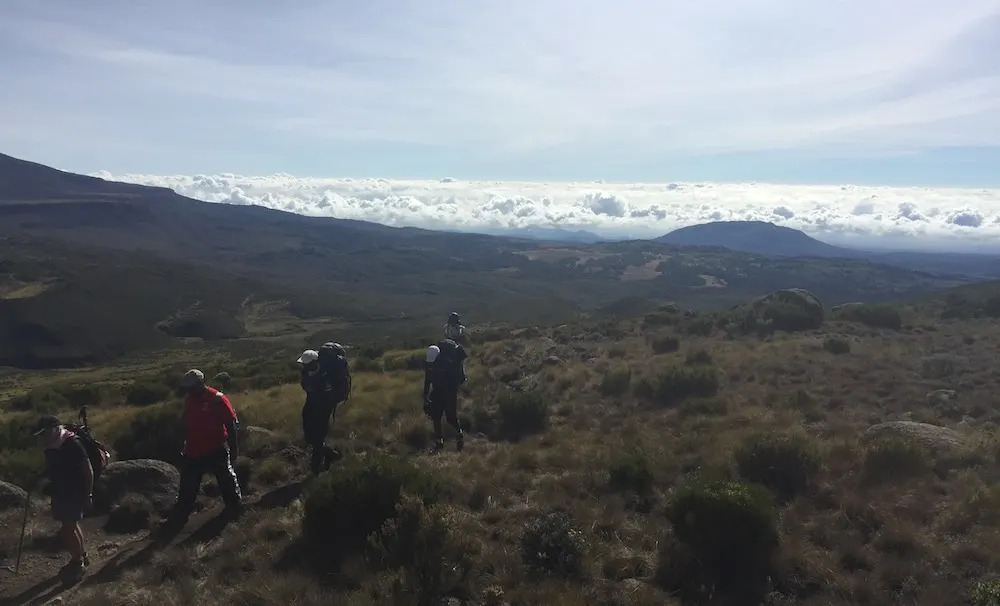 And suddenly we are there, at 4900m (higher than Mont Blanc). Over-looking the earth, we cannot go up any further. I stand with a strange mixture of awe and disbelief. Take pictures, record that you are here. A biting wind cuts into me as I sit and think about my wife, who I know is thinking of me now as I think of her. I look in her direction.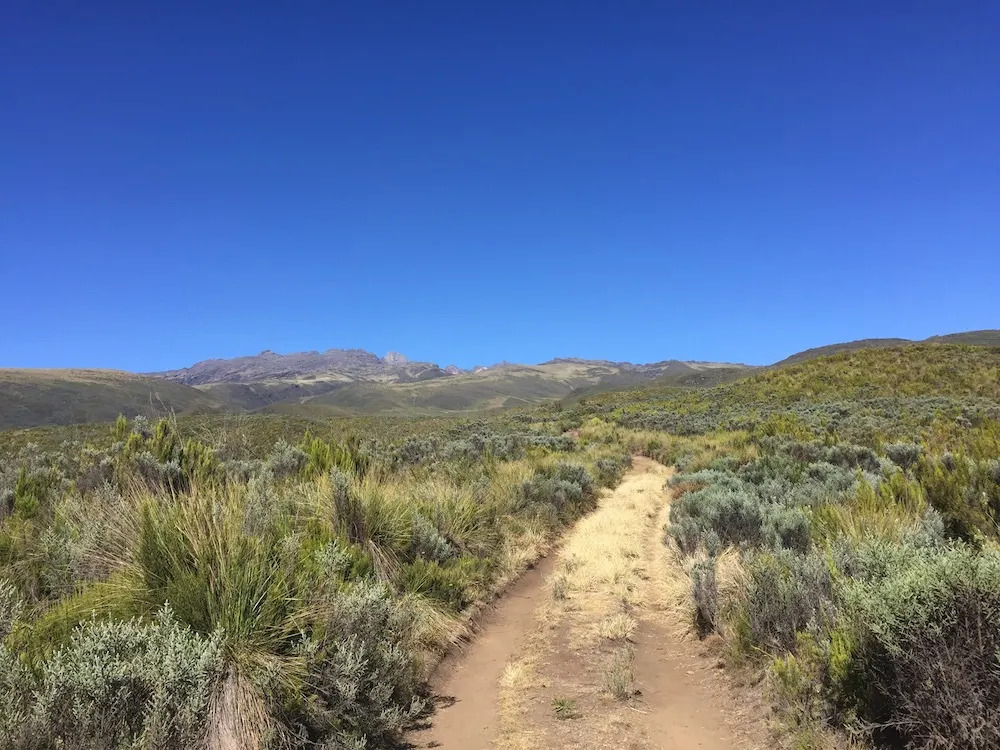 Climbing a mountain, I'm sure, is never easy. No one tells you that one of the biggest obstacles is sleep. With the freezing temperatures and uncomfortable conditions, good sleep is a rare and elusive prize. I learned that sleep finds you, you do not find it. The hardest part, perhaps is being left to your own thoughts for the long hours of the night. I consider myself luckier than most: my wife is carrying our first baby, and I found both peace and sleep thinking of meeting my son for the first time and my wife's face when that happens.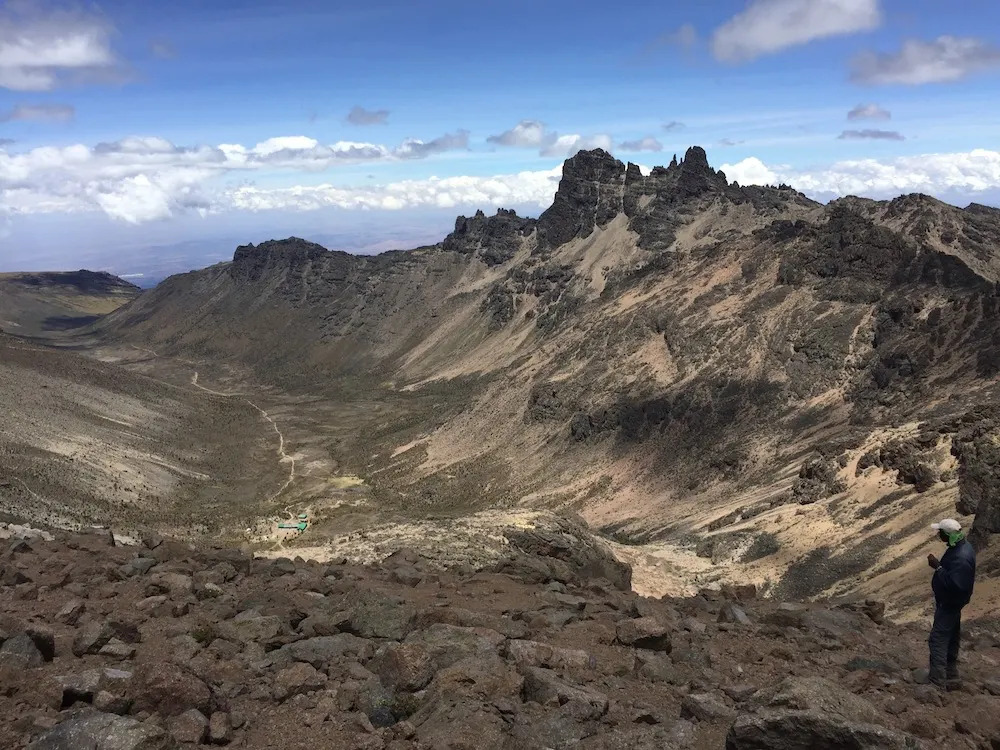 Then day breaks and without sleep, you climb and climb. Another sleepless night and you climb more. I learned another lesson here: Remember to look back. Enjoy the progress, feel proud. Don't watch the destination. Even looking down is better than looking ahead. A road is easier when you don't know what is exactly around the corner. Be in the moment and look at the view. See how far you've come.
And was it worth it? As I stand here looking over Africa, the gentle, patchy colours of the distant landscape, contrasted with the rough, dramatic contours of the mountain, I know that it is. I look up to Batian and Nelion, standing alongside Lenana, the two highest peaks and, to the Kukuyu, the majestic throne of their god, Ngai. I feel like bowing down.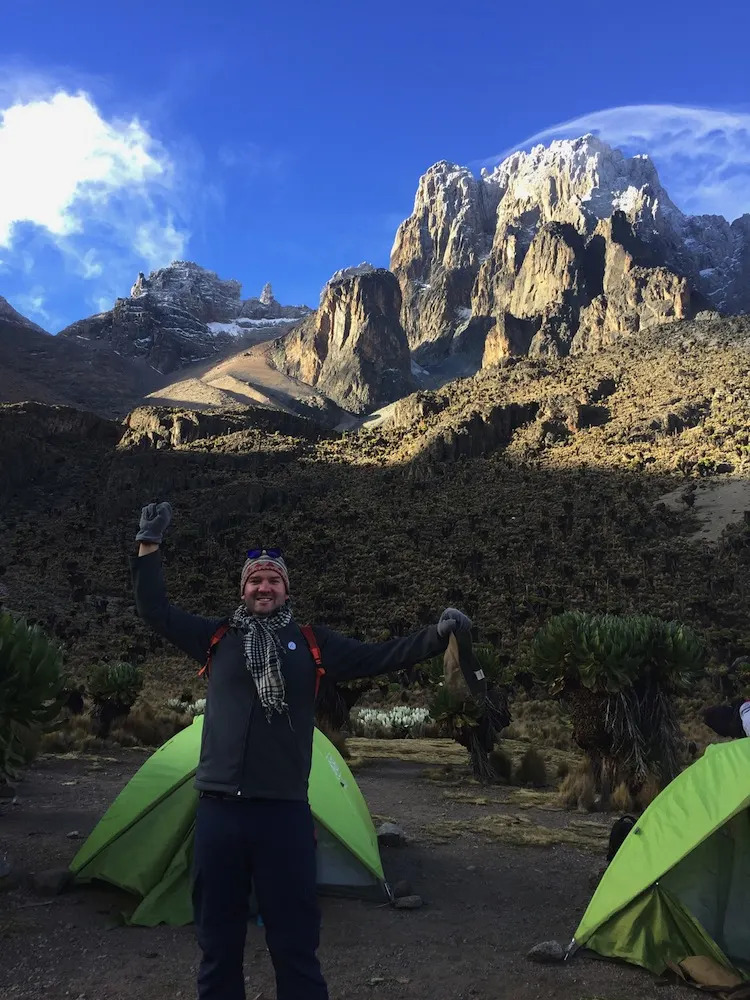 Every moment of doubt; every stumble on the path; every time I did look up to feel my heart sink at the gradient ahead; every moment of sleep lost; and every quiet second that I missed my family has come to this. I know that my family, my wife, are prouder of me than I am of myself. Soon I will see them, and I feel myself well up at the thought.
But I remind myself, as with climbing the mountain, not to try to look too far ahead: I still have to get down.
Editors note: In Mike's January blog 'Cows in the Clouds and Other Tales' he promised to take our readers up Mt Kenya and this delightful account of his mountain adventure is best read in conjunction with his earlier story. Otherwise his opening lines will keep you baffled.