Susie Allan is a born and bread Kenyan and has a great passion for plants, traditional artifacts and wild places and shares some of her incredible knowledge on aloes and other succulents that thrive along Angama's escarpment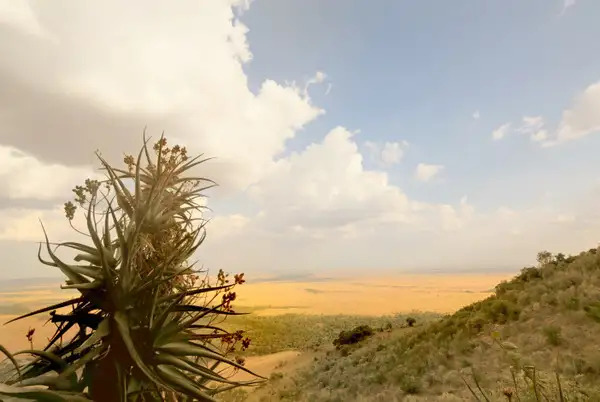 Angama – dancing on the hills. What a lovely concept and the elegant aloes that are indigenous to the area do indeed appear to dance on the escarpment – those wonderful wild hills that simply take your breath away. It is a heart-catching place and the subtlety of those architectural plants perched on the edge of Africa is one of the most evocative sights you will see. Aloes and other succulent plants thrive here, their storage mechanisms keeping them healthy from one seasonal rain to the next.
The urge to find a new species of plant is in many of us and about twenty years ago, a group got together and formed Succulenta East Africa. We were going to call ourselves the Society for Endangered Xerophytes, but we thought that the anagram might confuse our spouses. Since then, we have done some lovely safaris together in search of new and wonderful succulent plants. Kenya has more than fifty described species of aloes and a great many other genera and families, and even naturalised hybrids.
Talking of evolution, Darwin's Theory of Natural Selection has endowed me with being rather more short-sighted than most and rather pigeon-toed, and so, I too have probably evolved into a new species myself – the lesser known 'Short-sighted, Pigeon-toed Succulent Species Hunter' constantly looking at the ground in case I trip. It is amazing what can be spotted along the way. I once found a rather rare Euphorbia, which my son, Jan, who happens to be making the beautiful tents for the new stylish Angama Mara, considerately thought, should be named after his adored mother: Euphorbia Nagalot. It is still to be named. Then Jan found an Aloe that I thought should be named after him: Aloe Nagged-a-Lot. Suffice to say that we have found several new species only to discover that someone else pipped us to the post and named it before, or were in the process of naming it… One day. There is a tiny tiny Delosperma waiting to be named that I found near the Tanzanian border…
But on to a more serious note, we have just returned from a fabulous safari up to northern Kenya: Sera Conservancy, the Ndoto Mountains and Poi Hill, the Leroghi Forest in the Karisia Hills and Suyian Soul in Laikipia, experiencing timeless scenes of the singing wells – Kisima Hamsini and those at Ilaut – with camels, goats and cattle coming in, their owners' rhythmic songs luring them to deep wells in succession. It was quite an amazing sight – the folk once had wells four men deep and they used giraffe skin buckets until quite recently. The Samburu were welcoming and just delightful, the women's sumptuous beaded necklaces setting off their beautiful brown shaved heads. On the way was yet another wonderful little Euphorbia which we collected to show Gilfrid Powys, who just happened to have found the same species which we saw in his garden and which he was in the process of naming! Foiled again. Jan found arborescent Sansevieria, a wild sisal, at the coast a few years ago, only to discover that Gilfrid had recently found the same species – still to be named!
In fact one of Jan's first lessons in building was when he discovered that his newly built makuti (palm-frond) thatching, put together using organic sisal twine was being eaten by dormice. He replaced it with not so tasty Sansevieria twine and bingo, it stayed just as it was. Talking of which, Jan was not so impressed by the fact that I recently decorated my lunch table with what the elephants spit out when they chew the wild sansevieria in the dry weather. I thought it was very attractive and I shall treat Nicky to this when she comes over for lunch one day. It is not patented and she is welcome to use it on her sophisticated tables to initiate conversations. Perhaps I should stop here…