Former professional athlete, Martin Keino, was in Vienna, Austria, to commentate on Eliud Kipchoge's record-shattering sub two-hour marathon attempt. He provides his first-person account of the moment Eliud and the world celebrated this monumental feat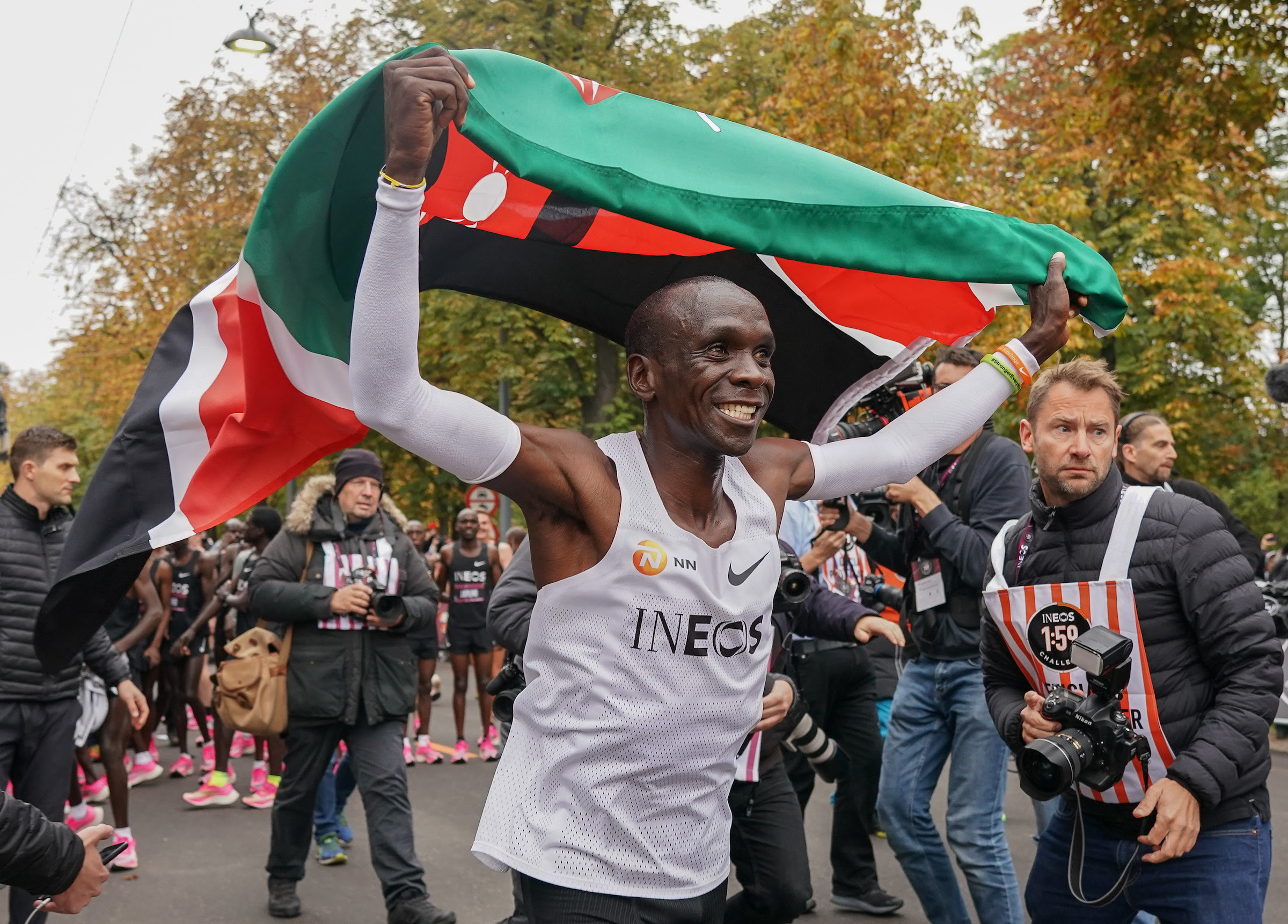 One month ago, I received a message from an old friend in the sports media world with some exciting news.
The INEOS 1.59 challenge needed a Kenyan who could commentate for TV on this historic event with a local perspective, knowledge and understanding of the man attempting to write his name into long-distance running folklore by doing what no one had ever done before: run a marathon in under two hours. The man was Eliud Kipchoge.
I couldn't believe my luck when a few days later it was confirmed that I would be part of the Sunset + Vine production team for this huge sporting event. This was a dream come true for me as I always marvelled at how fast the marathon was being run in these modern times.
The concept of a sub two-hour marathon idea began in 2016 when Nike came up with its Breaking 2 competition, held in 2017 in Monza, Italy and featuring Eliud Kipchoge, Zerssenay Tadese of Eritrea and Lelisa Desisa of Ethiopia. On that day, Kipchoge broke the tape at 2:00:25 falling short by just 25 seconds. It was a tremendous effort and more importantly, set the stage for a second attempt.
I spoke to Eliud just as he was preparing to leave for Vienna and in usual Eliud-style, he was quietly confident, insisting that his physical preparations had gone as planned. He was focused on the mental side of things, convinced of his success. We talked about how his support team had been fantastic, how his previous success and failures had prepared him for this attempt, what it meant to him to a be role model for the youth of Kenya and how this attempt was the perfect example of how business can effectively link with sport.
Once in Vienna, the excitement was palpable. It was the most watched race in the world. Estimates in Vienna were that about 130 000 spectators were present in Prater Park, cheering as he passed by led by his pacemakers. Not to mention the more than four billion who watched the 200 television stations broadcasting the event.
It was astounding to watch him churn out an average of 2 minutes 50 seconds kilometer after kilometer with rotating seven-man teams of pacemakers, many of whom are world-class runners in their own right, and by an electric pace car that emitted green lasers to show the ideal pace and the position they should be running.
Running almost 10 seconds under the target pace for the most part was comforting. It looked like the pacemakers were holding him back; ostensibly to ensure that the sub two-hour goal wasn't going to fall apart, before letting him loose.
The feeling when he broke away from his pacemakers was incredible. Free from the green lasers and human shield, he came into his own and pushed to secure his place in history. It was truly beautiful to see the greatest marathoner on Earth, Eliud Kipchoge, running the final 100m pointing at the crowd, pumping his fist, then pointing at his eyes and pointing at the clock to say "this is for real". Shortly after finishing, he was embraced by his wife, who was watching him race in person for the first time; as well as his coach and he was soon lifted into the air by his pacers. Kipchoge's joy was universal.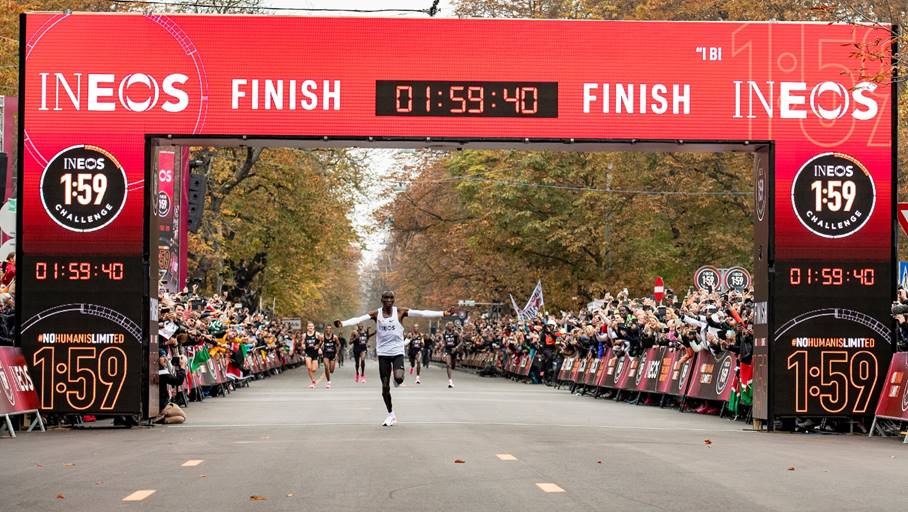 The two-hour barrier had been shattered. The outpouring of joy and celebrations began.
It was a moment of national pride for Kenyans not only in Vienna but around the world because Kipchoge thrust us into the global limelight as the source of endless athletic talent and excellence. I've never been prouder to be Kenyan as I was on that morning.
The celebrations particularly in Kenya were a sight to behold. Thousands of fans in his hometown of Eldoret gathered in the middle of town to watch and celebrate together in scenes so captivating that that the outpouring of joy of his achievement will be remembered for a lifetime.
This INEOS 159 Challenge by Kipchoge presents Kenya as one of the leading destinations for sports tourism in Africa. Many people are already heading to the North Rift area of Kenya to train in the high altitude towns of Eldoret, Iten and Nandi Hills.
No one since Usain Bolt has transcended the sport like Eliud has now. And he is one of our own. No human is limited!
Editor's note
The Angama family couldn't be prouder of Eliud's extraordinary achievement and we hope our shouts were heard in Vienna all the way from the Rift Valley. At our lodge we celebrate this great Kenyan tradition with our 'Run with a Kenyan' guest experience.
Our author, Martin, mentors young athletes and organises events like the Maasai Olympics too.