A Journey to the Roof of Africa
It's been nine months since Shannon embarked on her trip to climb to the highest point in Africa – and only now is she ready to recount the tale of her trek up Mount Kilimanjaro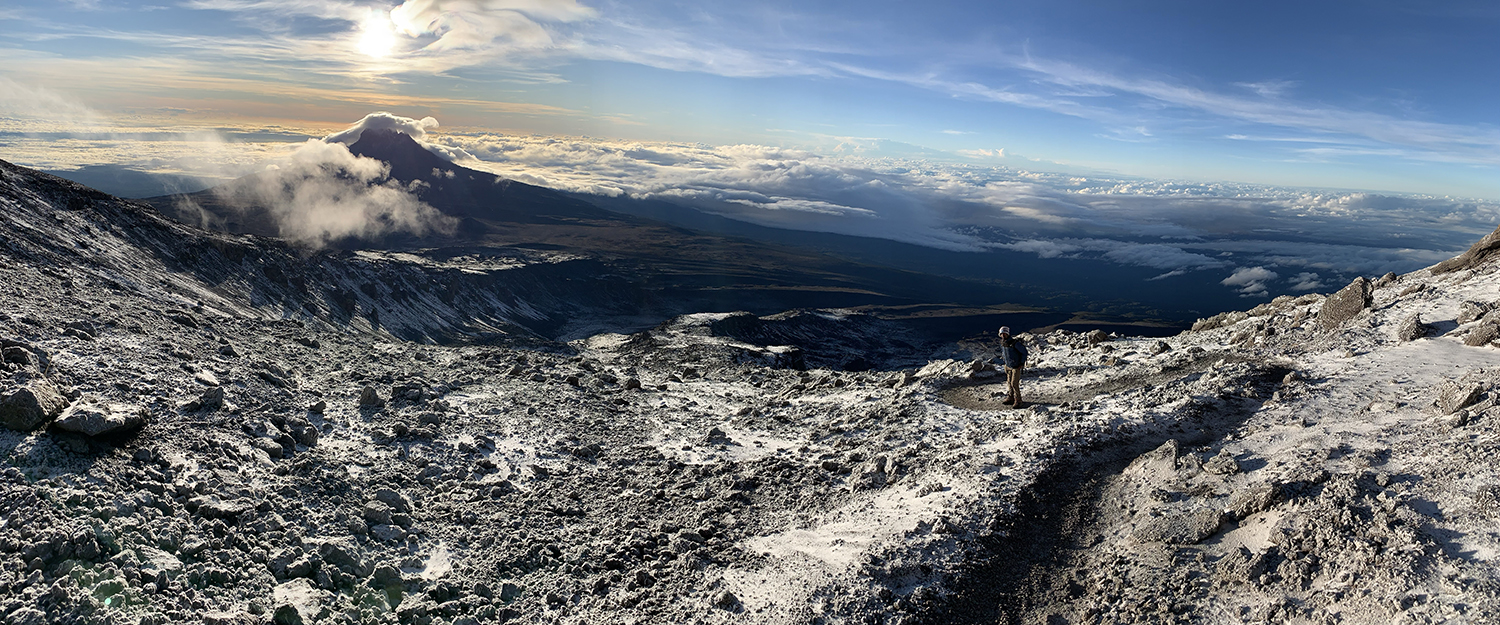 Let me start off by saying that everyone has a different experience climbing Mount Kilimanjaro. Some are blessed with perfect weather and make it to the top in sneakers and a T-shirt, while others have to turn around due to life-threatening altitude sickness. Given that it has taken me almost nine months to recount my climb may give you some insight into my time on Kili (it was tough, but we'll get to that). Further proving that everyone has a unique experience, my brother, Brent, who climbed alongside me, would write a completely different account of the trek. My theory is that the two of us had different reasons for climbing, and thus different mentalities going in. But I can say now that I am glad I did it. And I did do it – I made it to the top of the highest point in Africa. But let me back up a bit.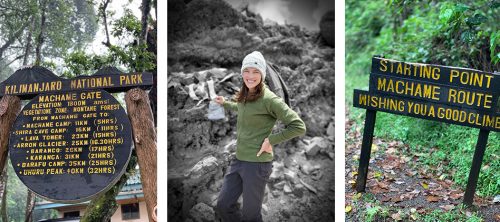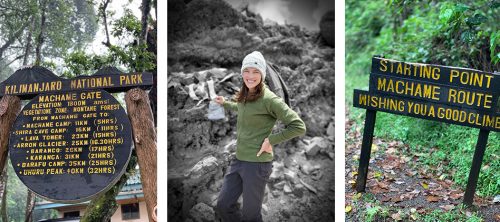 Last year, my brother reached a milestone – he turned 40. Thus it was a significant year for him, officially becoming middle-aged and entering a new chapter in his life story. You may be thinking: "Ah, I get it – he felt he had to prove he was fit enough, strong enough, mentally sharp enough, etc." While that was all true, much more significant was that Brent was the age our father was when his life ended.
Our dad, who'd been active his entire life, died suddenly and unexpectedly a few months after turning 40, just weeks after running a road race. It was a devastating shock to us all; a shock that we have never fully gotten over. And my brother, who became man of the house overnight at just 12 years old, has ever since been deeply mindful about his health and his life choices, and how they not only affect him, but his family.
My reason for climbing was much more superficial and selfish. Firstly, I am not yet turning 40, but after having two kids in less than two years, it seemed like a good time to get into shape. Secondly, my husband climbed Kili at the age of 15 and his bragging rights were getting old. Finally, I wanted an excuse to get my brother and his wife to visit me in Kenya after it had been my home for almost five years – so climbing Mt. Kilimanjaro, why not?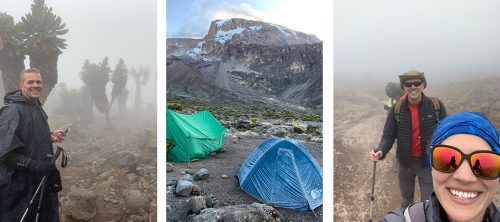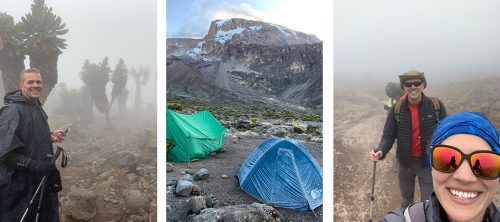 Our arrival to the mountain was filled with excitement, anxiety, and the looming question of what the next six days would hold. As we waited at the Machame Route gate for our permits, the clouds began to roll in and a slight drizzle started – and just like that we were socked in, starting our trek in the clouds, just shy of 6,000ft. Despite the foreshadowing this would turn out to be, it was our first day and our spirits were high; reconnecting with my brother was my priority, and my time in Kenya taught me that rain showers don't last. Plus, stuck in my head was some advice I'd received just before my climb: enjoy every moment and don't focus on the summit. It was the best advice I could have asked for (thanks Tammy!).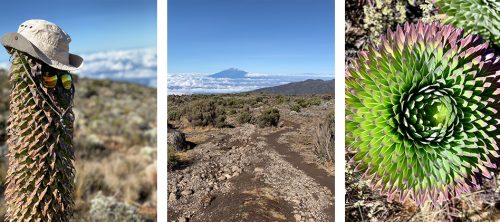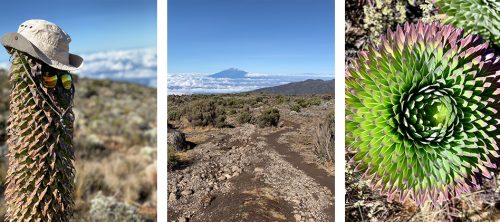 From the tropical Afromontane rainforest, up through the moorlands, and on into the alpine desert – I loved every landscape that unfolded. As we climbed, the air was fresh, the scenery was eerily beautiful in the fog, and the company unbeatable. My brother and I talked the whole way up the mountain, to the point where the guide had to keep reminding us to save our breath and our energy.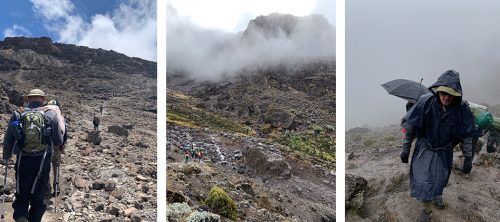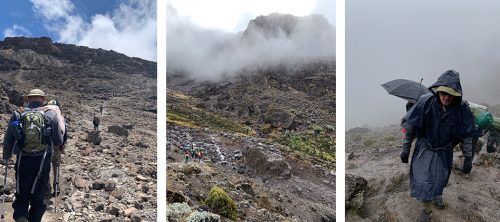 We woke up each morning to a crystal clear day, but within hours, sometimes less, the clouds rolled in and the weather turned. Upon reaching our next camp, we would sit, soaked in our tents, hoping desperately for a dry day to follow. While I'd certainly looked forward to the bonding opportunity this trip would afford my brother and me, sitting for hours on end cramped together in a damp two-man tent wasn't quite what I had in mind. But it's what we were dealt, and we made the most of it.
Thankfully, our prayers were answered on Day Five. Miraculously, after a full day of rain, squishy boots, and blue fingertips, the sun was out and stayed to guide us to Barafu Camp (Swahili for "ice" – great!). At 15,400ft this would be our home base before setting off for the summit later that night. We danced, we stretched, we dried out and we felt the warmth of the sun seep into our bones for the first time in five days. Our hope and energy restored, we were ready for the final push.
There was usually a moment each night where one of us would need to go to the bathroom (thank you Diamox). And each night, we'd climb out and be amazed at where we were. In the middle of the night, after entering each camp in a foggy rain, the clouds would part and the stars would reveal themselves, exposing a shadow of the mountain, just visible by moonlight. This set my expectations of what our trek would be for that final night. High altitude, crisp air, and clear skies.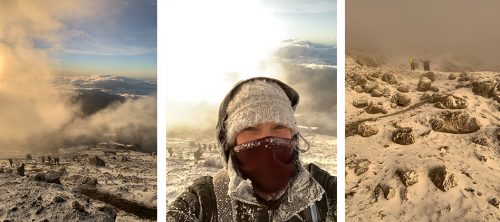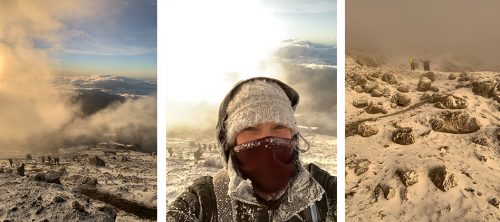 But our summit push couldn't have been more different. The wind whipped against my back one way, pushing me along as my feet stumbled, before we'd turn a switchback and I'd get a faceful of sleeting snow pelting my front. Snotcicles dripped endlessly until they didn't, forming icicles that hung off my nose. My eyelashes stuck together as the tears from the frigid air stung my eyes and froze. My feet ached in the stage before numbness, tingling mercilessly just to tell me that they were still attached. Yet one step at a time, through the blizzard, through the night, we made our way up, up, up in a trance, with a mantra that I kept on repeat in my head, not allowing a single negative thought to enter.
Just when the morning light was turning from deep purple to a murky grey, we found ourselves 100 meters from Uhuru Peak, 19,341ft above sea level, the highest point on the continent. The first ones to make it to the top that day, summiting at 05h51 and surrounded in clouds, we wiped the sign of snow and ice, and snapped our victory pictures (after many tries since our fingers and phones were both frozen). We did it. Through all the rain, through all the cold, not even a storm stopped us. We made it.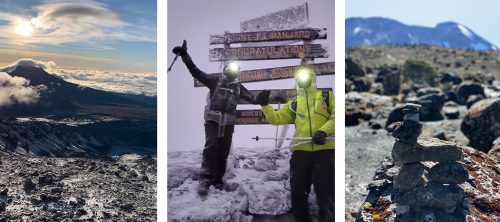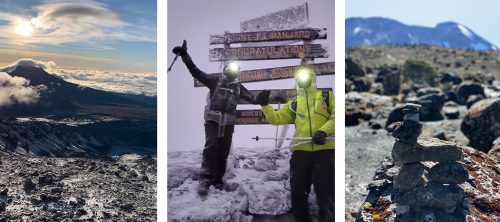 It seemed only moments after we turned around from the top, the skies broke open and gave us the rewarding views we had hoped for. My mental stamina gave way to the reality of no longer being able to feel my hands and feet, and I bolted for lower ground, leaving my brother to relish in the victory, the views and the sunlight.
As I reflect now, months later, the trek certainly wasn't for the faint of heart, and I am sure my disappointment would run deep if we didn't summit. But it was for the journey that I was glad to have done it. The time with my brother, the team that helped us along the way, and the self-discovery of how hard I can push myself when faced with my least favorite thing in the world (being cold). And in this day and age, the ability to connect with yourself without the distractions of technology, social media, emails, it truly allows you to think and reflect uninterrupted. So, for that I thank you Mt. Kilimanjaro.