For four crazy days Les Fox returned to the lodge, after a two and a half year absence, to check that the Angama team was delivering guest delight to the highest standard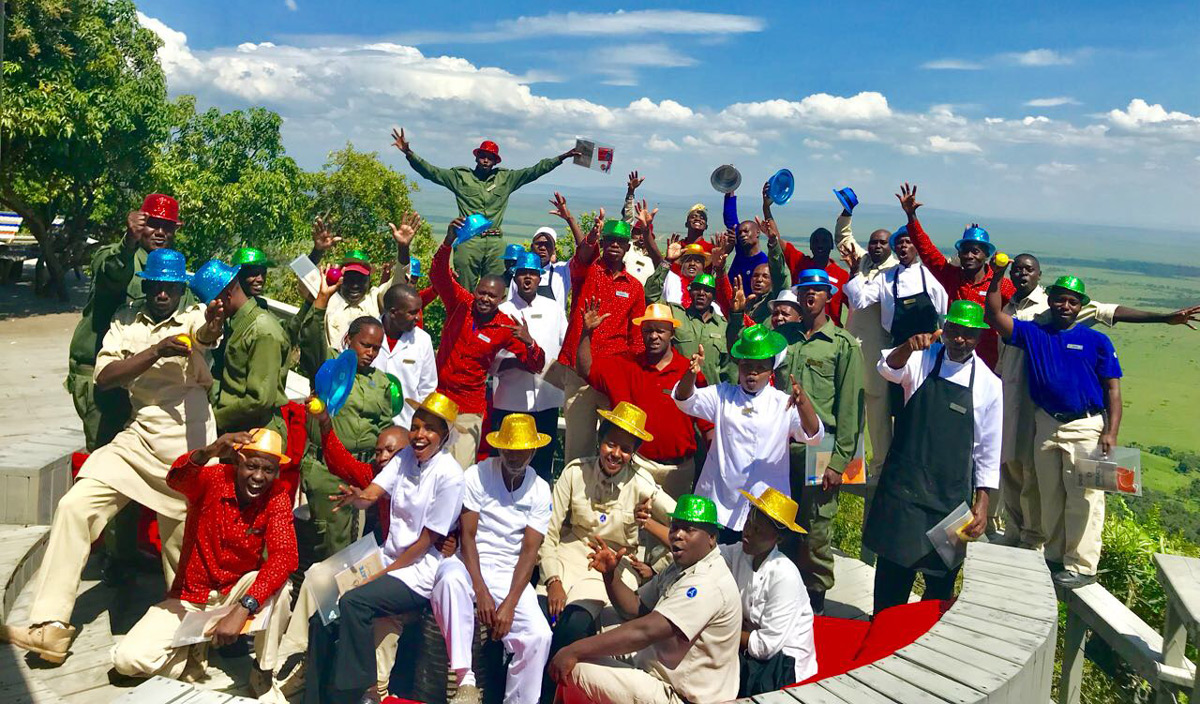 I was so fortunate to be part of the making of Angama. I started working with Nicky and Steve from the get-go late in 2013, was there for the opening on 16 June 2015 and finally left the Mara a few weeks later with the lodge fully operational. How I cried the night I said goodbye to the wonderful Angama team and contractors. They threw the best surprise farewell party for me ever – a grand nyama choma (heaps of BBQ'd meat for those who have never attended one). What else could a vegetarian want? A great honour indeed.
I was heartbroken to be leaving this all-consuming project but proud to have witnessed the lodge take on a life of its own as the formidable Angama team welcomed guests to experience the 'Magic of the Mara'. I have been following every trial and tribulation of this close-knit family ever since – from birthday celebrations, to births, to tragedies, to soccer victories. The Angama WhatsApp group buzzes daily with news from the Mara.
Last January, Nicky and Steve asked me to return to Angama to host a Guest Delight workshop. Steve said to me in his blunt, humorous way, "It's not us who want you back Foxy. Nicky and I think we are doing quite well. It's the team who says we need some Fox Magic. I have no idea what they are talking about". I was so proud and happy to be asked, you have no idea. My schedule-from-hell meant I could only get to Angama in late November. I was pretty nervous to be going back. How do you step back into a project you held so dear when it has been successfully running without you for nearly two and a half years?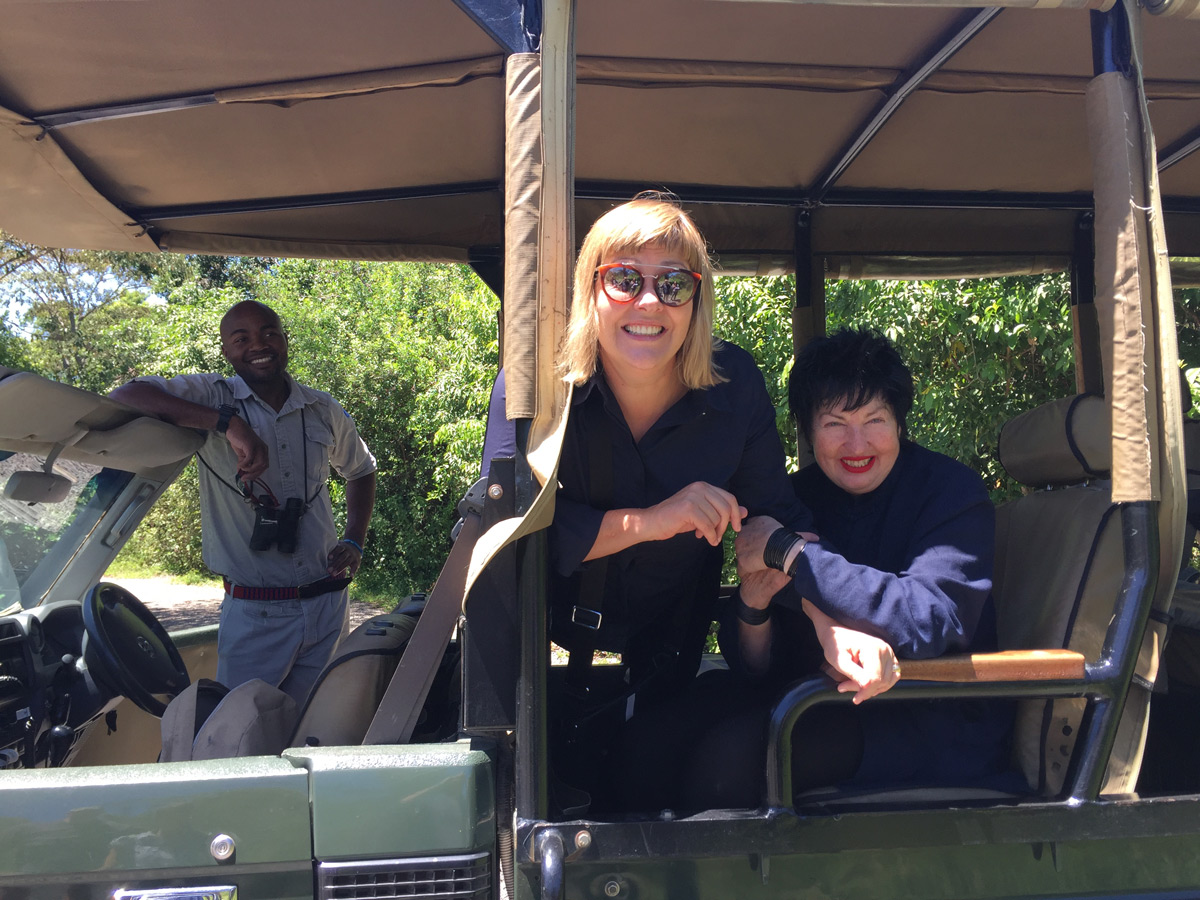 Finally the day arrived to fly back to Kenya. To my delight Alison Mitchell and Annemarie Meintjies travelled with me – just like old times. Within seconds we were up to our old tricks and debating every detail ad nauseam. Oh, how I missed these two musketeers. As we reached the turning circle, there stood the team and my heart stopped. Shannon, Tyler, baby Perrin, James Kokai and Azei Lago of "Azei, Azei – do you copy?" fame, stood among the many beaming faces that were there to welcome us. It felt like I had never left. We got the 5-star (no make that 12-star) guest treatment as we were whisked away to our tents, taken on game drives and fed the most delicious meals. The service was perfect.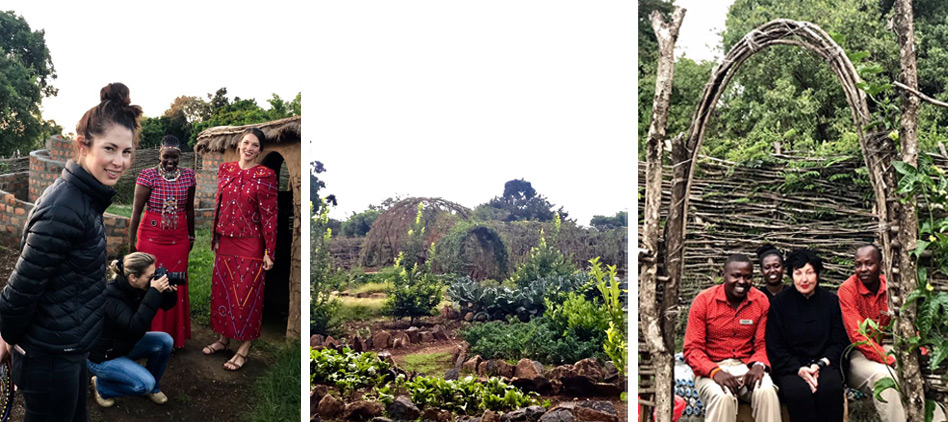 We walked the property from end to end. Ali and Shannon brought us up to speed on all things new: a shamba to die for; a photography studio that will have many tales to tell in the near future; and a lovely new clinic. All this in-between the two of them coordinating three photography shoots.
Then the training began. I called the training "Take A Bow, Angama!" because, I thought they should. With Steve and Nicky at the helm of this lodge for the last four years – from inception until now, it is in my mind, one of the most beautiful places on earth, not only because of the scenery but also because of the team who have taken on full ownership of their role in its success. I did not believe it possible to fall in love with a place all over again, but I did.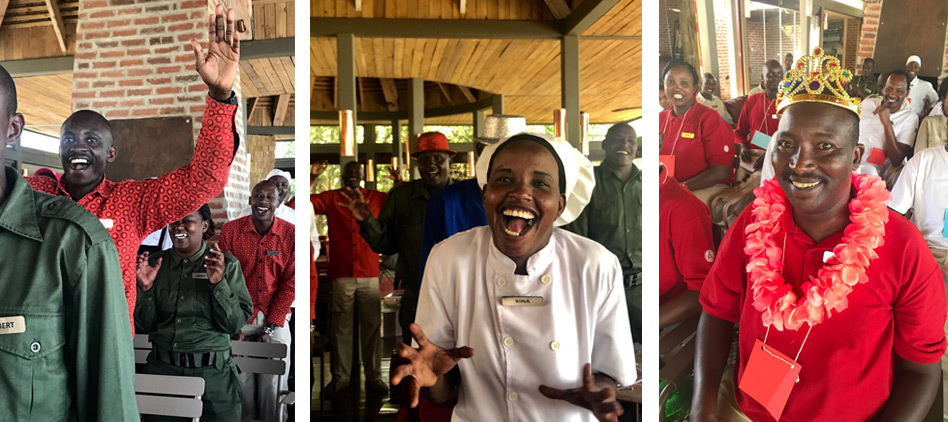 My only deep, deep sadness was that Steve Fitzgerald, who believed in all of us that we could pull it off, was not there to hear my heartfelt thanks for making it a reality. Every bench we stumbled across, tent we entered or lampshade we saw had us in tears with no sign of Steve's famous red spotted handkerchief to wipe our runny noses. In all the training sessions, between laughing until our sides split with happiness and joy (a fundamental Angama value), the team pledged to look after Kate and Nicky and support Nicky into the future as she takes on the role of CEO of Angama. They also expressed to me, many times over, their respect for Steve and what he accomplished for all of us to enjoy.
So, to my dear friend, mentor, challenger of pivot tables and shower roses, wherever you are – TAKE A BOW! Angama is because of you.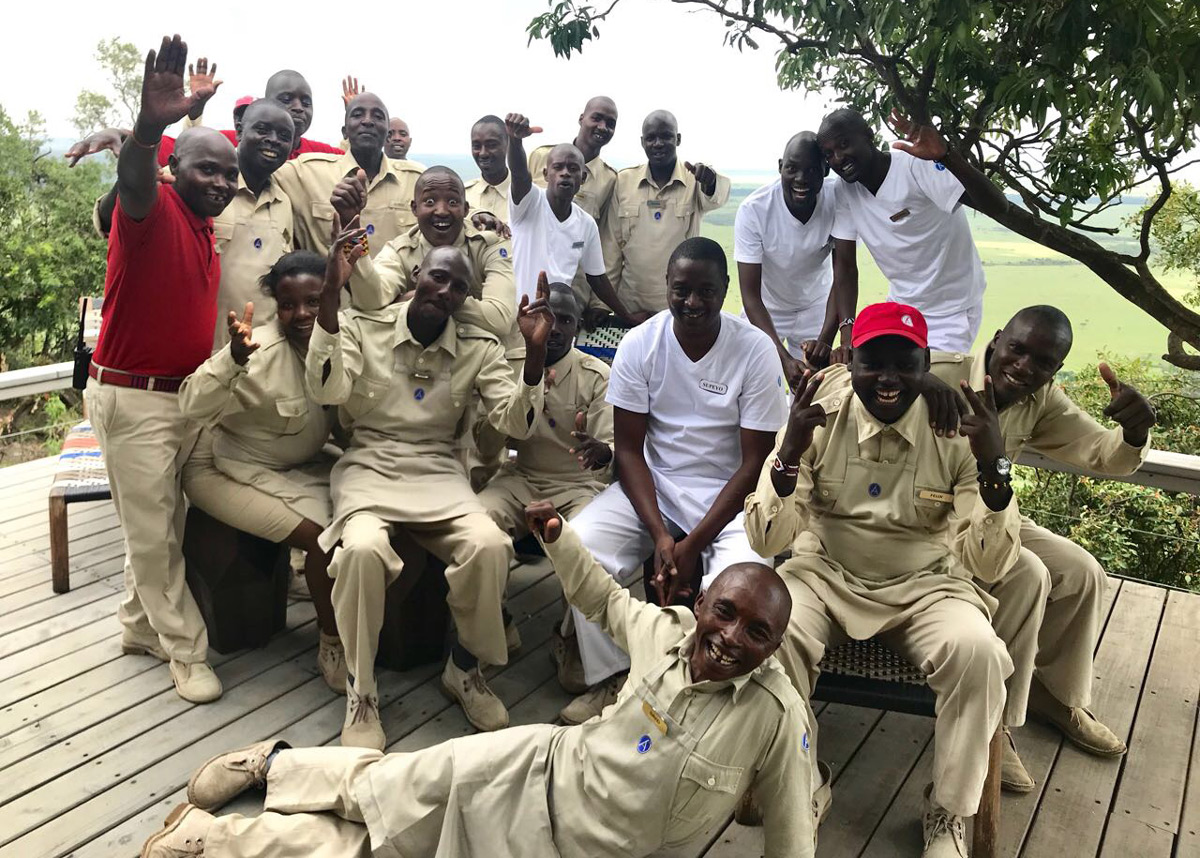 Note from the Editor: November is training month at the lodge. After a hectic 5-month season and before the end of year festivities, the Angama team underwent across the board training: service, food, wine, housekeeping, first aid and a comprehensive FF&E audit. Foxy spun her magic and left behind a team inspired, enthused and good to go (plus an exhaustive to-do list).