This Week At Angama #137
Nature can be such a tease at times – she offers you a taste, and then pulls it all away. She knows how to give just enough to leave you chomping at the bit for more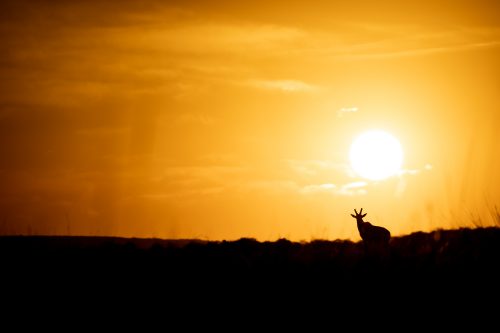 The word 'unpredictable' comes to mind when I think about the greatest migration on earth. The wildebeest and zebra move in ways that are nearly impossible to predict. One day there can be thousands of animals grazing in a clearing, and the next morning you return to find an empty grassland with nothing but a fat-bellied male lion, asleep on his back. But keep driving, keep looking around the next corner, and over the next hill, you could find the pot of gold. Enjoy This Week at Angama.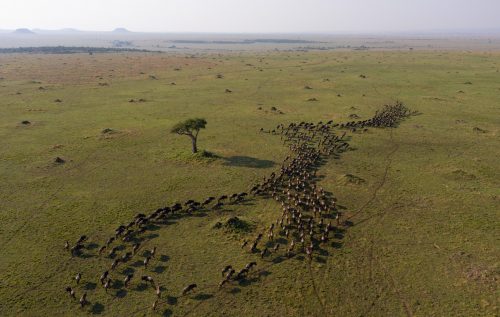 As I write this, the majority of the wildebeest are just south of the Kenyan border. Rains pull them across the grasslands like iron filings attracted to a magnet. Of course not all iron filings feel the magnetic force and we are still seeing herds of wildebeest scattered throughout the Mara Triangle.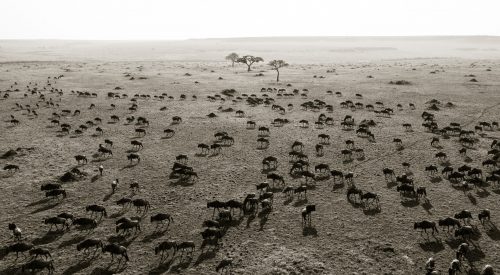 The river has been fairly quiet of late, but just when you think that things may be slowing down, and the herds heading south, you hear reports of a sudden change and a short but dramatic crossing. Are we possibly in the midst of a short interval? Are the wildebeest taking a brief break before they start to tackle the Mara River gauntlet once more? Until we know for sure, I personally continue to search the grasslands for treasure.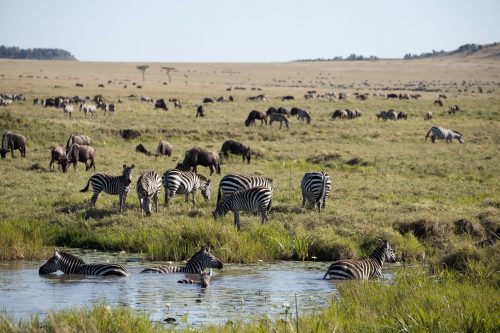 For me this treasure often takes the form of male lion. In a quest to document and understand the male lion dynamics of this region I photograph each and every individual – slowly the jigsaw puzzle is becoming clearer and more complete. My favourite coalition at the moment are the Inselbergs. These five males are in the middle of a land-grab, launching skirmishes on neighbouring prides. To see all four of these males in a single week brings much delight.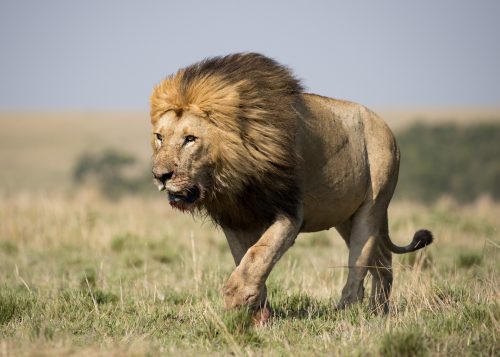 Manywele is one of the Inselberg Coalition members, and in my opinion one of the biggest lions in the Mara at the moment.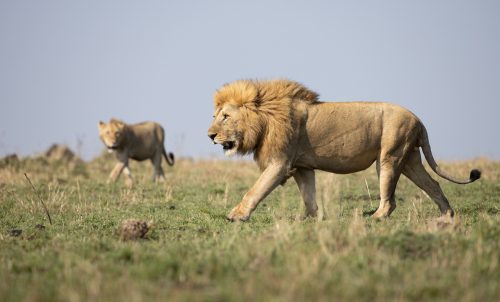 My last confirmed sighting of this individual was in January this year. Where has he been for nine months I wonder?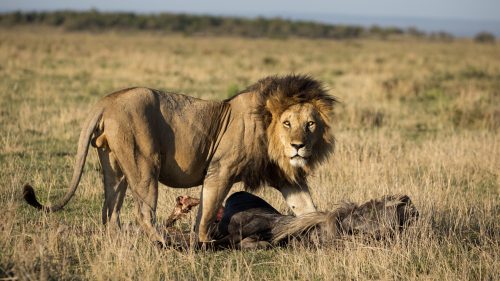 Ruka, seems to be spending more and more time alone instead of with his coalition mates.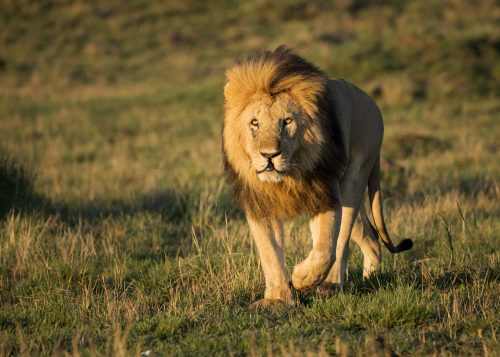 Of course, as we all know, male lions are nothing without their prides, and the phenomenal lionesses. The sisterhood that binds them all; shadows moving through the grasslands...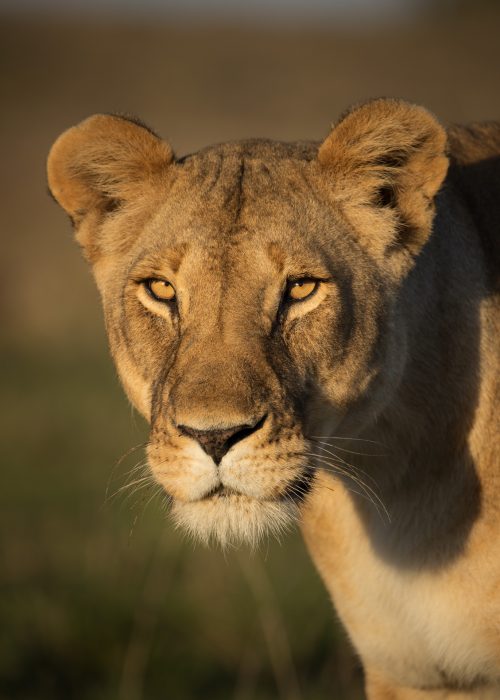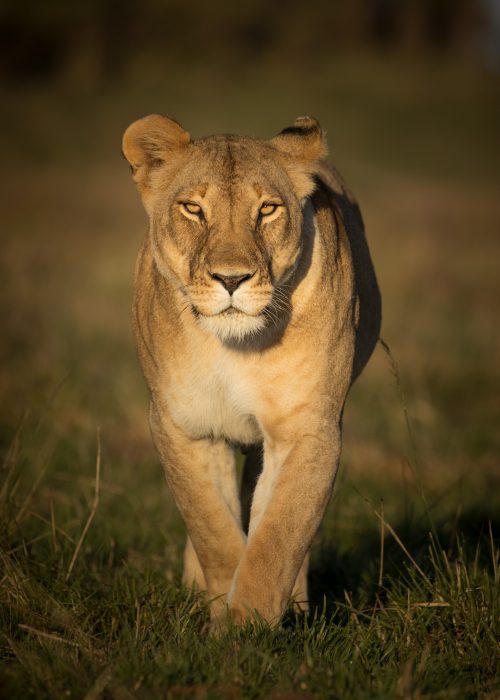 It is these females who often provide the hunting machinery, allowing the males to go walk-about. The Migration, fortunately, allows an easier time for hunting. And a good chance for the youngsters in the pride (male and female), to start to hone their skills.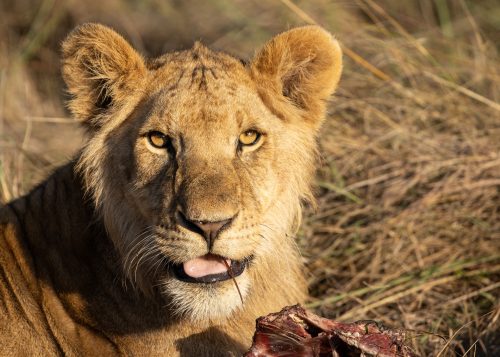 It is also a time of plenty for the vultures. Poisoning, often indirectly, outside of protected areas is a very real issue for the scavengers and has decimated their numbers across all of Africa. The clean-up crew plays such a fundamental job in the ecosystem and I have been quietly pleased as to their numbers this year.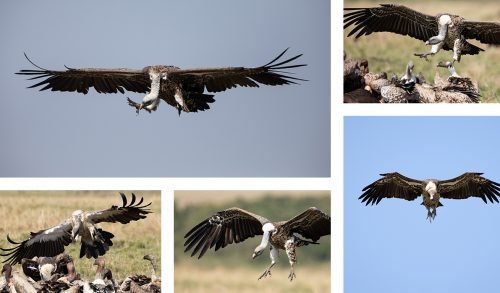 The most exciting find of the week, however, came in the most unexpected way. I was watching a single lioness feeding on a wildebeest carcass. She looked agitated and kept staring into the thickets at the edge of a drainage line.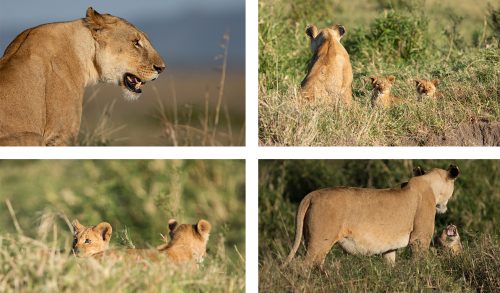 Of course as a photographer I would have loved closer, clearer photographs of these cubs, but I am well aware that these things take time. They have seen very few cars and it is during this time that they need to be treated with care. We need to slowly habituate them to vehicles, but being sure not to force or rush things. It is a fine line, but always err on the side of caution and sensitivity. I left with a huge smile on my face. Nature had given me a taste of these cubs, and tomorrow I will be going back to look for them again. [f 5.6, 1/1250, ISO320, -0.33]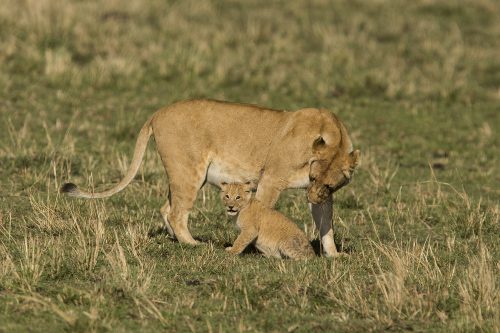 As unpredictable as the wildebeest migration may be, there are a few things that are a little more set – one such thing is the topi. Year after year, with out fail they drop their young at the beginning of September, and this year is no different. What is also quite fascinating is that going back in the photo records two years ago and it was this week that I also had the fortune of finding another set of lion cubs, this time belonging to The Sausage Tree Pride.
Subscribe for Weekly Stories

The Angama Foundation
The Angama Foundation is a non-profit entity which uses the nominal nightly contributions from guests to make a significant differences in the fields of education, healthcare and conservation in the Maasai Mara.
Learn more about the Foundation