A Ugandan Safari: Part One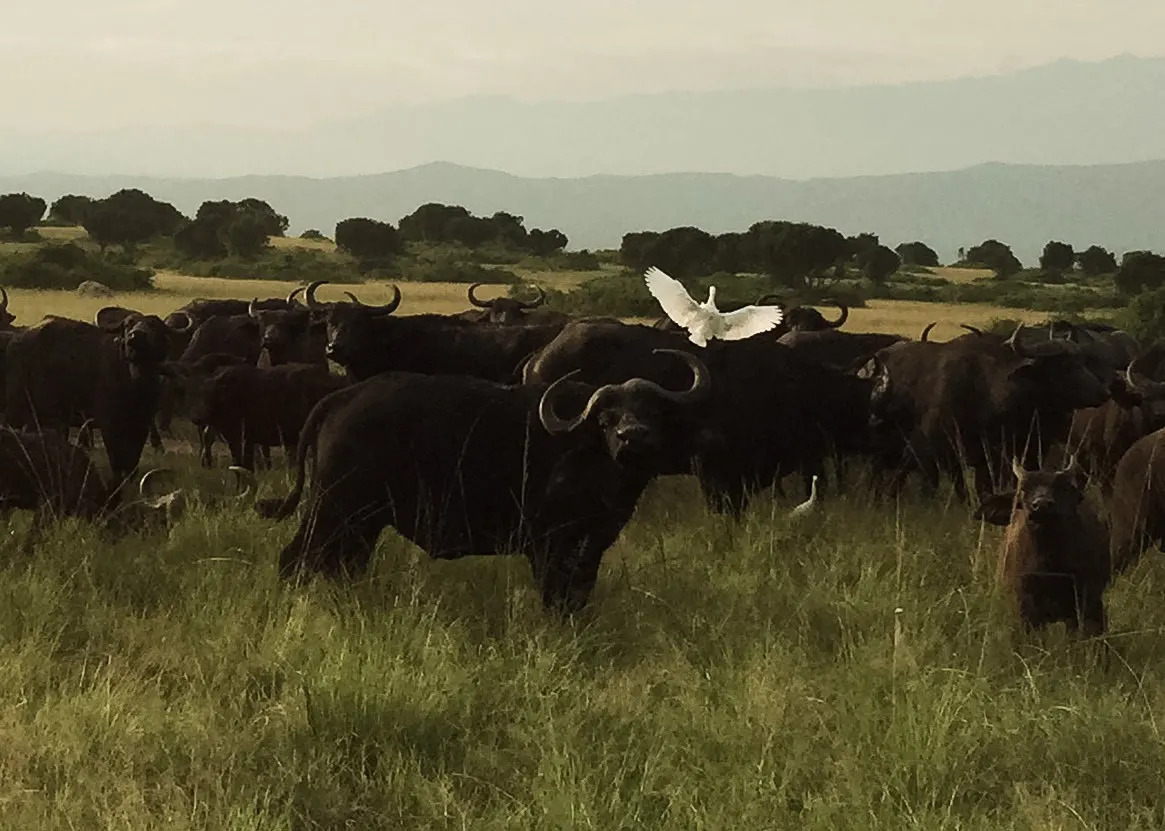 GOOD CALL, PTOLEMY
Around 1800 years ago the Greco-Roman mathematician, astronomer, geographer and astrologer Ptolemy drew on his map of Africa, in what today is known as Uganda, Lunae Montes, or as we now call them, Mountains of the Moon.
Kate and I recently travelled to Uganda on a chimpanzee quest but secretly I was hoping to see these mythical mountains that had drawn the great Victorian explorers Stanley and Speke, amongst others. We succeeded on both counts, but only by the skin of our teeth.
We crossed over into Uganda from Rwanda by car and immediately felt as though time stood still. Everything about Uganda is kind of like the '80's. Whilst Rwanda crackles with energy, Uganda is totally laid back. This is what going on safari in Kenya and Tanzania must have felt like forty years ago. No swish lodges, no big name safari brands, no posh 4×4's – quite refreshing really and that's rich coming from me.
Our base was the delightful Kyambura Gorge Lodge sort of halfway up the Queen Elizabeth National Park in the south west of the country. It struck me as rather nice that they haven't axed this name and there are even roads named in HRH's honour such as 'Queen's Mile' and another 'Royal Circuit'. I could just imagine her coming here on a safari way back when probably to double check why Churchill named this lovely landlocked African country The Pearl of Africa.
There were to be two excursions into the park – one a game drive and another a boat cruise. We explored the Kasenyi Plains in the QENP and after snapping a shot of our first Uganda Kob we saw at least two thousand in three hours. Not so rare after all. No wonder it's the national animal and, as luck would have it, their national bird, a vain but oh-so-handsome grey crowned crane, preened and posed for us for half an hour and looked quite disappointed when we finally drove off. But there in the hazy distance shimmered the mighty Rwenzori Mountains, those not-so-mythical mountains drawn by Ptolemy. Apparently it's not so easy to see these snow-capped equatorial mountains that peak at over 5000m so we considered ourselves lucky to at least get a glimpse.
And so on to the birding cruise on the Kazinga Channel, a 40km waterway that links Lakes Edward and George (more lovely nods to British royalty). If you can only choose two adventures in this corner of Uganda (best I don't ignore shoebills and mountain gorillas) please be sure to do this lovely cruise in-between chimp trekking. Uganda boasts 50% of Africa's bird diversity and 10% of the planet's and I think we saw them all. Well, nearly all of them. The birding is astounding starting with pied kingfishers by the hundreds and followed by every water bird imaginable. Oh, the elephant, buffalo, hippo and croc viewing is pretty darn good, too.
In next week's blog I will share my story about reading between the lines when trekking – if ever there was a misnomer – for chimps in the Kyambura Gorge.