Days of Miracles and Wonder: Part Two
This week, Shannon and Tyler further explore the Heart of Darkness where they stumble across extraordinary sights, and even more extraordinary people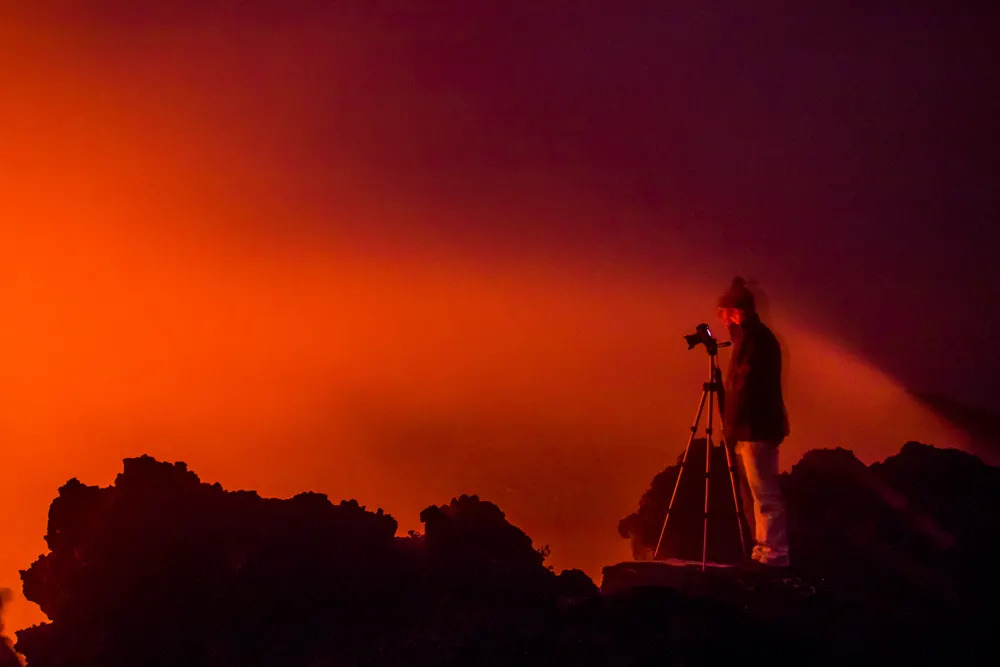 And the story continues…
Without a doubt, one of the trip's highlights was spending the night on the 11,380ft rim of Mount Nyiragongo, an active volcano which last erupted in 2002 and is home to what is, at times, the world's largest lava lake. After a steep and strenuous 8km hike up the mountain, we arrived at the volcano's edge only to find ourselves in thick cloud, with disappointingly no lava lake to be seen.
It wasn't until 02h30, when I noticed the moon streaming through the tiny square window of our simple two-man hut that the clouds finally dissipated and we could see clearly to the roiling orange lake of lava below. For the next several hours until sunrise, we stared in awe at the boiling, belching, ever-dynamic fiery glow of molten rock, like moths drawn to a flame.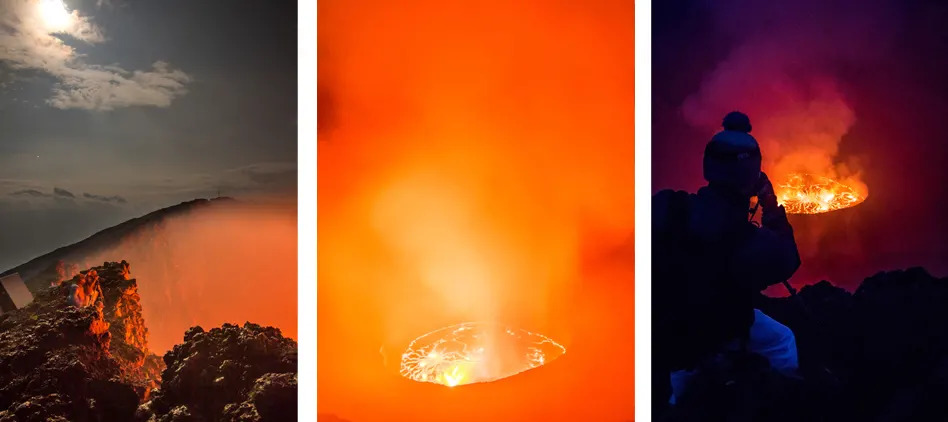 While not quite as dramatic as sitting on the lip of an active volcano, equally memorable was our time spent at the lovely Mikeno Lodge, tucked in the jungle near the park's Southern Sector headquarters. It was here that we met some truly remarkable characters, representative of the selfless team dedicated to protecting this 7800 square km park, its resources, and its steadily increasing number of visitors.

First up was Andre Bauma, chief caretaker at Senkwekwe Gorilla Orphanage – perhaps one of the most selfless and dedicated of all. He has pledged his life to the protection and care of a quartet of orphaned mountain gorillas, taking on the role of their surrogate mother. Andre spends all day with them, occasionally even sharing a bed when they are sick or in need of a companion. There are truly few gentler souls in this world than Andre.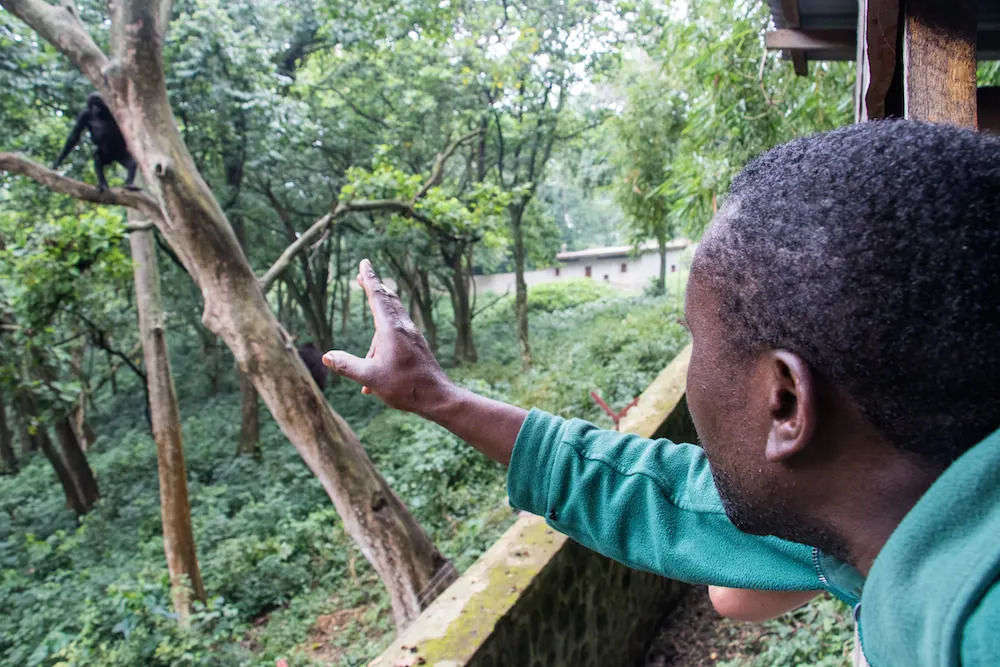 Christian Cinyunyi, Chief of the Canine Unit, and his bloodhound charge, Dodie, are undoubtedly two more of Virunga's inimitable individuals. Christian invited us to a training session, and demonstrated just how remarkable the senses of bloodhounds are, as well as how critical this canine team is to anti-poaching. Given parts of a gun, as well as pieces of ivory, we deviously stashed them as best we could (I even put my piece of ivory under an overturned rubbish bin, certain the stench would throw her off). But we were no match for Dodie, and after a few minutes of eager sniffing and flopping ears, she'd found everything and was soon off after our "poacher," another ranger who had a sister piece of the gun. Again, a few minutes later the faux poacher was tracked to his hideout and apprehended.
We wrapped up our Virunga expedition with a relaxing stay on Tchegera Island, the tip of an ancient volcano protruding just enough above the serene waters of Lake Kivu to host a quaint and comfortable tented camp. From here, after a day exploring the island by foot and by kayak, we would unwind with a chilled Primus and watch the orange glow of the setting sun as it dipped behind Mount Nyiragongo, stars twinkling above.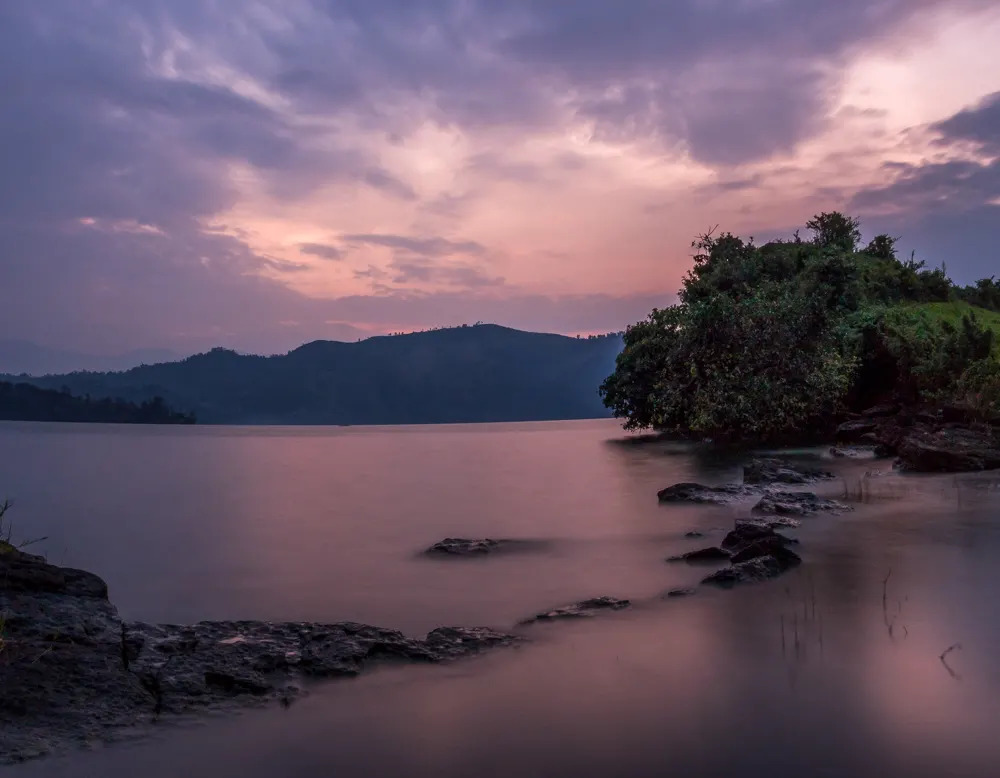 Such a setting provided a quiet moment to not only reflect upon our memorable trip and all we experienced, but also the extraordinary people who made it happen. More than 150 rangers have given their lives protecting Virunga National Park and its resources, and it is the continued efforts of their brave colleagues, and the pride they take in securing the park, that afforded us the chance to explore this magical corner of Africa's wilderness.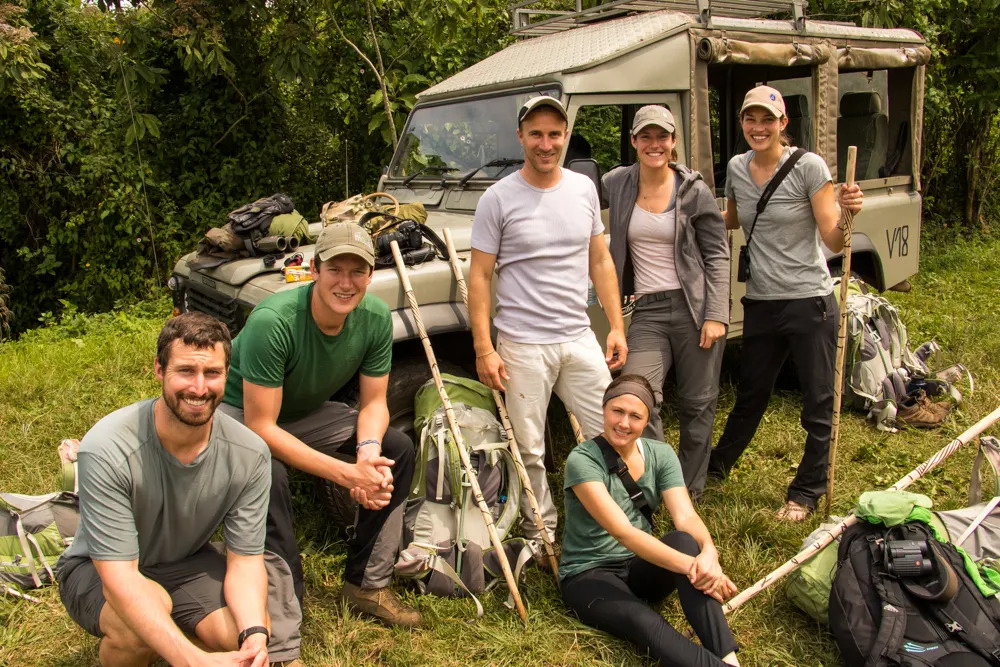 Note from the Editor: The extraordinary story of these rangers, under the leadership of Prince Emmanuel de Merode, is detailed in the documentary Virunga – please take time to watch it. It will make you want to pack your bags and go despite the seemingly insurmountable challenges the Park faces each day. Every tourism dollar goes a long way in making a real difference.