AIRFIELD
Located a short 10 minute walk from the lodge, Angama Mara Airfield is a 1,200m long, suitable for turbo-props and serviced by scheduled and charter flights daily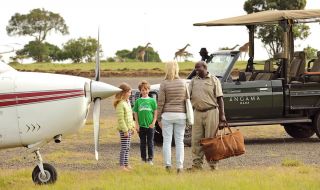 TENTED SUITES
Classical and elegant, each with an 11-metre wide floor-to-ceiling glass front and no single tent with a more breathtaking view than the next
Discover more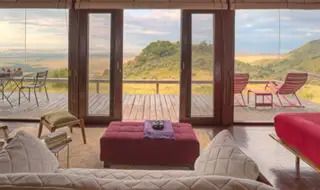 THE PAVILION
Sitting in the heart of the lodge and shared by both North and South Camp, the Pavilion includes a fitness room, an infinity swimming pool with loungers in full sun or shade, a Safari Shop and Maasai beading studio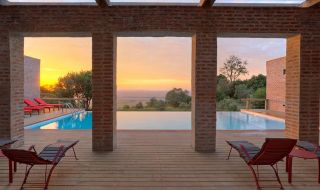 SOUTH CAMP
Floating on a lily pond and suspended between heaven and earth, the guest areas are for drinking, dining and lounging and boast dramatic views of the Mara below
Discover more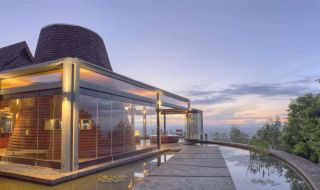 NORTH CAMP
Floating on a lily pond and suspended between heaven and earth, the guest areas are for drinking, dining and lounging and boast dramatic views of the Mara below
Discover more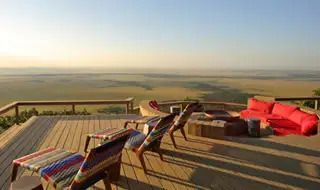 PRIVATE ROAD
Descend down the Great Rift Valley Escarpment to the Maasai Mara on the lodge's private access road, a scenic 10-minute drive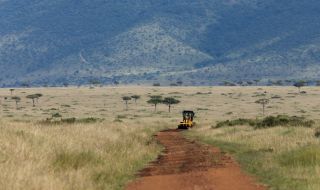 THE SHAMBA
Within walking distance of the lodge sits Angama Mara's delightful Shamba (Swahili for vegetable garden) where guests love to visit, learn about the plants and get lost in the magic of this special place
Discover more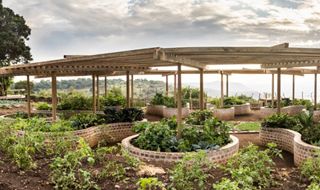 TENTED SUITE
Classical and elegant, each with an 11-metre wide floor-to-ceiling glass front and no single tent with a more breathtaking view than the next.
Discover more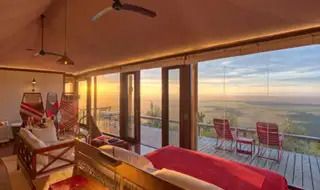 NORTH CAMP
Floating on a lily pond and suspended between heaven and earth, the guest areas are for drinking, dining and lounging and boast dramatic views of the Mara below.
Discover more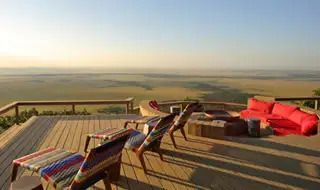 PRIVATE ROAD
Descend down the Great Rift Valley Escarpment to the Maasai Mara on the lodge's private access road, a scenic 10-minute drive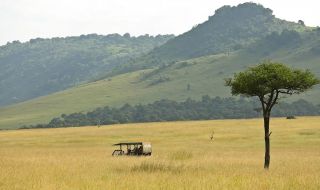 BEST SEAT IN THE HOUSE
SET ON THE EDGE OF AFRICA'S GREAT RIFT VALLEY
There is little that is conventional about the creation of Angama Mara, with views that stretch for miles across the Maasai Mara set 300 meters below.
Setting Angama Mara Apart:
The rare beauty of the site has an emotional effect on visitors – an almost dreamlike quality of being somewhere 'between heaven and earth'
Guests instantly connect with the romance of the setting, where some of the loveliest scenes from the movie Out of Africa were filmed
No tented suite has the best view, nor the worst – all are spread along the edge of the Rift Valley
There is an overwhelming feeling of 'I have been here before'
Unrivalled exclusivity with a private road directly into the Reserve – a mere 10-minute drive before you reach the reserve entrance
The 700-hectare site directly borders the Mara Triangle, with 1.2 km of Rift Valley frontage, its own forests and game a-plenty
SOME FAST FACTS:
Two totally separate camps of just 15 tents each, every one with magnificent views
The two camps are set alongside one another, each with its own guest area, kitchen and dedicated staff
Each camp has two sets of interconnecting tents, perfect for families
The dramatic guest areas are for dining, drinking and relaxing, and include a handsome brick-clad Library
The Pavilion, set between the two camps, is home to the Safari Shop, a swimming pool (12 x 6m), and the Fitness Room – guests never need to walk more than 10 minutes to go anywhere
The lodge is serviced by a private, hard-top airfield – just a 5-minute drive away
"Up in this air you breathed easily, drawing in a vital assurance and lightness of heart. In the highlands you woke up in the morning and thought: Here I am, where I ought to be."