ANGAMA MARA'S GUEST AREAS
SUSPENDED BETWEEN HEAVEN & EARTH
Angama Mara's architecturally dramatic guest areas were inspired by Nairobi's Muthaiga Club, built in 1917 and famously featured in the movie Out of Africa. Typical of early colonial design in Africa, the inside of the guest areas become the outside and vice versa.
At a glance
Essentially one room (33m by 11m) entirely wrapped in stacking glass doors and divided by internal columns, floor level changes and distinctive roof features
There is no defined sitting room, dining room or bar – just a charming mix of everything – it's that kind of place
The front of the building floats off the edge of the Escarpment, with ponds wrapping the back of the guest area
Expansive deck and baraza hanging off the edge of the Rift Valley
A dramatic shingle-clad drinks armoire welcomes guests, from where they can be served by their butler or even better mix their own cocktail
On lovely Mara days, all the action will be on the deck and during those dramatic but brief afternoon thunderstorms, guests are safely tucked behind the floor to ceiling glass doors watching the spectacle unfold. As quickly as these storms roll in, they dissipate and back outside our guests go.
By night, the softly-lit architecture of the Maasai brick walls and the cone-shaped buildings that float on a lily pond hold guests' attention. Especially the Library, a lovely quiet, handsome brick-clad oval room, which is perfect for private dining, and complete with WiFi, and a thoughtfully chosen collection of books and films on Africa. (Read the story behind the book and film collections)
The Pavilion is the only common shared area and sits in the heart of the lodge between the two camps. With endless views of the Mara and easily reached by footpath from both camps, here guests will find:
The Fitness Room with Technogym equipment and stacking floor-to-ceiling glass doors overlooking the Mara
An infinity swimming pool of 12m x 6m, enclosed on three sides for privacy, with both shaded and unshaded sun loungers
A Safari Shop showcasing the very best of Kenya, an Artefact Gallery, and leading off from it a studio where Maasai ladies bead bespoke items
Cloakroom facilities for those guests with a late checkout and a late night flight from Nairobi
WANDER THROUGH THE LOVELY GUEST AREAS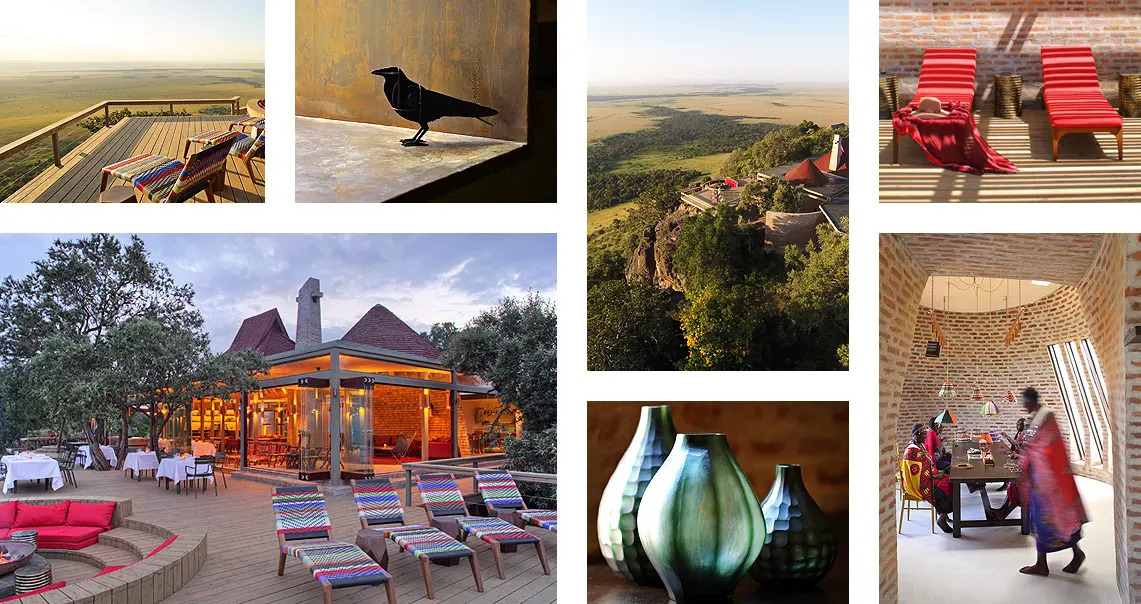 AT YOUR SERVICE
Angama Mara staff strives to deliver a guest experience that is not built on luxury, but rather something less tangible, more meaningful and always joyful and authentic
IN THE KITCHEN
Tall chefs in tall hats prepare classic safari food
OUT FRONT
Nothing is too much trouble to delight guests
HEART OF HOUSE
Keeping house, keeping safe and keeping looking good