The Swiss Watch of the Kenyan Skies
Pilots David Seton and Kathy Moore take to the sky in a game-changing jet-style turbine-powered aircraft, straight off the Swiss factory floor and coming to a bush airstrip near you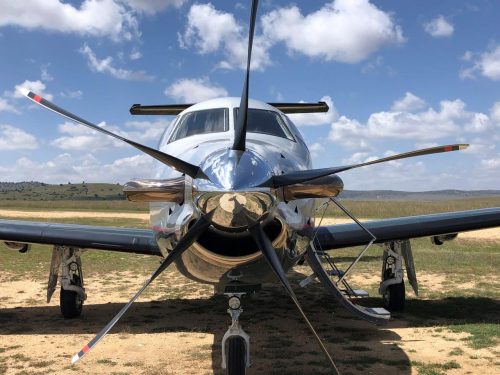 Some of us may have been fortunate enough to experience the delight of buying and then driving a brand new car straight off the showroom floor. But doing the same with an aircraft is certainly kicking things up a notch. That's exactly what happened to David and Kathy of East African Air Charters (EAAC).

It all started back in 2017 when David flew long-time client and owner of Sirai, Michael Spencer. While in the air, Michael mentioned that he was interested in buying a plane and wanted David's recommendations.
For David, there was only one choice – the Next Generation Pilatus PC-12. Swiss-made, sophisticated, fast and comfortable; yet able to land in the bush - something previously not been possible with jet-style aircraft. David explains: "It is what anyone in the world would buy for a bush runway."
Michael's response? "Please go and buy one for me," he said.
From there, Michael chose the colour and Kathy went to collect the brand plane from the factory in Switzerland. Aside from the test pilot, Kathy is the only person to have sat behind the controls, with the Pilatus PC-12 NG now being available for charter flights from EAAC.

Being brand new also means that everything is state of the art in terms of design and technology, making it "an absolute pleasure to fly". David says that with it being Swiss-built – everything is just a little different and classier – "just like a Swiss watch."
With all that exciting new technology comes a new level of automation and avionics which Kathy jokes is a bit like having a backseat driver. "She tells you exactly what she wants you to do – she's a bit bossy, but in the best possible way."

With all her experience flying passengers around East Africa, Kathy has clocked up many miles in the old favourite bush plane - the Caravan. "It's nice and simple, flying low and slow." She's also spent time flying the Citation Bravo C550 Aircraft, a high-powered jet aircraft that flies at a higher altitude. Kathy says the Pilatus PC-12 is a wonderful combination of the two. "She is sophisticated, yet when you come down to land, you land her just like a Caravan."

Not only is the Pilatus PC-12 classy, she's quick too. Around 30 minutes to the Mara, and just an hour to the Kenyan coast. Which means you could be collected after landing in Nairobi at JKIA and within 45 minutes you'd be on Angama Mara's deck, Tusker in hand and admiring the view. After a few days, you could depart from Angama Mara Airfield and an hour later have your toes in the sand at Sirai Beach.
Truly effortless bush, beach and beyond thanks to the arrival of a truly game-changing aircraft to Kenyan skies.
Subscribe for Weekly Stories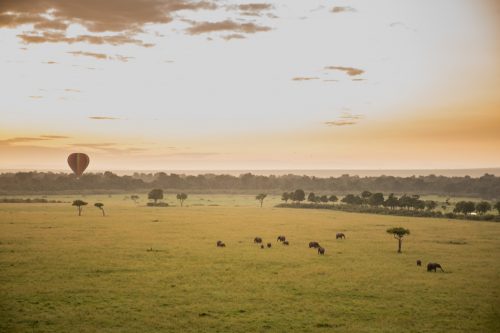 Hot Air Ballooning
Read all about floating over the Mara in a hot air balloon, an unmatched safari and surely a once-in-a-lifetime experience. This is truly the perfect start to any day in the Maasai Mara.
More about Hot Air Ballooning